Carlo Ancelotti confident over Chelsea future
Last updated on .From the section Football
Chelsea manager Carlo Ancelotti has denied that his job is dependent on the outcome of the Champions League quarter-final with Manchester United.
The Blues are trailing 1-0 going into Tuesday's second leg at Old Trafford.
Ancelotti hinted he has received assurances from owner Roman Abramovich that his contract, which runs until 2012, will be honoured.
"My future is already decided," he said. "It is not important that I speak with Roman. I have a contract."
With Chelsea 11 points behind leaders United in the Premier League, a Champions League exit would effectively end their hopes of silverware this season.
But Ancelotti, who won the Double in his debut season with the Blues last year, insisted any pressure on him and his players could be used to positively.
"I have said many times pressure is not a bad thing," he said. "It means staying focused, concentrated, giving players a chance to do their best.
"To be involved in this game is fantastic for my job, for my career. So I'm not afraid. I'm not worried about this.
"I'm happy to have a possibility to be involved in this game, to use my ability and my skill to give the players the skills to play at their best."
Ancelotti was also keen to play down the pressure on striker Fernando Torres, who is yet to score since his British record £50m transfer from Liverpool at the end of January.
"Yes he is searching to score a goal but he doesn't have pressure from us because our aim is that he can play for the squad and his team-mates," stated Ancelotti. "I never ask my strikers to score a goal.
"I'm not interested in a goal for Fernando. I'm interested in Chelsea winning this game. If he scores it's good for him and for Chelsea, but it's just important to win here."
Ancelotti suggested Torres could benefit from the return to fitness of his former Liverpool team-mate Yossi Benayoun.
During three seasons together with the Reds, the Israeli provided the assist for 10 Torres goals in the Premier League and Champions League.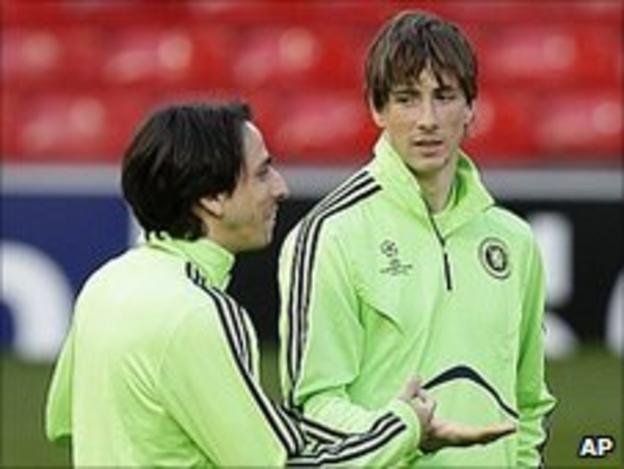 The understanding between the pair was also in evidence against Wigan on Saturday when Benayoun set up Torres for a clear chance, but his shot was saved by keeper Ali Al Habsi.
"Yossi knows Fernando very well," said Ancelotti. "He knows his movement and for this reason I think it can help Fernando."
United striker Wayne Rooney has been in fine form of late, scoring four goals in his last two games, including the decisive strike against Chelsea in the first leg at Stamford Bridge.
The 25-year-old is likely to start at Old Trafford, having missed his side's 2-0 win over Fulham on Saturday because of suspension for swearing at a television camera.
However, Ancelotti says he has no special plans to try and nulify the impact of the England forward.
"I think that, obviously, Rooney is the most dangerous player in the squad," said Ancelotti.
"We have to pay attention to his position and his performance. We have to do better than we did in the last game.
"But we don't change our shape, our mentality, our philosophy to control Rooney.
"We want to play our football at the best level we can."
Asked about United manager Sir Alex Ferguson's suggestion that Chelsea are "obsessed" with winning the Champions League, Ancelotti said reaching the final was a "dream" that remained a long way off.
A 1-0 victory by Chelsea at Old Trafford after extra-time would send the match to a penalty shoot-out, a scenario that would echo the 2008 Champions League final, United beat the Londoners on spot kicks.
Pressed on that eventuality, Ancelotti joked that he would take the first spot kick, before admitting that he had not decided who his penalty takers would be.