St Johnstone manager Derek McInnes angered by officials
Last updated on .From the section Football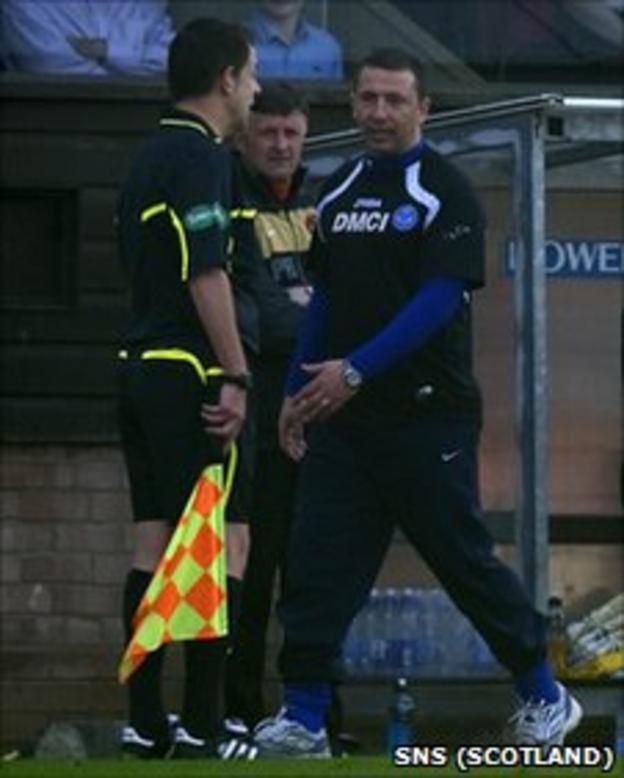 St Johnstone manager Derek McInnes was angry with the officials after his side lost 2-0 to Dundee United.
Steven Anderson was sent off after picking up two early bookings at Tannadice and United's opening goal was disputed by the visitors.
"Both instances have been proved that the referee and officials have got them wrong," McInnes told BBC Scotland.
"I think we've been let down and I'm disappointed with a lot of things but not with the players' efforts."
Both of Anderson's bookings came after tackles on United's Danny Swanson.
"Danny Swanson overran the ball, he stuck his right leg into Steven Anderson," said McInnes.
"Steven Anderson had just been booked so he knew not to go to ground, he didn't make a challenge, all he was doing was backing off and staying on his feet and Danny Swanson's thrown himself.
"I thought it was ridiculous. I'm really, really disappointed that a player can do that to try and get another player sent off and I've no doubt in my mind that that's what his intention was.
"Danny Swanson is first and foremost wrong, I'm not going to hide behind that. He's thrown himself to get Steven Anderson into a bit of bother.
"But the referee and officials should still see past that. The referee doesn't seem to have had a clear view of it but his linesman should see better."
Johnny Russell put United ahead with St Johnstone feeling that the striker had scored from an offside position.
"The boy's offside," said McInnes. "As the ball came out, he was two or three yards offside and he puts the ball away.
"If it's 0-0 then you've got something to hold on to, you've got that point, that's why the first goal's so important and it was a goal that was given that shouldn't have been given.
"So there's real frustration there.
McInnes was sent to the stand by referee Mike Tumilty in the aftermath of Russell's goal but the Saints boss insists he was trying to act as a peacemaker.
"I was only trying to get my players back because I knew I couldn't afford to get Michael Duberry or anybody else booked.
"Then the fourth official pulled the referee over and said, because I'd crossed the technical area, I had to be sent to the stand.
"And all I was doing was trying to diffuse the situation. There was nothing we could do to change it. I wasn't complaining about the goal, I wasn't exactly sure at the time.
"All I was trying to do was get the players back from the officials so that their frustrations didn't get them into bother."
McInnes revealed that referee Tumilty had apologised to him before the match for an incident in a previous St Johnstone game this season.
"It was the same referee who apologised before the game for his poor decision when we played Hearts at home and gave a penalty against Jamie Adams, who was standing in the wall, the ball hit his hand. He said he shouldn't have given it.
"He apologised to me before the game and then he didn't get the decisions right - the crucial decisions - that changed the game."