Rooney referee was unduly pressurised, claims Ferguson
Last updated on .From the section Football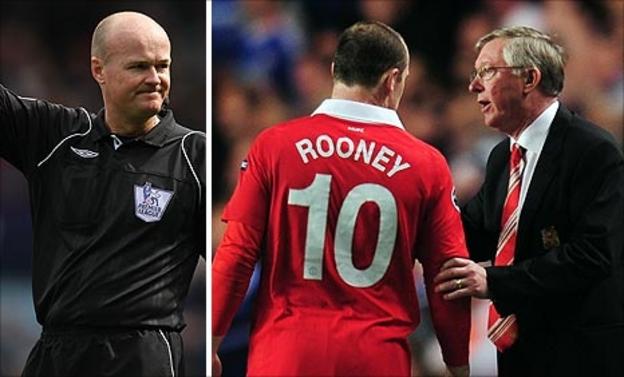 Sir Alex Ferguson has claimed the referee whose post-match report led to Wayne Rooney's ban for swearing into a TV camera was "put under pressure".
Fellow officials reportedly feel Lee Mason was forced into writing a report that enabled the Football Association to charge Manchester United's Rooney.
United boss Ferguson said: "Mason has now put himself in the spotlight.
"If he doesn't send a player off for swearing the question will be, has he got double standards?"
The Scot continued: "It is a very difficult position the lad is in. I feel for him. I really do. I don't know where his career is going to go now. I think he was put under pressure."
Rooney and United believe the striker's two-match suspension is "excessive".
Having missed the incident during last Saturday's dramatic 4-2 win at West Ham, and taken no action at the time, Mason later conceded that he would have sent off the England international had he been aware of what happened.
That admission came just before the FA decided to impose the ban which means that Rooney misses Saturday's Premier League match at home to Fulham and next weekend's FA Cup semi-final against Manchester City.
"It's hard to imagine a referee would send a player off for scoring a hat-trick," Ferguson added.
Ferguson questioned whether Rooney - who confessed that he was "gutted" after losing his appeal against the ban on Thursday - had been fairly treated by the FA.
"I don't know if you can use that word 'fair' any longer," the 69-year-old Red Devils manager said.
"We put an appeal in and the lad wrote his apologies for swearing. But I don't think we expected to get that result to be honest with you.
"We're disappointed but we'll have to get on with it and we'll be united with it... we've got a good squad and players have been showing fantastic determination.
"We're going to be hard to beat, that's for sure."
Former United captain Gary Neville has accused the FA of "creating" the rule that has seen Rooney banned.
"It [swearing] happens every single match, 20 times. I can't for the life of me understand why this time makes any difference," Neville, who retired last month, told BBC Radio Manchester.
"The FA are very reactive and very inconsistent with their reactions.
"There is no rule in place which says swearing into a camera brings you a two match ban, they've created one this week. Now they're going to have to make sure that everyone caught swearing on camera is banned for two matches.
"Go down to your park pitch on a Sunday morning and there'll be swearing.
"You can't say it's right or it's wrong, it's just football, that's what sport is. You see the same thing when a golfer makes a putt or a cricketer takes a catch. It's not a nasty thing, it's not malicious, no crime's been committed here."
United will extend their lead at the top to 10 points if they beat Fulham before second-place Arsenal, who dropped points last weekend in a 0-0 draw with Blackburn, travel to Blackpool on Sunday.