Hearts' Kevin Kyle fears hip injury could end season
Last updated on .From the section Football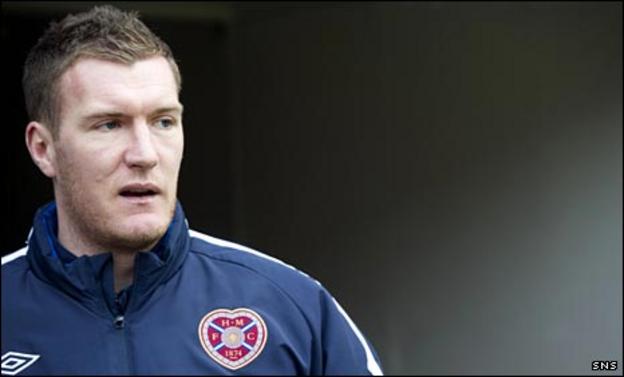 Kevin Kyle fears his season could be over after a hip problem came back to haunt the Hearts and Scotland striker.
The 29-year-old, whose early career with Sunderland was hampered by a similar injury, has not played for the Edinburgh club since 11 January.
"The physio might disagree, but to me I can't see much more action for myself from now and the end of the season," he told BBC Scotland.
"I can get through a lot of pains, but this one I can't."
Kyle felt better after an injection on Monday, even raising the possibility that he could earn a place on the bench for Sunday's Edinburgh derby against Hibernian.
"I was quite hopeful that that would be it, but now the injection is wearing off, the pain is coming back," said the striker before the 2-2 draw at Easter Road.
"So it looks like the problem lies within my hip joint and obviously I have had a hip problem years ago and I'll try another injection to see if that can completely cure it.
"But, if that doesn't, it will probably look like a bit of surgery, but we'll find that out in the next week or two and take it from there.
"It's not good news or news I wanted to hear, but these things happen as a footballer."
Kyle explained that uncertainty over the root of his pain had caused a delay in his comeback.
"It has been a long process of trying to find out what the problem is," he stated.
"I have had a lot of groin pain and, if you have groin pain, you presume it is your groin, so it has been a process of elimination.
"And last week I went down and got an injection into my hip with a different kind of formula and it took away all my pain."
Kyle is left cursing his luck as the injury came at a time when his performances were being much praised for helping Hearts challenge the Old Firm near the top of the SPL table and he was being touted for more international honours.
"It seemed to be, back in the days at Sunderland when I had a right good season in the Championship, I got a bang on the hip and had to take a back seat," he added.
"Now I have never felt so confident and enjoying my football and bang, my hip goes again."
He failed to again become a Sunderland regular following that previous injury and unspectacular spells followed with Coventry City and on loan to Wolves and Hartlepool United before he rediscovered his form with Kilmarnock.
However, Kyle is determined that a hip problem will not prove to be such a hinderance this time round.
"I will bounce back from it and hopefully it will be another five years' time when it will come back again and, by that time, the boots will be off and I'll be doing something else," he said.