Cardiff boss Dave Jones under pressure, says Tony Pulis
Last updated on .From the section Football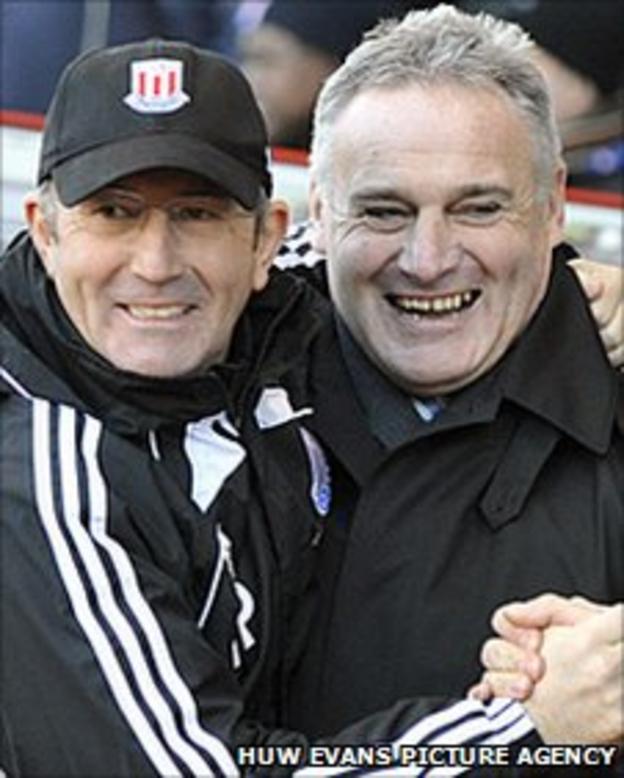 Stoke manager Tony Pulis says his friend Dave Jones is under pressure amid Cardiff City's bid for promotion to the Premier League.
The Bluebirds lie fourth in the Championship as they host Derby County on Saturday in the first of eight remaining games.
Pulis said: "I think Dave will know that he's under pressure this year.
"I think that everybody expects and he's got an array of talent there that really should be there or thereabouts."
Jones' side have won only once in their last five outings, but remain one place behind Welsh rivals Swansea with Norwich second and Queens Park Rangers leading the division.
Leeds United and Nottingham Forest complete the play-off places going into the weekend's games.
Speaking to BBC TWO Wales' Friday Sport Wales programme, Pulis said the fine line between success and failure can often be out of a manager's hand.
"You need a little bit of luck and a bit of good fortune as well and Dave will know that as much as anybody else," said Newport-born Pulis, who guided Stoke City to Premier League promotion in 2008.
"Being a manager that can be the difference between winning and losing and Dave will be hoping, as much as anybody else - [Swansea boss] Brendan [Rodgers] will as well - that lady luck falls their way in the back end of the season.
"If it does, the two of them could be playing in the Premiership next season."
Cardiff's last taste of success came in 2003 when Andy Campbell scored the only goal to win disappointing League One play-off final against Queens Park Rangers.
Jones says the biggest hurdle facing the current crop of players as they chase their goal is the lack of previous winning experiences to draw upon.
He said: "There are still a lot of twists and turns - there have been over the last few weeks - before the international break there was swapping and changing, some crazy results , some good results and some bad results and that's for everybody.
"It comes to this stage and the hardest part at this time is getting that first trophy or that first promotion.
"It's always been the difficult part. I've been fortunate enough in my time that I've had five as a coach and manager and sometimes people forget that.
"But it's difficult. The players try their best and work hard because when they don't get the result that everybody wants they're either poor players or they're not trying or something like that.
"That's not the case, they're just tick-box standard things that get thrown at people."
Watch the full Tony Pulis interview on Sport Wales, BBC TWO Wales, 2100 BST on Friday, 1 April.