Wales at 'rock bottom' - ex-Wales striker Iwan Roberts
Last updated on .From the section Football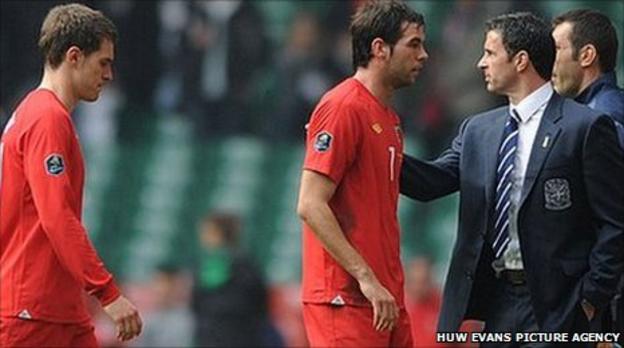 Ex-Wales striker Iwan Roberts has challenged new boss Gary Speed to take the national team from "rock-bottom" back to international respectability.
Roberts says Speed is not to blame for Wales' Fifa world ranking of 116th and five-match losing run.
But he says Speed should recruit a "wise old head" to his back-room staff and that the only way for Wales is up.
"As a nation, as a squad of players I think we are rock bottom. The only way is up for me," said Roberts.
Wales face Northern Ireland and Scotland in May in the Nations' Cup and end their Euro 2012 qualifying campaign in the autumn.
That campaign has seen them lose 1-0 to Montenegro and Bulgaria, 4-1 to Switzerland and 2-0 to England at the Millennium Stadium on Saturday, 26 March.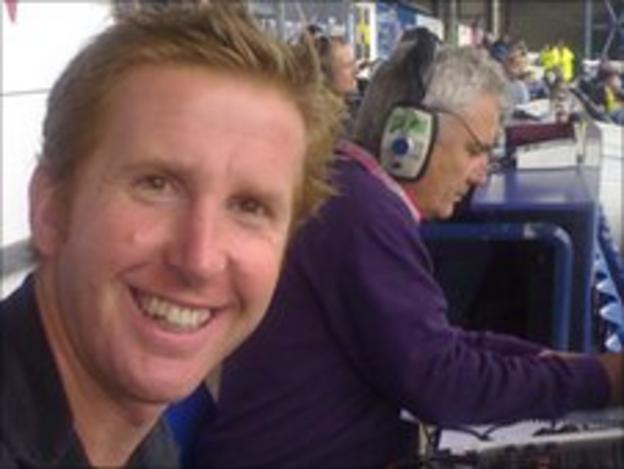 Speed was in charge for only the last of those fixtures, succeeding John Toshack in the wake of their poor start in the autumn of 2010.
Speaking to BBC TWO Wales' Sport Wales programme Roberts said: "He's [Speed] got to be successful on the pitch, it's as simple as that. He's got to get a winning formula, however he's going to do that.
"He's got a tough job, we all know that. But we've fallen to 116th in the Fifa rankings and that's the lowest we've been for a very, very long time.
"I think when John Toshack took over we were in the mid-80s so the slump was there before Gary's taken over."
Roberts says Speed should consider recruiting a figure simlar to ex-Manchester United assistant Eric Harrison, who was back-up to Toshack's predecessor Mark Hughes.
Speed has recruited Osian Roberts and Raymond Verheijen as his assistants and also openly wished for Man Utd veteran Ryan Giggs to be part of his permanent back-room staff.
"If I was Gary I probably would have brought somebody in with a bit more experience than the people that he's brought in," said Roberts.
"On Saturday, you're 2-0 down after 15 minutes and we're all fearing the worst, we're all thinking 'this could be five, six or seven' and he turns around and there's not too much help from the people that he's got with him coming forward.
"Gary's got a lot of contacts in the game. I think he needs to bring an old head in with him, who's been there, seen it and done it.
"Eric [Harrison] had worked for Manchester United for years. He brought that golden era of young talent through.
"He's worked with the best - Sir Alex Ferguson. [Speed needs] just an old head so you can confide in him, you can talk to him, you can take advice from him. You know, Gary does need help."
And Roberts says the May games in Dublin against Northern Ireland and Scotland offer Wales the chance to break their losing cycle and improve a dire recent scoring record.
He said: "I think we've got to get back to basics and we've got to roll our sleeves up now. We've got to show plenty of determination because there's going to be a few things said between now and then.
"And I think those two games will give us a chance to break this losing run that we're on - five games without a win, five defeats on the spin, only scored one goal in the five games.
"These next two games will give us a chance for us to get a win under our belts, give something for the boys to grasp on to if you like and hopefully we can kick on from there."
Watch the full Iwan Roberts interview on Sport Wales, BBC TWO Wales, 2100 BST on Friday, 1 April.