Ghana legend Appiah unhappy at 'disrespectful' England
By Dan Roan
BBC sports news correspondent
Last updated on .From the section Football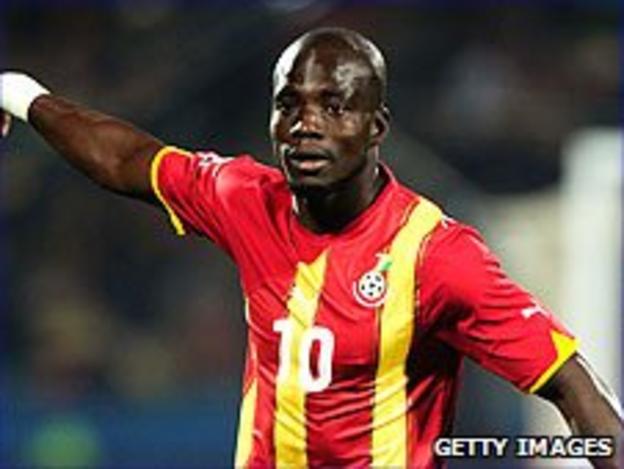 Former Ghana captain Stephen Appiah says Fabio Capello's decision to rest senior England players for Tuesday's friendly is disrespectful.
England manager Capello has defended sending five key men back to their clubs ahead of the Wembley sell-out.
John Terry, Ashley Cole, Frank Lampard, Wayne Rooney and Michael Dawson will not face Ghana, having started in Saturday's victory over Wales.
But Appiah, 30, told BBC Sport: "It's like they are underrating the game."
Ghana have sold a remarkable 21,000 tickets for their first ever match against England, the largest official away allocation Wembley has ever seen for an international.
But many Black Stars fans will have bought their tickets unaware they would end up watching a half-strength England team.
It is 54 years since Ghana, then the Gold Coast, gained independence from the United Kingdom, becoming the first sub-Saharan country to do so.
Appiah, who currently plays for Cesena in Italy's Serie A, won 69 caps for Ghana and captained the country at the 2006 World Cup.
He has also played for Fenerbahce, Juventus, Bologna and Udinese, and the three-time Ghana footballer of the year will be a special guest of the Ghanaian FA at Wembley.
Appiah said: "A lot of Ghanaians have travelled from America, Canada, from around the world. It's a dream come true. It's huge, it's big and Ghanaians are going to follow the match.
"Ghanaians are disappointed. They really wanted to see those players. The players wish they could play against JT [Terry].
"It's their dream to play against Wayne Rooney, Frank Lampard and all these players. Maybe some of them will not play in that stadium again."
When asked if he thought Capello's decision was disrespectful, Appiah said: "I think so, yes. Some Ghanaians are really sad they are not going to play. Maybe Mr Capello has his own reasons, we have to respect those."
Meanwhile, Mark Perryman, of LondonEnglandfans, said the Football Association should warn supporters if big names might be absent from games.
"There are going to be some who haven't been to Wembley before and this is a big day out for them and their families maybe and they weren't aware that these kinds of things went on," he said.
"Why doesn't the FA say at the beginning of a qualifying campaign 'please be aware in all likelihood that certain players won't be selected, at half-time seven or eight of the players are likely to be substituted, it's an opportunity for the manager to look at some fresh faces'.
"The other thing I think they should do as a result is reduce the prices of the tickets for friendlies."