Millennium Stadium boss will listen to pitch concerns
Last updated on .From the section Football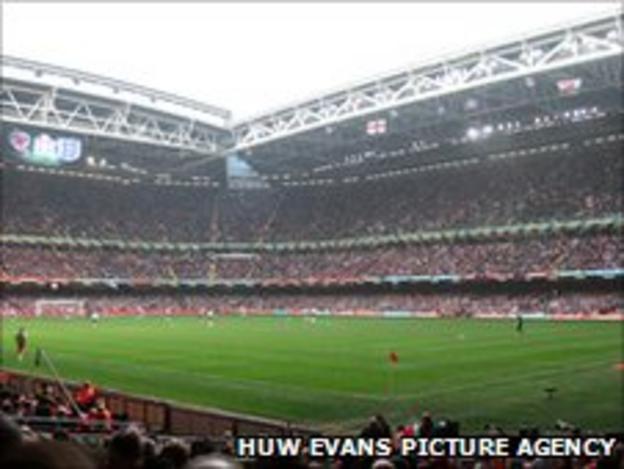 Millennium Stadium manager Gerry Toms insists he will take on board the concerns of Wales' players after they complained about the pitch.
Wales lost 2-0 to England in Saturday's 2012 Euro qualifier and then blamed the pitch in part for the defeat.
Wales captain Aaron Ramsey highlighted worries about it being ''dry'' but England did not complain.
"I do understand that there are some concerns and issues raised by the Welsh management," said Toms.
Wales manager Gary Speed has admitted since Saturday's Group G qualifying defeat that he will seek talks with Toms and Millennium Stadium bosses to have assurances that the Cardiff pitch is "playable" in forthcoming matches.
Speed wants the 70,000-capacity stadium to host Welsh football games but demands the pitch is suitable to play a passing style of play.
"We had nothing from England but that's by the by," added Toms. "We'll listen to what they [Wales] have to say.
"Funnily enough Gary Speed was in on the Monday before the game because we asked him specifically to come in and look at the pitch and ask us if there was anything particularly he wanted done."
After the game, Arsenal midfielder Ramsey said: "It's no excuse but the pitch didn't help as well, it was a bit dry on the surface and we couldn't get any pace in our attacks."
And Williams added: "The pitch didn't help."
Reacting to the Ramsey and Williams' comments Toms apologised following the criticism.
"I'm sorry it didn't meet expectations but I'm sure the ground staff did the best they could," he said.
It is not the first time since the Cardiff stadium opened in 1999 that there have been problems with the surface.
The pitch had to be replaced in 2009 because of fly infestation which causes damage to root growth.
And back in 2005 the pitch needed repairing ahead of a Wales v Hungary football match after it had cut up during a Six Nations clash between Wales and England.
Rugby League's Millennium Magic opening weekend and two Six Nations rugby union internationals have been played on the surface, which is grown elsewhere before being moved into the stadium on pallets.
"We have had our wrestles and tussles with the pitch system in the stadium," admitted Toms.
"It's not just football played on that pitch.
"We played seven games of rugby league, we've played two games of international Test rugby therefore it's not going to be the same as a Premier League football pitch where just football is played."