Wales stars blame Millennium Stadium pitch after defeat
Last updated on .From the section Football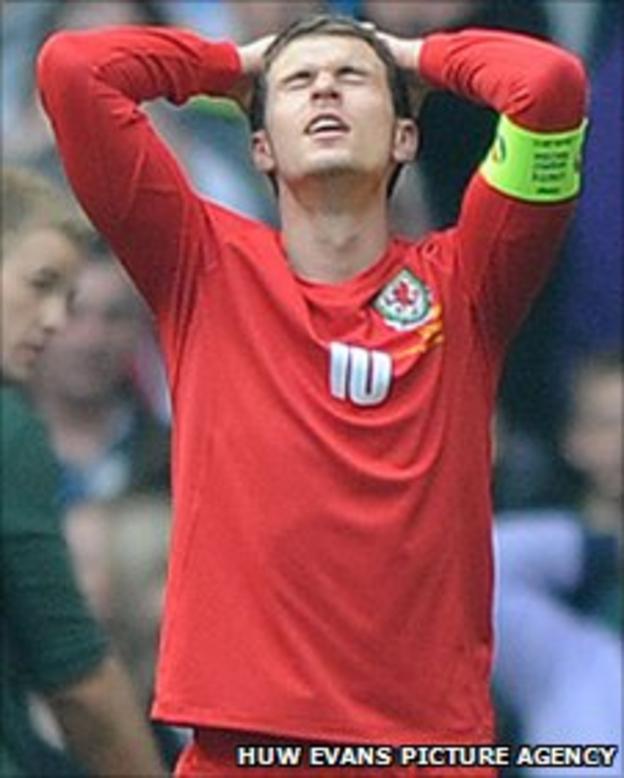 Aaron Ramsey and Ashley Williams say the Millennium Stadium pitch played a part in Wales' loss to England.
Ramsey said: "It's no excuse but the pitch didn't help as well, it was a bit dry on the surface and we couldn't get any pace in our attacks."
Williams added: "The pitch didn't help."
Ramsey, 20, who led his side for the first time, admitted Wales lacked consistency during the 2-0 Euro 2012 qualifier loss.
The Arsenal star was making his first Wales appearance since recovering from a horrendous leg injury.
He said: "We were very disappointed. Obviously we had a slow start and it was a mountain to climb from there.
"But I give credit to the boys, we did stick to our game plan. Obviously it was new to us what we were doing today and we created some chances on the odd occasion but we weren't consistent enough.
"It was very disappointing. It's no excuse but the pitch didn't help as well, it was a bit dry on the surface and we couldn't get any pace in our attacks.
"I thought the fans were outstanding and obviously they're going to go back disappointed. But I thought they were fantastic."
England went ahead early on through a Frank Lampard penalty and Darren Bent soon added a second.
Swansea defender Williams said: "I think against a team like that you can't give away sloppy goals.
"I think that's what we did - two sloppy goals at the start. We didn't start very well, they did start well.
"Then from there it's impossible, but I think we were brave and tried to get on the ball and control the game.
"I think when we watch the game back and analyse it we'll have a lot of positives to take from the game. That's my initial reaction.
"We've tried to put a structure in place in the way we're playing. We're trying to get on the ball and pass the ball. The pitch didn't help that, but hopefully everyone can see what we're trying to do."
Celtic midfielder Joe Ledley chipped in: "It was a promising performance in the second half. No one scored so it was a draw in that half.
"It was disappointing in the end, it was still a defeat. There's still some signs that we look good on the ball.
"Hopefully they (fans) can come back just for us players and get behind us. They are a big difference in what we do.
"Hopefully we can get the fans back and they can support us."
Nottingham Forest's Chris Gunter said: "As the manager's [Gary Speed] been saying all week, even though this game is massive and we all desperately wanted to win the game and give something back to the fans, there's a bigger picture.
"This was just a first small block in a long road under the new manager. I thought second half we did improve.
"I thought the fans were brilliant today. They were always going to turn out for England. We need them. It does make a difference when the stadium's full.
"It is a long road. It was never about the three points in terms of qualifying, it was about the three points of pride and for the fans and for us to gain confidence.
"It's a really long road and we need to build towards the next campaign and that's all we can do."