County Durham is football hotbed
Last updated on .From the section Football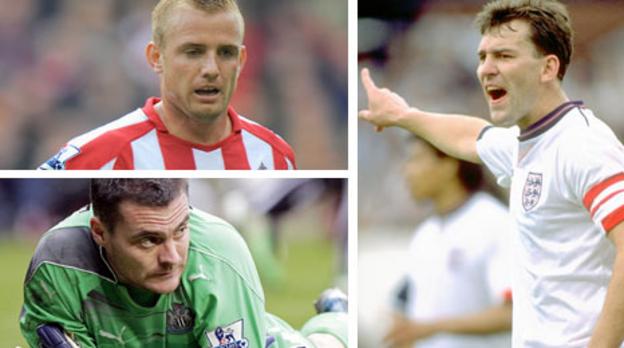 County Durham is England's footballing hotbed after statistics reveal the area has produced more English-born Premier League players than any other county.
The county has produced over nine Premier League footballers per 100,000 of its population since 1992.
North Yorkshire came second (7.69 players), with Merseyside third (6.59 players) and Berkshire fourth (5.97).
The survey shows a link between football and poverty, with the poorest counties producing the most stars.
The findings come from data gathered by Cambridge-based internet developers Trueknowledge.com and is based on the birth places of all 1323 English-born players who have graced the Premier League since its inception in 1992.
Once known for its mining industry, County Durham - birth place of former England captain and Manchester United midfielder Bryan Robson - has provided a rich seam of Premier League players.
Simon Chadwick, professor of sport business strategy and marketing at Coventry University, told BBC Sport the findings suggested football remained "socially important" in regions like County Durham and Yorkshire.
Yet County Durham is one of England's poorest counties with a median weekly wage of £419.90, second from bottom behind Cornwall, which has an median weekly wage of £408.60.
Those English counties in the bottom half of the median weekly wage table more often than not produced the most Premier League footballers, the anomalies being London and Berkshire, which have produced a large proportion of top-flight footballers and have higher median weekly wages.
Professor Chadwick believed that there could be two main reasons for Berkshire's appearance in the top 10.
"One explanation for this could be that football has much broader appeal and reach than might have been the case in previous decades," he said.
"It may nevertheless may also indicate that Premier League football is becoming a career option and a sport that is potentially appealing much more to a middle-class audience.
"As such, one might conclude that the socio-demographic composition of Premier League players has changed somewhat over the last two decades."
The north east stands out as a region which has been particularly successful in nurturing talent over the last 19 years, with Tyne and Wear and Northumberland joining County Durham in the top 10.
Former England forwards Chris Waddle (Tyne and Wear) and Peter Beardsley (Tyne and Wear) are two of the most recognisable names from the north east, while of the current crop of stars - Michael Carrick (Tyne and Wear) and Lee Cattermole (County Durham) - are flying the north-east flag on the big stage.
Excluding London, the city where most Premier League footballers were born was Liverpool with 62 players - including current England stalwarts Steven Gerrard and Wayne Rooney. Second was Birmingham (55) with Manchester (42) in third.
Without putting any restrictions on the data, London (322 players) comes out as the county where most Premier League players have been born, with Greater Manchester (115) second and West Midlands (96) third.
"If our data helps Premier League scouts uncover the next generation of Rooneys, Gerrards and Beckhams and years from now England win the World Cup thanks in some small part to our data it would be fantastic," said Trueknowledge.com founder William Tunstall-Pedoe.
| | | | |
| --- | --- | --- | --- |
| | English Counties | Prem footballers per 100,000 population | Median weekly wage (£) |
| 1 | County Durham | 9.49 | 419.9 |
| 2 | North Yorkshire | 7.69 | 465.5 |
| 3 | Merseyside | 6.59 | 452.6 |
| 4 | Berkshire | 5.97 | 569 |
| 5 | Tyne and Wear | 5.06 | 427.4 |
| 6 | Nottinghamshire | 4.89 | 476 |
| 7 | Greater Manchester | 4.42 | 456.2 |
| 8 | Northumberland | 4.18 | 467.7 |
| 9 | Bristol | 4.16 | 474.5 |
| 10 | London | 4.15 | 598.2 |