Richard Kruse: British fencer wins men's foil at Bonn World Cup
Last updated on .From the section Fencing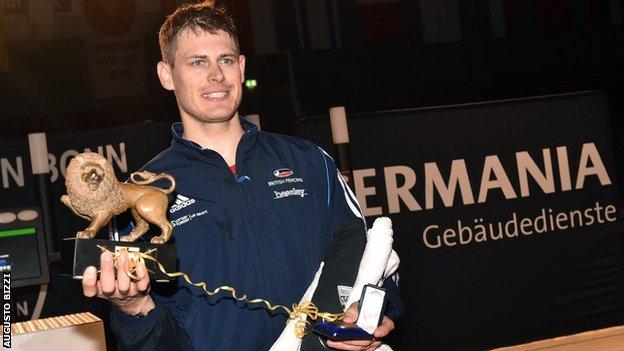 Britain's Richard Kruse is targeting more victories so he can "retire happy" after winning the men's foil at the Bonn World Cup.
Kruse, 35, opened the new season by beating Italy's Andrea Cassara 15-11.
The four-time Olympian is now four points off the world number one spot in a season when Olympic qualification for Tokyo 2020 begins.
"This was the only World Cup I hadn't previously won a medal at so I'm pleased," the Londoner said.
"This pushes my tally of World Cup wins up to eight. If I could make it to 10 then I will be able to retire happy," he added.
His coach, Ziemek Wojciechowski, said: "This is the eighth victory for Richard in World Cups and Grand Prix events. It is incredible to see Richard showing yet another dimension of his mastery in defence by using more than ever a variety of actions from the line."