British Fencing: Crowdfunding appeal for Tokyo 2020 raises just £170 in first month
By Katie Falkingham
BBC Sport
Last updated on .From the section Fencing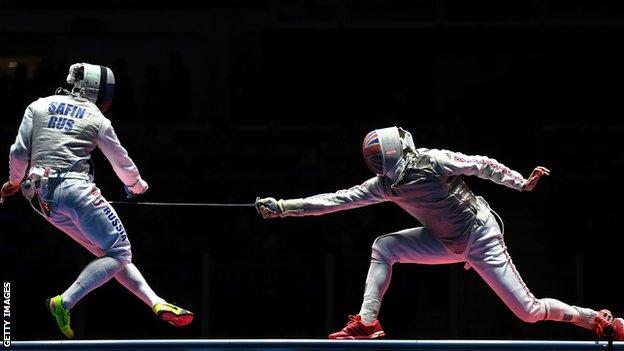 The future of British fencing has never looked "so bleak" after it emerged a crowdfunding bid has raised just £170, says British Fencing's chief executive.
The sport was one of five to have UK Sport funding removed in December 2016, having got £4.2m for the Rio Olympics.
And British Fencing's Georgina Usher says the sport may not be represented in Team GB at Tokyo 2020 as a result.
"Our chances of qualifying for the Olympics has been massively impacted," she told BBC Sport.
"Our athletes have got the ability to get there, but are worrying about how they are going to afford competitions. There is no doubt in my mind that it has had an impact on their performances.
"In my lifetime, I can't remember a single moment in the history of sport whereby it has been so bleak. There has always been funding from other sources."
The sport launched a crowdfunding campaign in June to fund athletes' progression towards the Tokyo Olympics, but it has so far failed to have the desired effect.
A previous campaign raised more than £18,000 to send a team to the 2017 World Fencing Championships.
'I'm two months late with my rent' - case study
James Davis was crowned European foil champion in 2014 and competed at the London 2012 and Rio 2016 Olympic Games
The funding cuts came as a huge surprise because we had met our targets and exceeded them sometimes.
Financially, it was a double whammy. You lose the funding to go to tournaments, but you also lose your athlete personal award, which is basically your salary. It wasn't a lot, but it paid the bills. When I'm at tournaments, I try not to get caught up with thinking how much a night in a hotel is going to cost me.
I've been very lucky - I work as a fencing coach and live with a family in America. I'm two months late with my rent, but they haven't been chasing me because they know I'll pay it when I get the money. And my coach has said I don't have to pay club fees right now.
As a team, we've lost all our support staff and have to do everything for ourselves, but that has really brought us together. That has been the silver lining, and we are finding ways to get through it.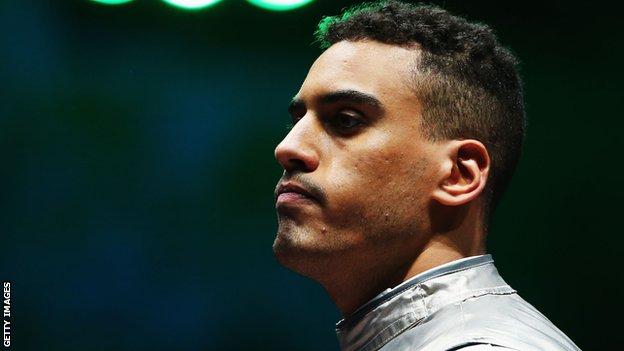 How much does it cost to fund an elite fencer?
British Fencing sent four athletes to the Rio 2016 Olympics, with Richard Kruse achieving a fourth-place finish in the men's foil.
But the British senior squad - across both men's and women's foil, sabre and epee - is much bigger, with 24 athletes competing at the European Championships in Serbia last month.
To fund one athlete competing on the World Cup and Grand Prix circuits, as well as the World and European Championships, Usher estimates it would cost between £10,000-15,000 each year.
"But that doesn't cover the fact the athlete then has to go home and pay their rent," she said. "They have to be able to live and that's why many are moving back in with their parents.
"Many athletes are doing various jobs aside from fencing to try and make their way, but it's tough."
She added: "We sent a team of 24 athletes to the European Championships and we burned through £10,000 without even blinking to fund their entry fees, flights and hotels."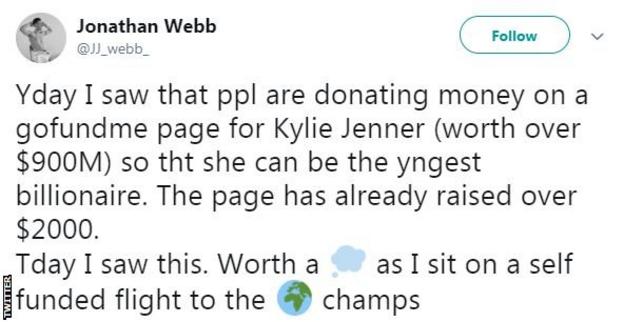 'Our athletes feel isolated'
UK Sport invests £100m of National Lottery and government money into high-performance sport each year, but many Olympic and Paralympic sports - including fencing - do not receive any funding.
Fencing is one of 12 British sports to have called upon UK Sport to give all Olympic and Paralympic sports at least a "baseline level" of funding, calling the organisation's current medals-based, 'no-compromise' policy "divisive" and "self-defeating".
In June, a national consultation was launched by UK Sport to determine whether Britain should change the entire way it funds elite sport.
"We can't even give our athletes even the most basic of support. We've gone from having a fully-funded world-class programme, to having nothing within three months," said Usher.
"We worked out it would cost £6.6m to give the 12 national governing bodies this baseline funding and that is a drop in the ocean compared to the entire budget.
"Having nothing makes our athletes feel isolated, alone, and it's awful."