Lewis Hamilton: Nico Rosberg rivalry & champagne celebrations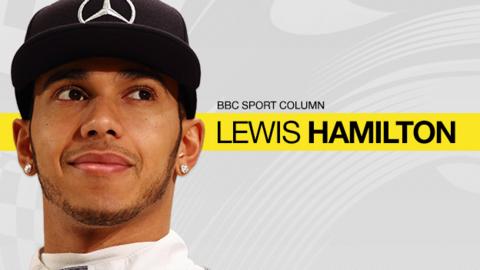 I tend not to read stuff that's written about me, but I am told I have been in the papers a fair bit since the Chinese Grand Prix last weekend.
I can see why the comments my team-mate Nico Rosberg made after China - about me potentially compromising his race - created a lot of interest.
We did discuss Nico's opinion within the team after the race, but it would not be right to reveal what took place in a private meeting.
What I can say is that I feel very relaxed about it.
Naturally, we are all competitors. So when it's so close and you don't win, it can be hard to deal with.
But the way I look at last weekend is that I was quickest in every session. I worked hard for the win, and Mercedes got a one-two, the perfect result.
A different kind of F1
The race in China was all about managing our tyres to ensure we made them last as long as we needed to for the perfect race strategy.
It's really hard to explain to you what these cars and tyres are like to drive. Sometimes you slide them through the corners, and the tyres overheat; sometimes you drive the car the same way and they don't. It all depends on the kind of circuit, the corner type, the car set-up and the weather conditions.
It's a really complicated thing and you don't exactly know how the tyres will react beforehand, so we have to manage the tyres and make sure we don't go over the edge and damage them. In China, the level of tyre management was definitely towards the upper end of the scale.
Not everyone approves of F1 being like this, but for me it is just a different kind of racing.
When I first started in F1, the races were a series of sprints between pit stops. Since then, the nature of the challenge has changed several times - there have been races when you have to fuel save, races when tyres are critical, sometimes both.
The sprint races were good fun - very physical. But now, you have to be fast but efficient, too, and the races are much more complex. There are so many factors you have to take into account to get to the end of the race.
F1 is still an incredible challenge. The tyres are tricky to manage, and there is so much information to take in, but you still need to be really quick because that's what it's all about in the end. It is just a different kind of challenge from before.
Shock at podium allegations
I also hear that some people have criticised the way I celebrated on the podium in China and the fact that I sprayed one of the hostesses with champagne.
That has really caught me by surprise. The podium is a celebration. It is meant to be fun when you have just won a race. And I did not do anything different from what I - or many other drivers - have done before.
I would never set out to disrespect or embarrass anybody, be it a man or a woman, and that wasn't the case on Sunday, either.
I certainly did not see it that way at the time - most people laugh if we spray them on the podium - and I was pleased to hear that the lady in question was not upset, either.
Trying to keep the right balance
The start of this season has gone pretty well for me, with three poles, two wins and a second place from three races so far. But I haven't done anything different from before - I've just been trying to carry on where I left off at the end of last year.
I am concentrating very hard on my job and of course I naturally hope I am improving because I am gaining experience all the time and it would be odd if I was not.
I generally feel very relaxed and, as I have always said, I am very happy in the Mercedes team.
I am very grateful to have a car as good as I do and I certainly don't take it for granted. I am keeping my head down, staying focused, and the older I get the more appreciative I am to have the opportunity to be a Formula 1 driver and win races. Not many people get to have that chance.
I am aware of always trying to have the right view on life, to take a step back and look at the bigger picture, in all scenarios.
Of course, I am very competitive and I want to win all the time. And I do like a good fight. But I am also conscious that you cannot win them all.
I am just enjoying life and I want to savour every moment of it.
A new challenge in Bahrain
This weekend we're racing in Bahrain, where Nico and I had a brilliant fight last year. I was struggling for pace and managing to hold him off all race when it was as close as it was means it was one of my favourite wins.
I know it made for a great spectacle, but I am going to be trying really hard to ensure it is a bit easier for me this year!
It's hard to have the pace every weekend, but the target this weekend is the same as always - to have more speed and better tyre degradation than Nico and everyone else.
I will be working hard through practice to come up with the right balance on the car to continue with the qualifying and race performances I have had this year.
In that, I can take a lot of lessons from China - including, for example, making sure that my last run in qualifying is my best. In Shanghai I did not improve on that lap, and that enabled Nico to get much closer to me than I felt he ought to have done.
This weekend, I am aiming for 100% all round. You hardly ever achieve it - but the target does not change.
You can follow Hamilton on Twitter @lewishamilton and you can see exclusive content on his website www.lewishamilton.com
Lewis Hamilton was talking to BBC Sport's Andrew Benson