30 years of hurt
How Liverpool's long wait for a title came to an end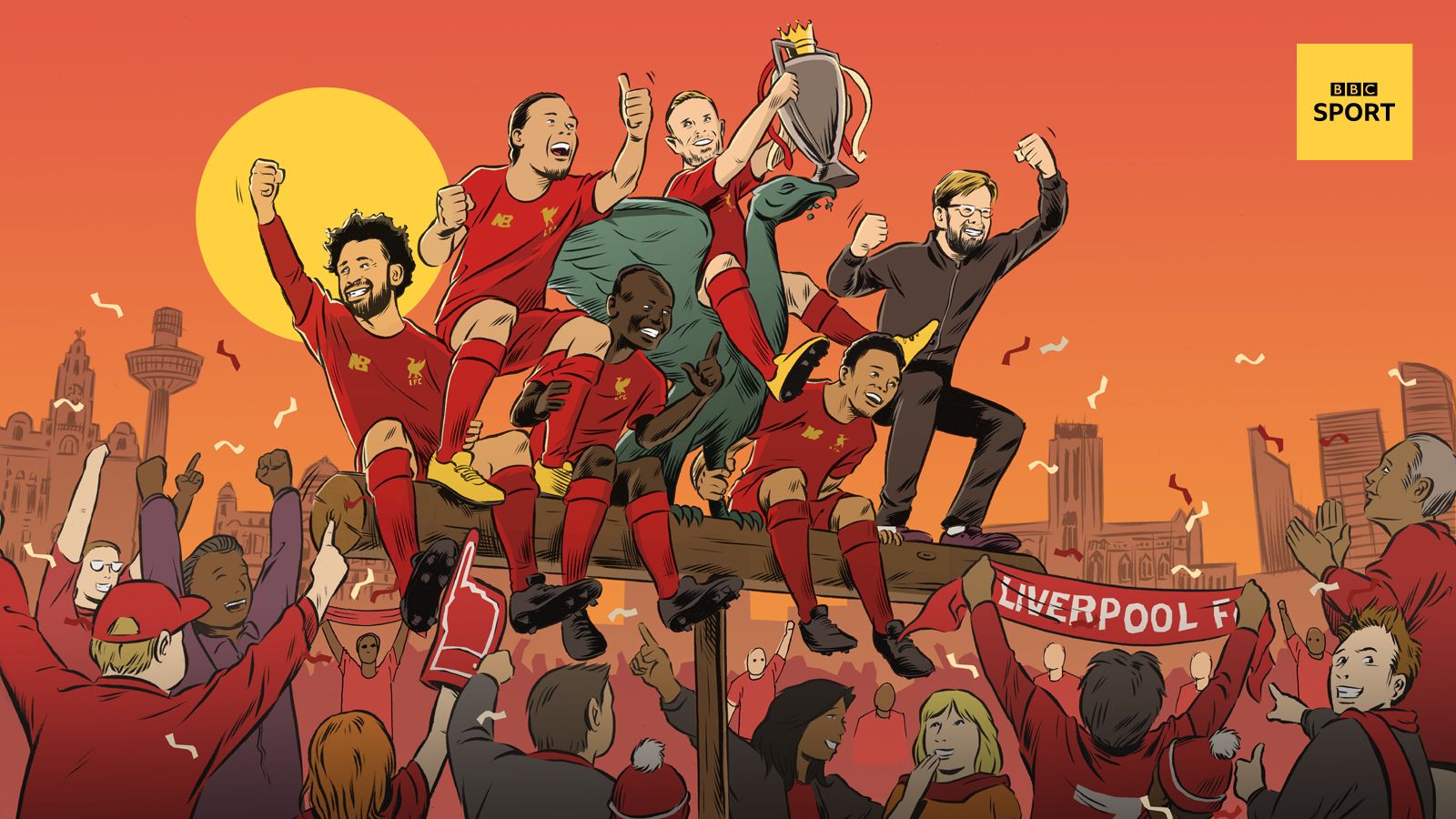 It was routine. Liverpool were champions of England in May 1990 for the 18th time. It was their 11th title in 18 years. They were on their perch at the top of the game.
Since then 238 players have pulled on the famous red shirt in pursuit of number 19 and there have been 120 league defeats for Jamie Carragher alone.
It is a wait that has straddled seven prime ministers, two Iraq wars, seven million UK weddings and one coronavirus pandemic.
Few, if any, of the 38,038 fans who were inside Anfield to see Liverpool beat Derby County in the last home game of the 1989-90 season would have believed that it would be another 30 years before they took the trophy again.
So just what has happened in the fallow years, on and off the pitch?
1990-91 season
'In West Philadelphia, born and raised…'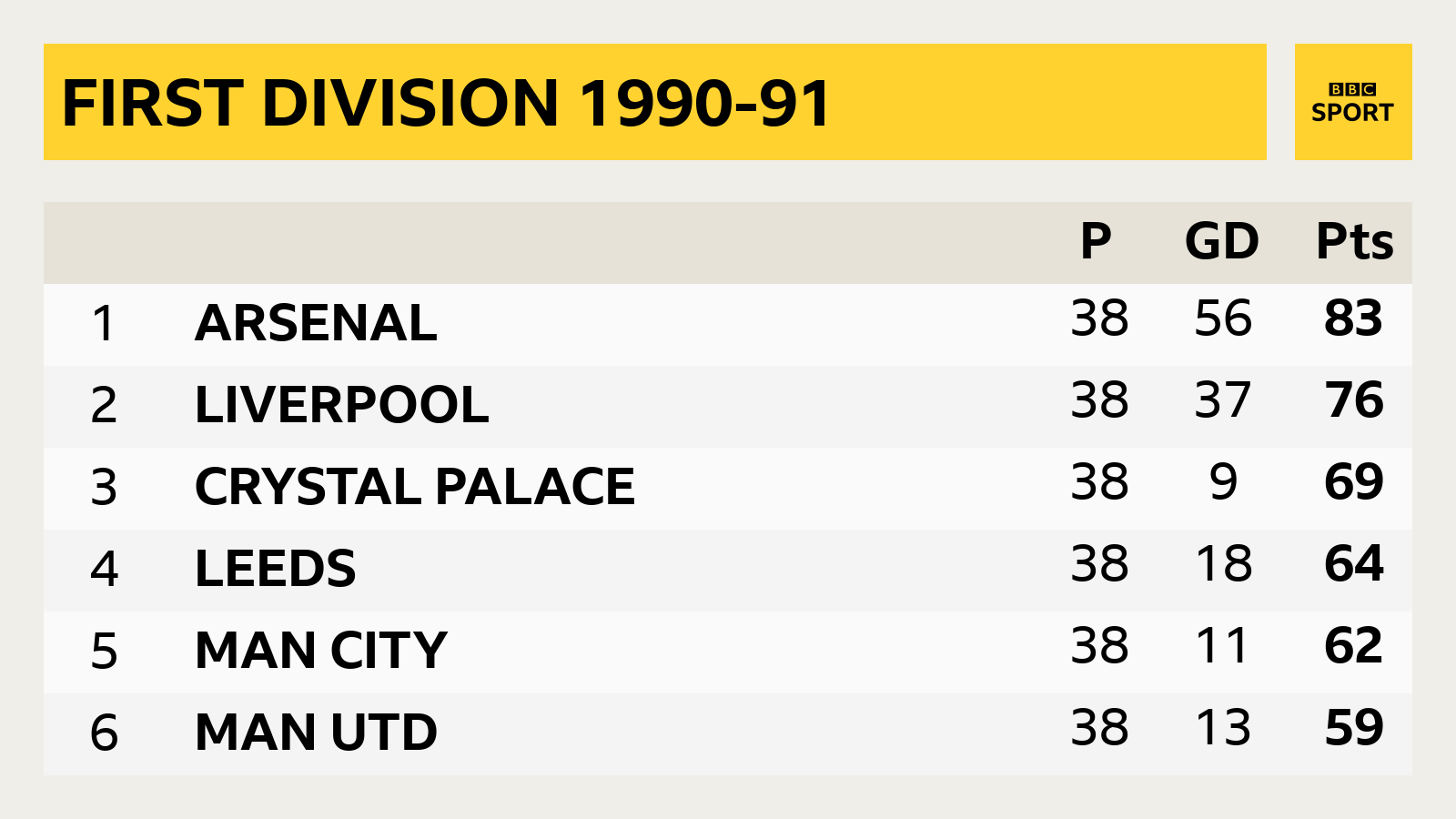 Yes, it was that long ago. The Fresh Prince of Bel-Air - starring a young Will Smith - was first shown on these shores as Liverpool secured a top-two finish for a 10th year in a row, despite manager Kenny Dalglish shocking the footballing world by stepping down in February 1991. New champions Arsenal lost just once all season as football began a post-World Cup revolution.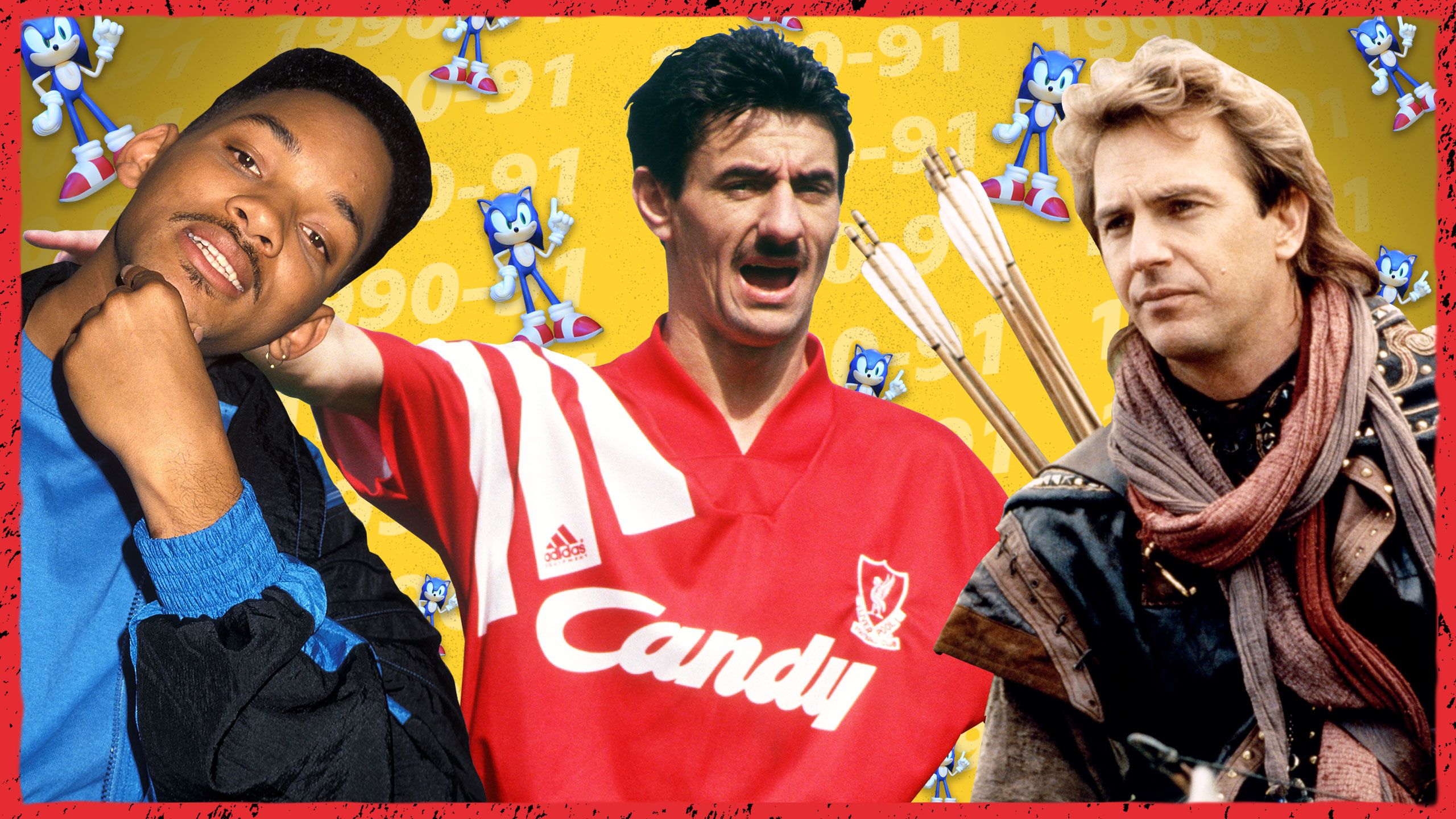 Home life in the UK was a far cry from sunny California - John Major's Conservative government was fighting a recession as the first Gulf War started in Kuwait.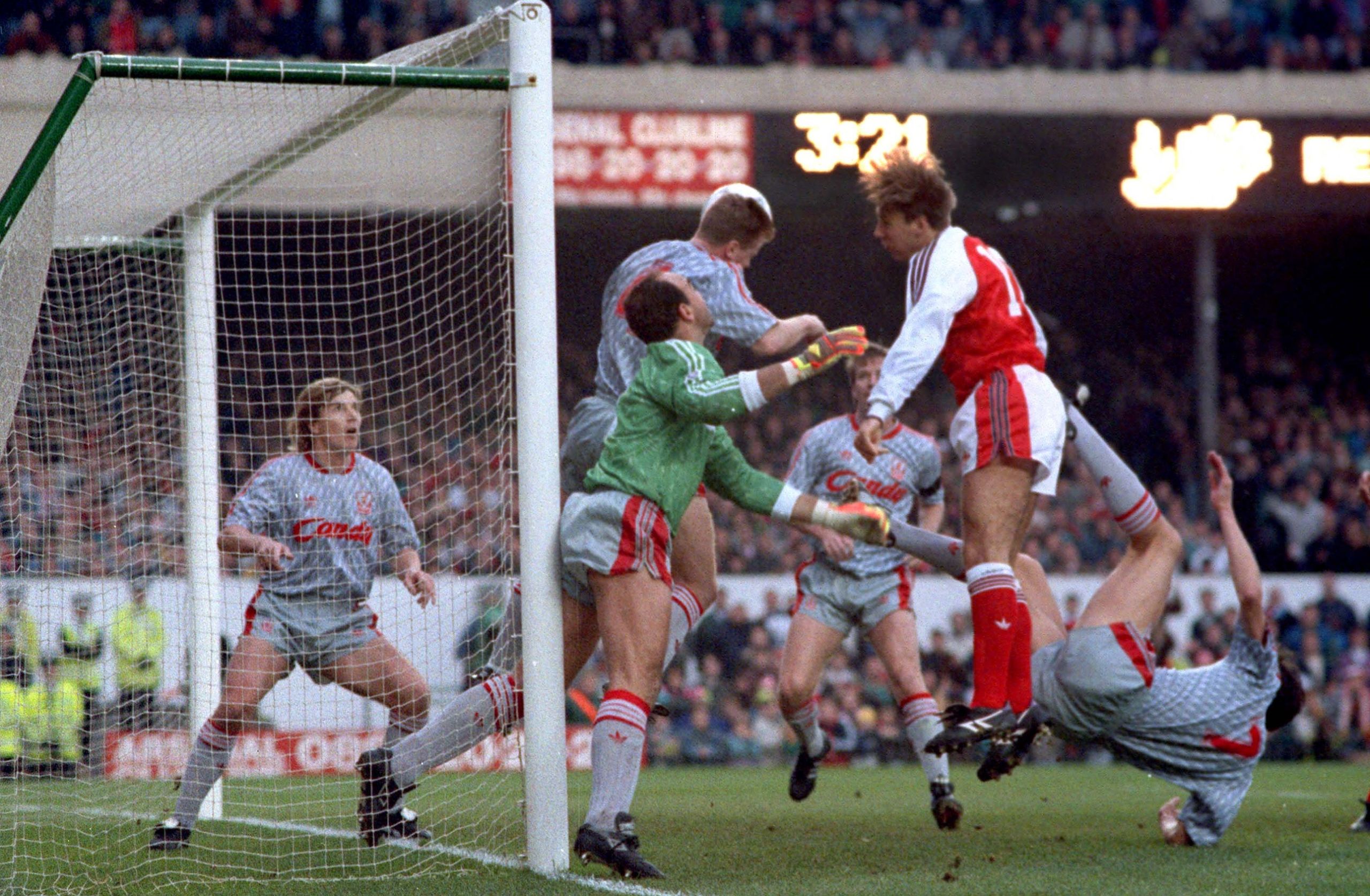 Chesney Hawkes sat atop the charts for five weeks while Kevin Costner's Robin Hood was the big summer hit at the cinema, and kids had a new hero in the guise of Sonic the Hedgehog...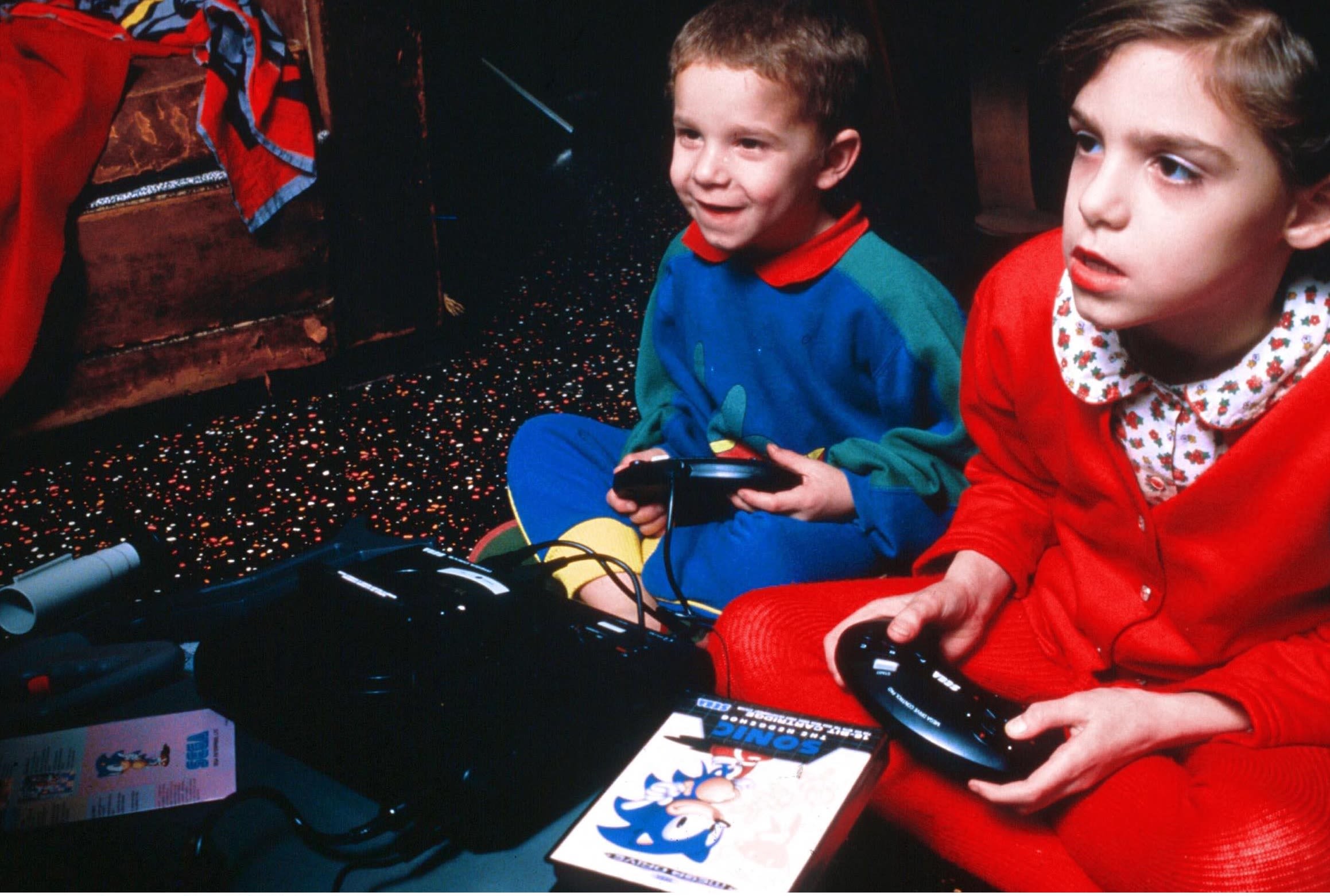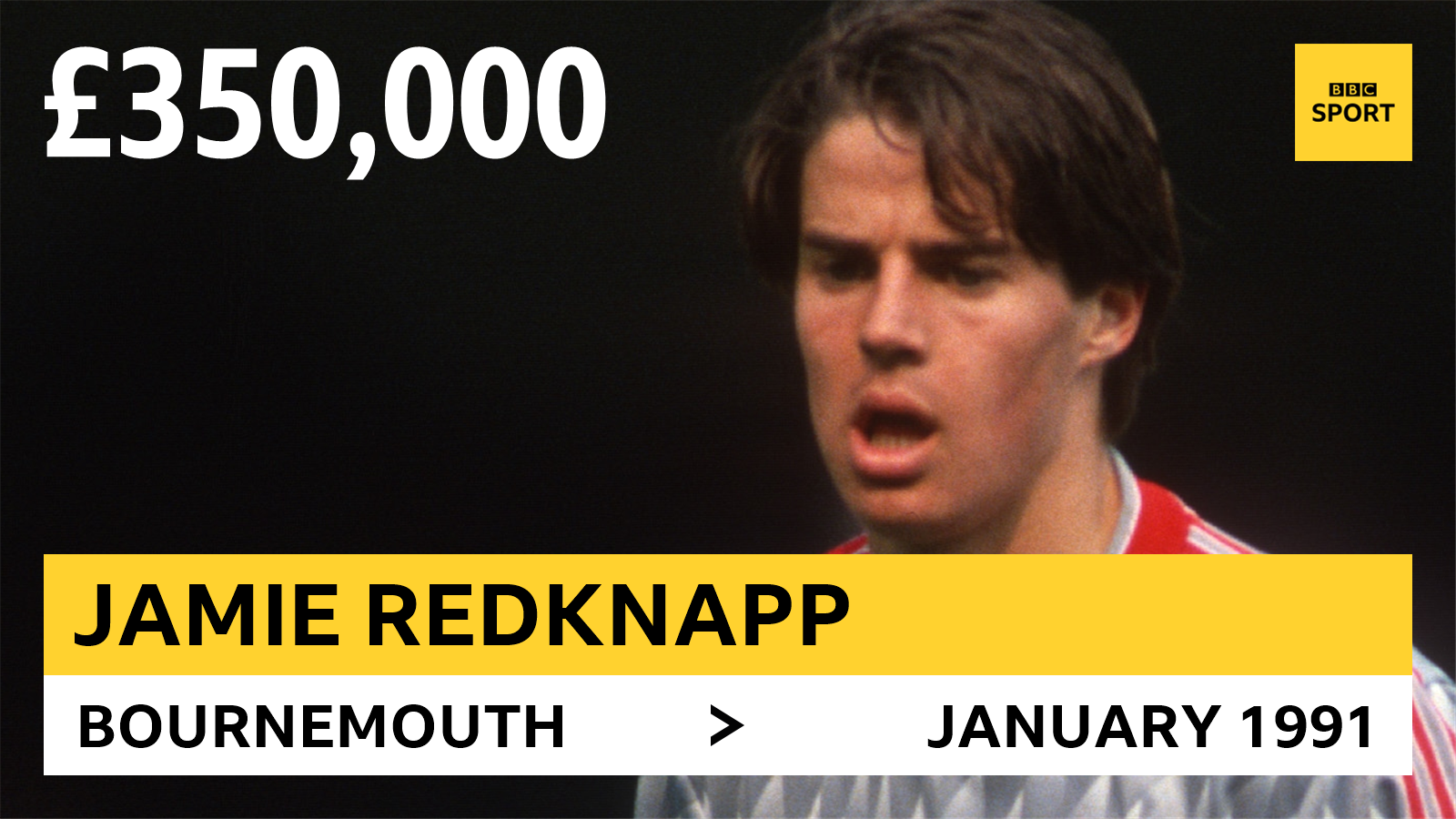 Points behind winners: Seven
Trophies: Charity Shield
Top scorer (all comps): Ian Rush (26)
Manager: Kenny Dalglish/Graeme Souness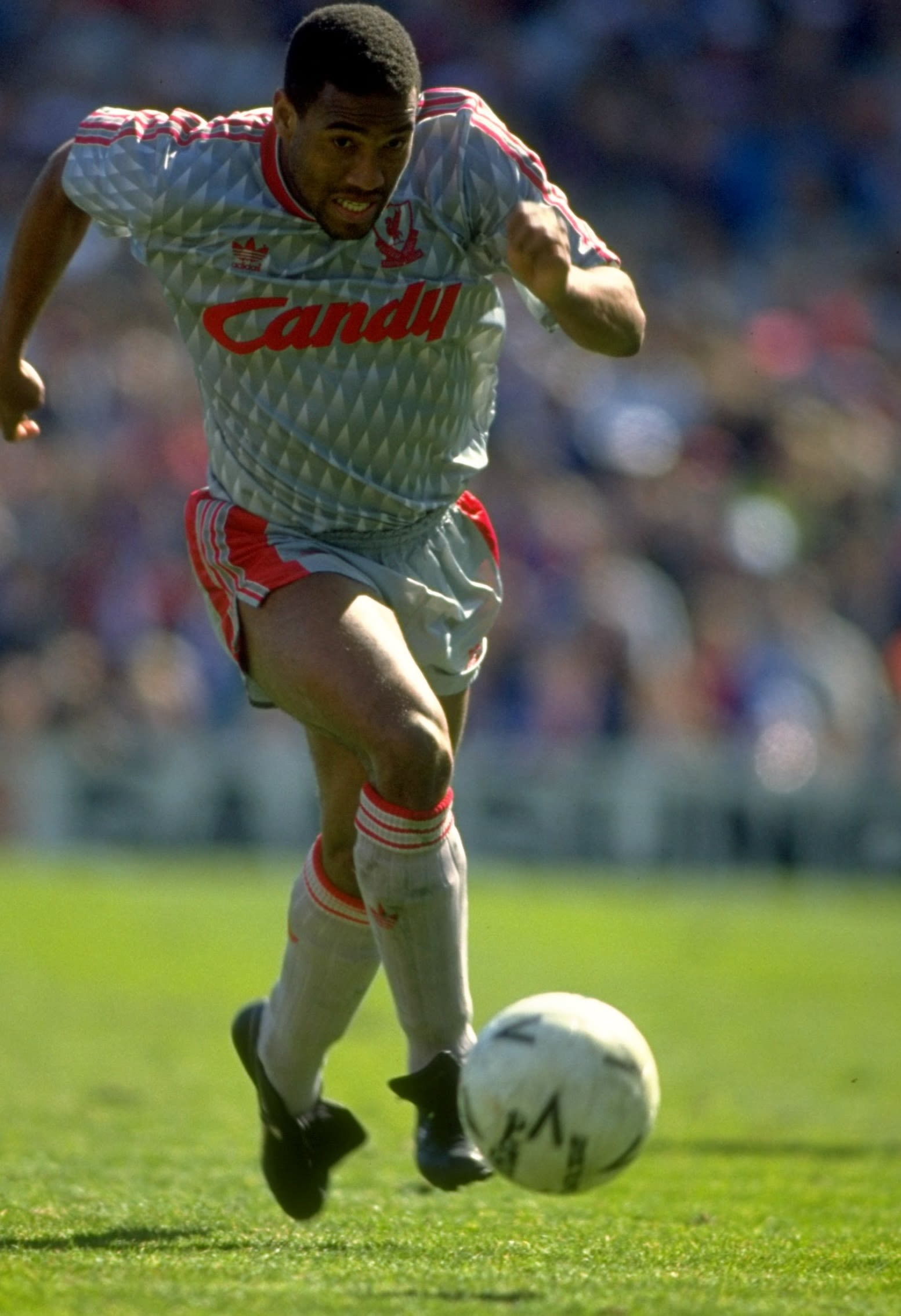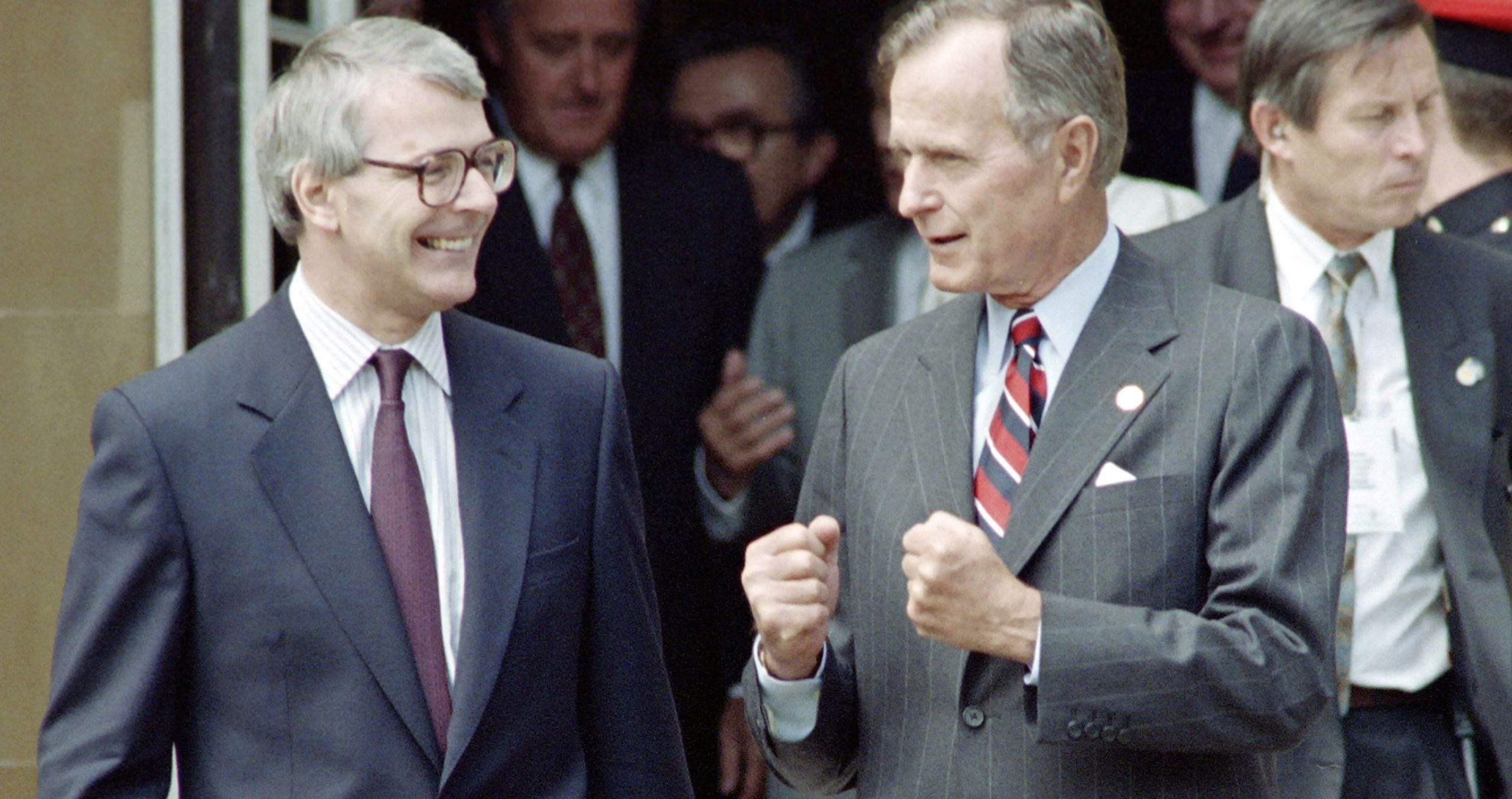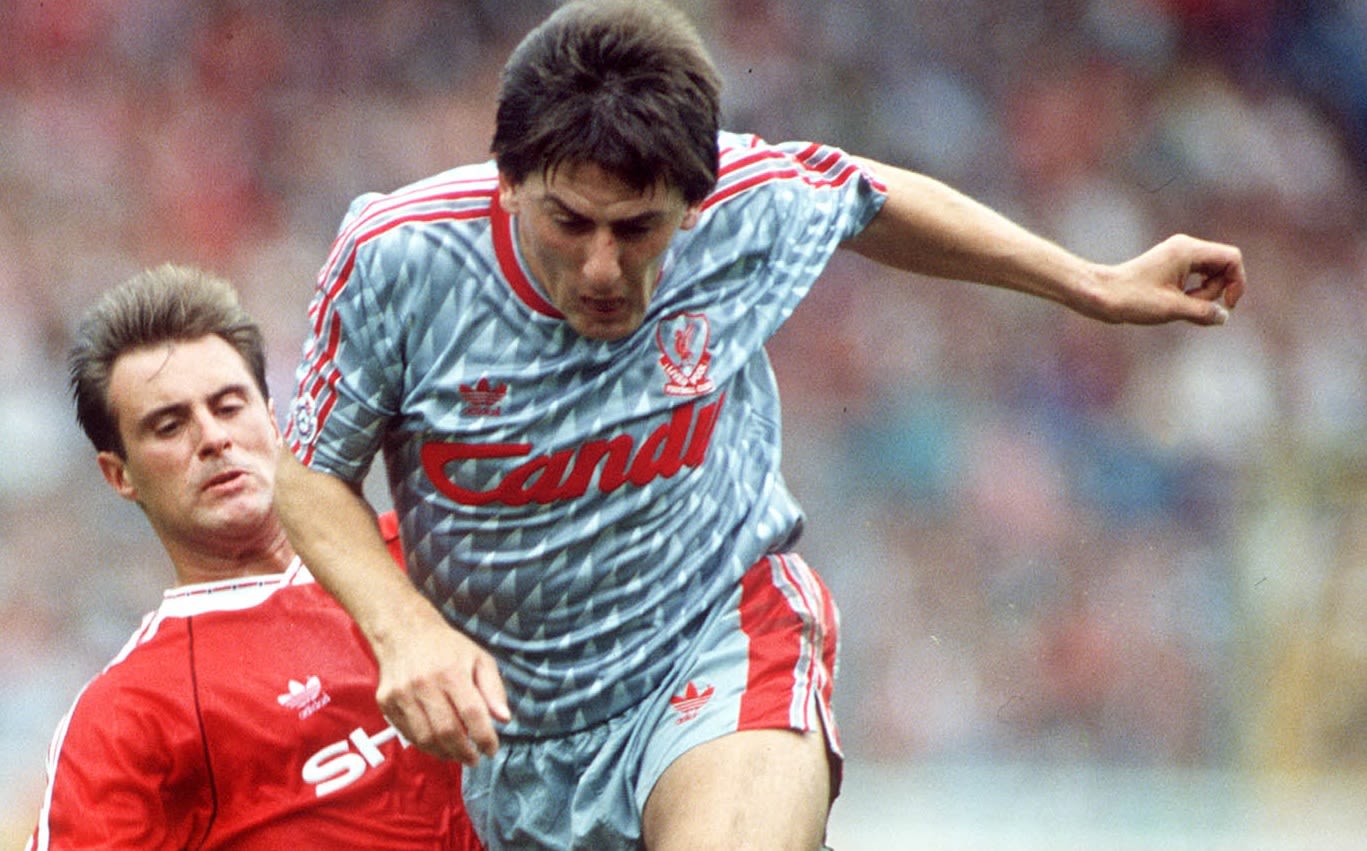 1991-92 season
The 'annus horribilis'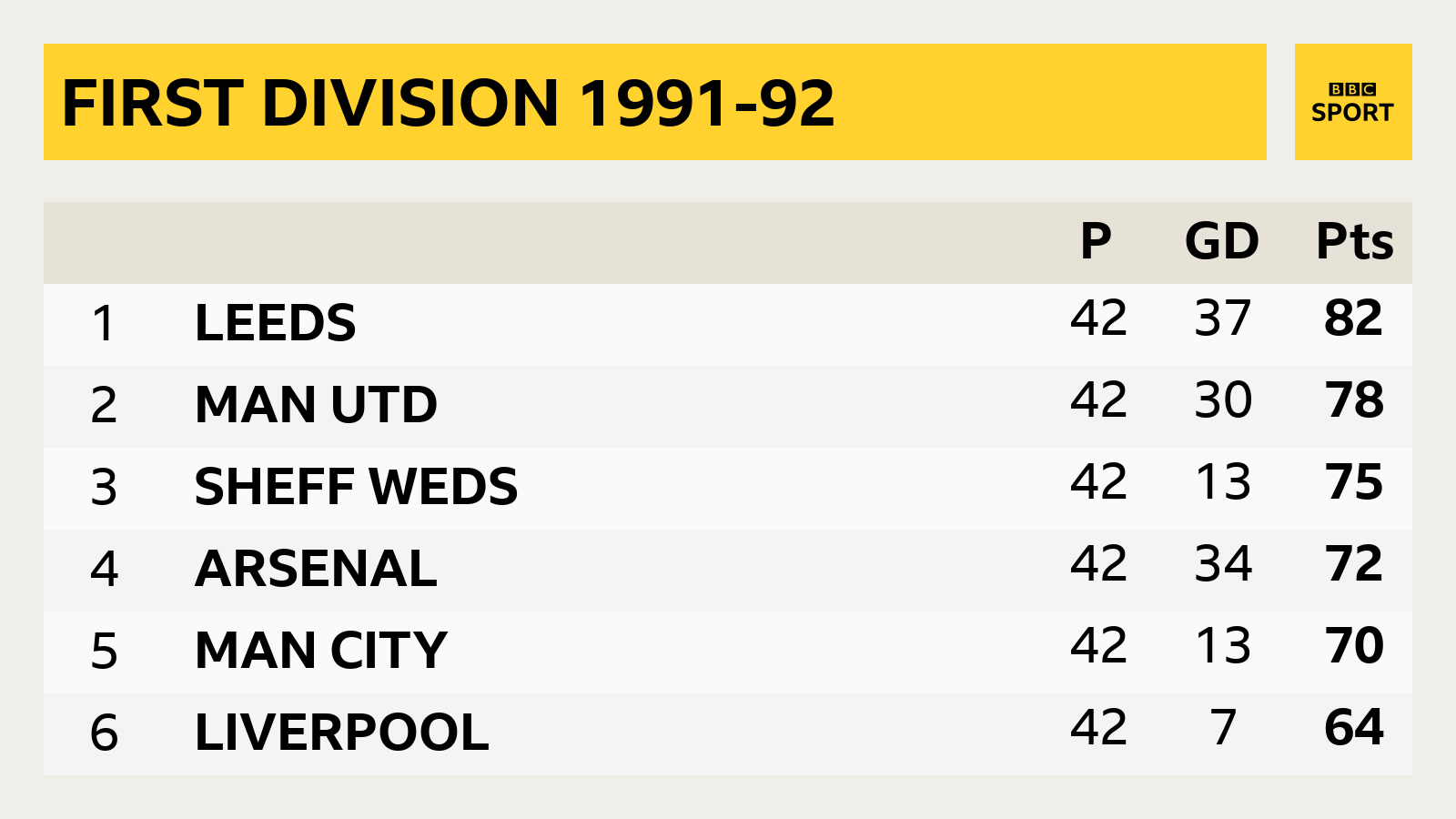 That's what the Queen called 1992 after a year of divorce, scandal and a fire at Windsor Castle rocked the Royal Family. The corridors of power at Anfield were similarly troubled.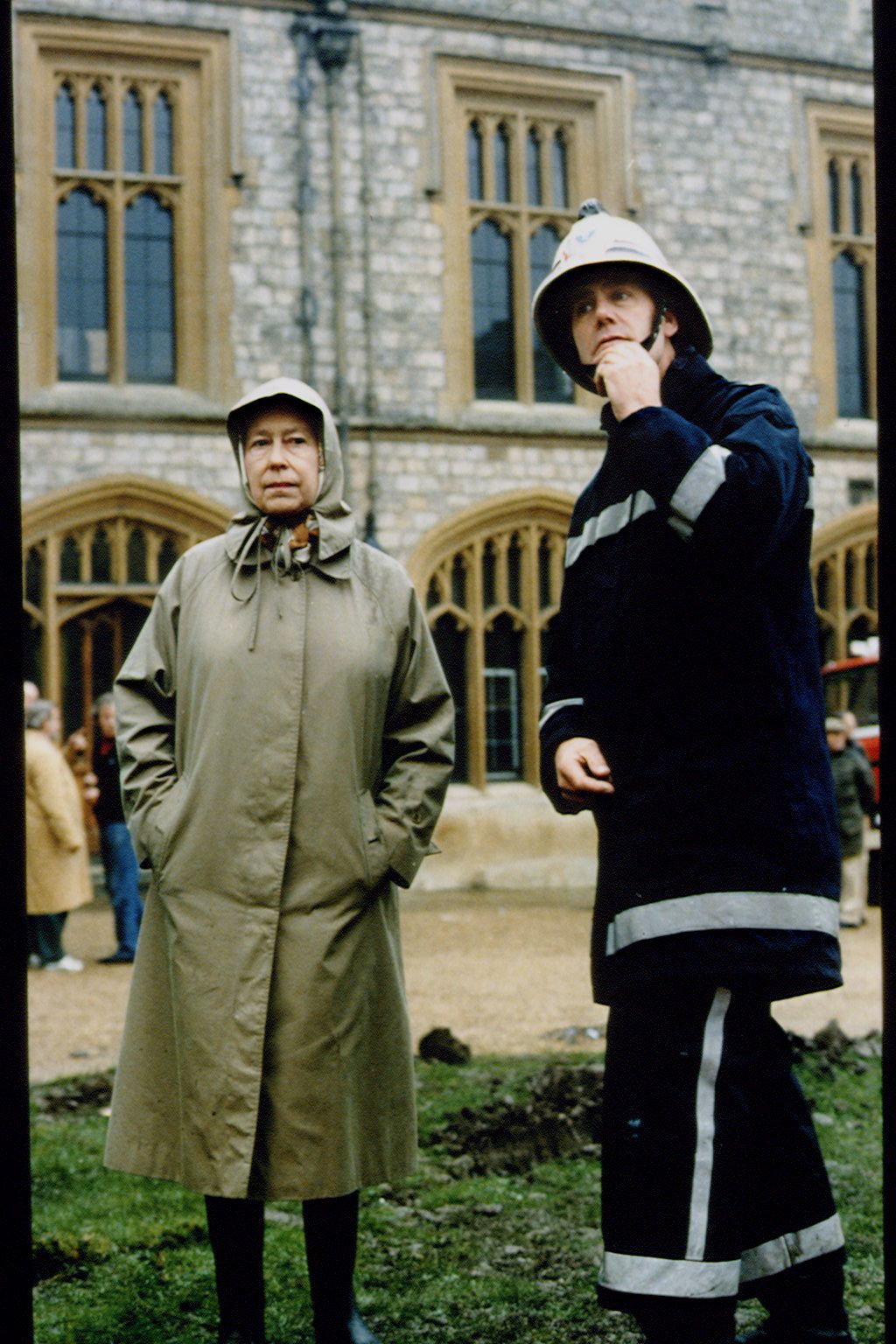 New British record signing Dean Saunders was a hit and Graeme Souness delivered an FA Cup win but the manager was subdued on the touchline after needing heart surgery in April and a sixth-placed finish was Liverpool's worst since 1965.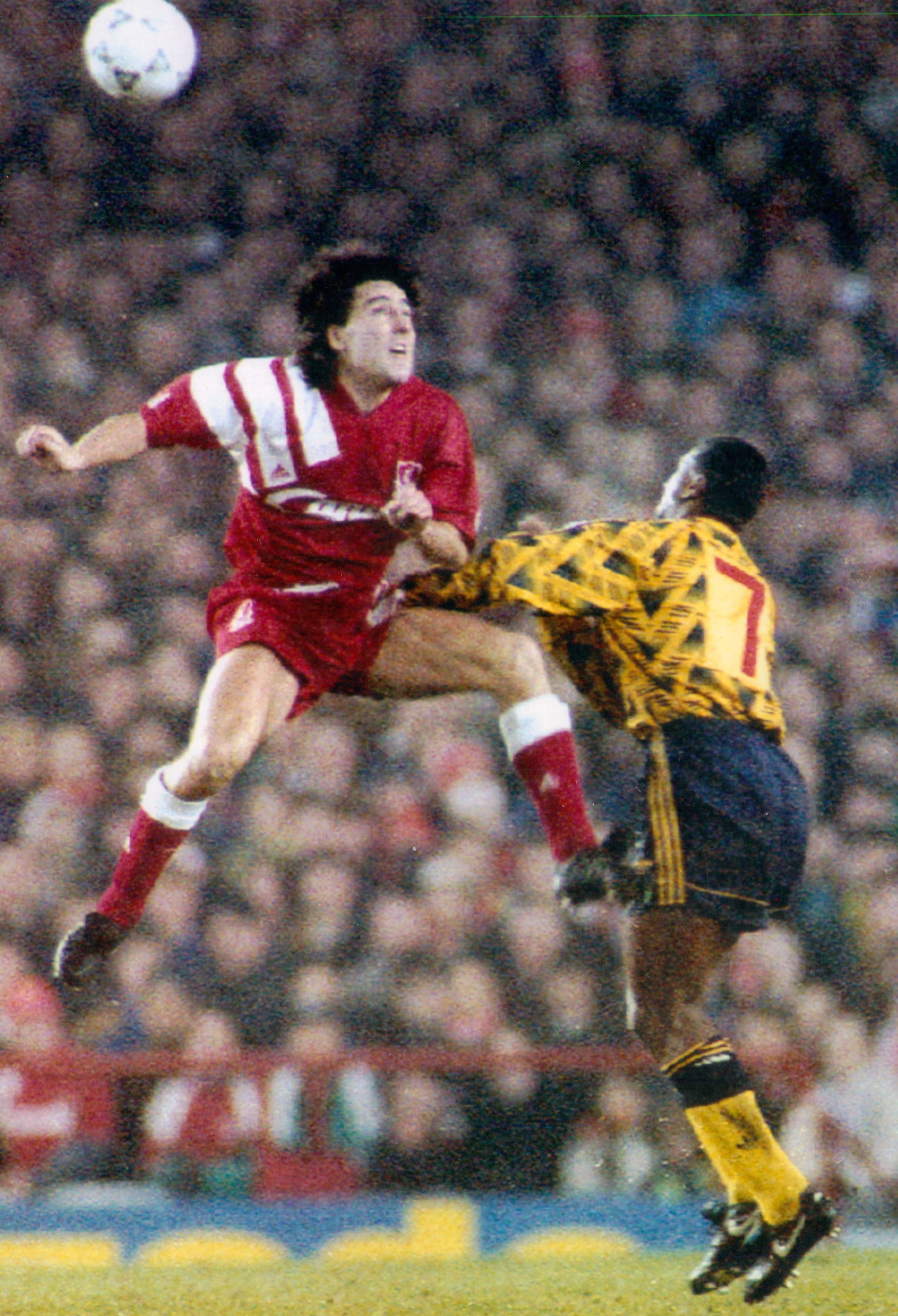 Off the pitch, there were no medals for Team GB at the Winter Olympics in Albertville and the Conservatives won a narrow majority at the polls.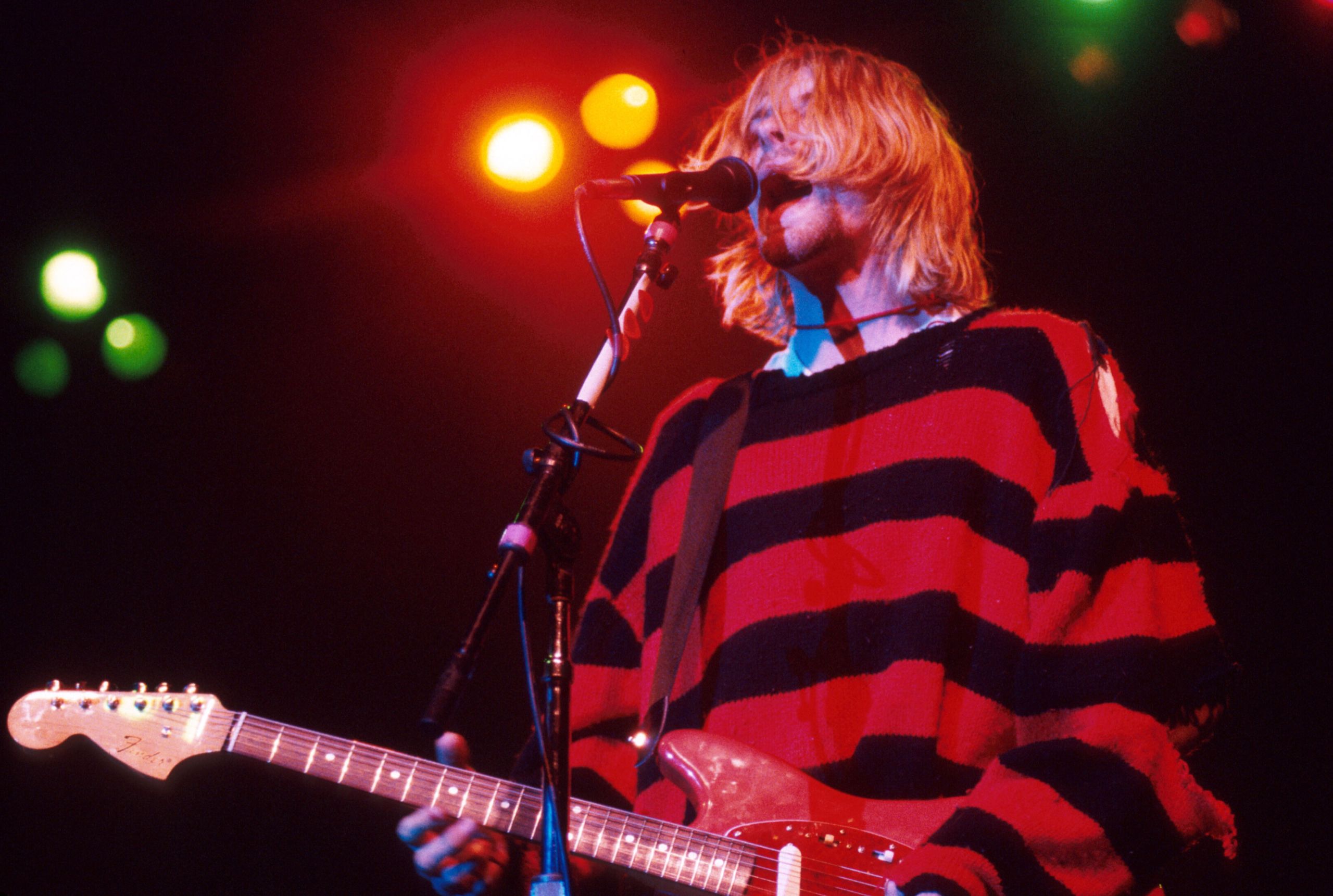 There was a sea change in the music industry as Nirvana outsold Michael Jackson. Grunge was the new genre du jour.
And it was the end of an era on the small screen, as well as in the First Division, as the final episode of Rainbow was broadcast.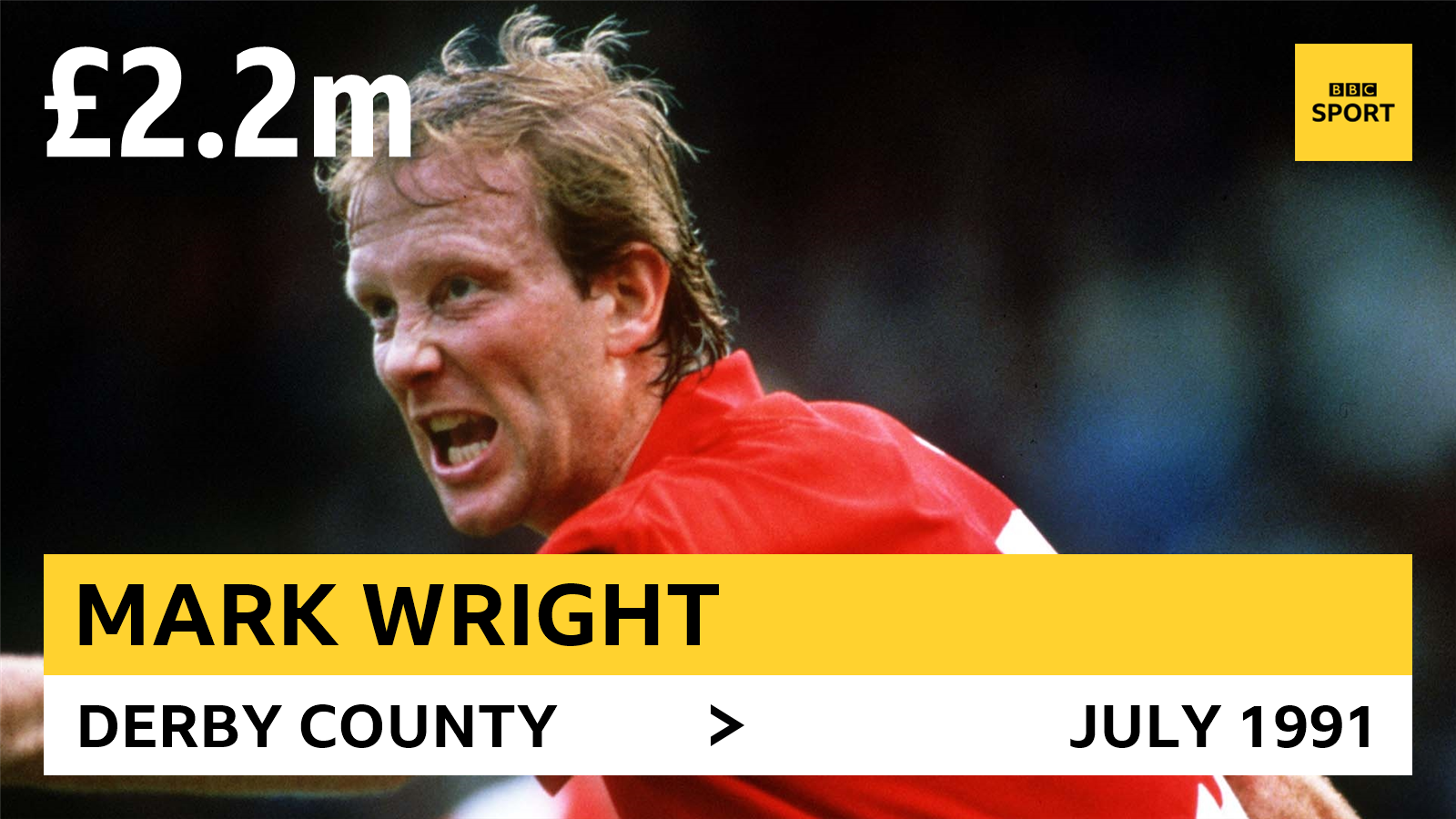 Points behind winners: 18
Trophies: FA Cup
Top scorer (all comps): Dean Saunders (23)
Manager: Graeme Souness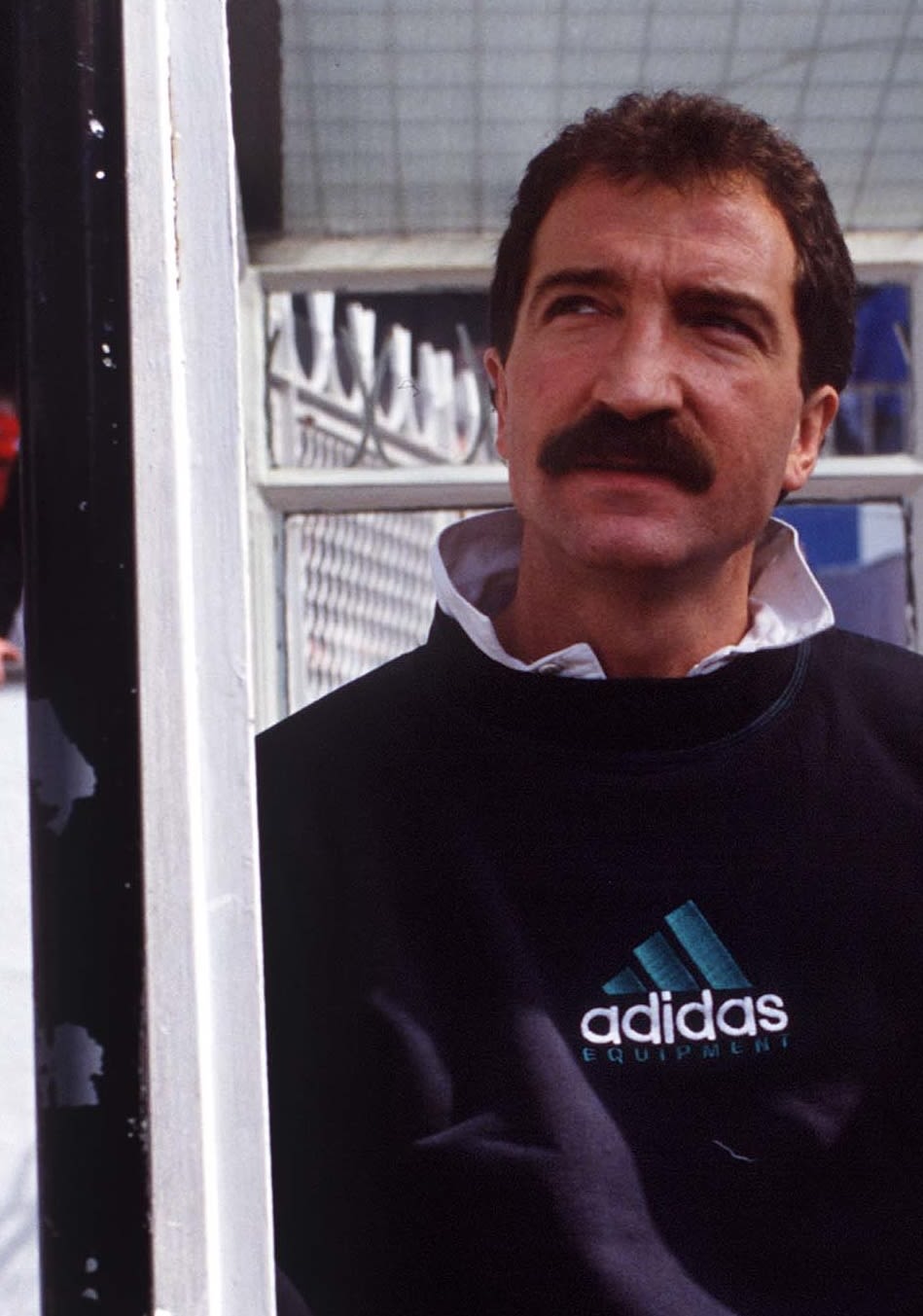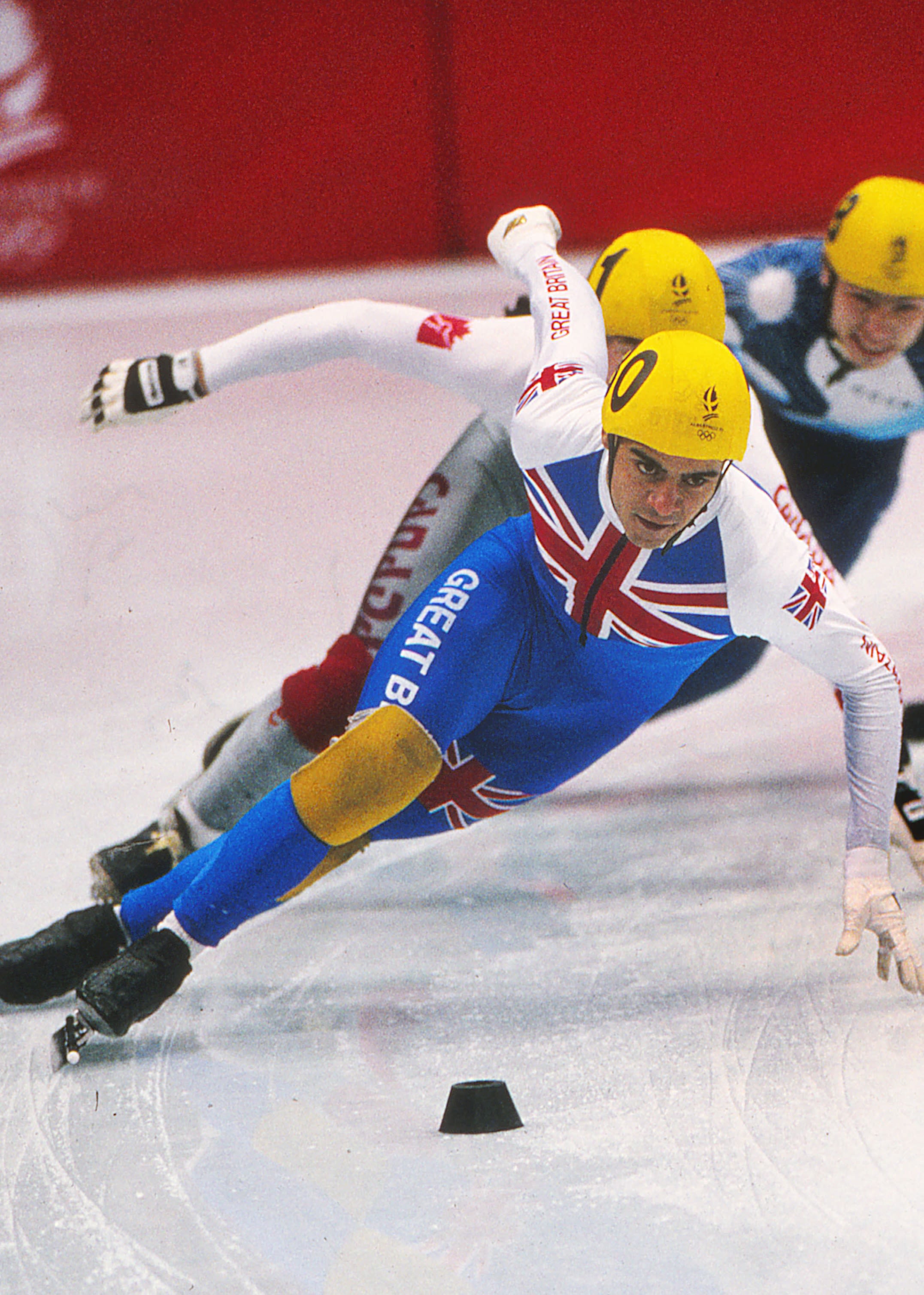 1992-93 season
Alive and kicking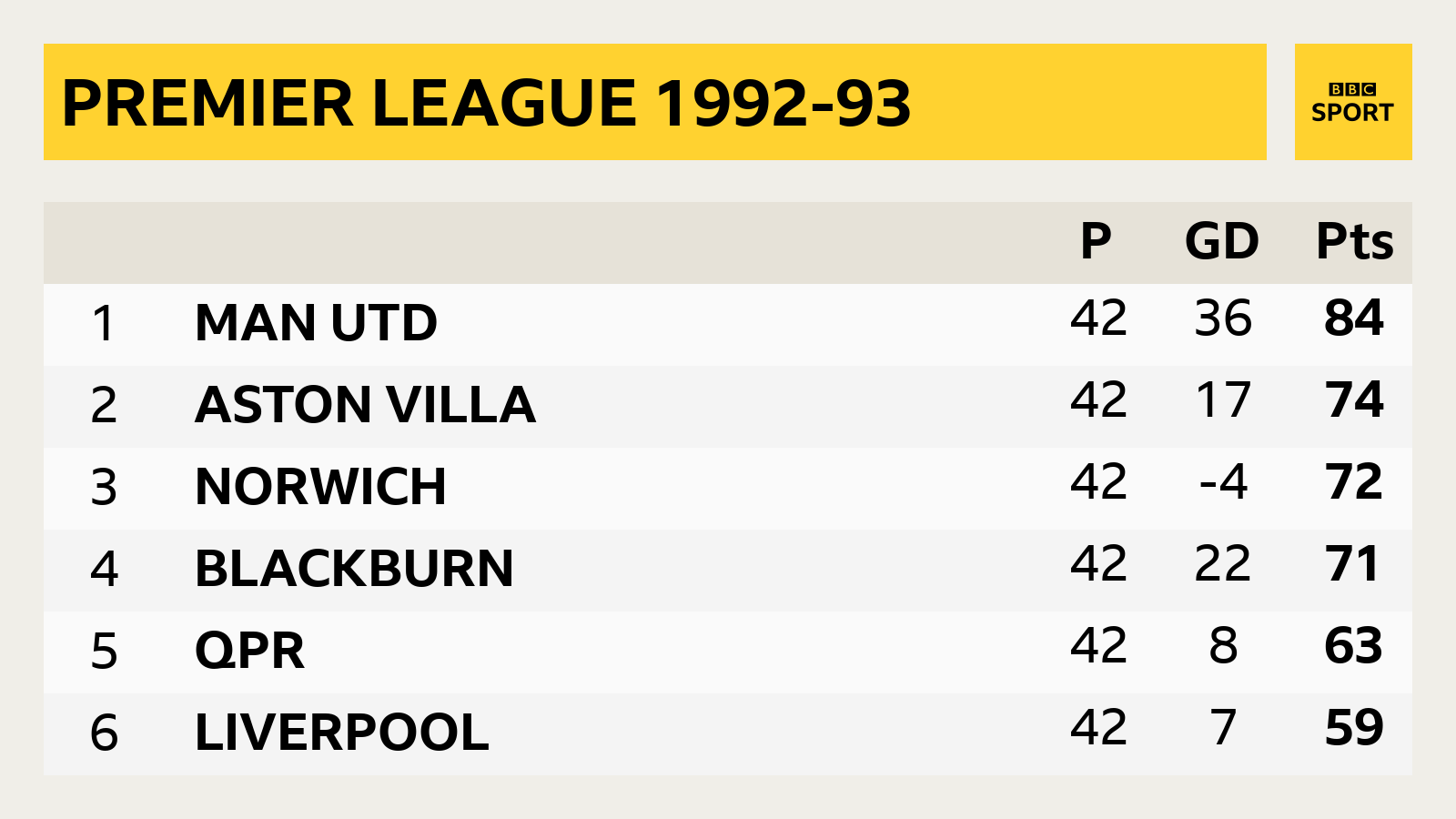 The Premier League began - with a whimper for the Reds. Another sixth-placed finish as the gap to the champions grew and grew - and to make matters worse it was rivals Manchester United's first title in 26 years. Imagine waiting that long for a championship!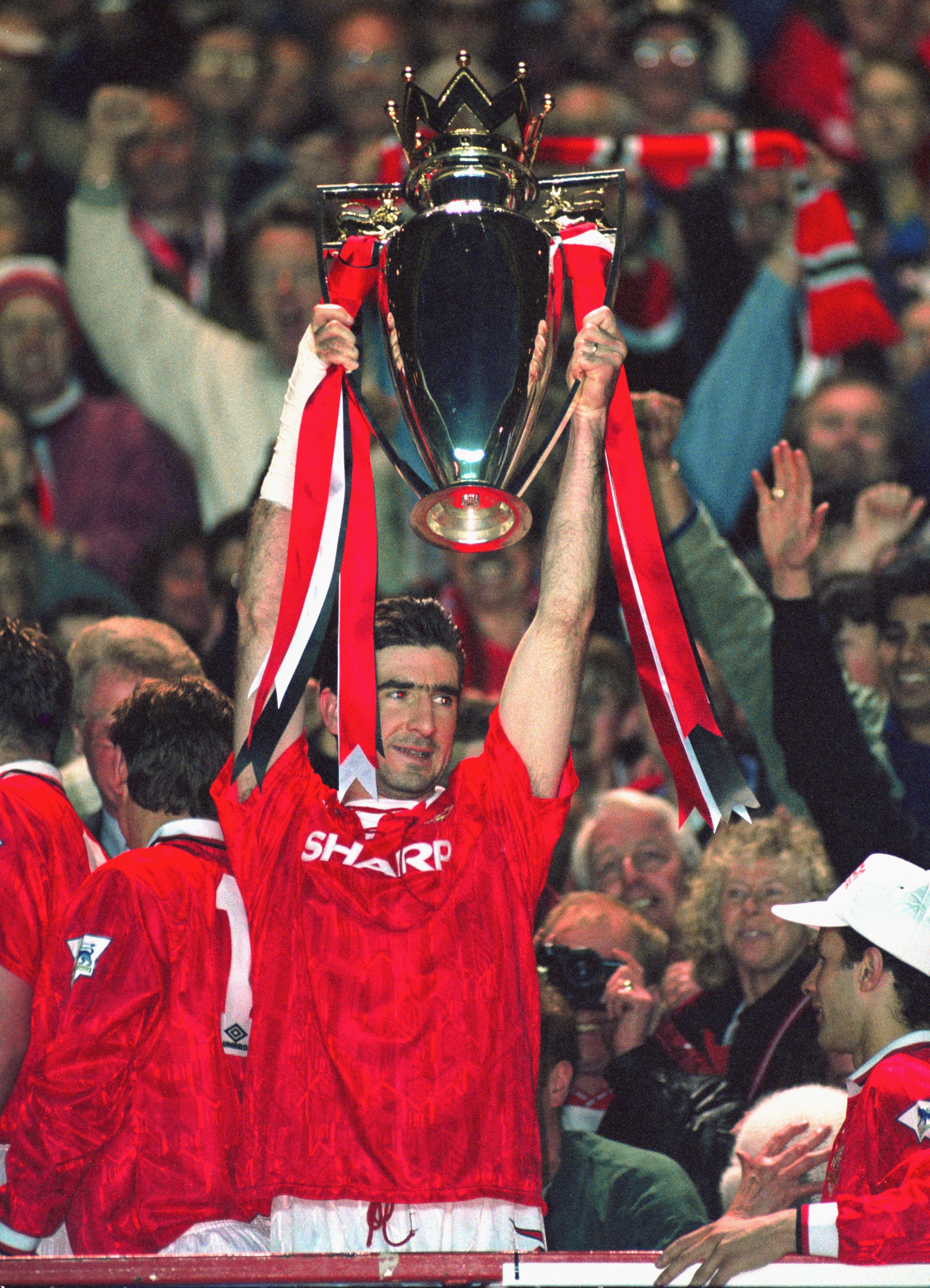 The Grand National was cancelled after a false start, Brian Clough waved goodbye to the game with a relegation and children's TV show Going Live! came to an end. Take That secured their first number one - not a great year on the whole.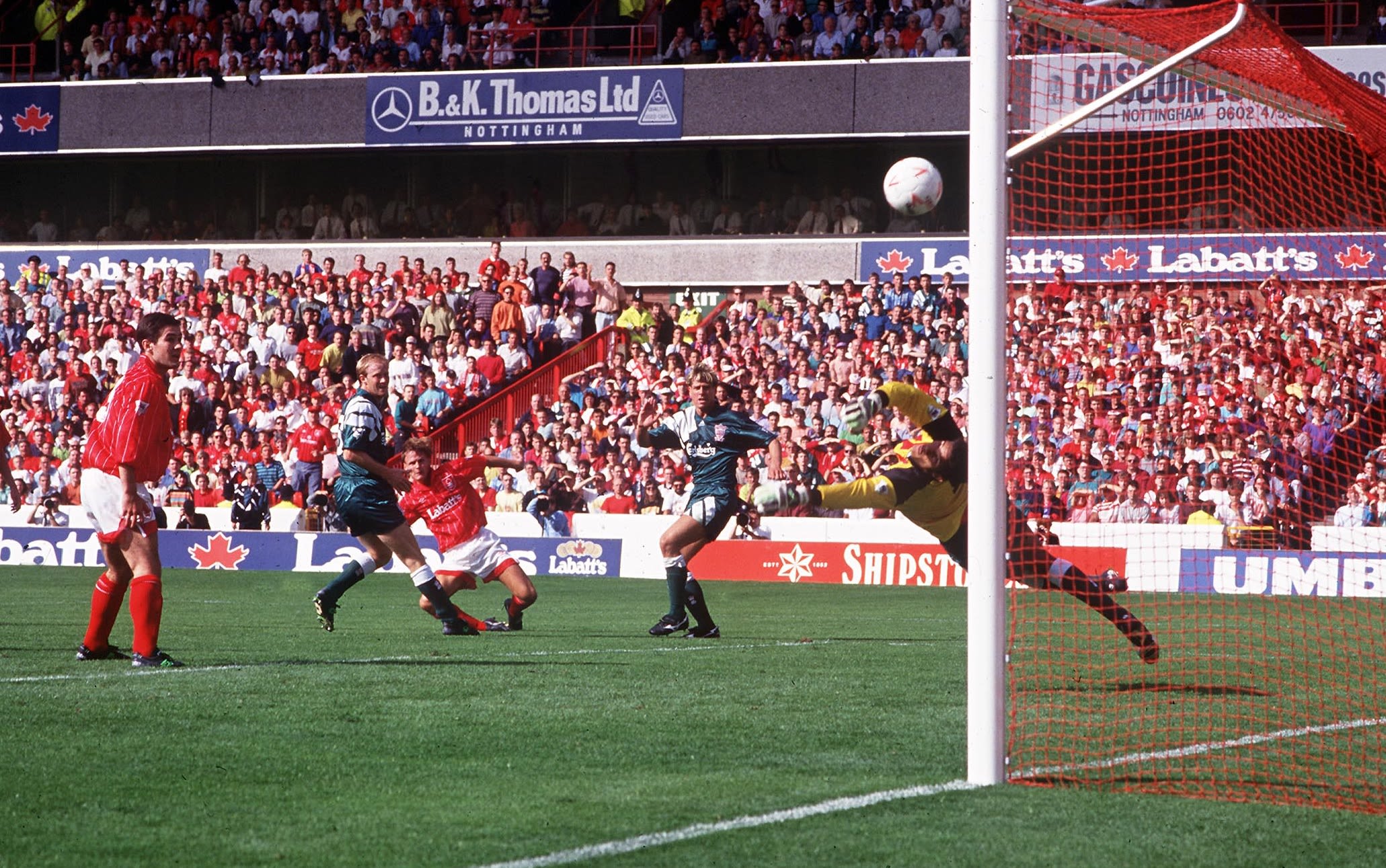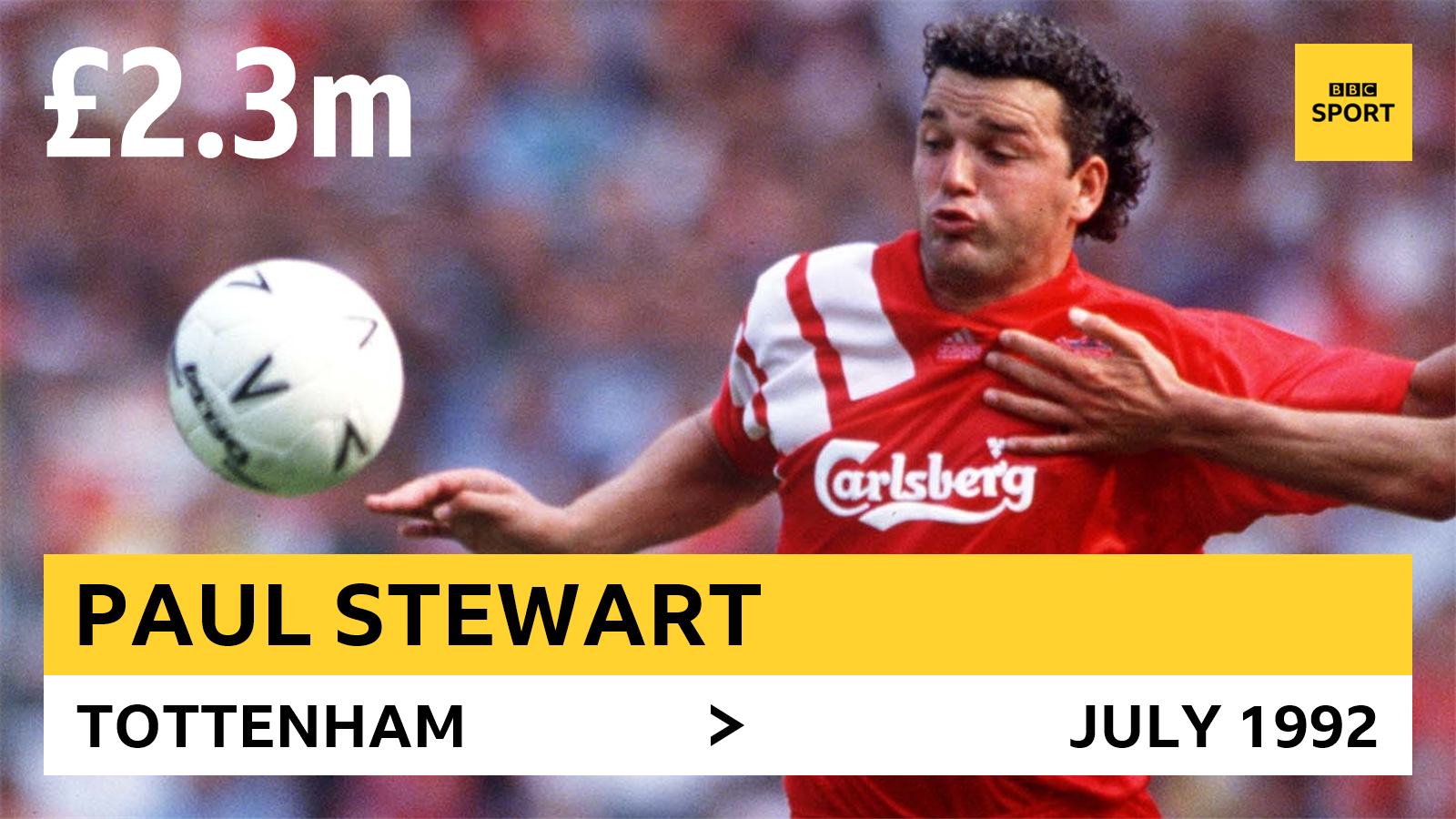 Points behind winners: 25
Trophies: None
Top scorer (all comps): Ian Rush (22)
Manager: Graeme Souness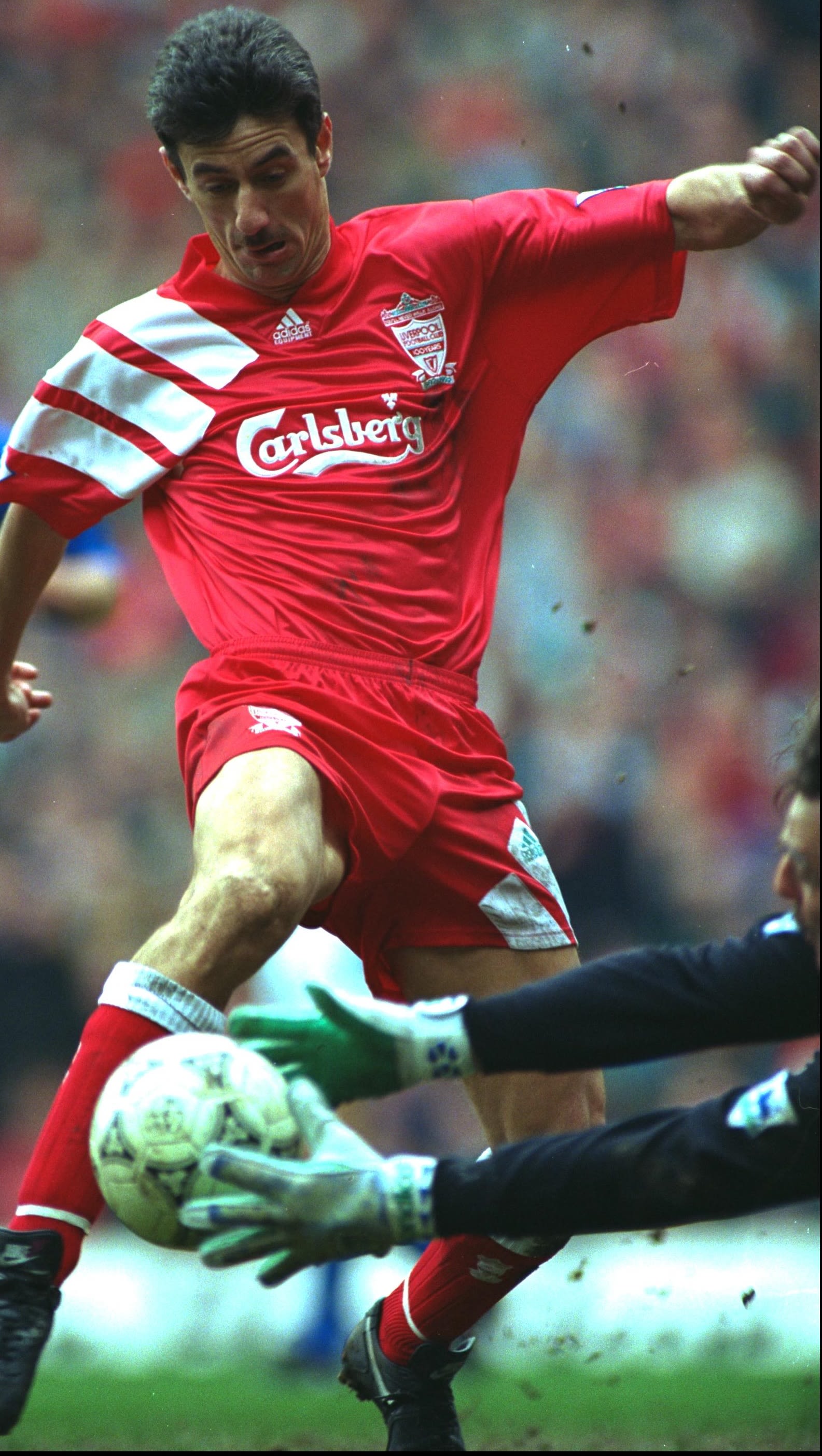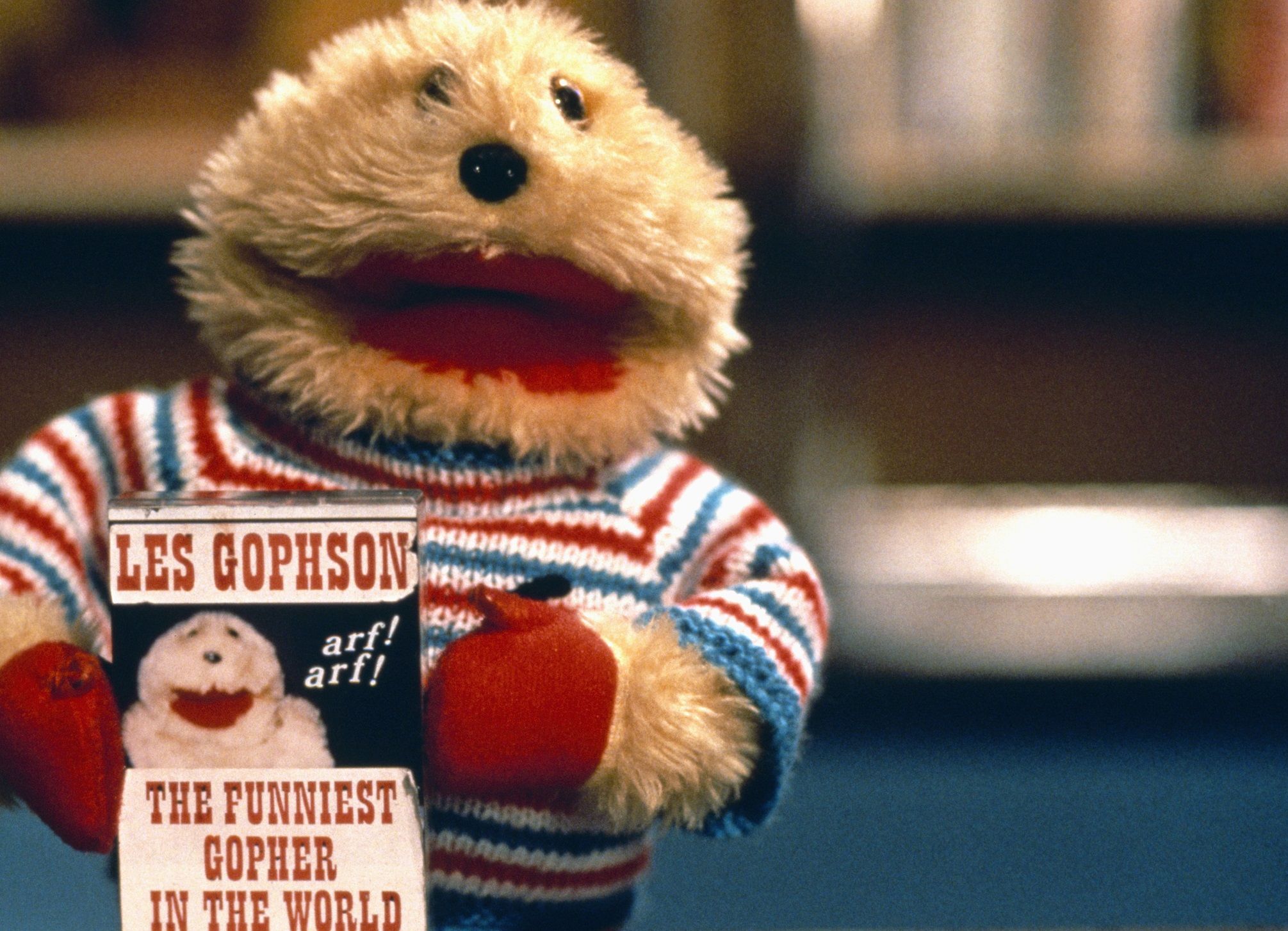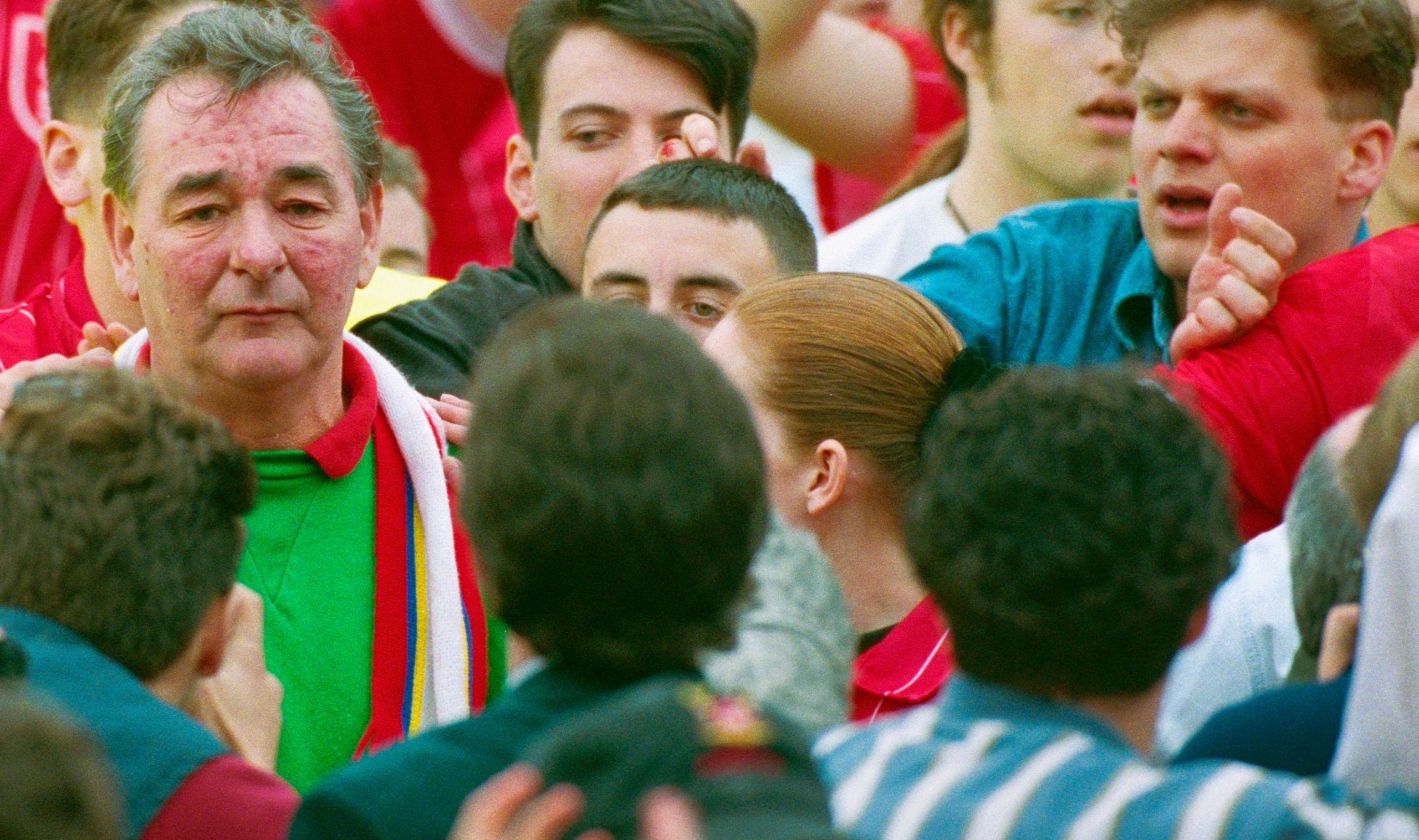 1993-94 season
Mind the gap...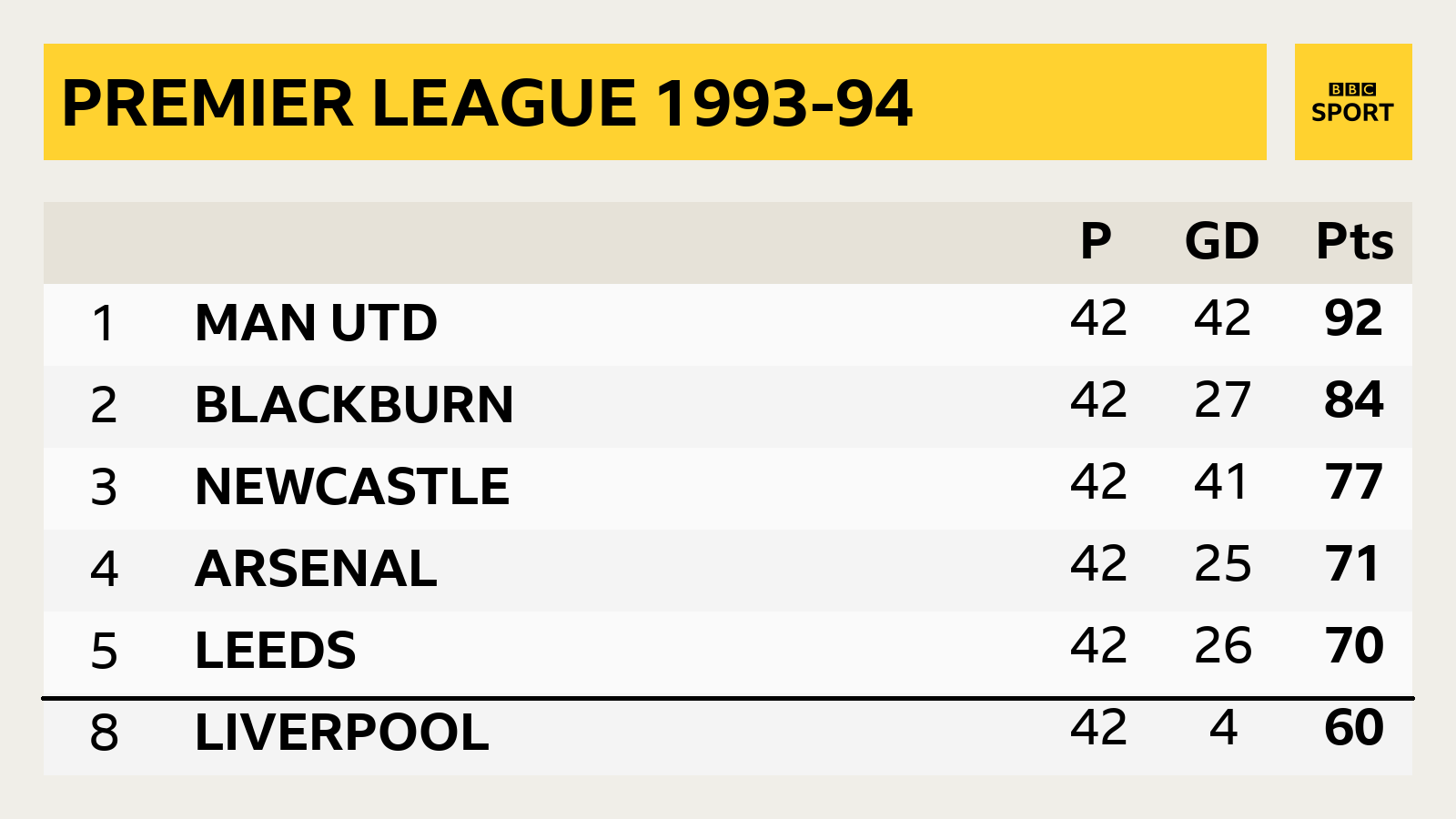 Nemesis opened at Alton Towers but we can't even shoe-horn in a rollercoaster gag for Liverpool's season as there were no ups. Eighth! Eighth place in the league. Below Wimbledon. How the tables had turned. It was all too much for Souness, who fell on his sword in January. The following month, Roy Evans took the helm.
The Anfield dynasty was in ruins by now as they crashed out of the League and FA Cups to Wimbledon and Bristol City, and there was no European football at all - which was a shame as the Channel Tunnel opened, making it easier than ever to get to the continent.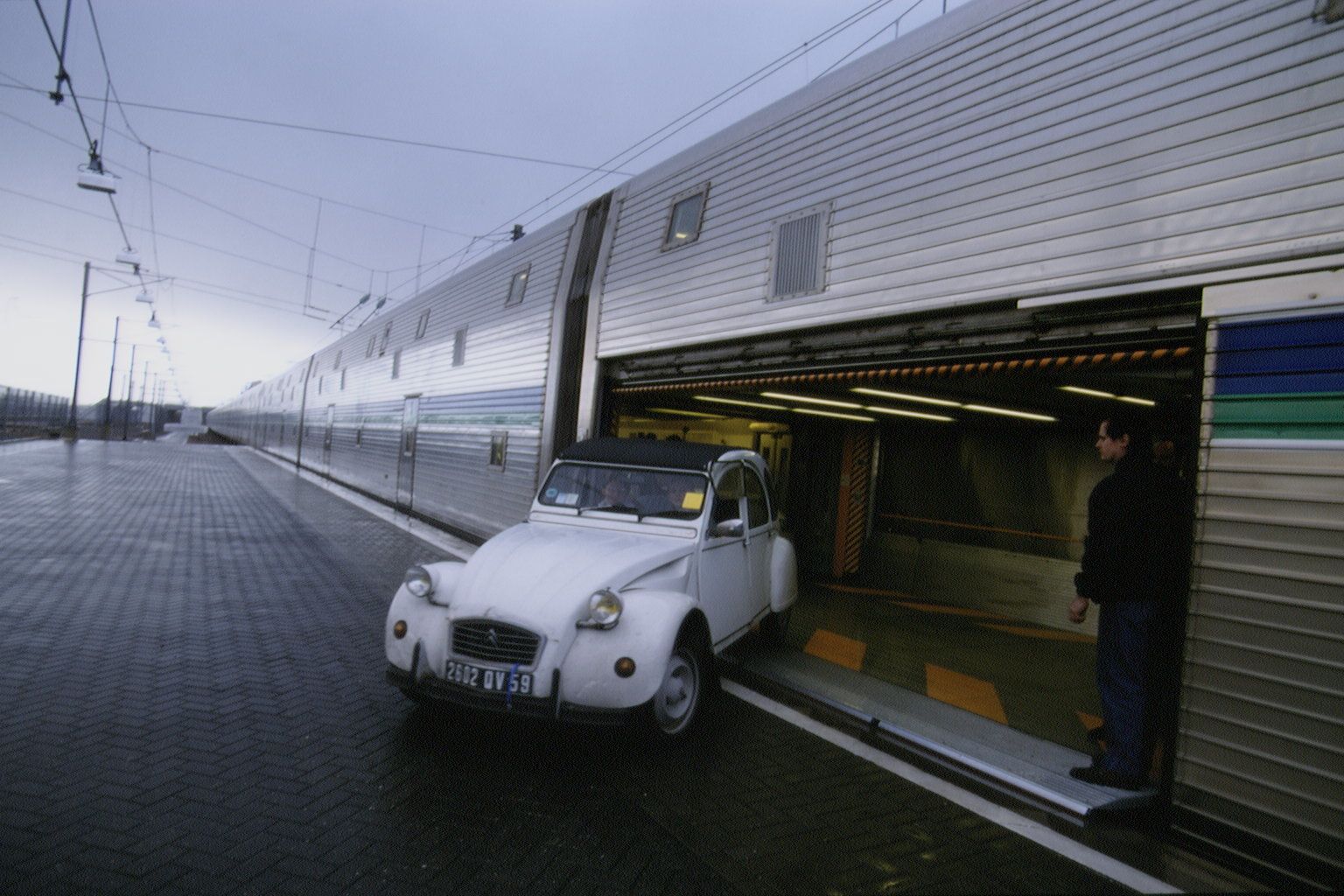 The Kop was demolished - but Liverpool fans found God as Robbie Fowler emerged. Good times ahead?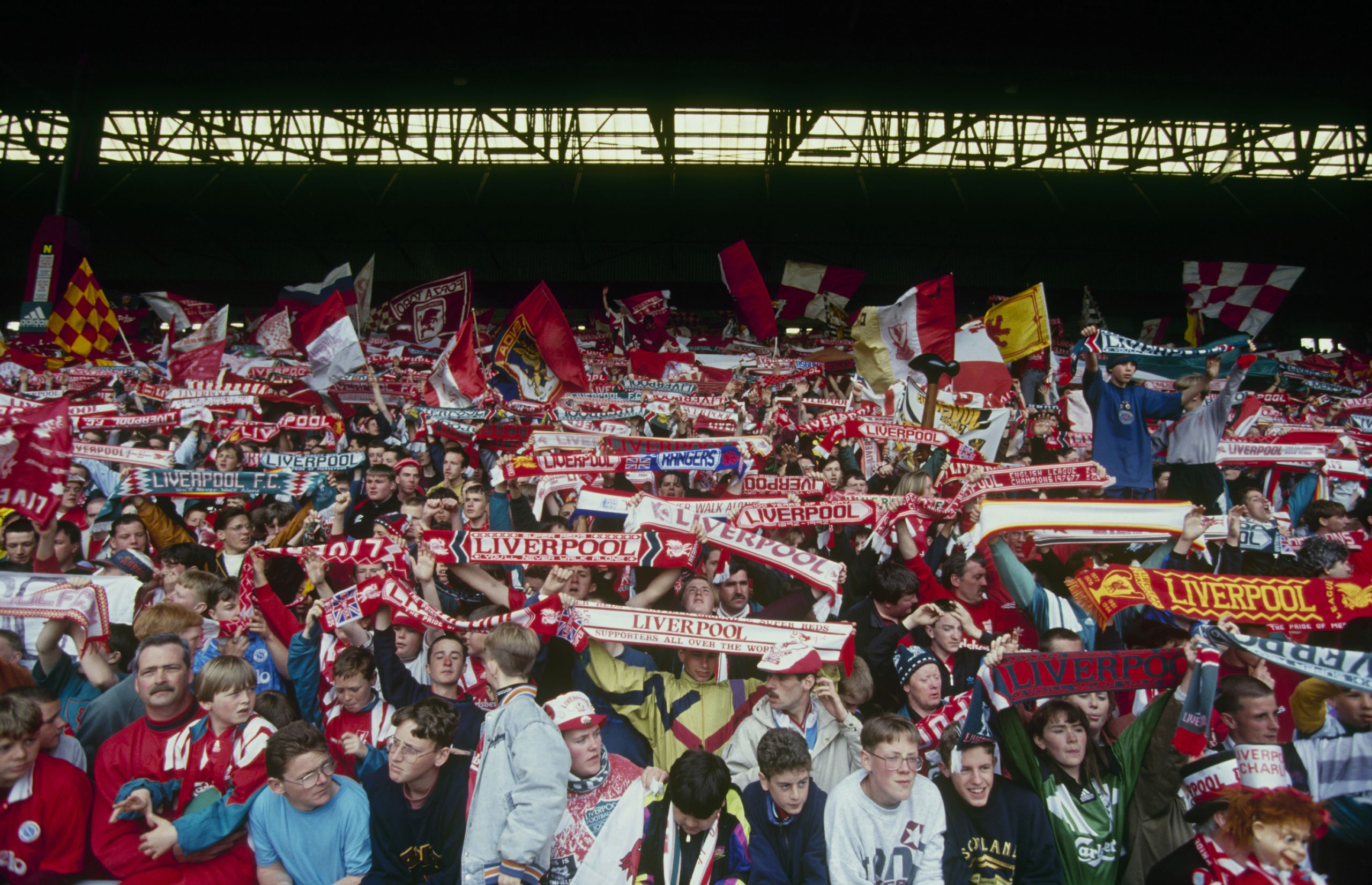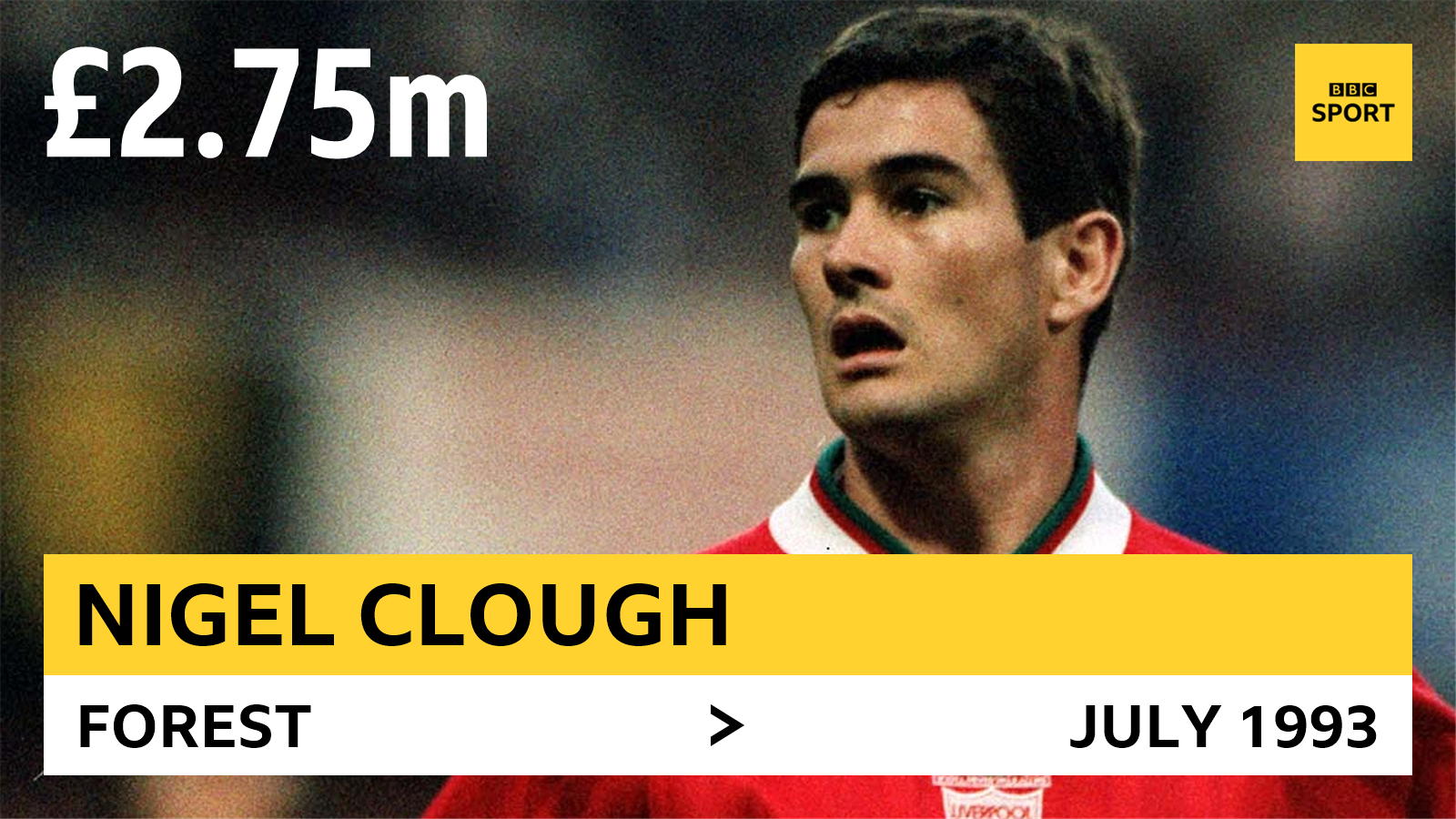 Points behind winners: 32
Trophies: None
Top scorer (all comps): Ian Rush (19)
Manager: Graeme Souness/Roy Evans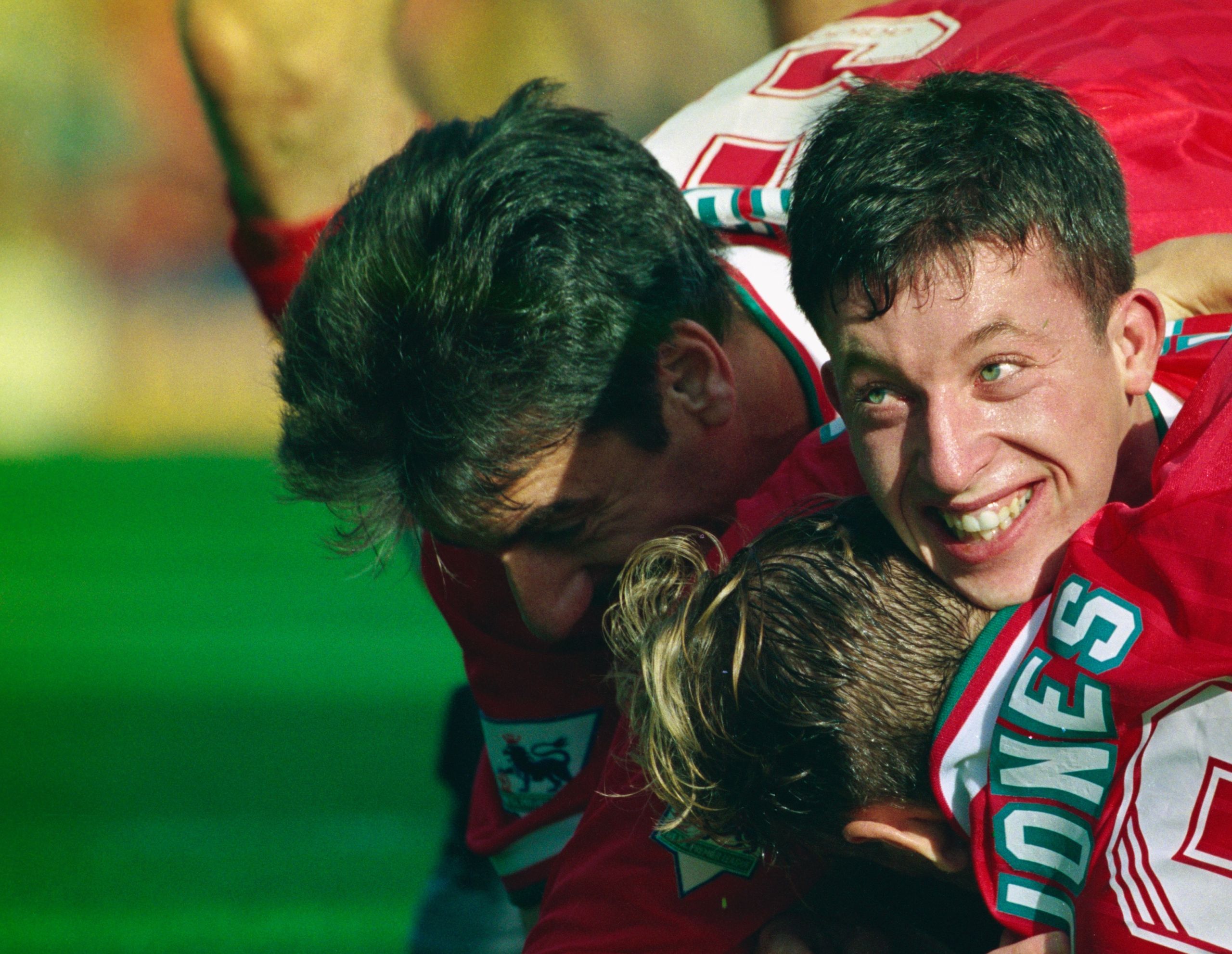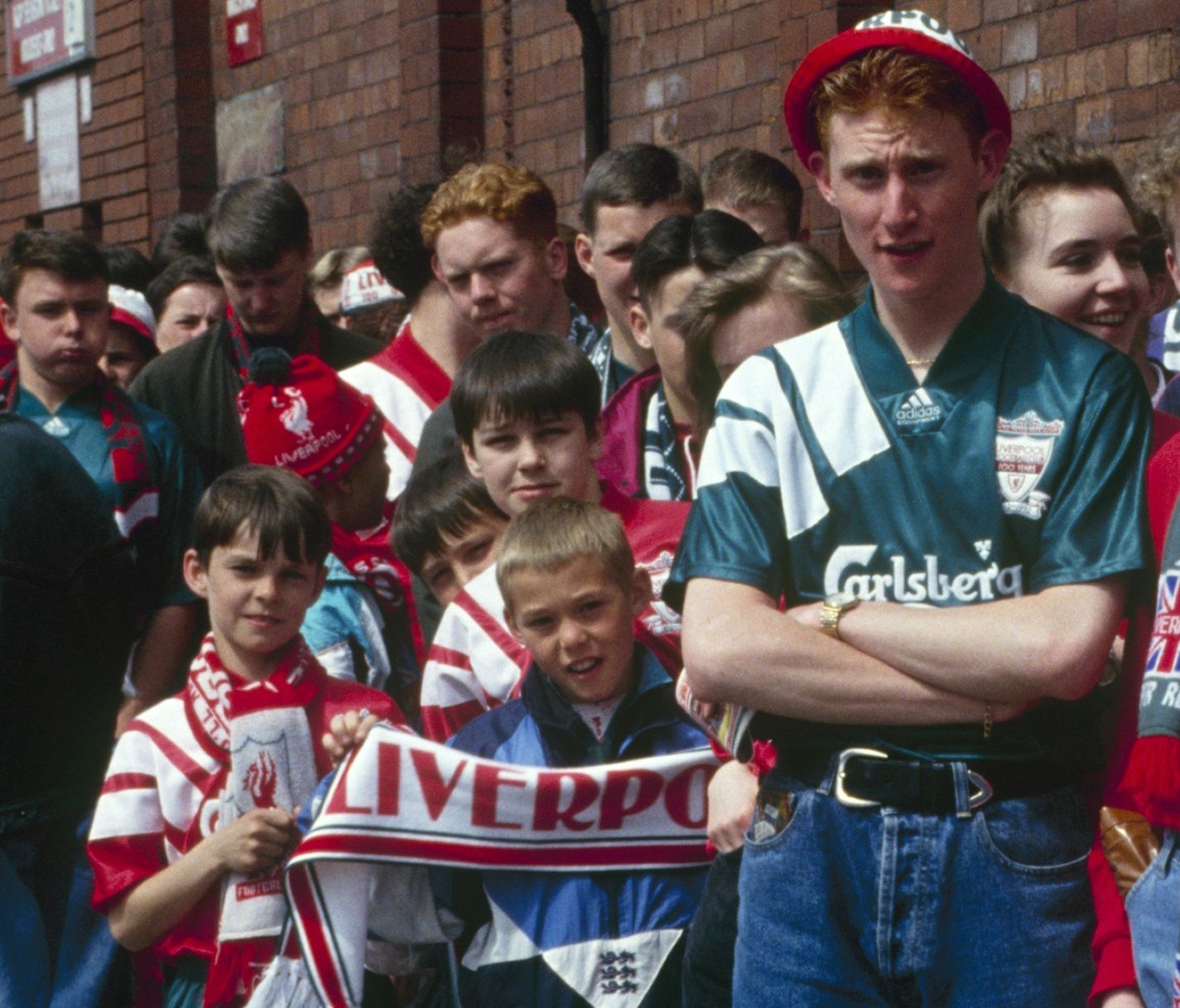 1994-95 season
Trailing the 'SAS'
Roy Evans' first full season in charge saw definite progress as a new-look Liverpool won the League Cup and found a place in the top four once again. Winger Steve McManaman scored twice at Wembley to clinch the Coca-Cola Cup against Bolton, while Robbie Fowler continued to be prolific in front of goal.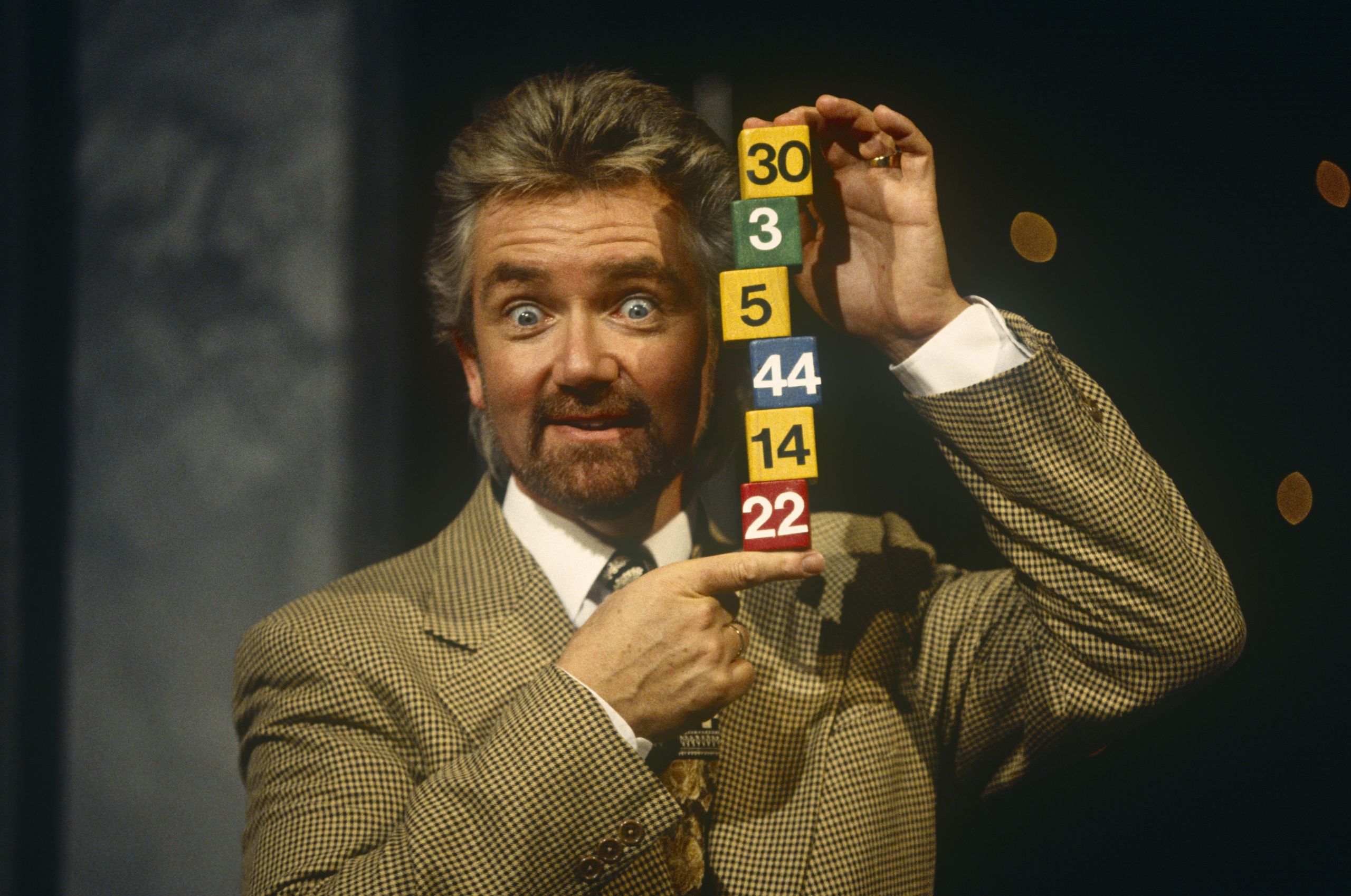 Off the field times were changing - 1% of the UK population had access to the internet and the National Lottery launched. 'It could be you!'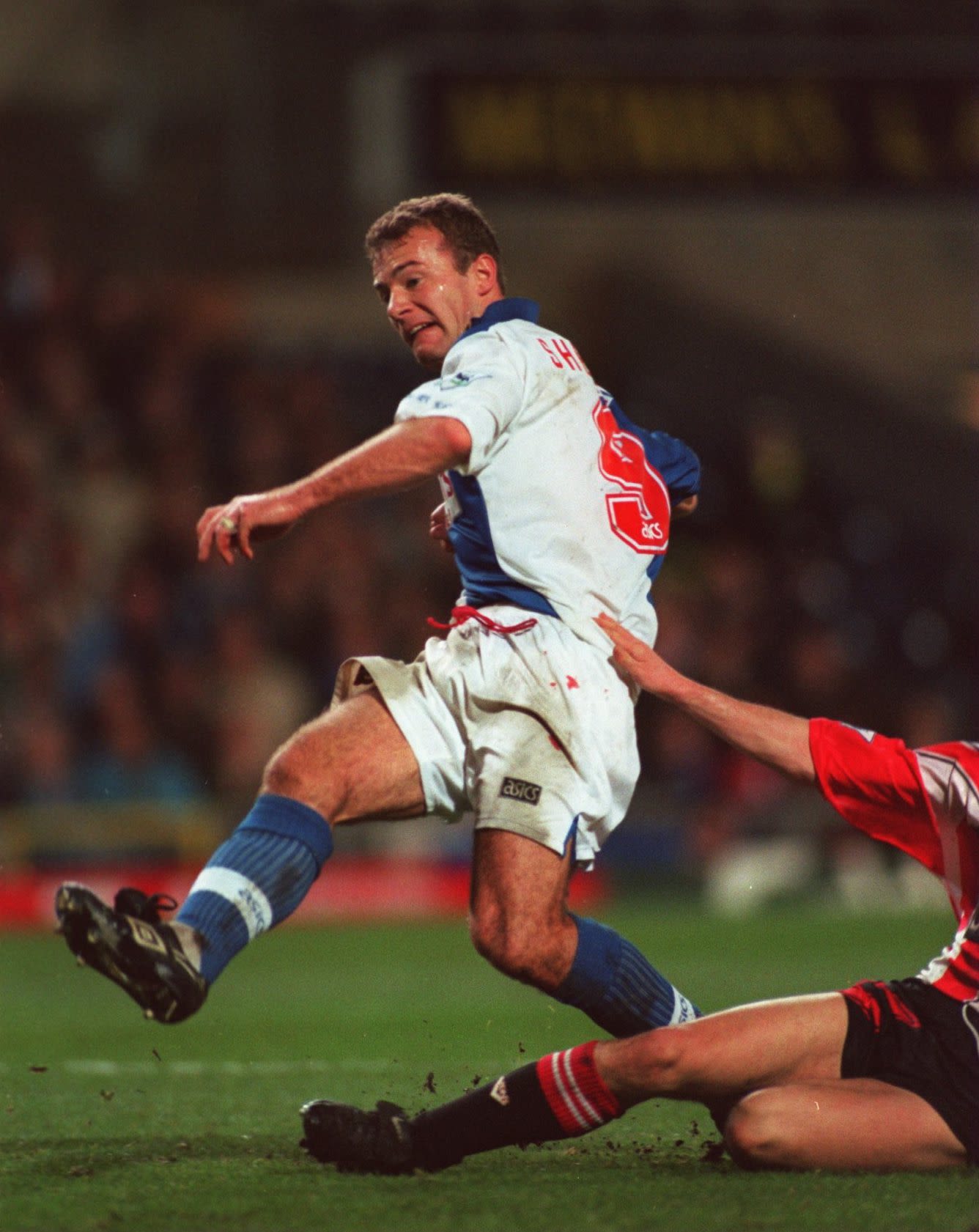 It wasn't you. Or Liverpool - Blackburn were fired to the title by 'Friends' Chris Sutton and Alan Shearer, dubbed the 'SAS'.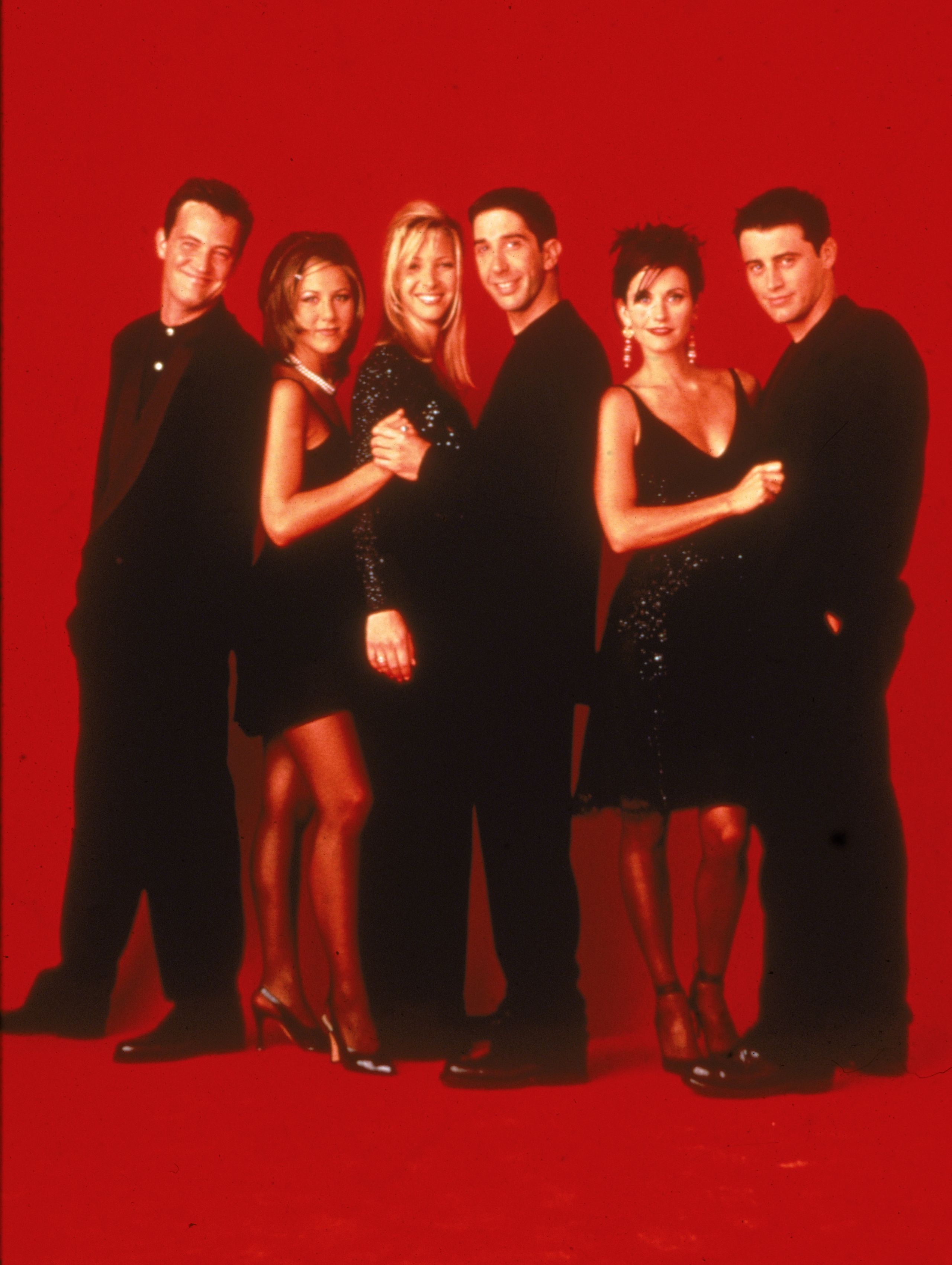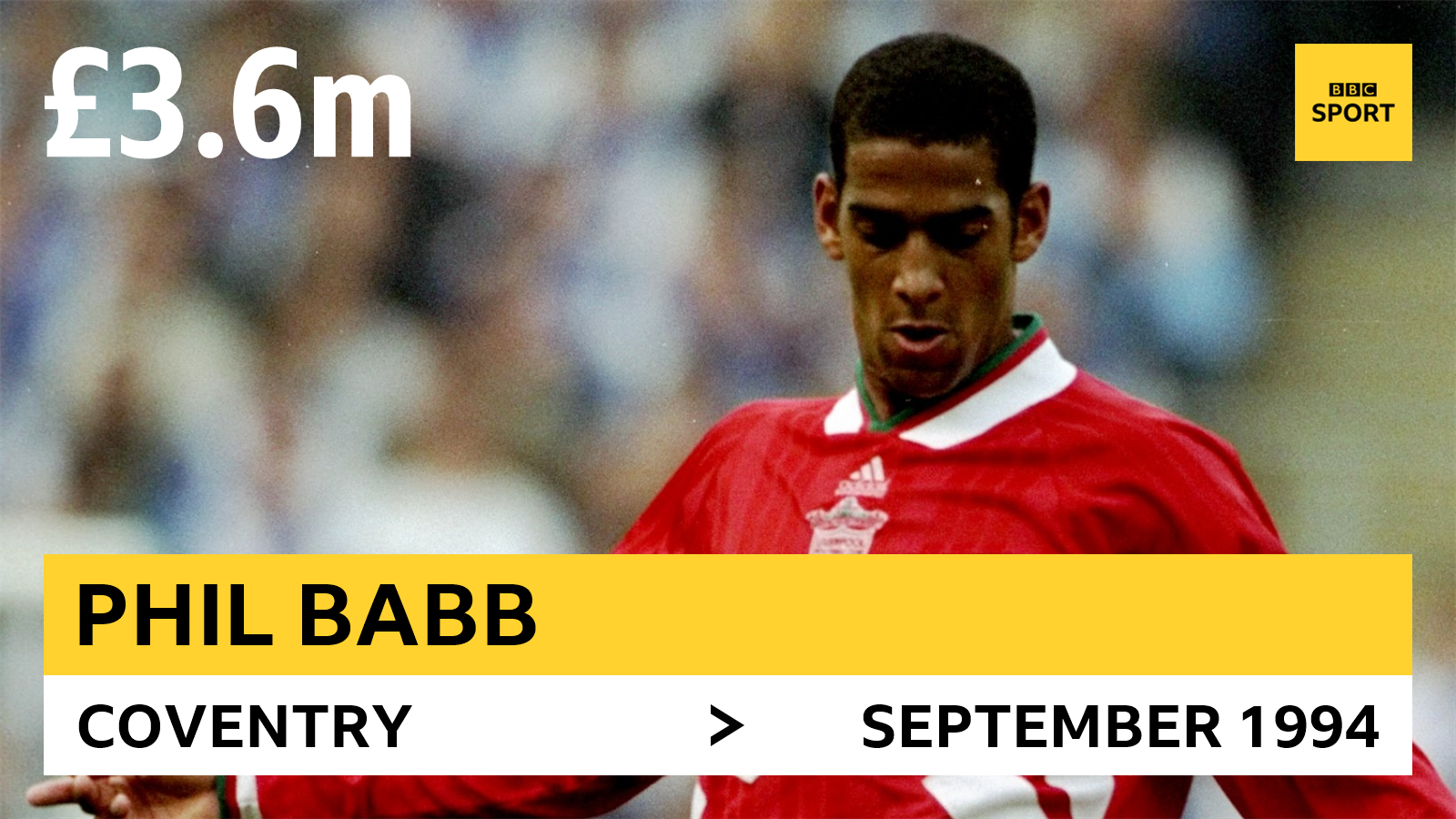 Points behind winners: 15
Trophies: League Cup
Top scorer (all comps): Robbie Fowler (31)
Manager: Roy Evans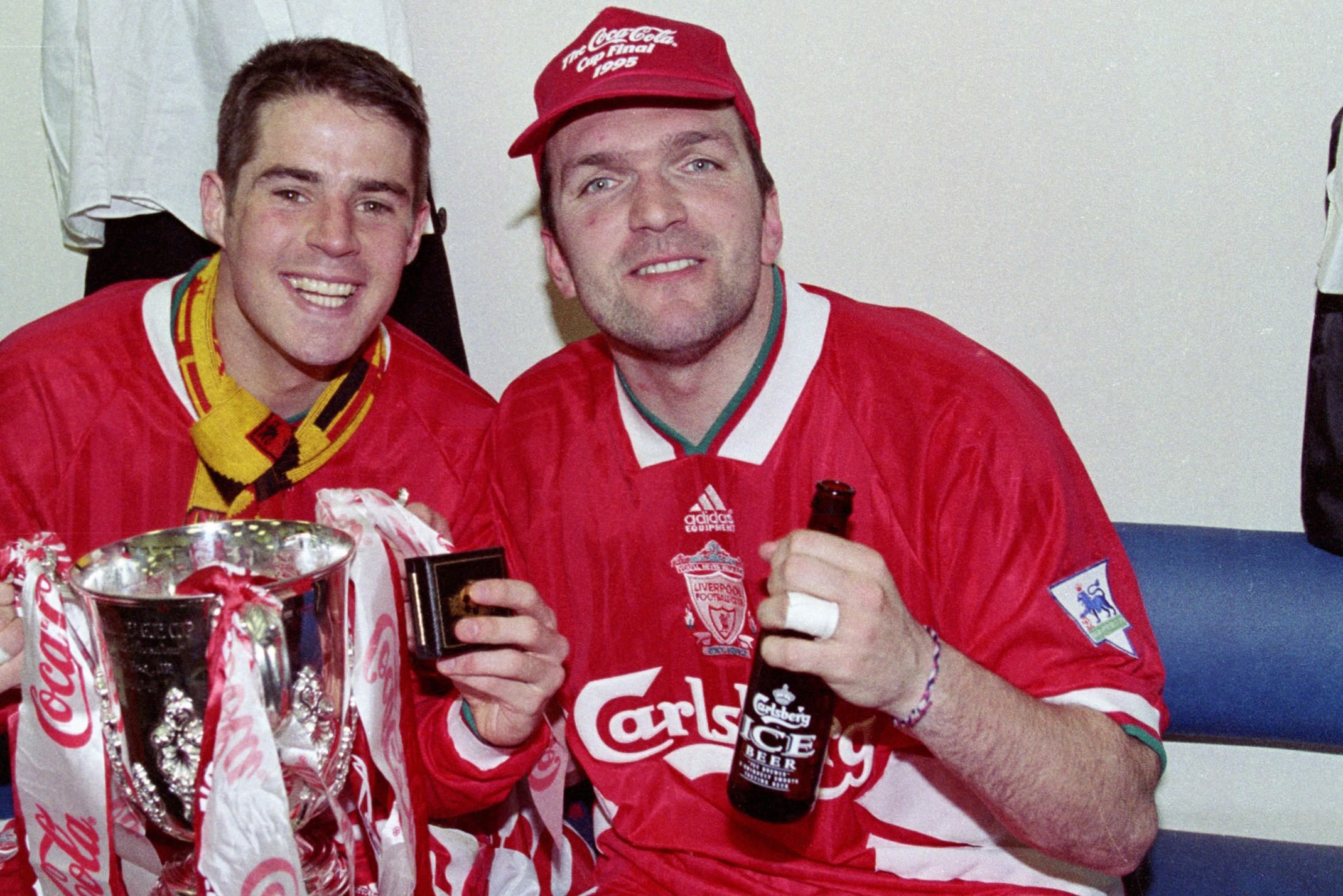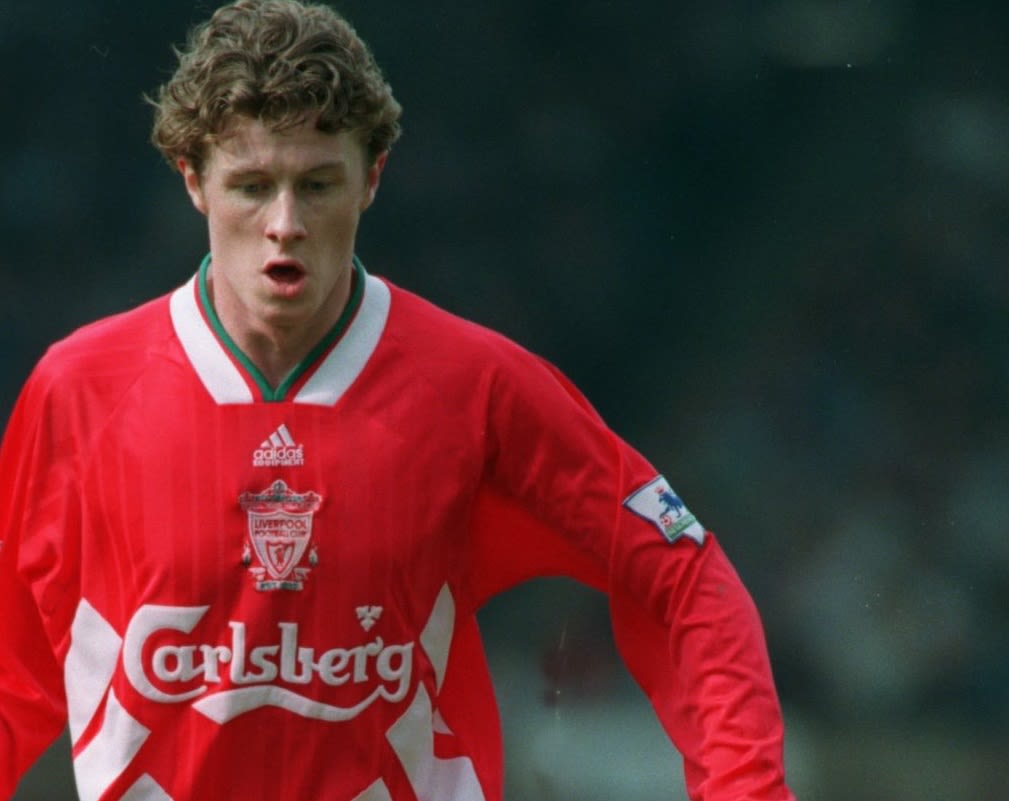 1995-96 season
Spice Boys come up short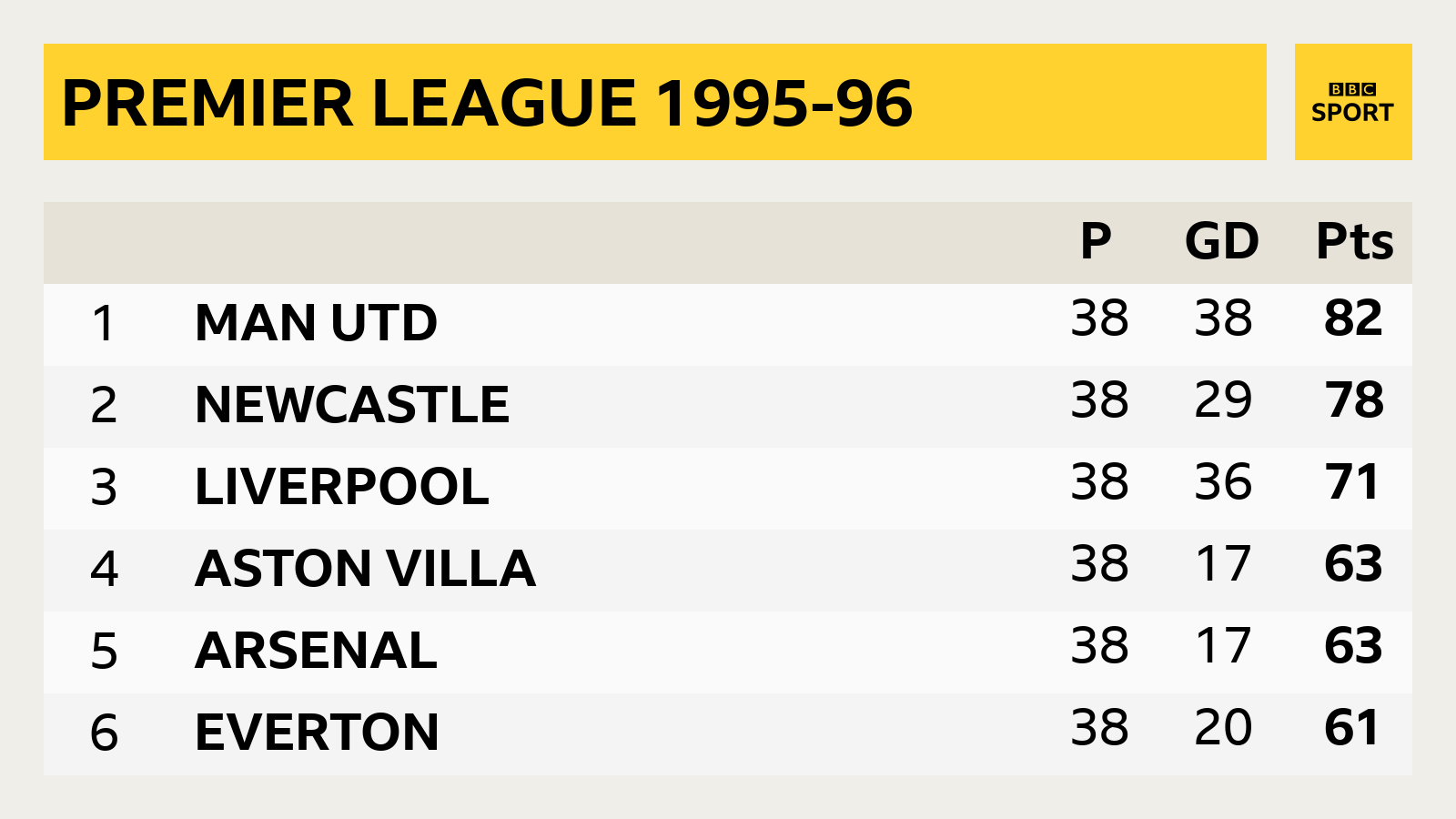 That gap at the top is coming down - a top-three finish - but it was another double for Manchester United as Eric Cantona settled the 'Spice Boys' final. Those white suits are still talked about 25 years on…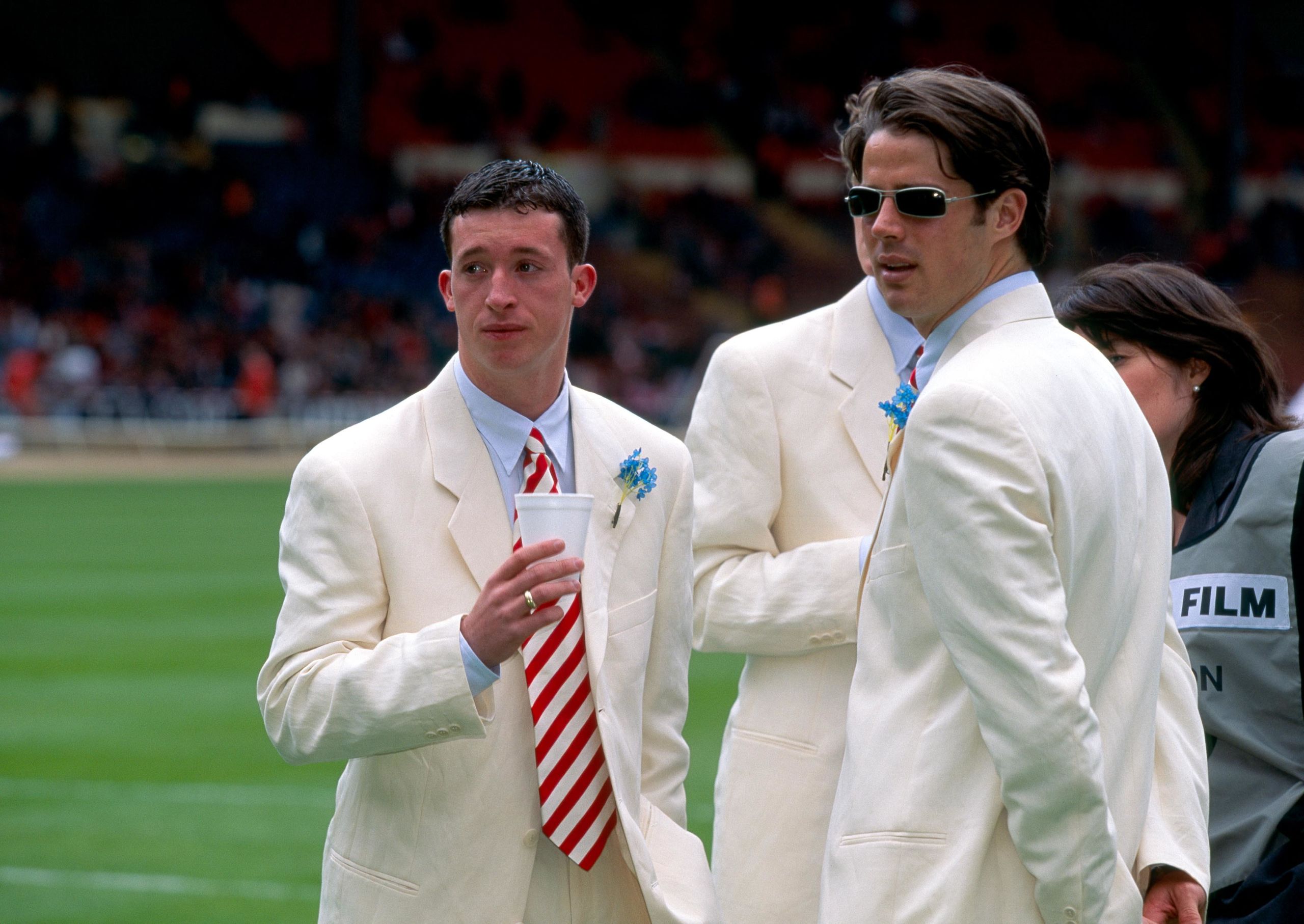 Stan Collymore was a British record signing at £8.5m from Aston Villa and he scored 19 times in his first season to keep Liverpool close to the top of the table. Progress? For sure.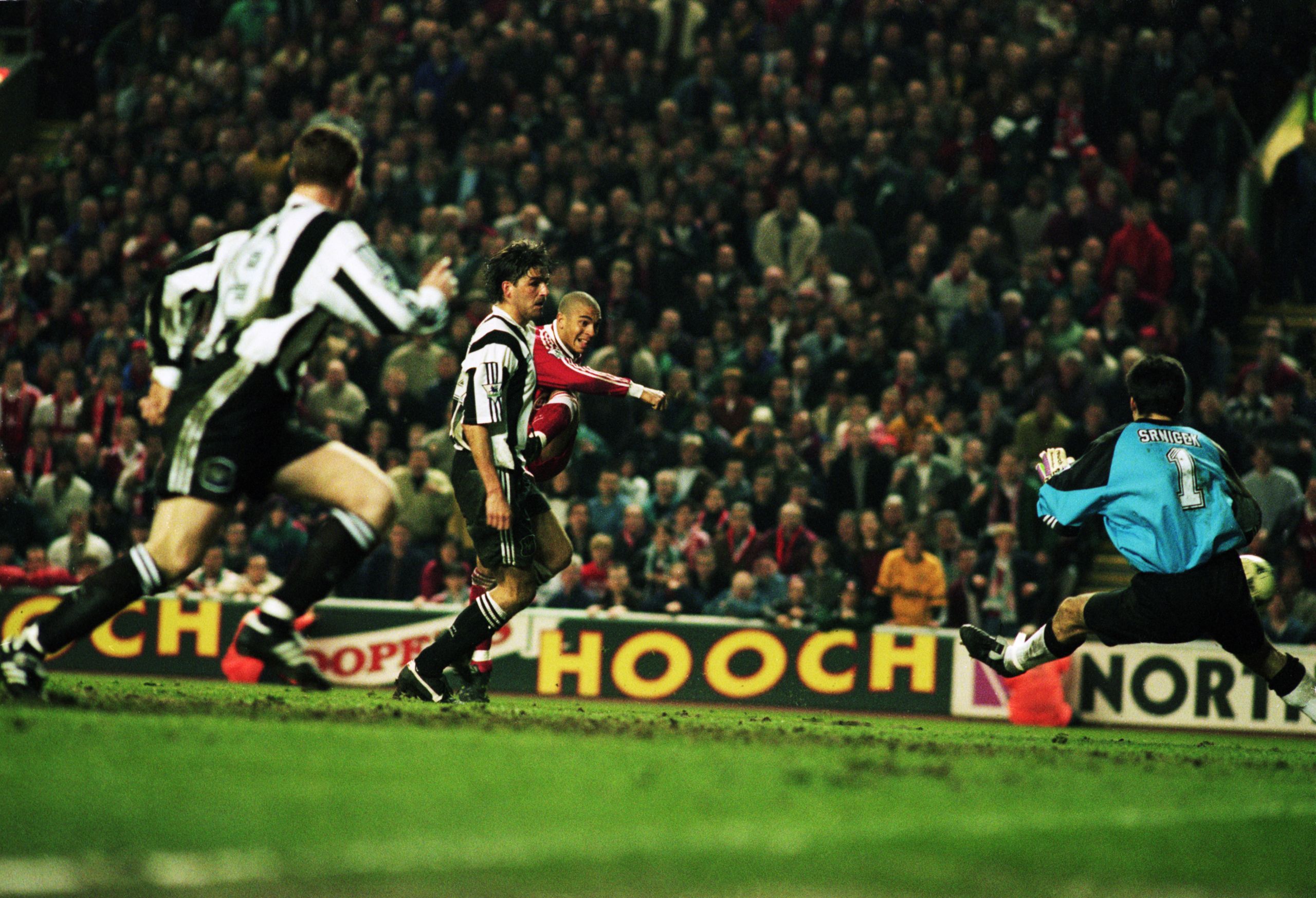 Did we see the Premier League's greatest ever game that year? Stan Collymore's last-minute winner gave the Reds a stunning 4-3 win at home to Newcastle and ensured every single game against the Magpies would be on TV forever more.
It was the season of Newcastle throwing away a 10-point lead at the top...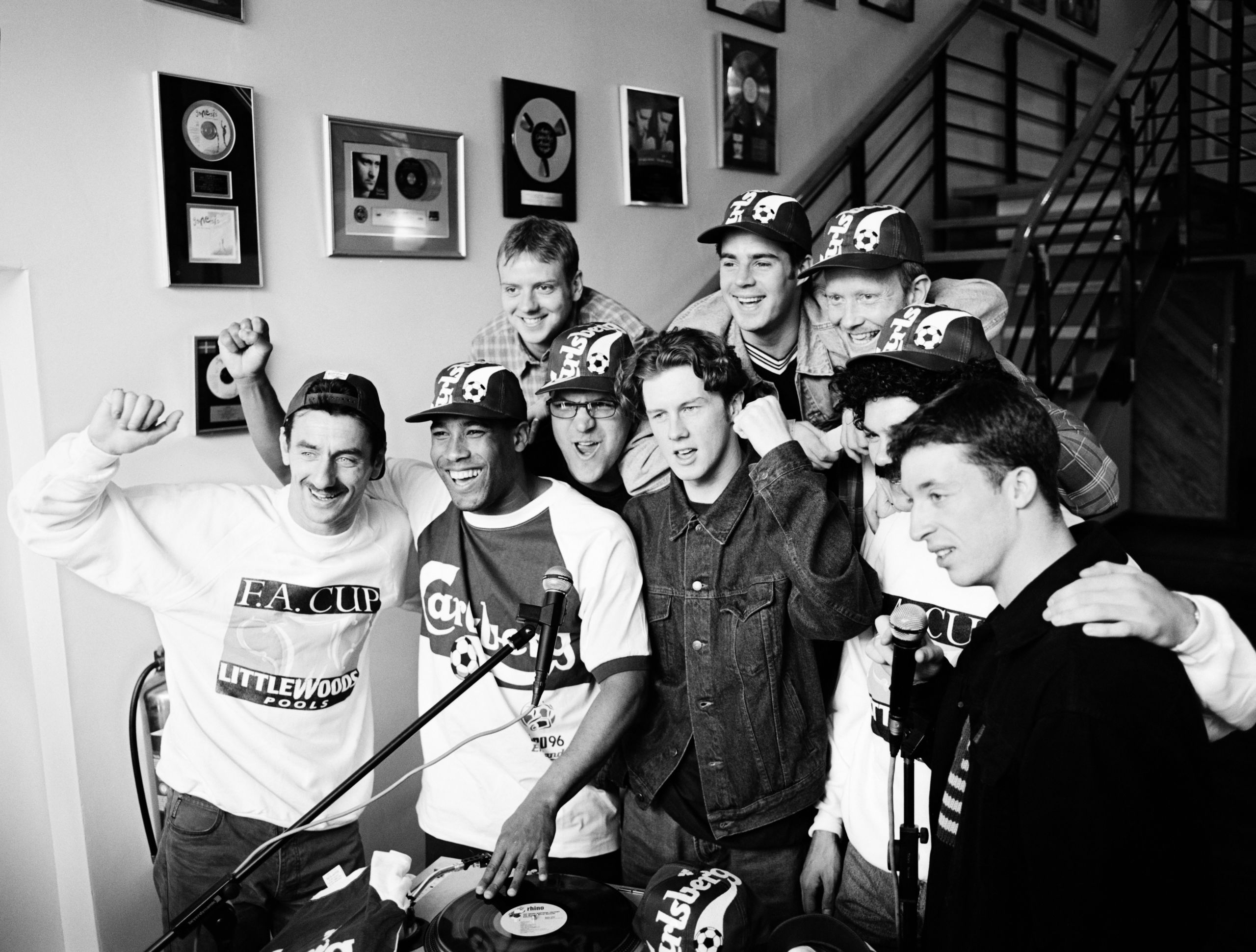 Away from Anfield, James Bond returned to cinemas after a six-year hiatus, Vauxhall launched the Vectra and TFI Friday swaggered on to Channel 4.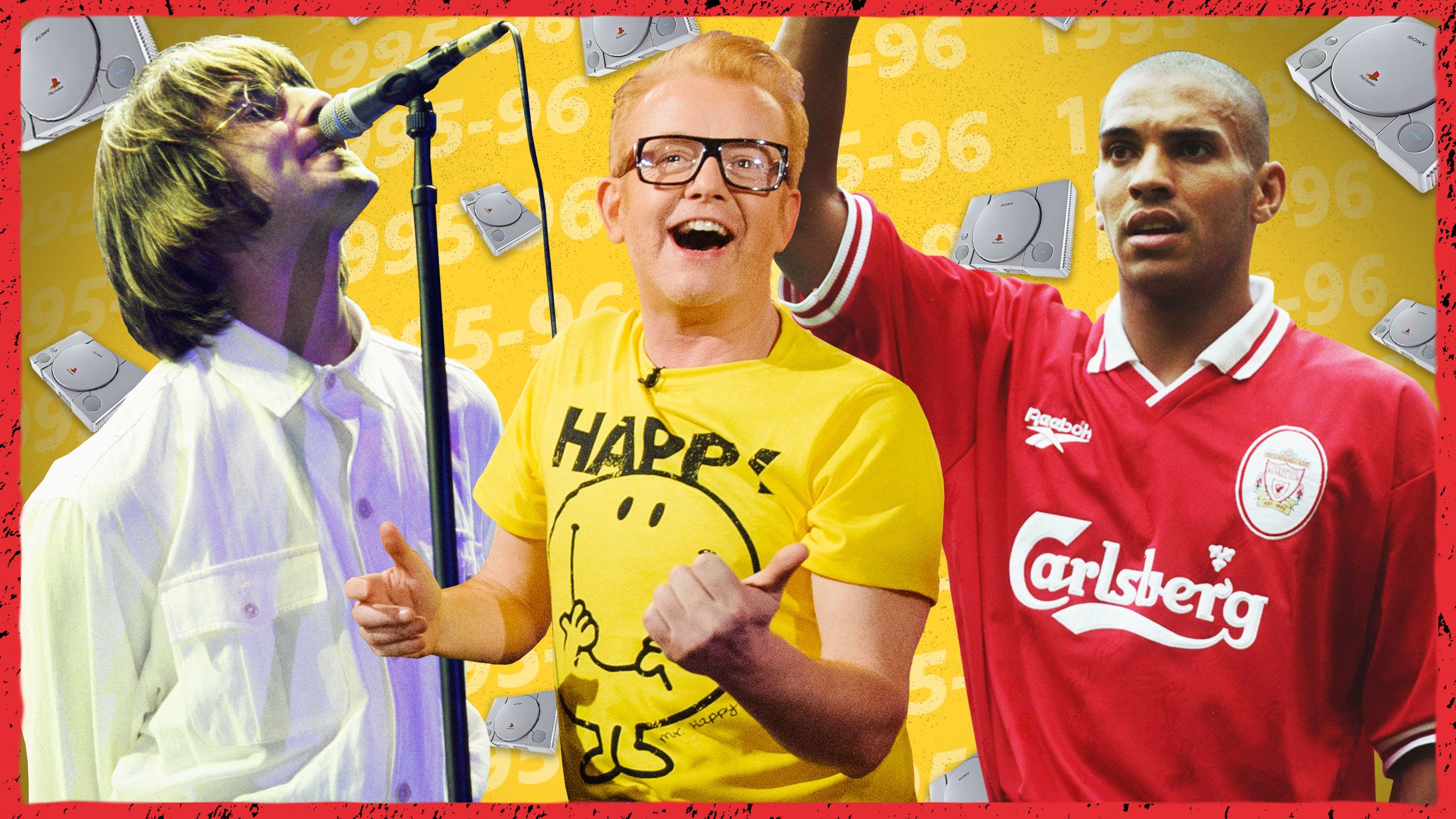 The Sony PlayStation arrived in Europe bringing Lara Croft, Wipeout and Tekken with it. Halcyon days.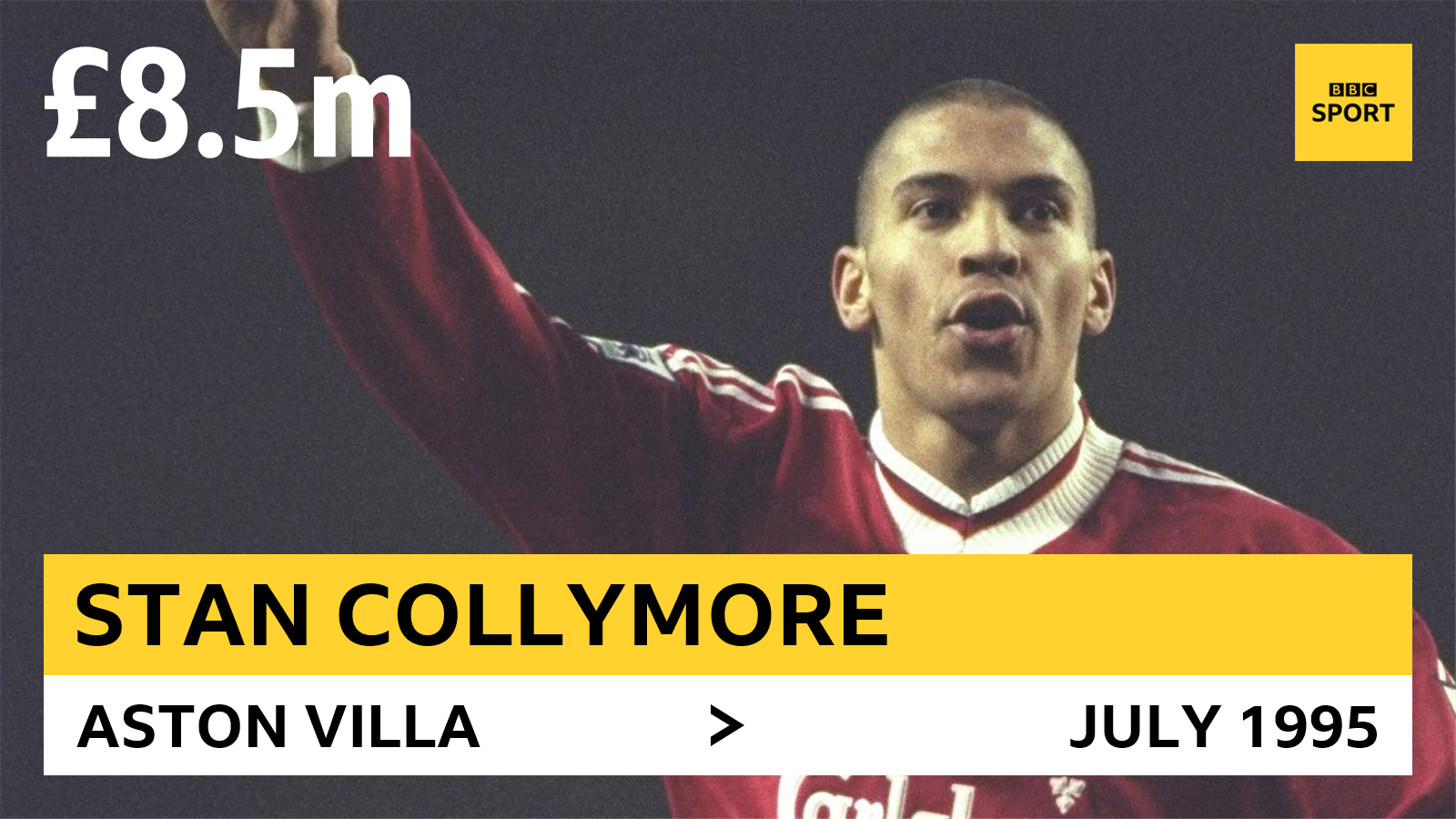 Points behind winners: 11
Trophies: None
Top scorer (all comps): Robbie Fowler (36)
Manager: Roy Evans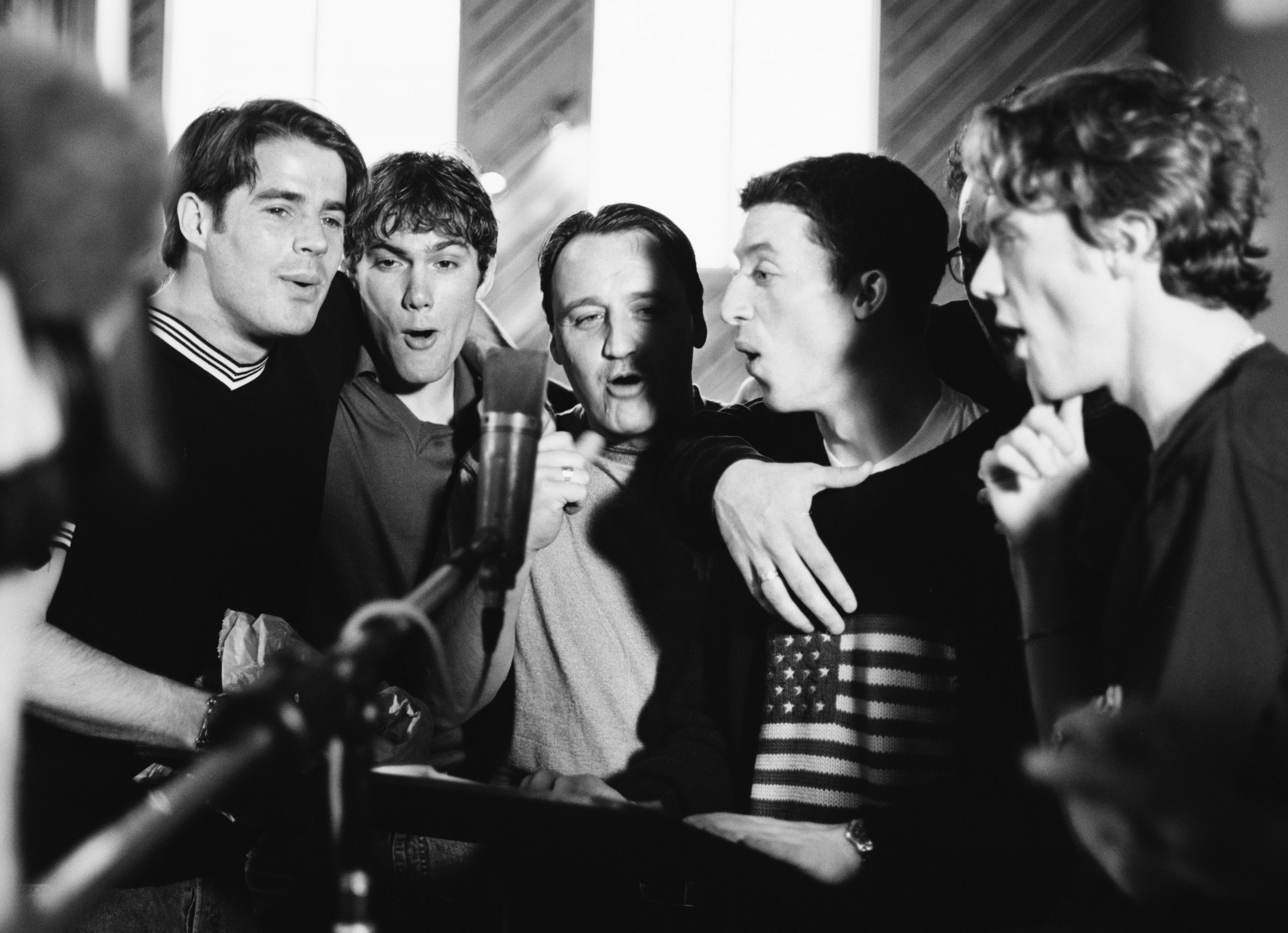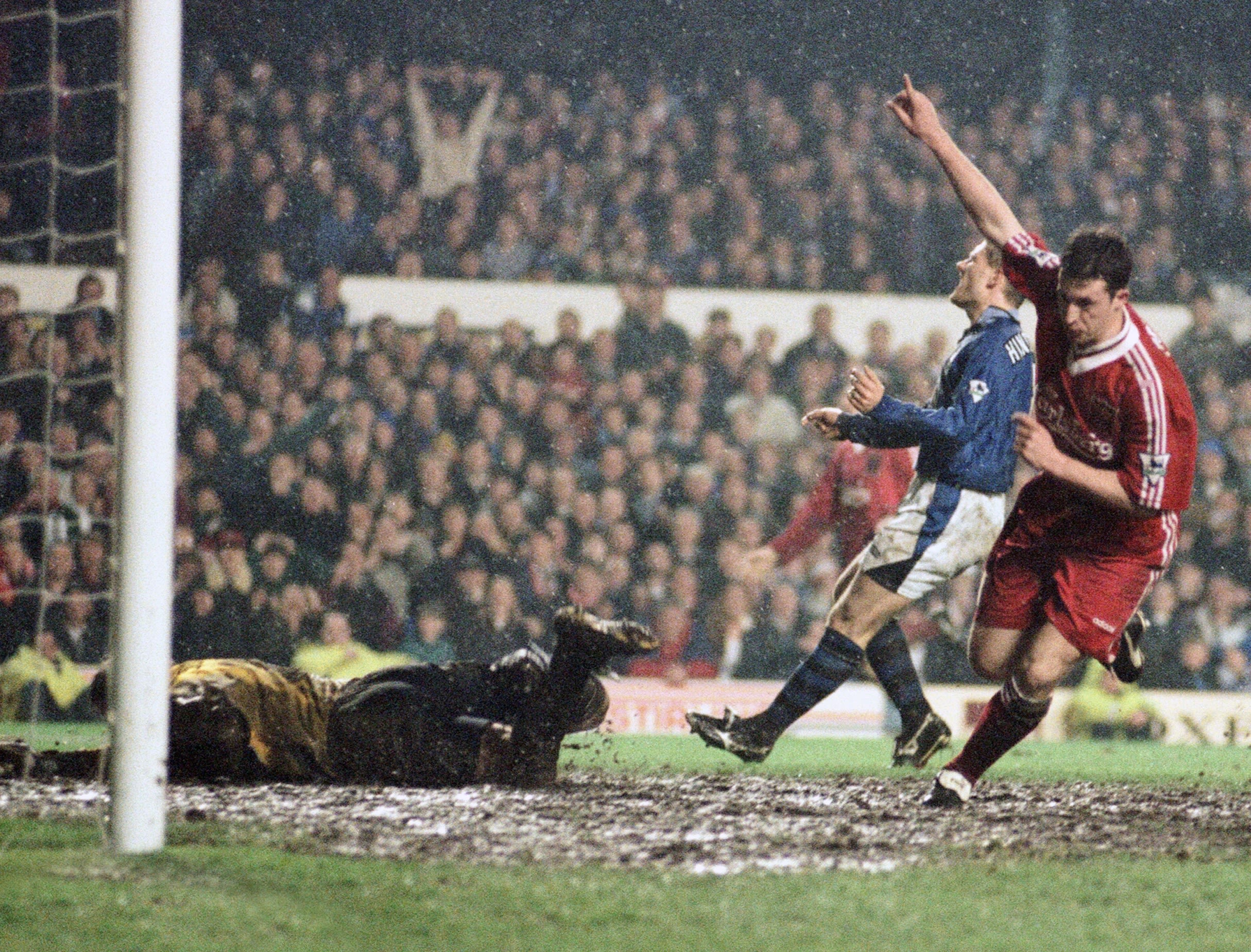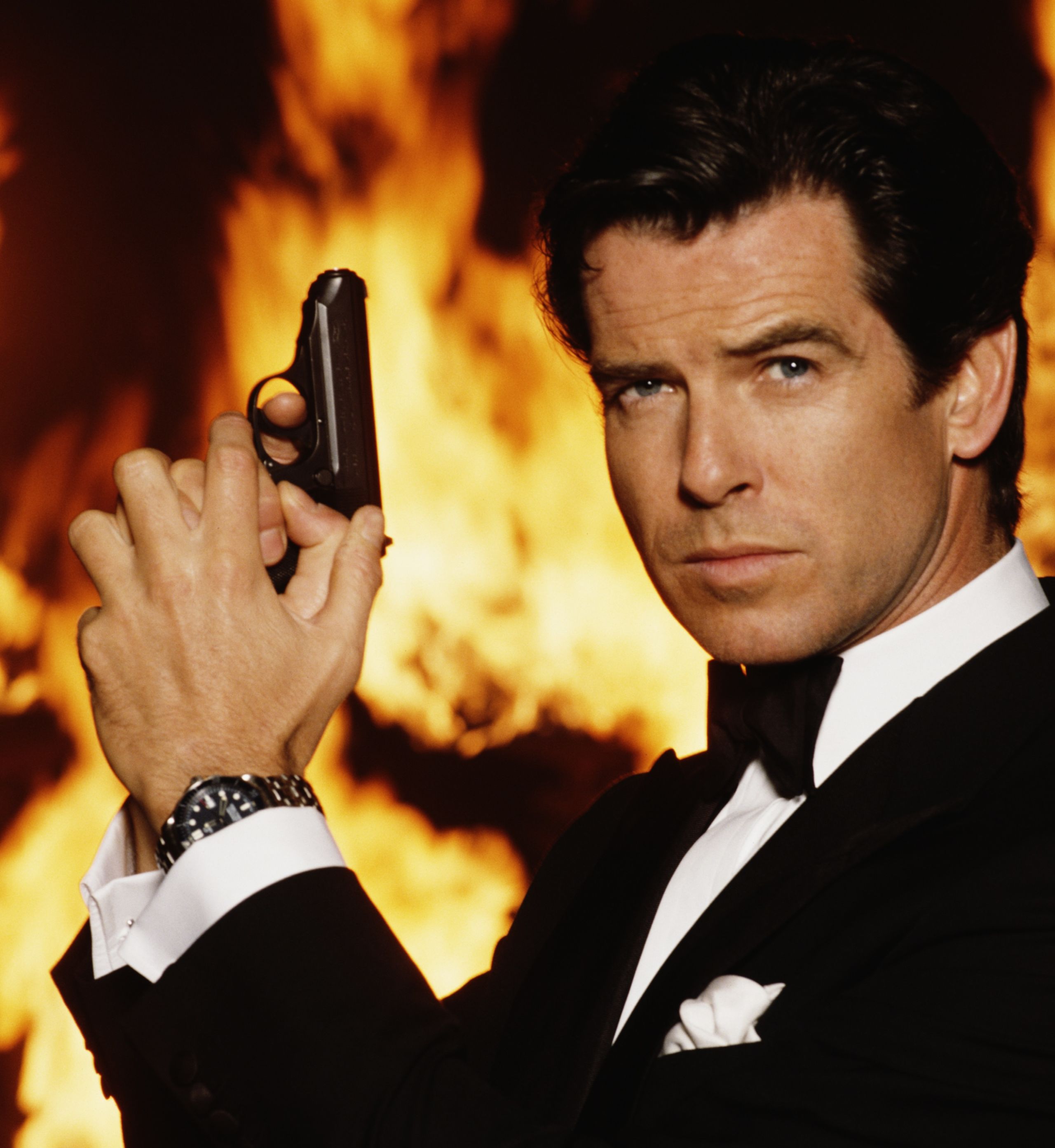 1996-97 season
Fourth in a two-horse race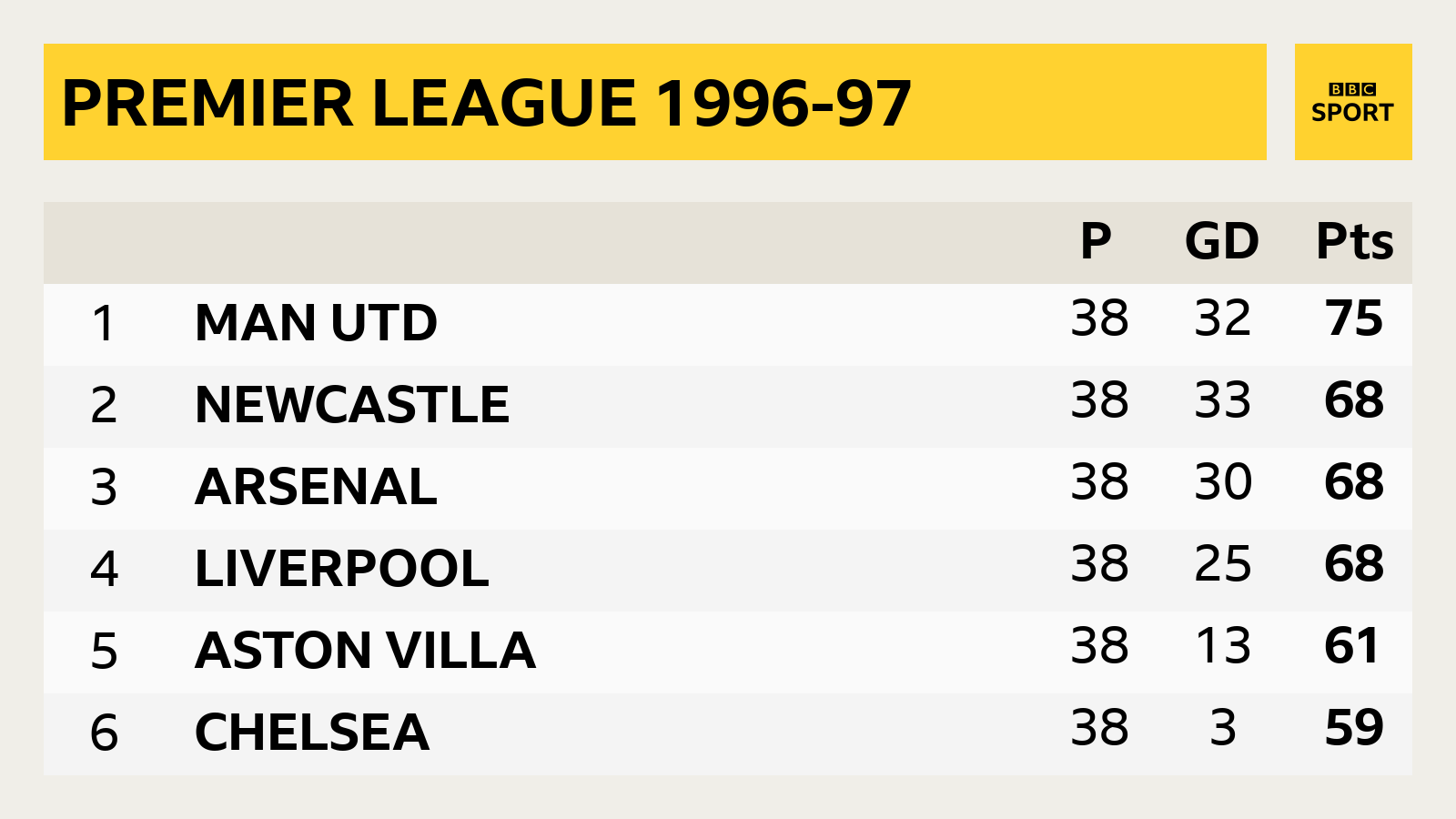 Robbie Fowler scored 31 goals, Liverpool cut the gap to the champions but Manchester United still won the league - Groundhog Day?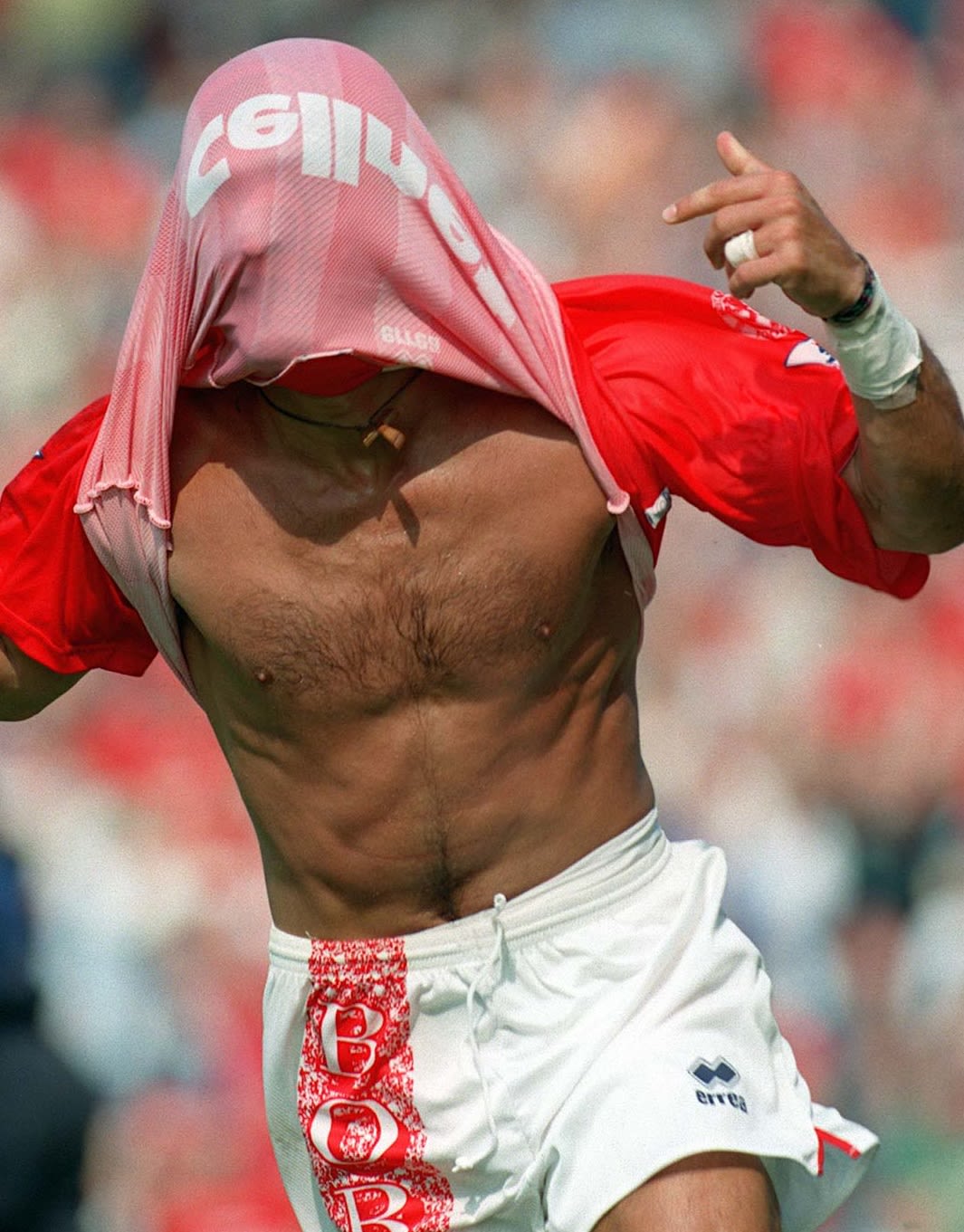 This was peak 90s football as we basked in the post Euro-96 haze. Liverpool were up against an iconic season-opening hat-trick from Middlesbrough's Fabrizio Ravanelli, leading thousands of kids in playgrounds up and down the land to adopt his goal celebration.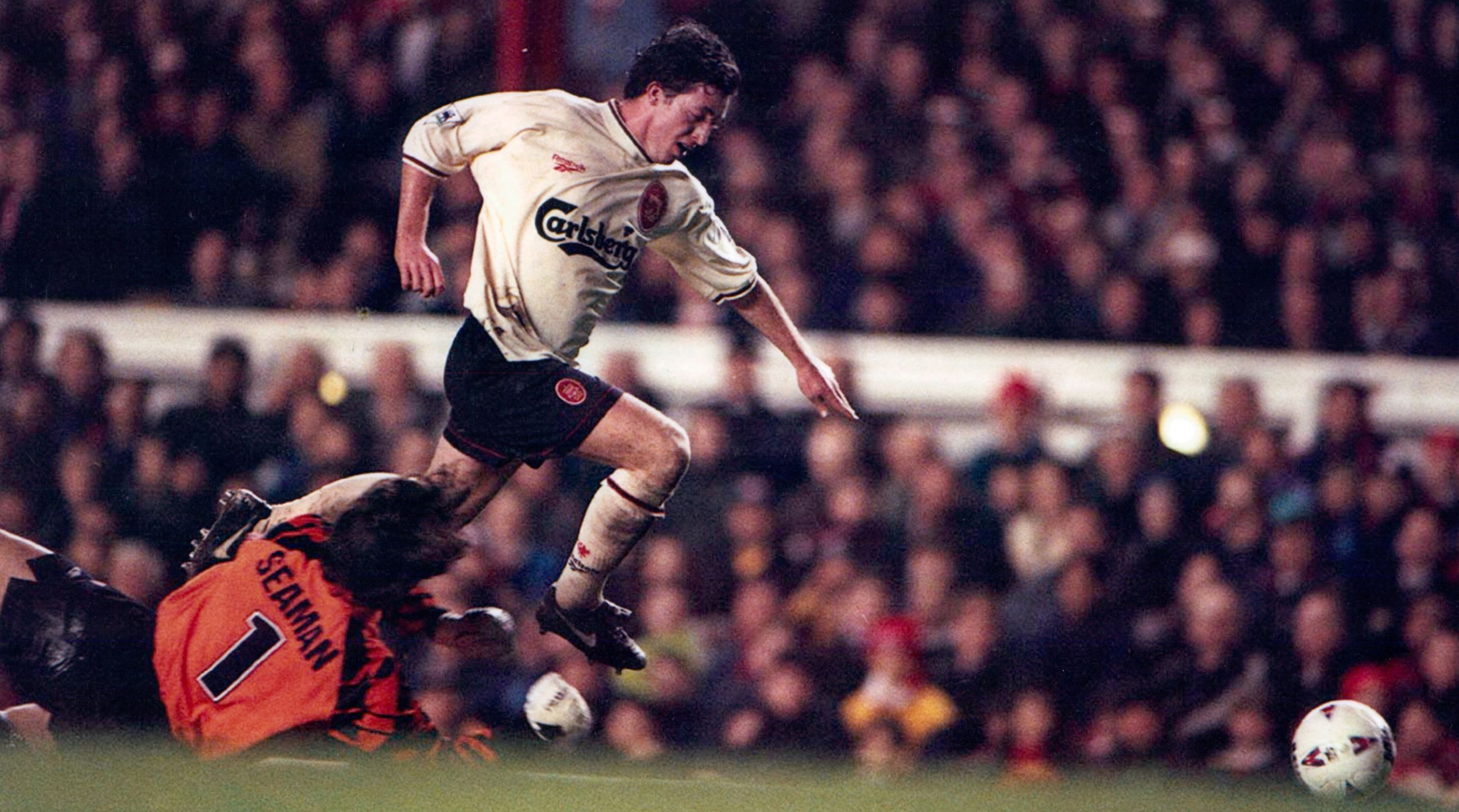 Big-spending Boro went down as Liverpool mounted a proper title challenge though, the first since the start of the decade, with Roy Evans' side five points clear at the turn of the year. Newcastle, Arsenal and Liverpool all finished on 68 points as the Reds finished fourth in a two-horse race.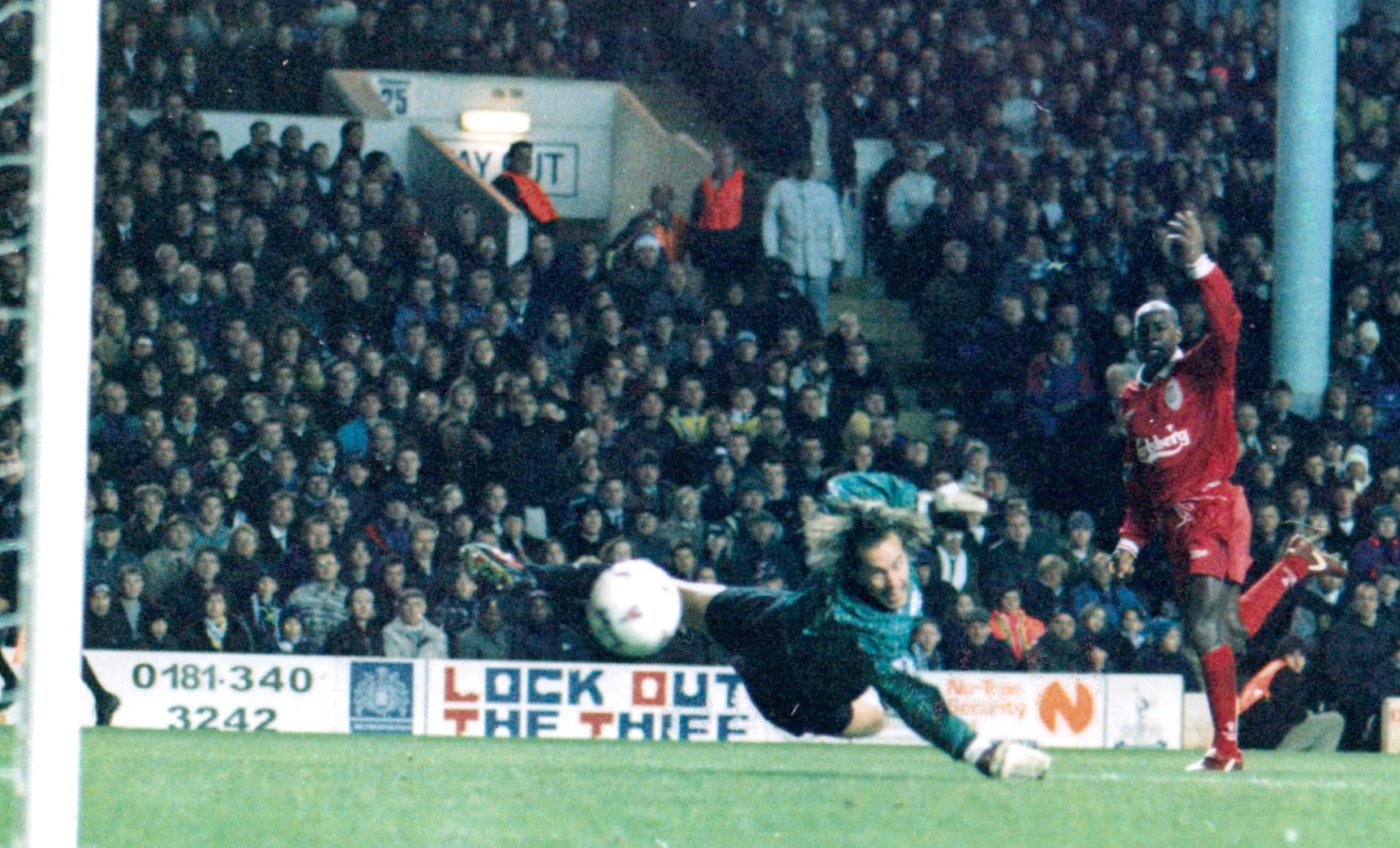 Fowler was still on fire - and who made their debut in the penultimate game of the season? A certain Michael Owen.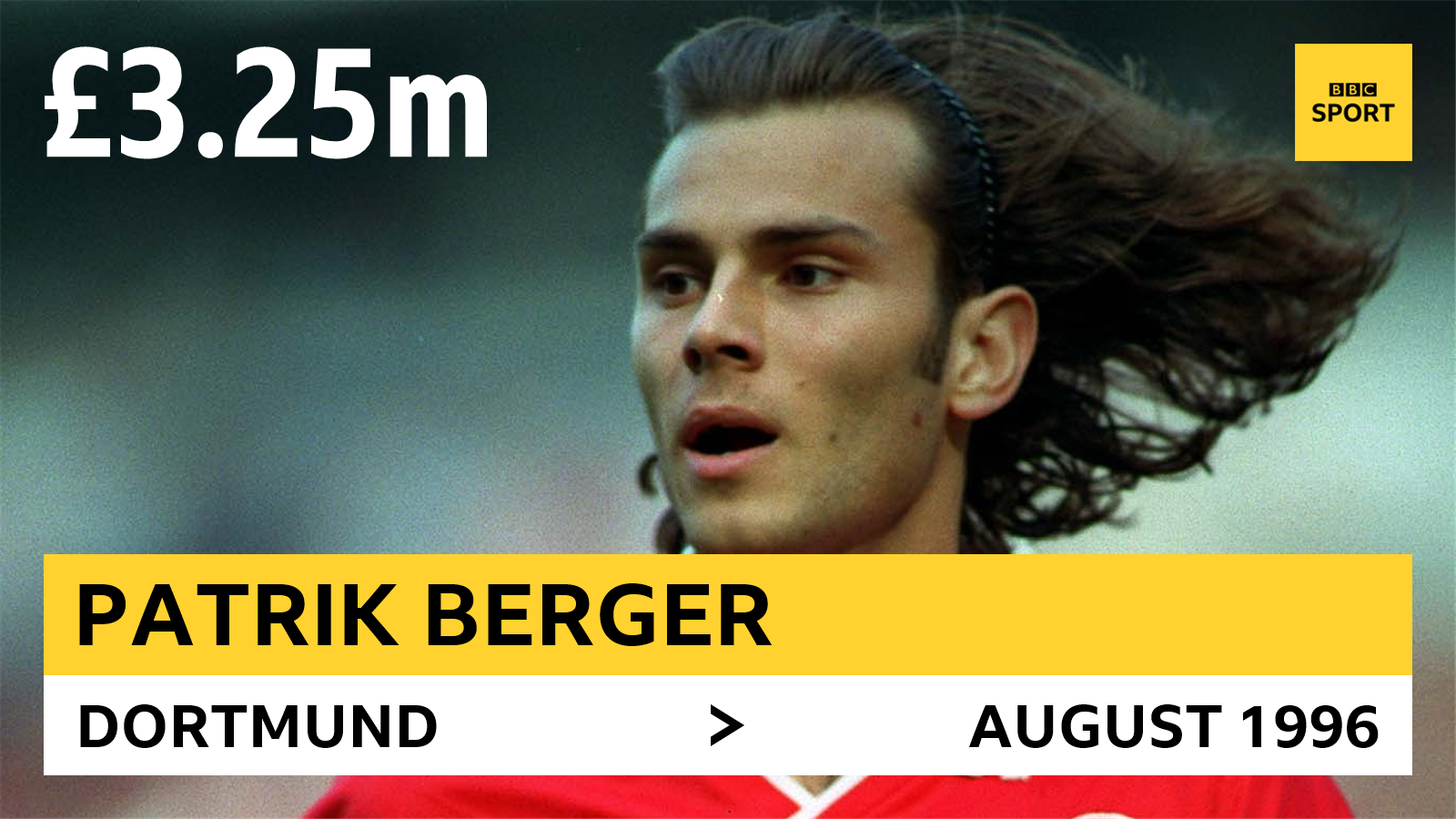 Off the pitch there were truly seismic events in British life - Channel 5 arrived, Prince Charles and Princess Diana finally divorced, Tony Blair led Labour to a landslide election win and Brian Harvey was booted out of East 17.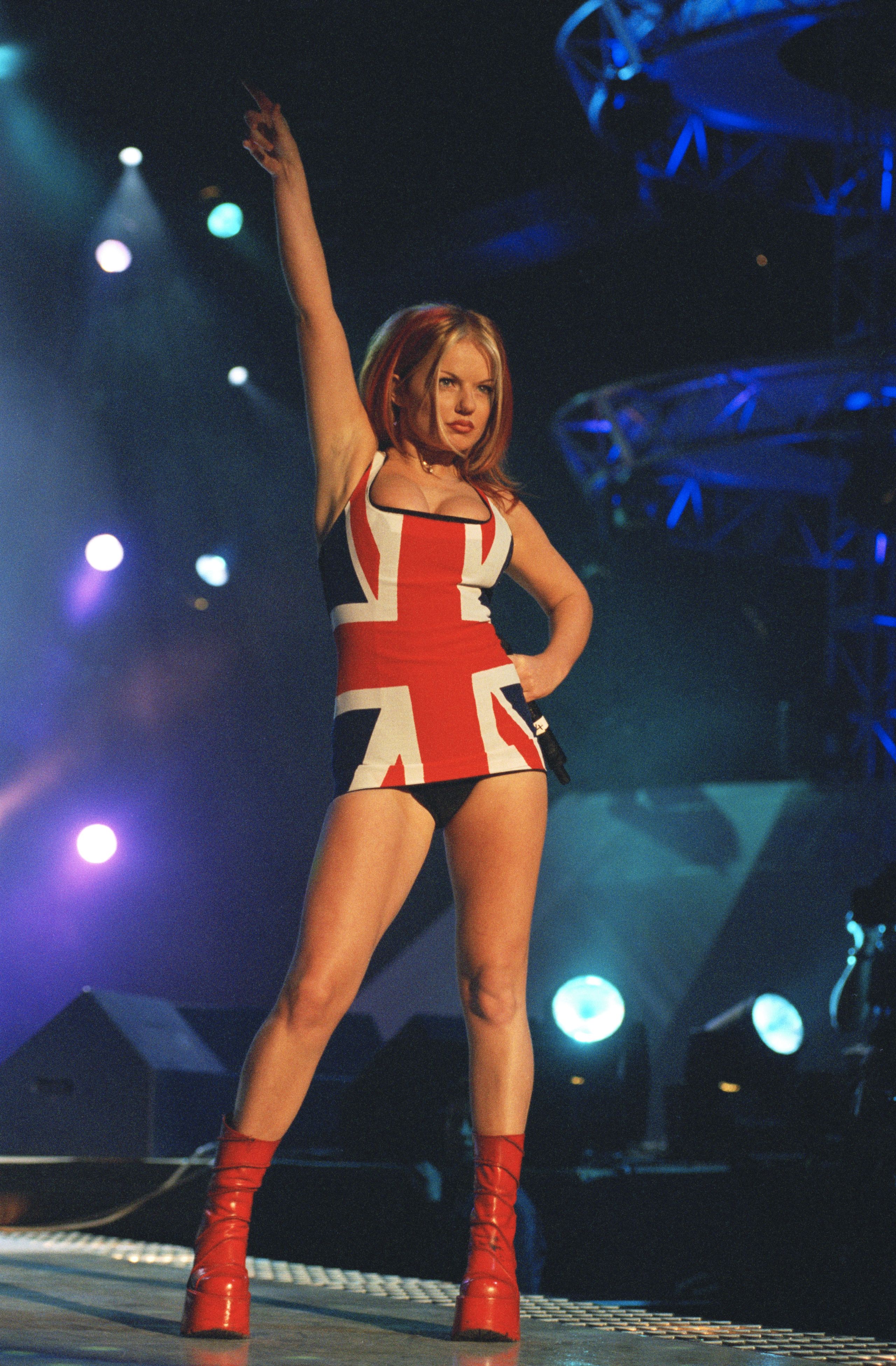 Points behind winners: 7
Trophies: None
Top scorer (all comps): Robbie Fowler (31)
Manager: Roy Evans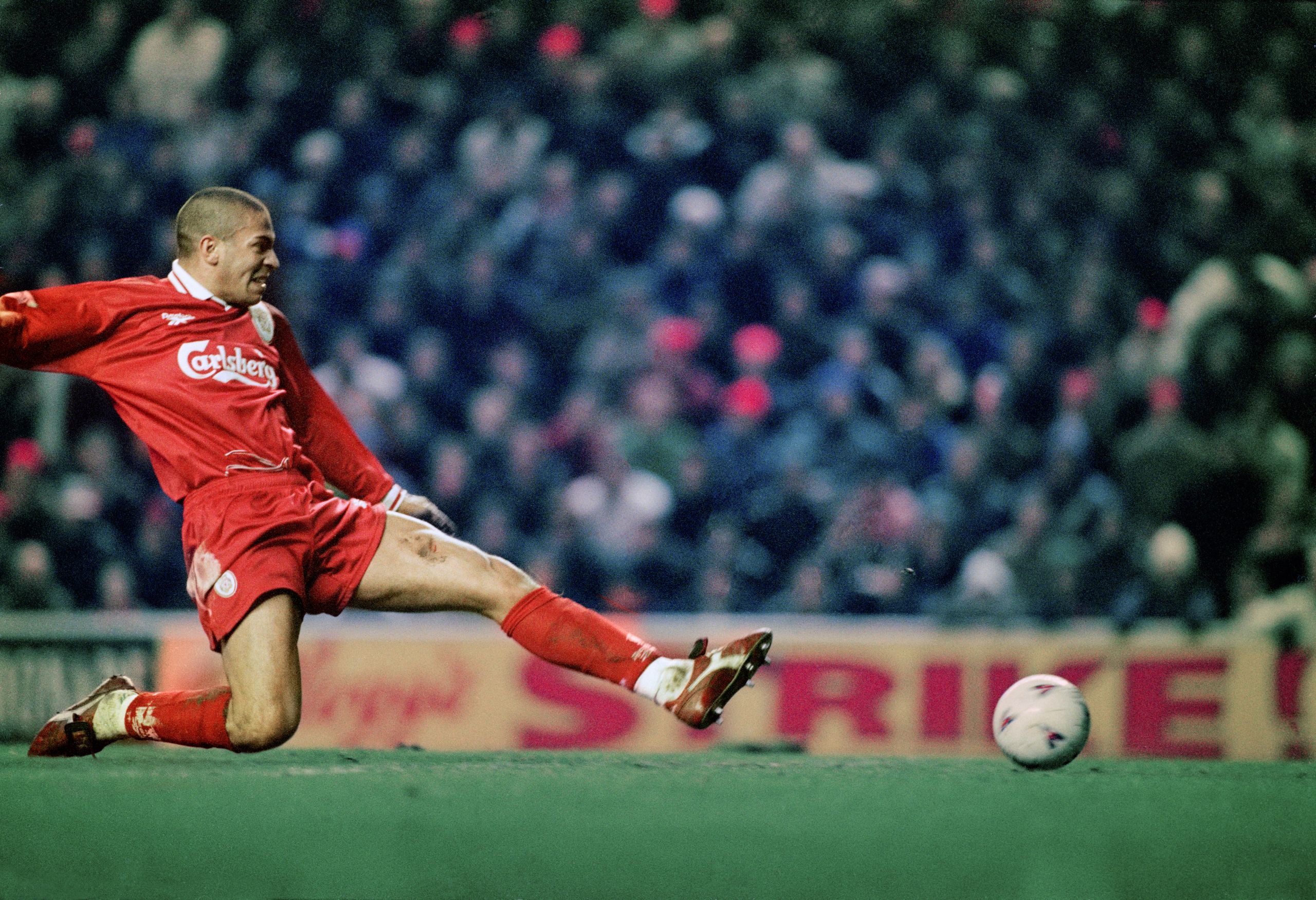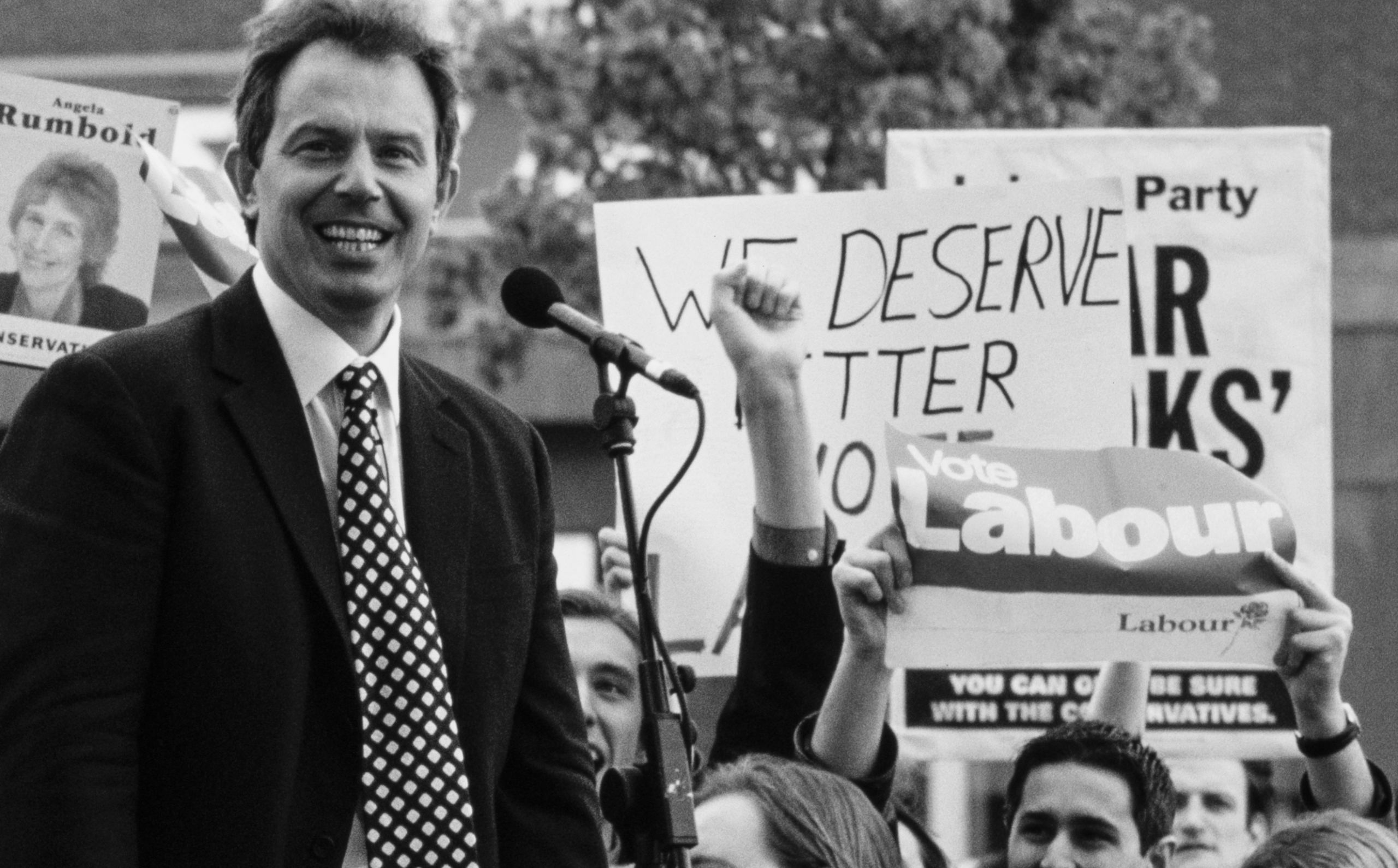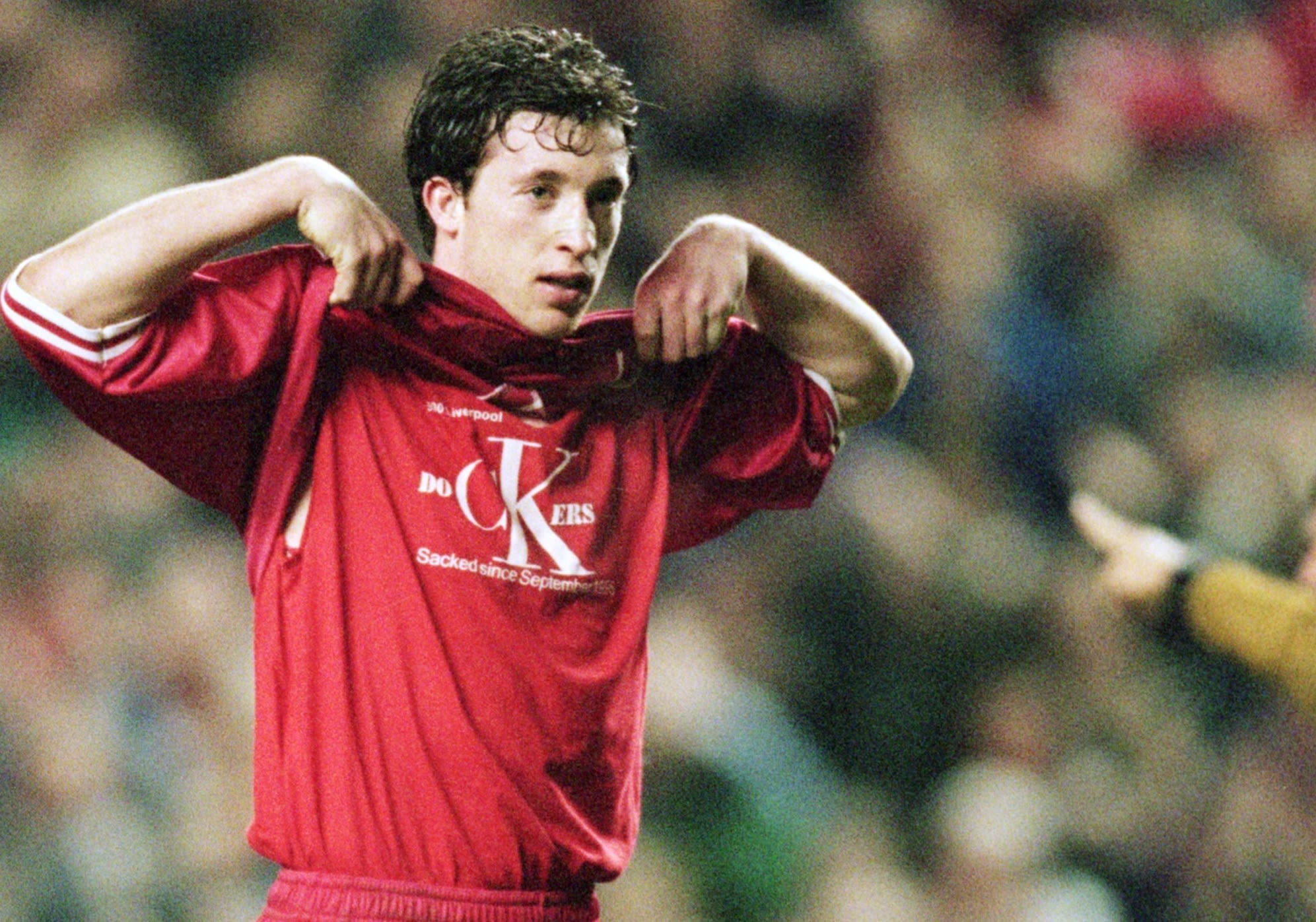 1997-98 season
A new force in town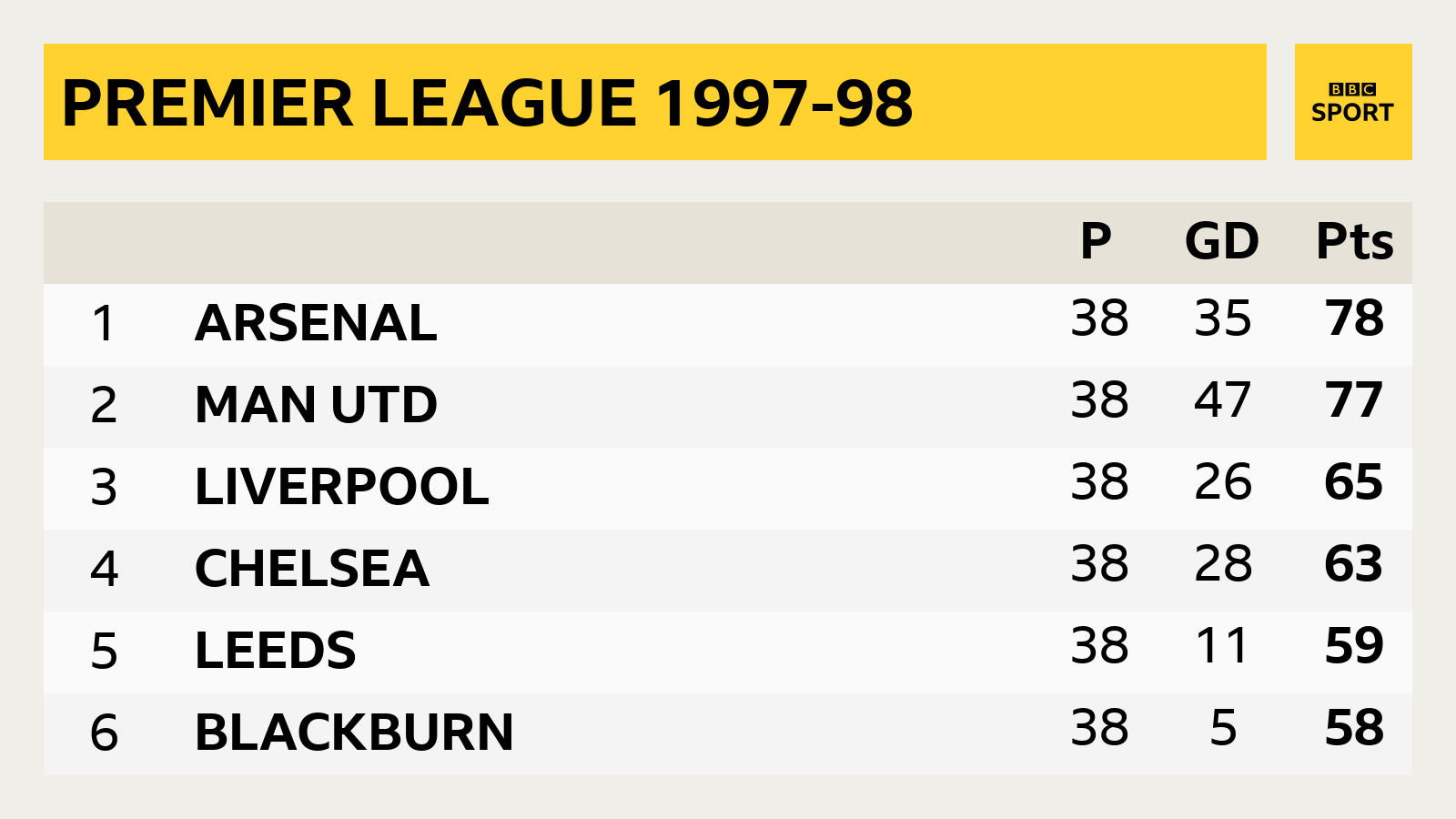 Two young wizards made their name worldwide as Harry Potter and Michael Owen conquered all before them.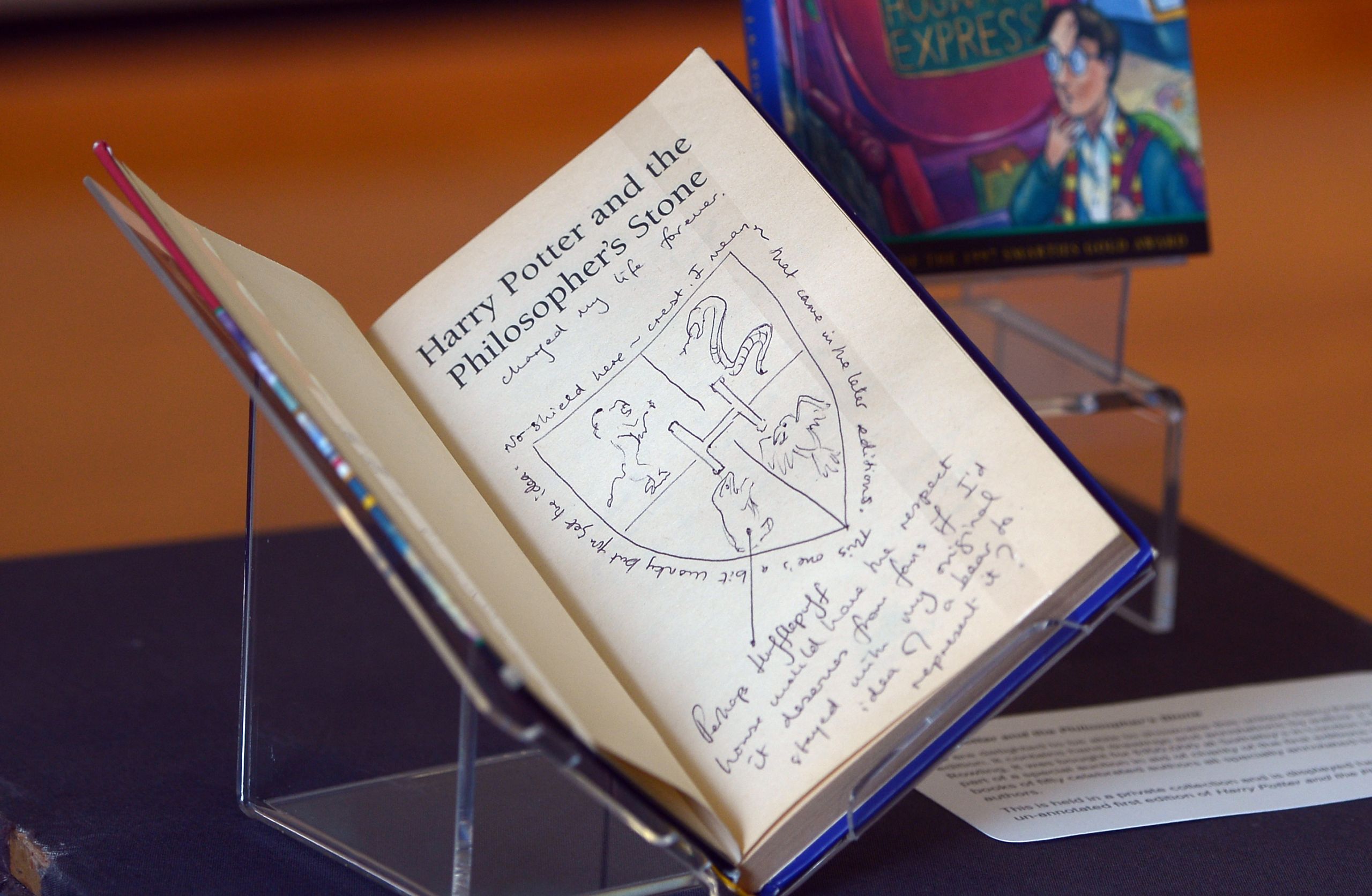 The first Potter book was a sensation - and so was Owen. It was another top-three finish for the Reds as Arsenal became the new champions under Arsene Wenger - they won the double as well. Robbie Fowler was injured for a big chunk of the season but Owen stepped up just in time to shake up the World Cup in the summer.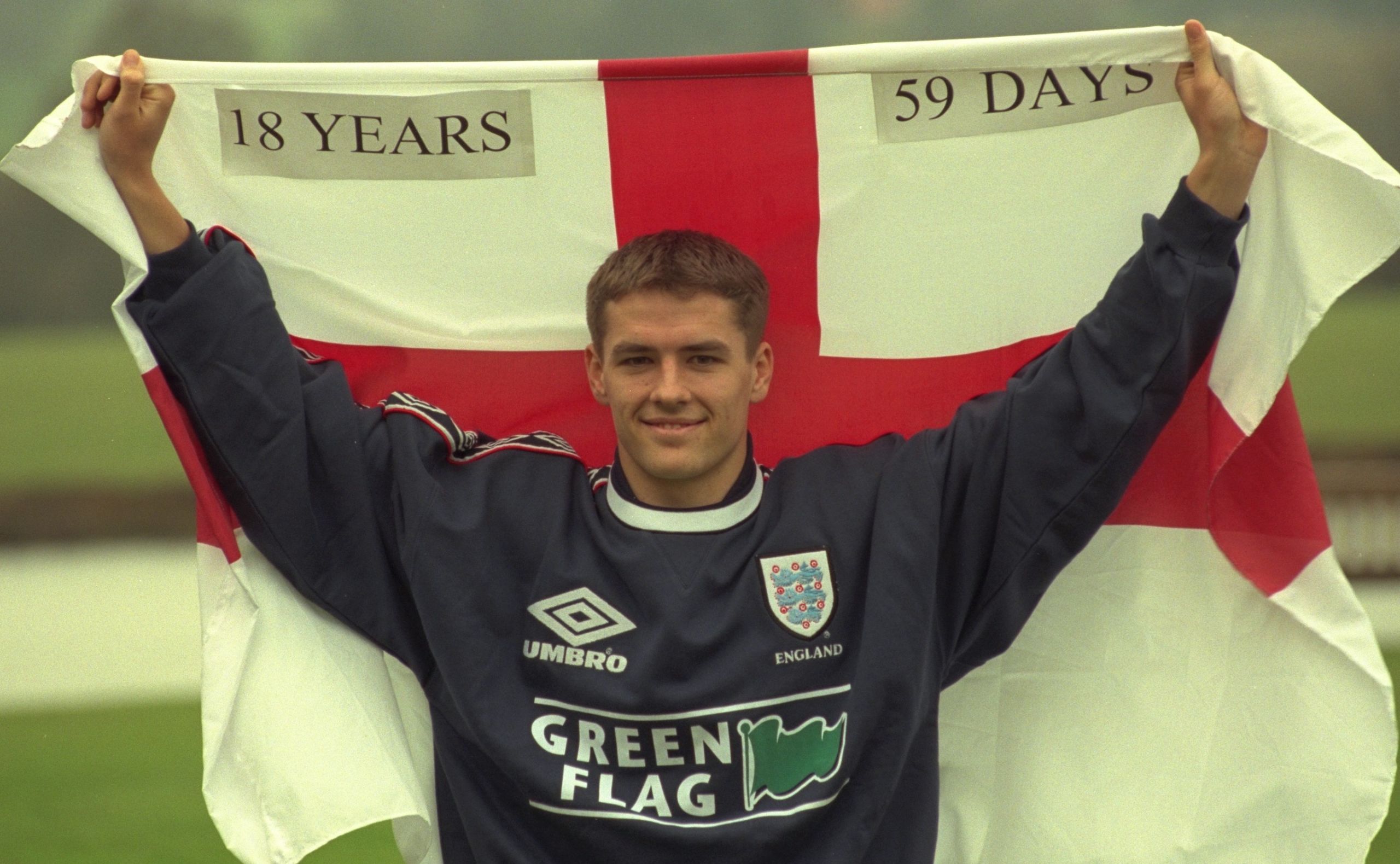 It's easy to forget just how good Owen was as he burst onto the scene. As he admitted himself recently, he was already on his way down from his peak by the age of 21. But he was sensational in his first full season.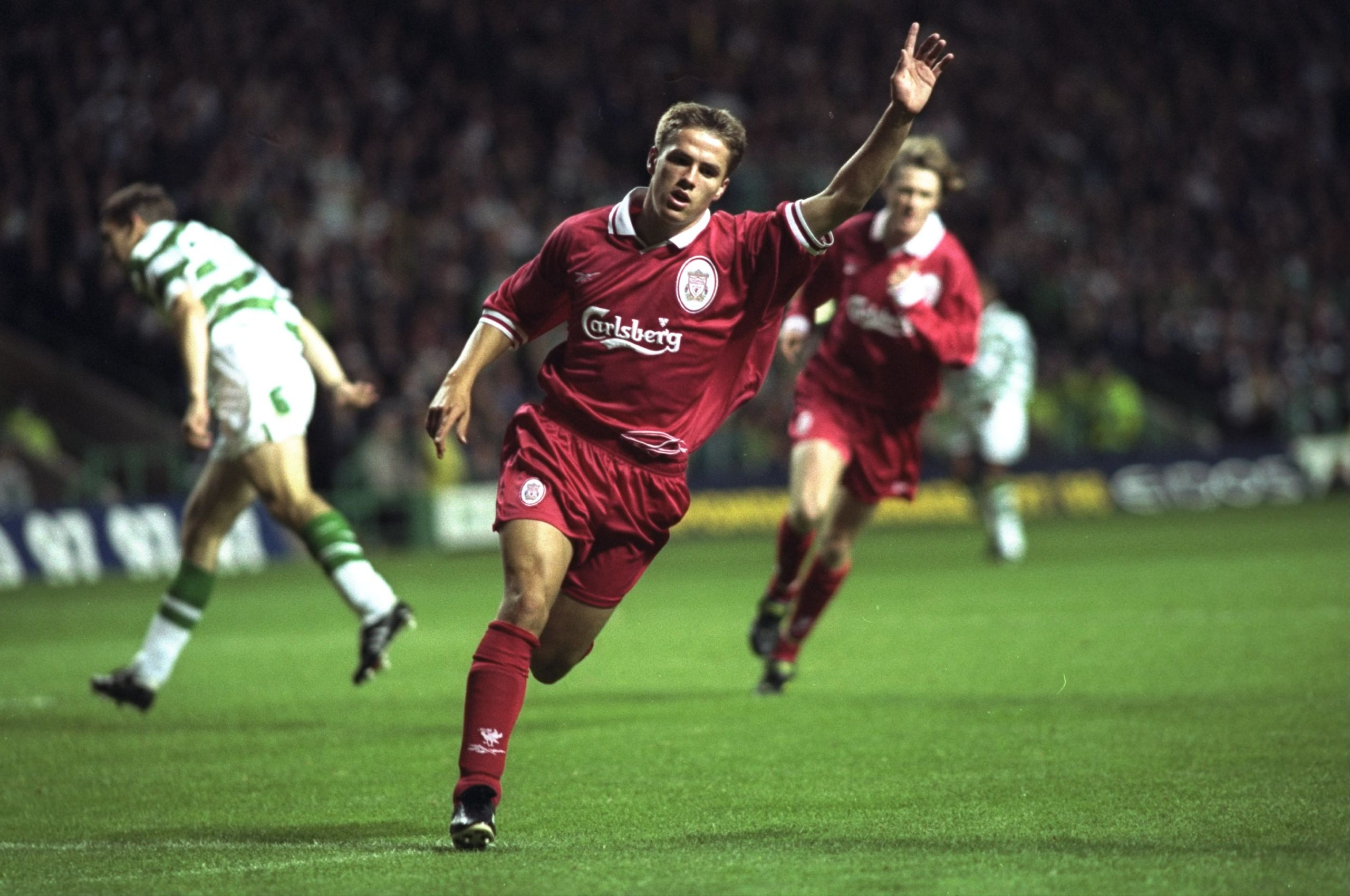 There were no trophies for the Reds once again. Across the park, Everton only stayed up on goal difference.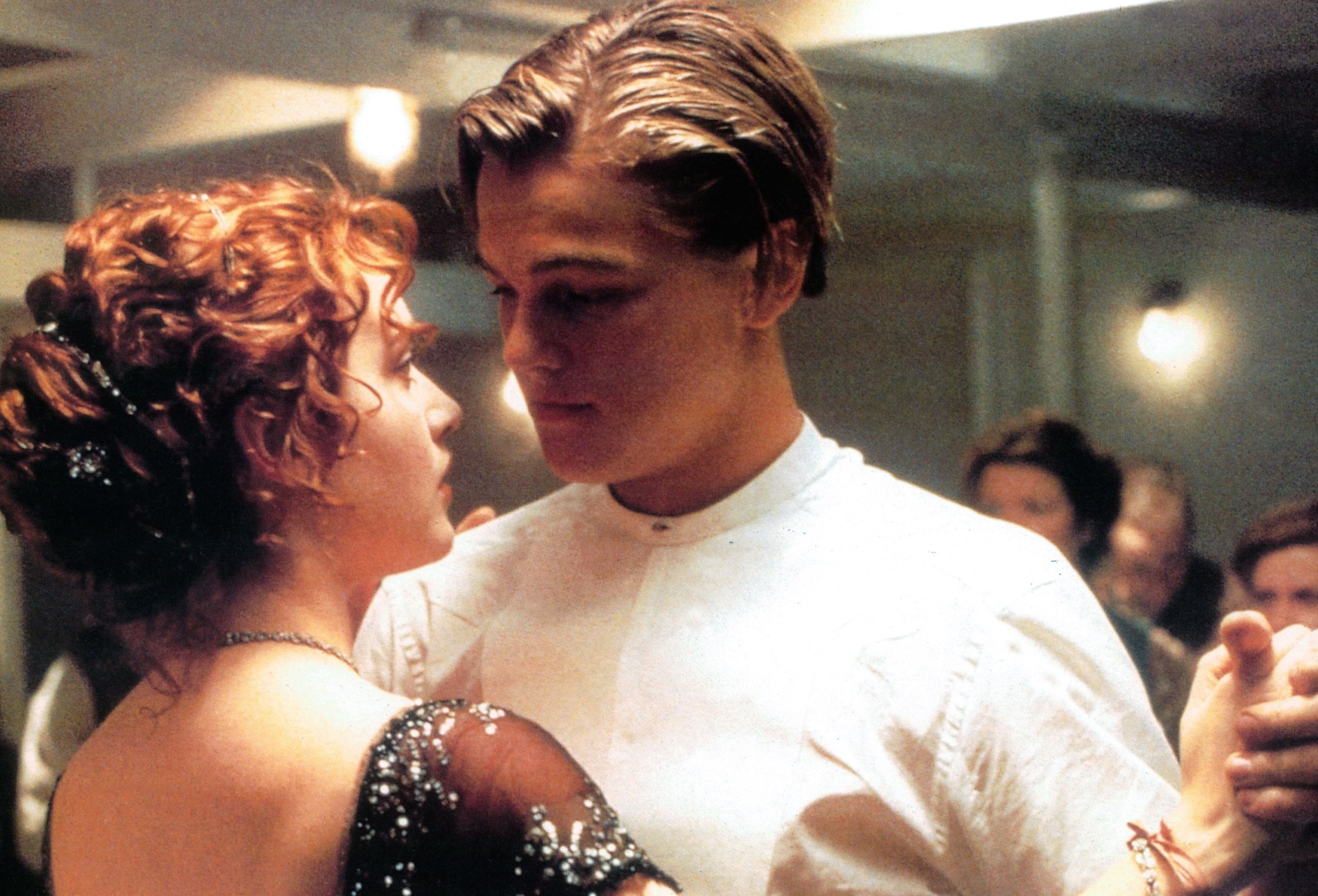 Britain and the world were shaken when Princess Diana died in Paris, BBC News launched its website, the Good Friday agreement was signed and we gained DVDs (early adopters did anyway) and the £2 coin. What a busy year.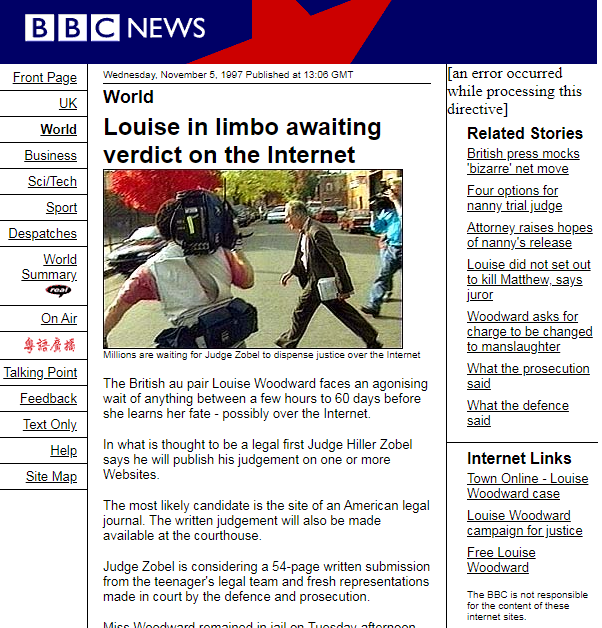 Points behind winners: 13
Trophies: None
Top scorer (all comps): Michael Owen (23)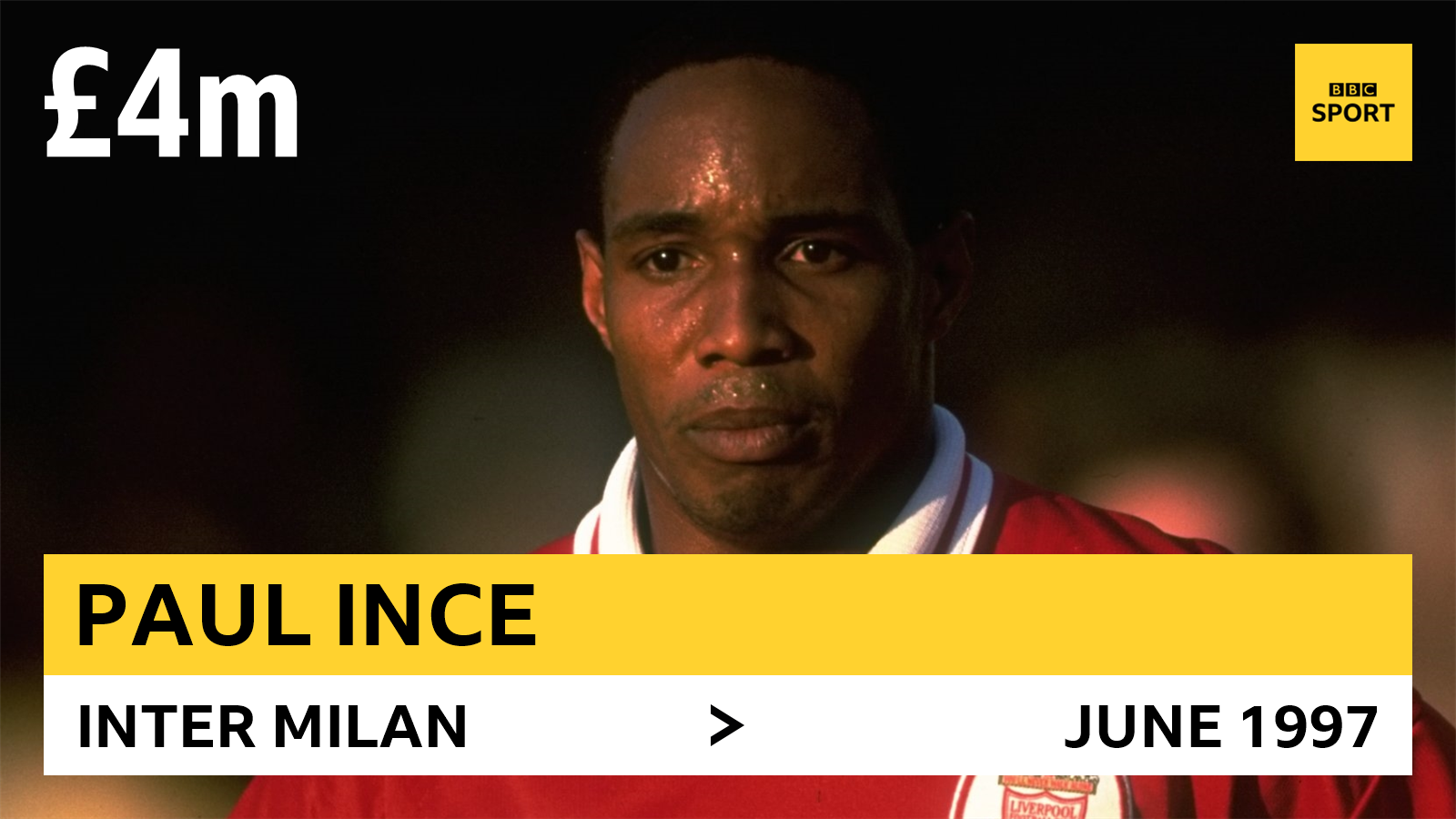 Manager: Roy Evans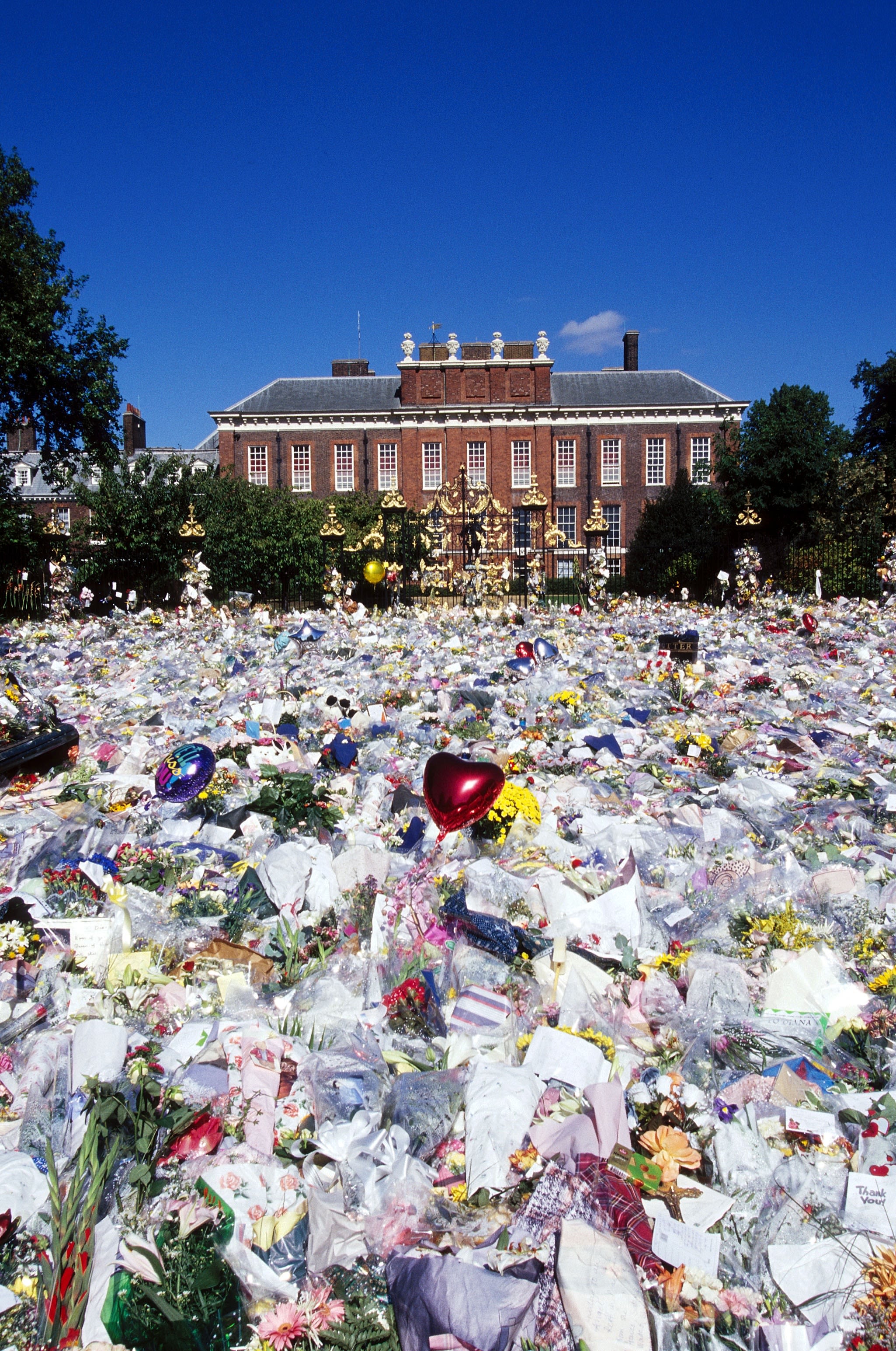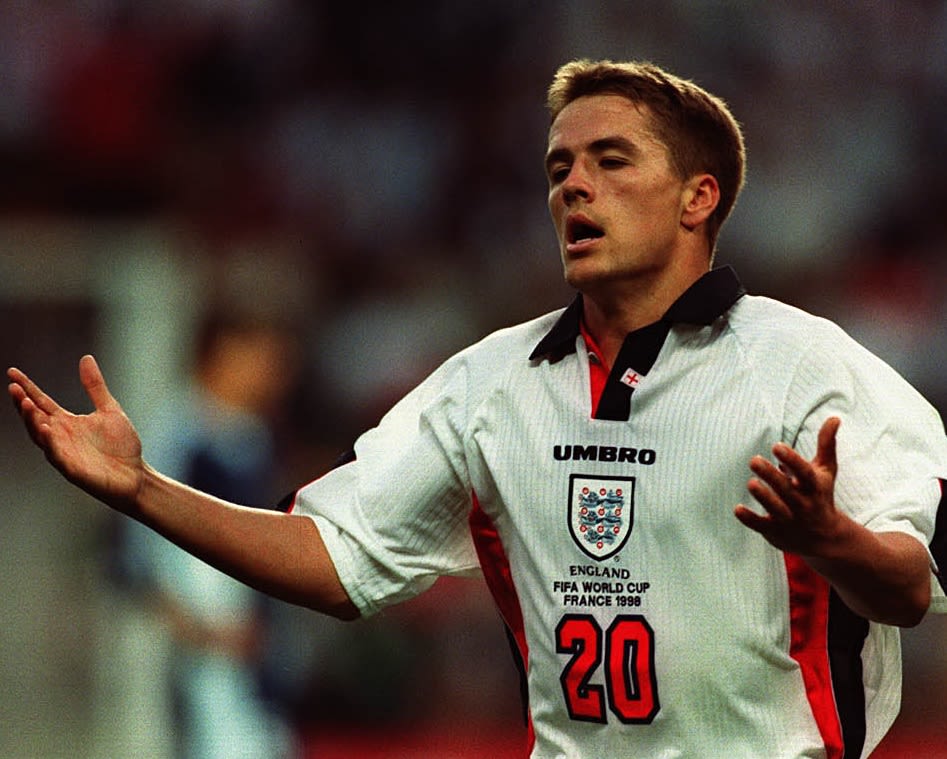 1998-99 season
Half the world away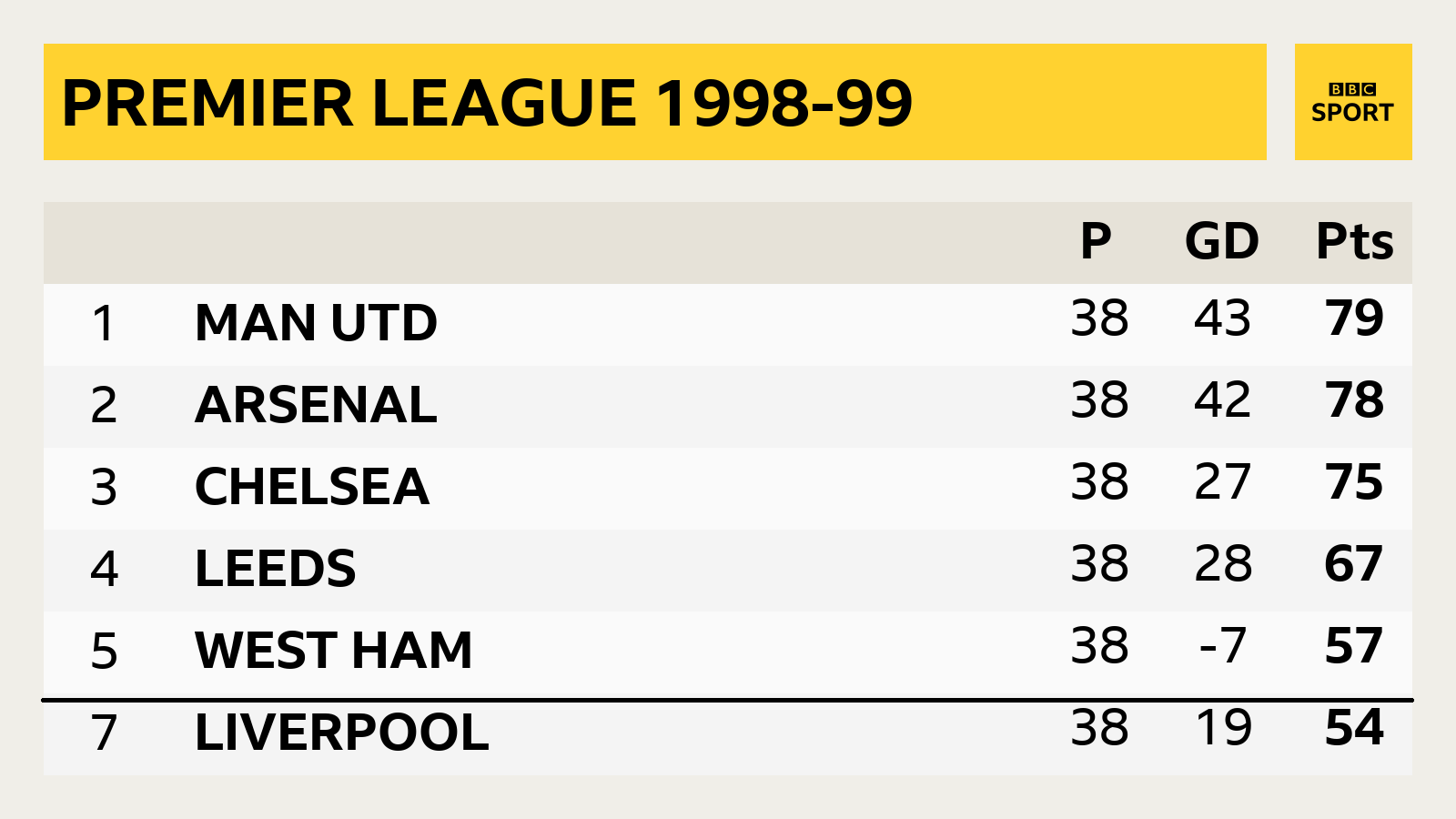 A major shock as the establishment took a beating. No, not Manchester United winning the Treble but The Open University handing Oriel College, Oxford a hiding in the final of University Challenge.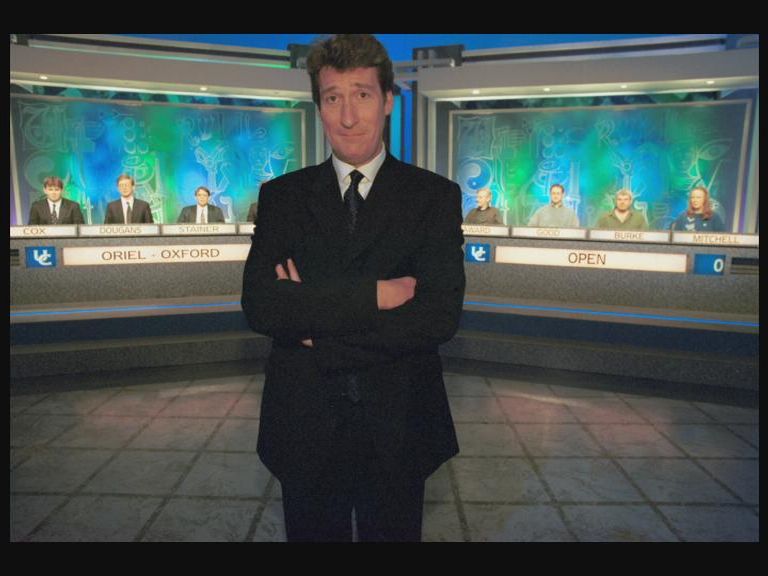 At Anfield it was more grief than glory yet again. A slide back down to seventh place and the end of the Roy Evans era with the lowest points total since they made it three for a win (it used to be two, younger readers).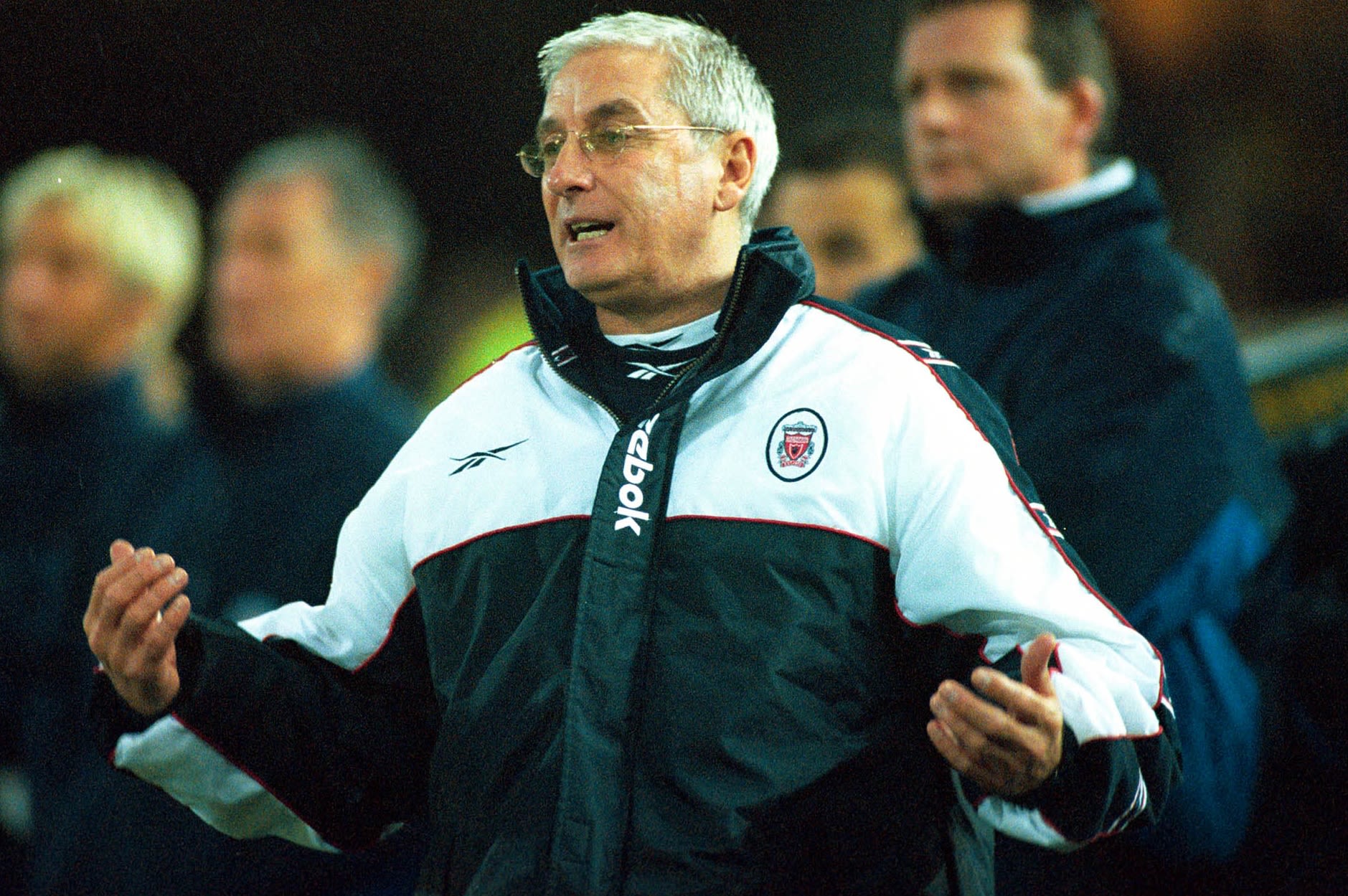 Gerard Houllier was introduced as joint manager to help Evans end the title drought, but by November Evans had seen enough and stepped down.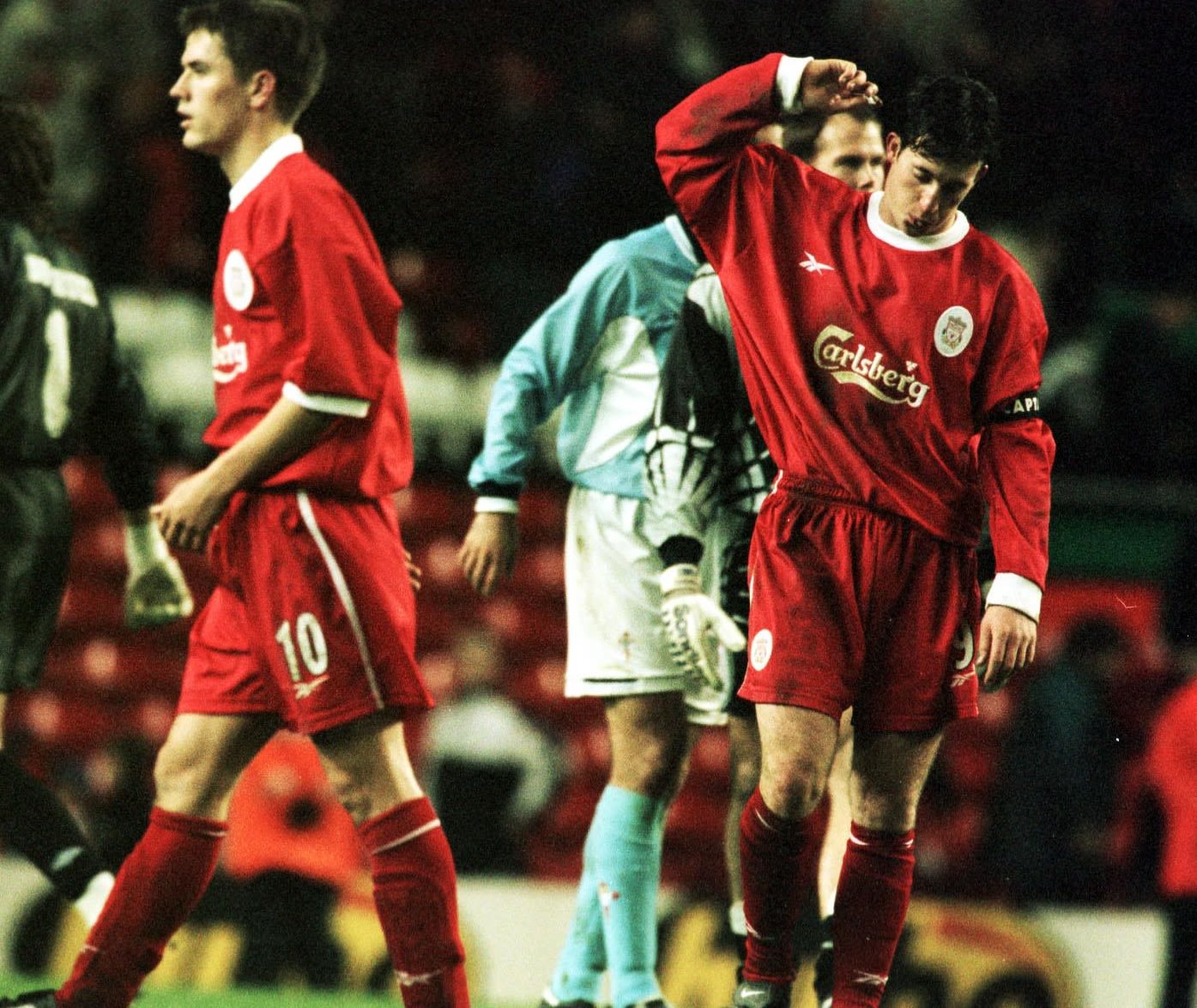 To make matters worse, Steve McManaman couldn't agree a new contract and announced he would be leaving on a free transfer in the summer to join Real Madrid.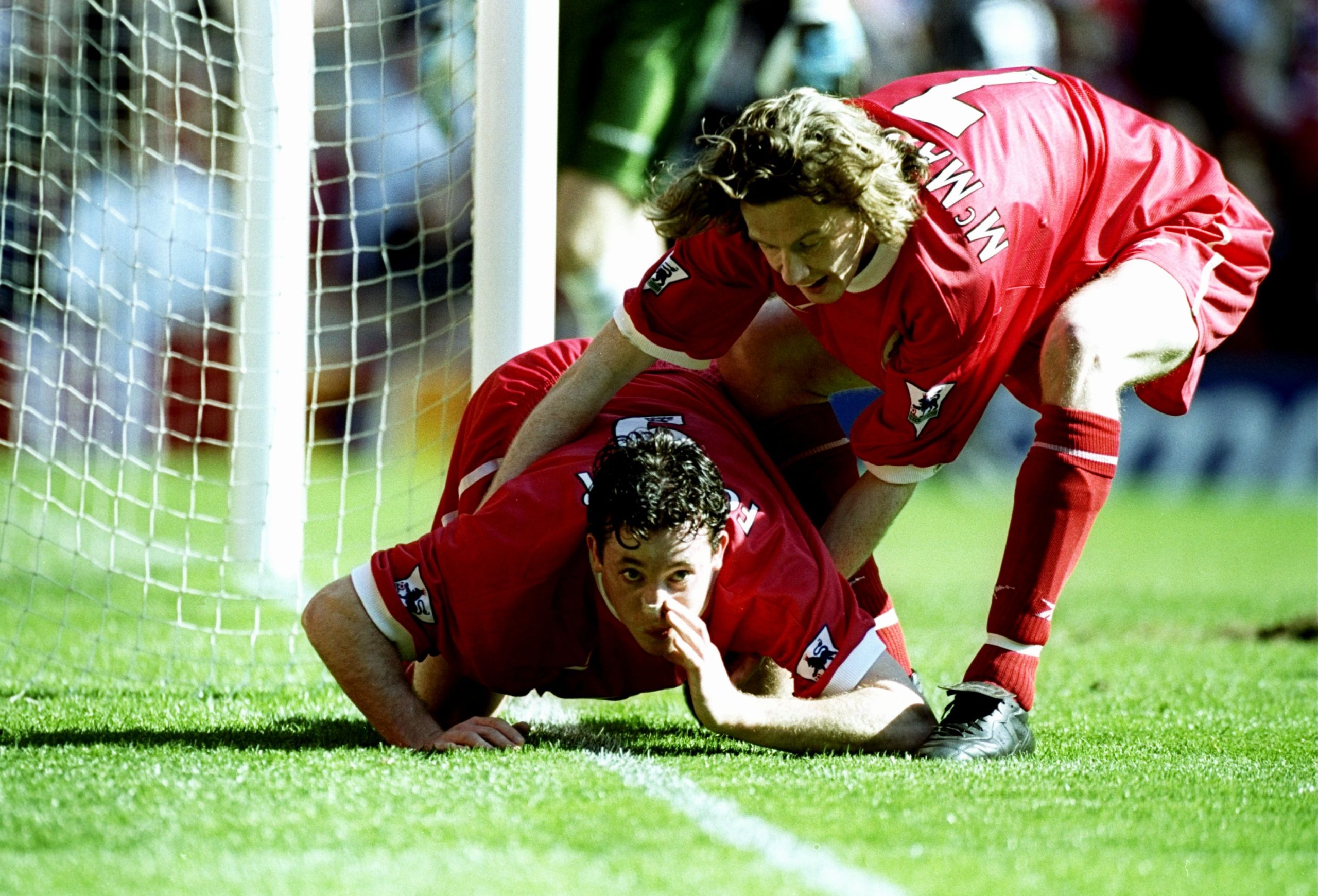 And rivals Manchester United, nowhere when Liverpool last lifted the title, become champions of England and Europe in (in)famous fashion...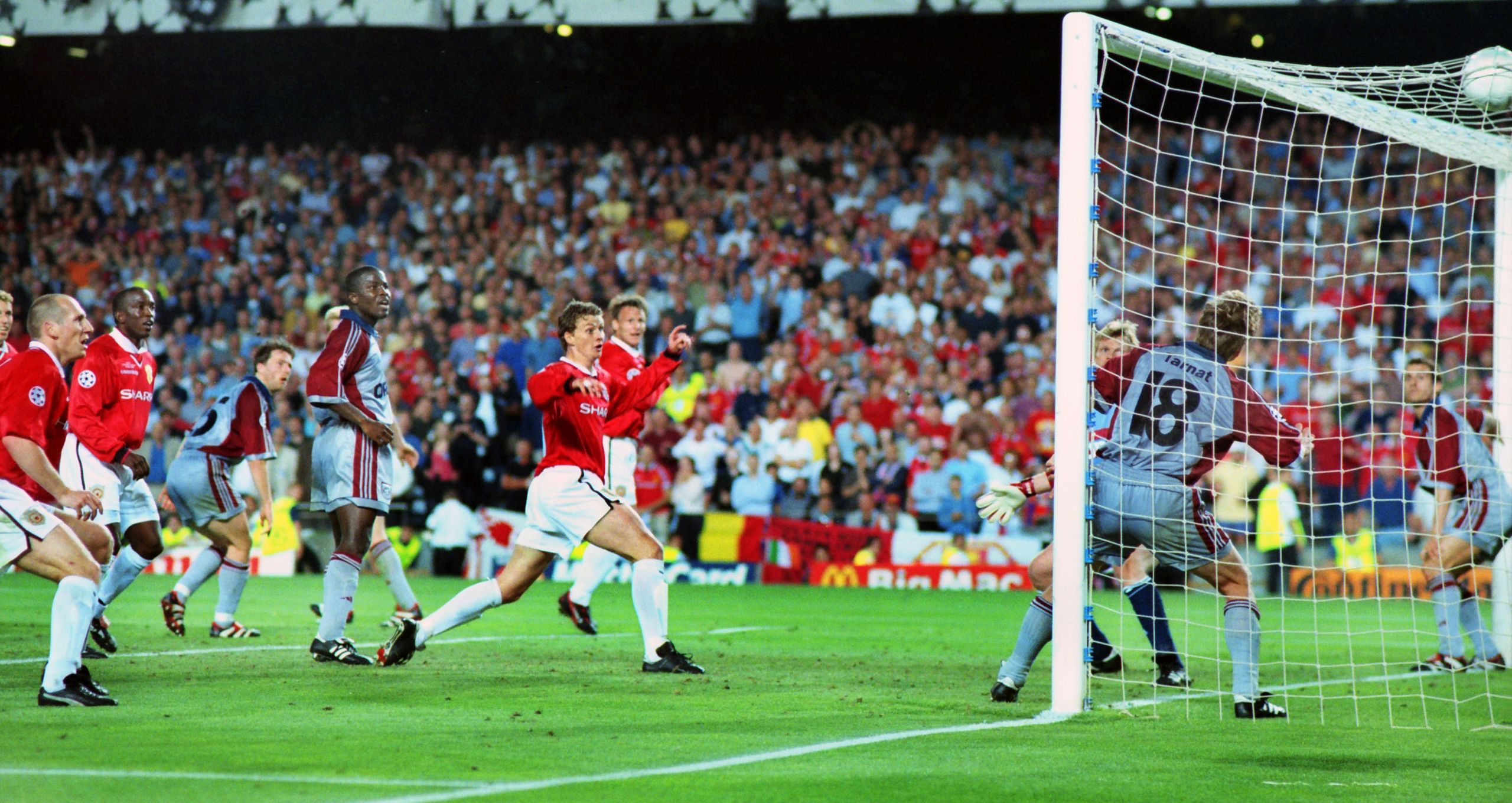 Glenn Hoddle was sacked as England manager and Sex and the City made its debut on Channel 4, with the FA and Carrie Bradshaw both seeking Mr Big as we approached a new millennium.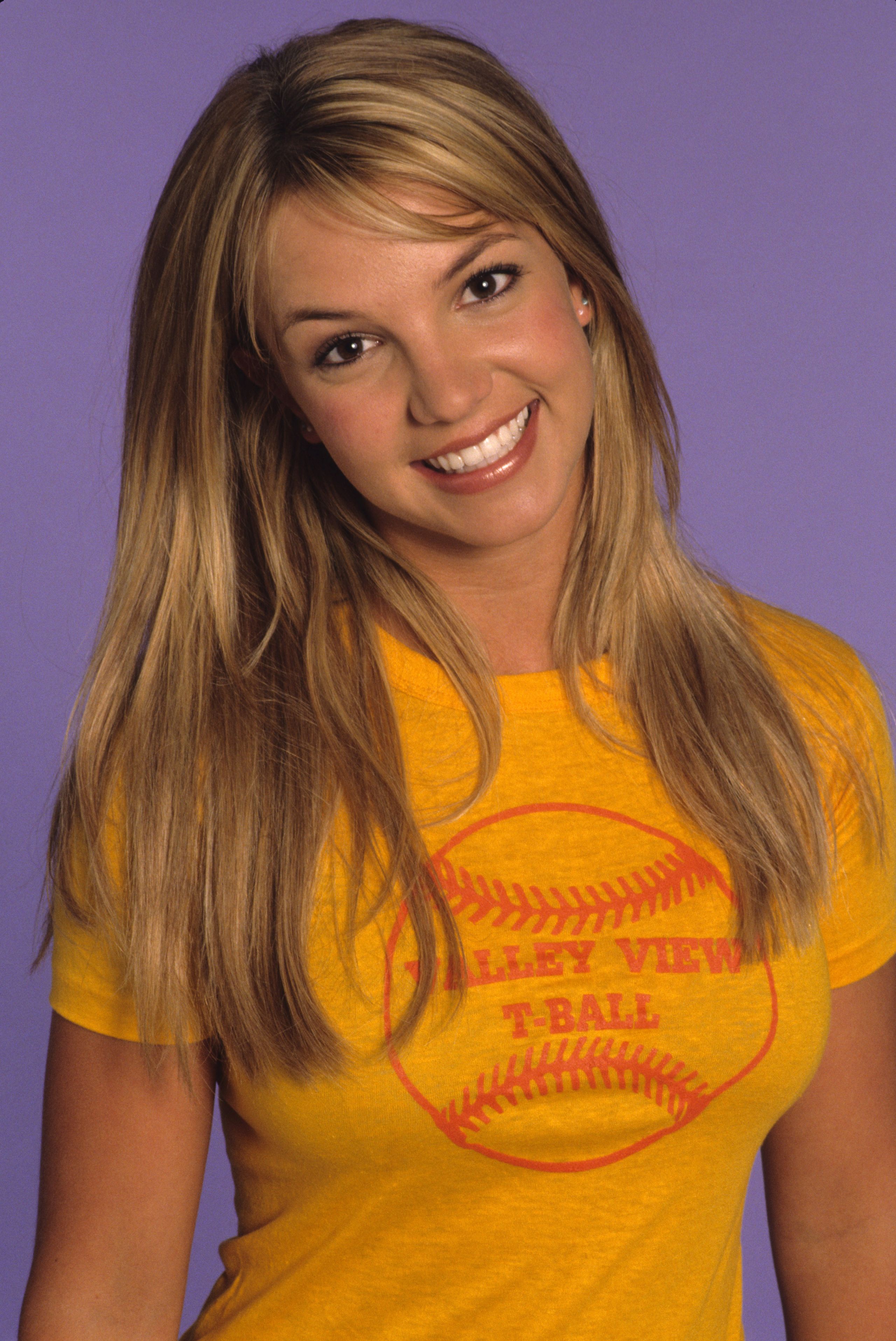 Turns out Kevin Keegan wasn't the answer.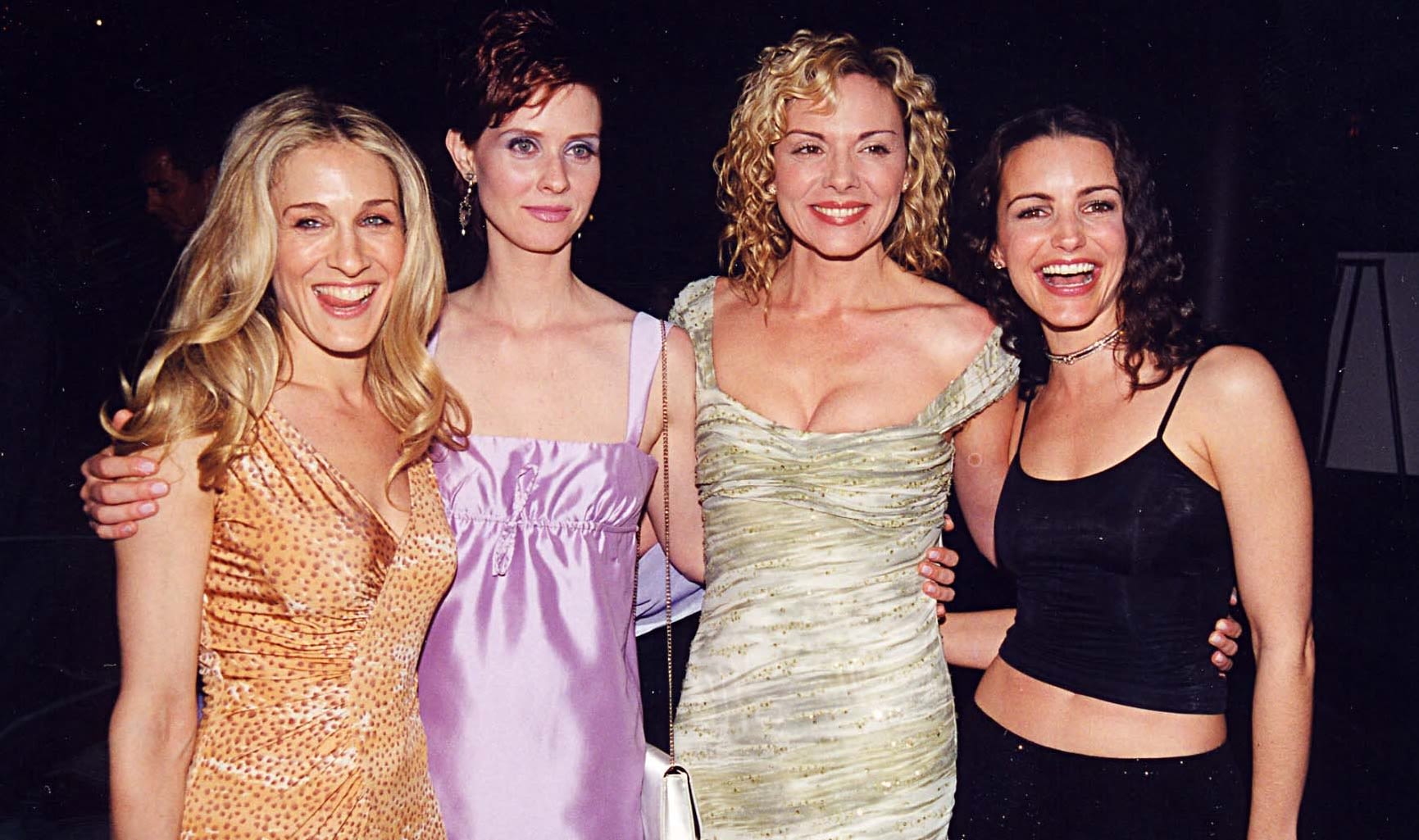 Points behind winners: 25
Trophies: None
Top scorer (all comps): Michael Owen (23)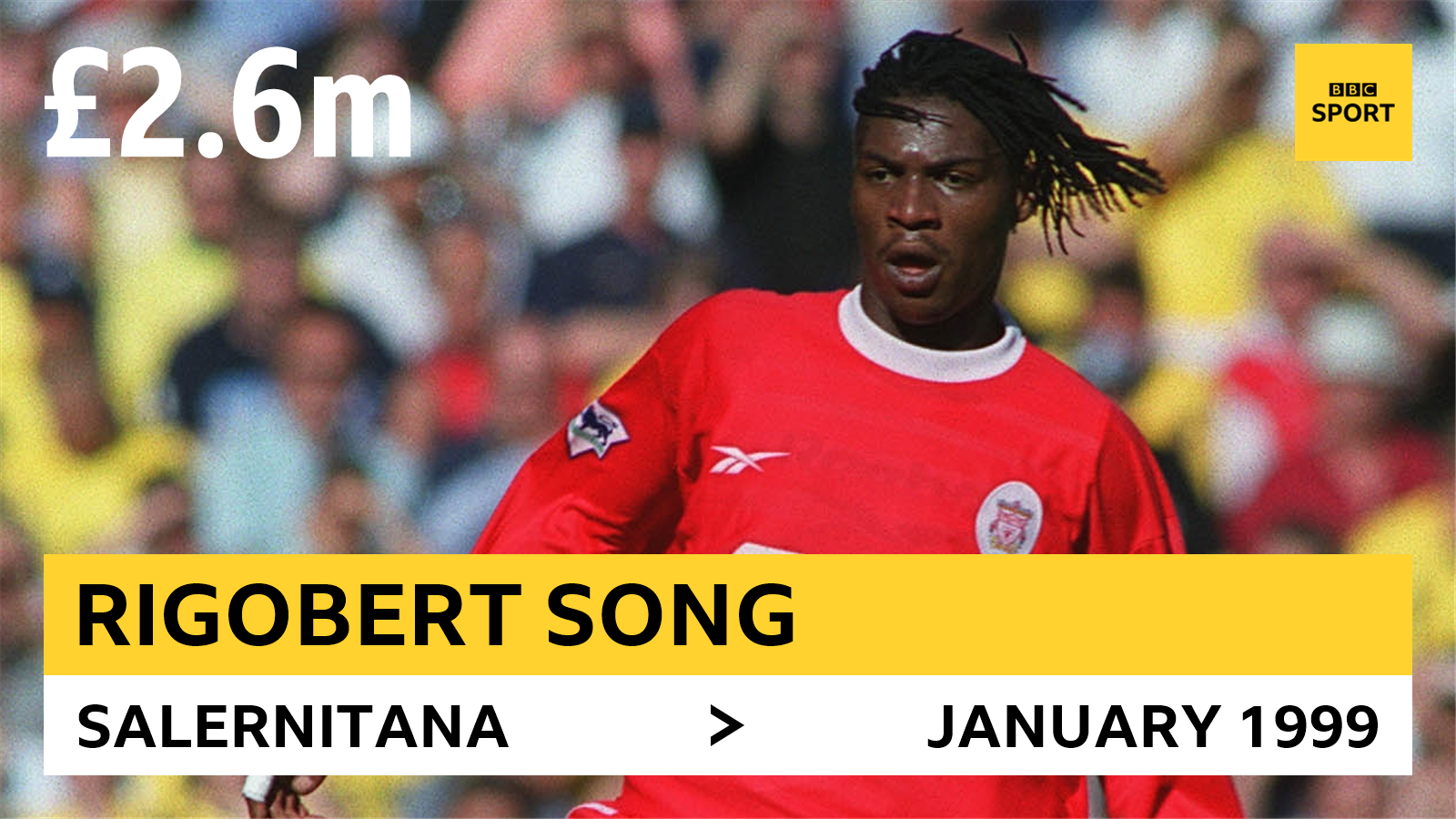 Manager: Roy Evans/Gerard Houllier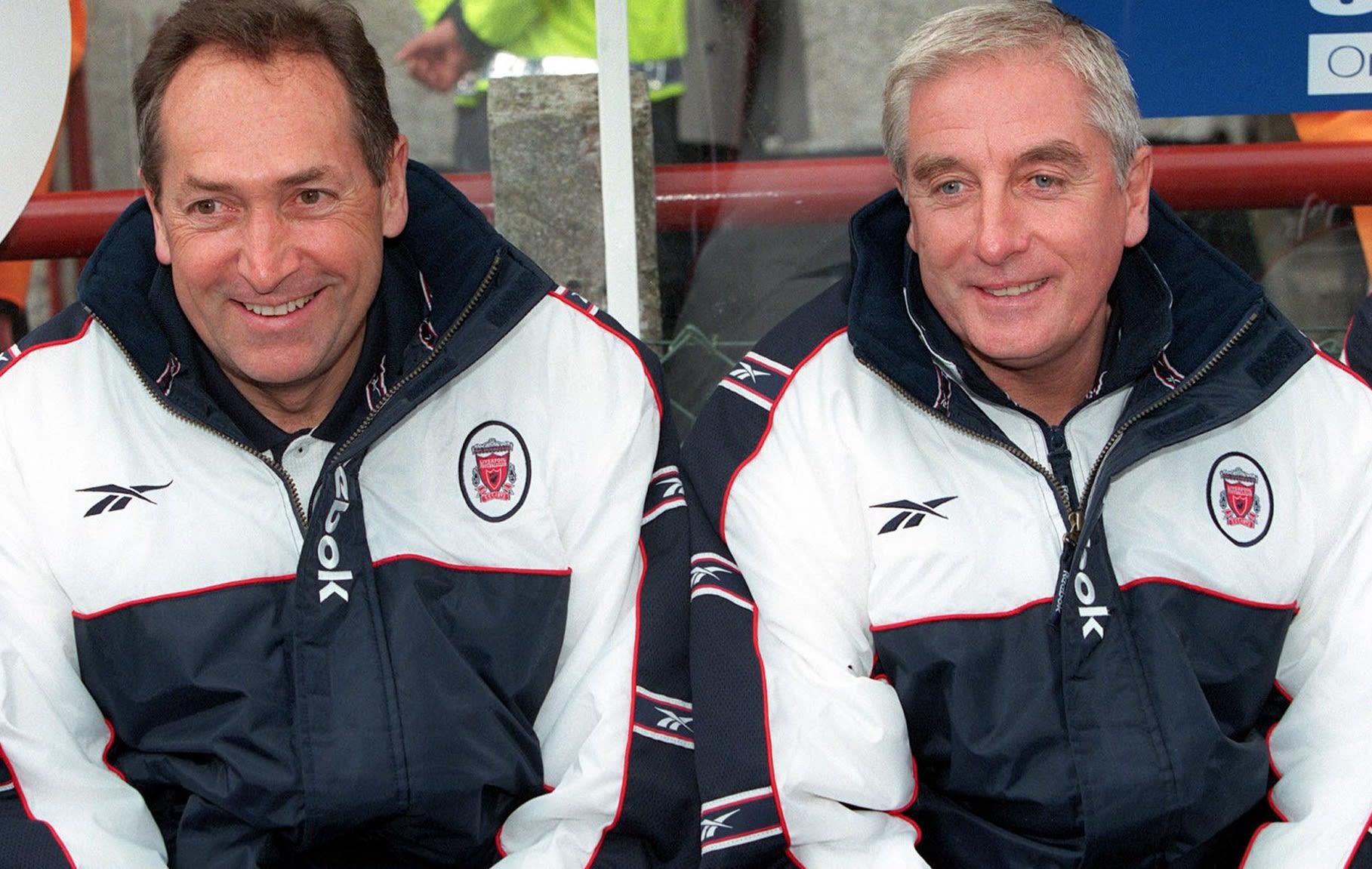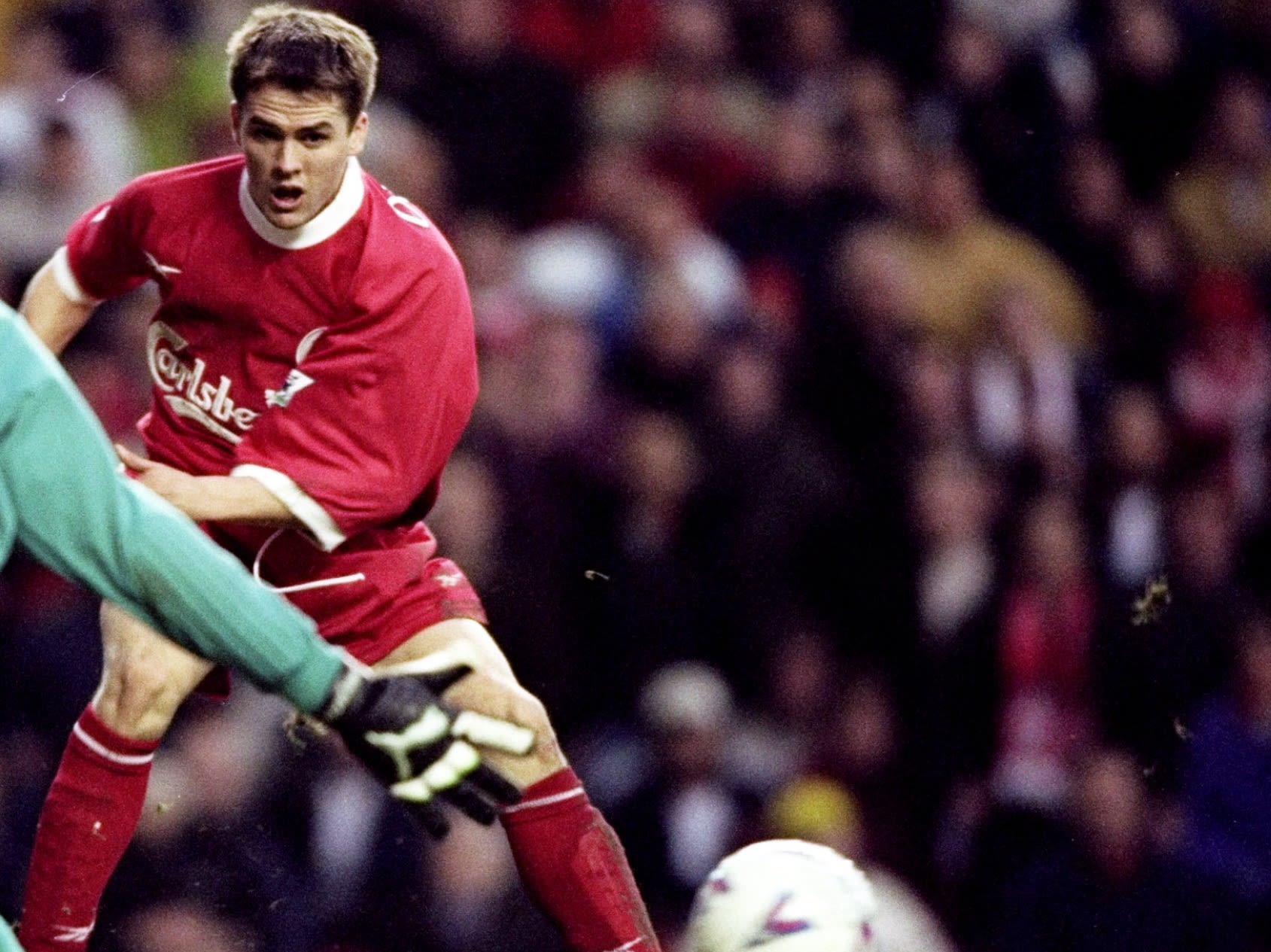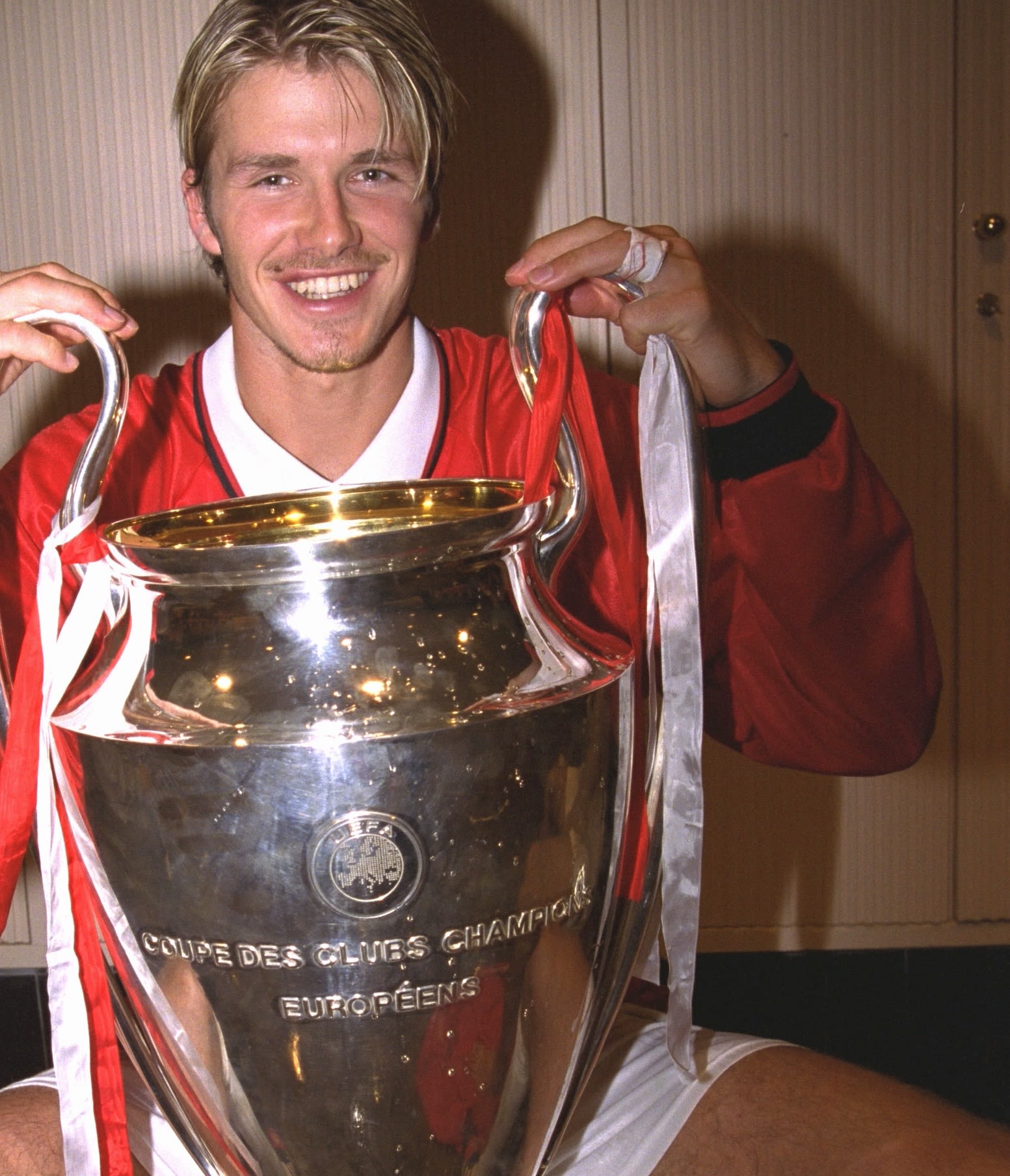 1999-2000 season
A decade of drought comes to an end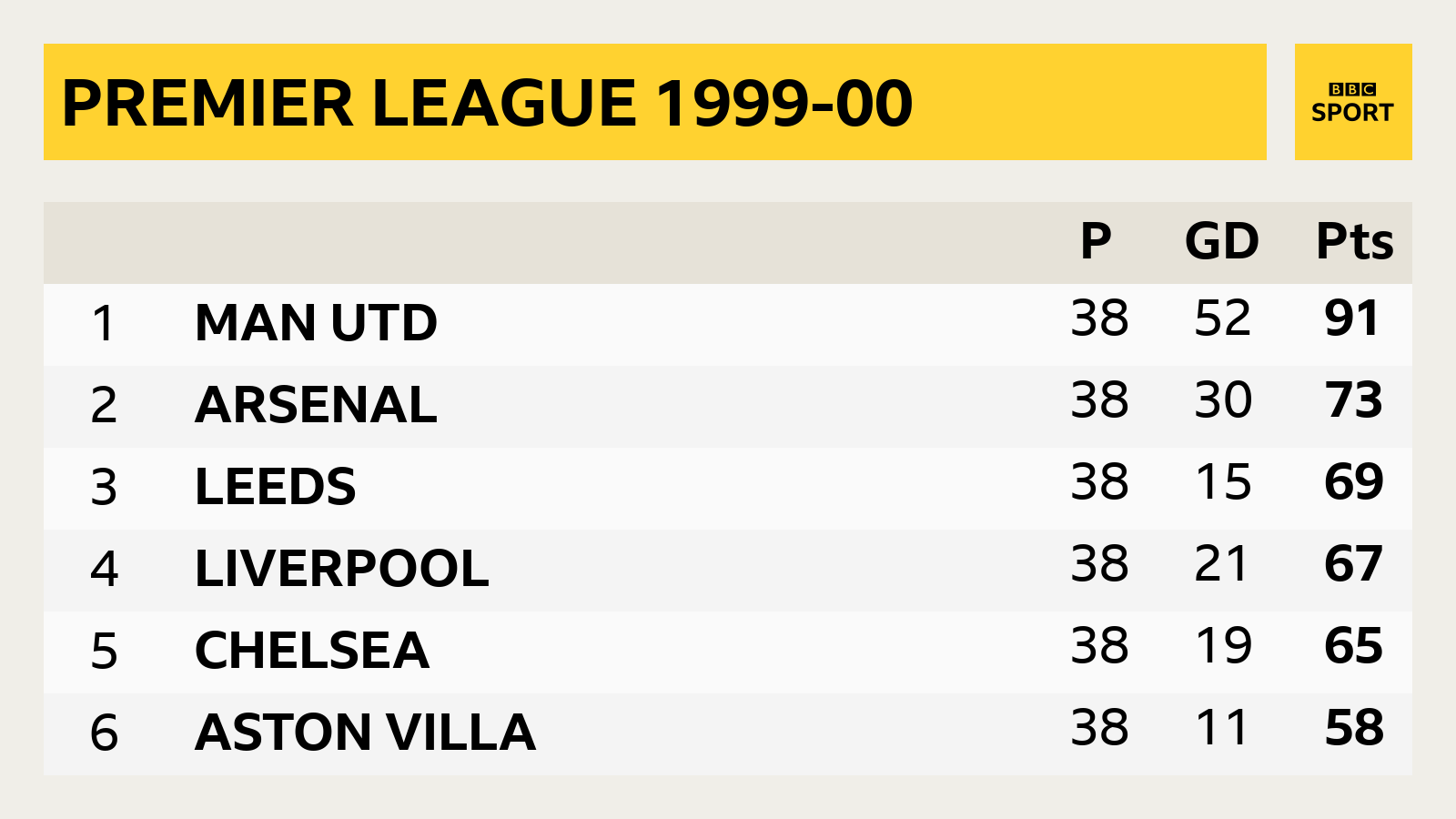 There's some big spending going on out there. Channel 5 paid £40m to take Home & Away off ITV and Liverpool splashed £11m on Emile Heskey. Strewth!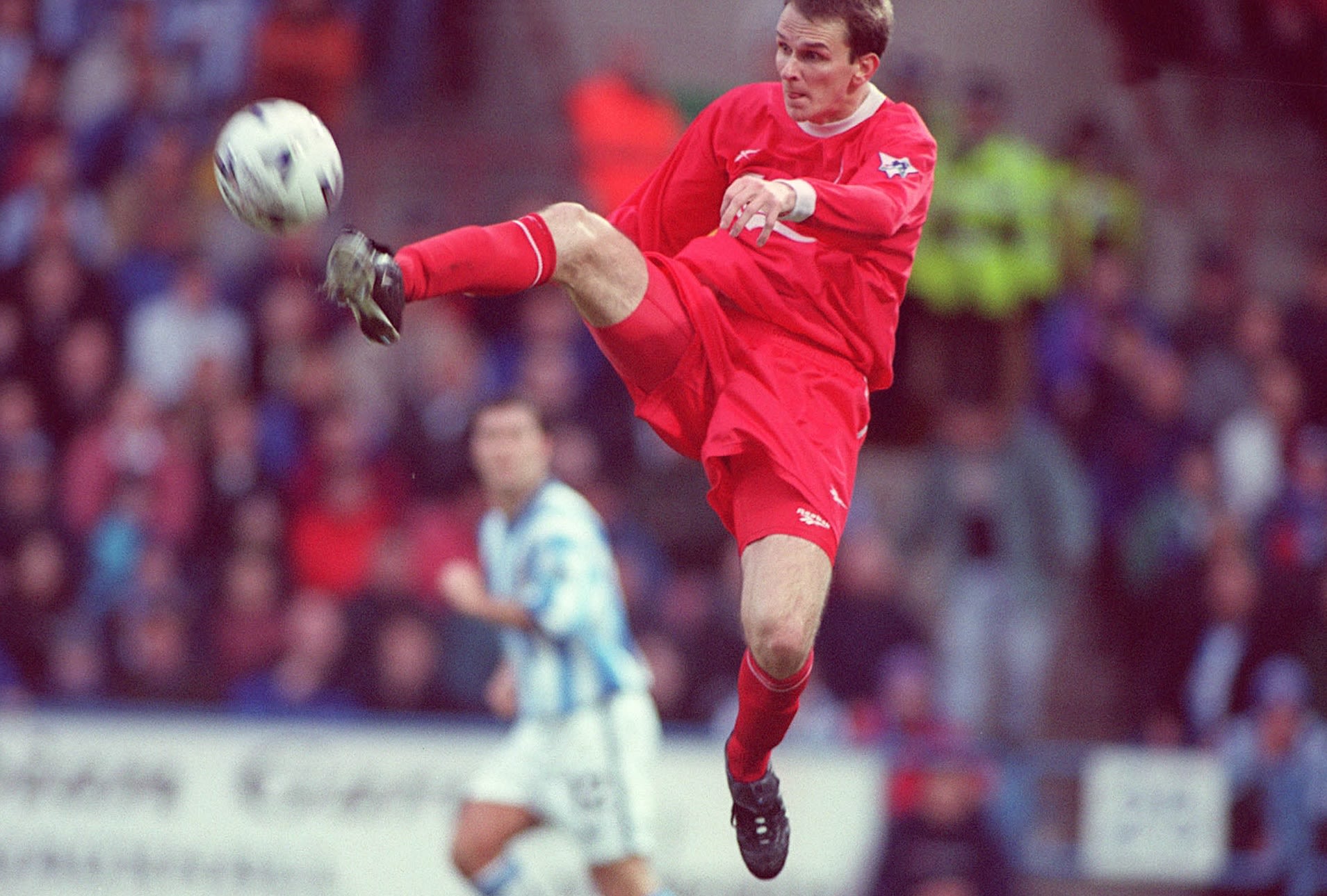 It was a proper overhaul for Gerard Houllier's first full season in charge as 13 players left and eight came in. It could have worked too, as by mid-February the Reds were just six points off top spot.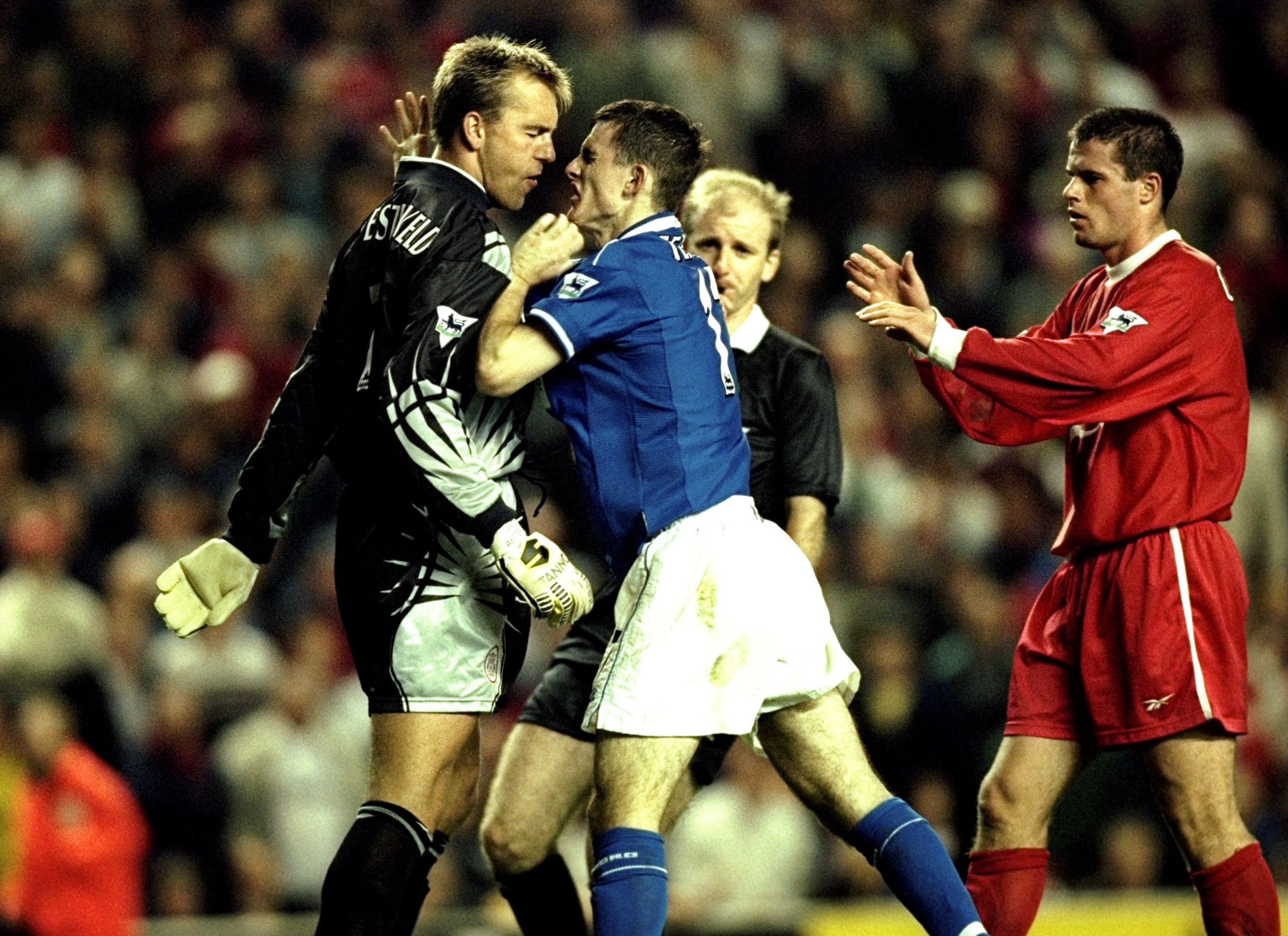 But a failure to win any of their final five games saw them slip back to 24 points behind United as Liverpool scored just 51 goals in the league.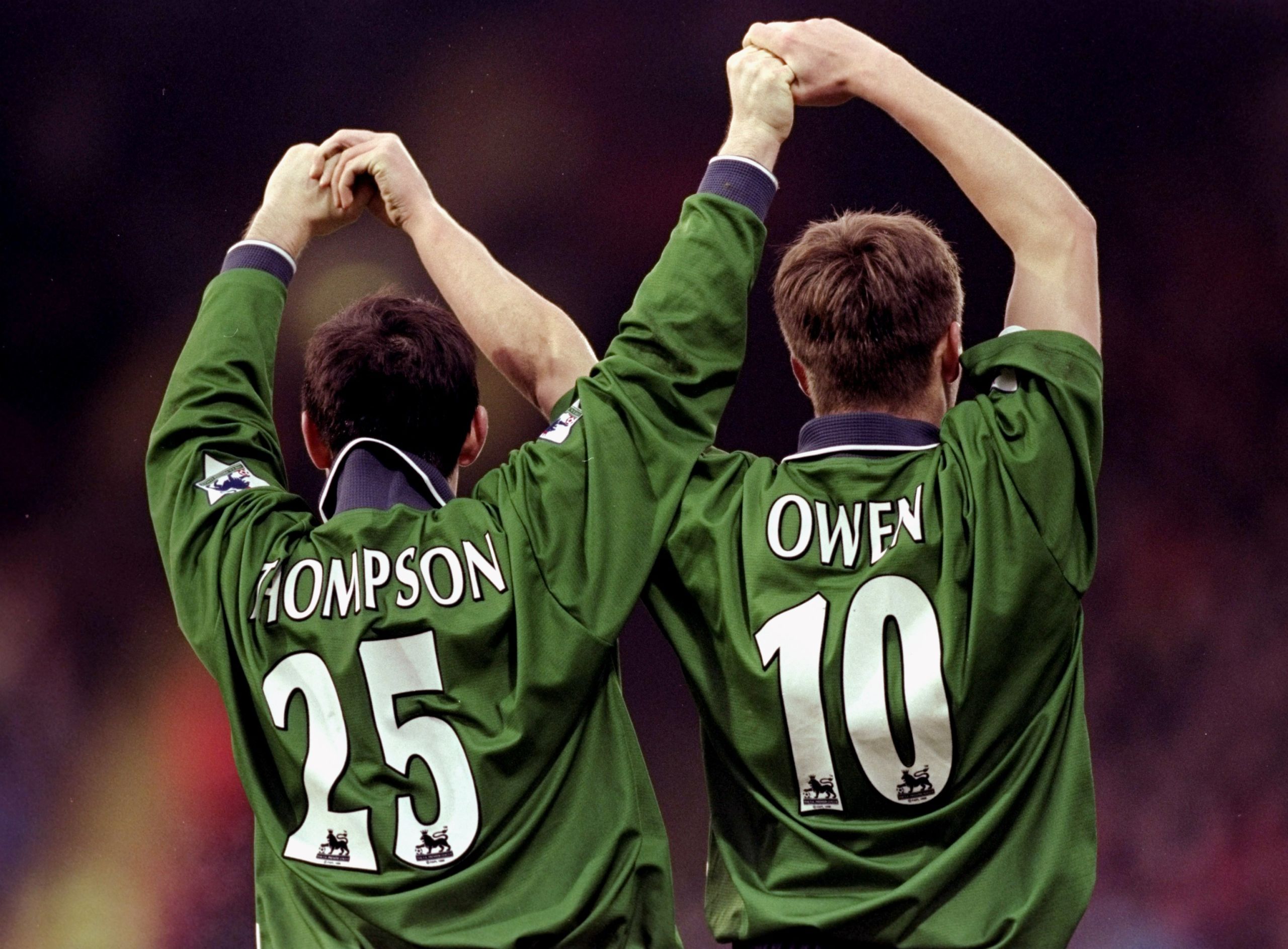 The arrival of the millennium - minus the prophesied bug - ushered in a new era as Liverpool said goodbye to the 1990s. The once dominant side had won just four honours in the decade - and one of those was a shared Charity Shield.
Points behind winners: 24
Trophies: None
Top scorer (all comps): Michael Owen (12)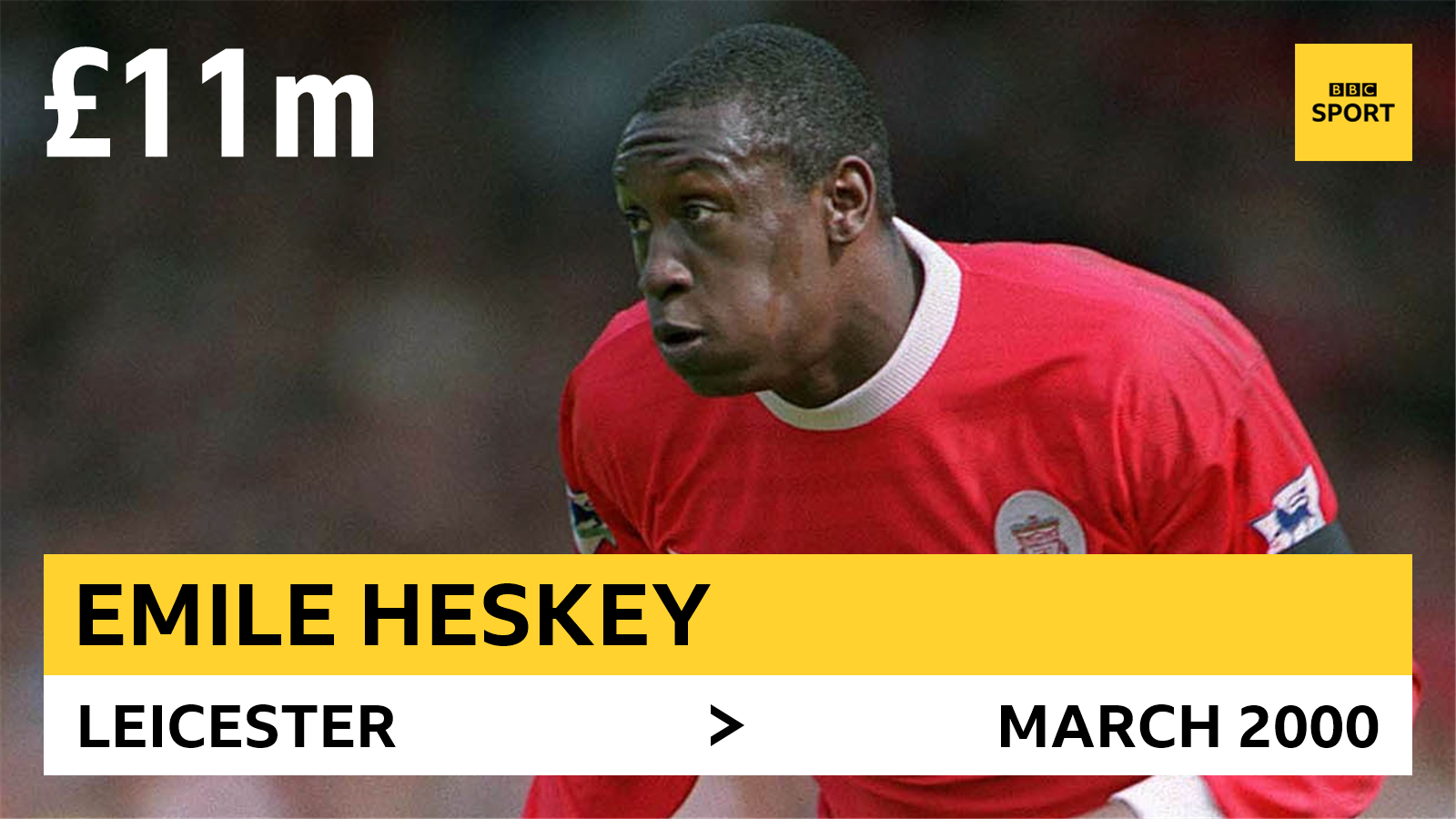 Manager: Gerard Houllier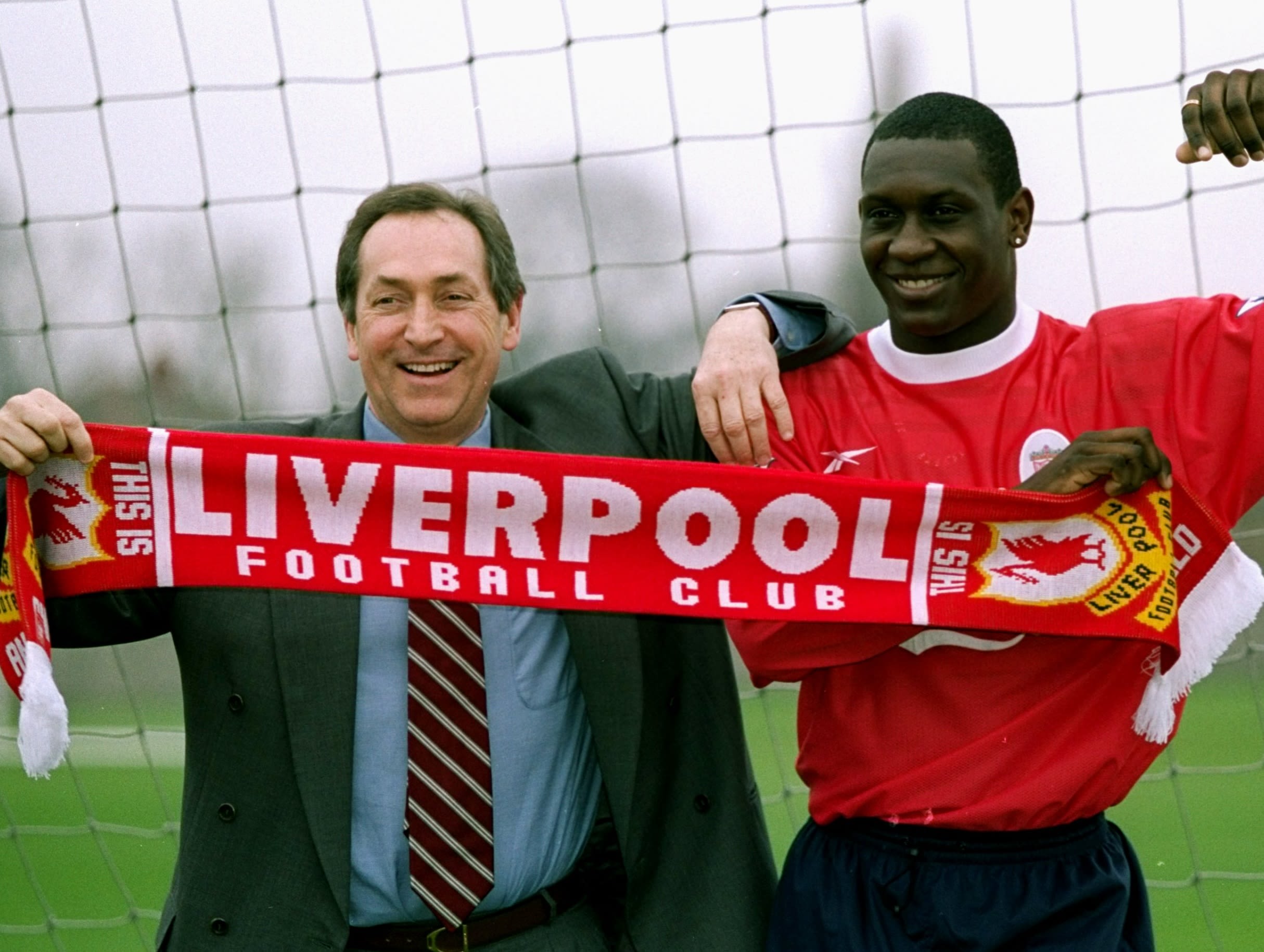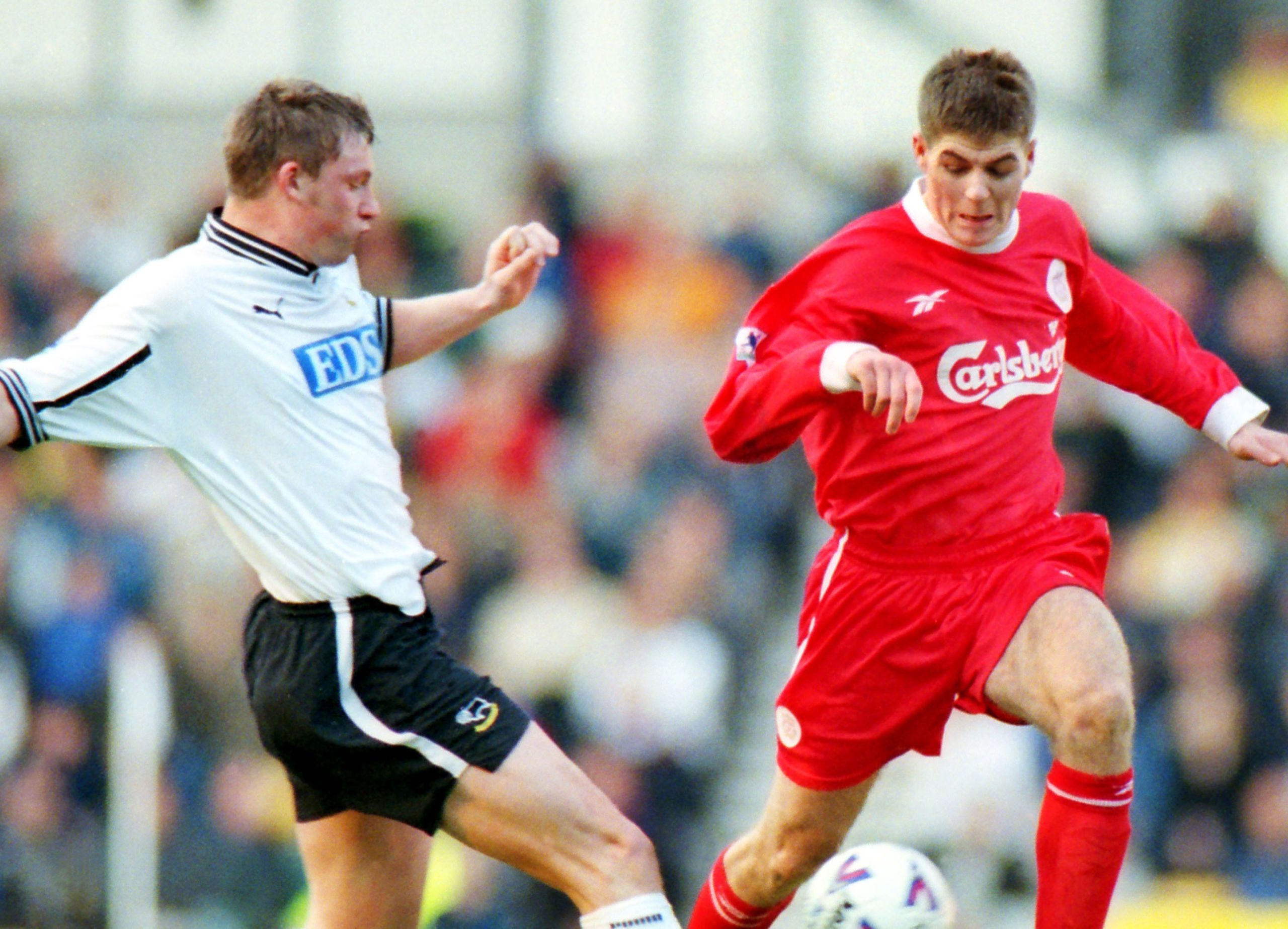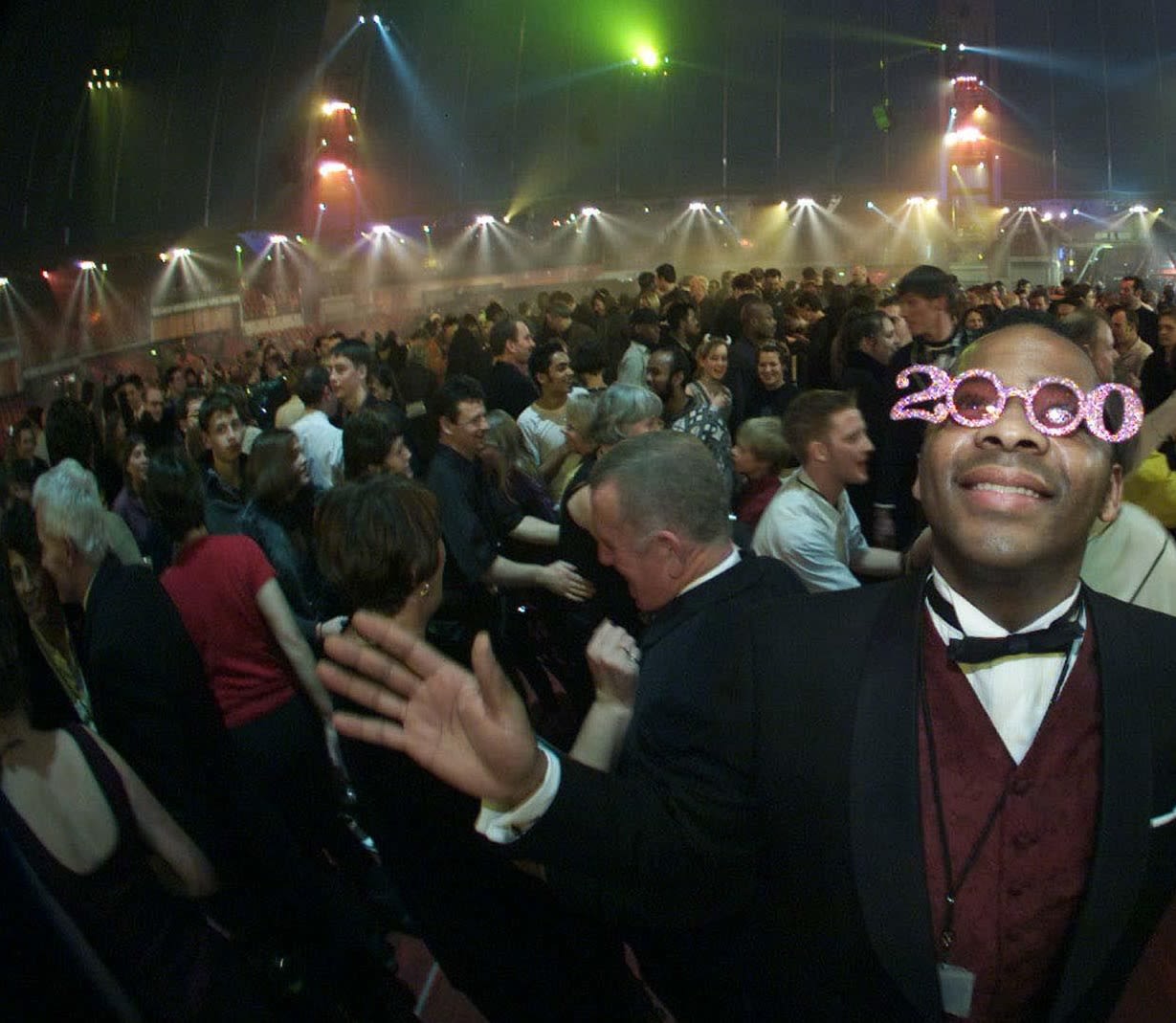 2000-01 season
A treble all of their own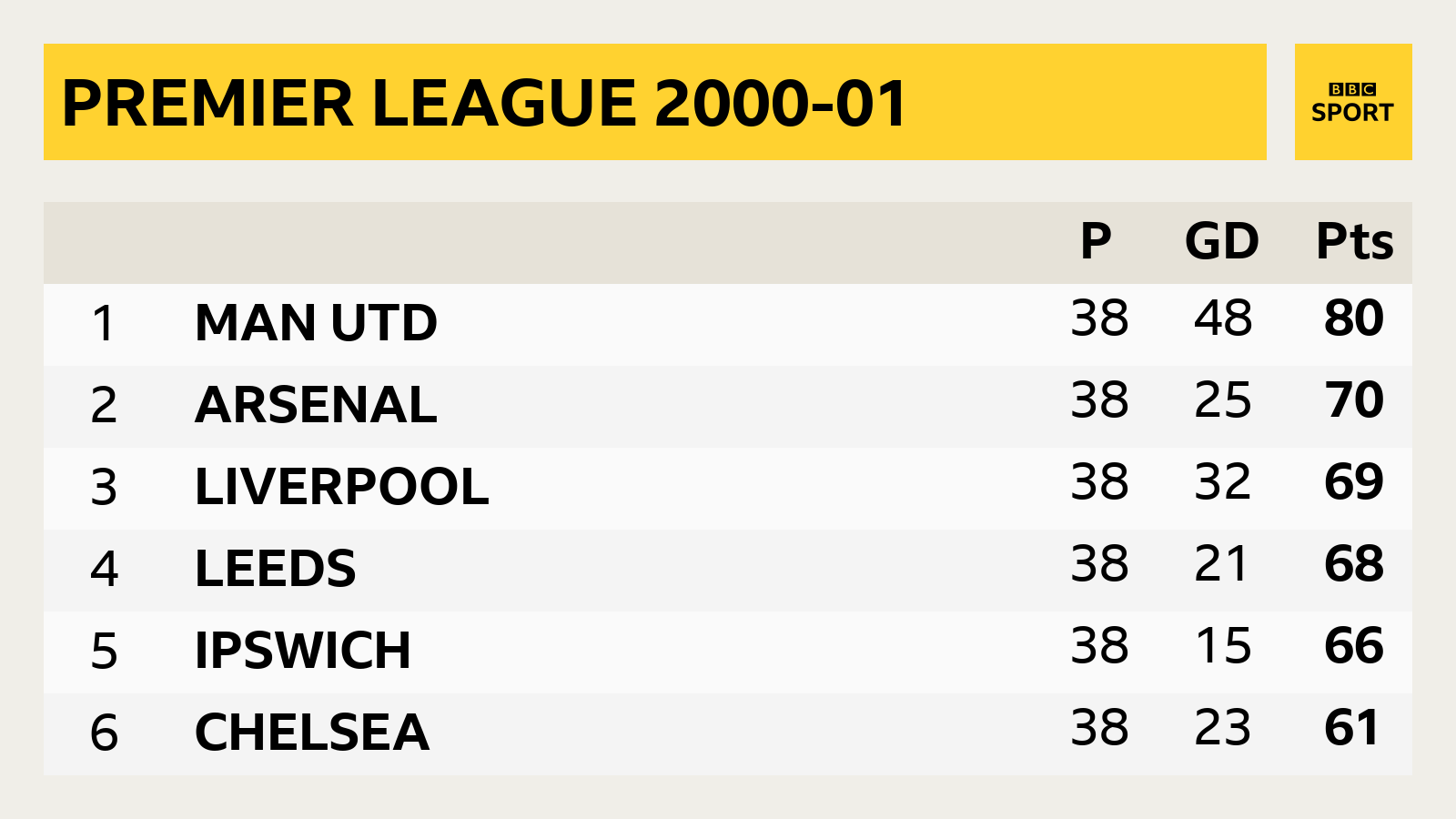 Trophies! Three of them! It did get better.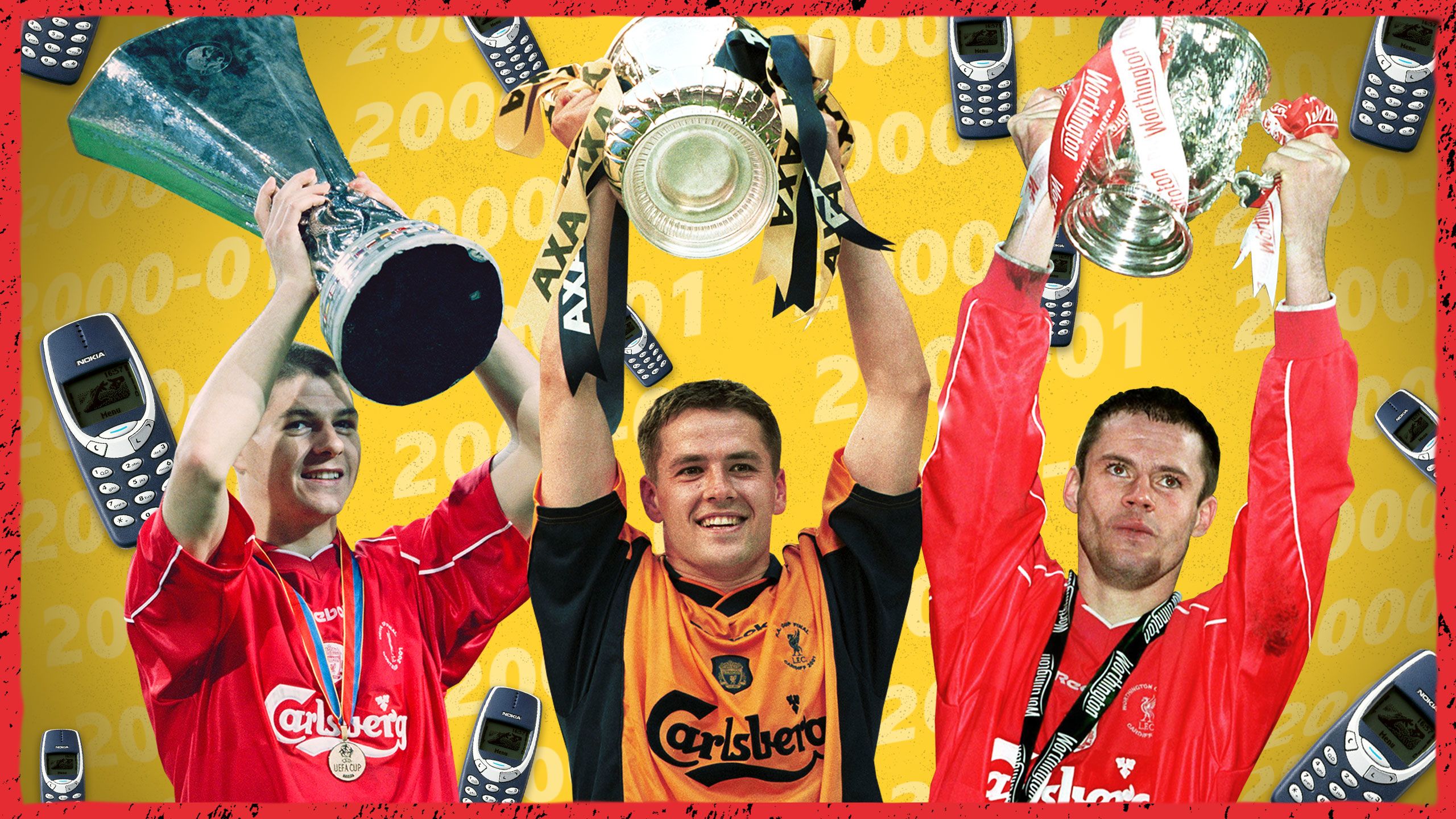 Houllier delivered a first European trophy for 17 years as Liverpool won a sensational Uefa Cup final in Dortmund, eventually beating Spanish side Alaves 5-4 in extra time.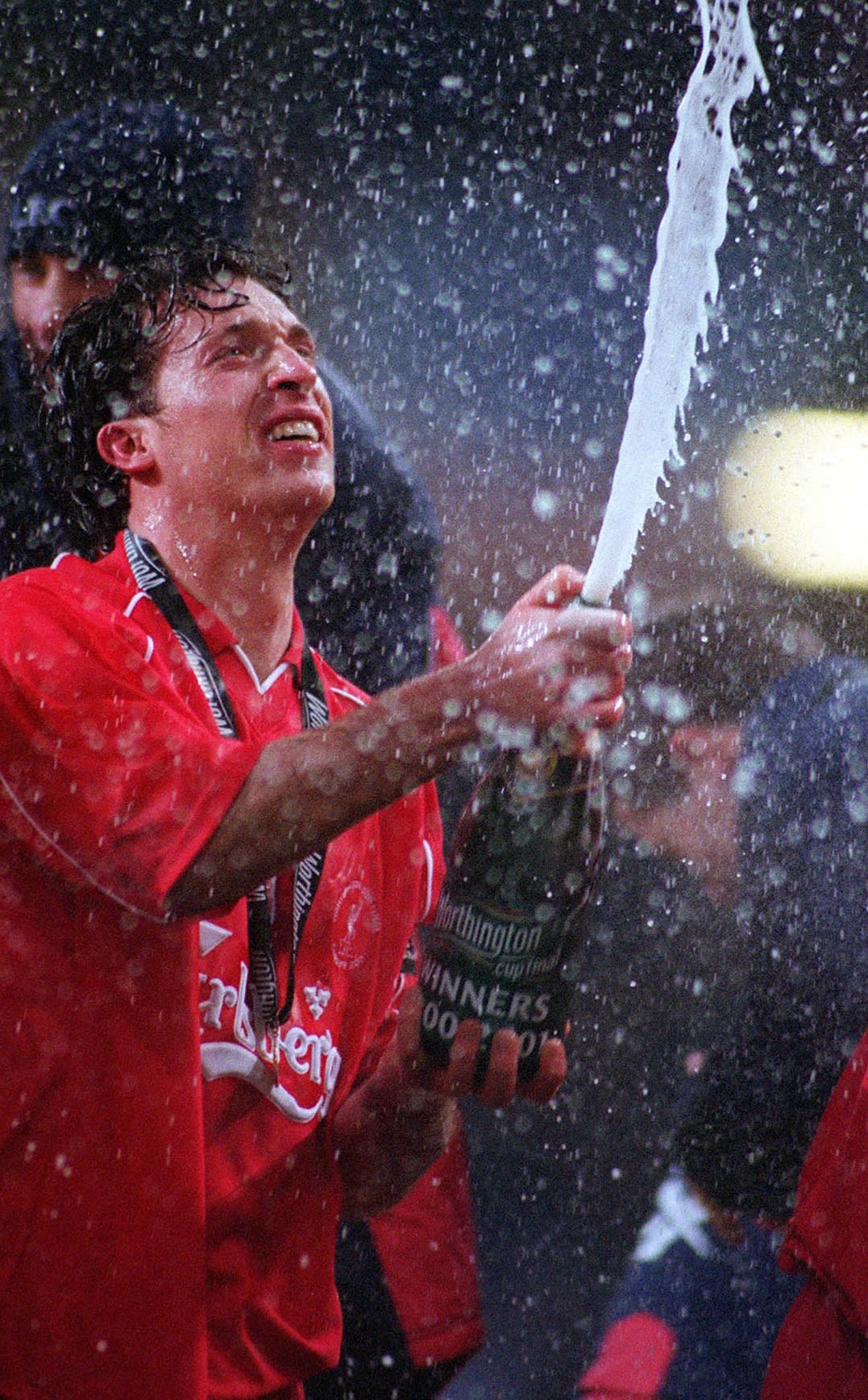 Michael Owen also won them the FA Cup against Arsenal, and the League Cup was added too in a season which saw some great games (Mark Viduka at Elland Road anyone? Gary McAllister at Goodison?)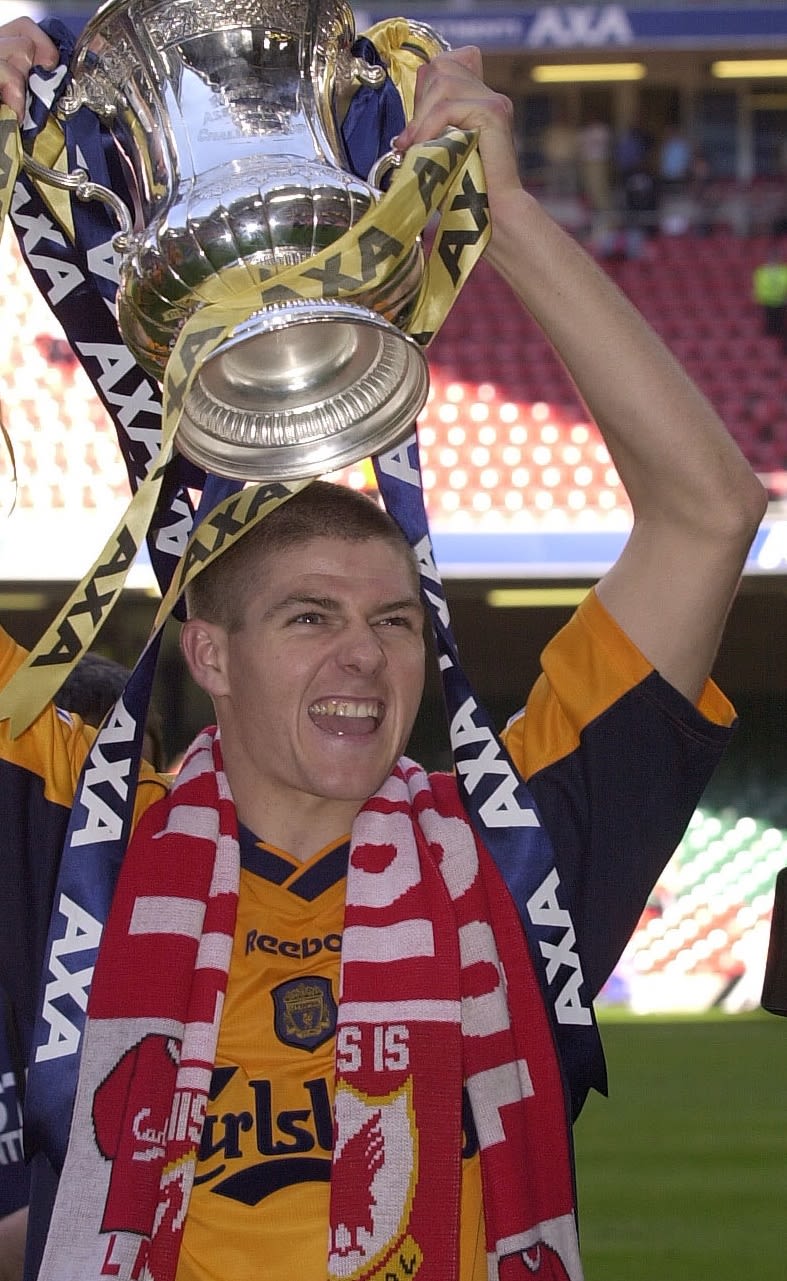 This was now very much the Liverpool of Owen, of Jamie Carragher and of Steven Gerrard.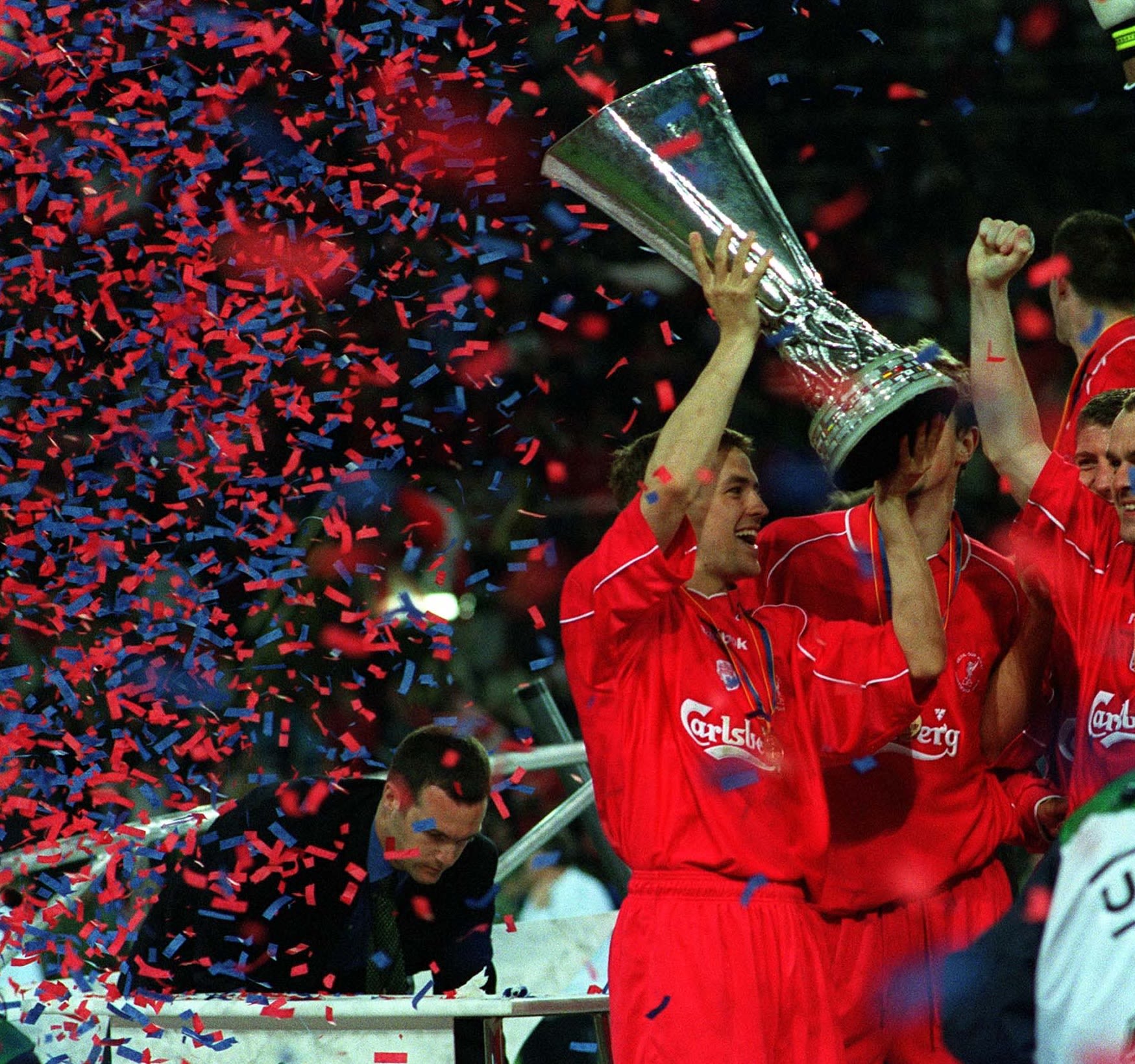 It was a momentous year off the pitch too as Steve Redgrave won a fifth consecutive gold medal at the Olympics, Wembley closed its doors for a rebuild, Eminem was the darling of the charts and John Prescott punched a man who hit him with an egg, right in the face.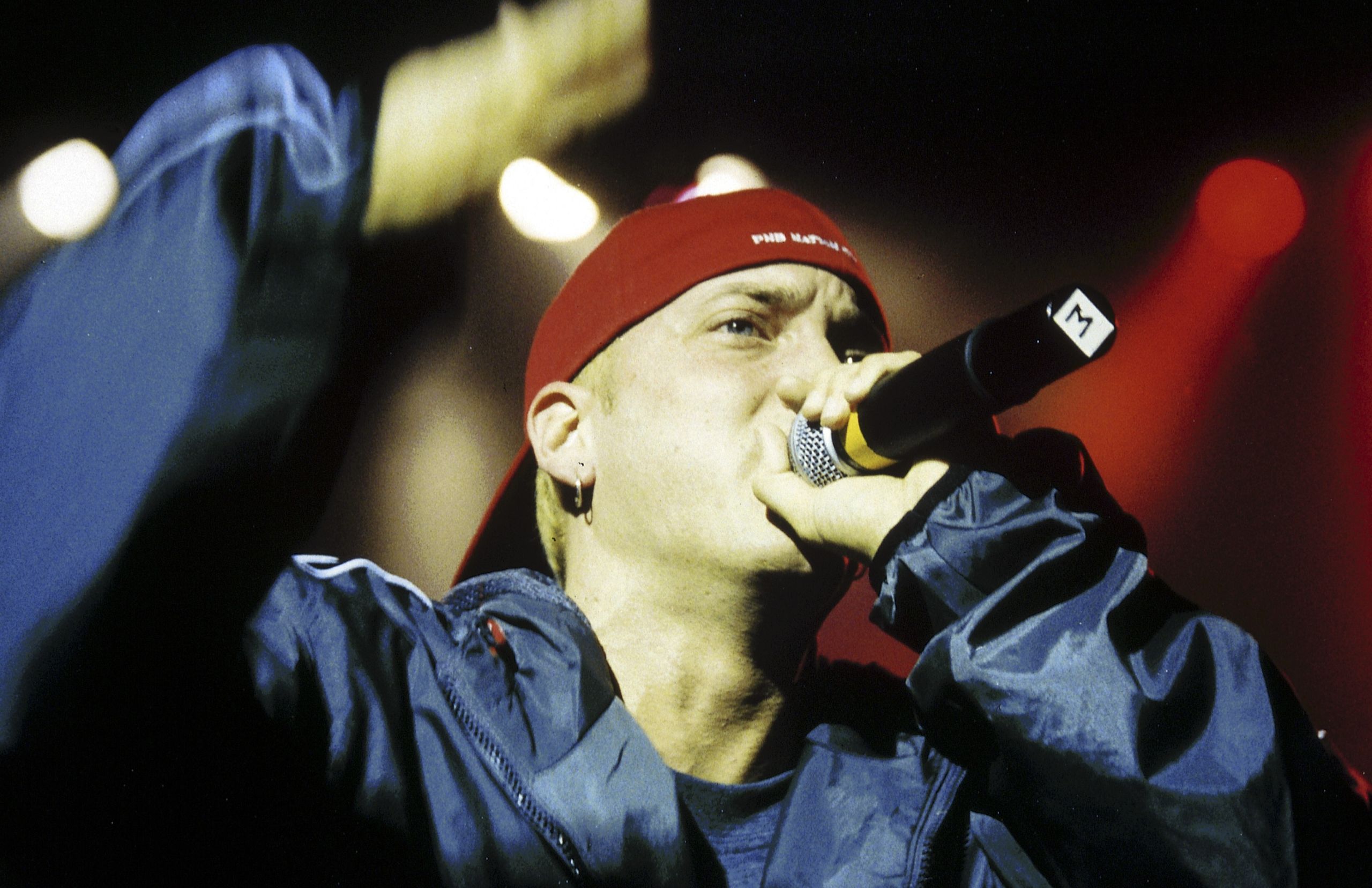 Points behind winners: 11
Trophies: FA Cup, League Cup, Uefa Cup
Top scorer (all comps): Michael Owen (24)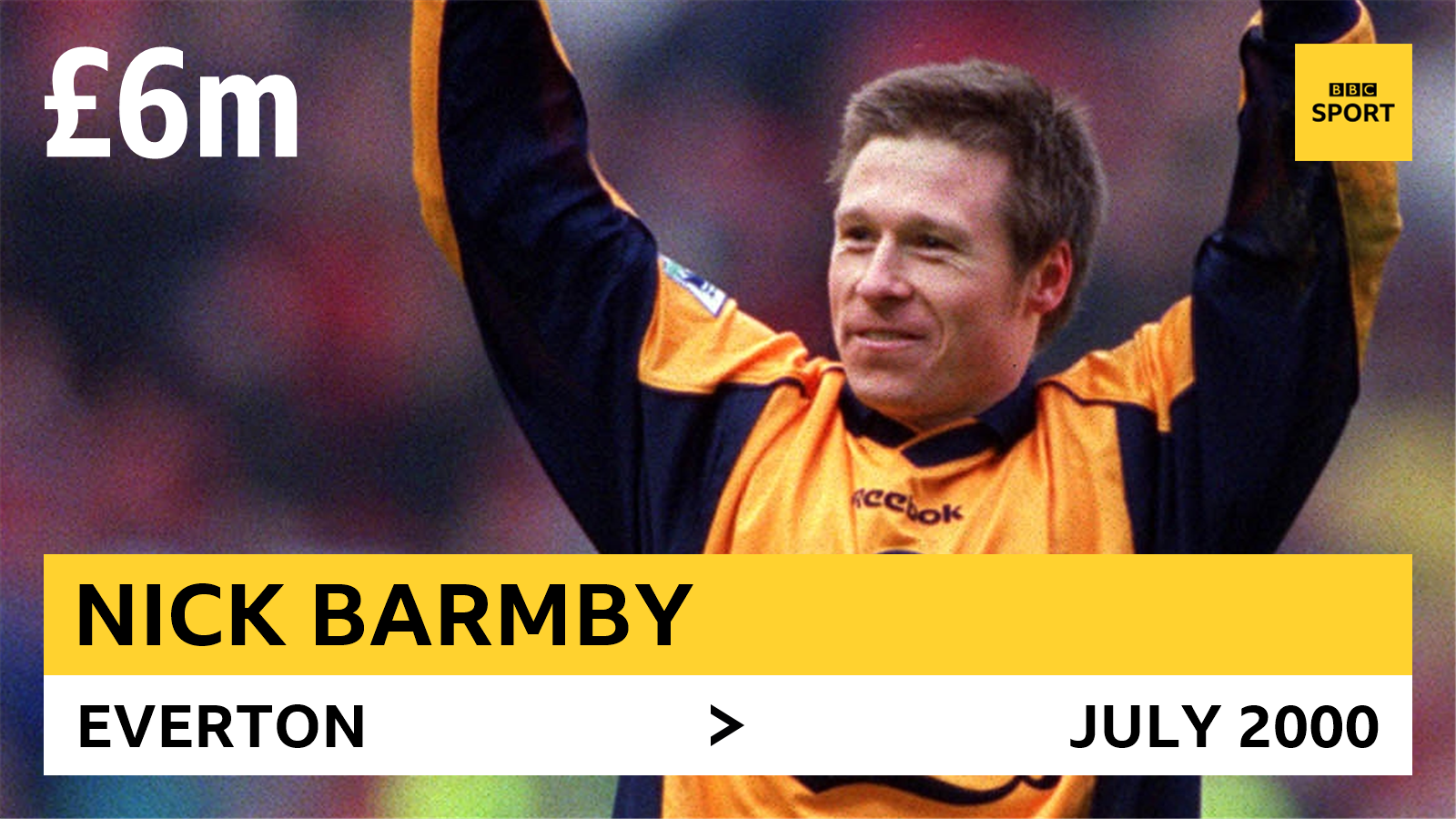 Manager: Gerard Houllier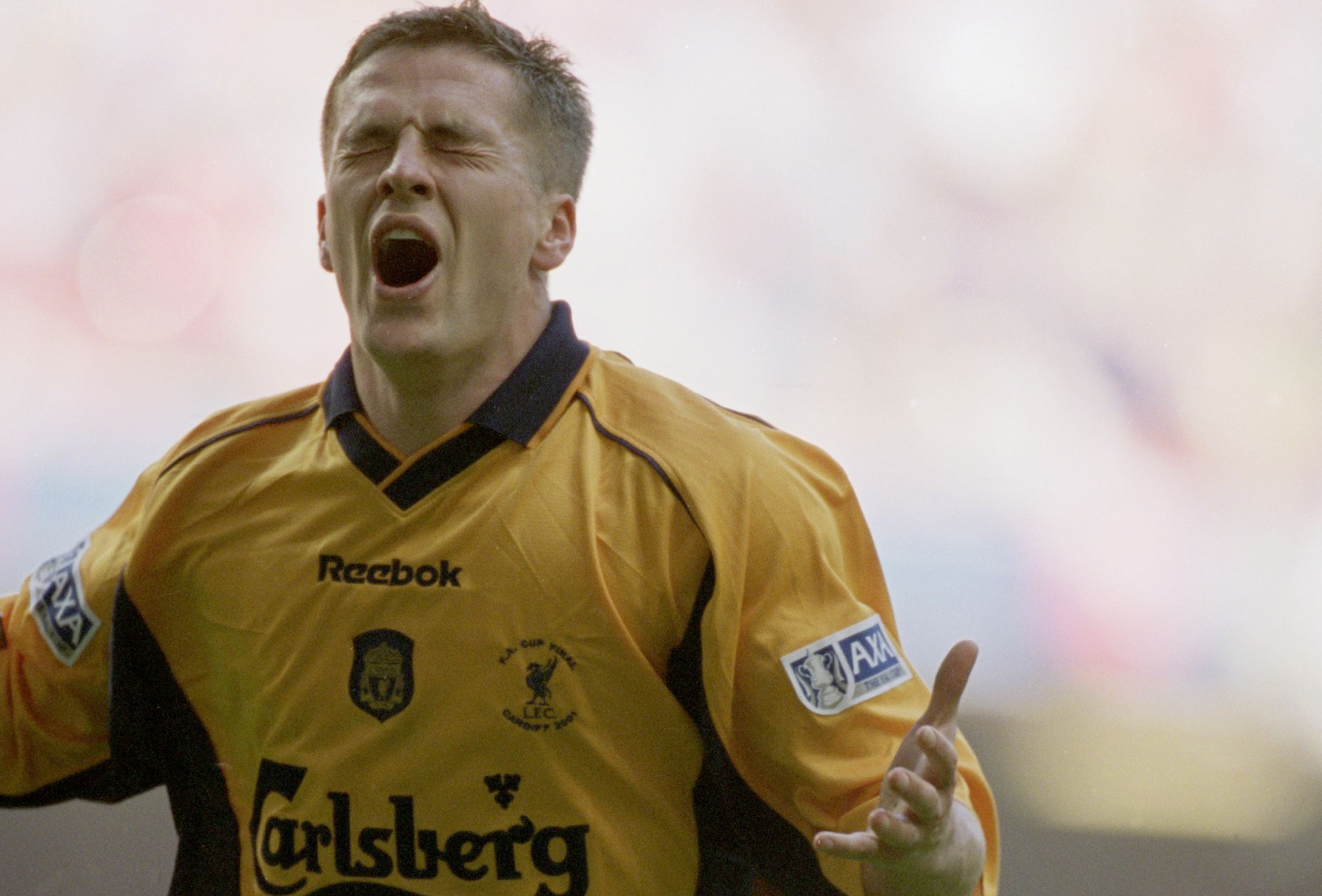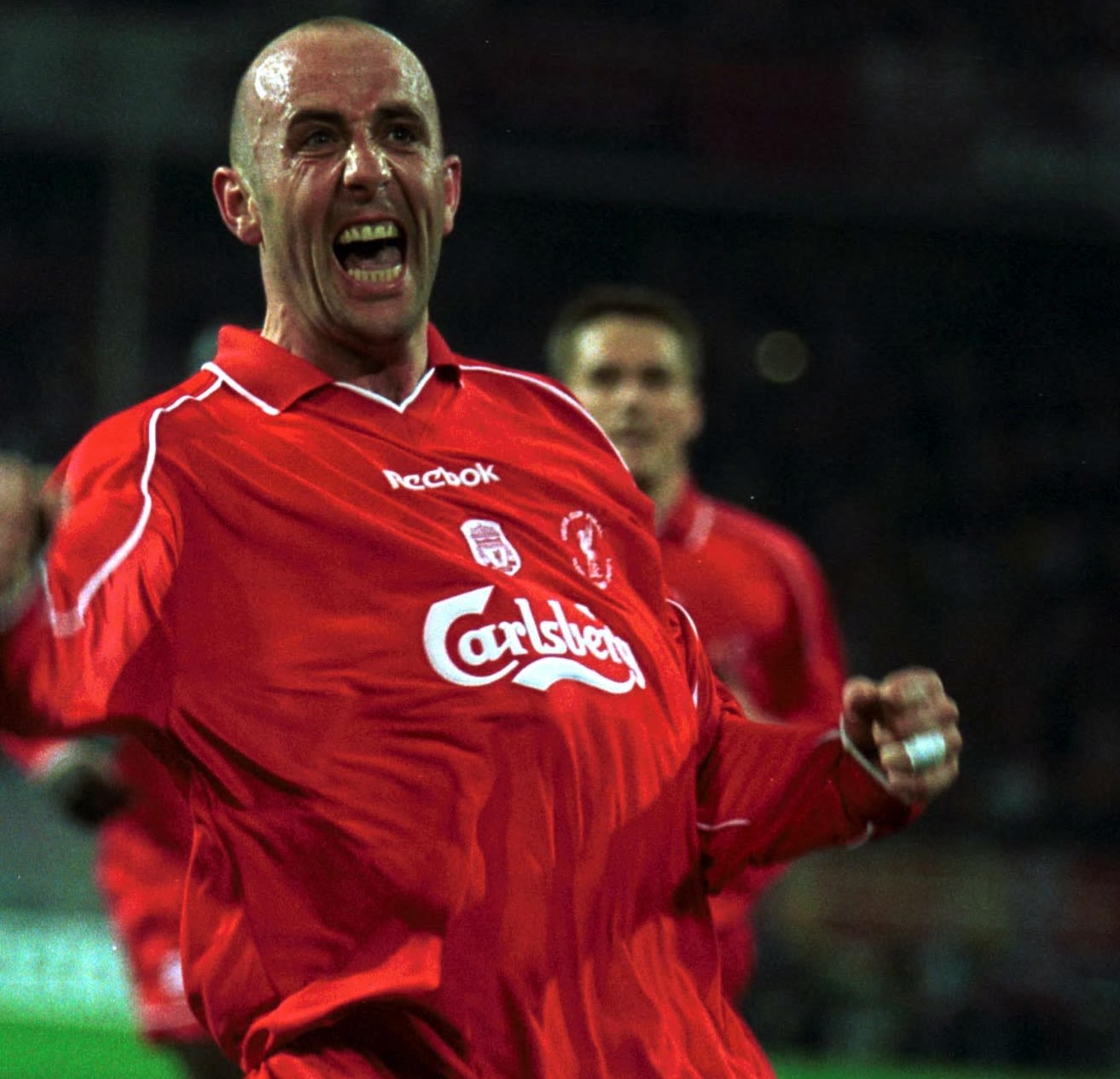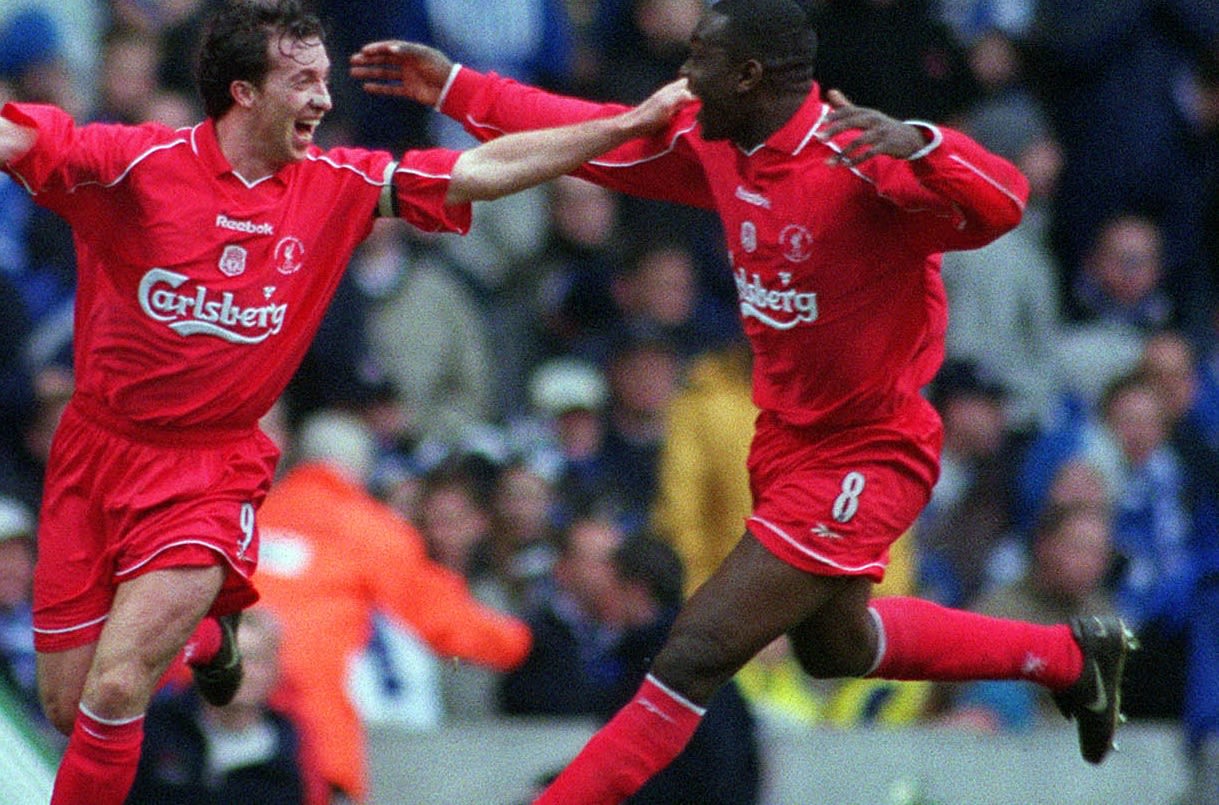 2001-02 season
Back in the top two
With trophies in the bank it was all looking good for Gerard Houllier - could this be the year?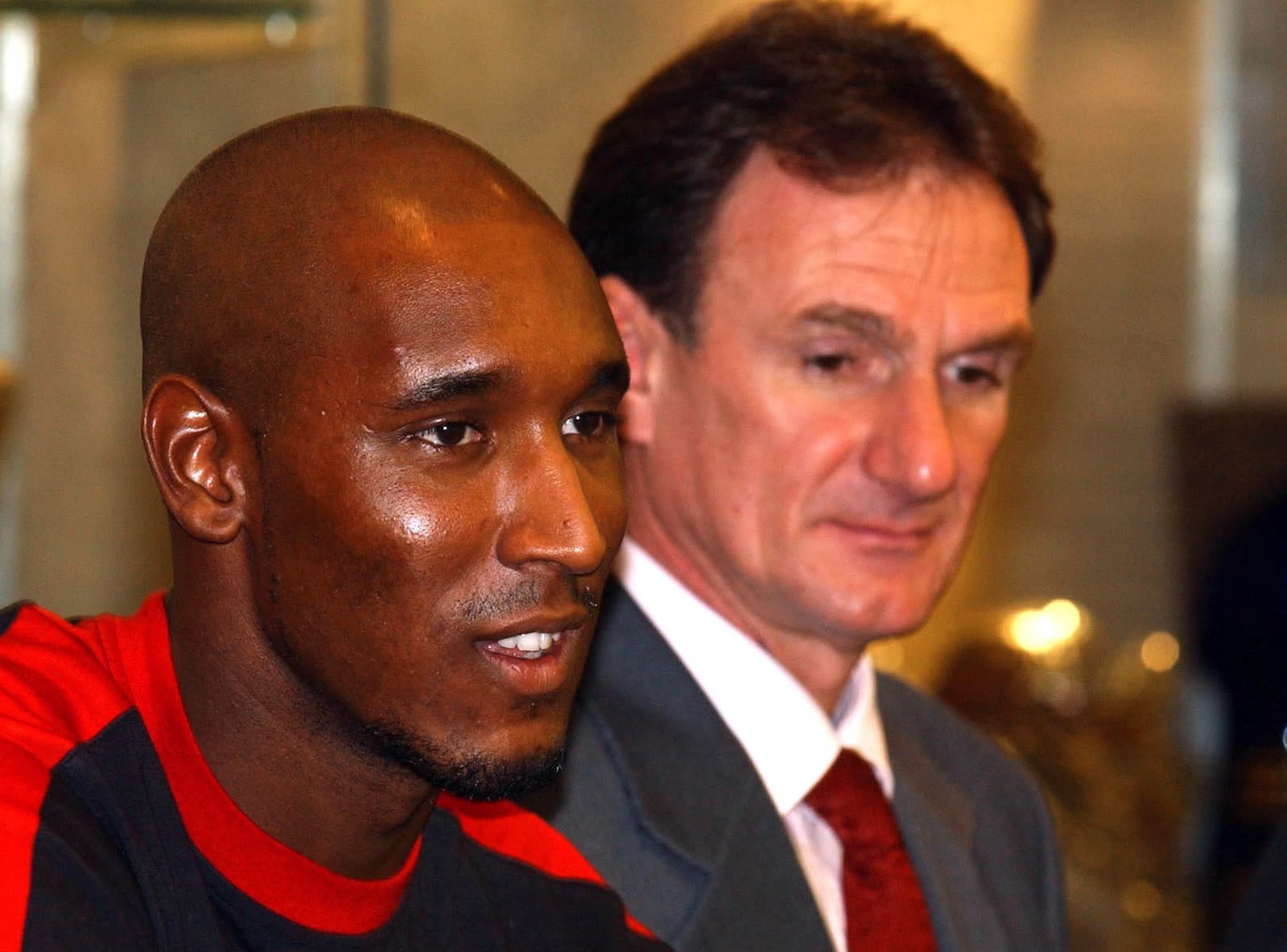 Cruelly, Houllier had a heart attack and was out of action for five months as assistant Phil Thompson steadied the ship. To great effect - Liverpool were top until a week before Christmas - even though they sold Robbie Fowler to Leeds. Houllier returned in March and Liverpool actually led the table with five games to go.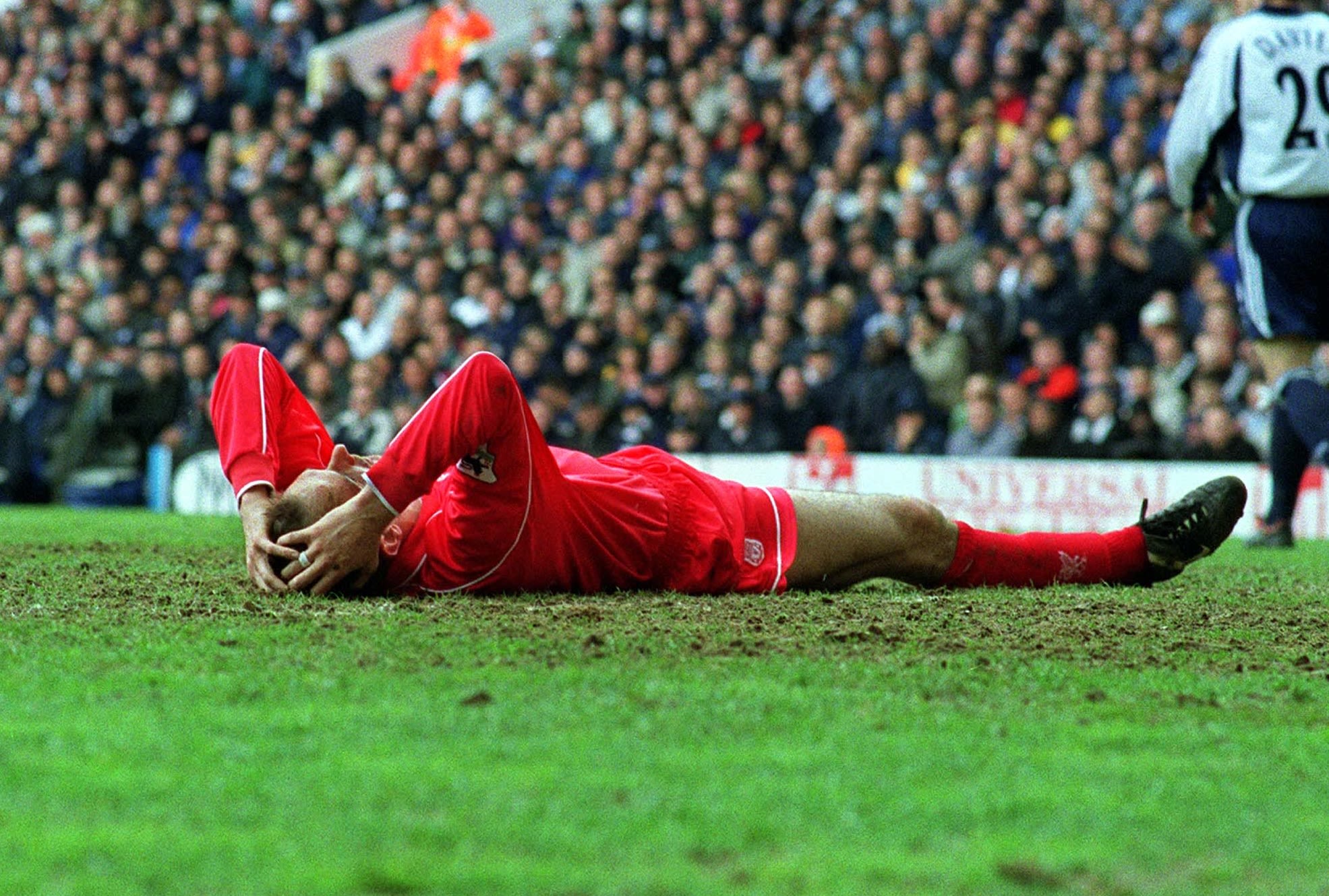 Arsenal had games in hand though and were a seriously top-class side. They won the lot to wrap up the title but still, it was a first top-two finish in 11 years for Liverpool.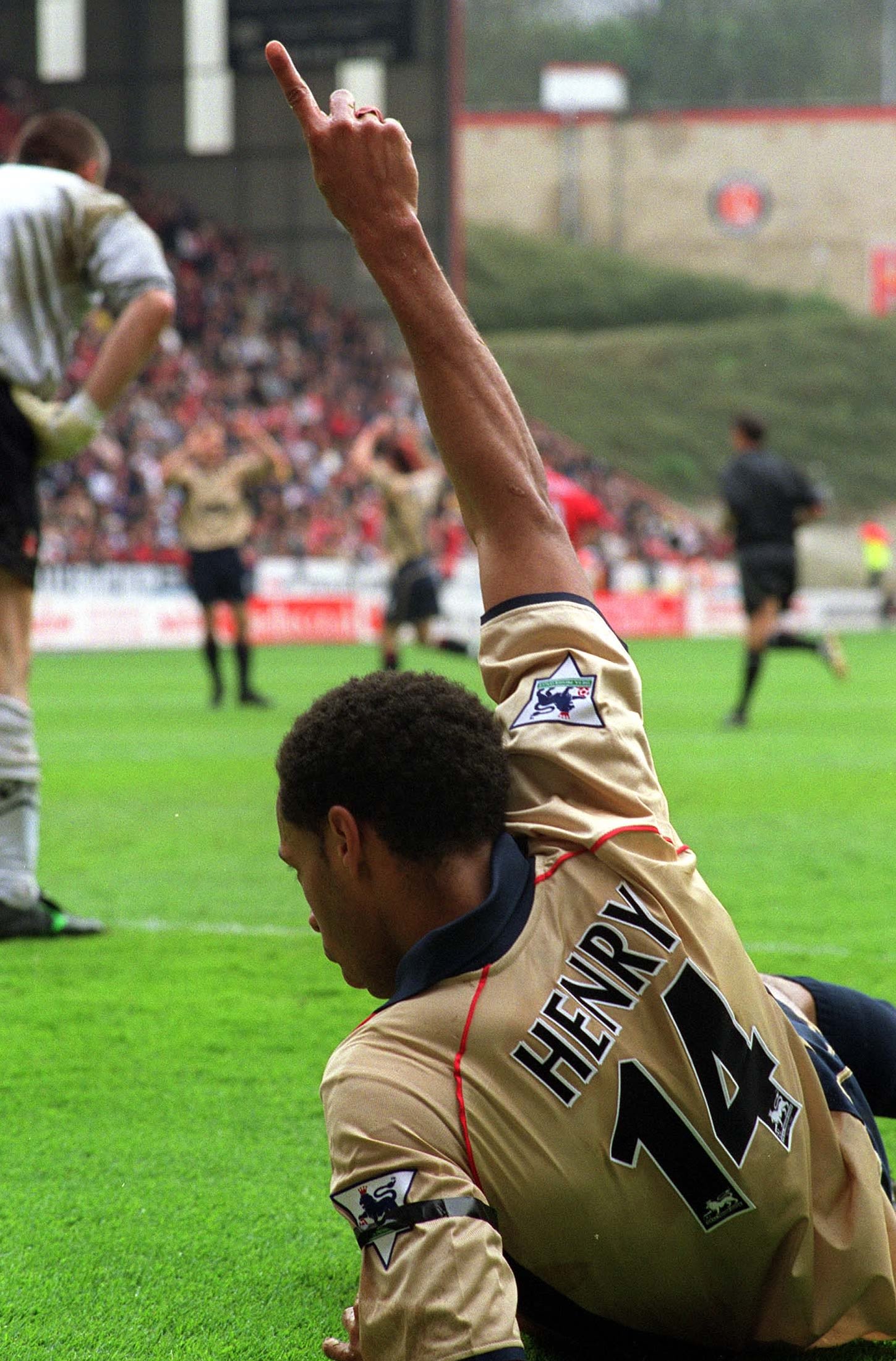 Michael Owen - scorer of a hat-trick for England in Germany - won the Ballon d'Or after his exploits in the previous, treble-winning campaign.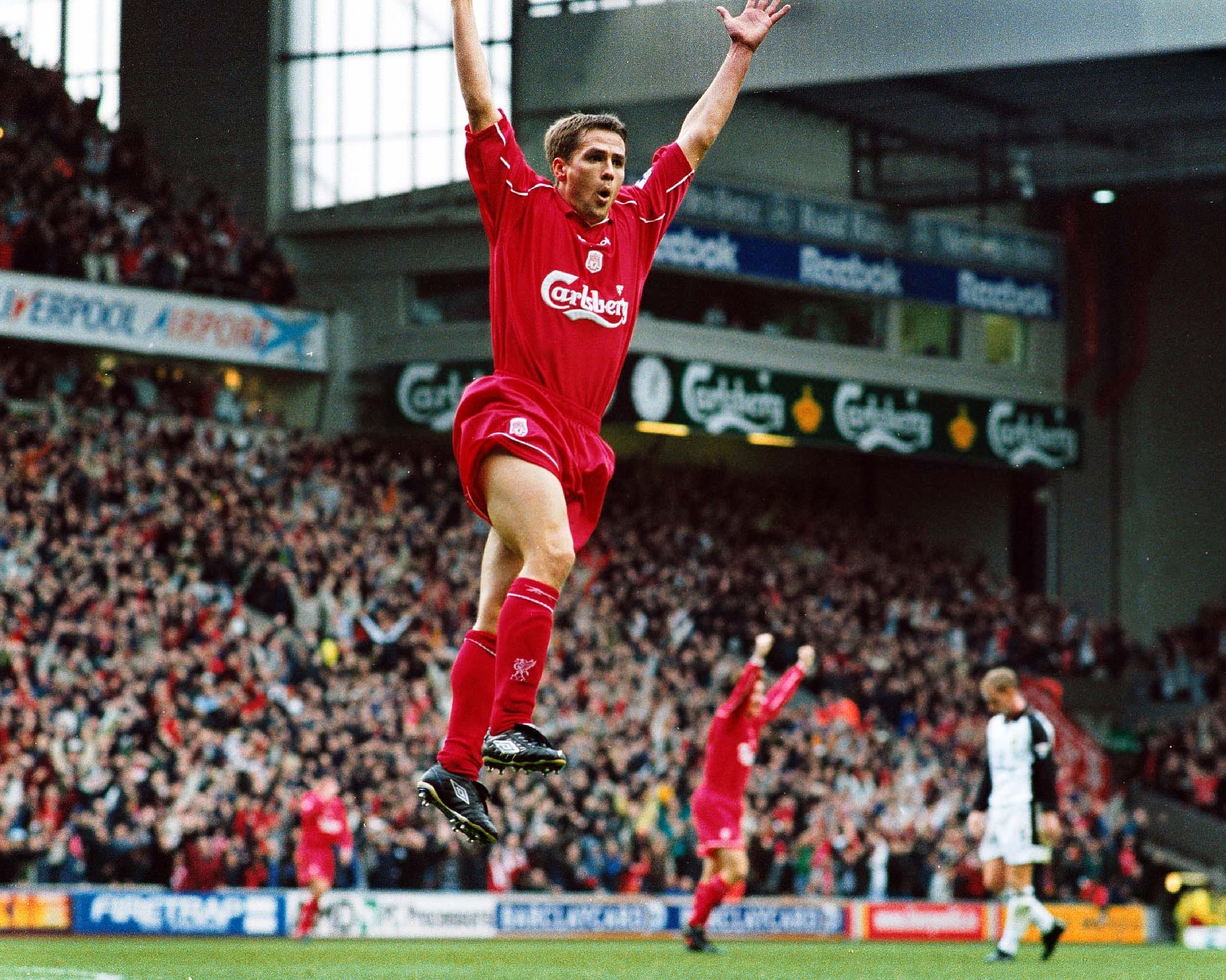 Away from Anfield the terrorist attacks of 9/11 changed the political landscape while the Queen celebrated her golden jubilee.
On the TV we were all watching Pop Idol and Band of Brothers -if not ITV's The Premiership, which tried to move football highlights to 7pm. It failed.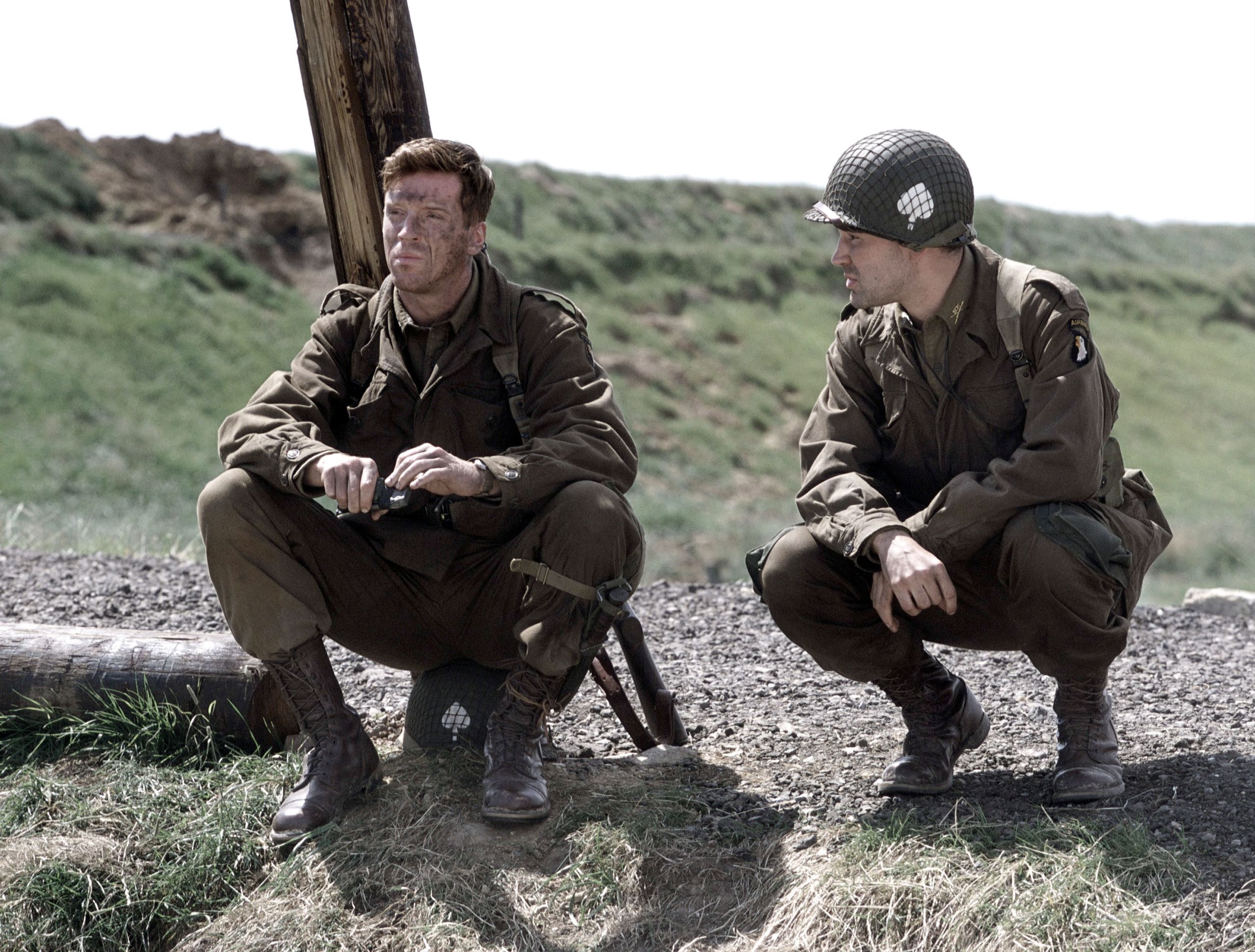 Points behind winners: 7
Trophies: Charity Shield, Uefa Super Cup
Top scorer (all comps): Michael Owen (28)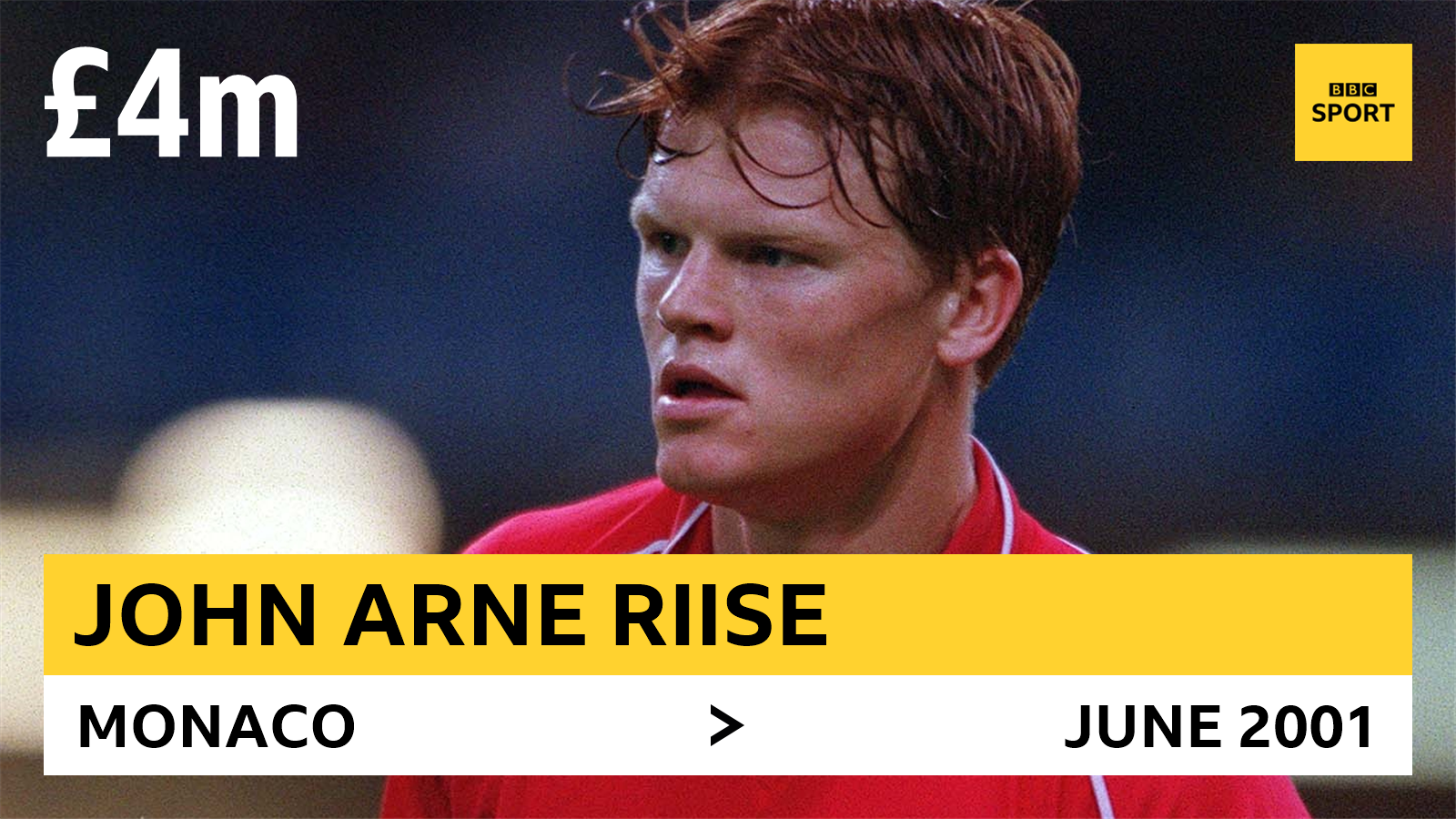 Manager: Gerard Houllier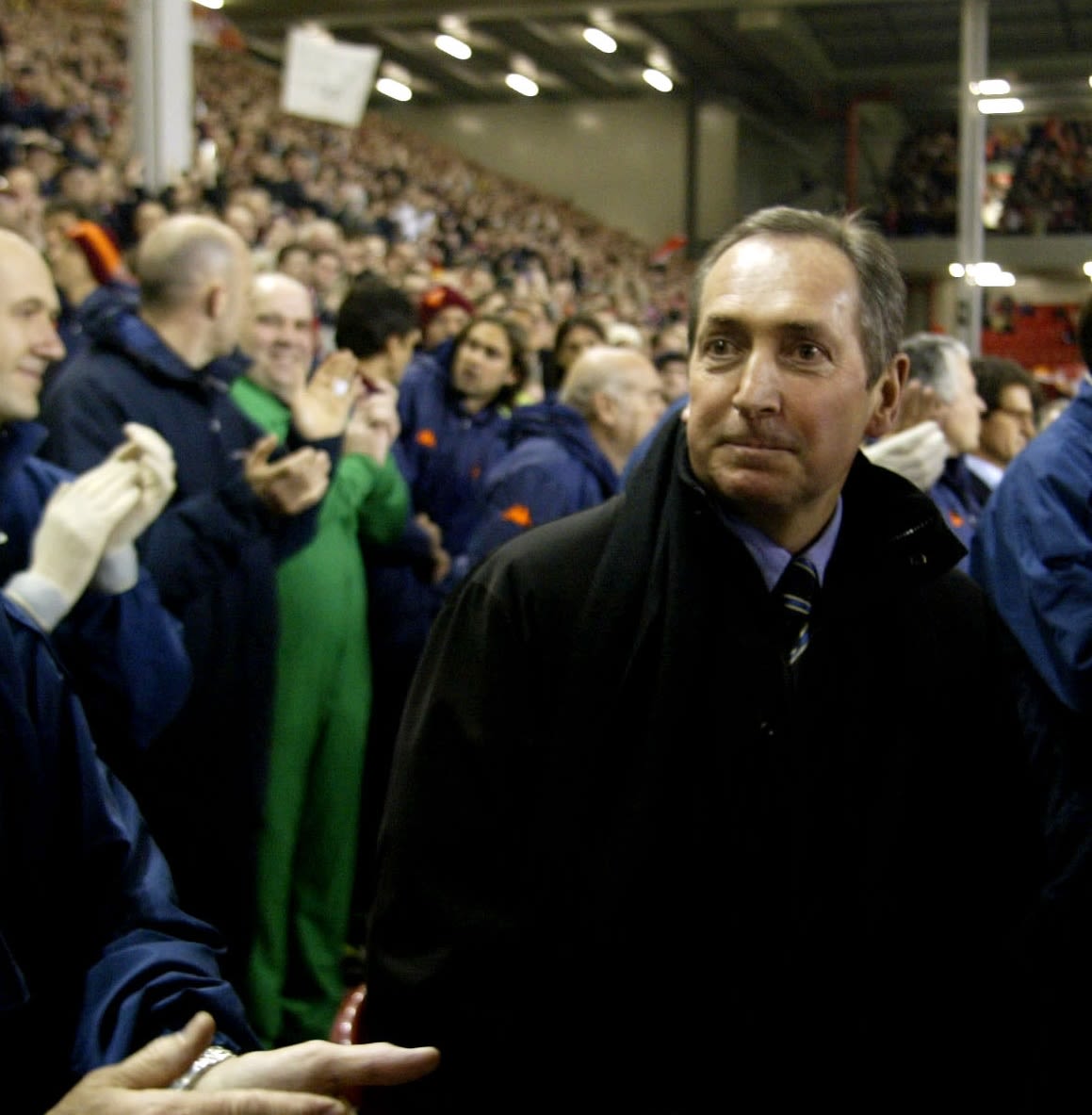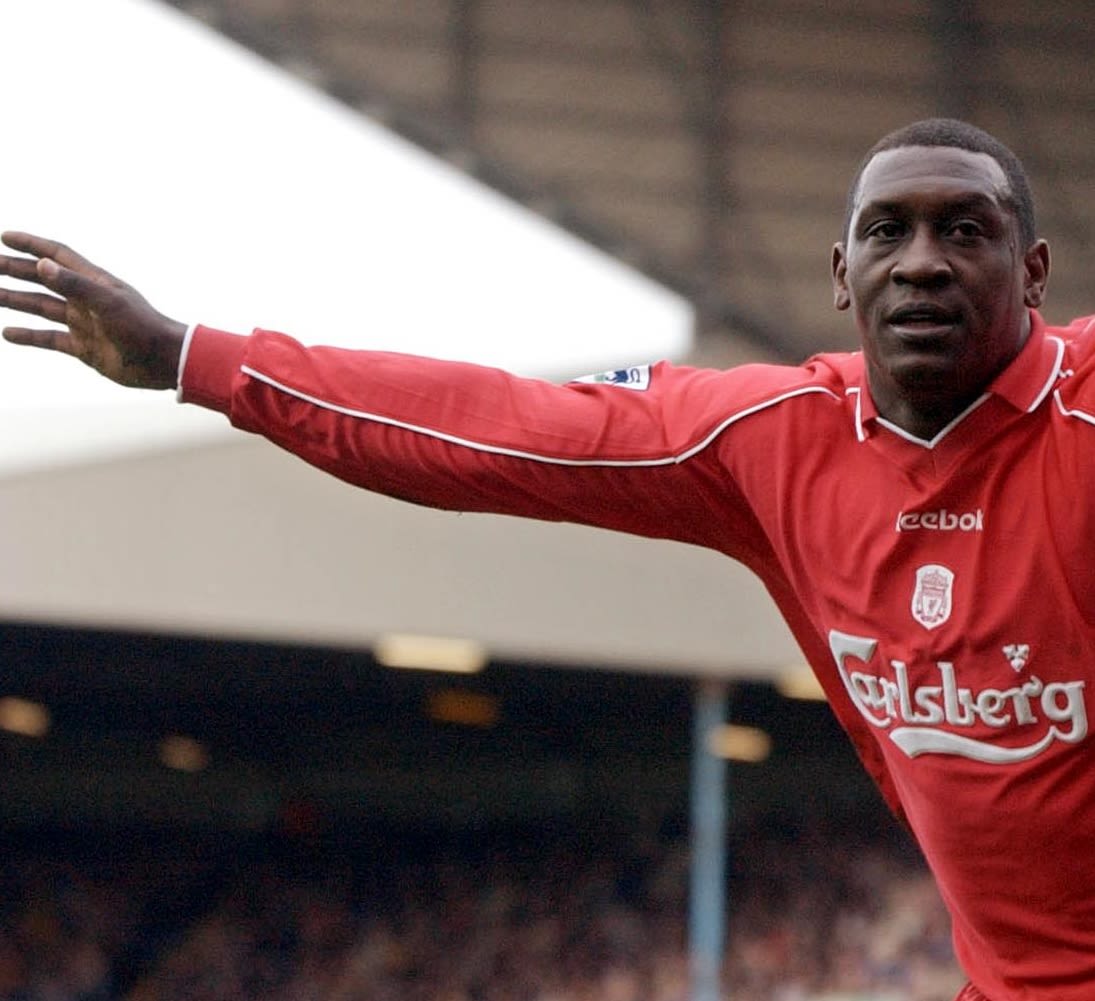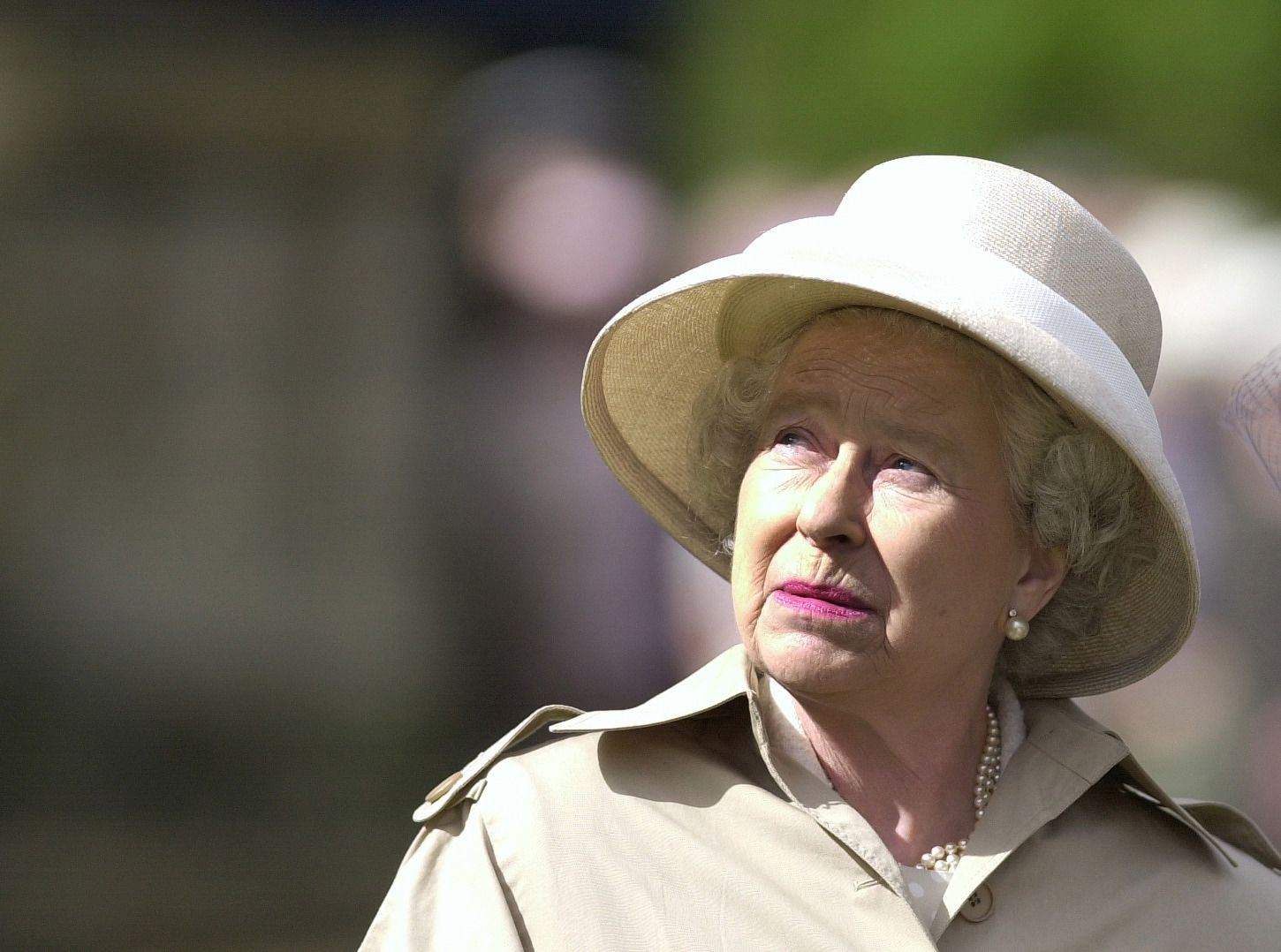 2002-03 season
From Riverside to ruin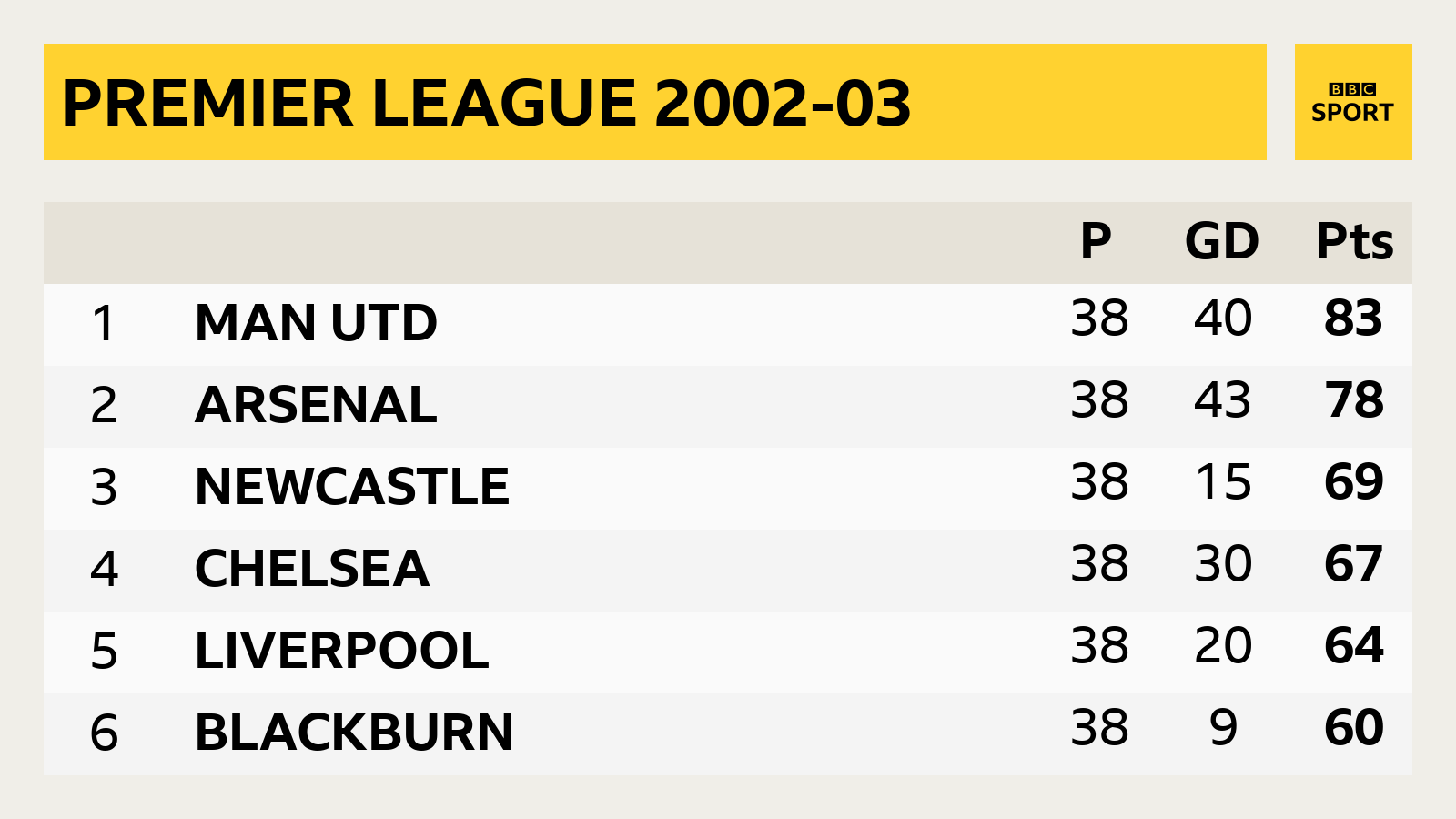 One step forward, two steps back.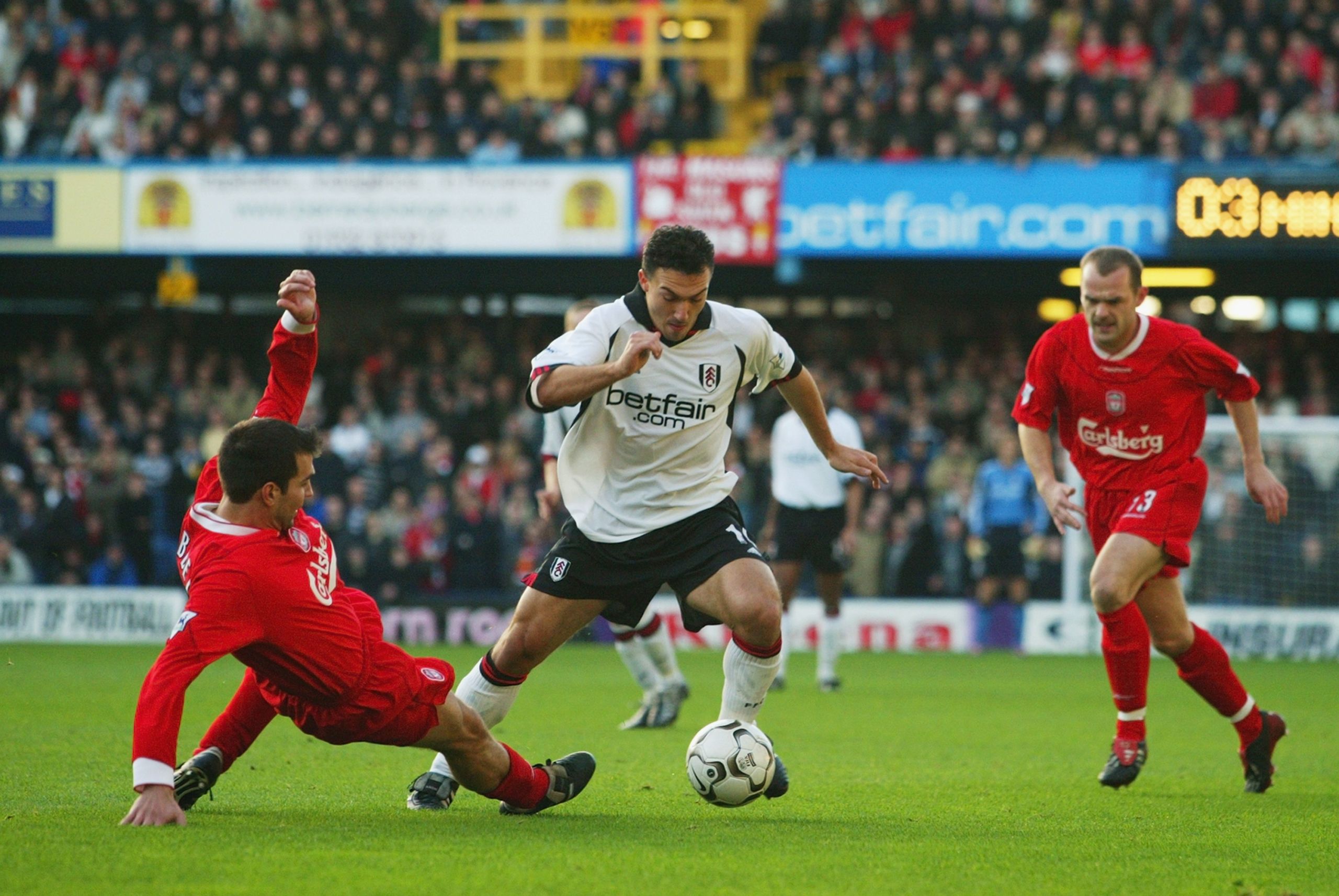 A superb start of nine wins in a 12-match unbeaten run had the Reds four points clear at the beginning of November but a defeat at Middlesbrough meant everything started to unravel.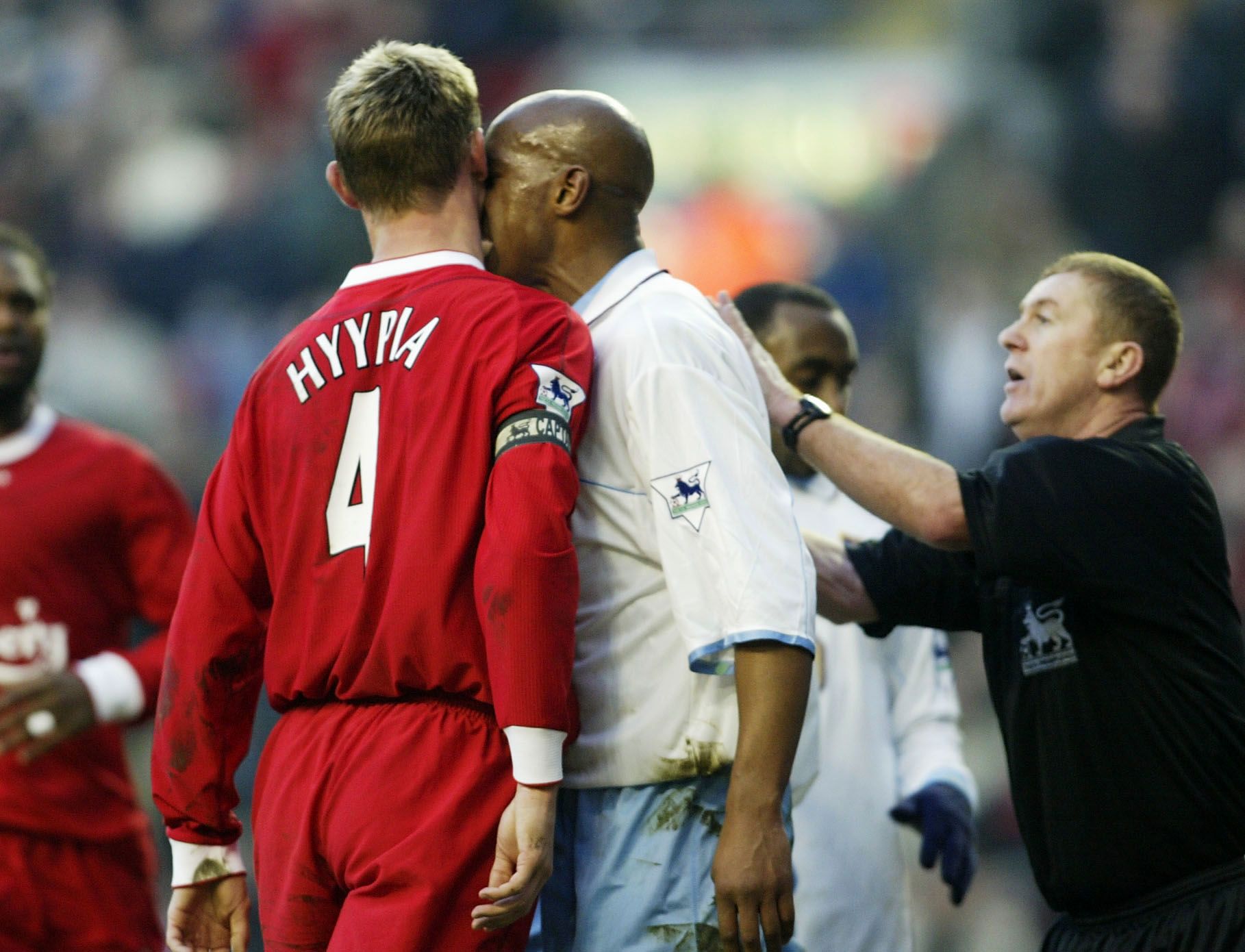 A few days later they crashed out of the Champions League to Basel and then won just twice in 16 games. It was a horrible run which culminated in Liverpool missing out on Champions League qualification on the final day of the season.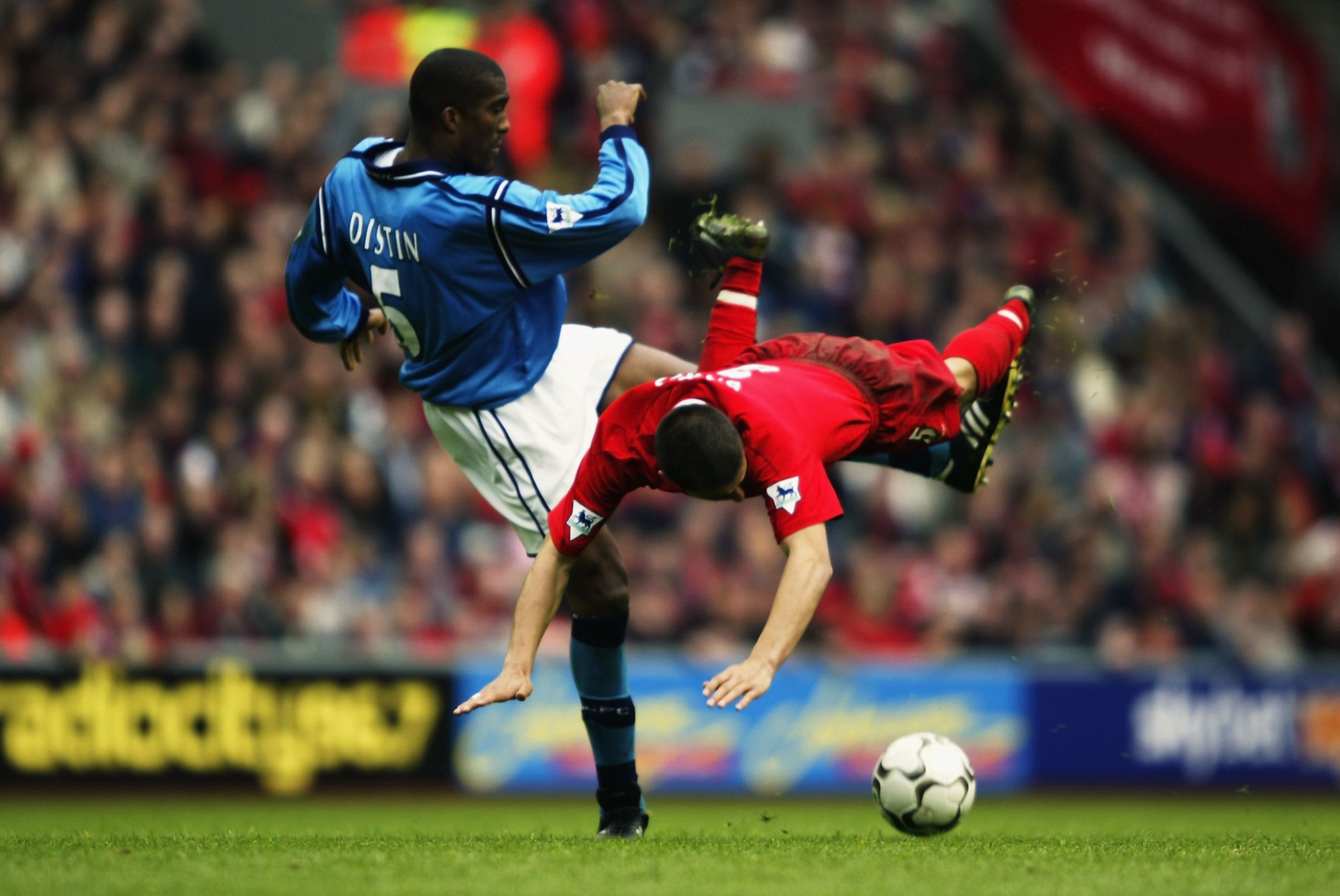 They did at least add another trophy to the cabinet though thanks to a League Cup win in Cardiff, while across the city a teenage forward was emerging.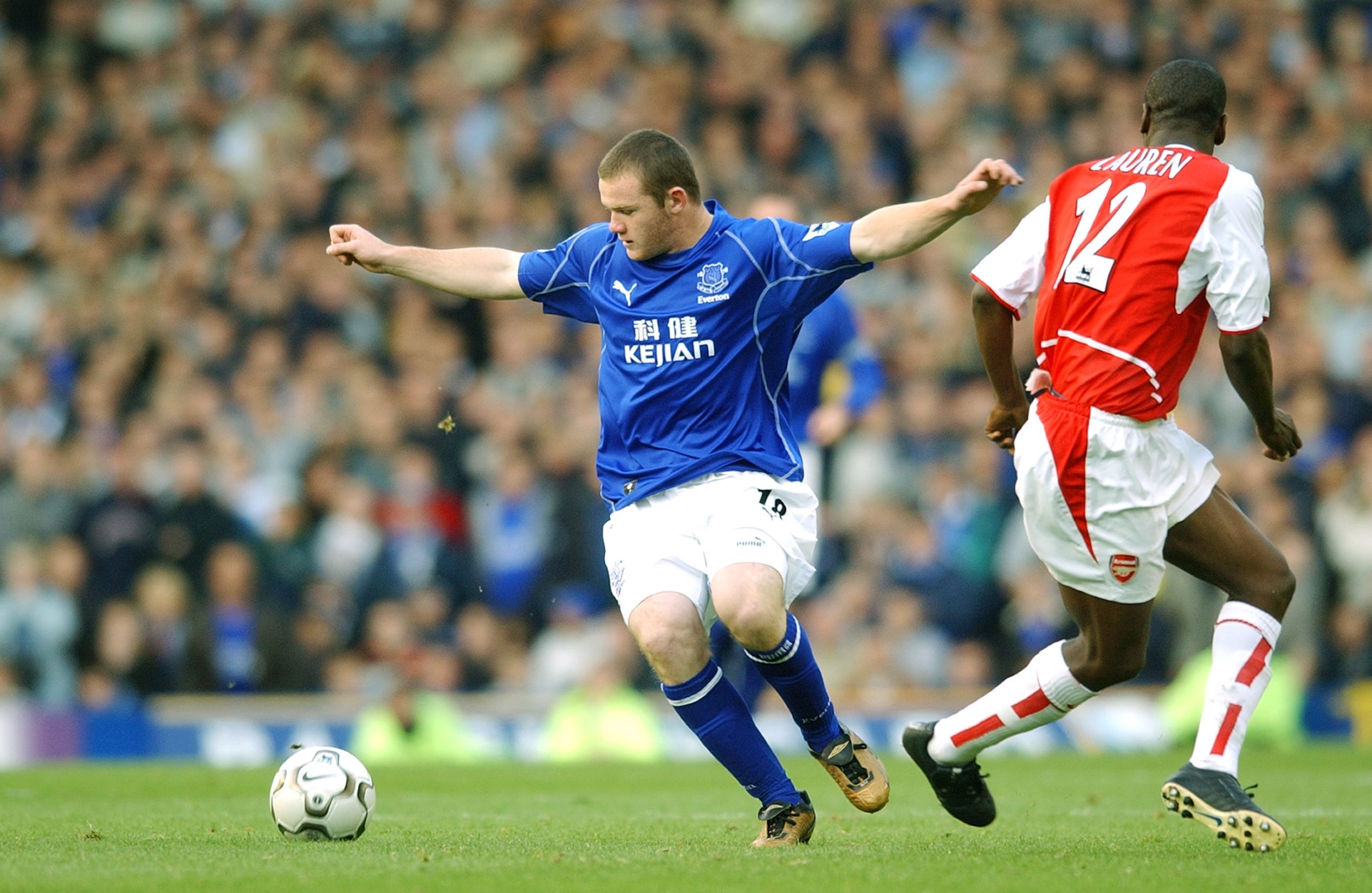 Remember the name?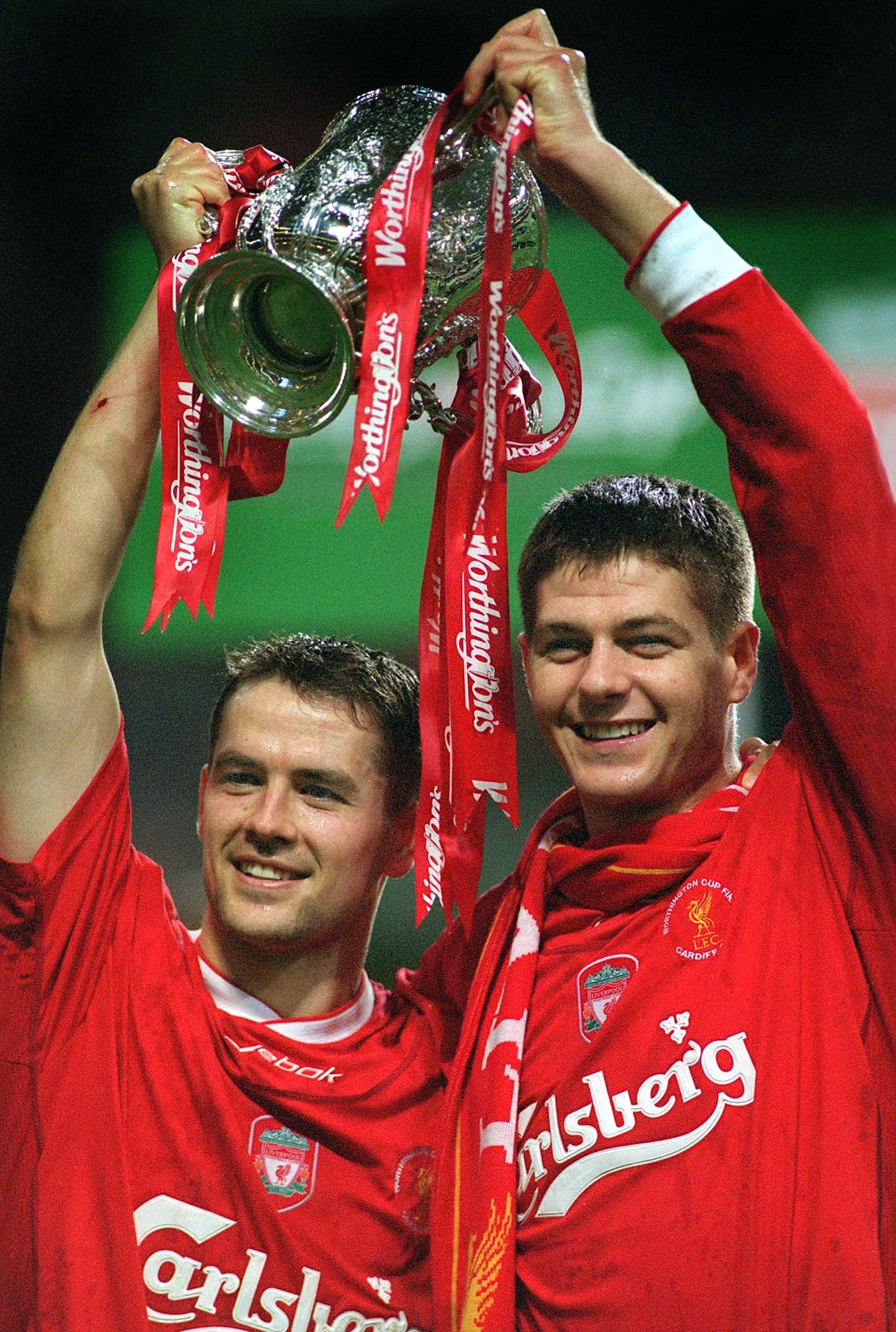 To add to the theme of a lack of forwards movement the London congestion charge came in and Britain went to war in Iraq for a second time since Liverpool's last title.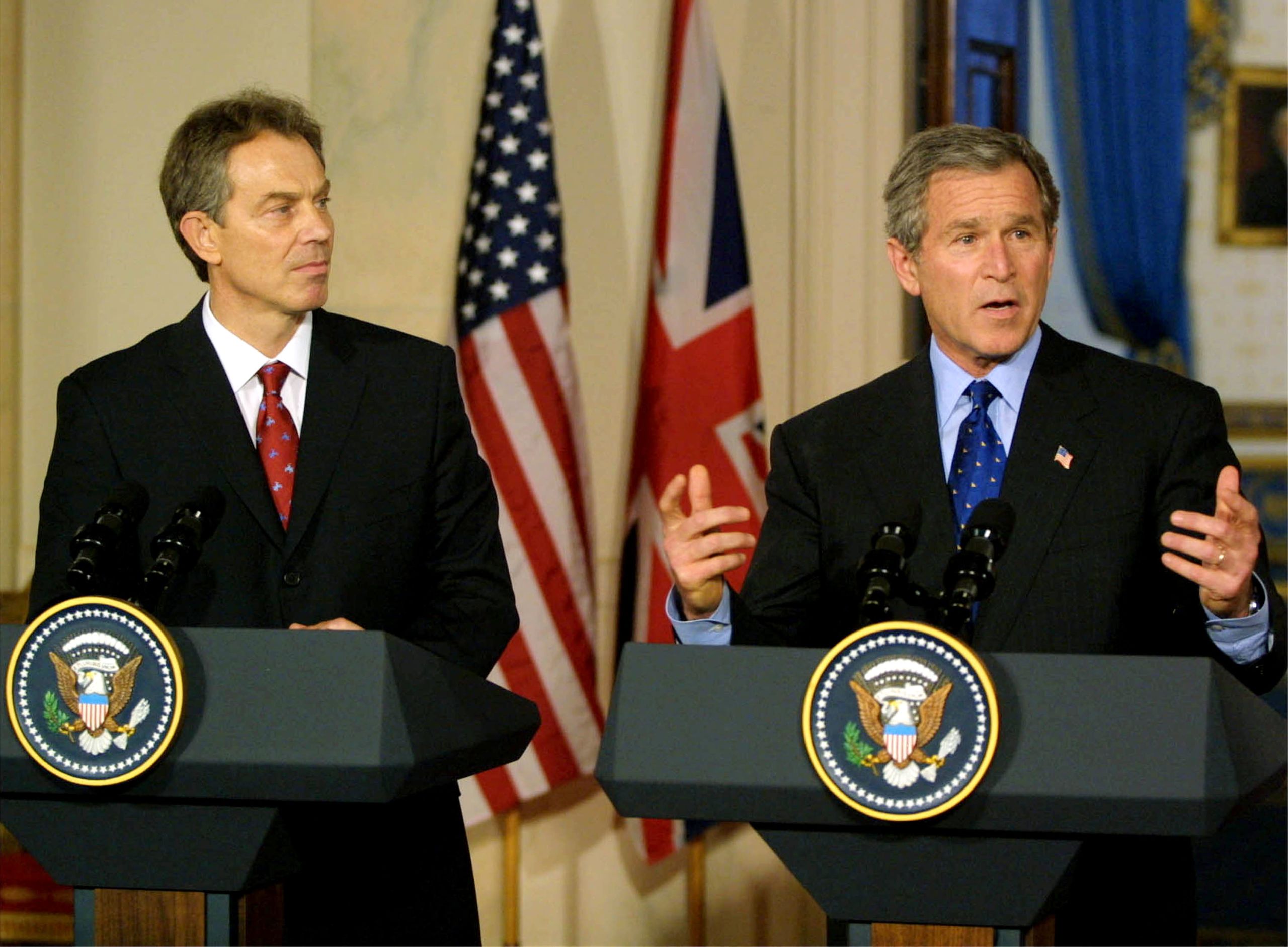 Points behind winners: 19
Trophies: League Cup
Top scorer (all comps): Michael Owen (28)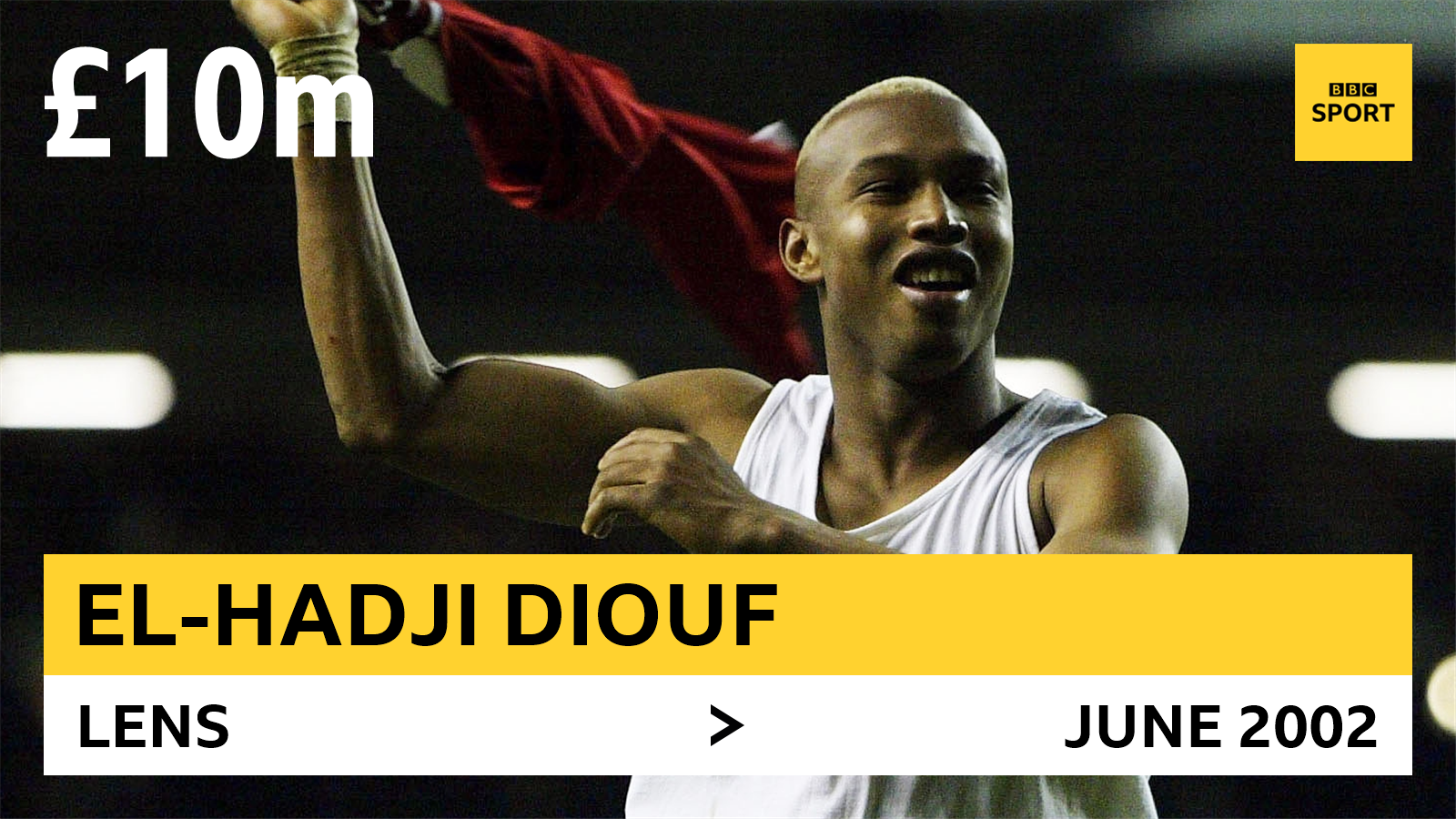 Manager: Gerard Houllier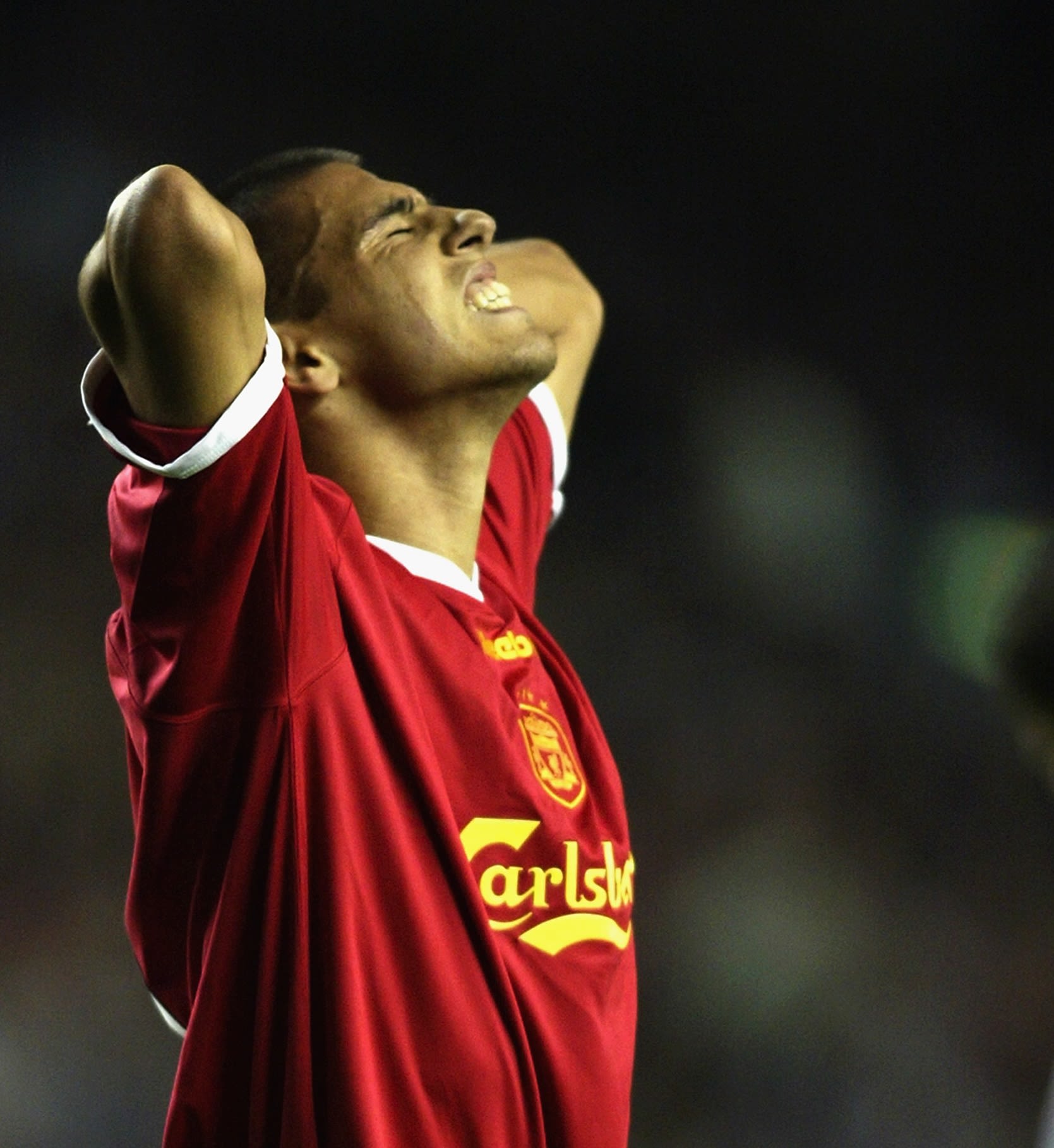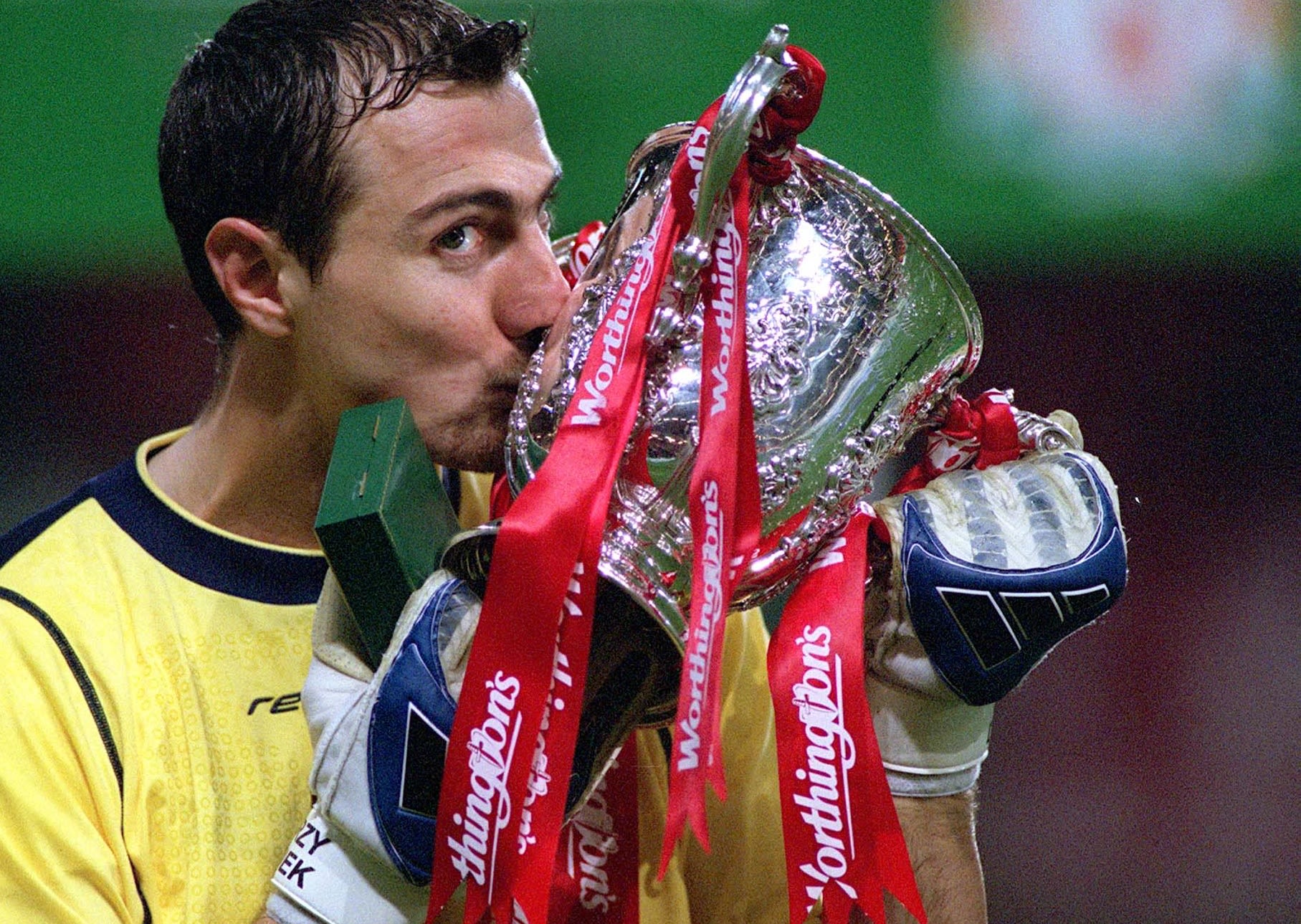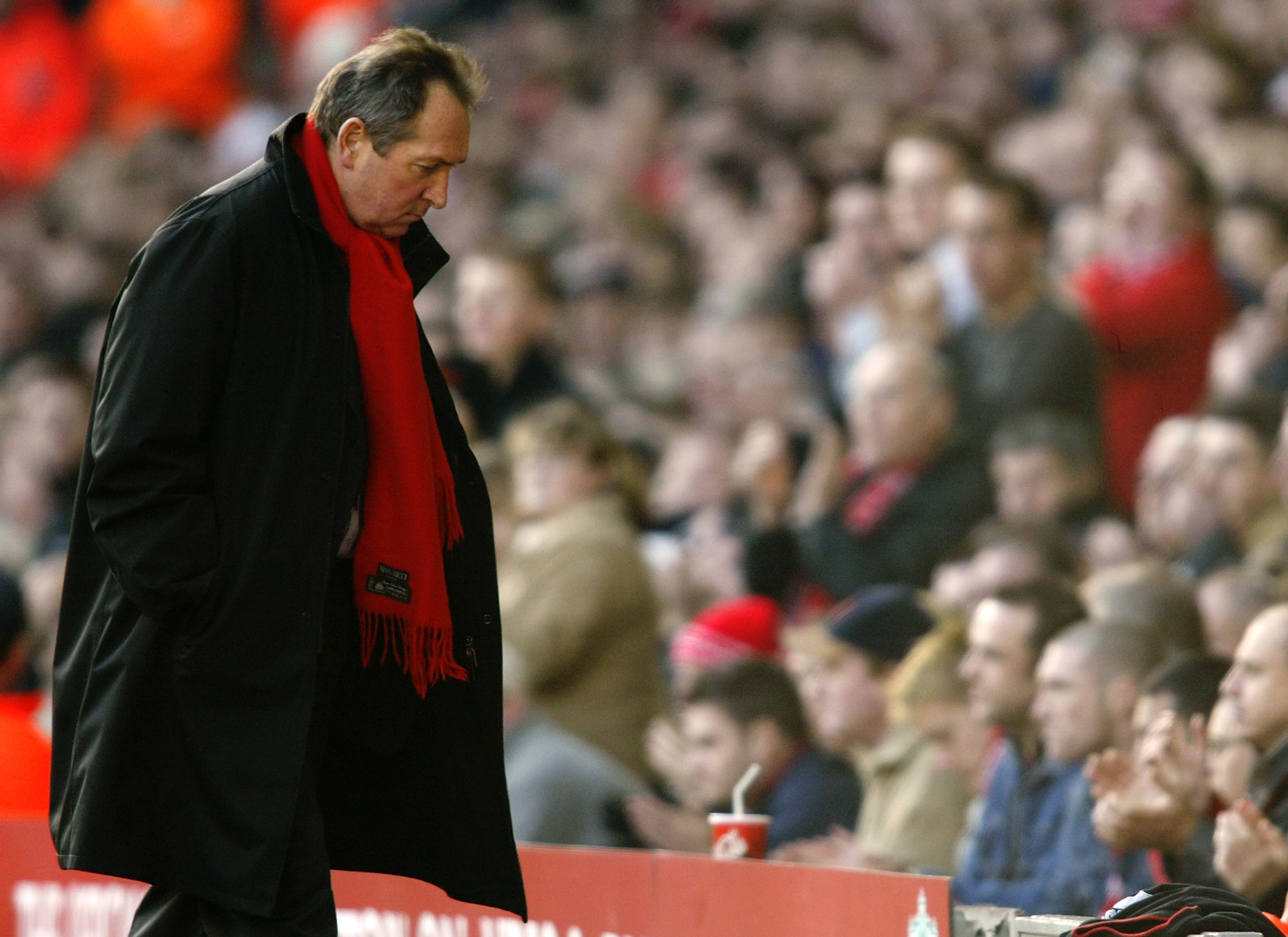 2003-04 season
Owen's last stand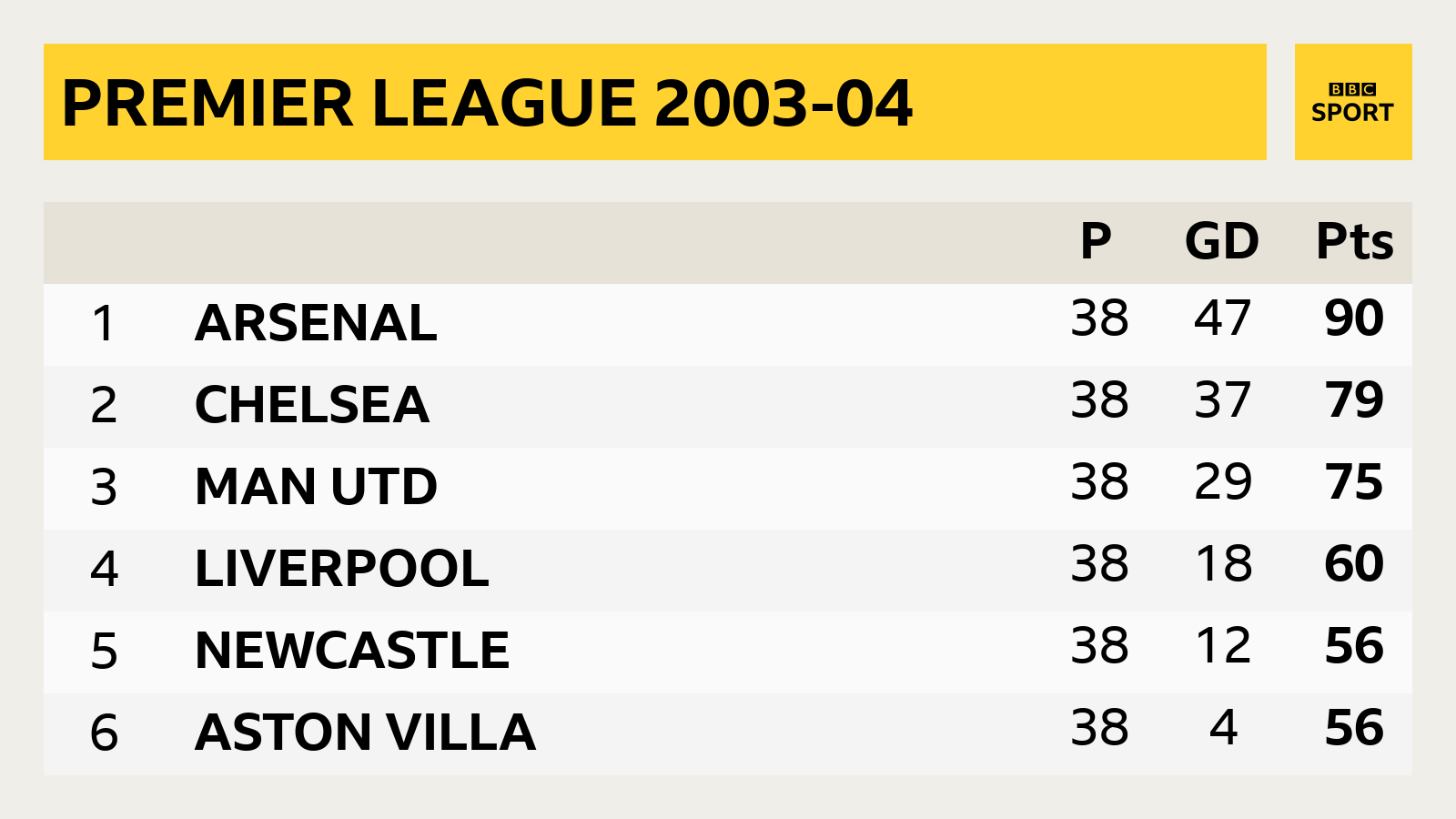 Yes that does say 30 (thirty) points off the top as Liverpool remained as far away from a title win as ever. Winners Arsenal, to be fair, did go unbeaten - imagine how that must feel?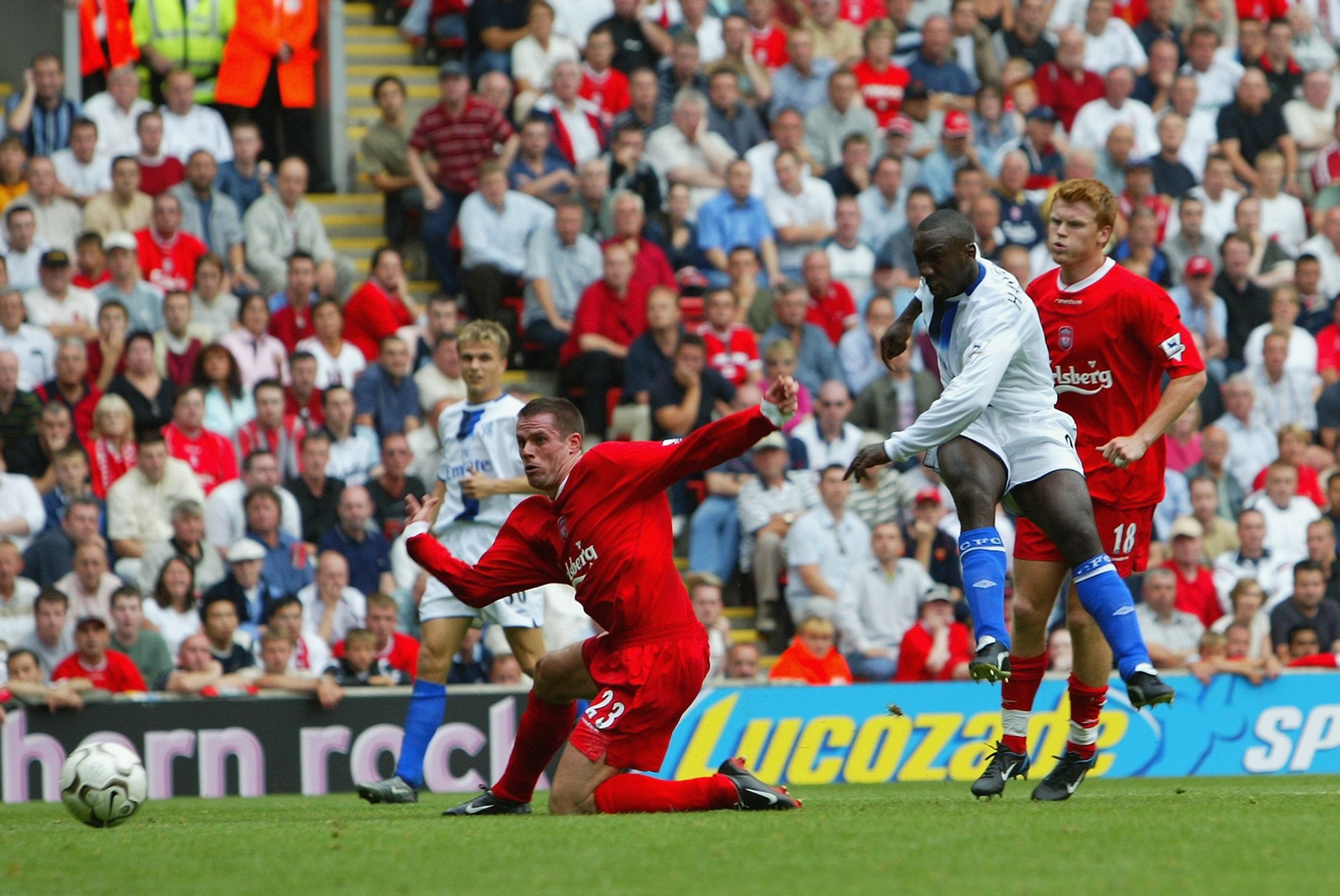 This season had very much an 'end-of-an-era' feel to it and so it proved.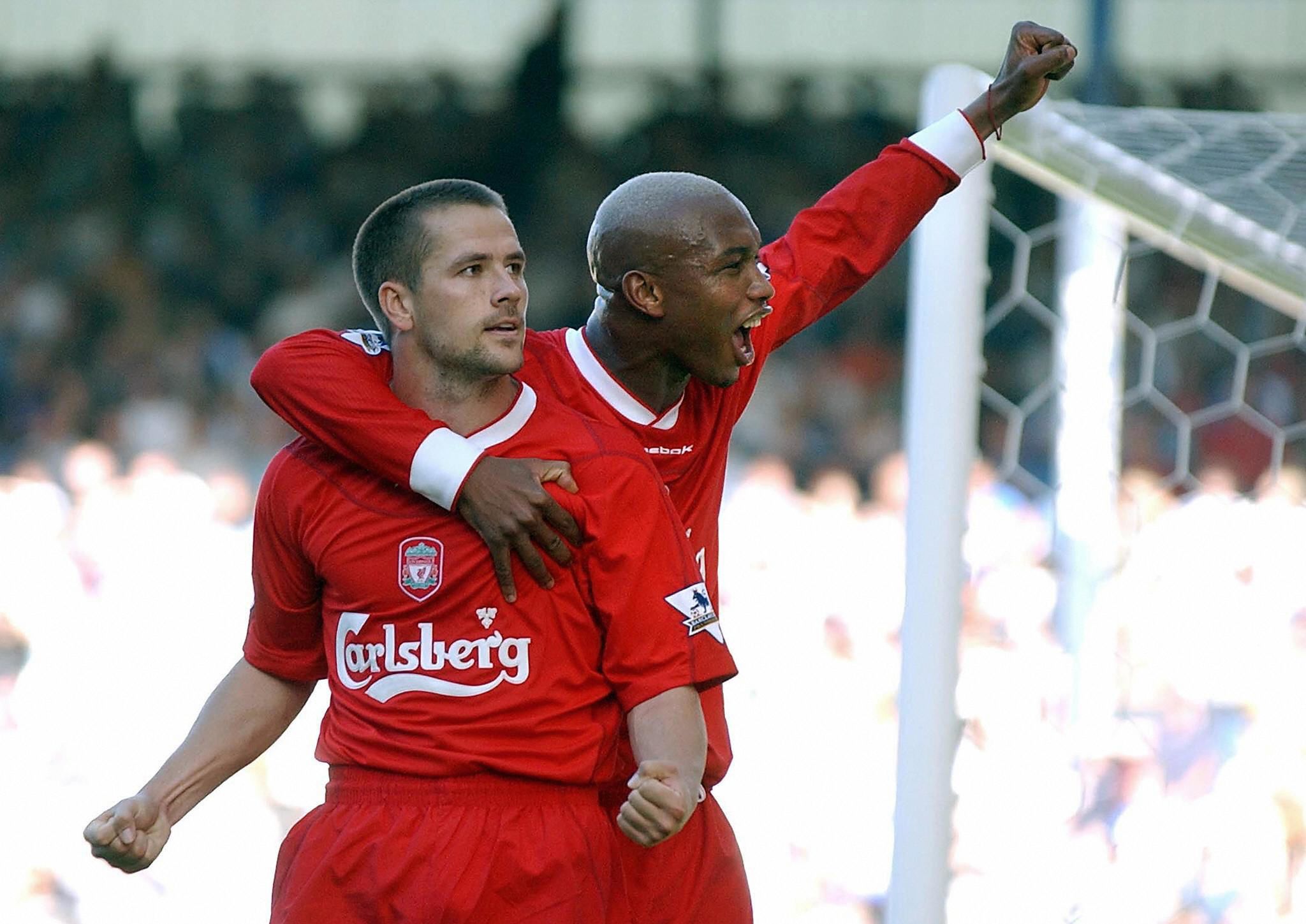 Houllier made way at the end of the campaign for Rafael Benitez, while Michael Owen headed to Spain soon after with a record of 158 goals in 297 games.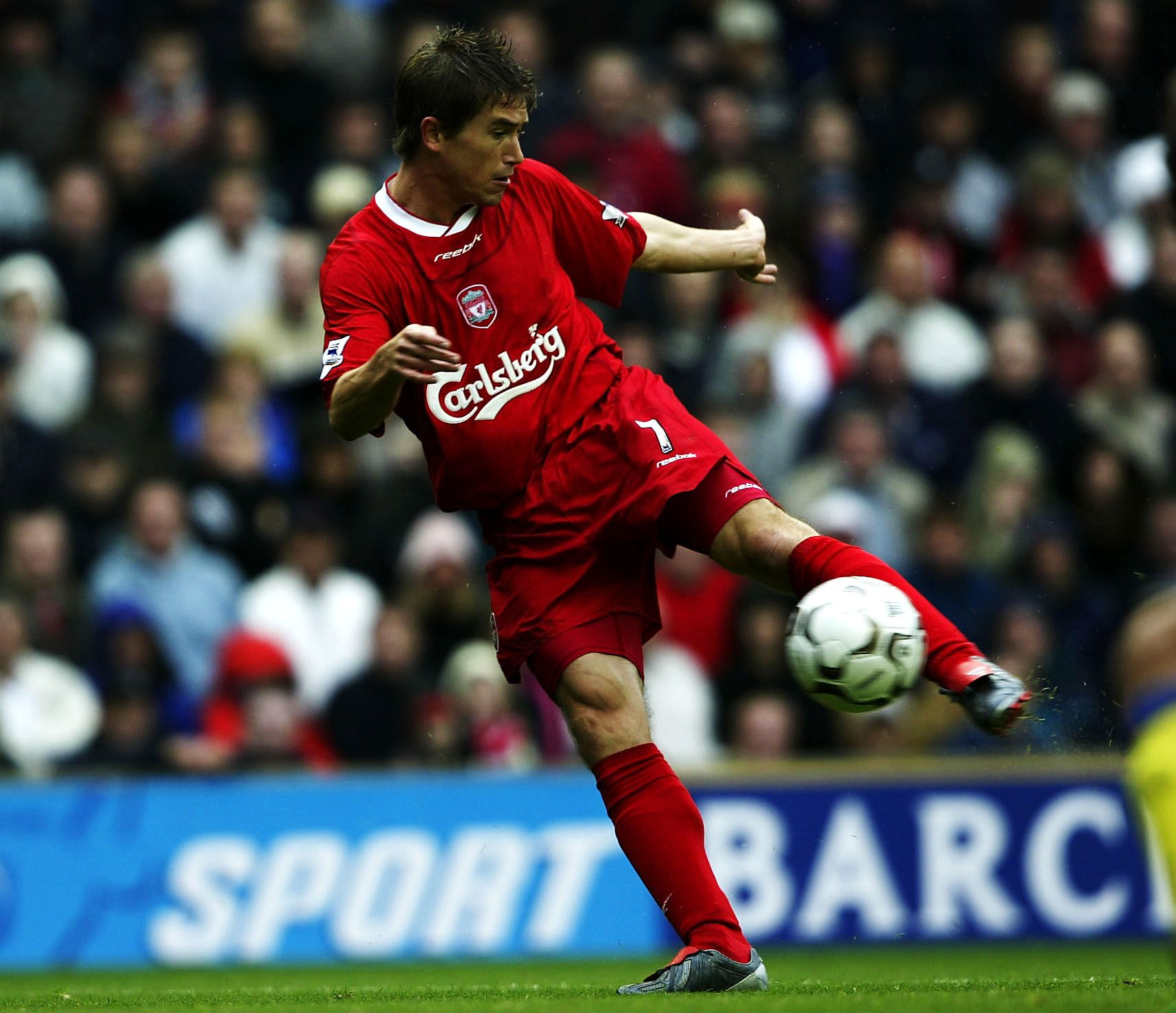 Away from Anfield Greece were the shocking winners at the Euros as Wayne Rooney continued his ascent, psychology student Mark Zuckerberg launched his website thefacebook.com and Piers Morgan was sacked by the Mirror.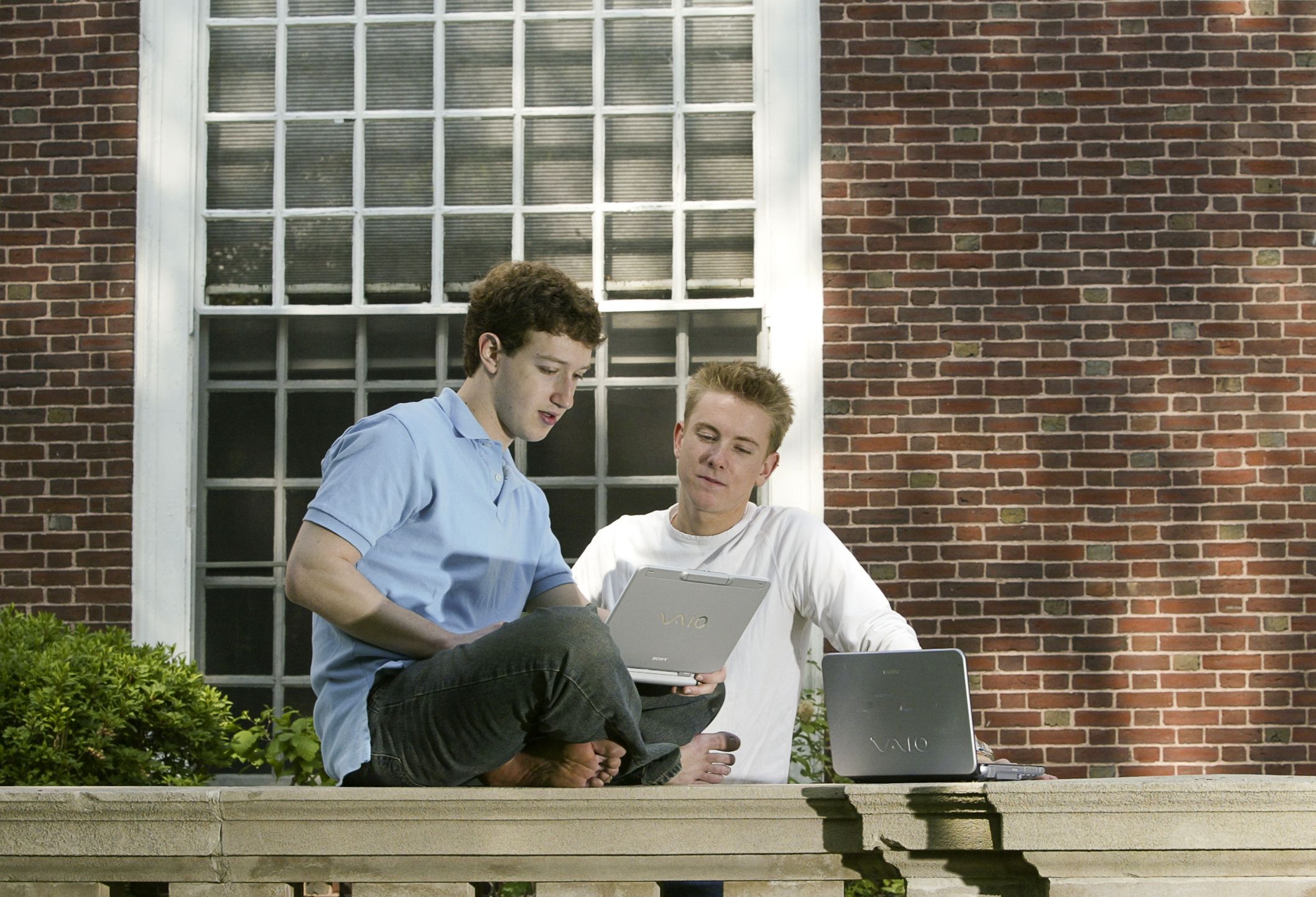 Whatever happened to those two?
Points behind winners: 30
Trophies: None
Top scorer (all comps): Michael Owen (19)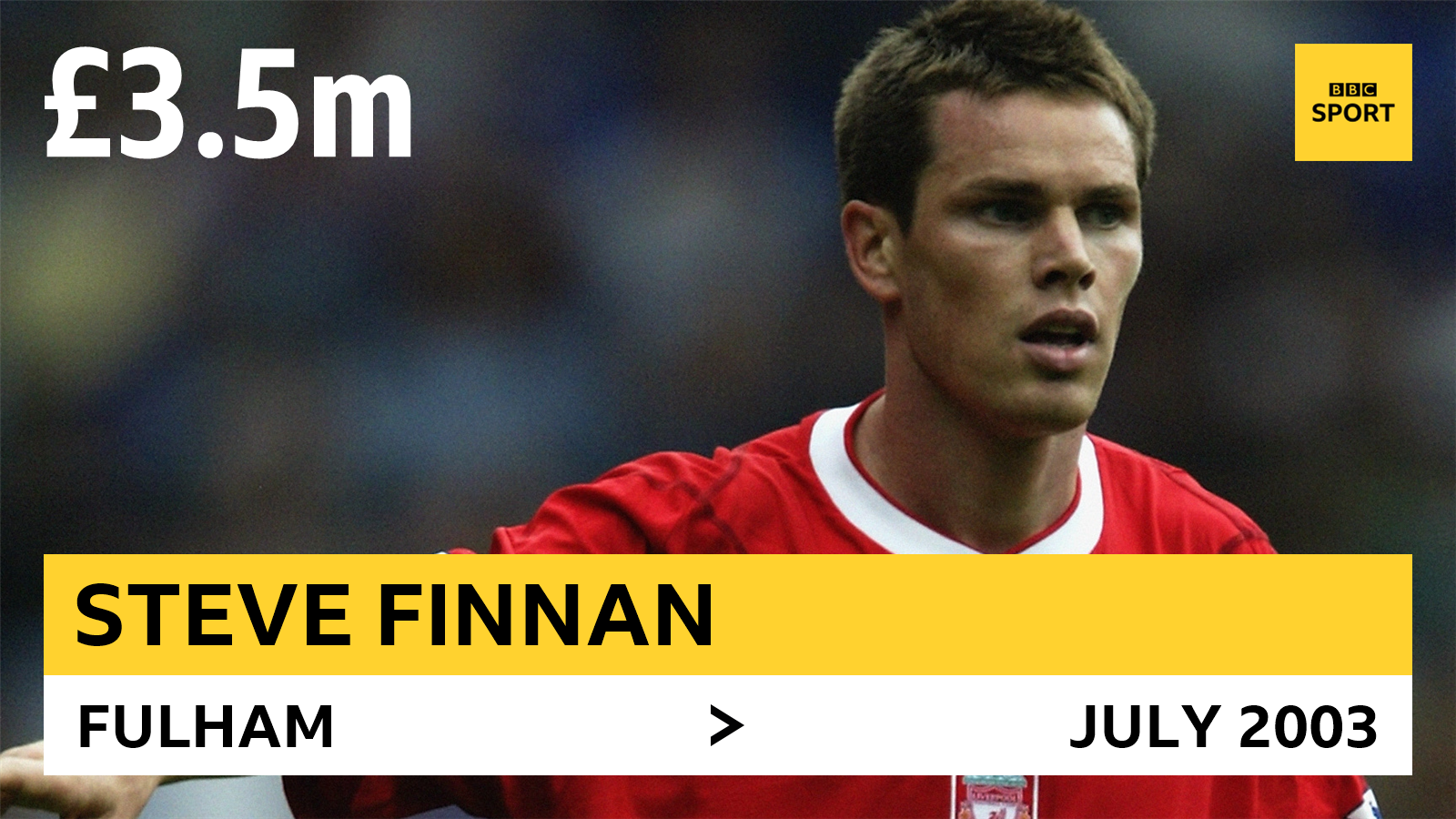 Manager: Gerard Houllier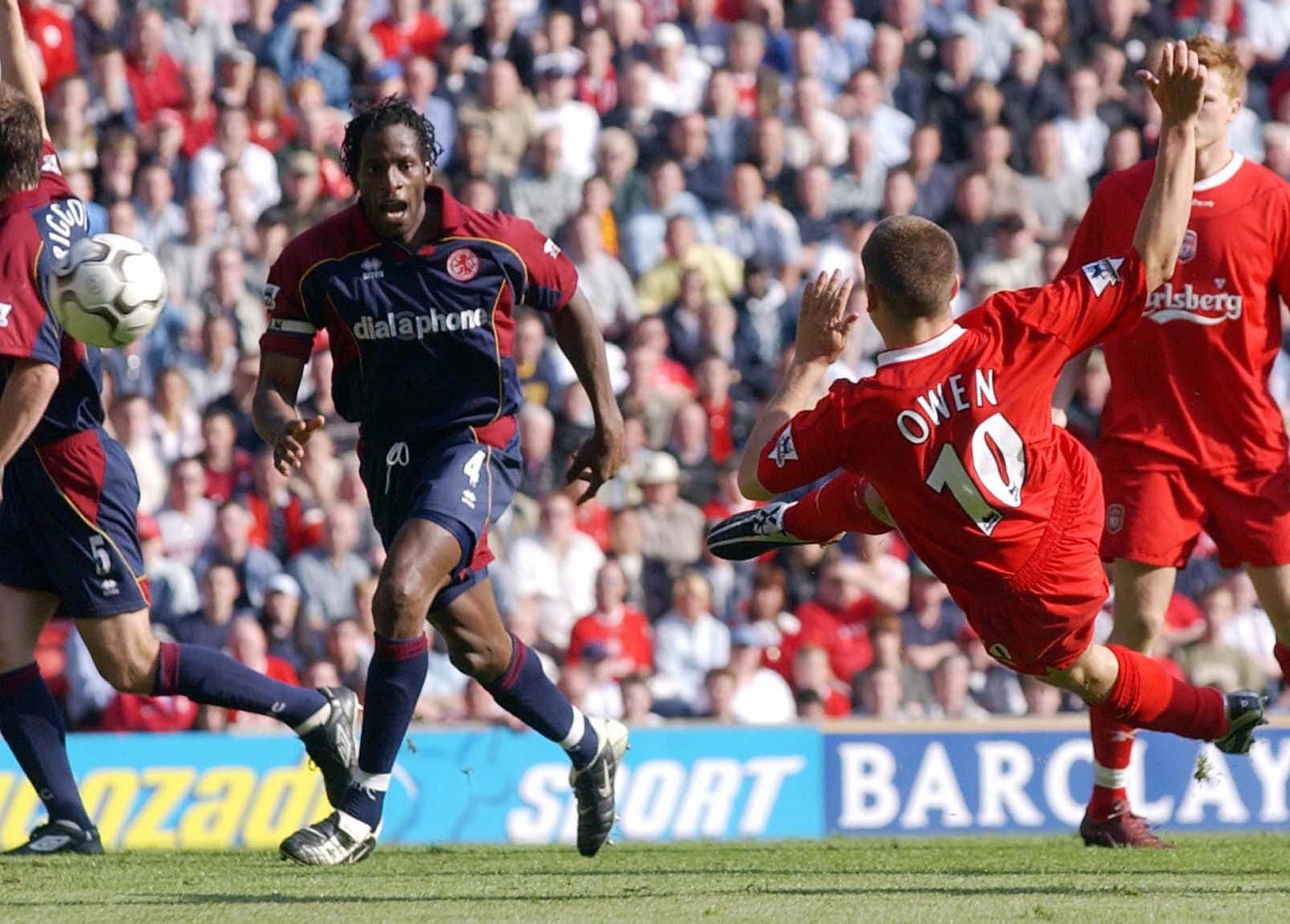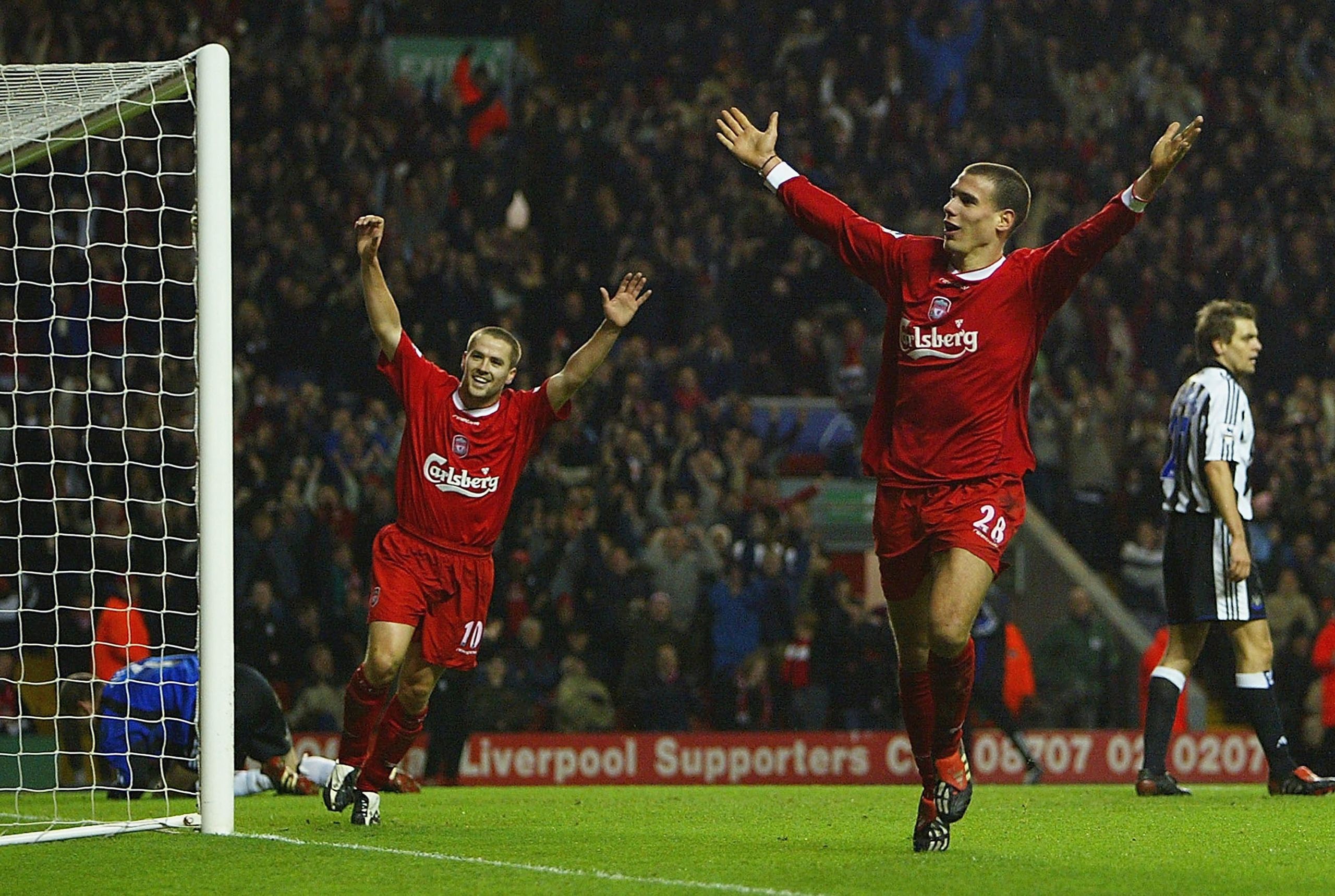 2004-05 season
In Istanbul, they won it five times…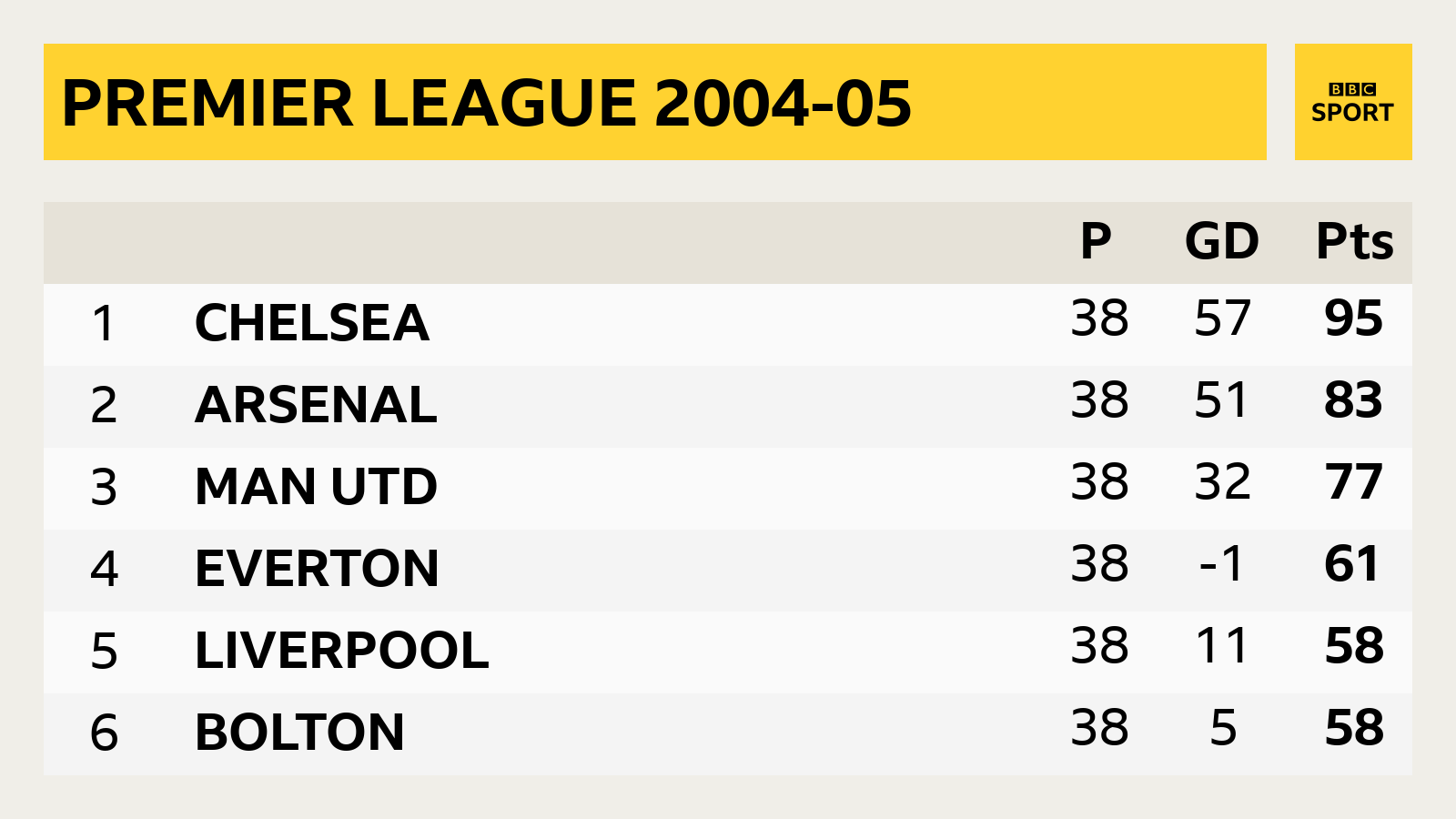 An up and down first season for Benitez, with the up of winning the European Cup for the first time in 21 years vastly outweighing a fifth-placed finish miles behind Jose Mourinho's Chelsea and even Everton. They were only above Bolton on goal difference.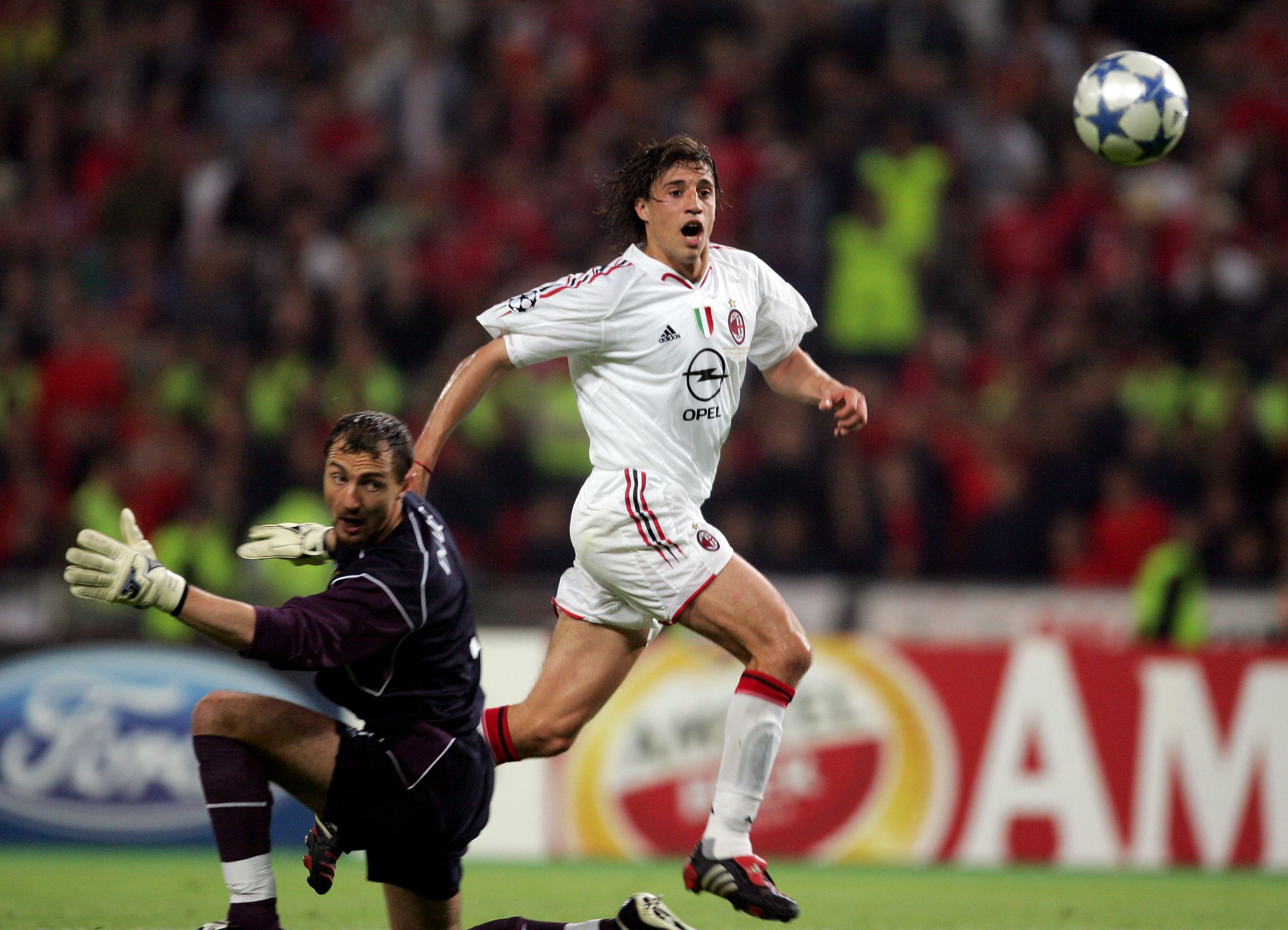 Liverpool were never in the top four as their new manager got his team in shape, but against all odds they lifted the biggest trophy of them all, famously coming from 3-0 down at half-time to shock AC Milan.
Not just any Milan either. How about this for a starting XI?
Dida; Cafu, Stam, Nesta, Maldini; Seedorf, Pirlo, Gattuso; Kaka; Shevchenko, Crespo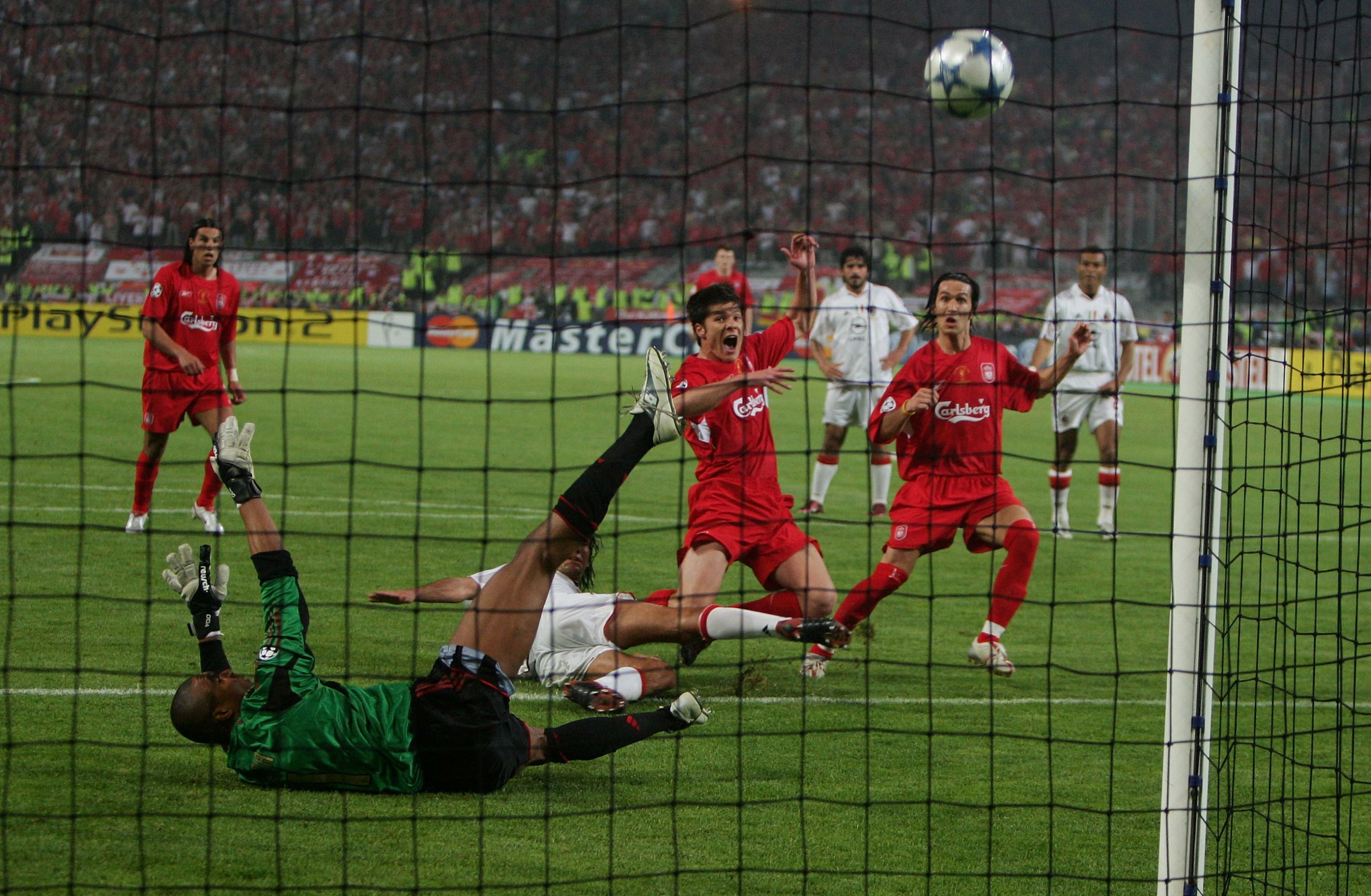 They had no answer to Djimi Traore and co.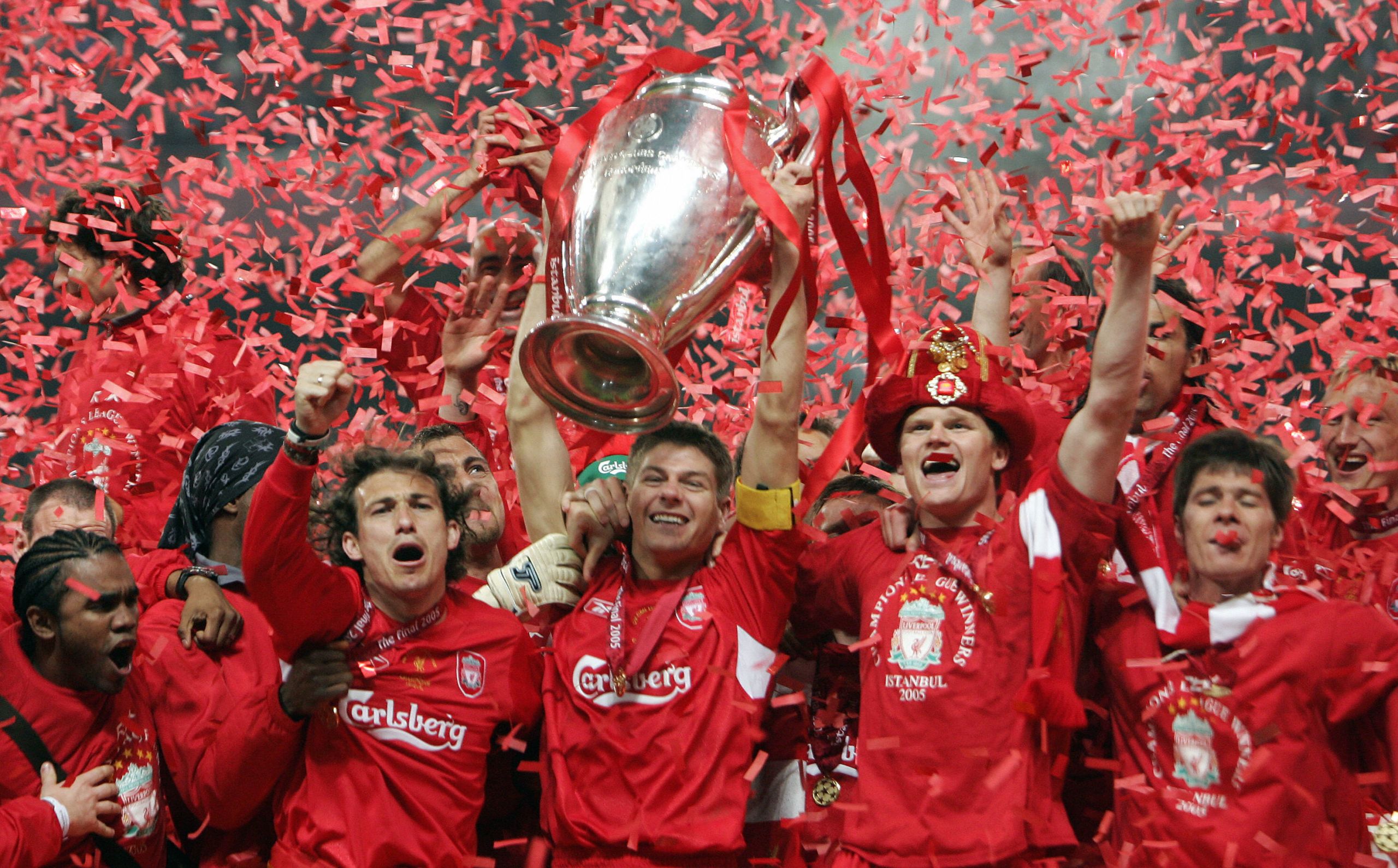 The most unexpected of successes?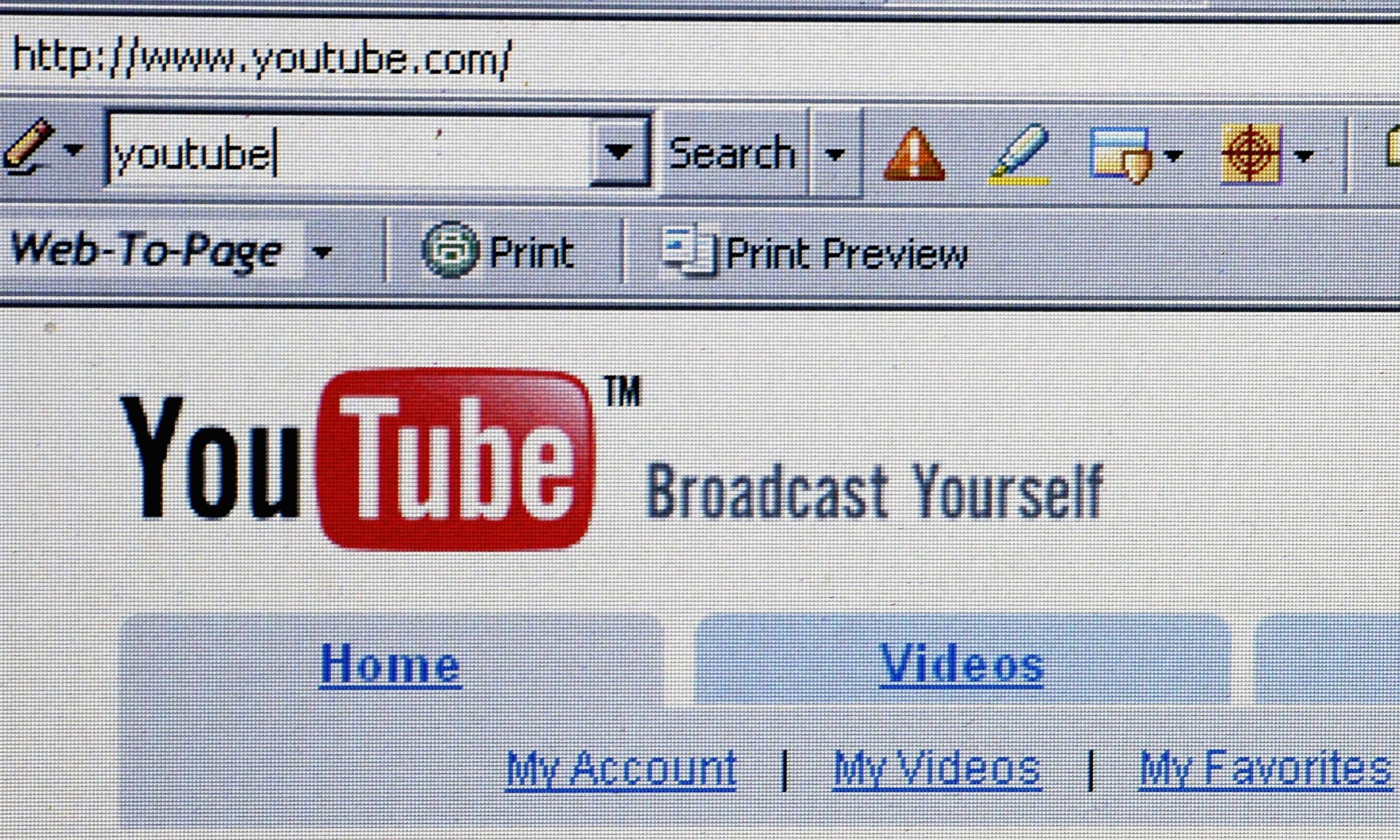 Chelsea dominated the Premier League, Palace striker Andrew Johnson partnered Thierry Henry in the team of the year, the Glazers bought Manchester United and West Brom completed the great escape from the relegation zone after being bottom at Christmas.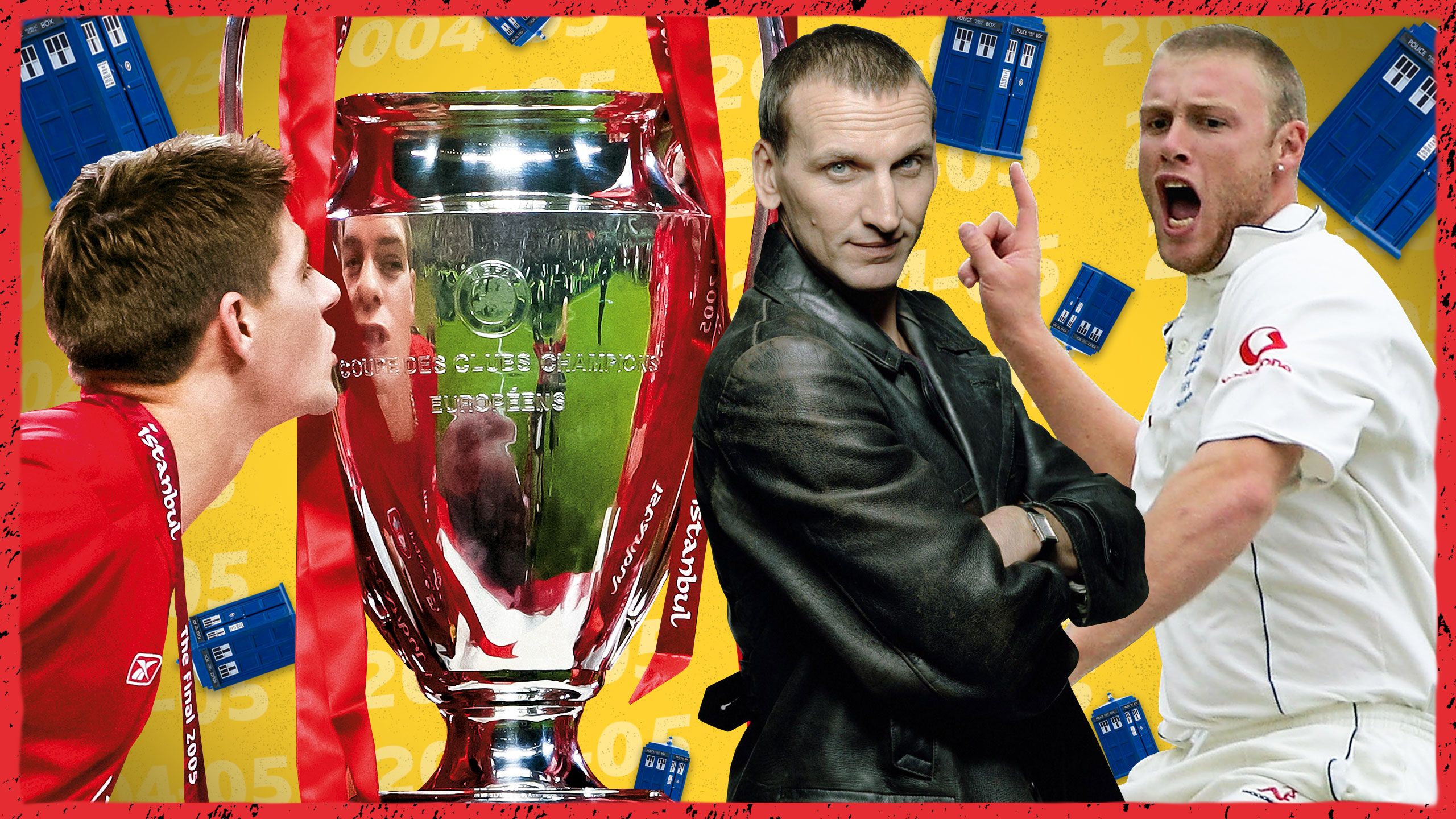 Remember Joss Stone? She won big at the Brits as Busted split up and Dr Who returned to our screens. It was a big summer with the Live 8 concerts, Tony Blair winning another election and England finally, finally winning the Ashes…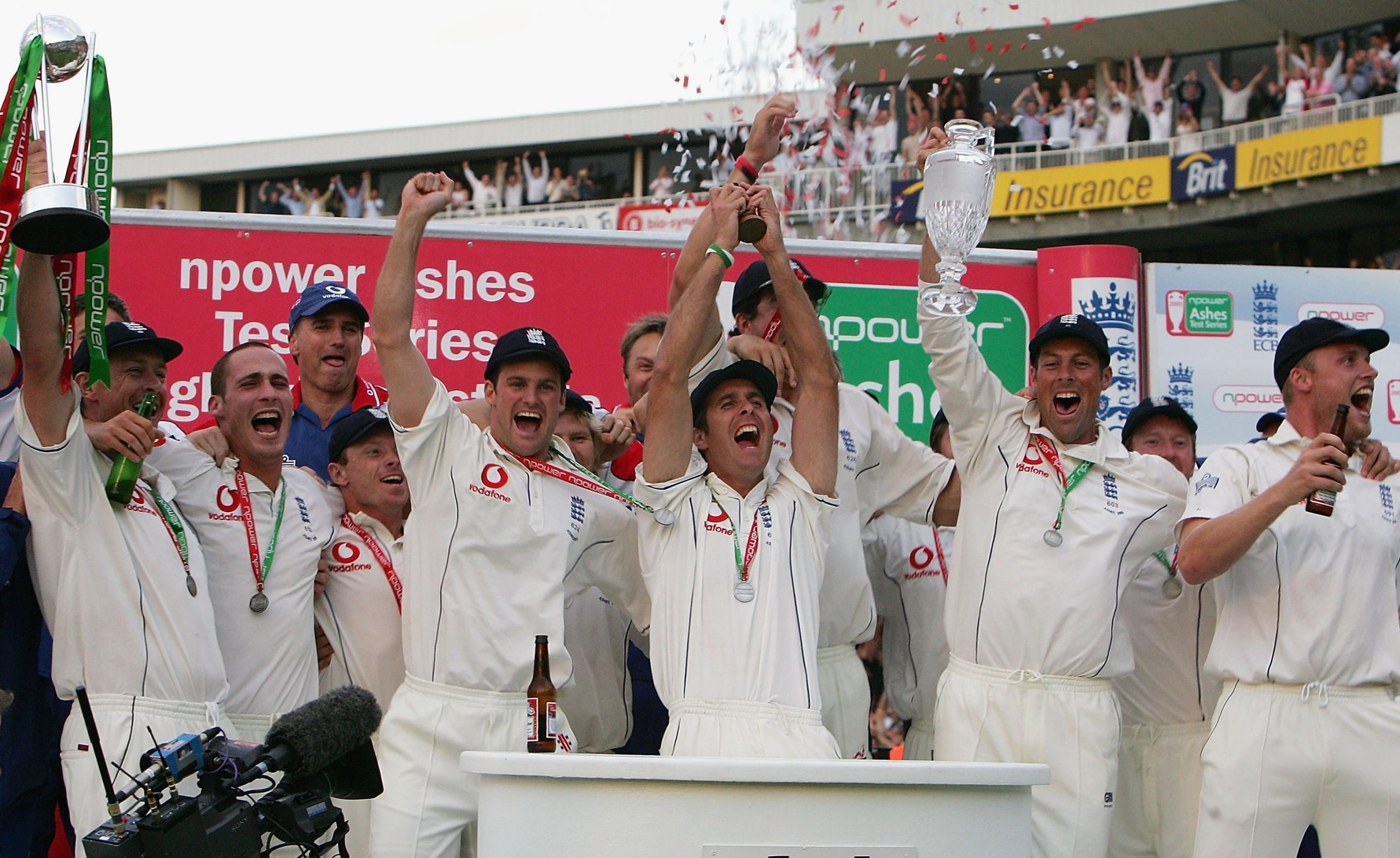 Points behind winners: 37
Trophies: Champions League
Top scorer (all comps): Milan Baros, Steven Gerrard, Luis Garcia (all 13)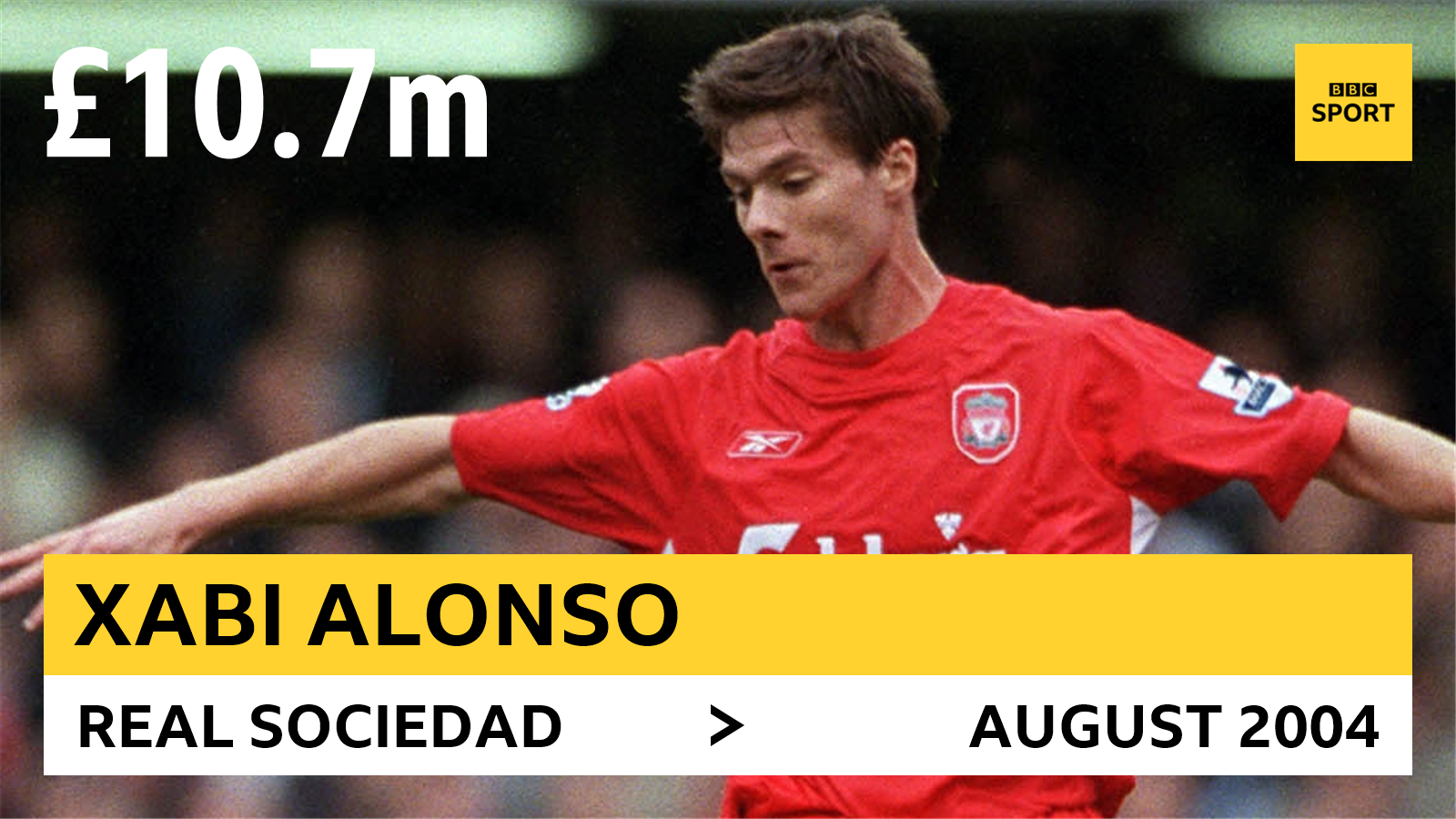 Manager: Rafael Benitez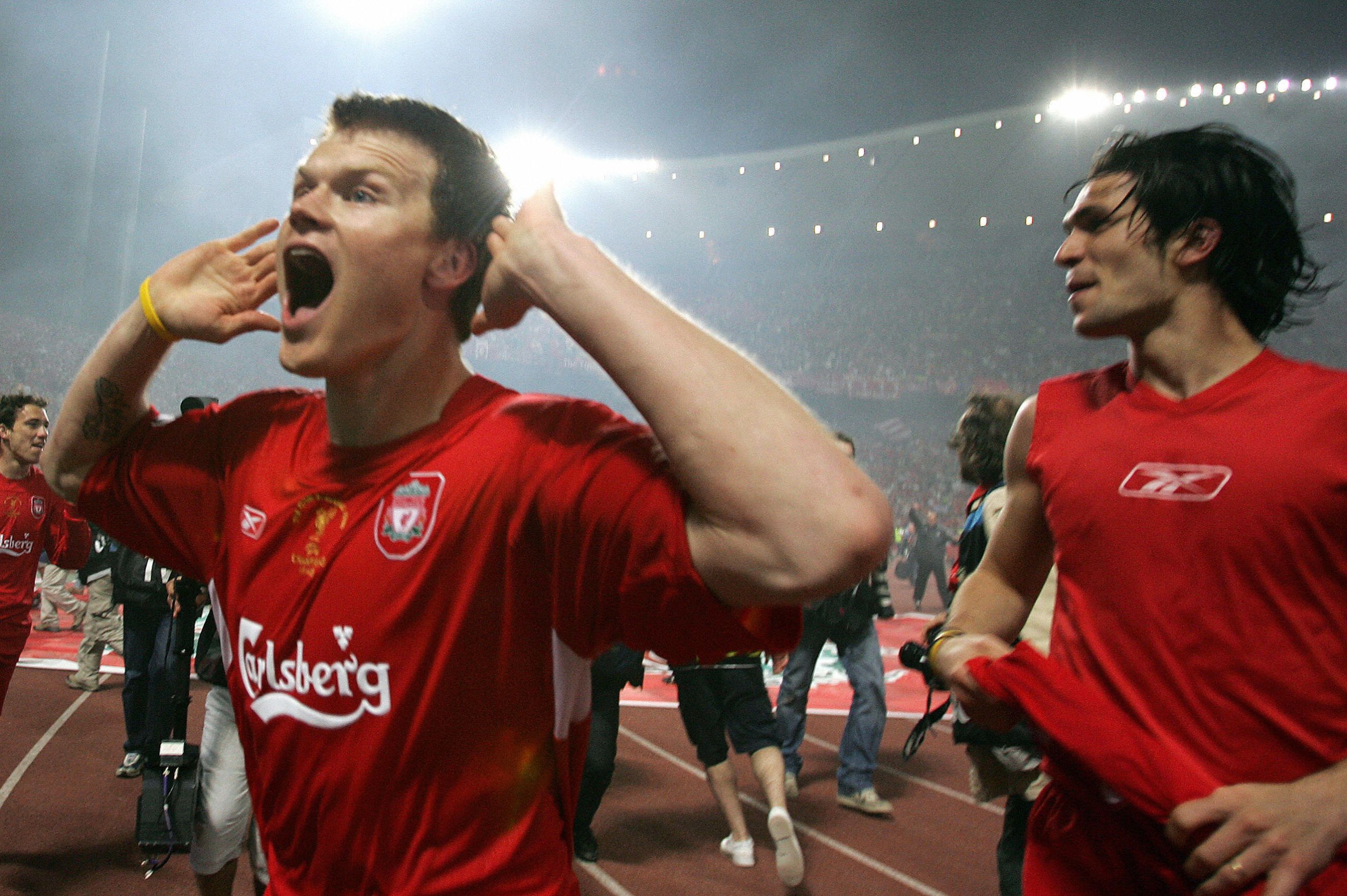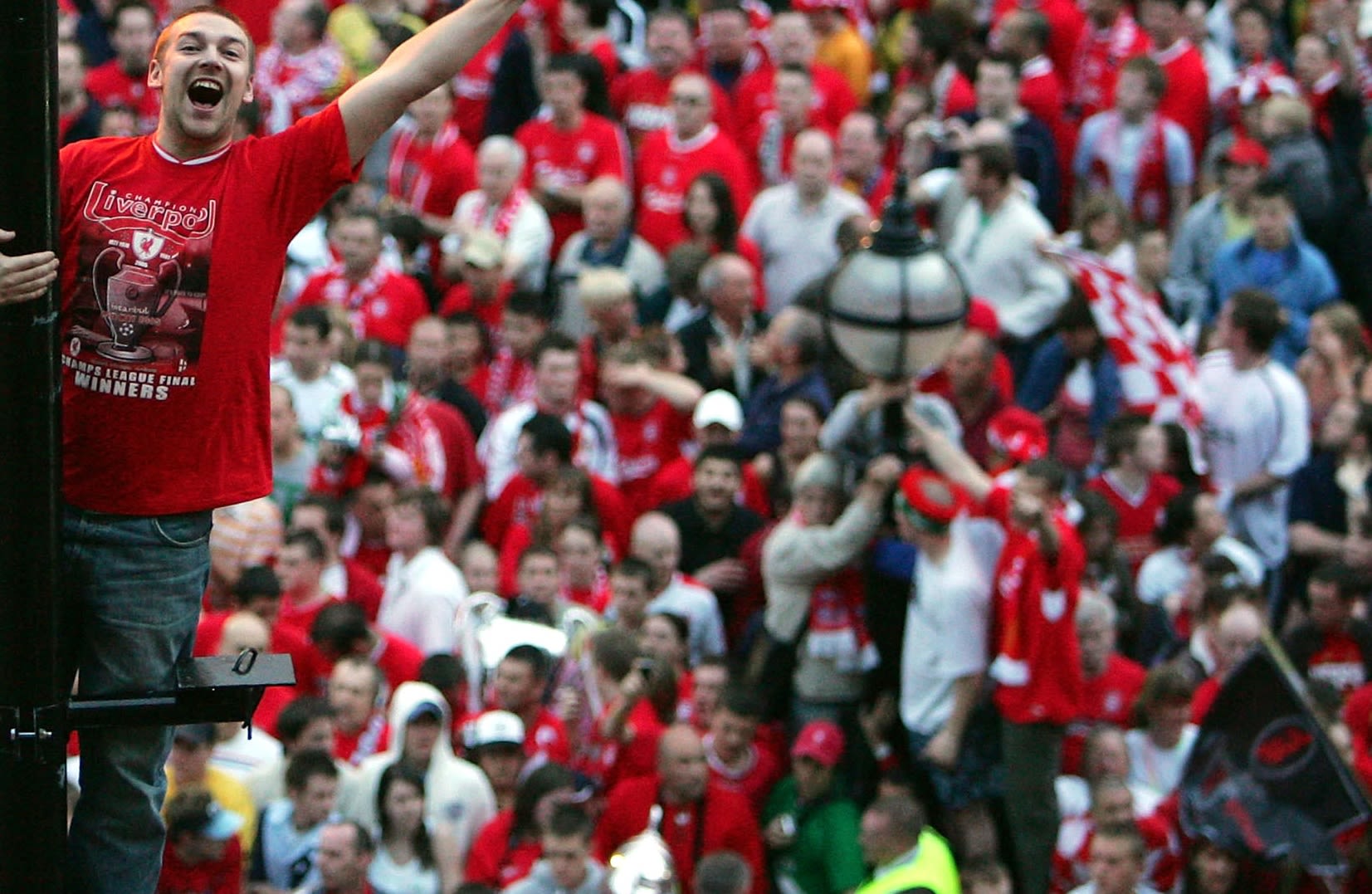 2005-06 season
Rafa makes his mark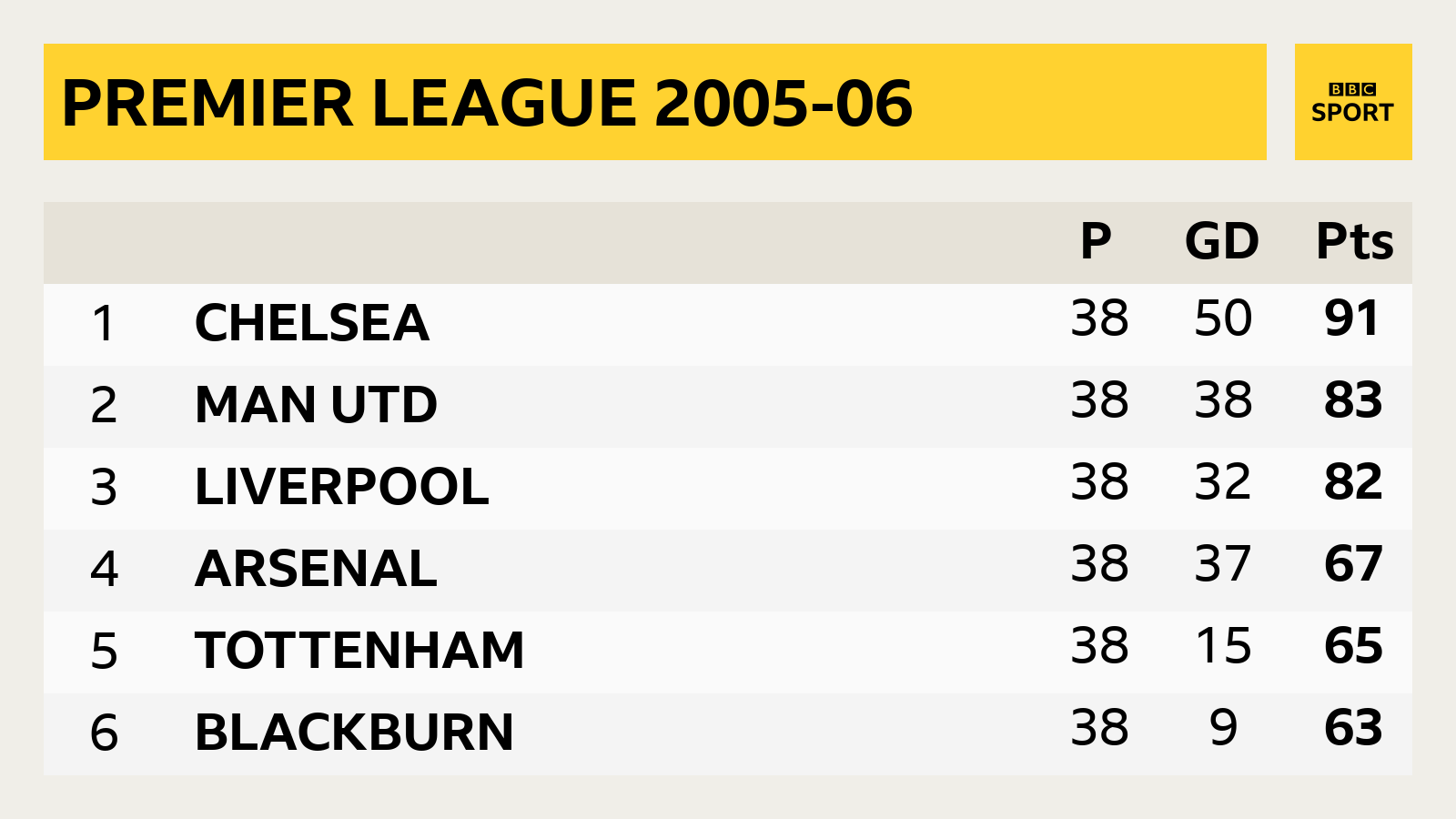 Chelsea won the league again but the gulf between them and the Reds had been cut by a whopping 28 points as Benitez made his mark at Anfield. In came Peter Crouch, Daniel Agger and Pepe Reina as Steven Gerrard found his shooting boots and Liverpool racked up their highest points total since 1988.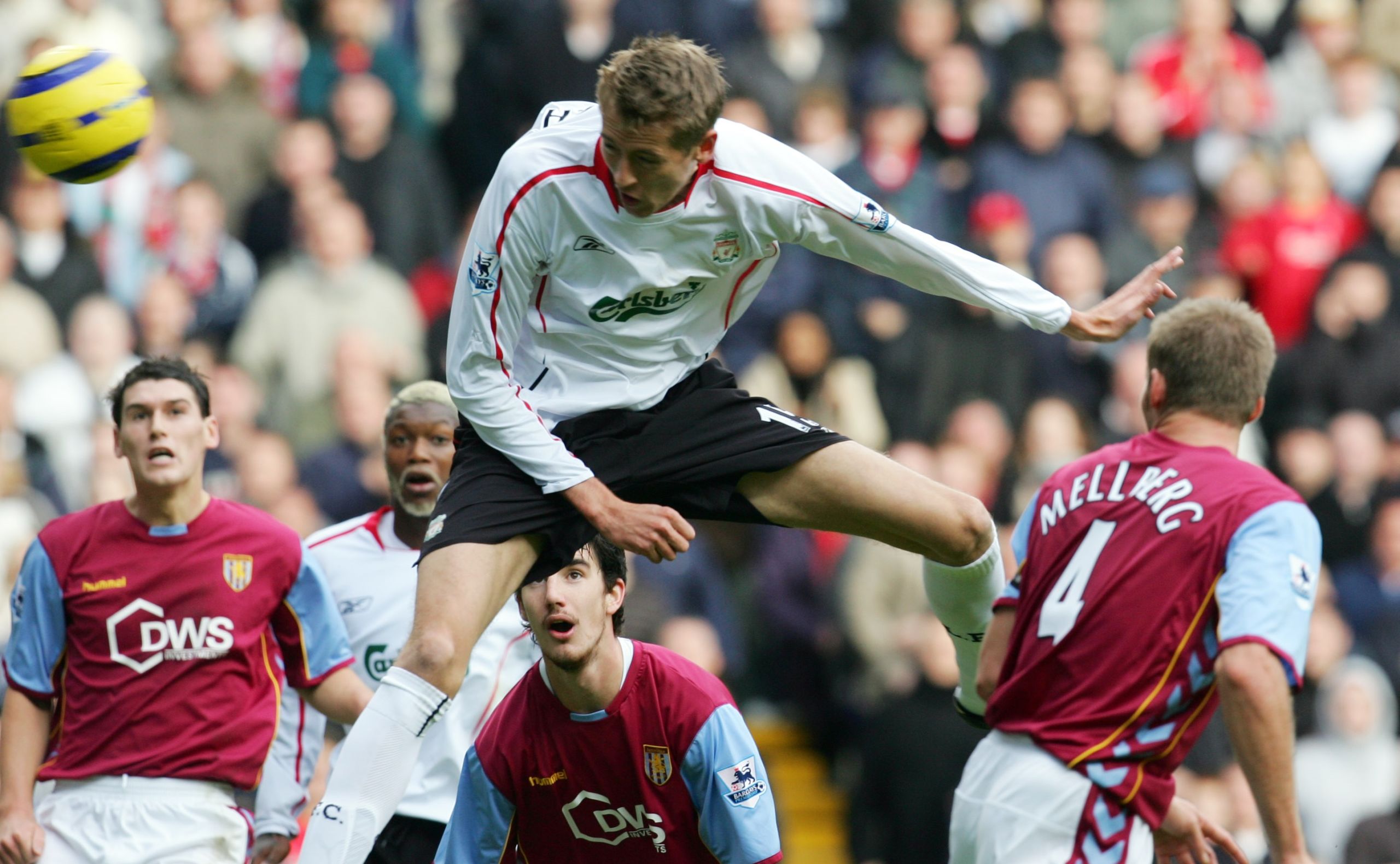 In fact their haul of 82 points would have been enough to win the league in six Premier League seasons. A clear improvement.
Gerrard's heroics extended to the FA Cup as his ridiculous goal helped see off West Ham, Robbie Fowler was back, but the Champions League defence ended limply in the last 16.
---
---
Top of the Pops came to an end, the first Parkrun was held in London's Bushy Park, Sven-Goran Eriksson left the England job after another shootout defeat at the World Cup and the first high-definition television broadcast hit the UK.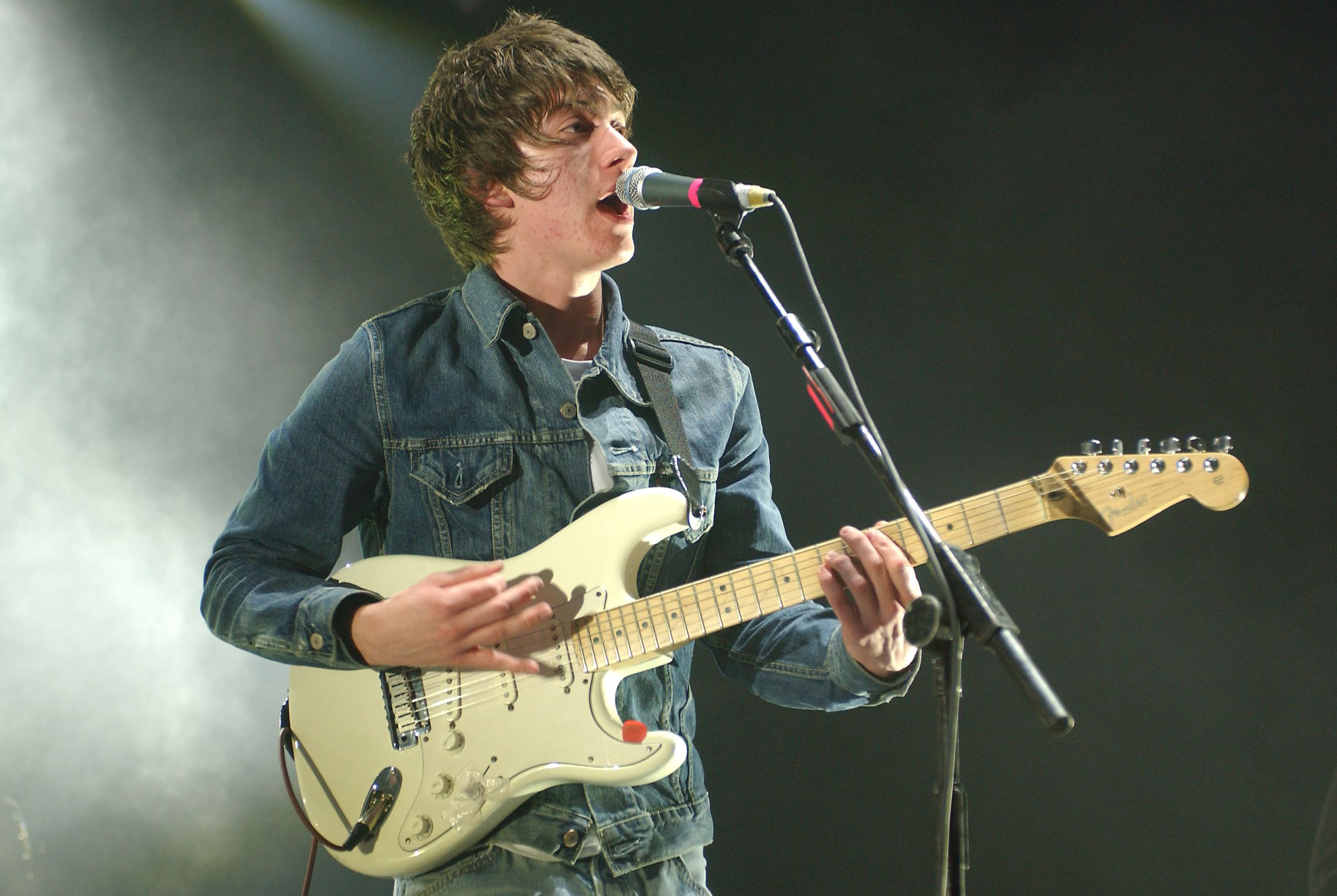 Points behind winners: 9
Trophies: FA Cup, Uefa Super Cup
Top scorer (all comps): Steven Gerrard (23)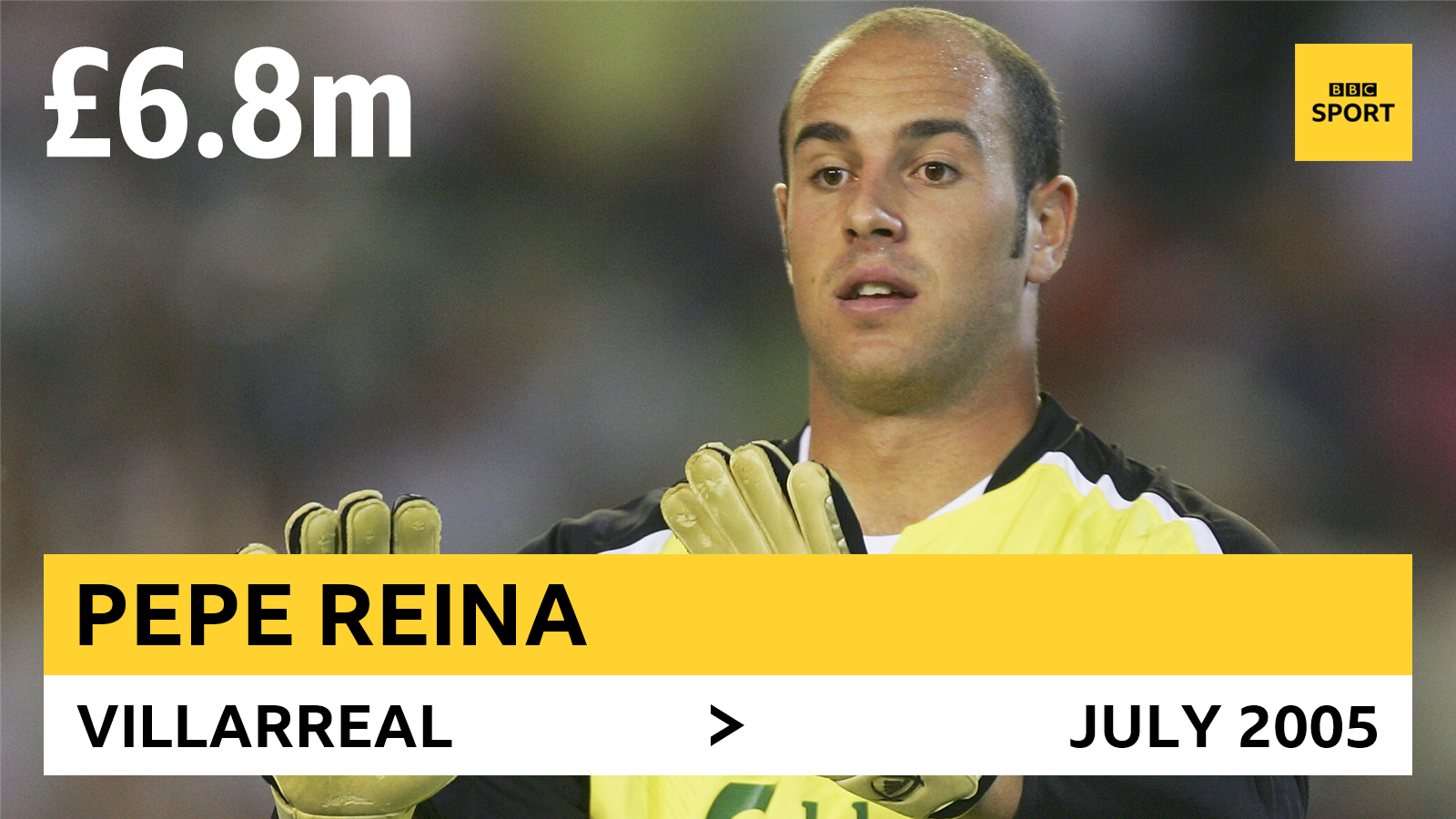 Manager: Rafael Benitez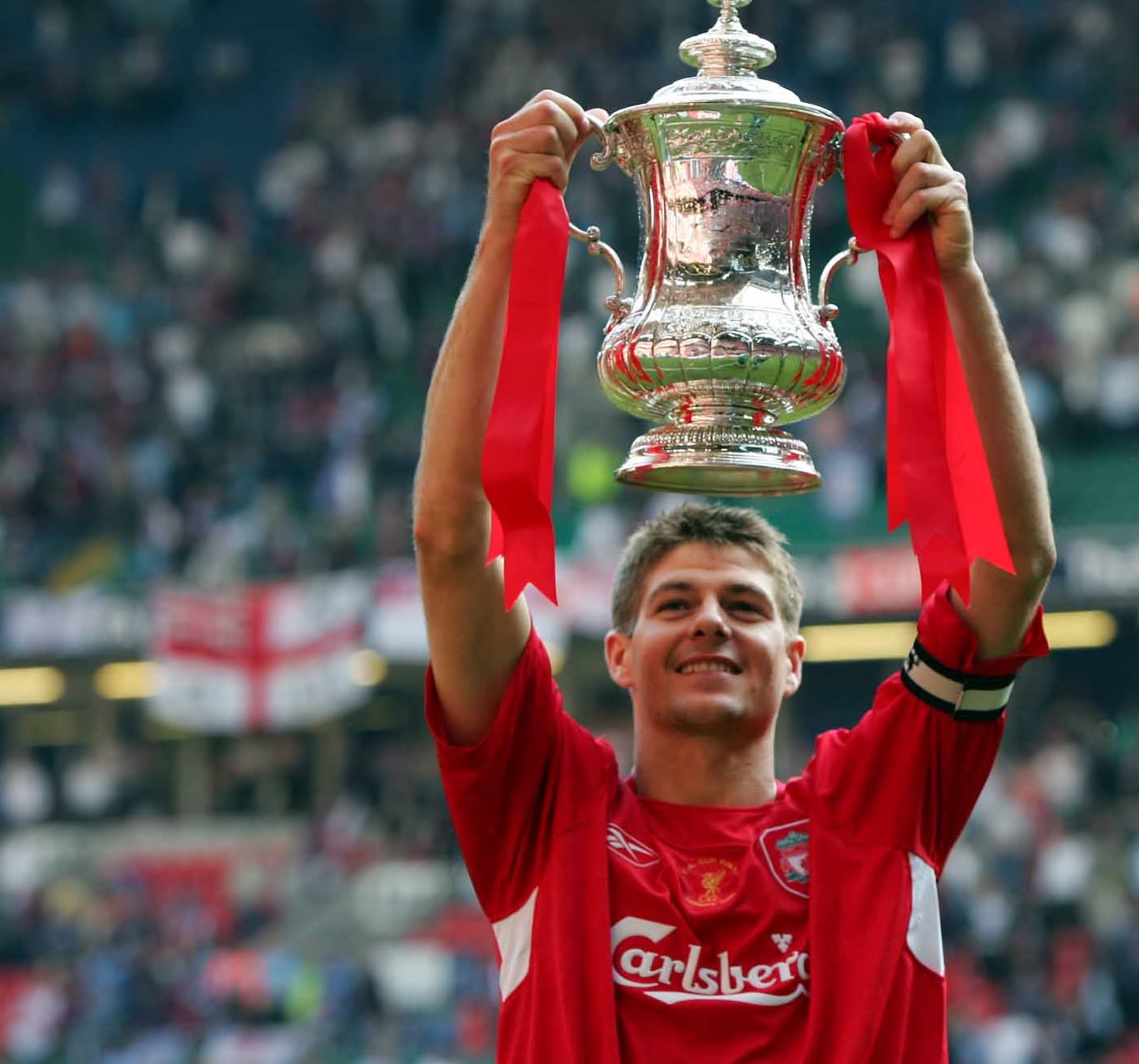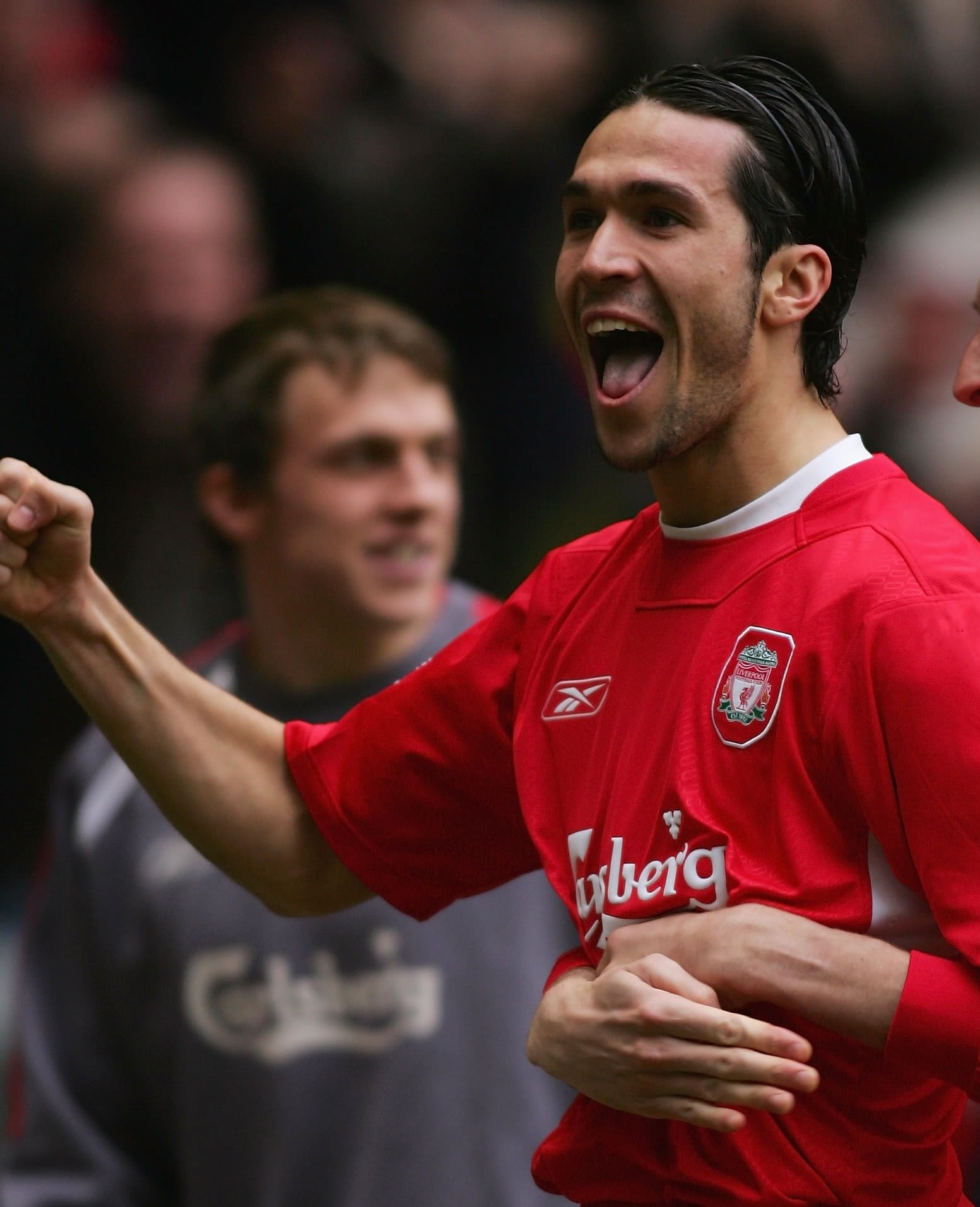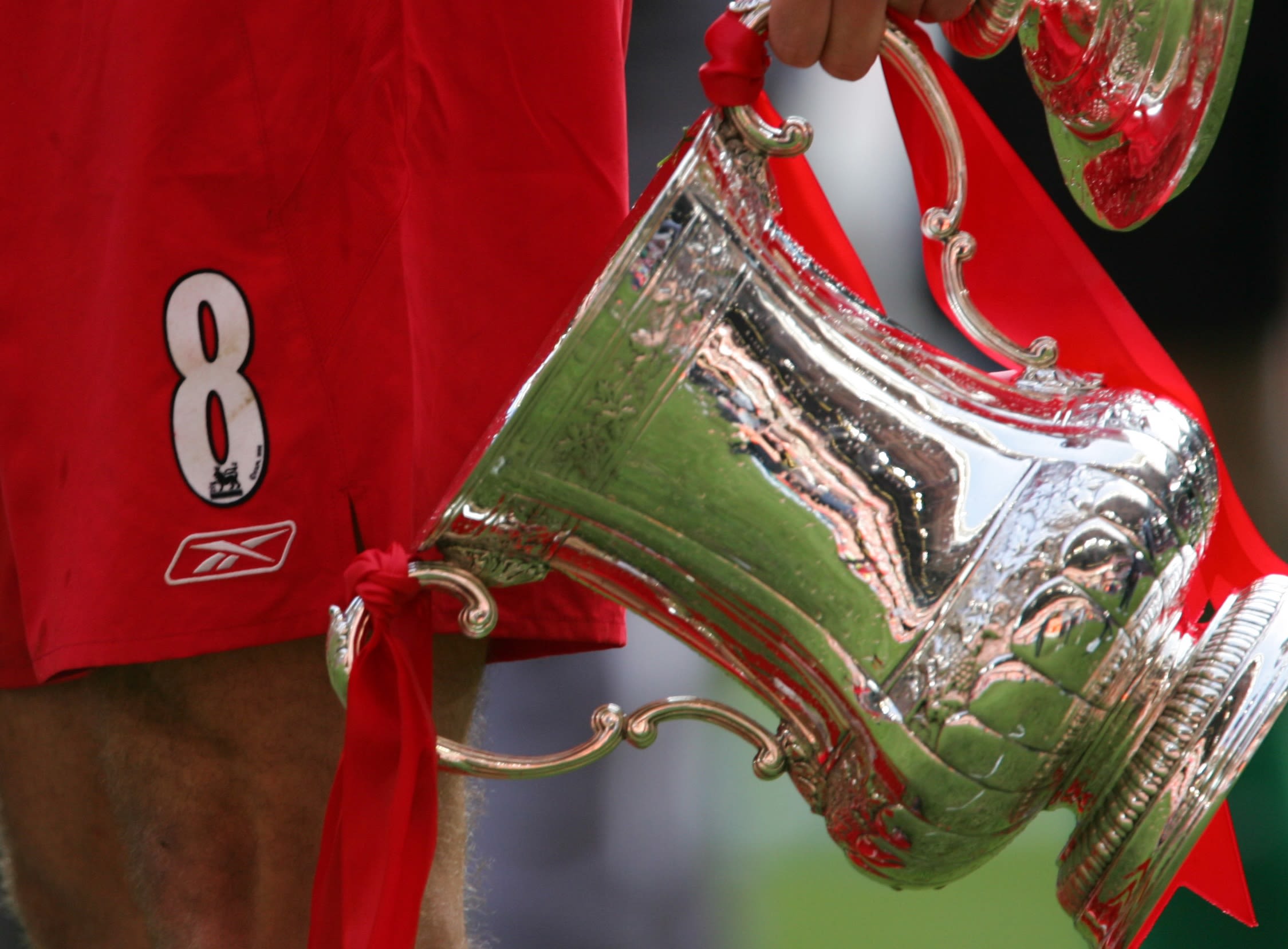 2006-07 season
Heartbreak in Athens, top three at home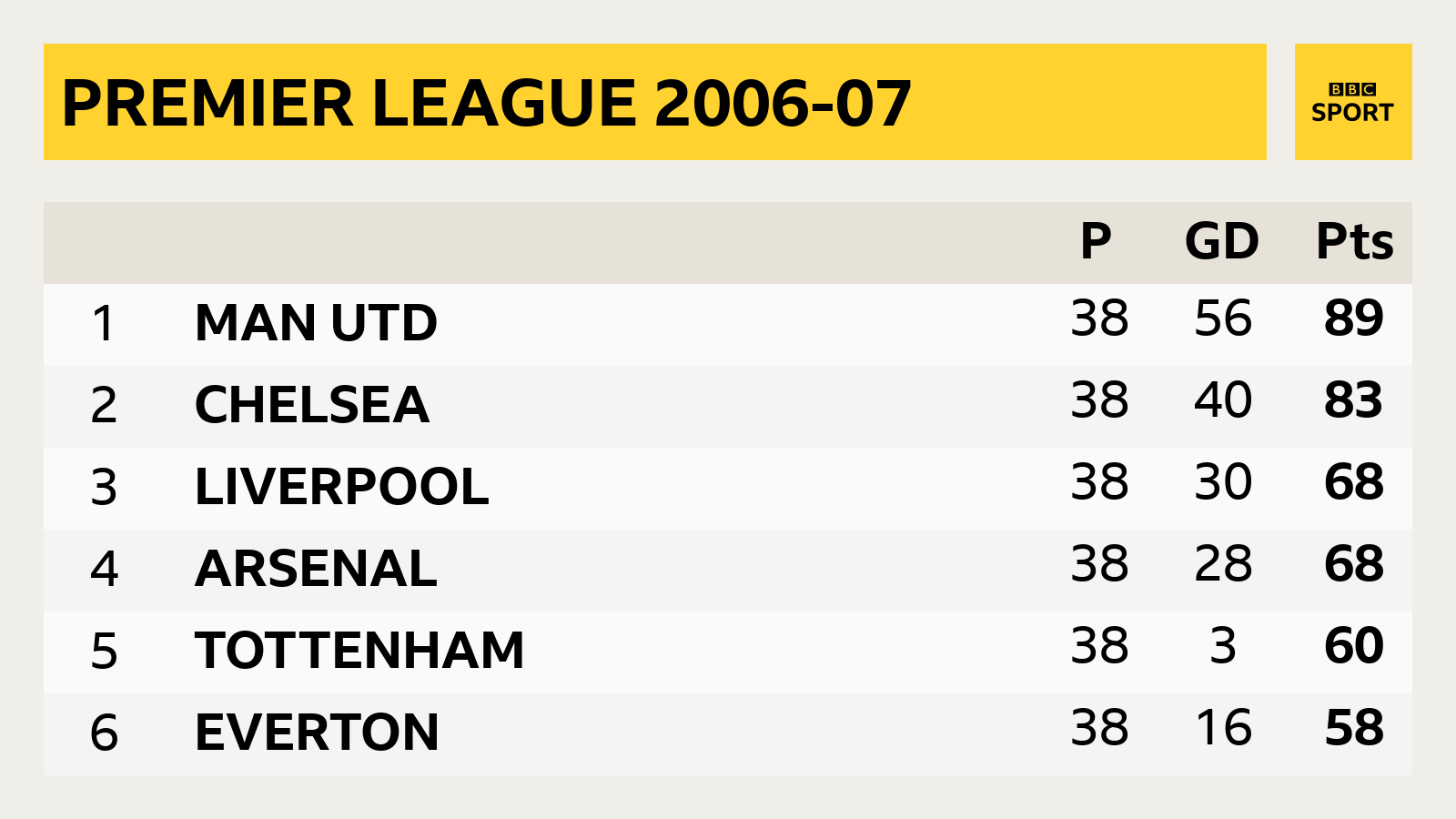 Xabi Alonso scored from his own half but Liverpool again couldn't muster a real title challenge, finishing well behind a Cristiano Ronaldo and Wayne Rooney-inspired Manchester United.
It was a brighter story in Europe as Benitez once again took the Reds to the Champions League final, Chelsea knocked out on the way in dramatic fashion.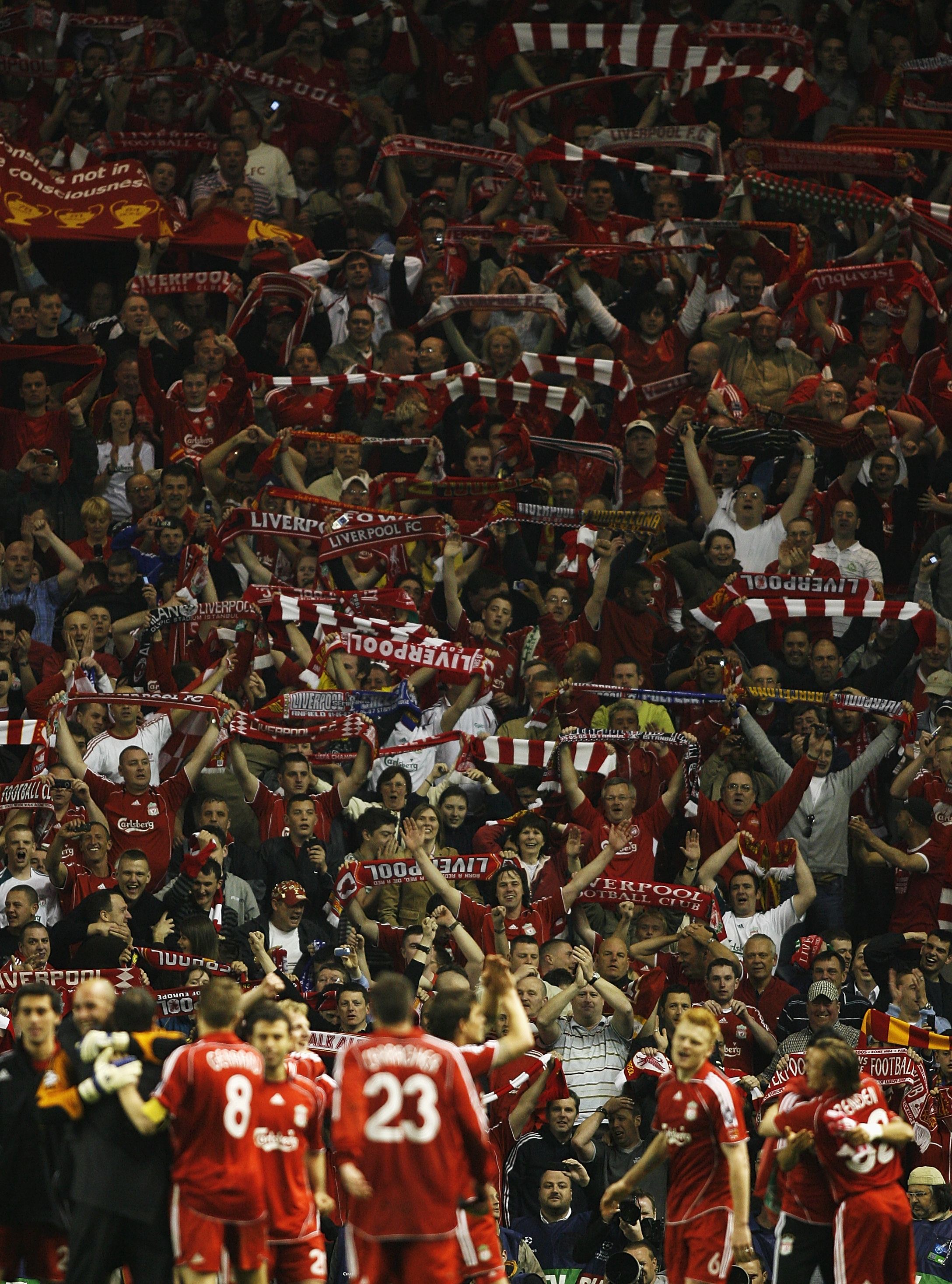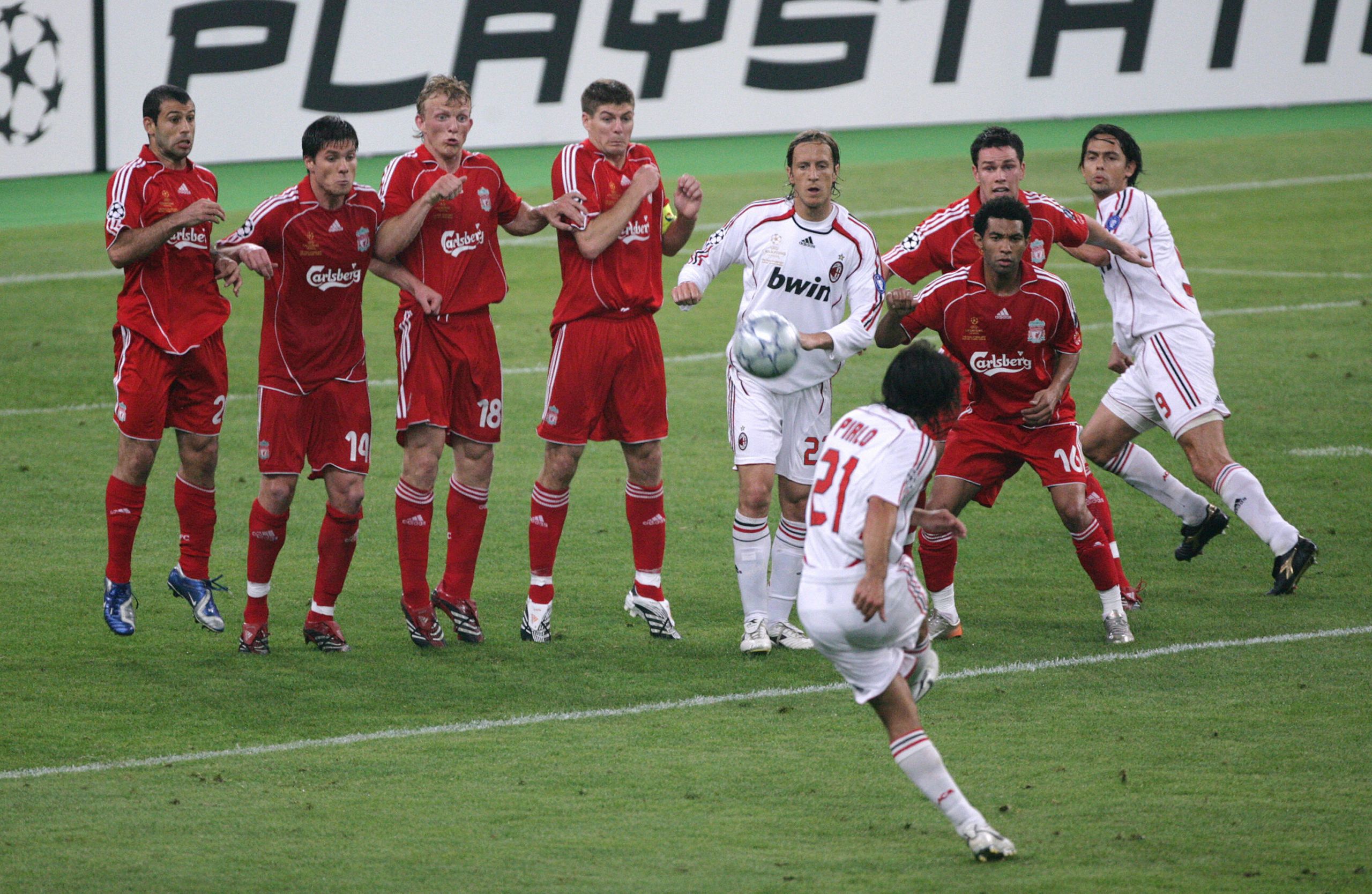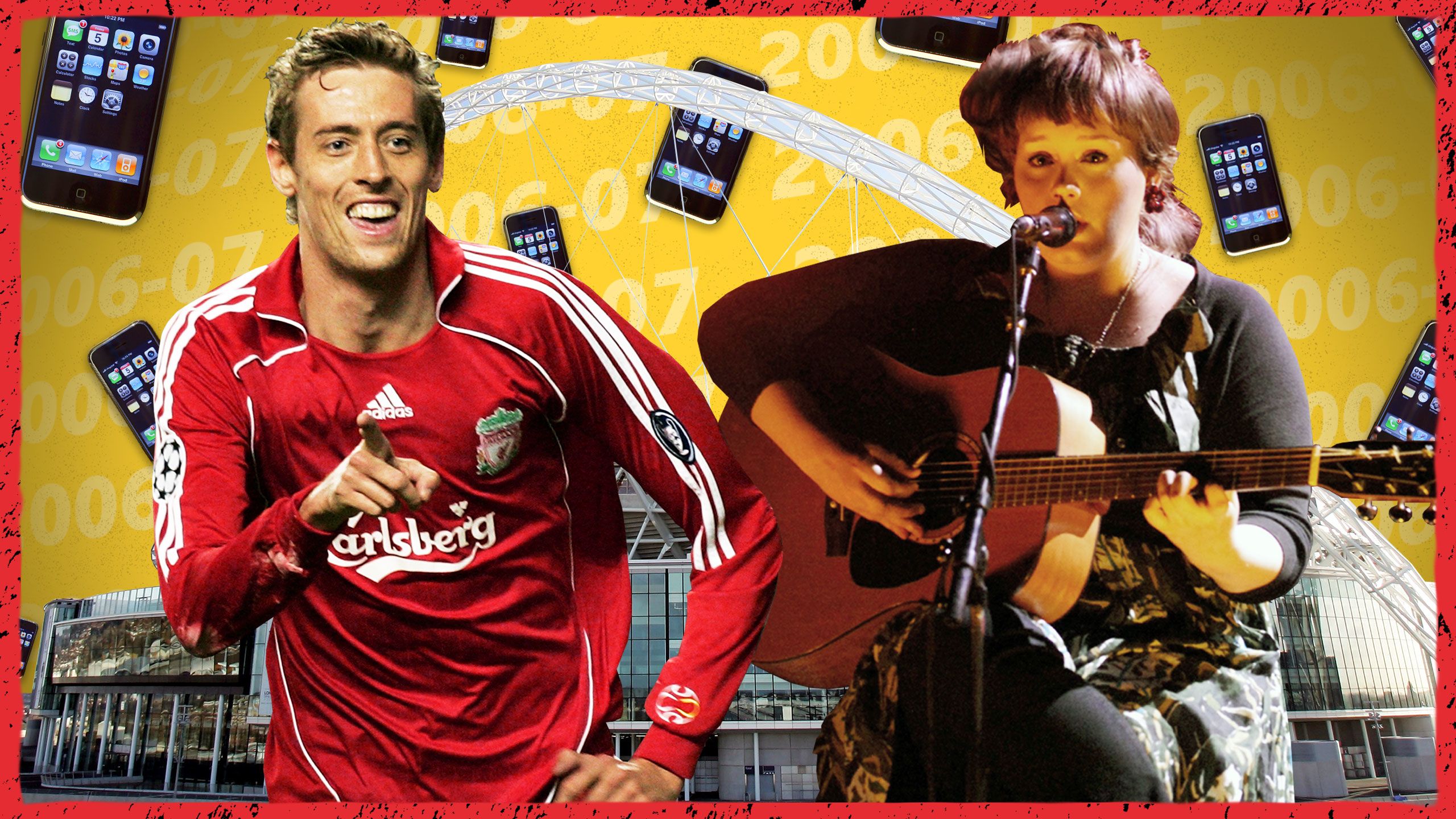 AC Milan would have their revenge though - Kaka and Filippo Inzaghi were outstanding to leave Dirk Kuyt's goal of little consolation in Athens.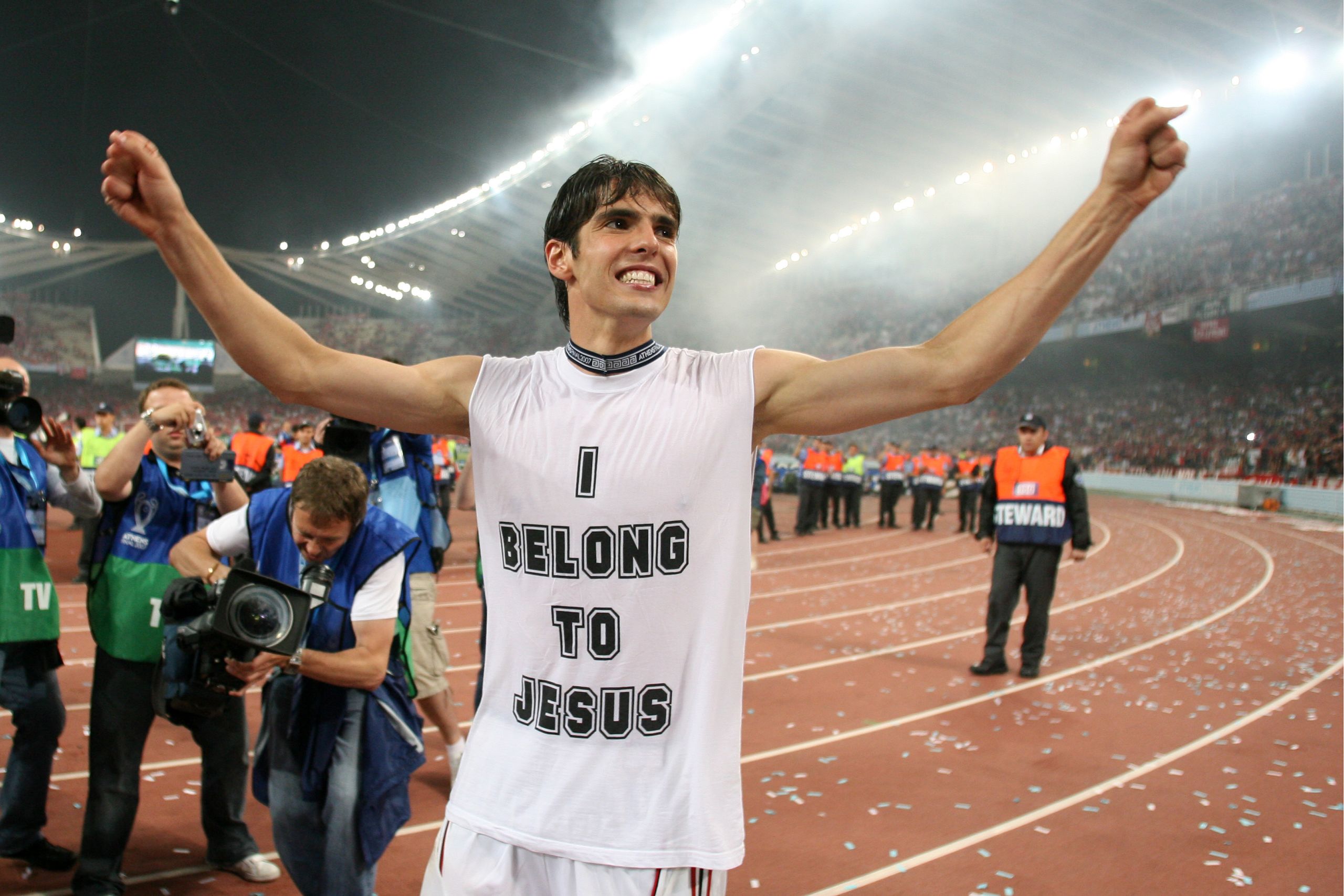 It was a year of game-changers - the Apple iPhone was introduced to the world, Deal or No Deal had its first £250k winner, Adele made her Jools Holland debut, BBC sports show Grandstand came to an end and the 'new' Wembley opened its stands.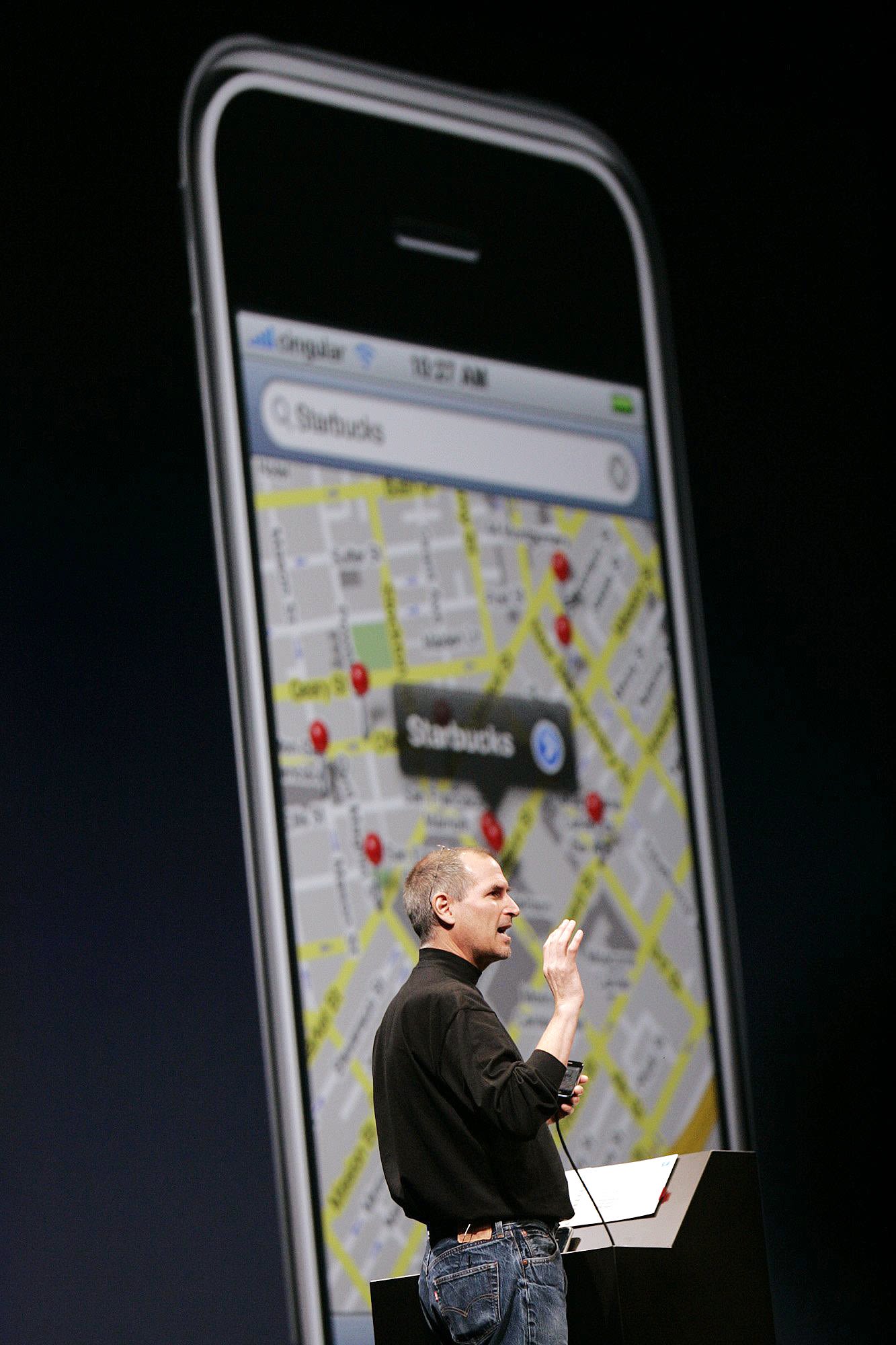 Points behind winners: 21
Trophies: Community Shield
Top scorer (all comps): Peter Crouch (18)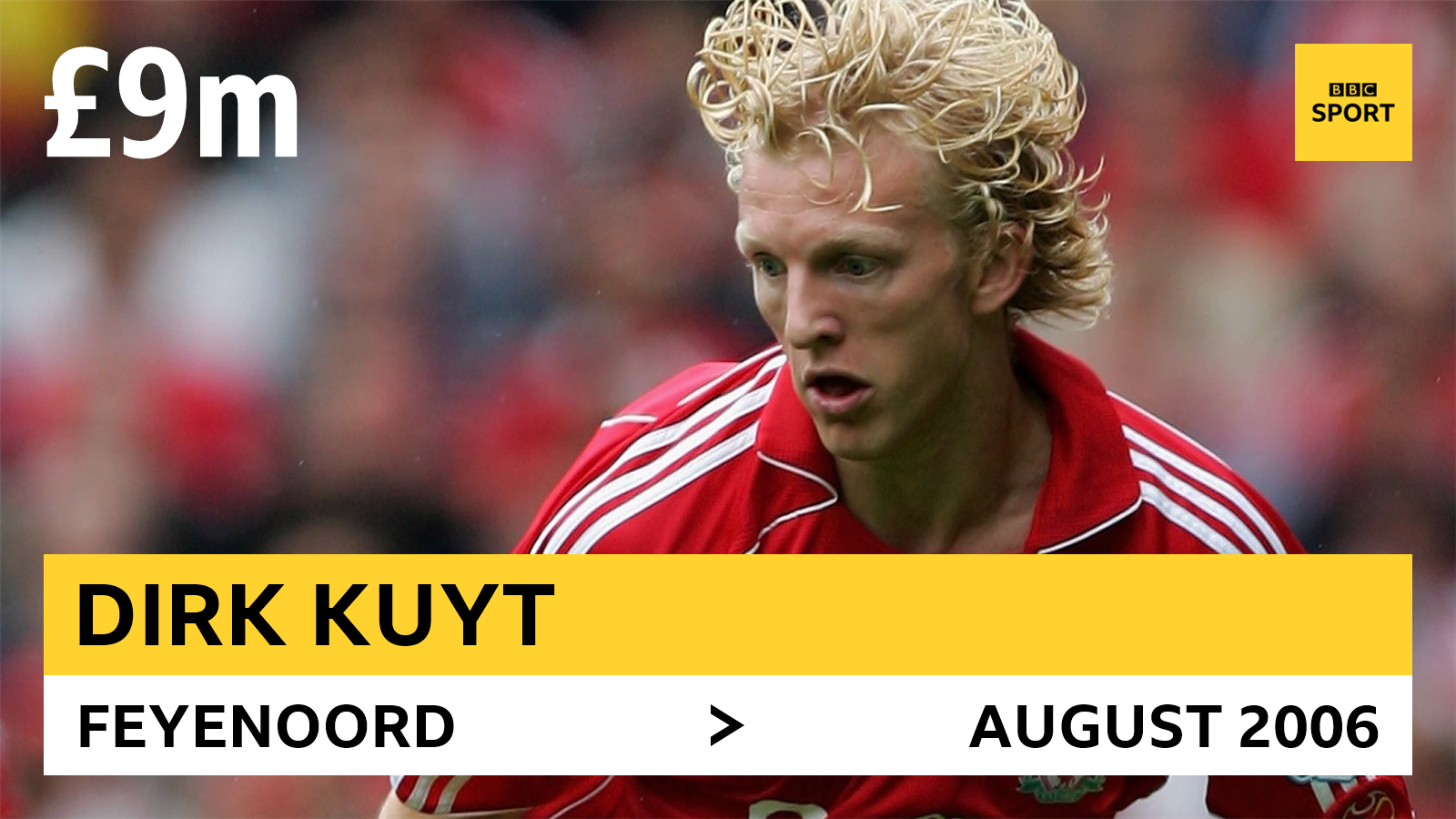 Manager: Rafael Benitez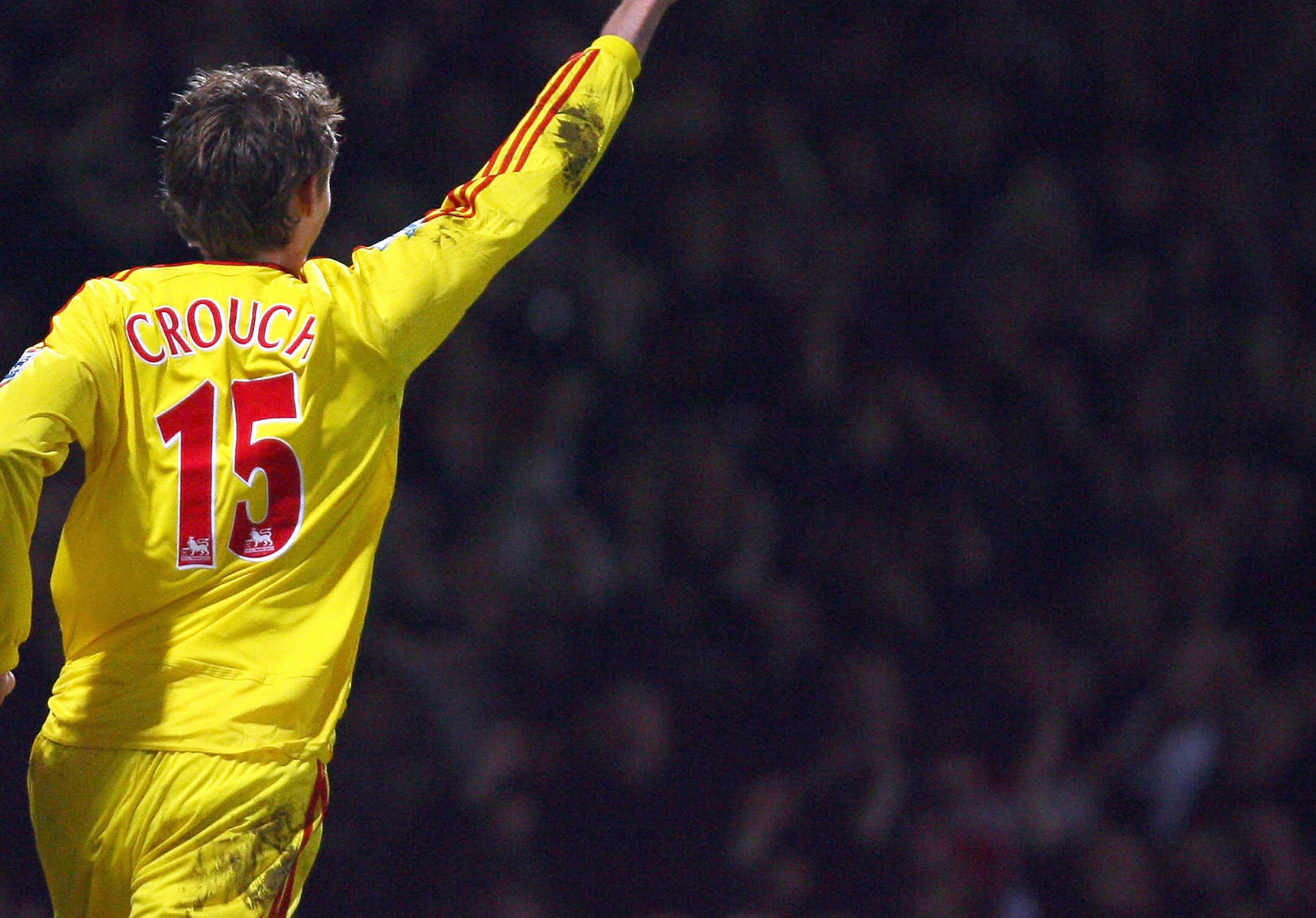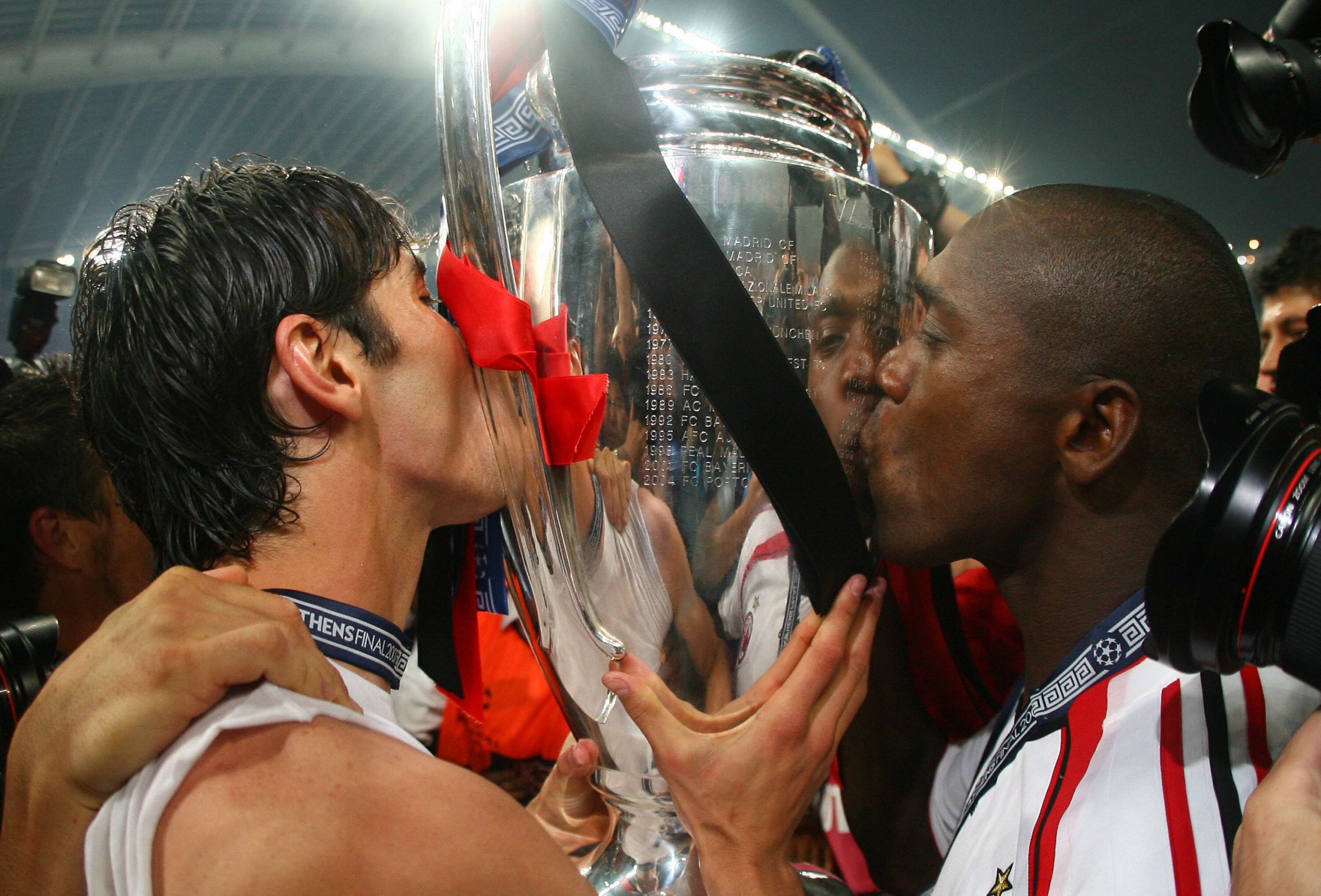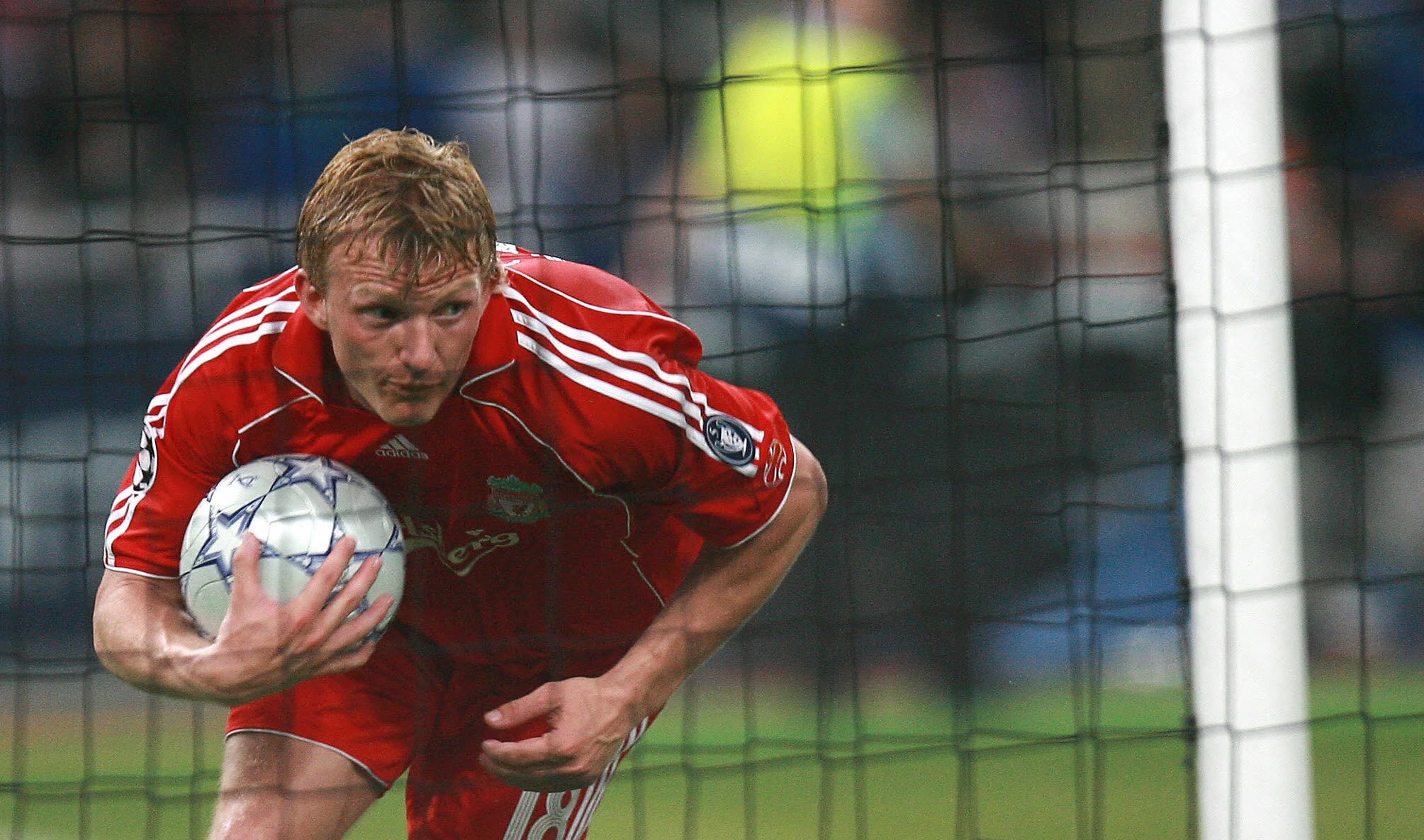 2007-08 season
Torres lights it up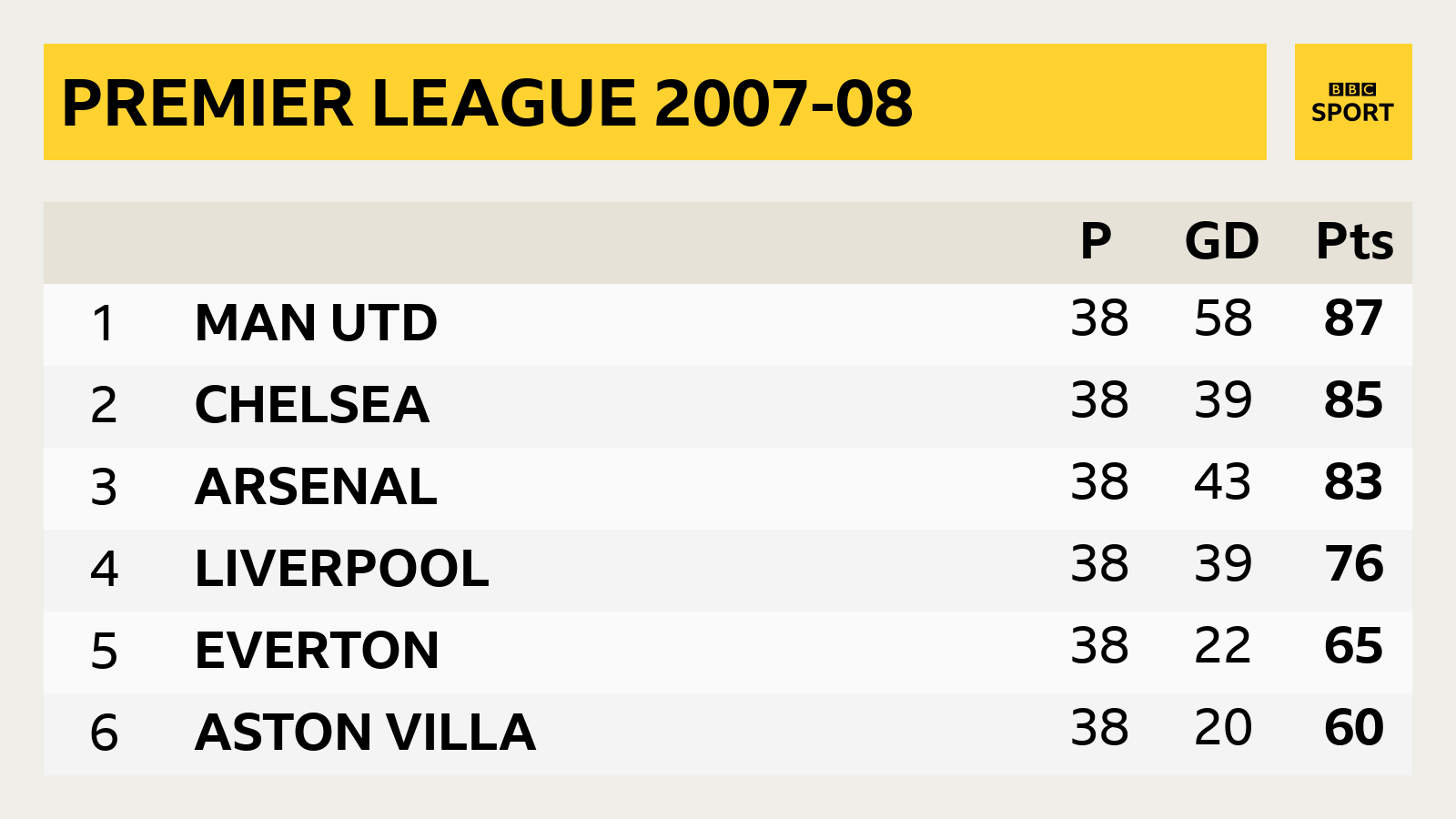 Enter Fernando Torres. The new Spanish number nine was at the heart of an avalanche of goals as Liverpool scored more than 100 times in all competitions, and saw players hit hat-tricks in every one they entered.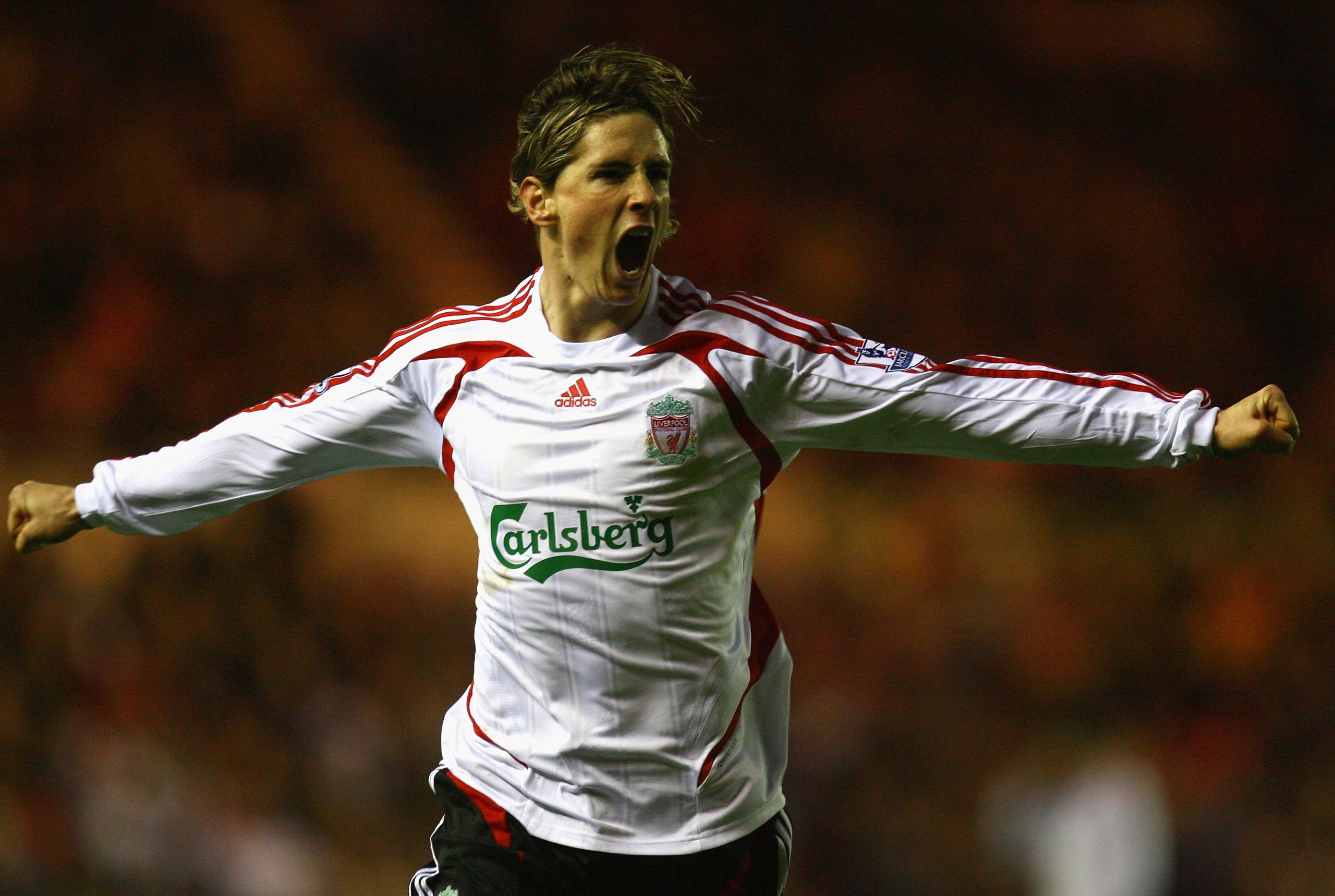 There was still no title challenge, despite being top after six games - Cristiano Ronaldo was in his pomp down the road, scoring 42 goals, and too many draws around Christmas proved costly for Liverpool.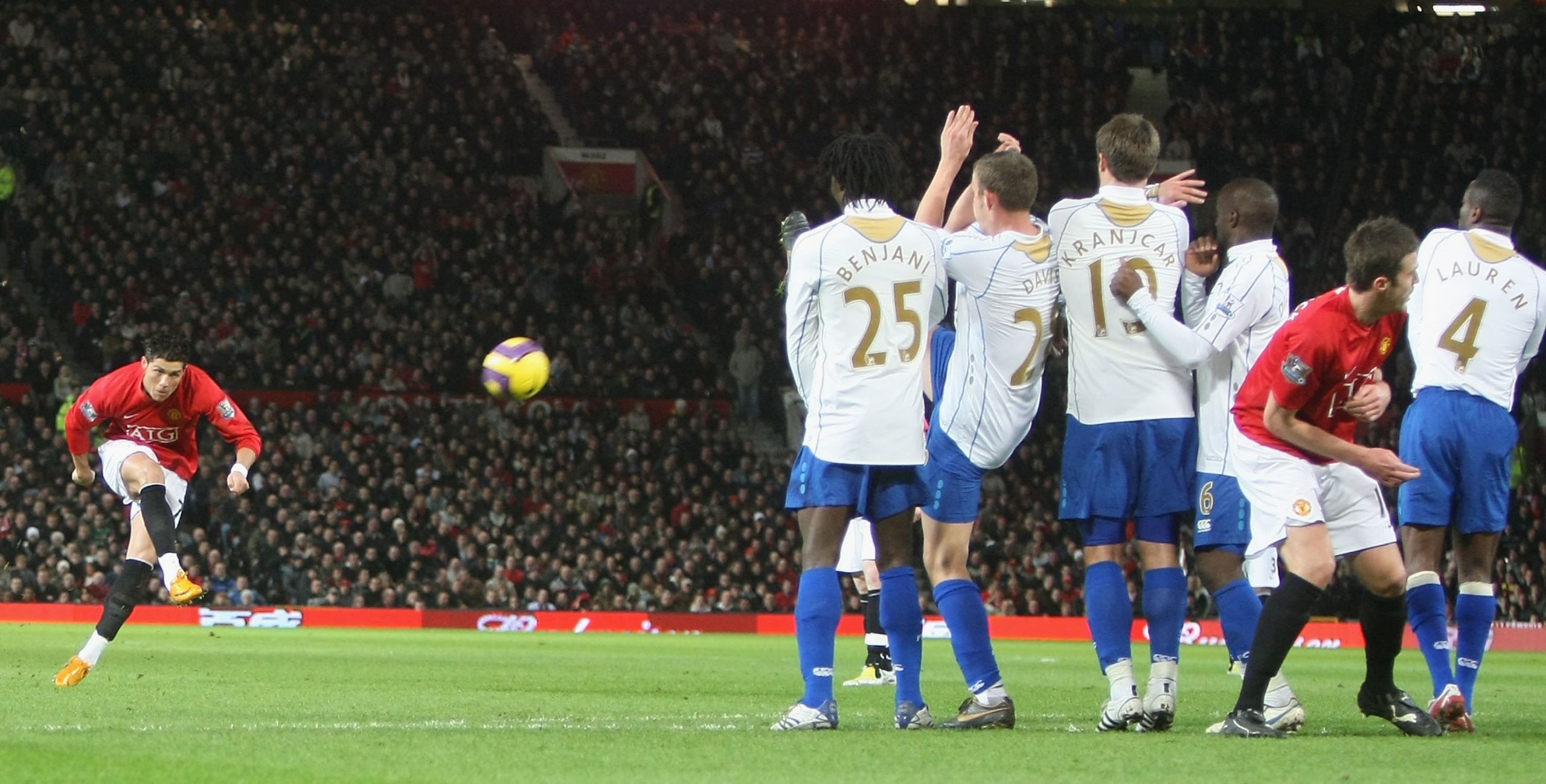 In Europe it was another semi-final in a Champions League dominated by Premier League sides, but this time Chelsea had the last laugh, winning through to the final in Moscow in extra time.
United went on to lift the trophy, John Terry's slip in the Russian rain proving costly.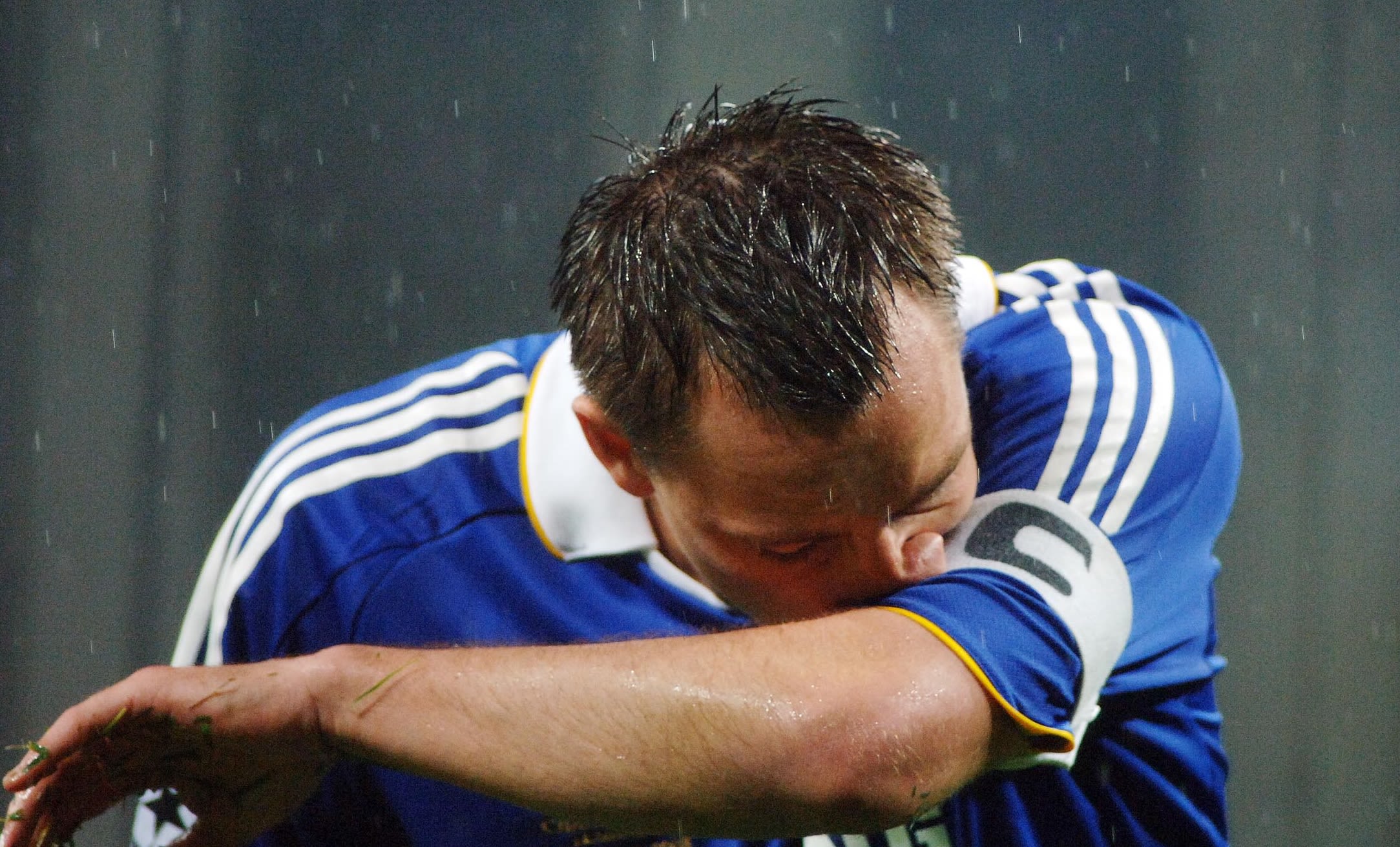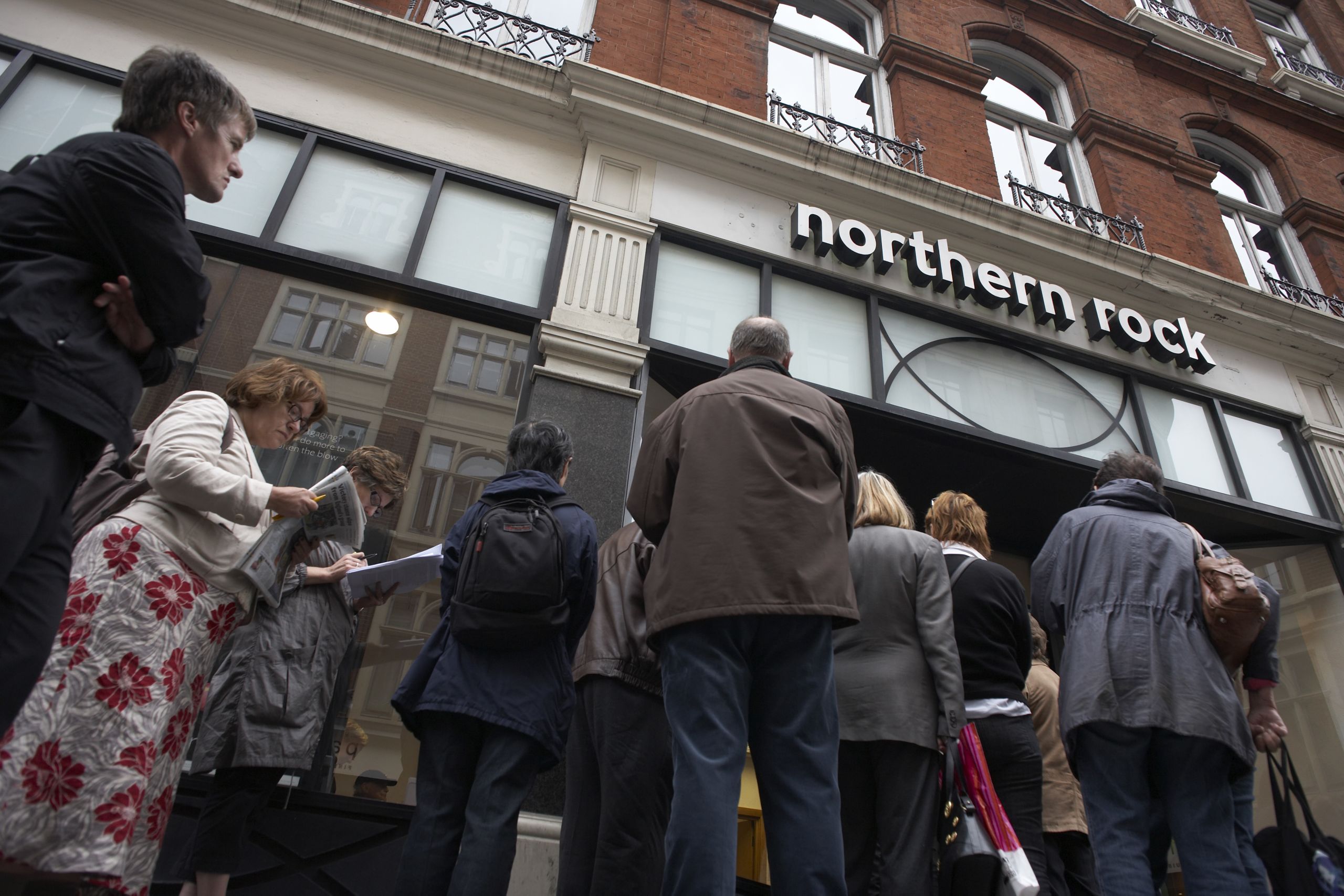 Financial crisis struck worldwide, Northern Rock was nationalised and Boris Johnson became Mayor of London.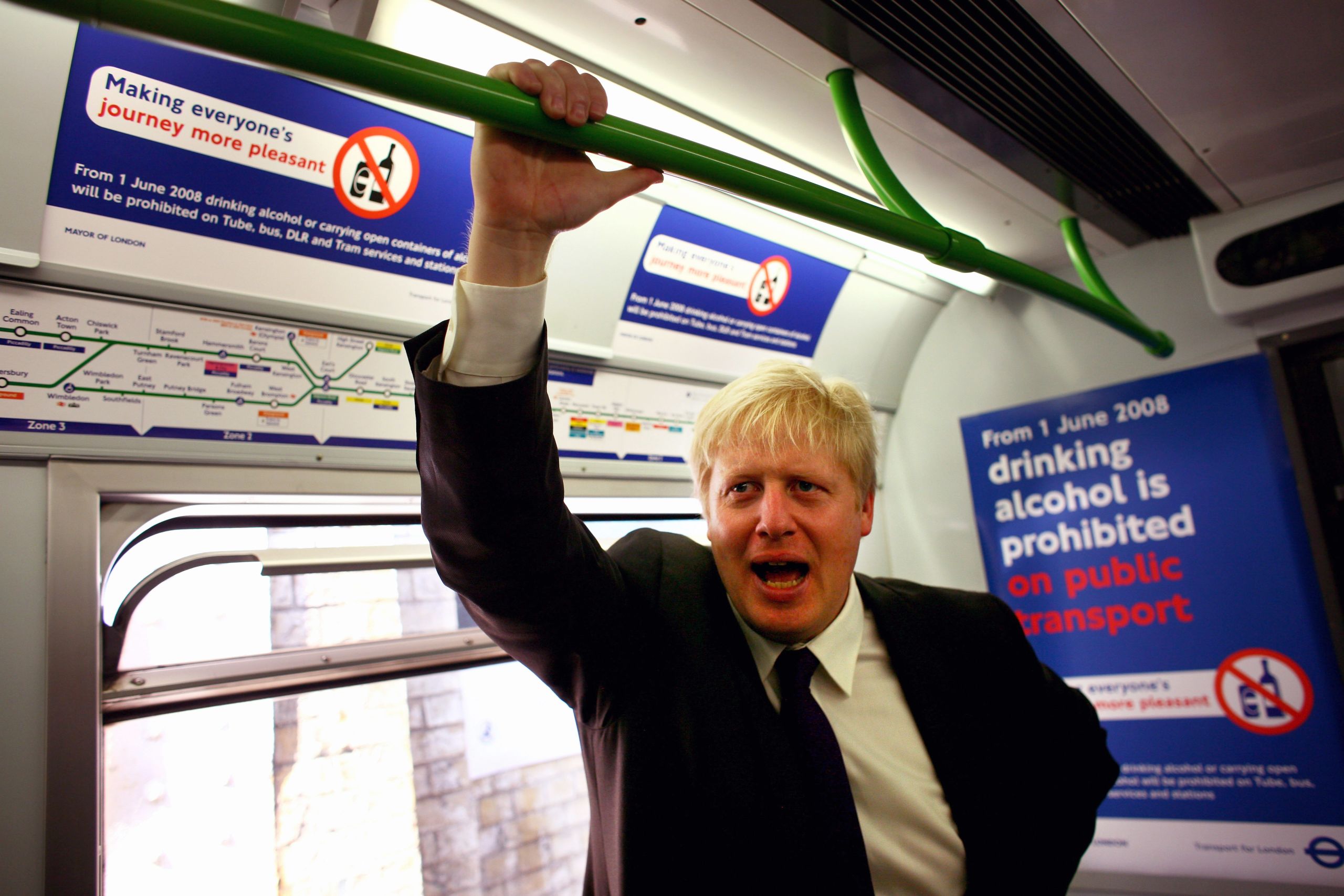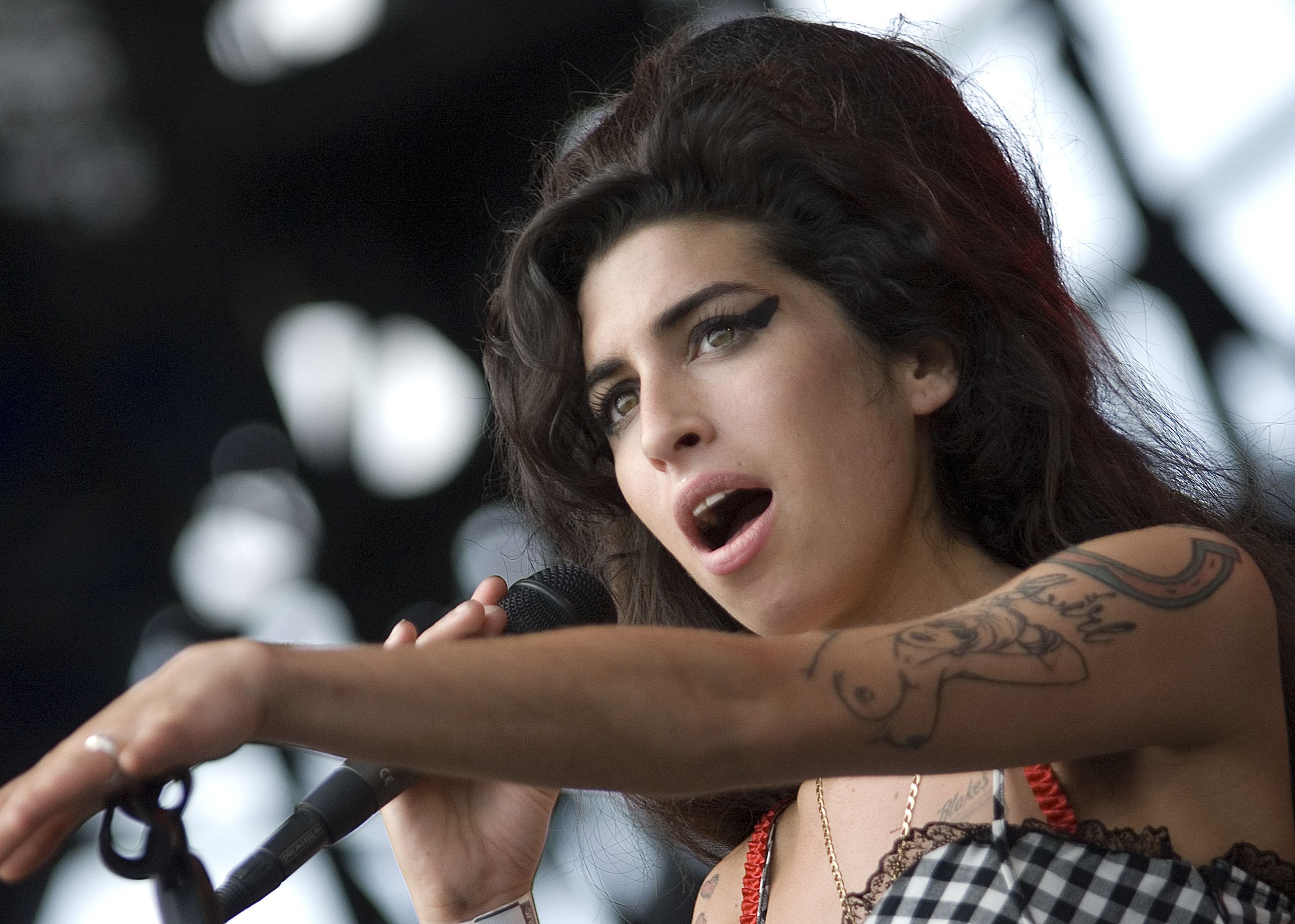 Duffy, Amy Winehouse and Scouting for Girls were shifting albums, Neighbours relocated from the BBC to Five and Sharon Osbourne quit the X-Factor. Meanwhile the Marvel Cinematic Universe was born in the form of Iron Man...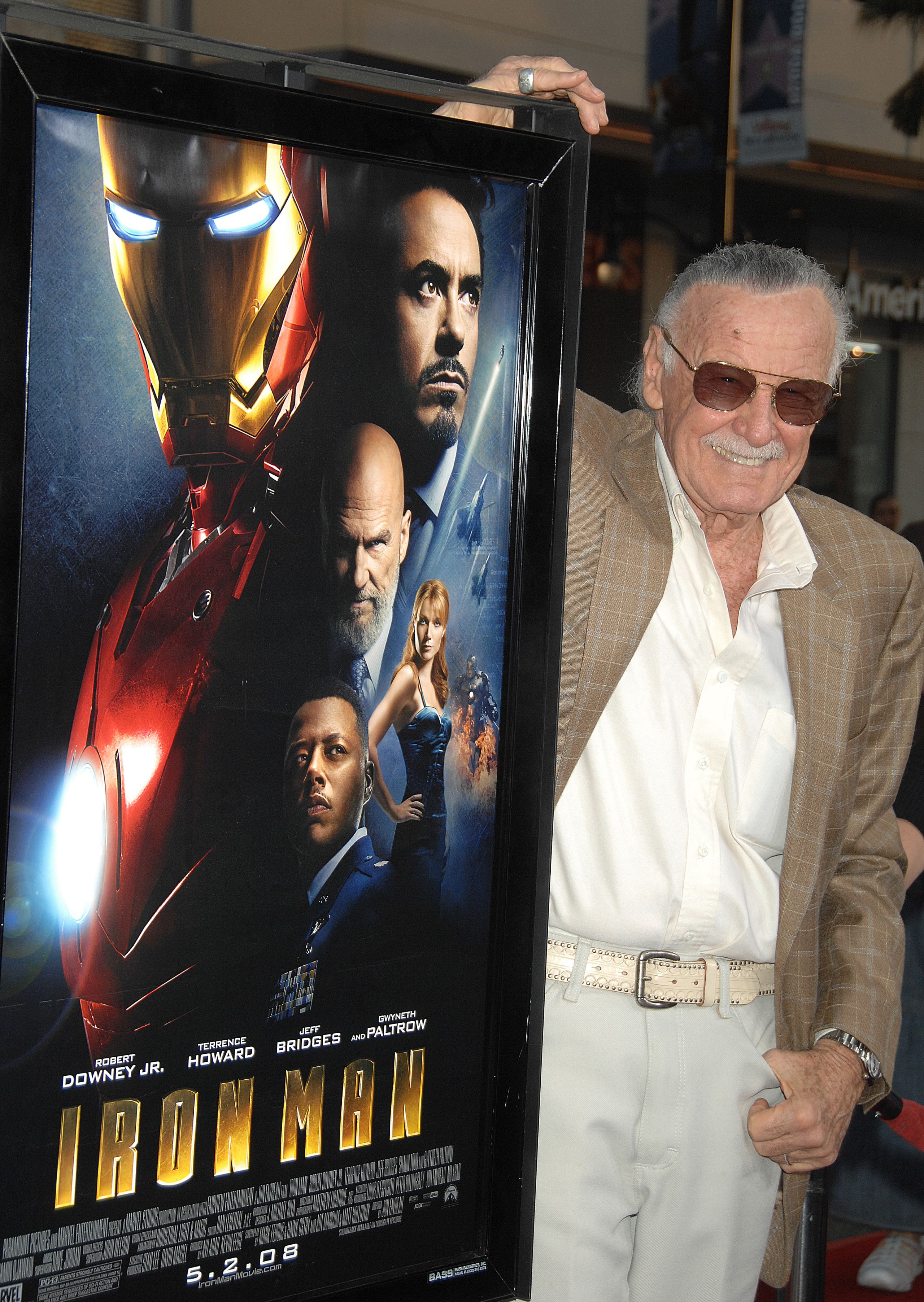 Points behind winners: 11
Trophies: None
Top scorer (all comps): Fernando Torres (33)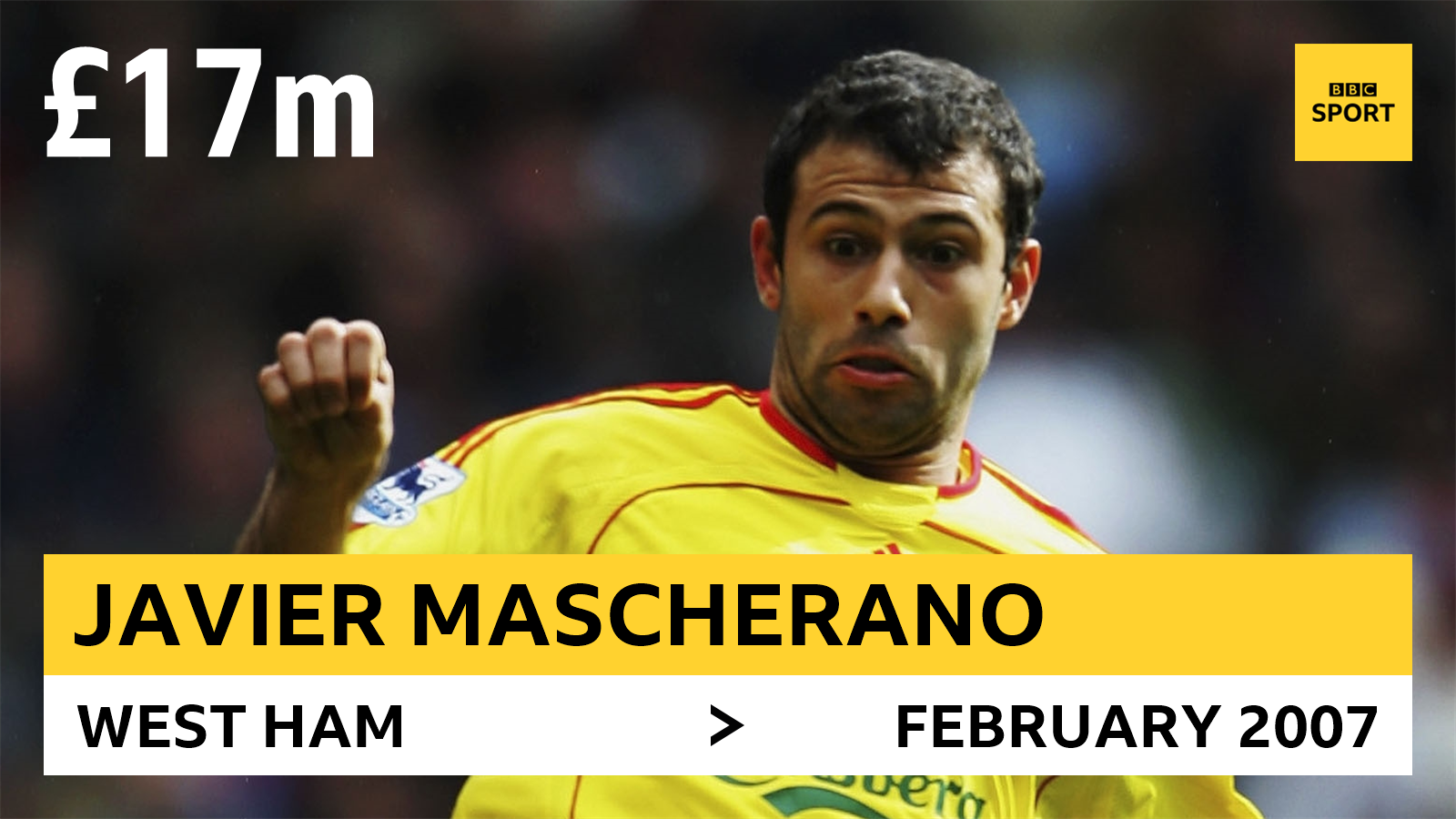 Manager: Rafael Benitez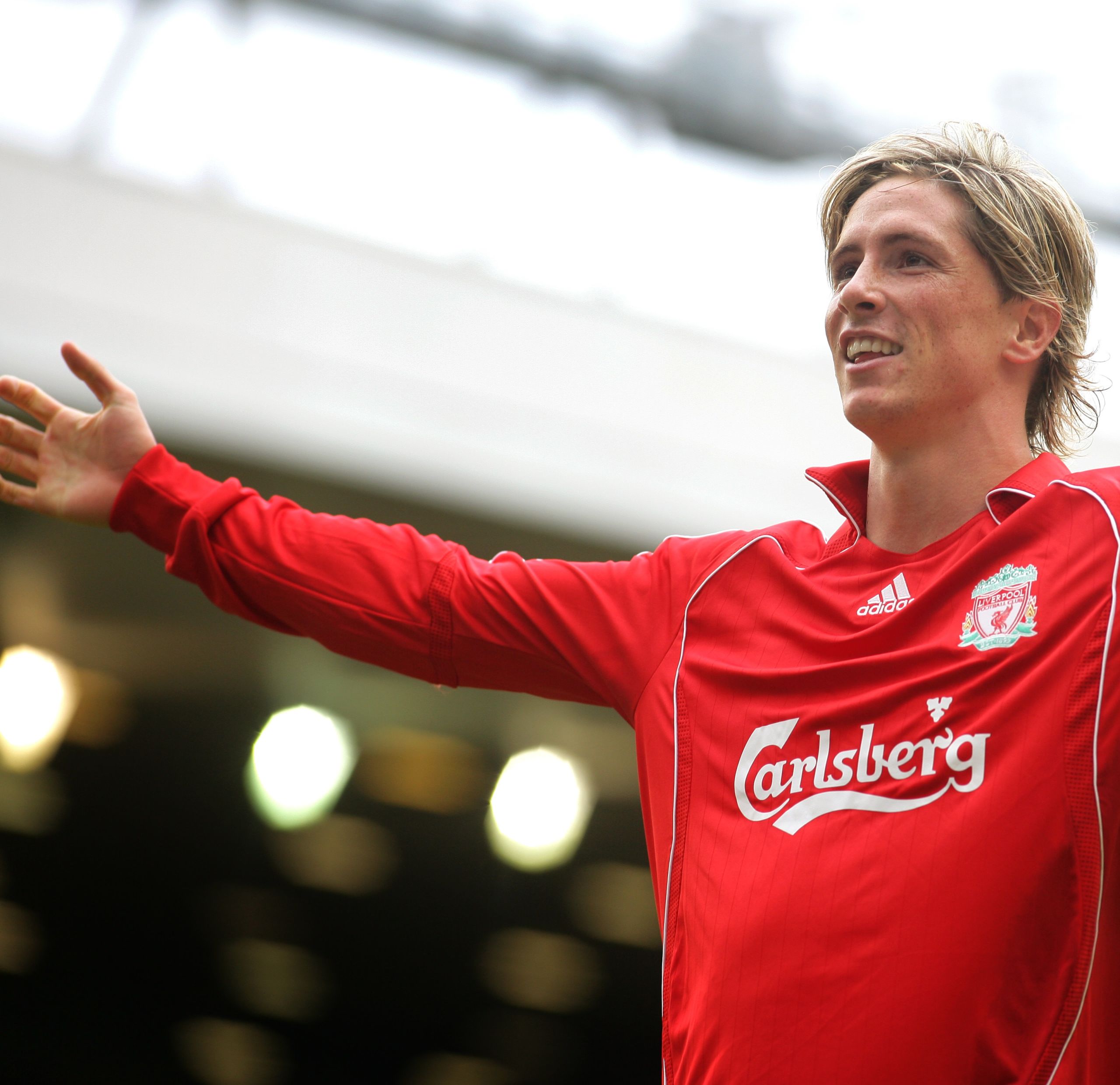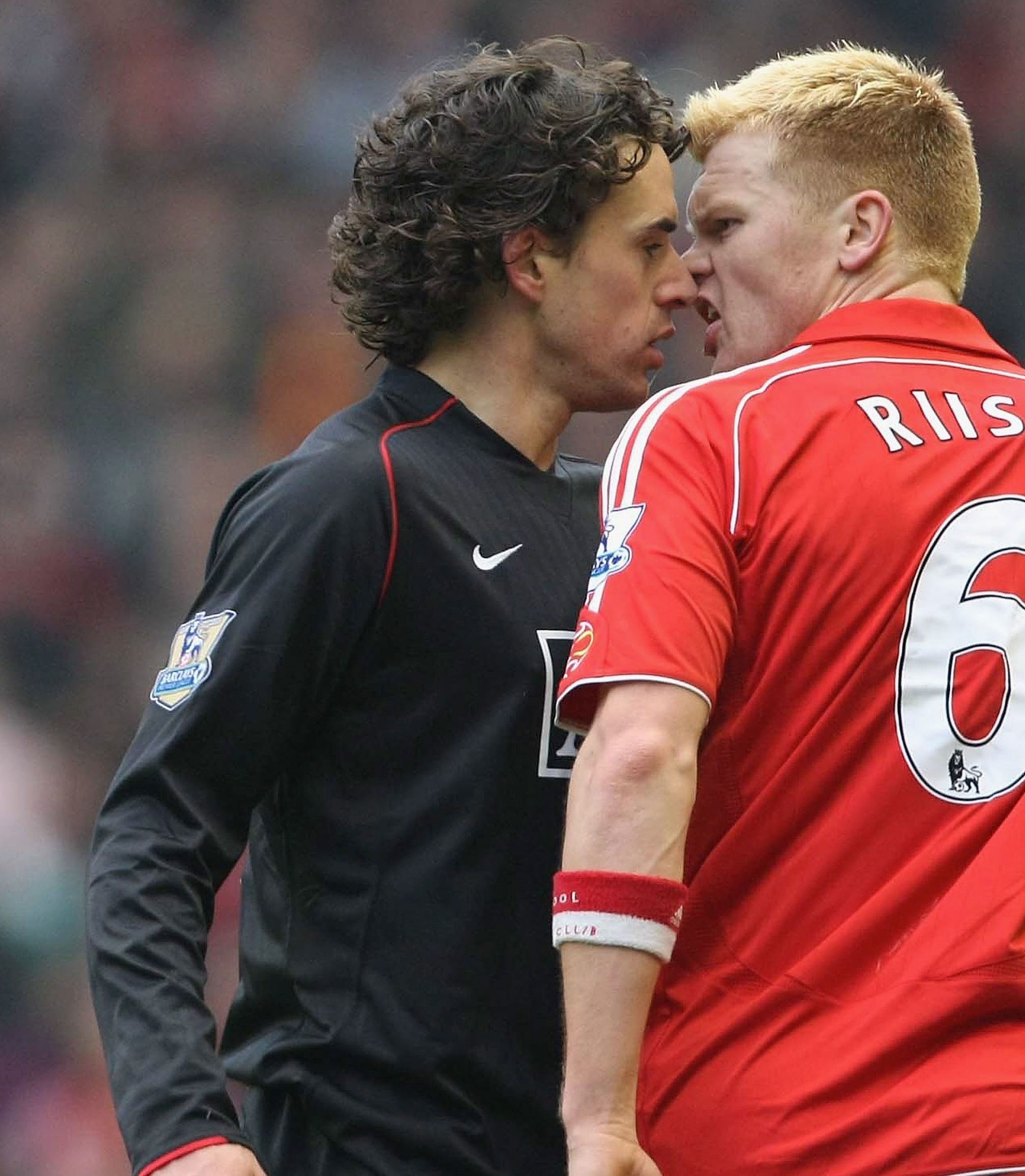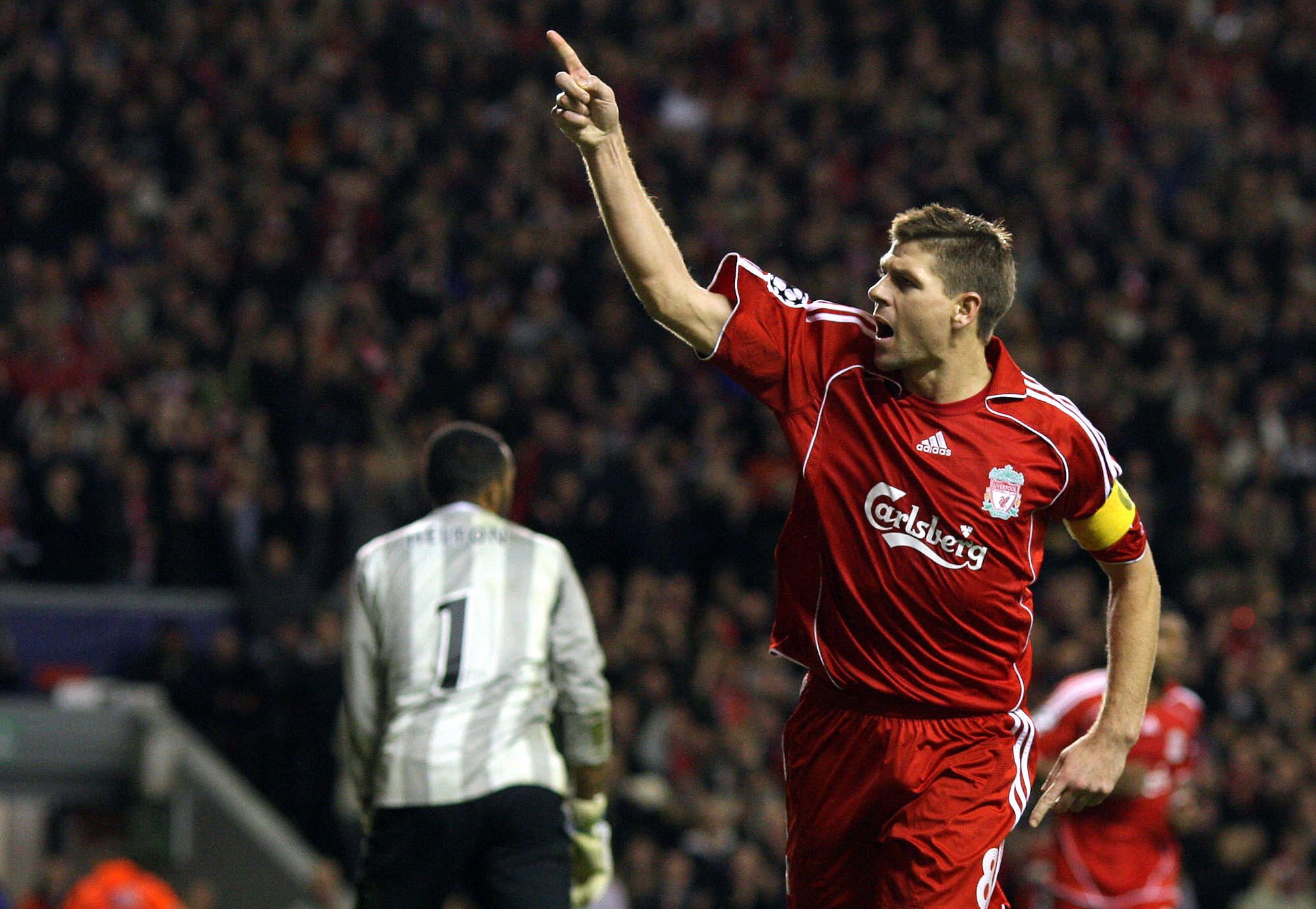 2008-09 season
Close but no cigar...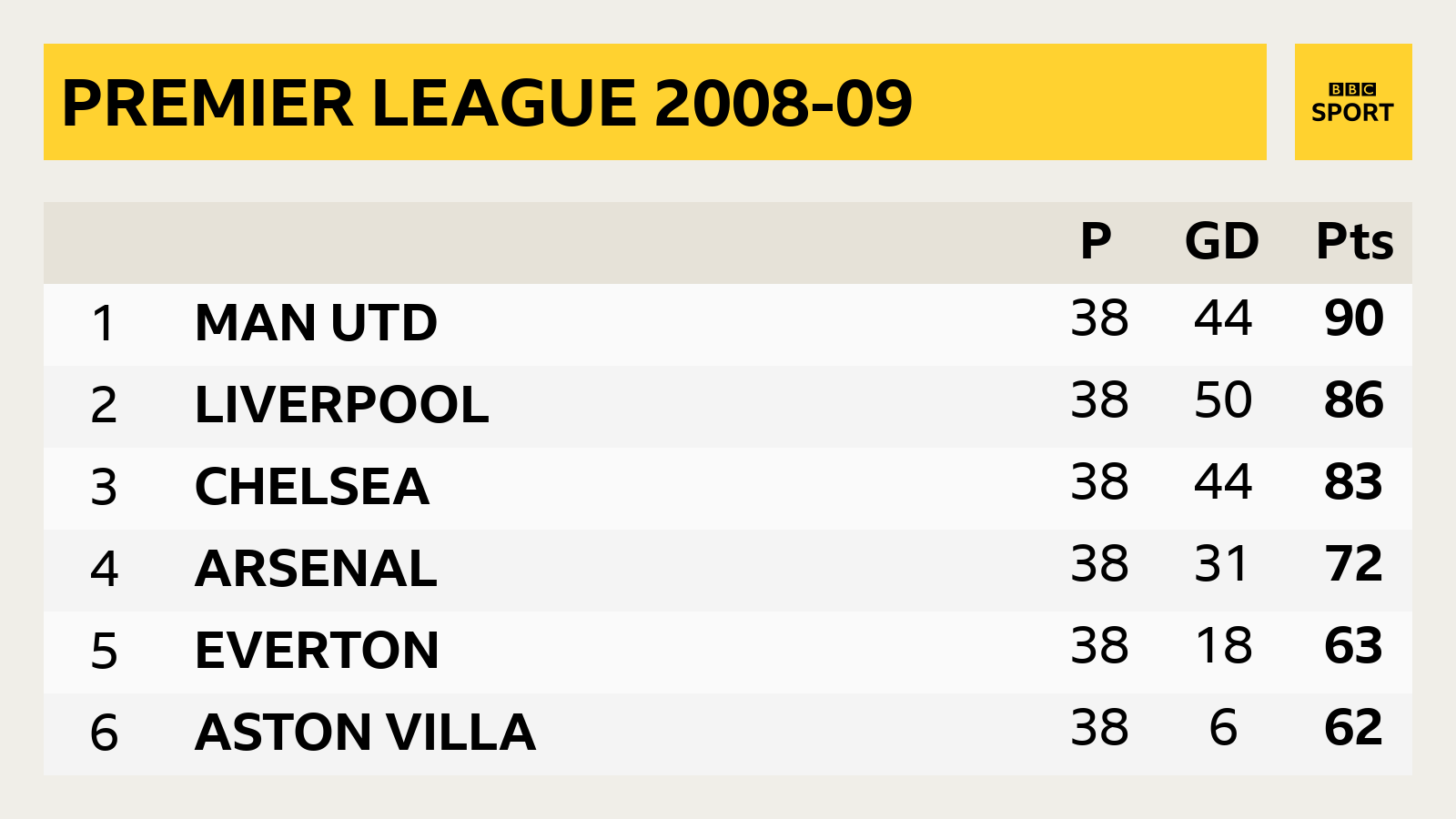 A PROPER TITLE CHALLENGE!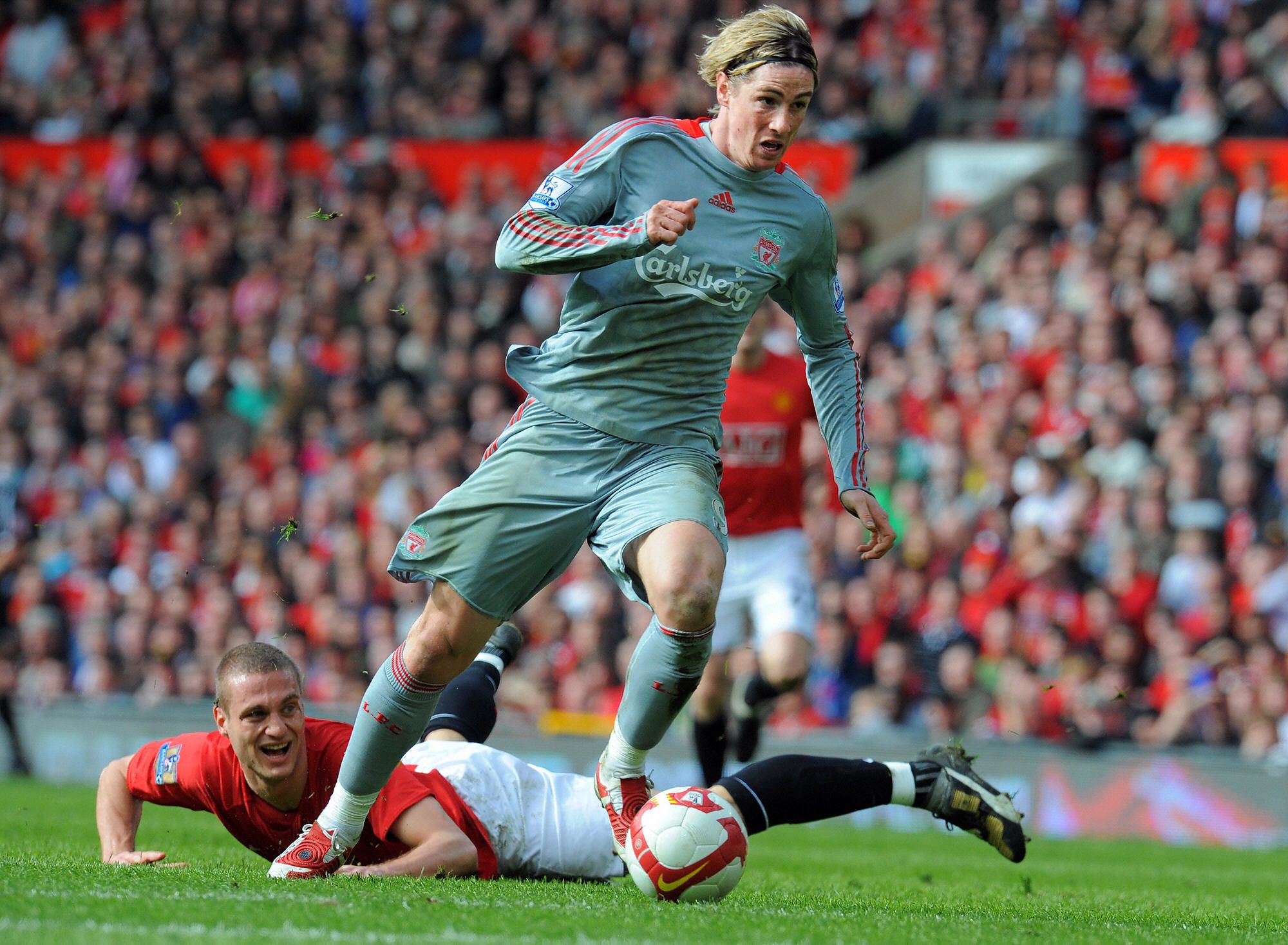 So near, and yet so far. This was the year for Rafa - Liverpool lost just twice all season and beat eventual winners Manchester United 4-1 at Old Trafford.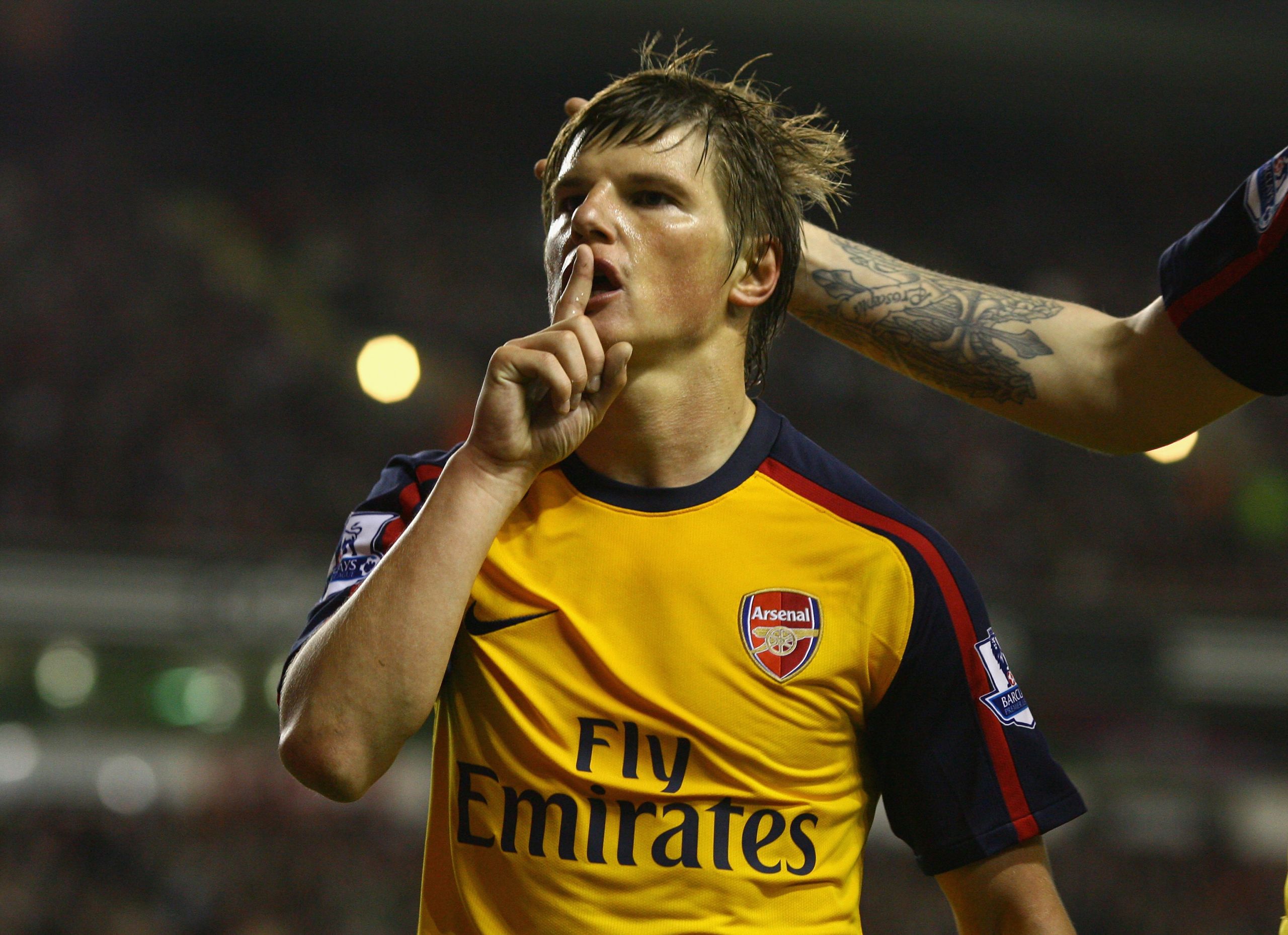 Steven Gerrard was magnificent behind Torres but the Reds were undone by 11 draws, including a 4-4 classic with Andrey Arshavin's Arsenal.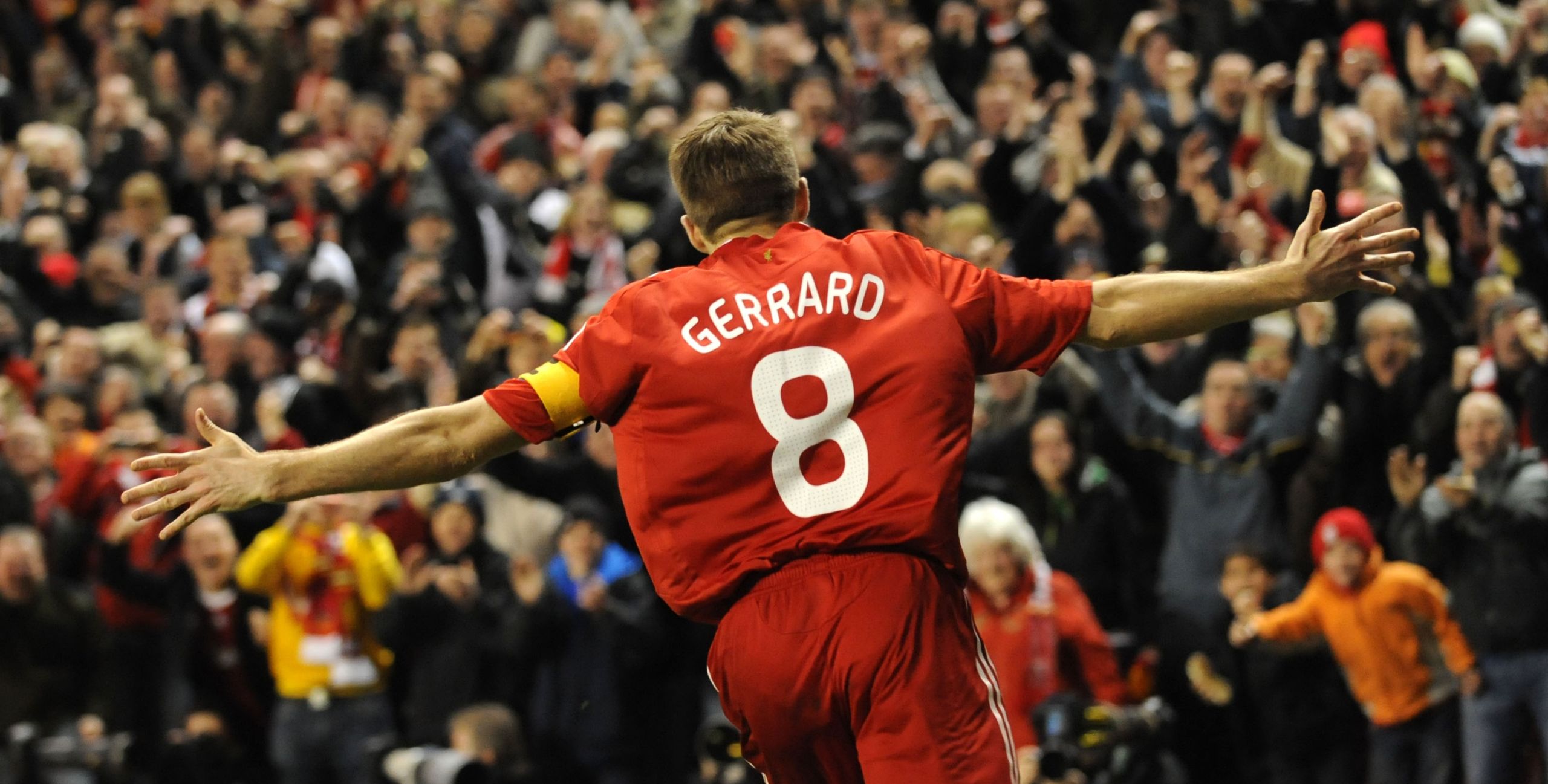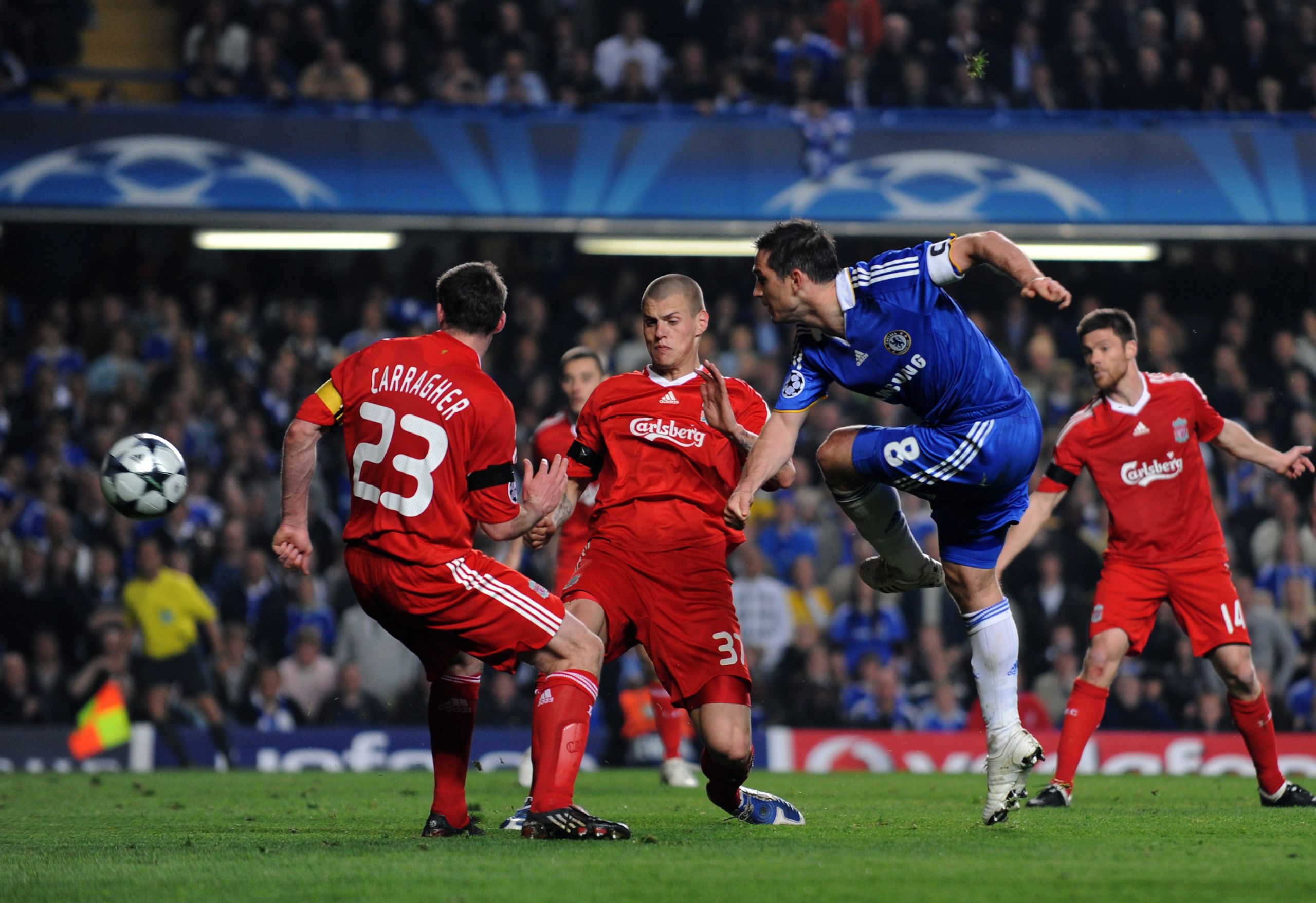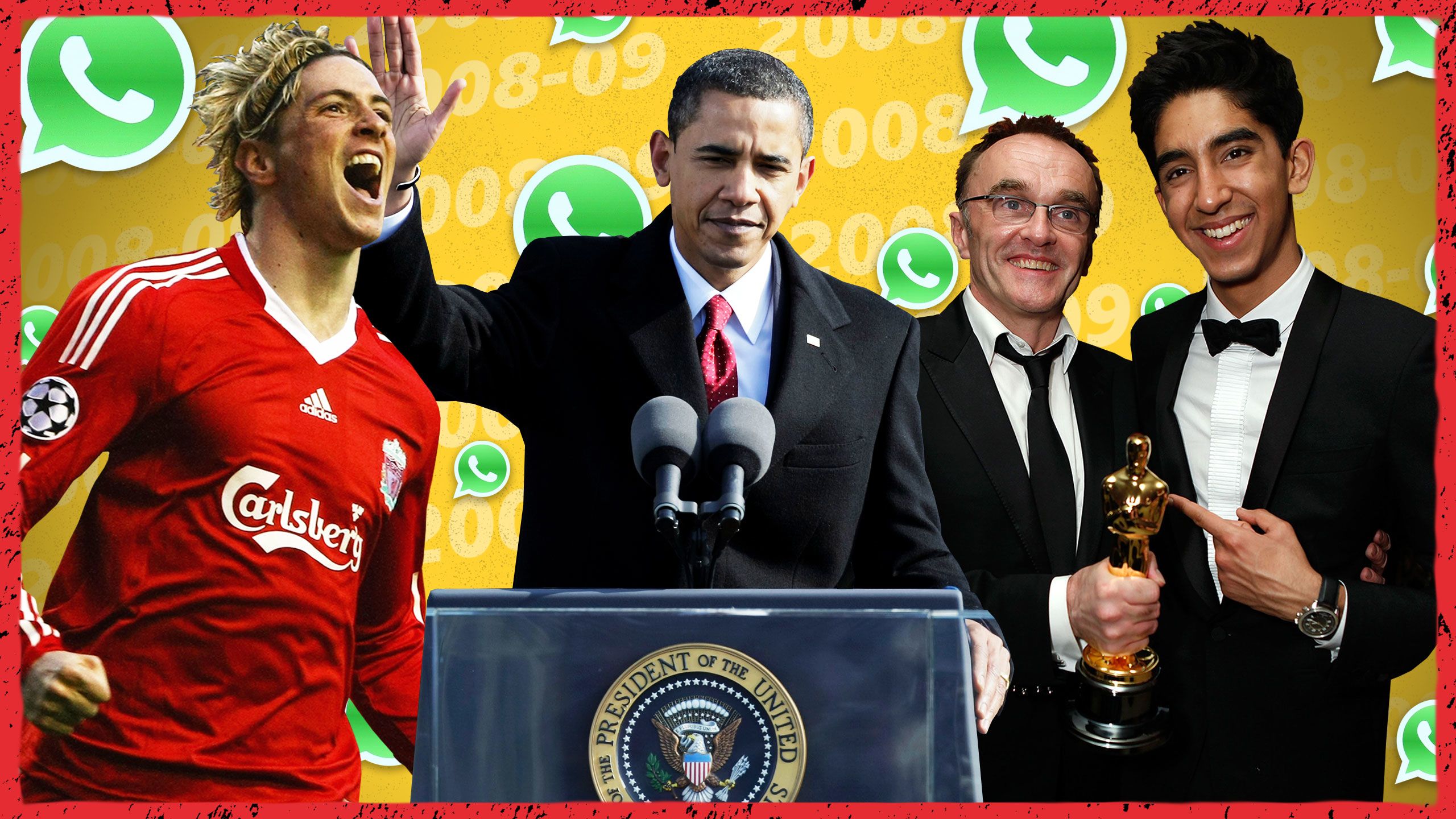 Chelsea were the Reds' nemesis in the Champions League again as another 4-4 epic sent them tumbling out. Things were definitely on the up though. We could WhatsApp our friends now, after all...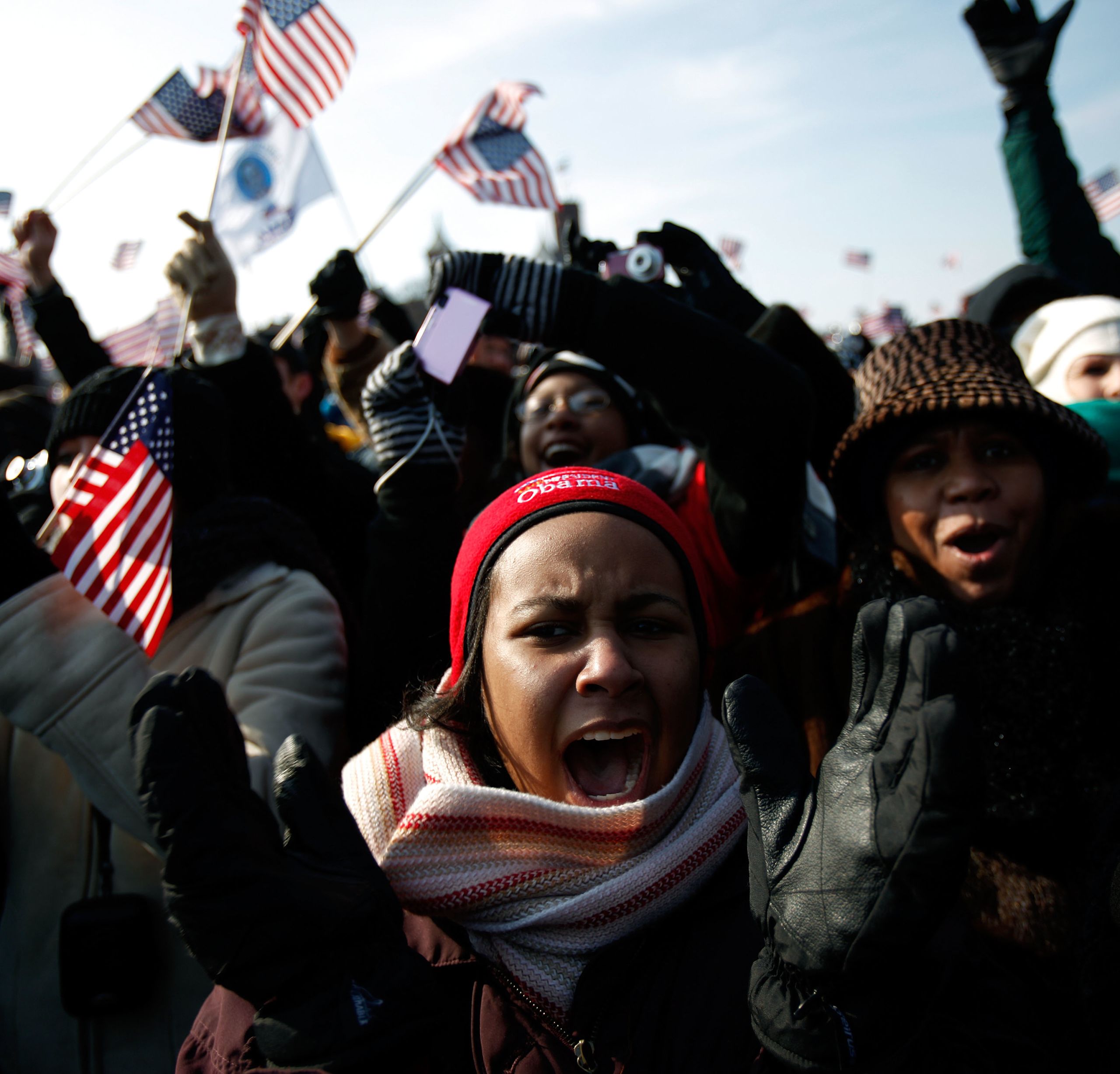 Maybe not. While Barack Obama was sworn in at the White House, and Slumdog Millionaire swept the Oscars, the news was dominated by the expenses scandal and more banking collapses, while Manchester United matched Liverpool's record of 18 top-flight titles.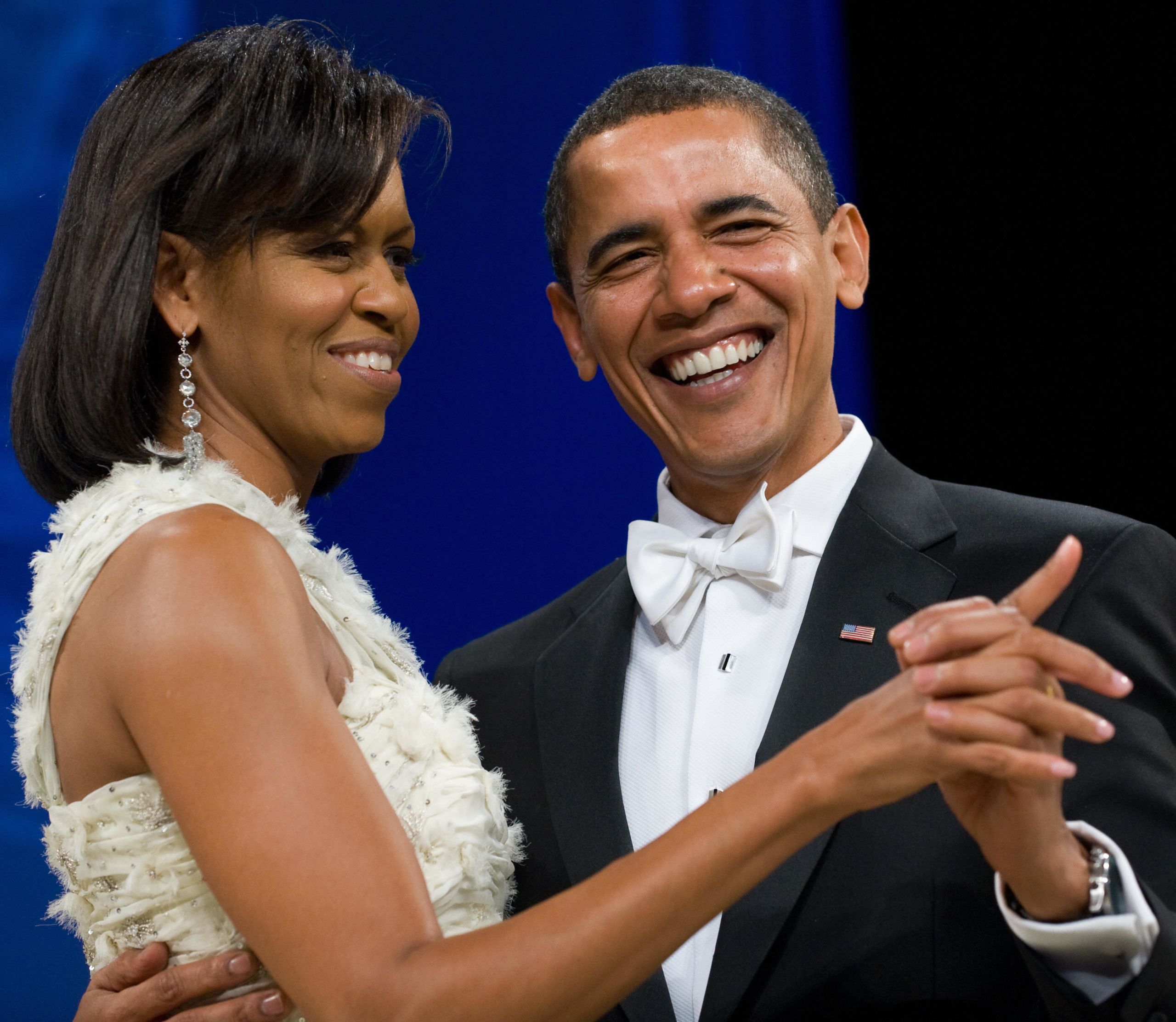 Still the wait went on…
Points behind winners: 4
Trophies: None
Top scorer (all comps): Steven Gerrard (24)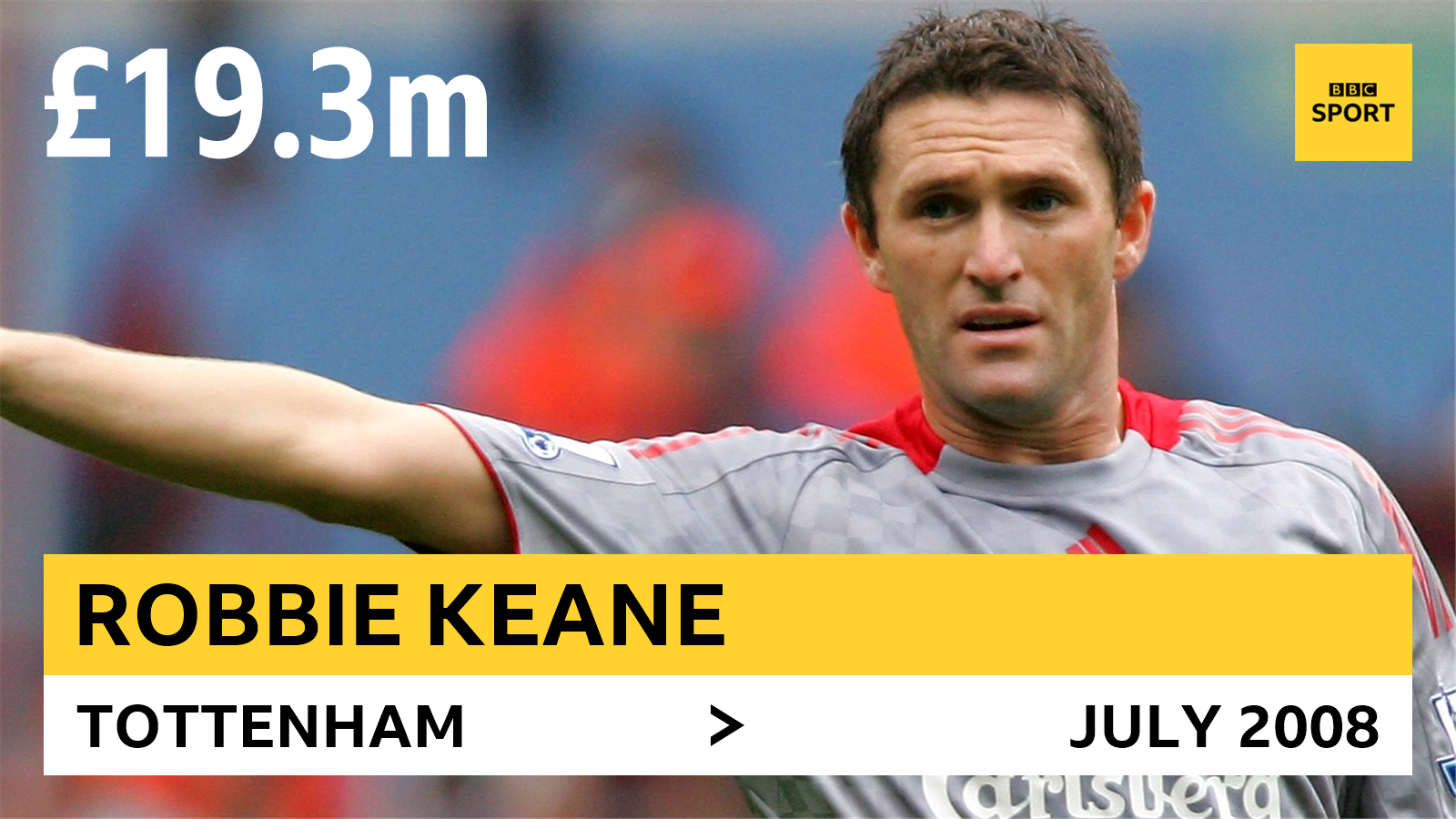 Manager: Rafael Benitez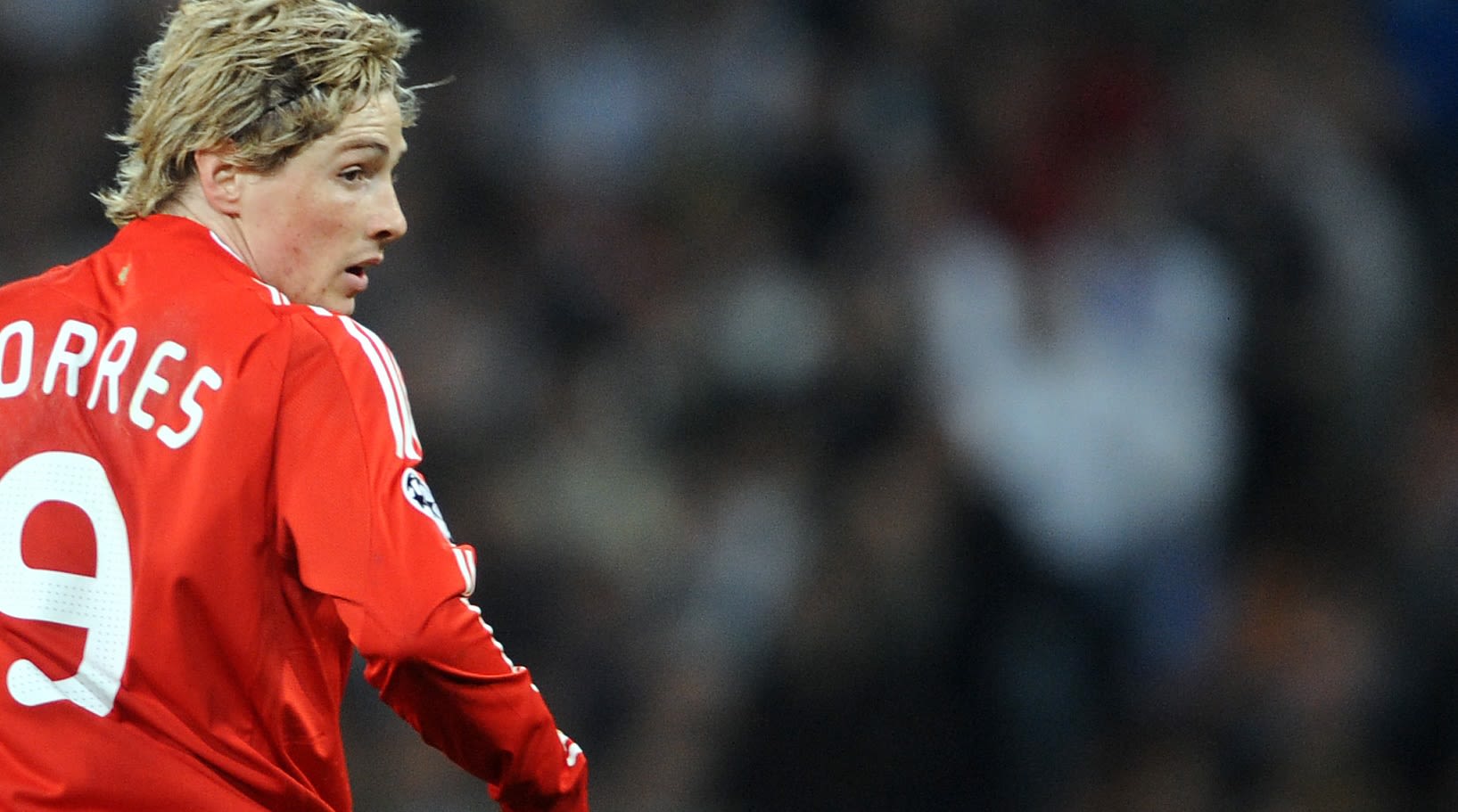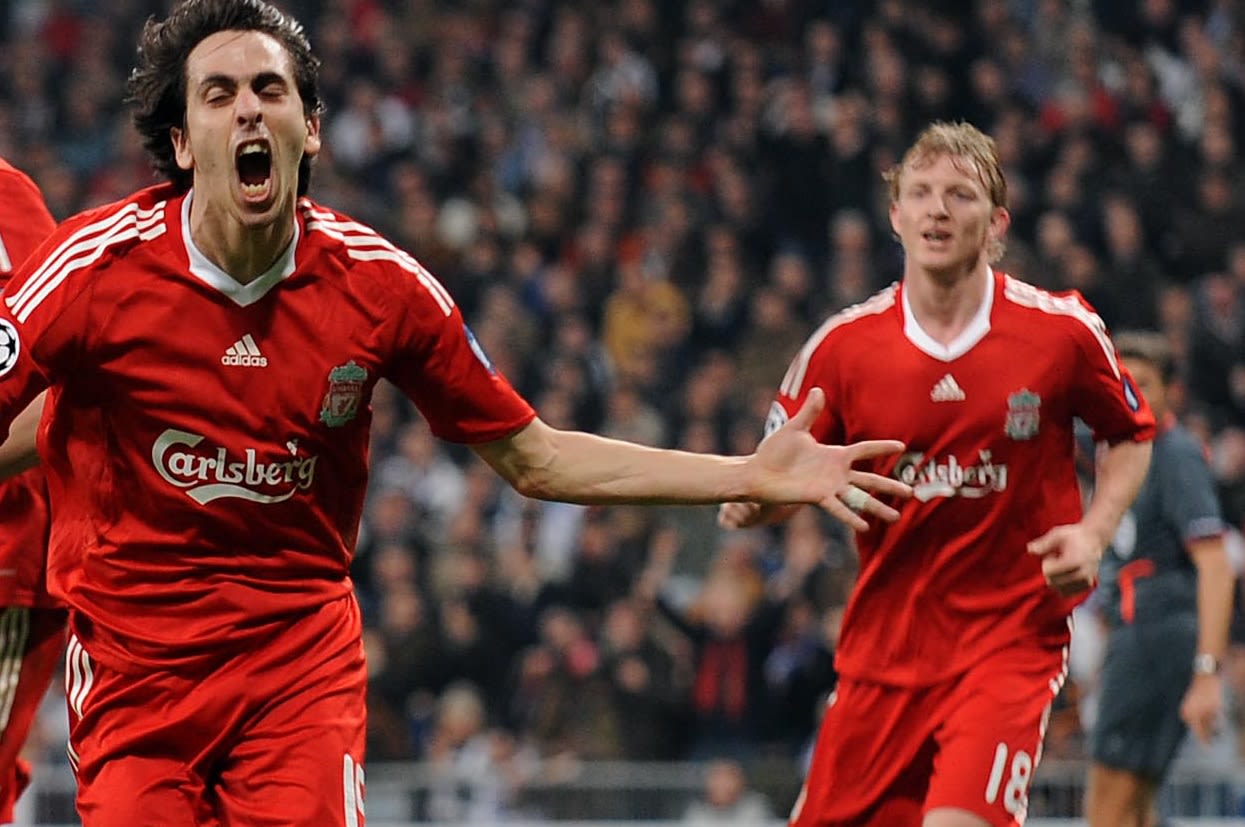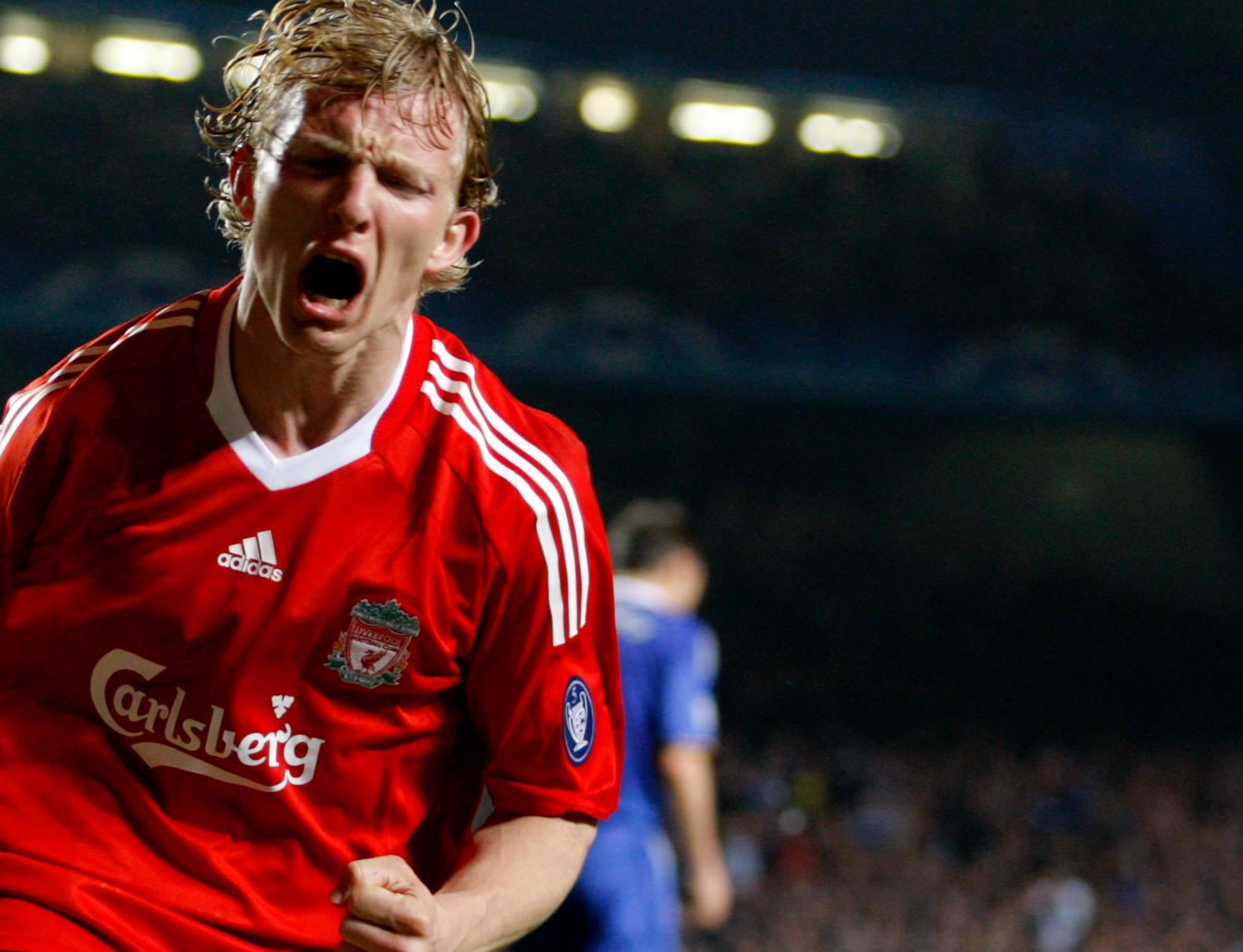 2009-10 season
What happened there then?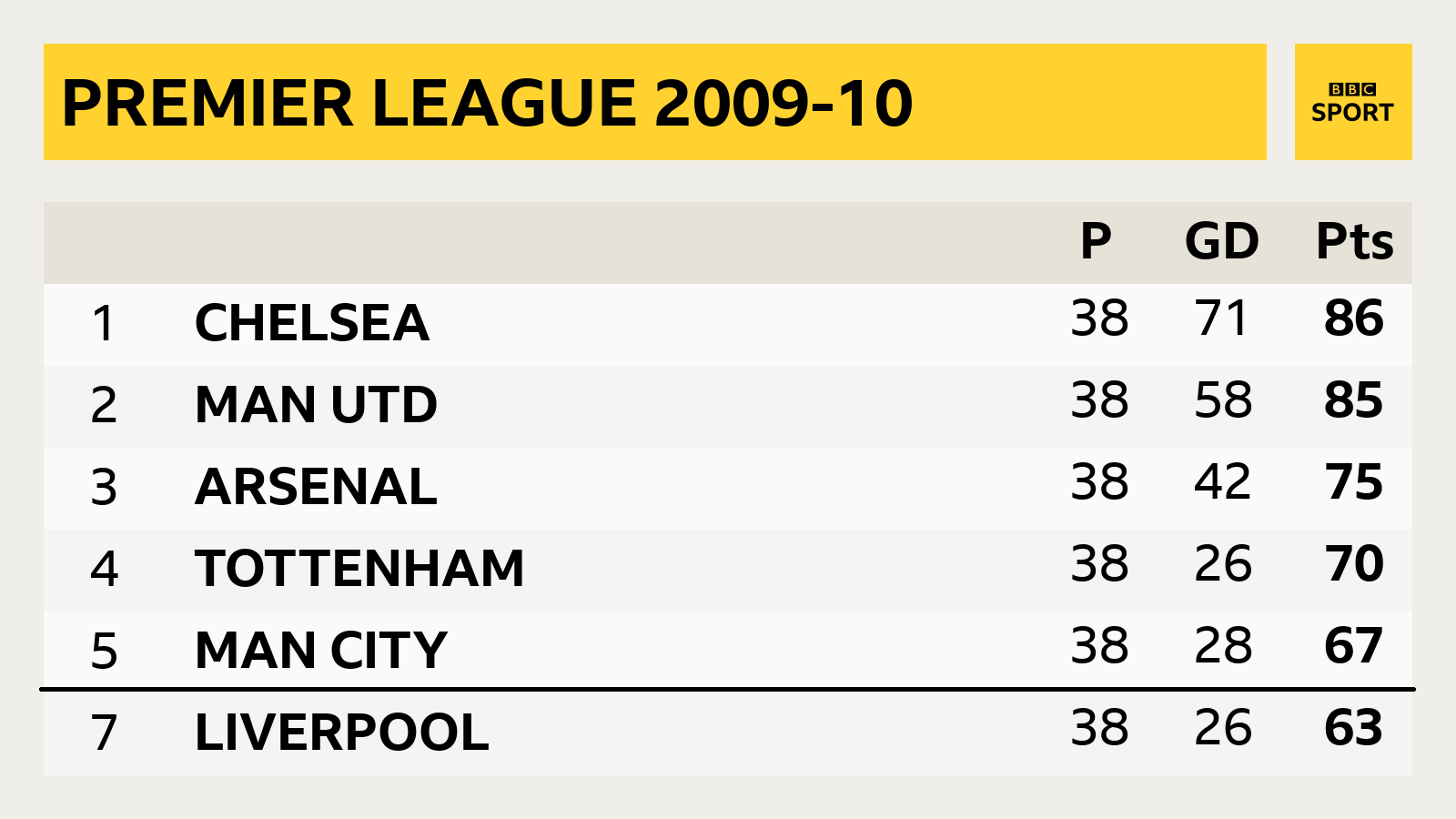 Seventh? What?!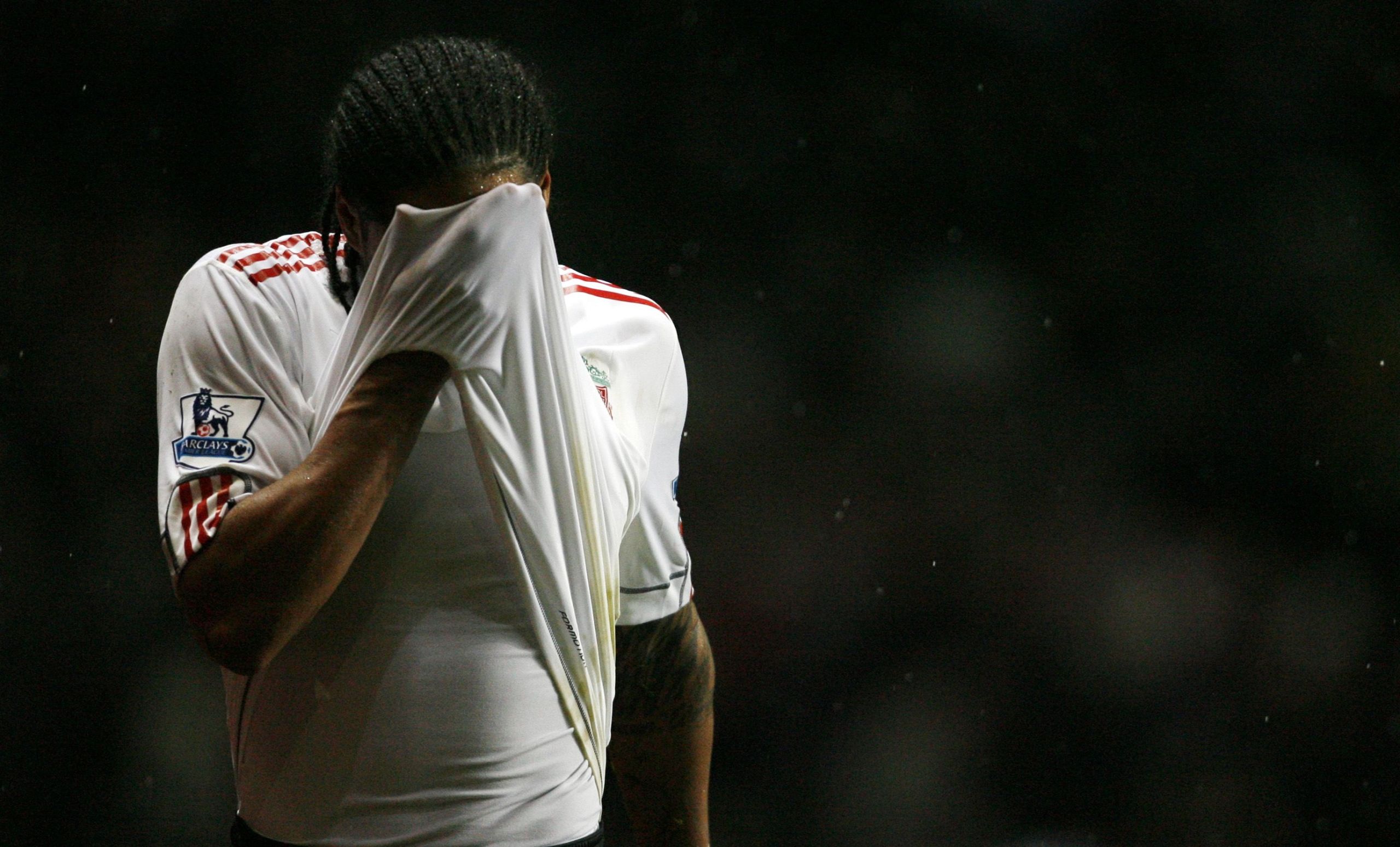 Turns out Liverpool's long-awaited resurgence was a castle built on sand. Or built on a defence of Martin Skrtel, Emiliano Insua and Sotirios Kyrgiakos anyway.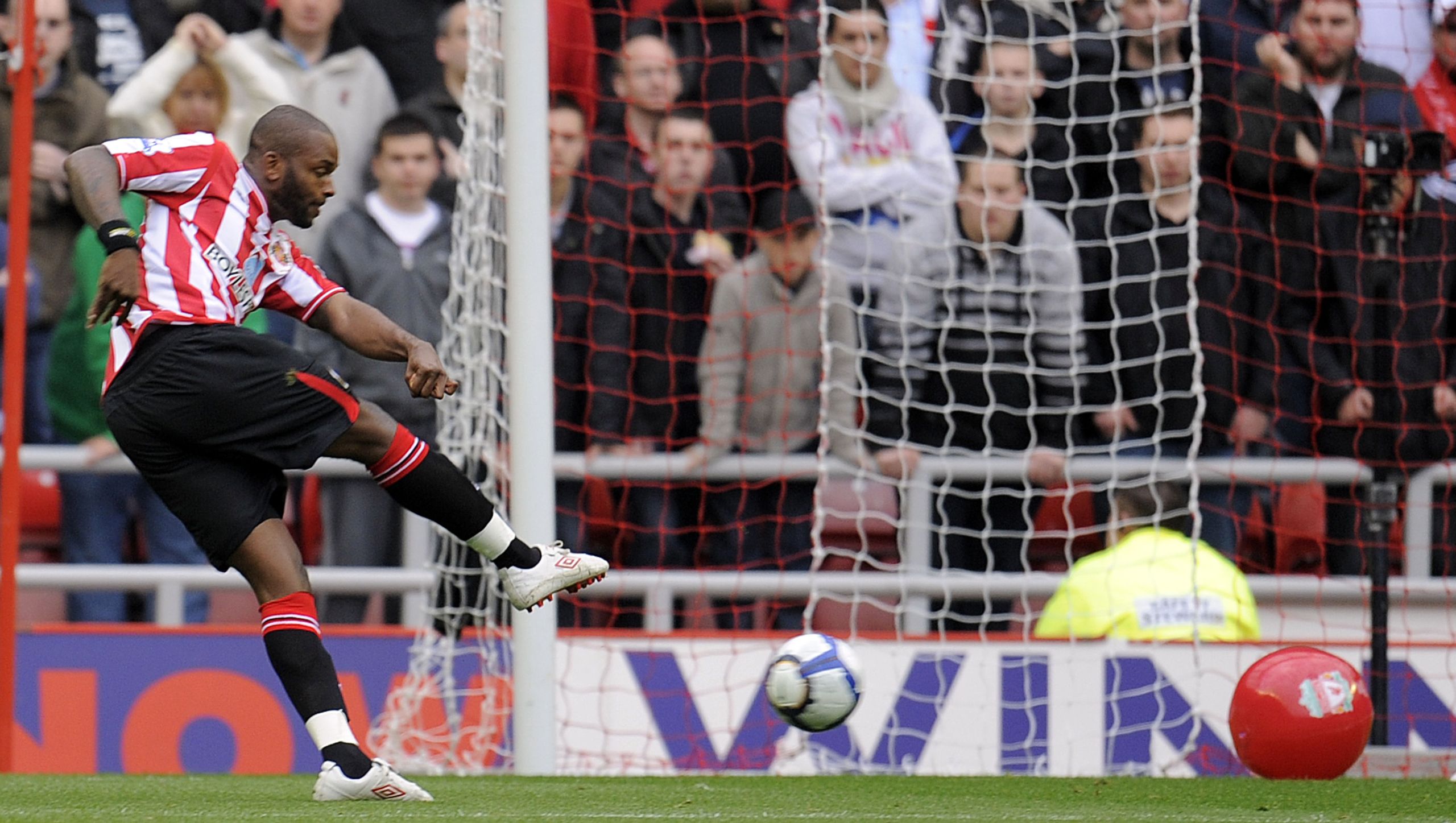 The new dawn was very much a false one as the Reds had their worst Premier League finish in 11 years and went out in the group stage of the Champions League. There was growing dissent in the stands aimed at the club's owners, too - definitely a season to file under 'one to forget'.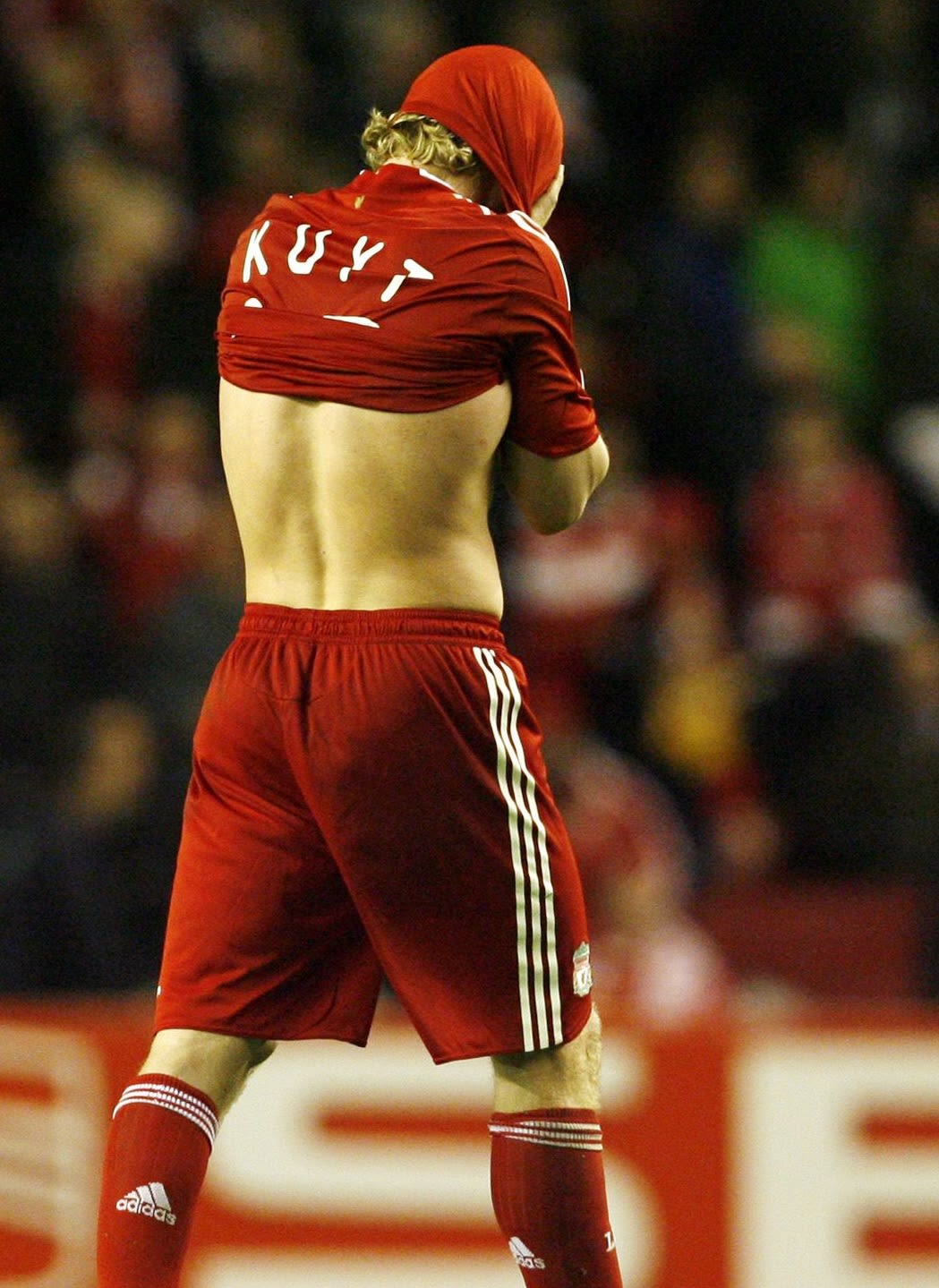 Such a poor season led to a summer of big departures. Out went Carlsberg after 18 years on the front of the shirts, and out went Rafa Benitez…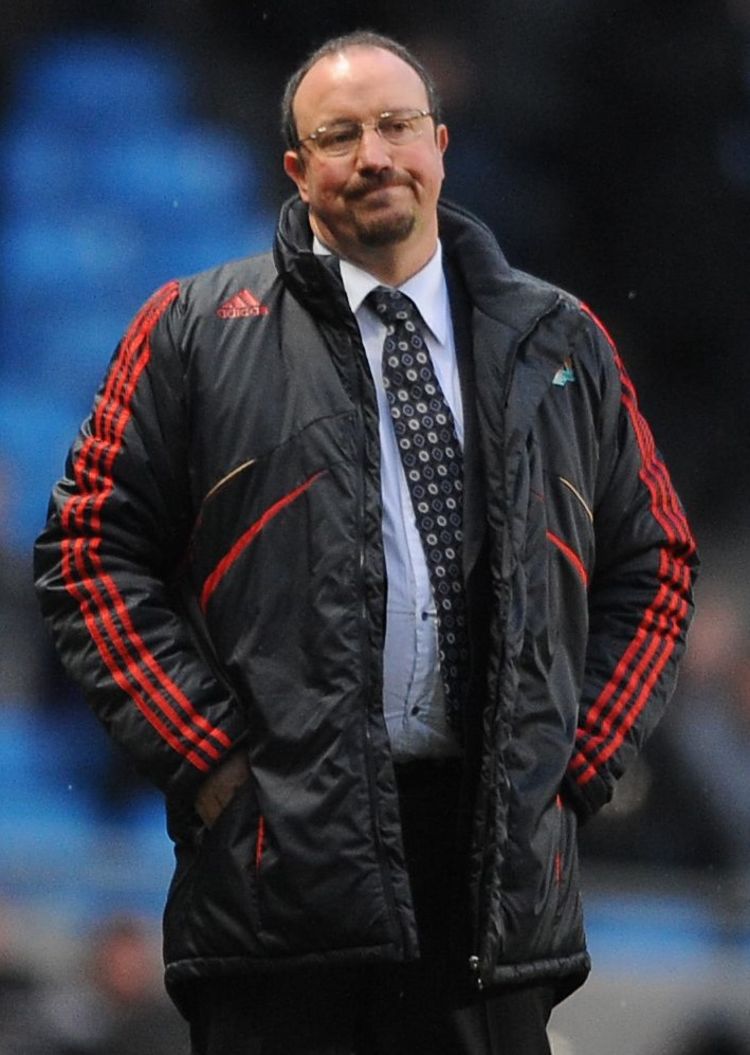 Also out went Terry Wogan from the Radio 2 breakfast slot, the Labour Party from Downing Street and Netto from the High Street. Seismic change.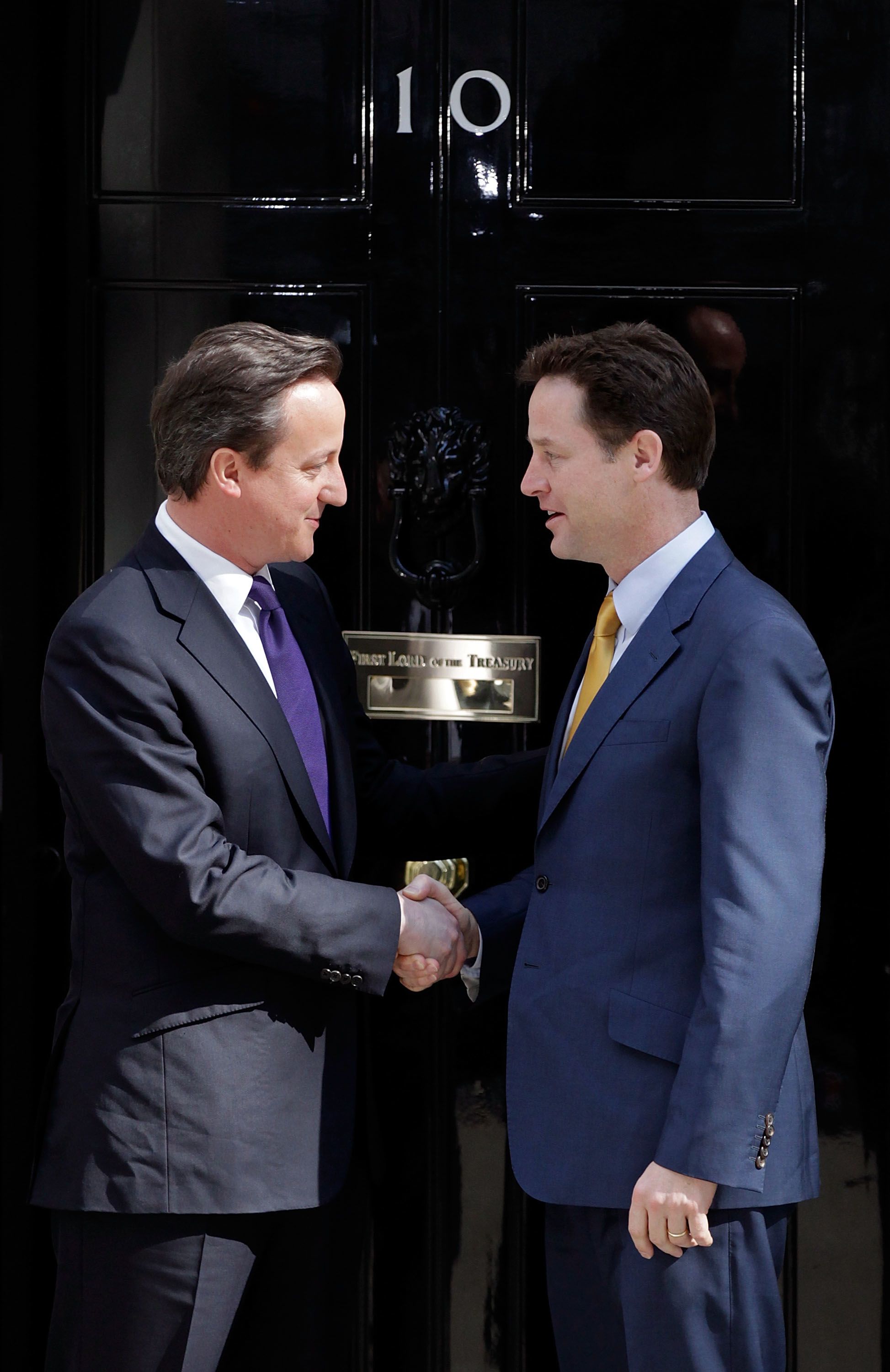 Points behind winners: 23
Trophies: None
Top scorer (all comps): Fernando Torres (22)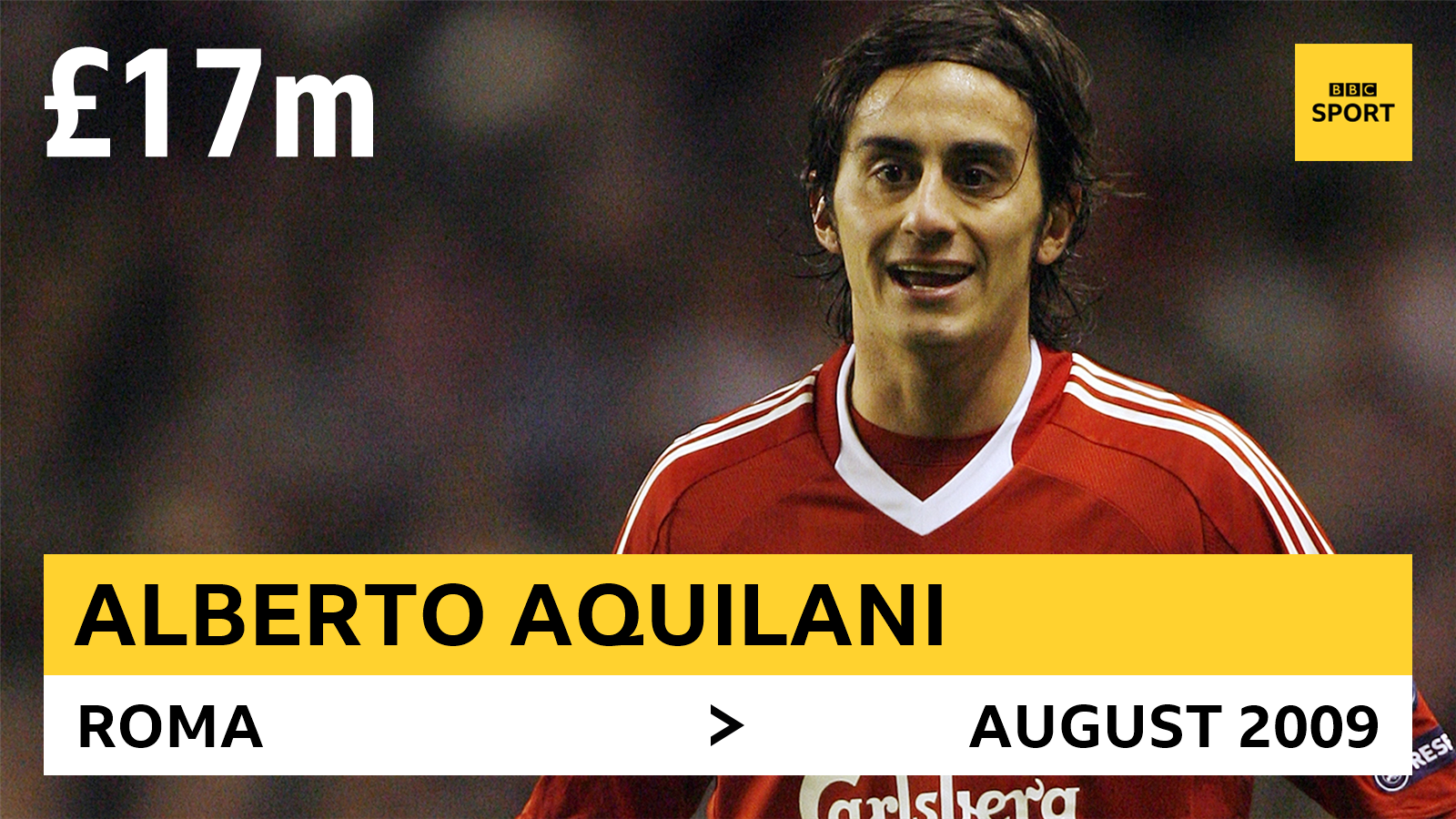 Manager: Rafael Benitez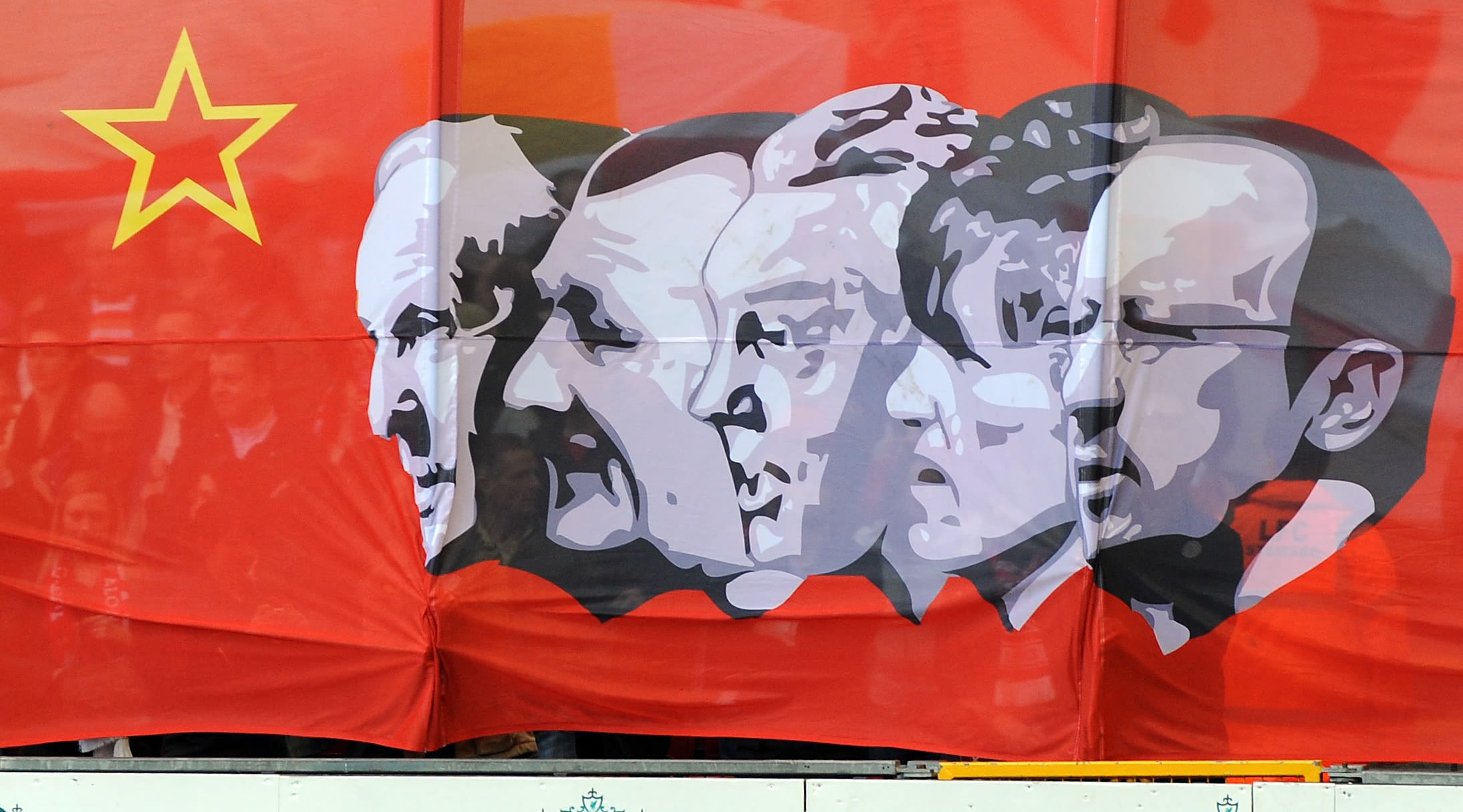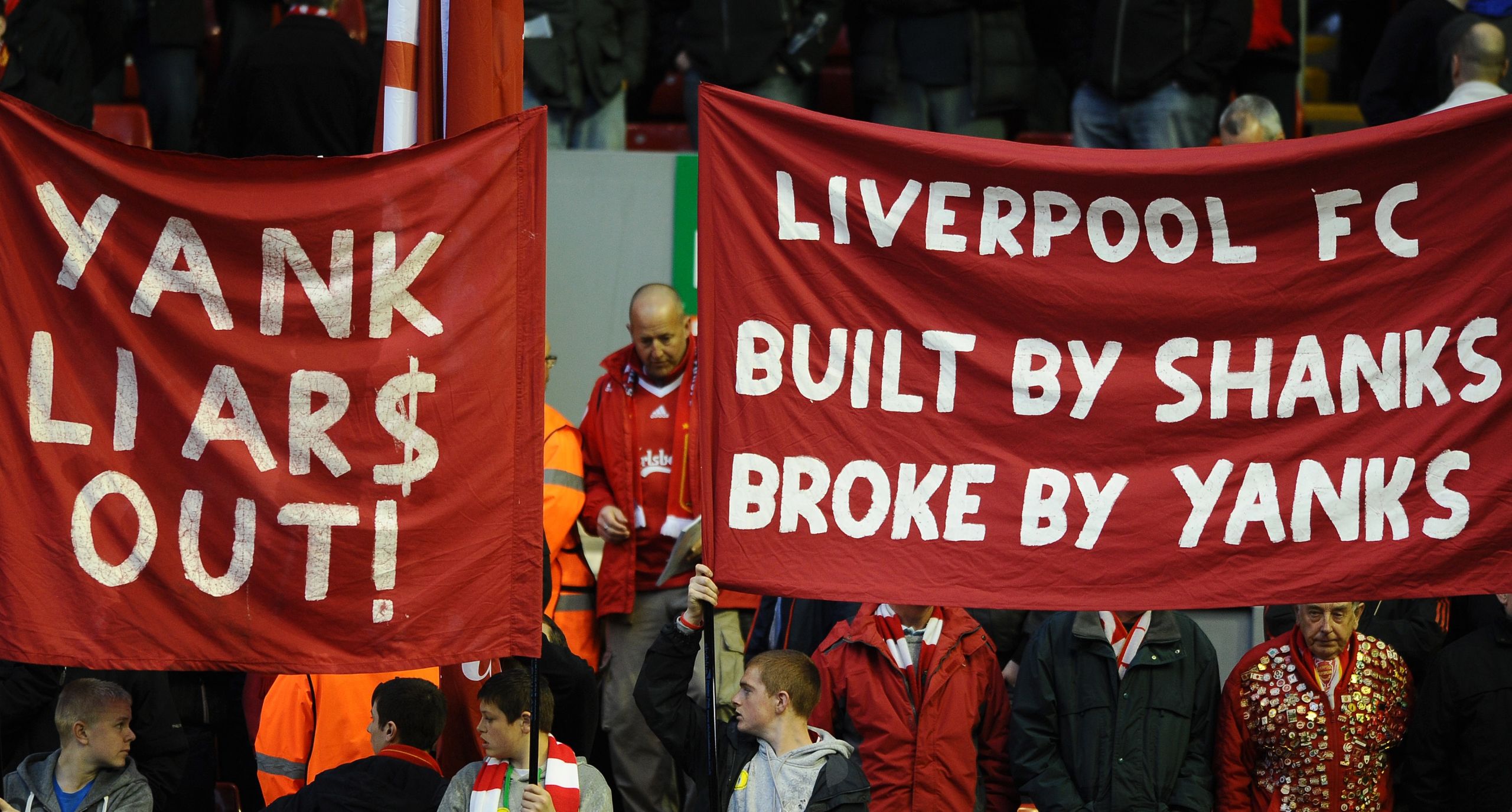 2010-11 season
From Rafa to Roy to the King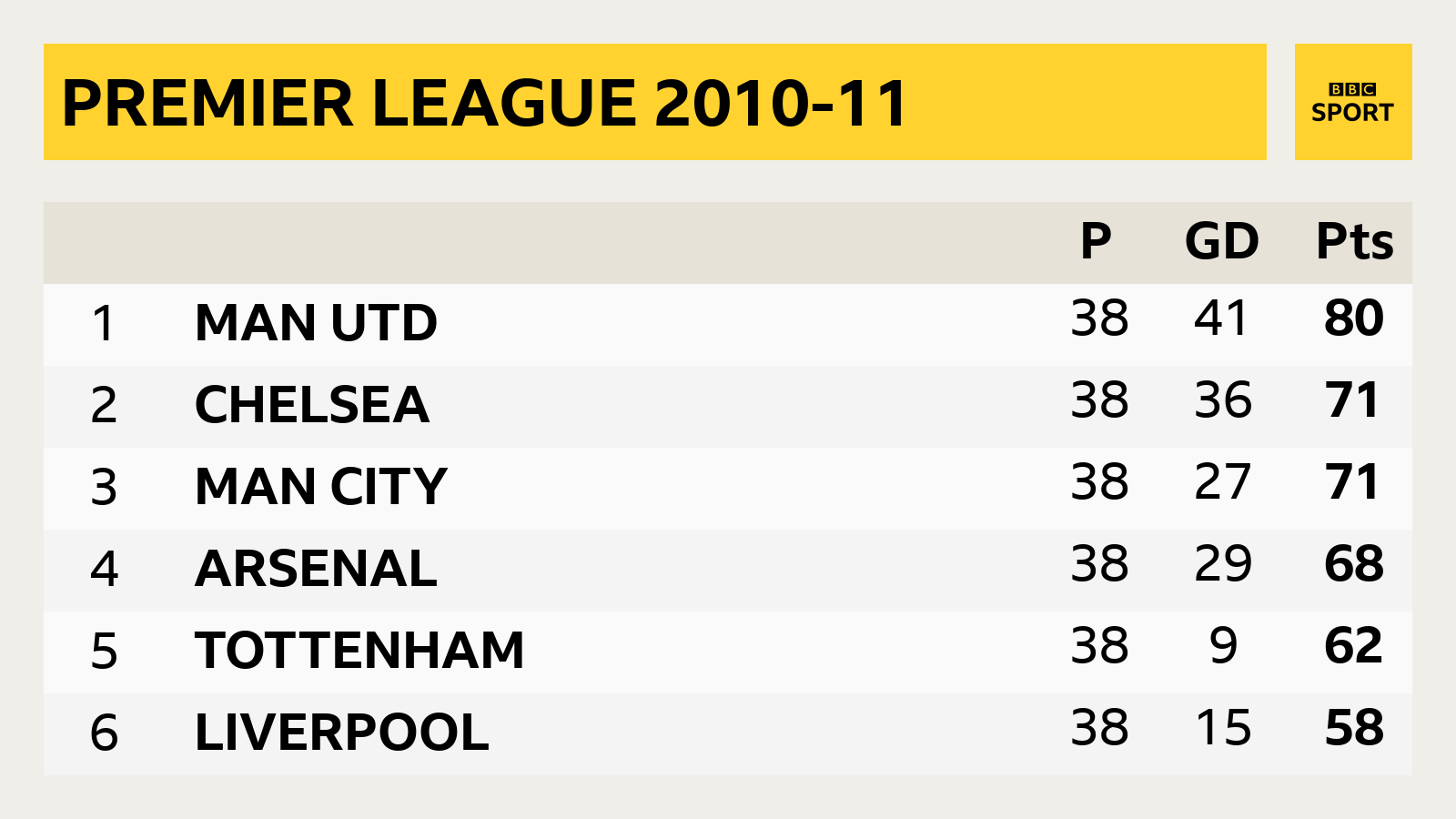 A season of two halves? Roy Hodgson was the man brought in to replace Rafael Benitez and, let's be honest, it was a mutual nightmare.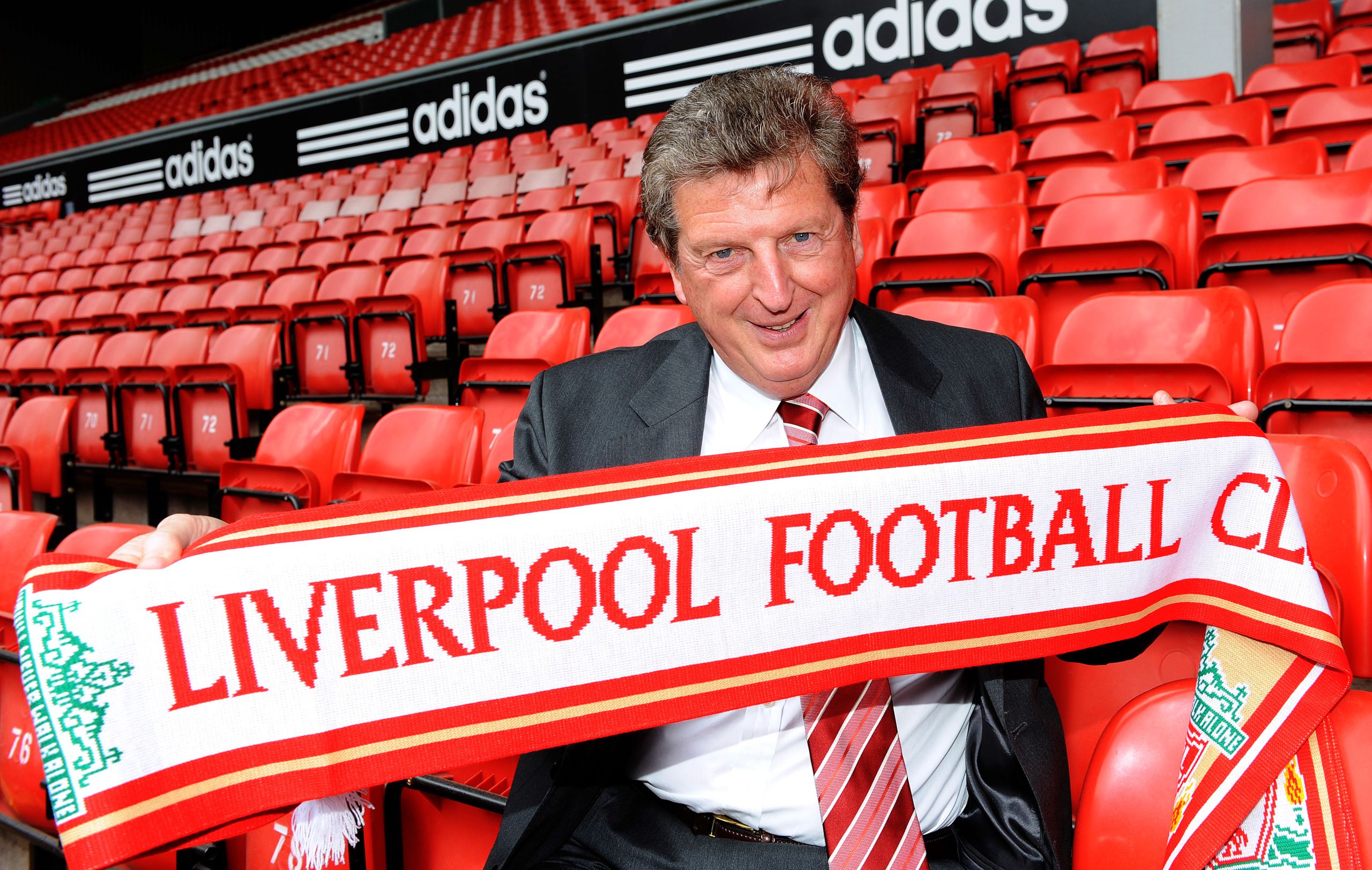 Beaten by lower-league Northampton in the League Cup at Anfield. In the relegation zone for three whole weeks after one win in the first eight. Eleven defeats away from home. Grim times.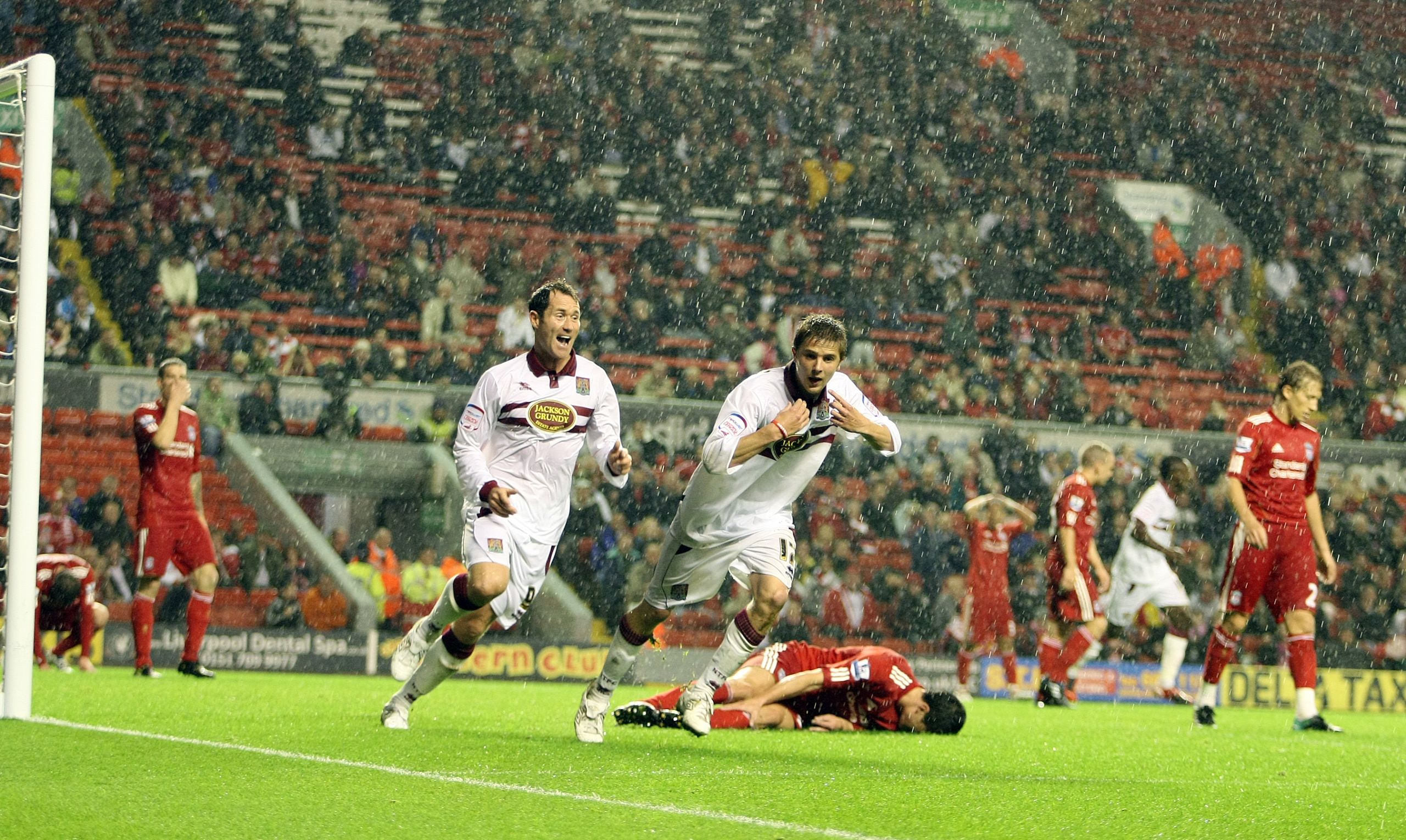 Roy had to go. King Kenny's return did see an upturn in fortunes.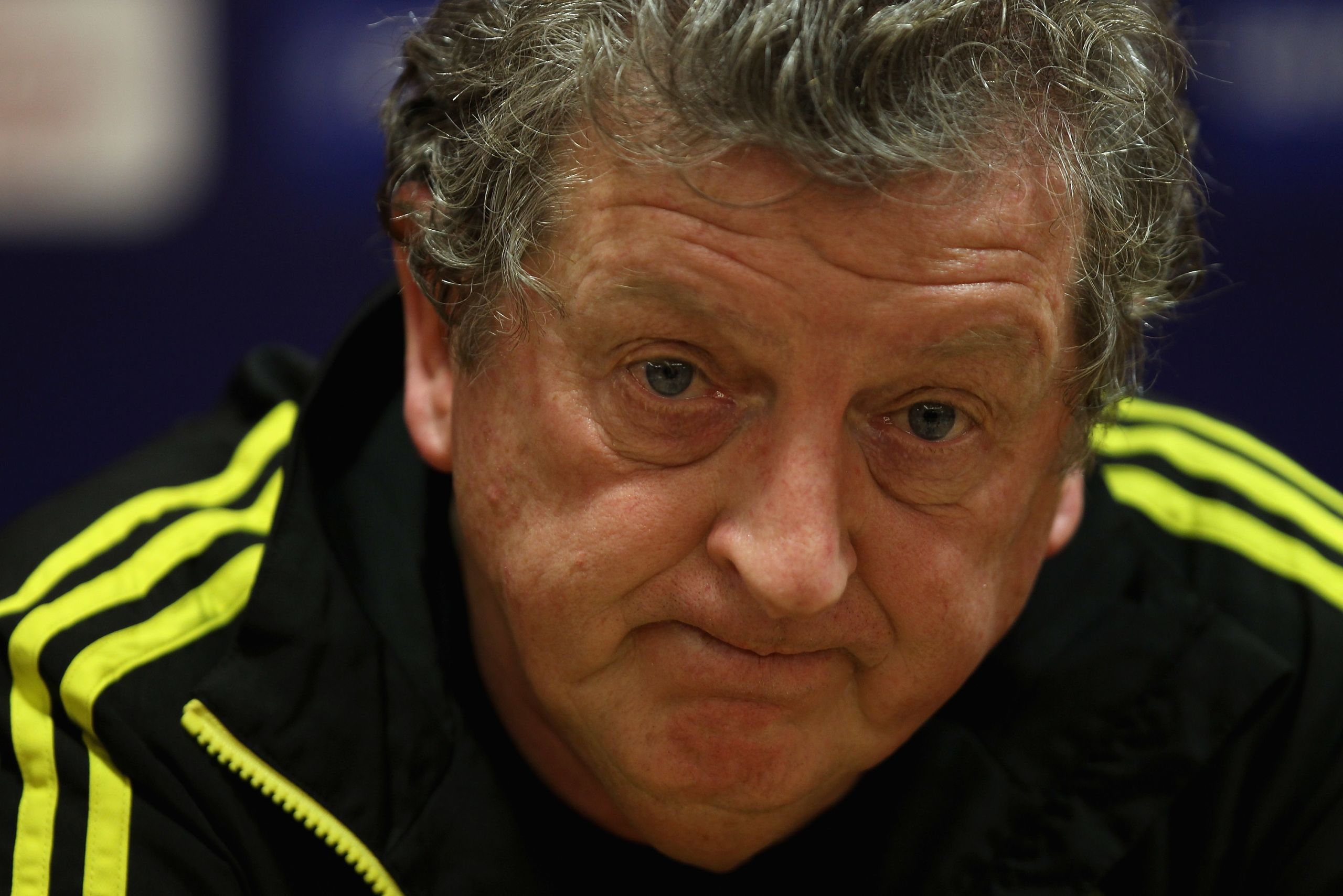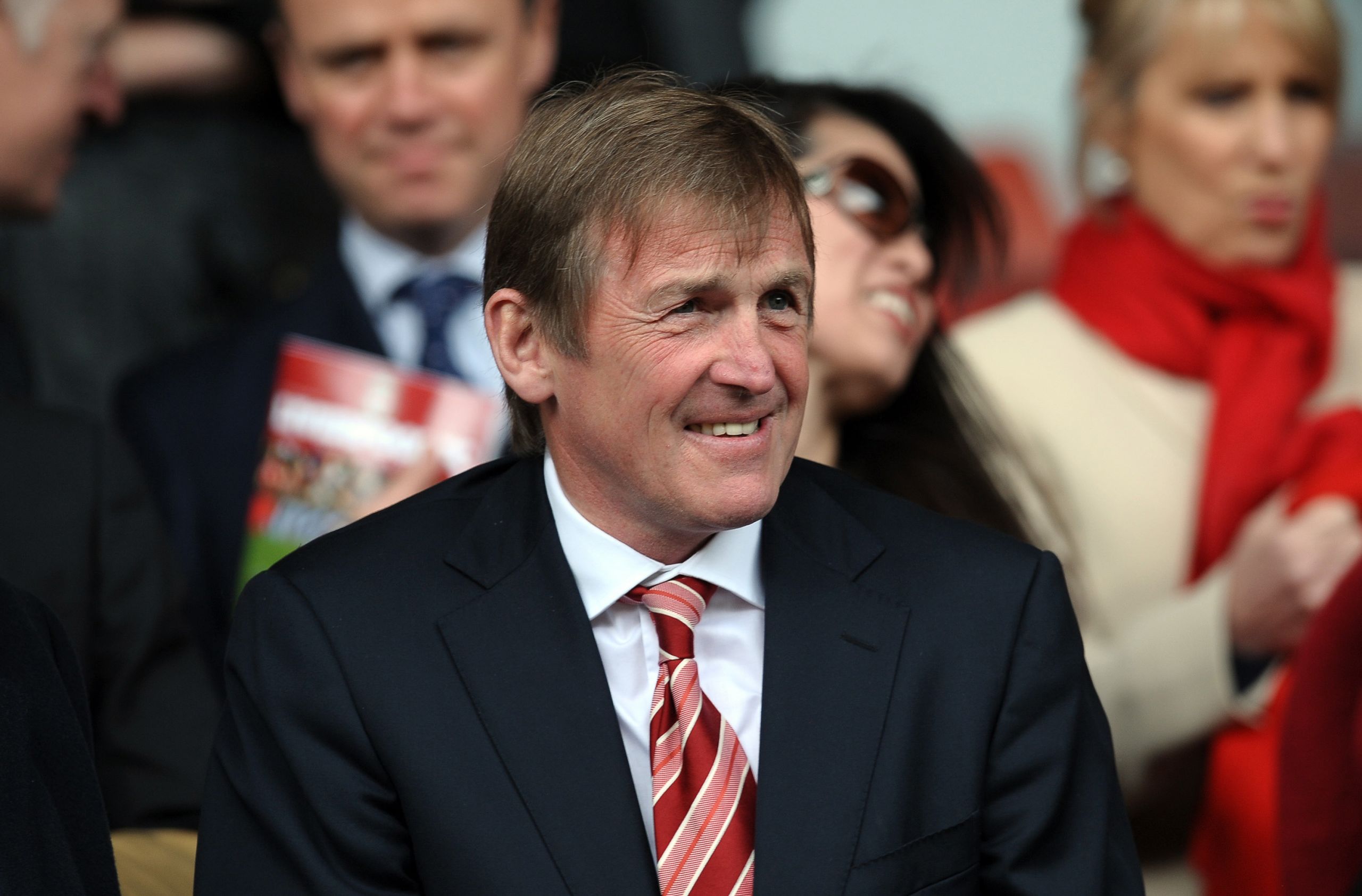 Chelsea and Manchester United were beaten and a top-six finish was eventually secured as the club found new ownership in the form of the Boston-based Fenway Sports Group.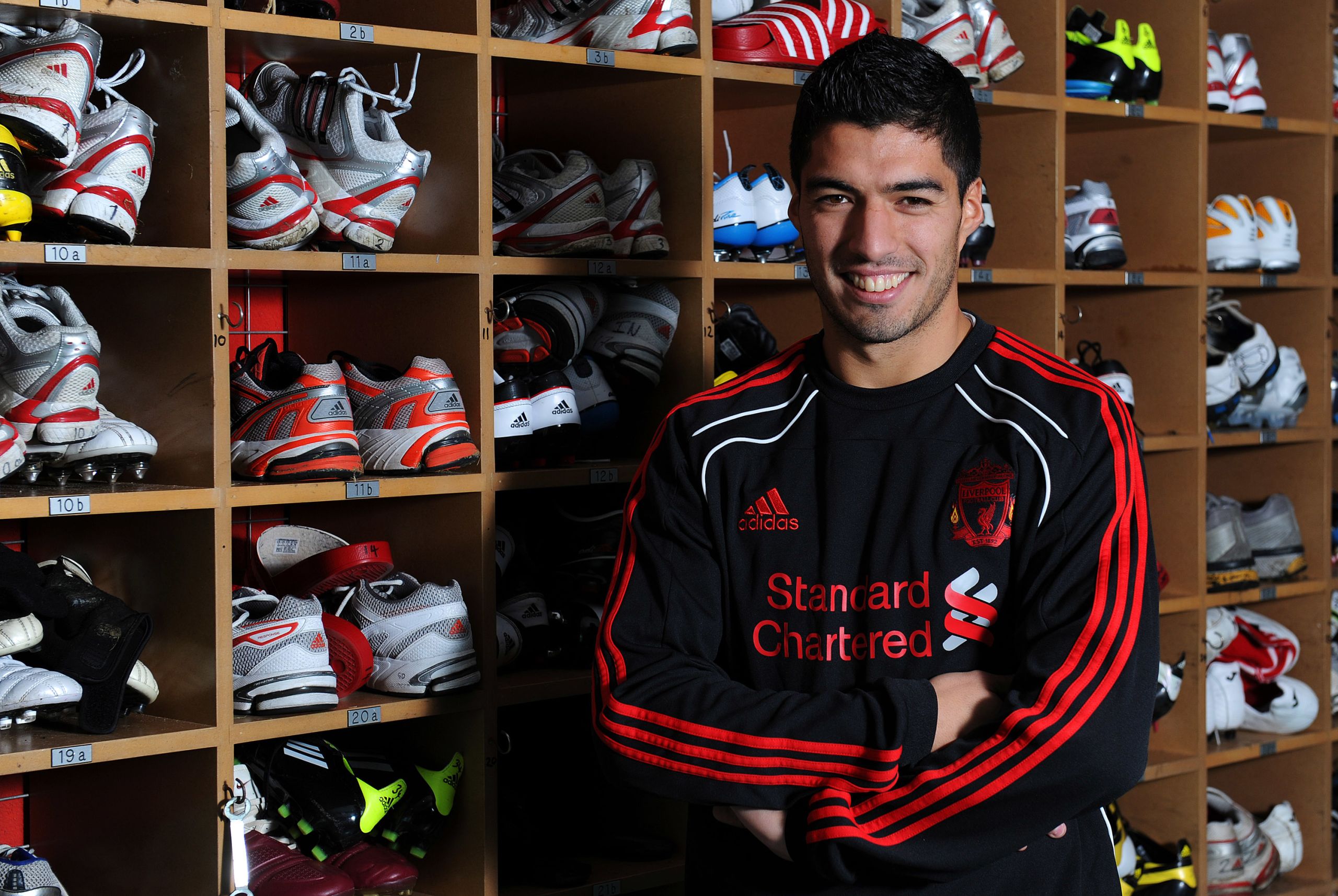 A topsy-turvy January deadline day saw Fernando Torres depart and Luis Suarez and Andy Carroll come in. They would go on to have differing fortunes at Anfield.
Speaking of lavish unions, there was a Royal wedding to capture the attention as Kate and William tied the knot.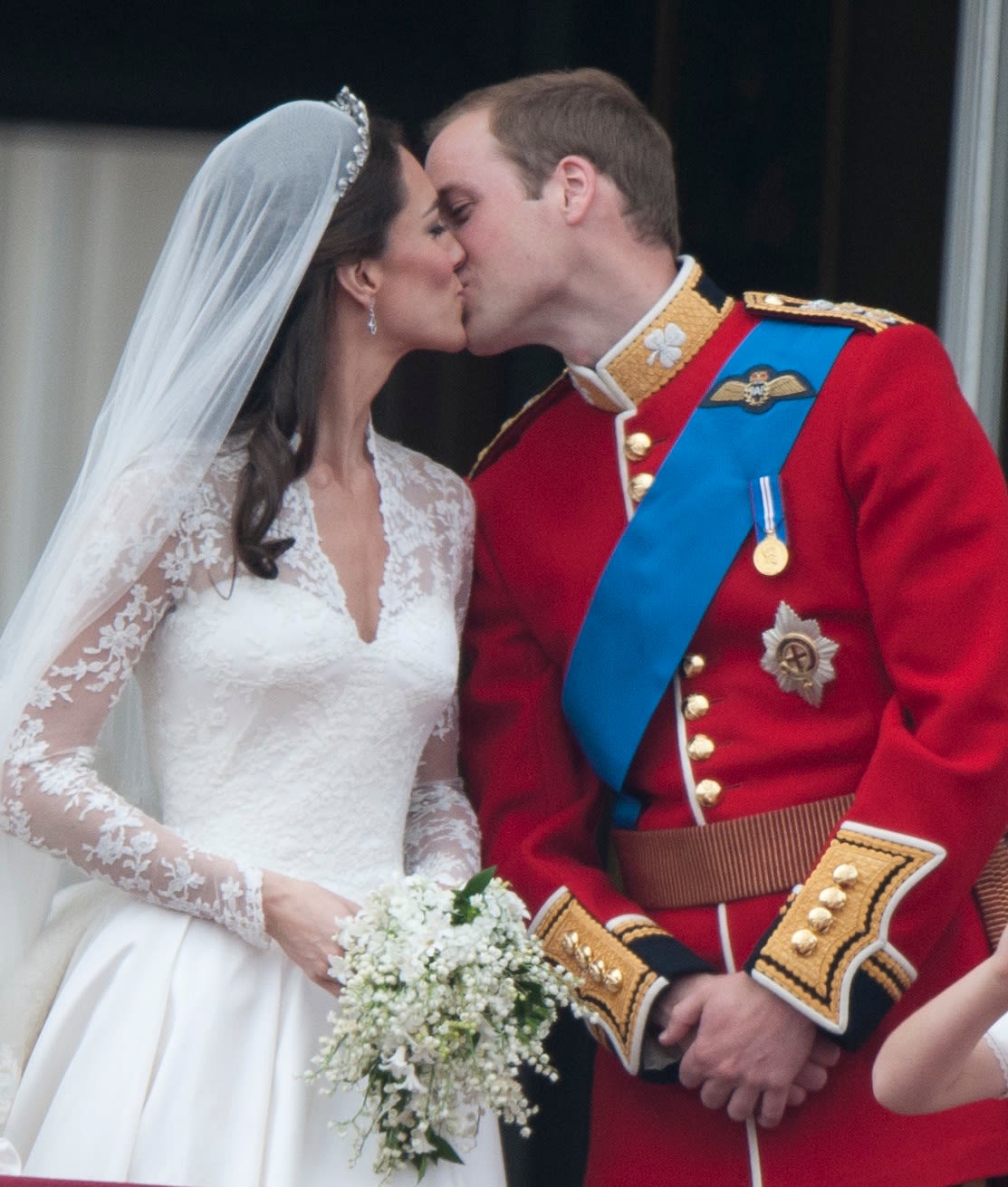 England won the Ashes down under, Sky's Richard Keys and Andy Gray left our screens and Anne, the UK's last working circus elephant, was granted retirement at the age of 57.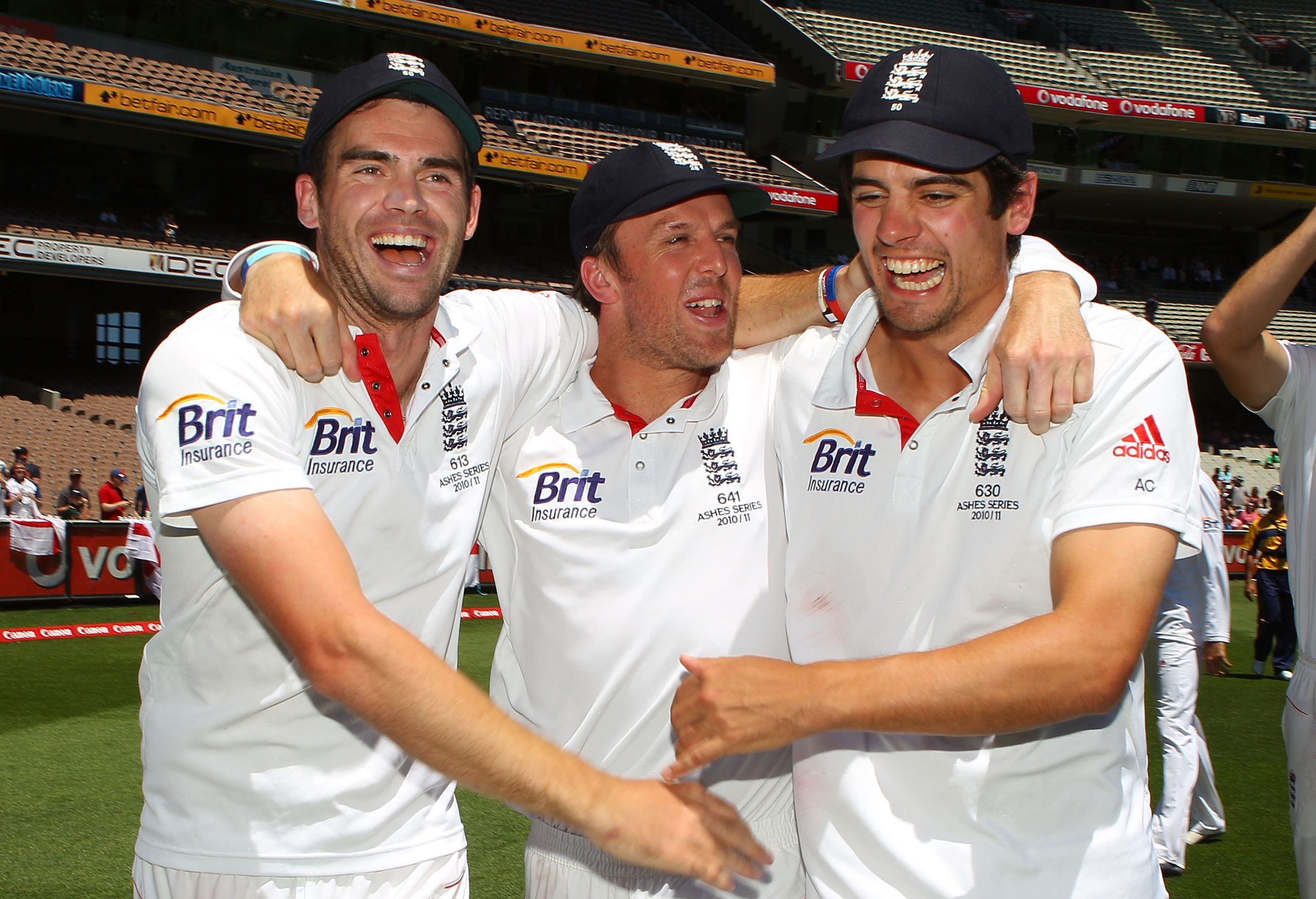 Points behind winners: 22
Trophies: None
Top scorer (all comps): Dirk Kuyt (15)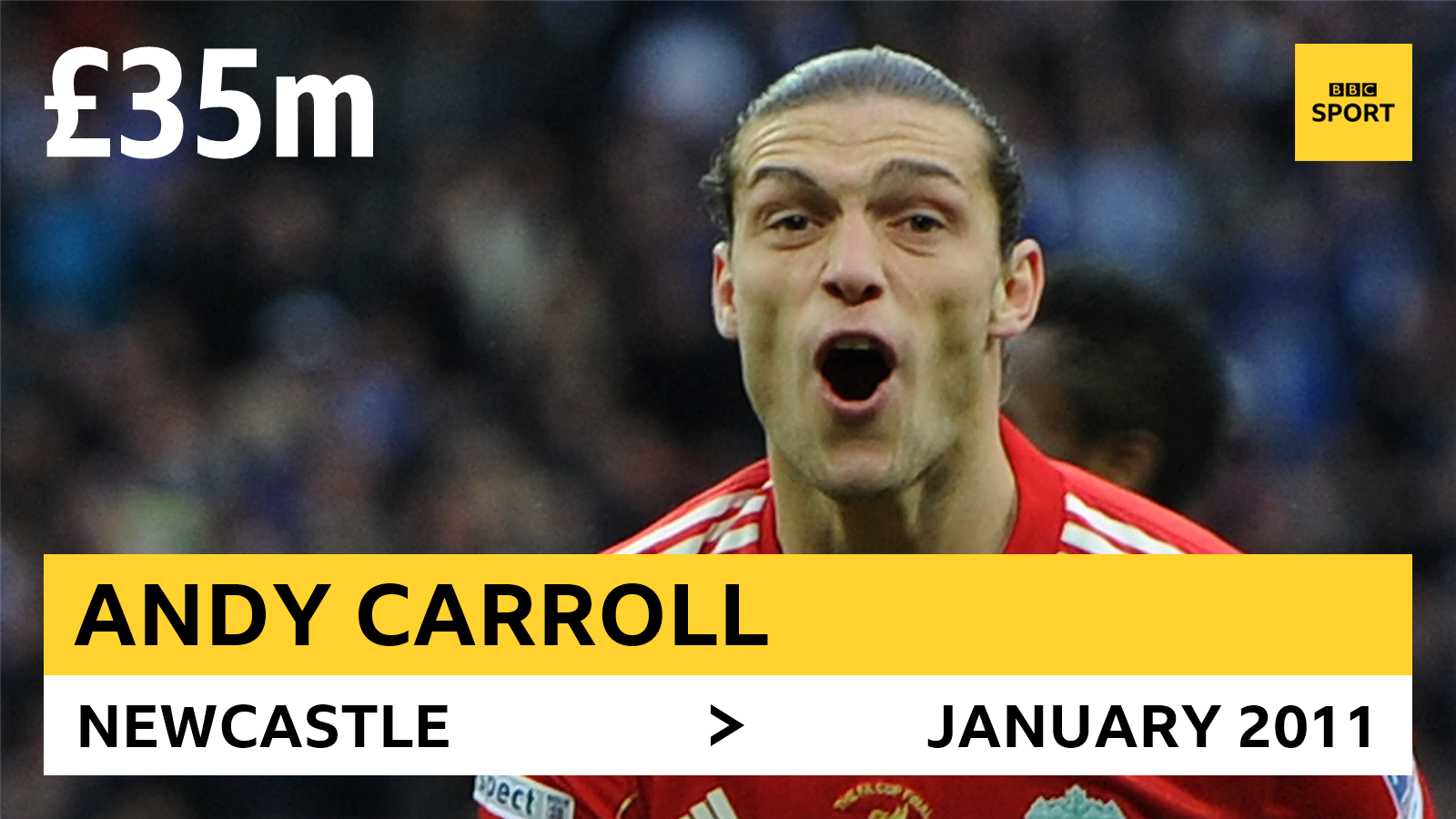 Managers: Roy Hodgson/Kenny Dalglish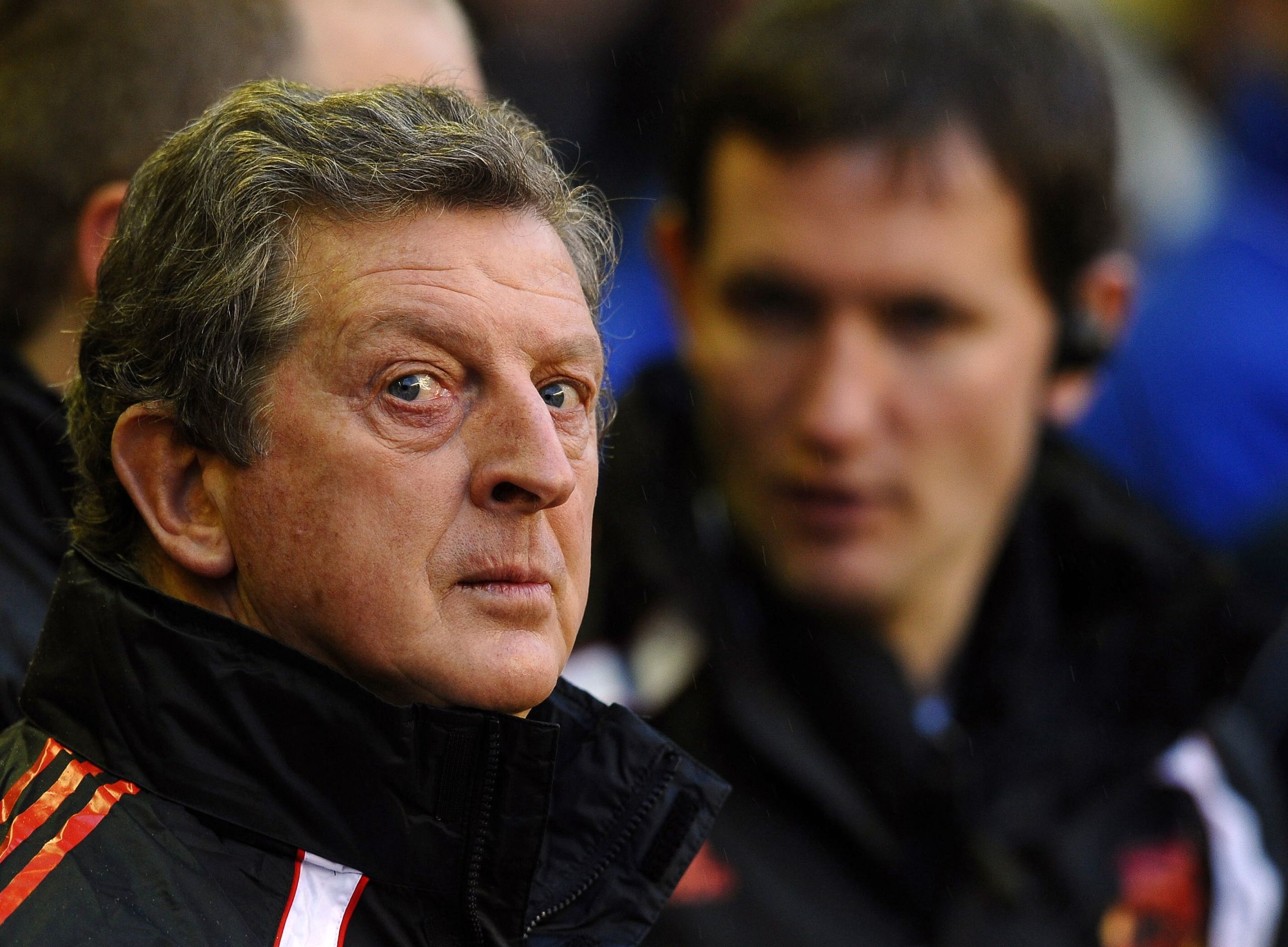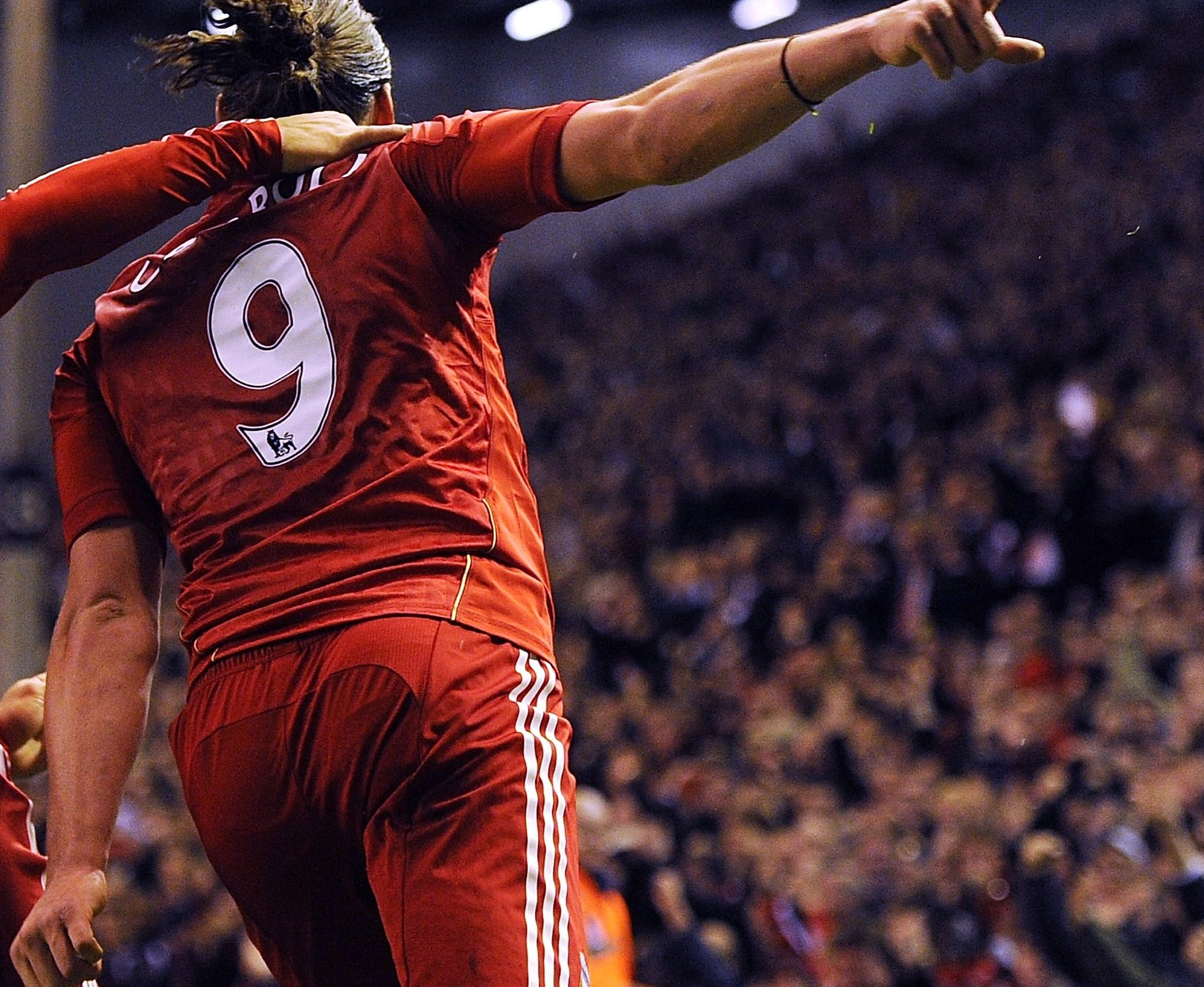 2011-12 season
A new name on the trophy at least...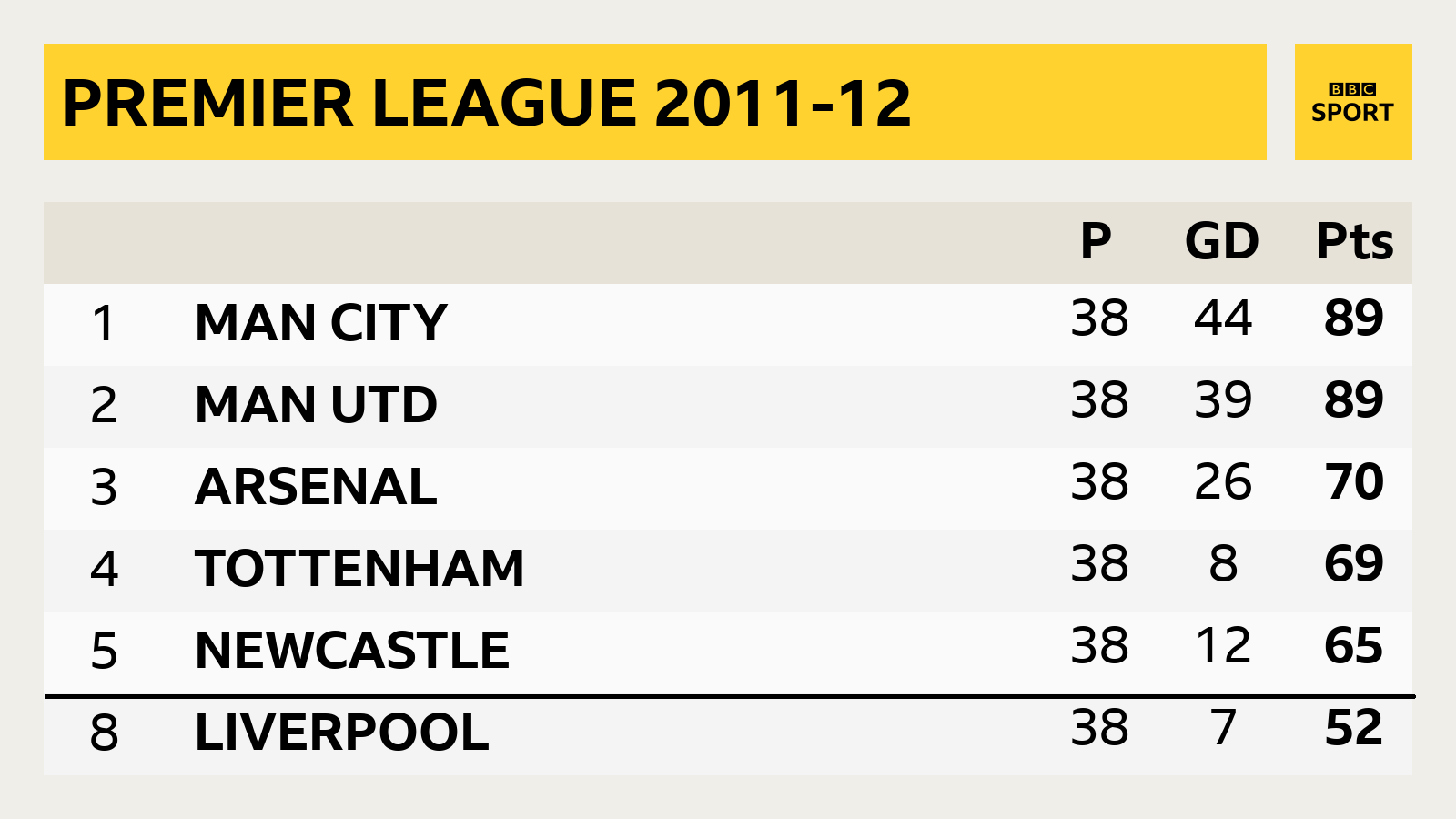 At last, a new name on the Premier League trophy - but it wasn't Liverpool's. Far from it.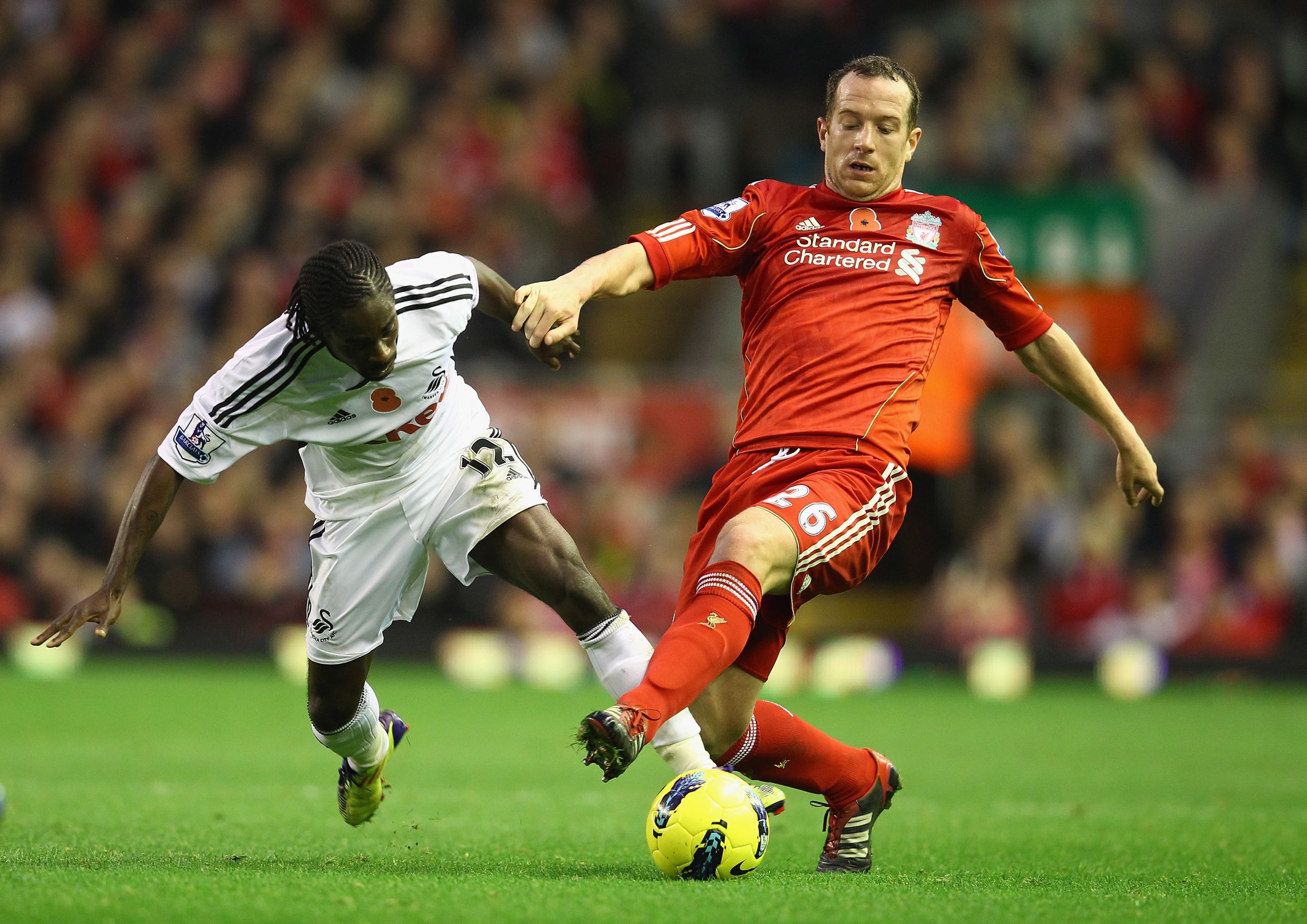 It's easy to forget just how dark some of the recent Anfield days were before Rodgers and Klopp.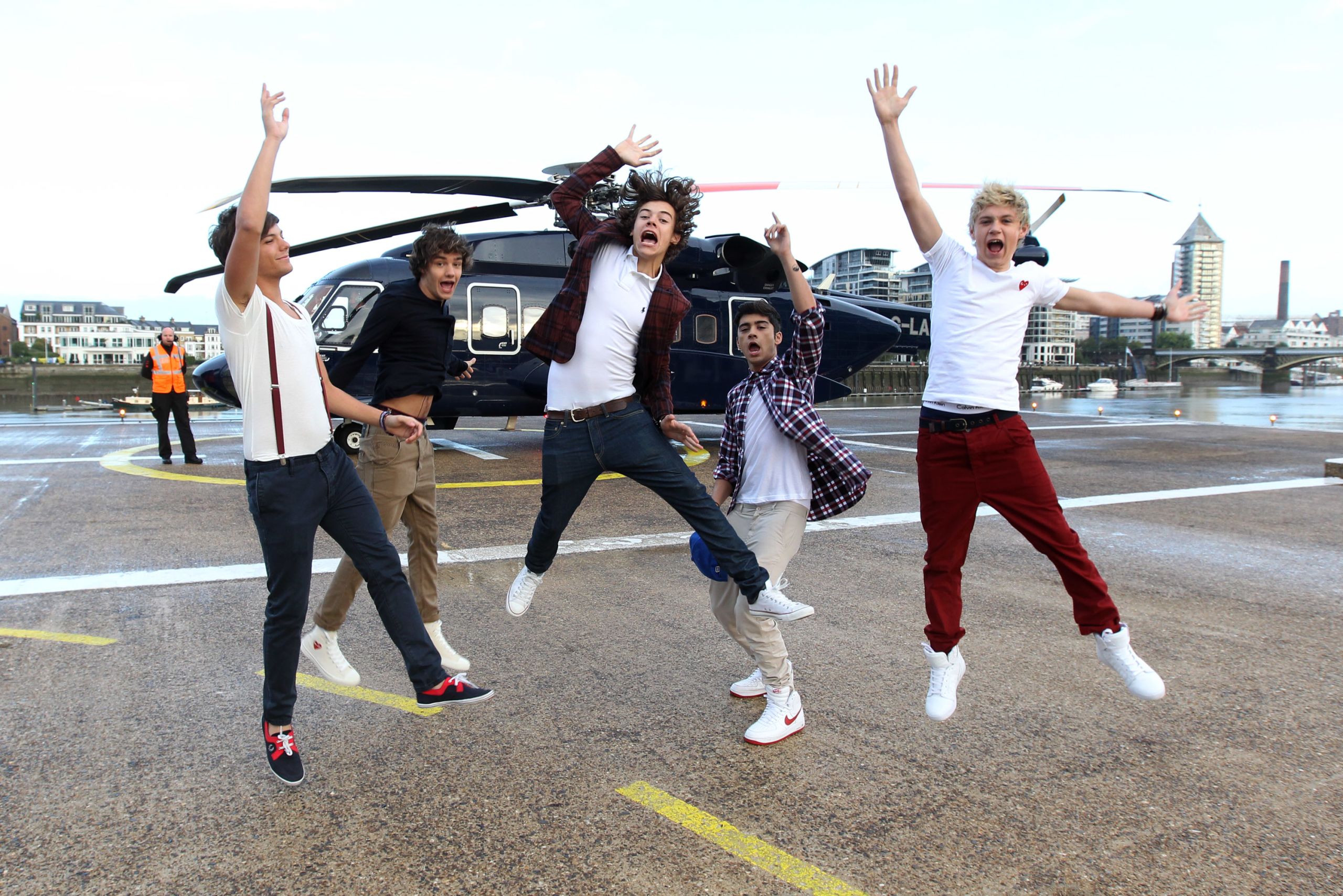 Yes, Liverpool won the League Cup and reached the FA Cup final in 2012, but they finished eighth in the league, 37 points behind Manchester City.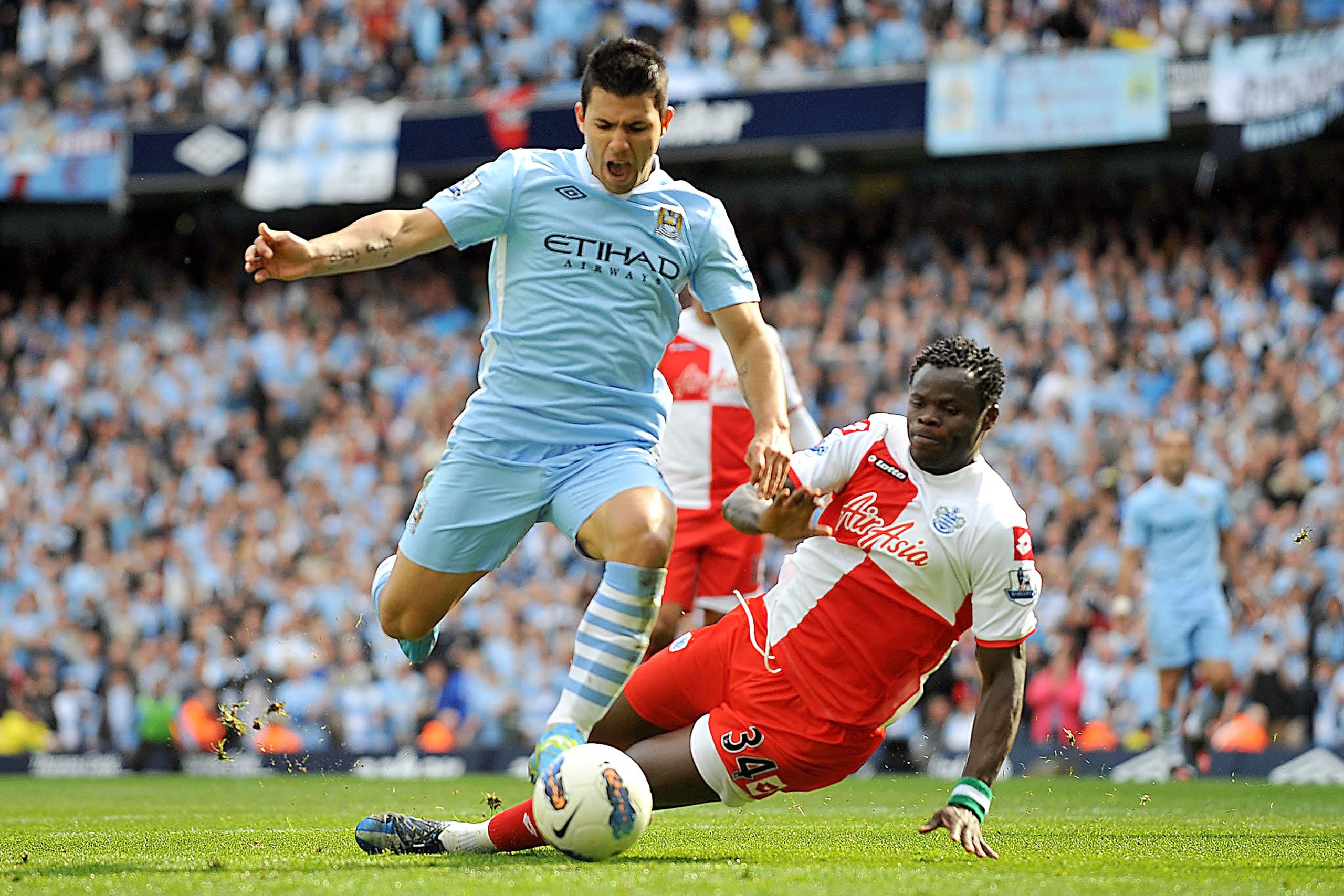 Defeats by Stoke, Swansea, Fulham (who did the double over the Reds) and QPR. Liverpool were nearer to the Championship.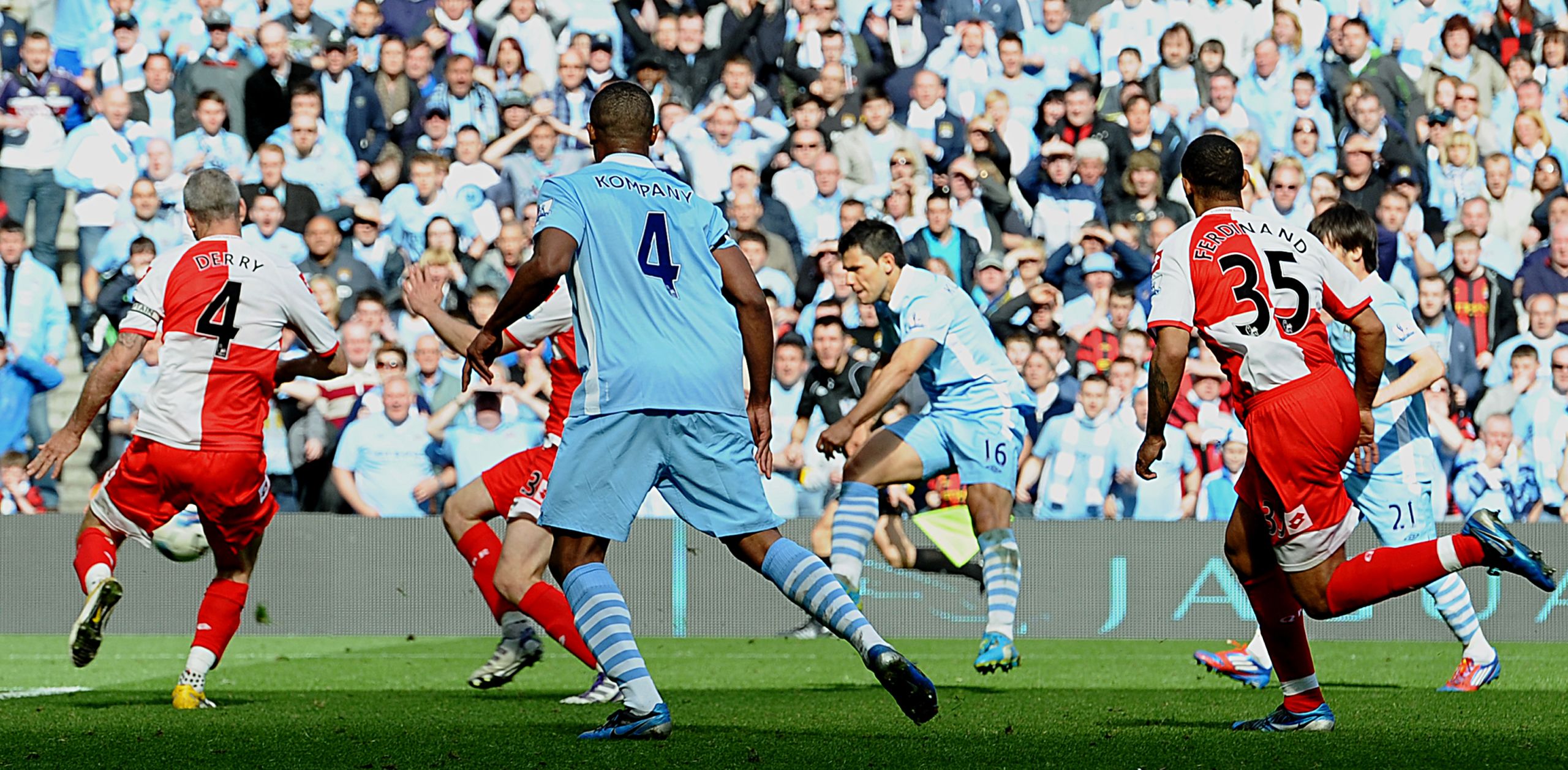 Kenny Dalglish, despite his legendary status, had to go at the end of the year, which culminated in the Reds' joint-lowest Premier League finish since coming eighth in 1994.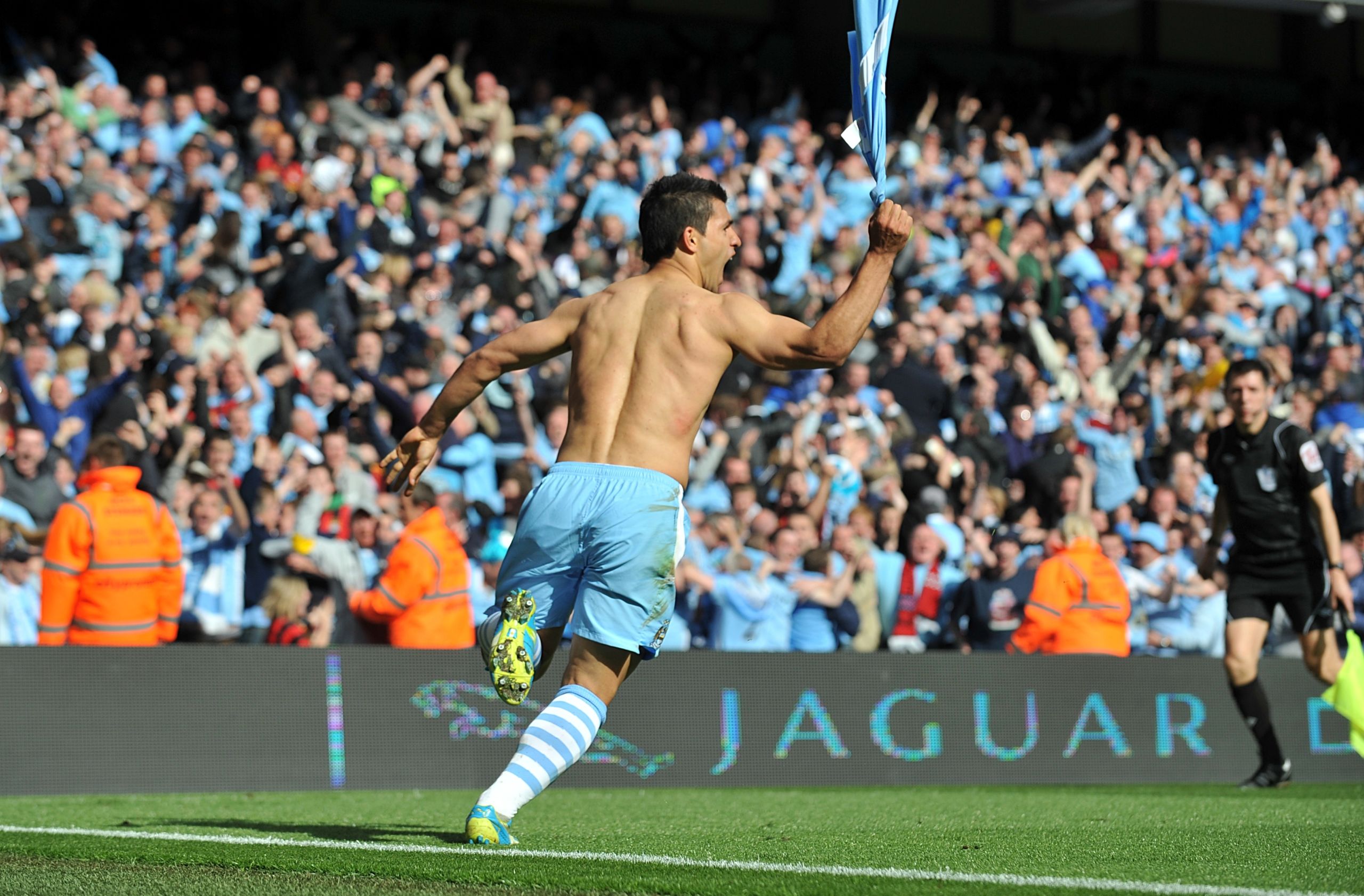 At least he left behind Luis Suarez, who was finding his feet, and a youngster coming through by the name of Raheem Sterling.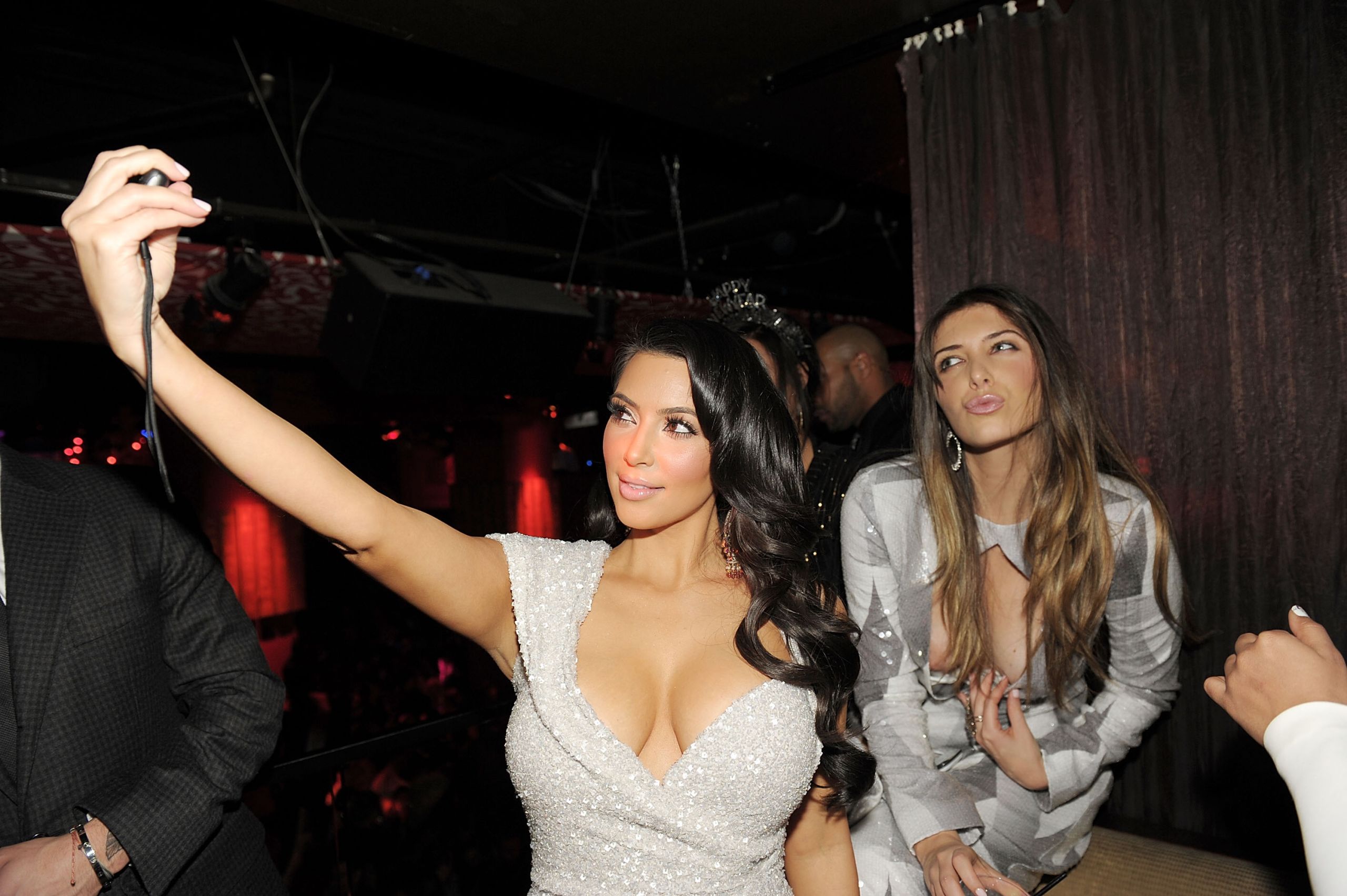 The Stone Roses announced a reunion tour, Adele and Ed Sheeran started their decade-long stranglehold on the album charts and England - under Roy Hodgson - lost another penalty shootout at the Euros.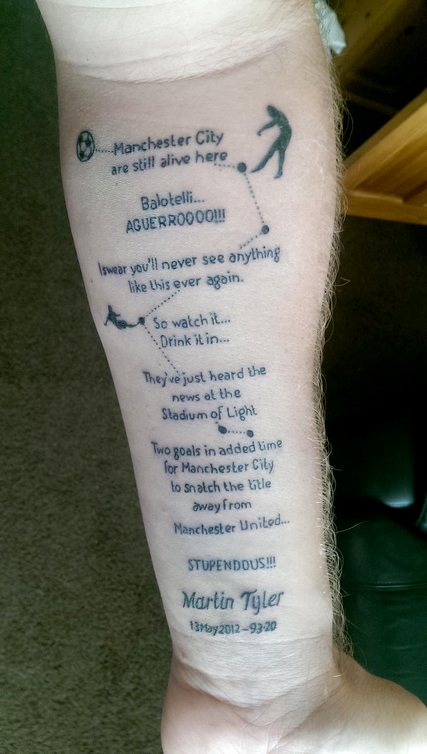 Points behind winners: 37
Trophies: League Cup
Top scorer (all comps): Luis Suarez (17)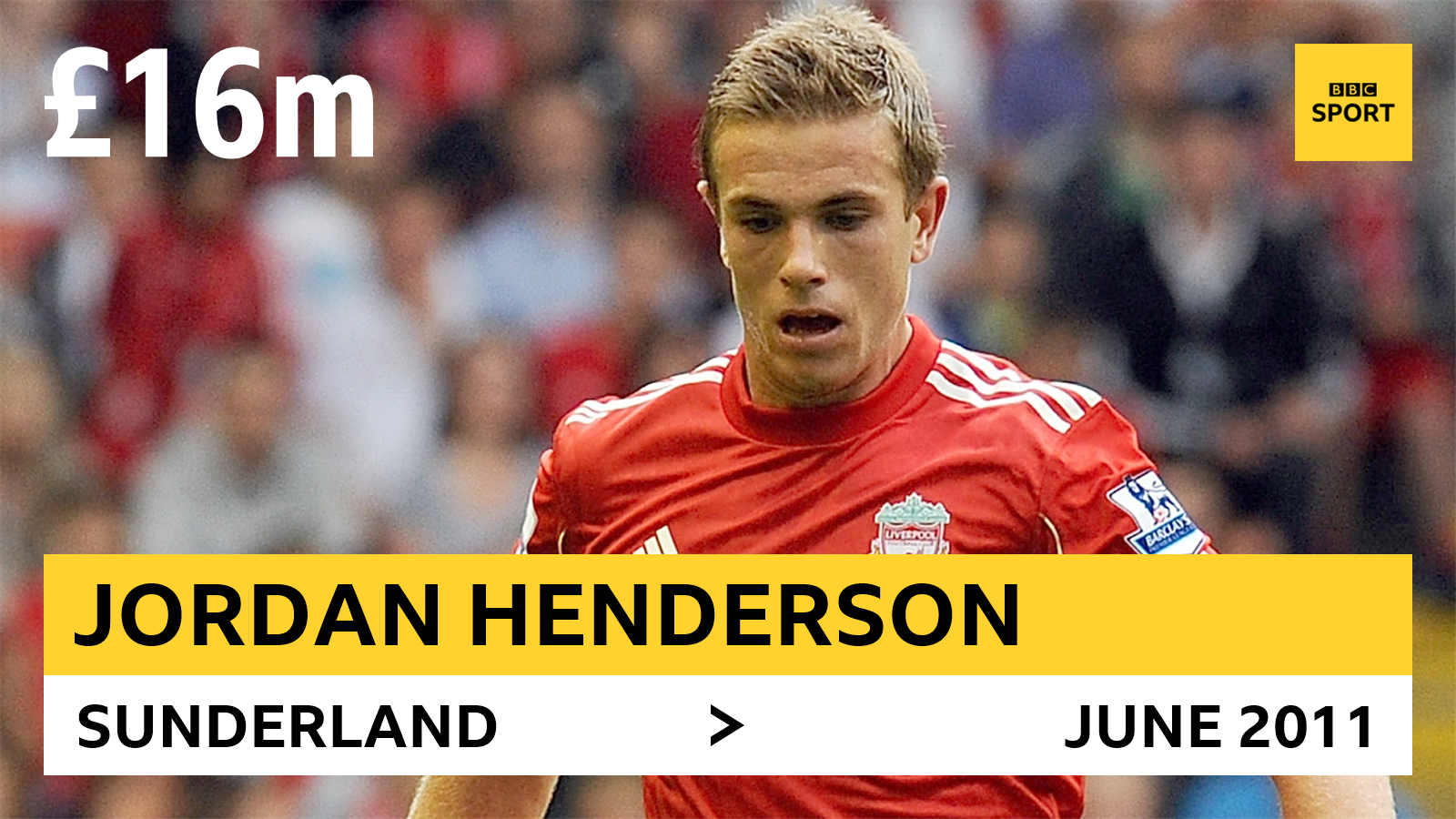 Manager: Kenny Dalglish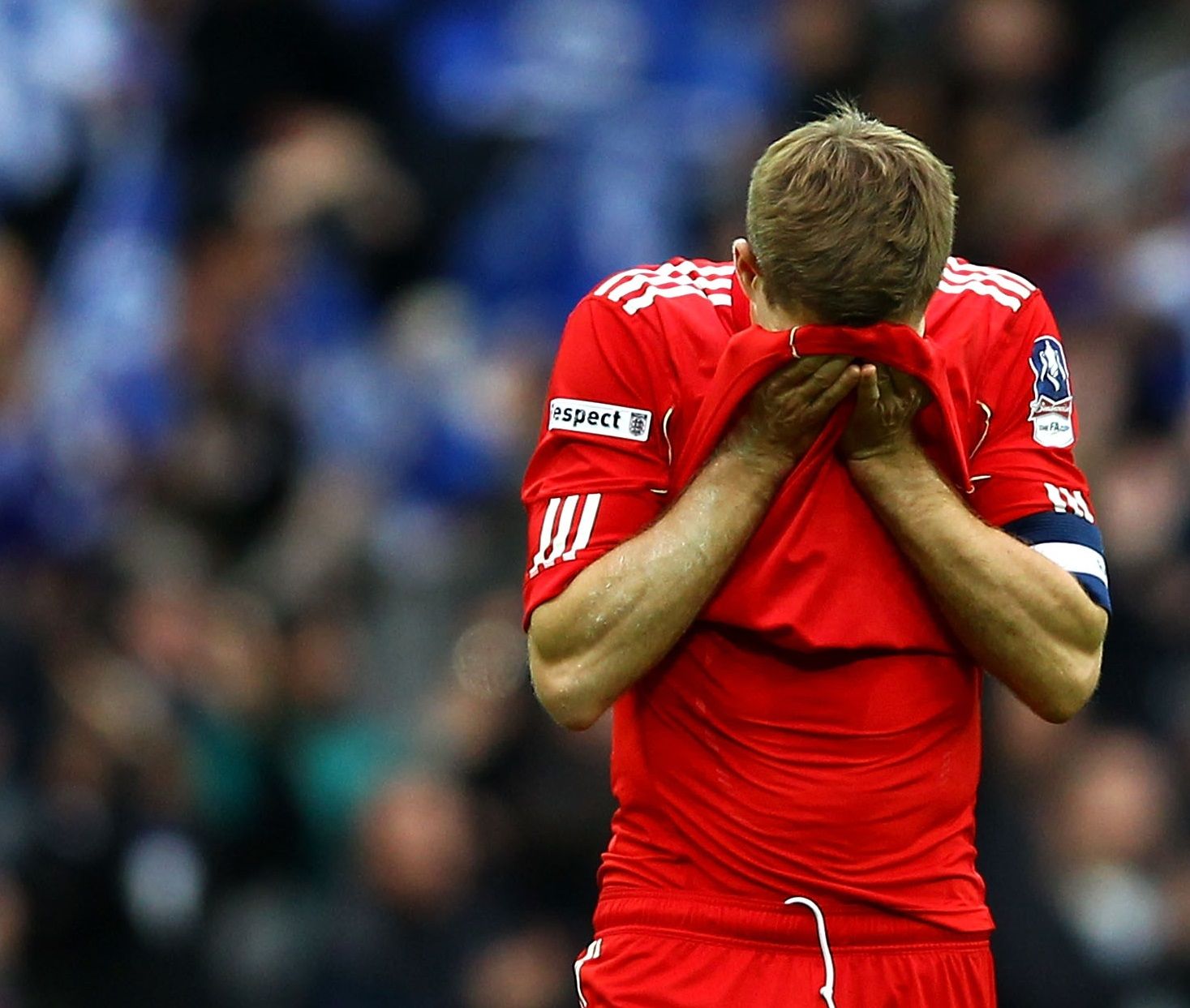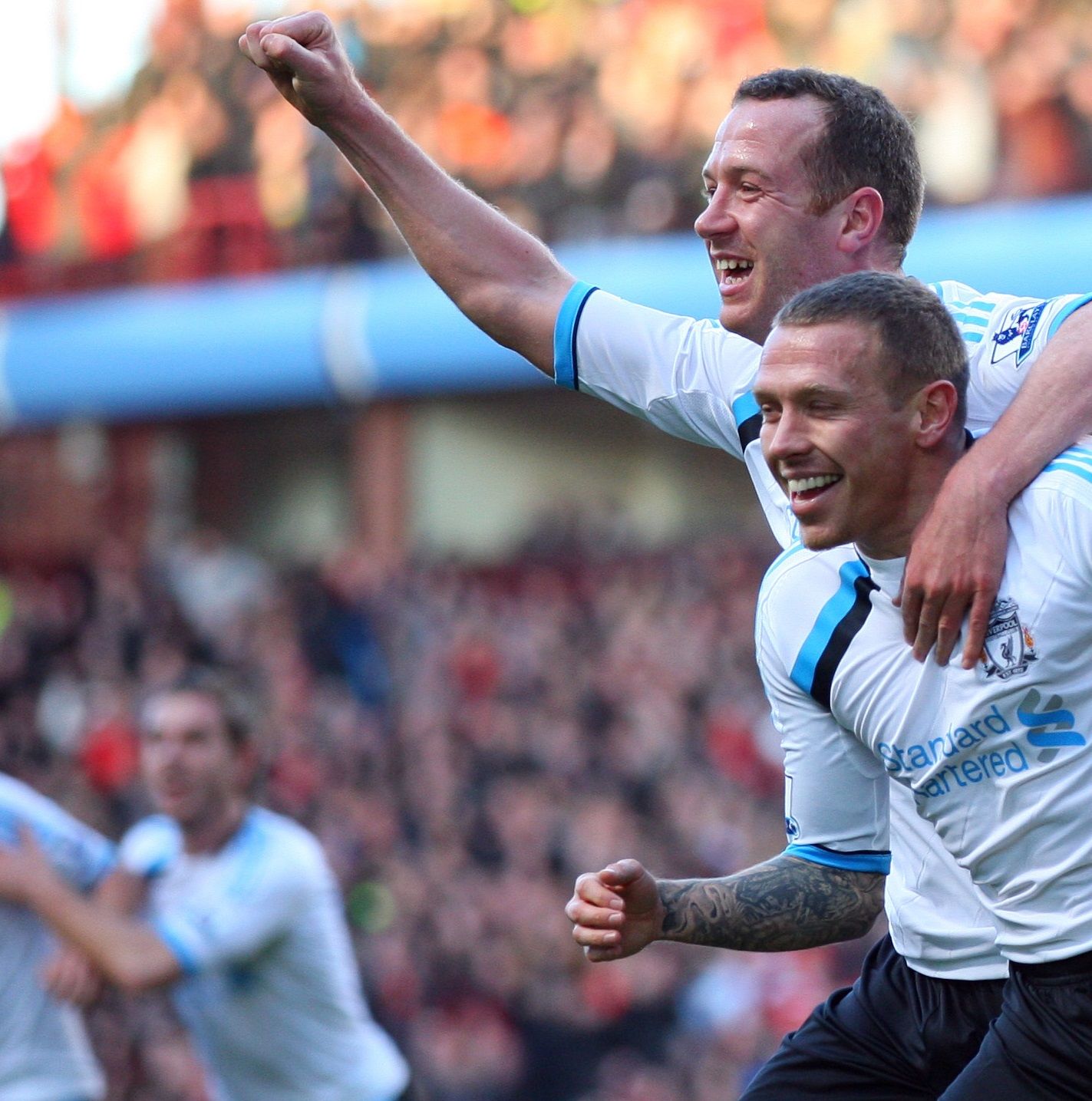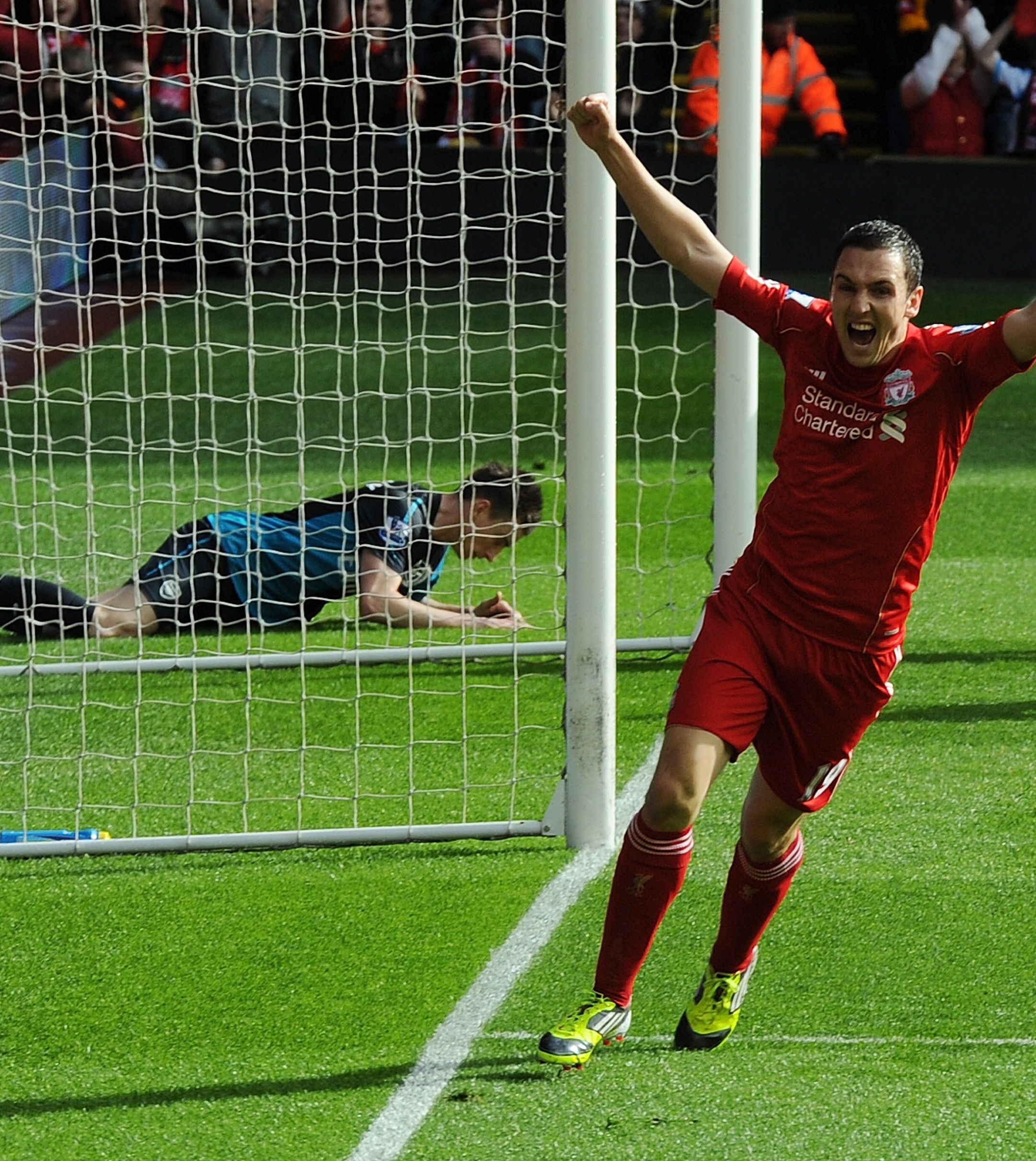 2012-13 season
Inspire a generation?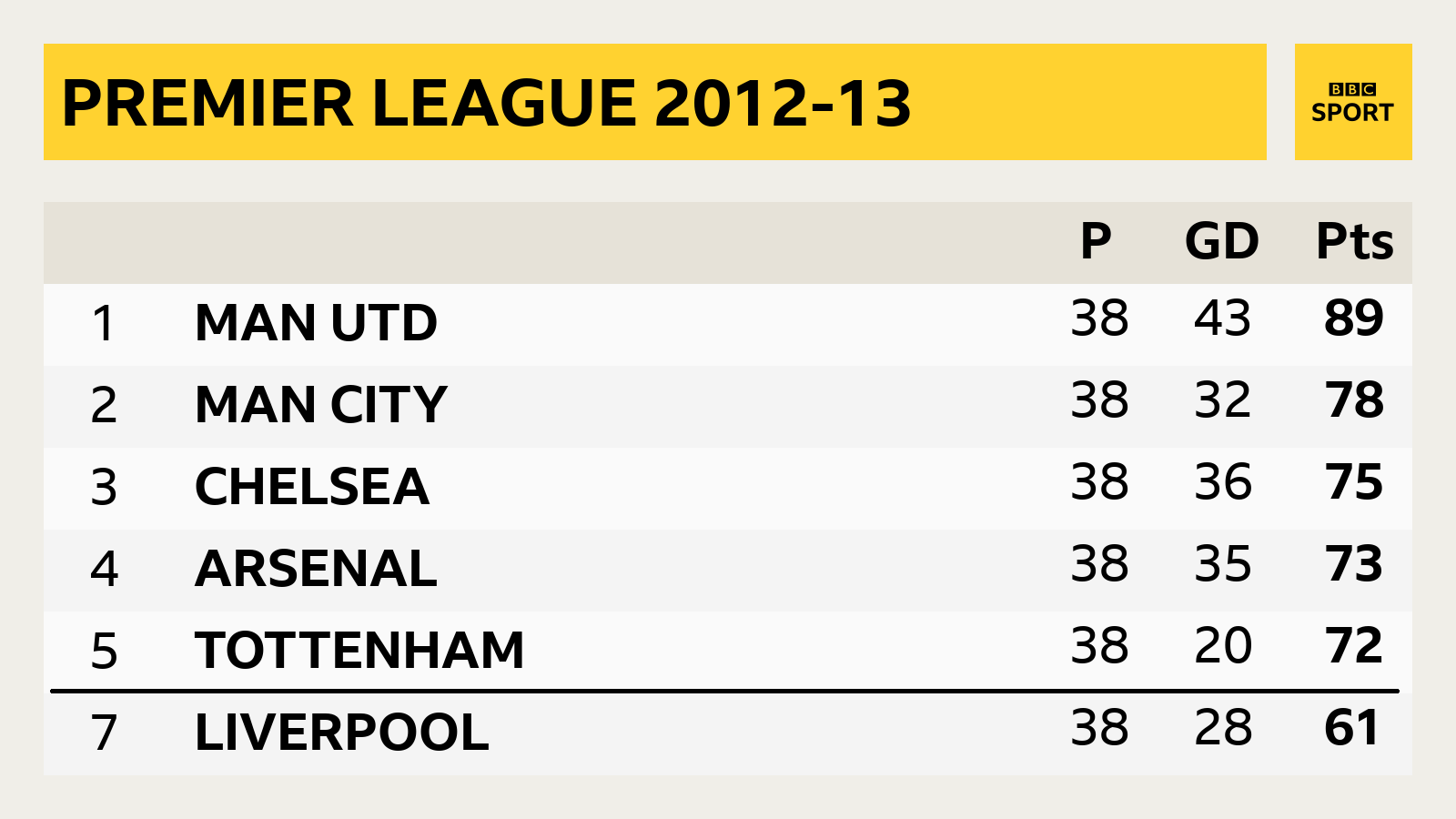 Ah, another new dawn? The London Olympics and Paralympics made the country feel special for 60 days and Brendan Rodgers swanned in from Swansea to light up Anfield. For considerably longer...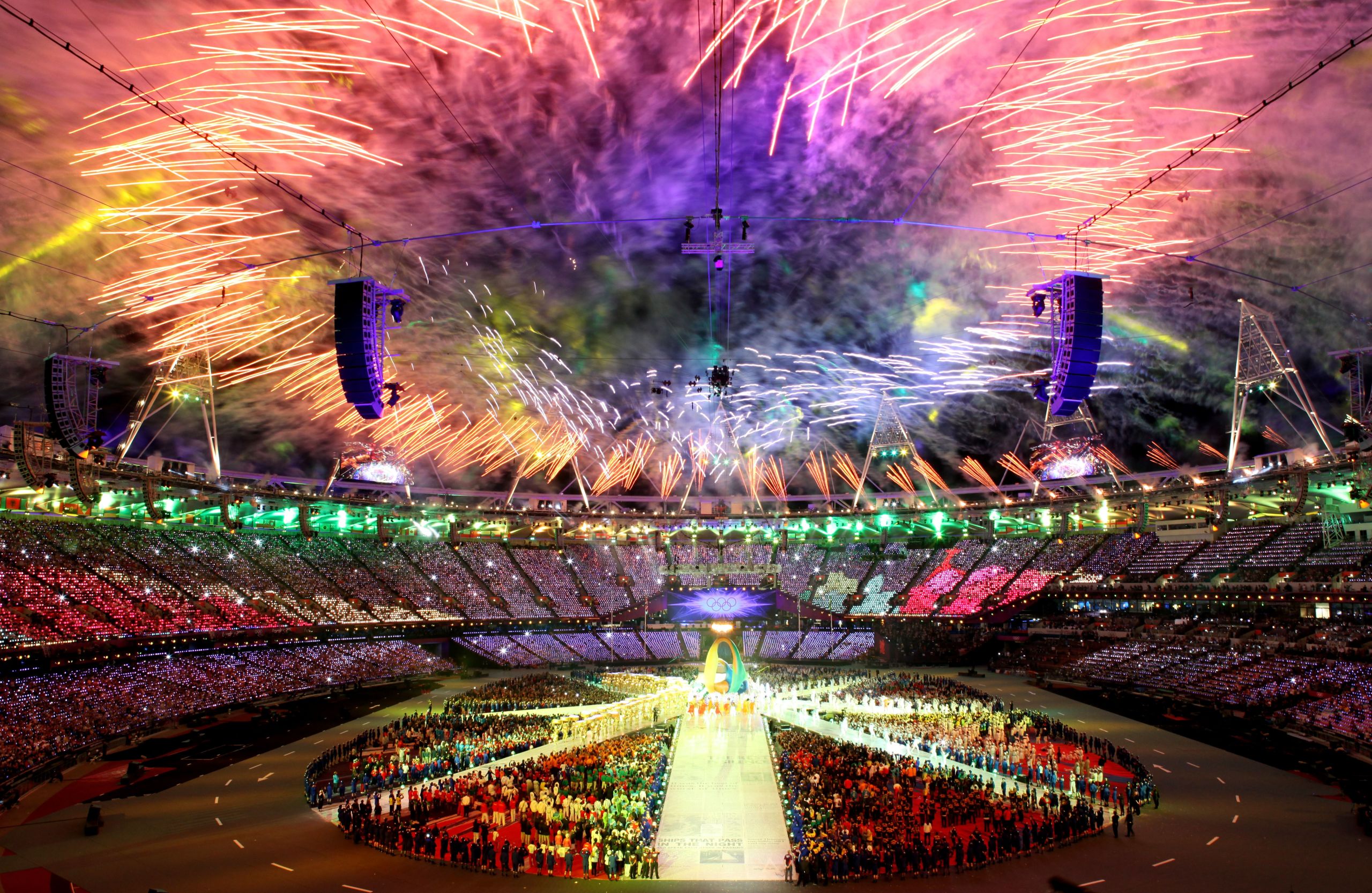 Progress was slow in Rodgers' first season, although he did make some key signings in Daniel Sturridge and Philippe Coutinho. Luis Suarez bit Branislav Ivanovic and was handed a 10-match ban.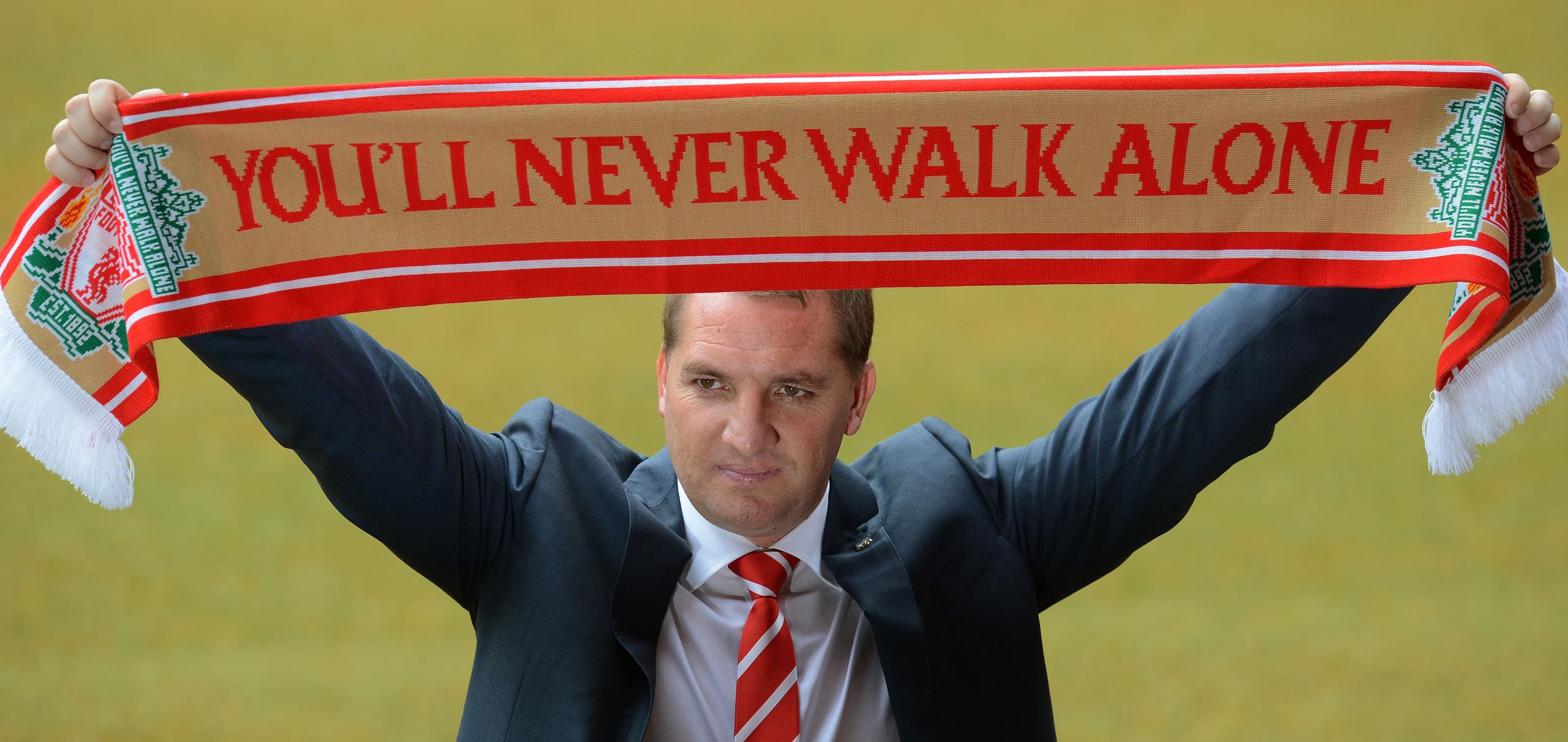 Liverpool were still miles off the title pace and crashed out of the cups quickly enough. They were never higher than their eventual position of seventh.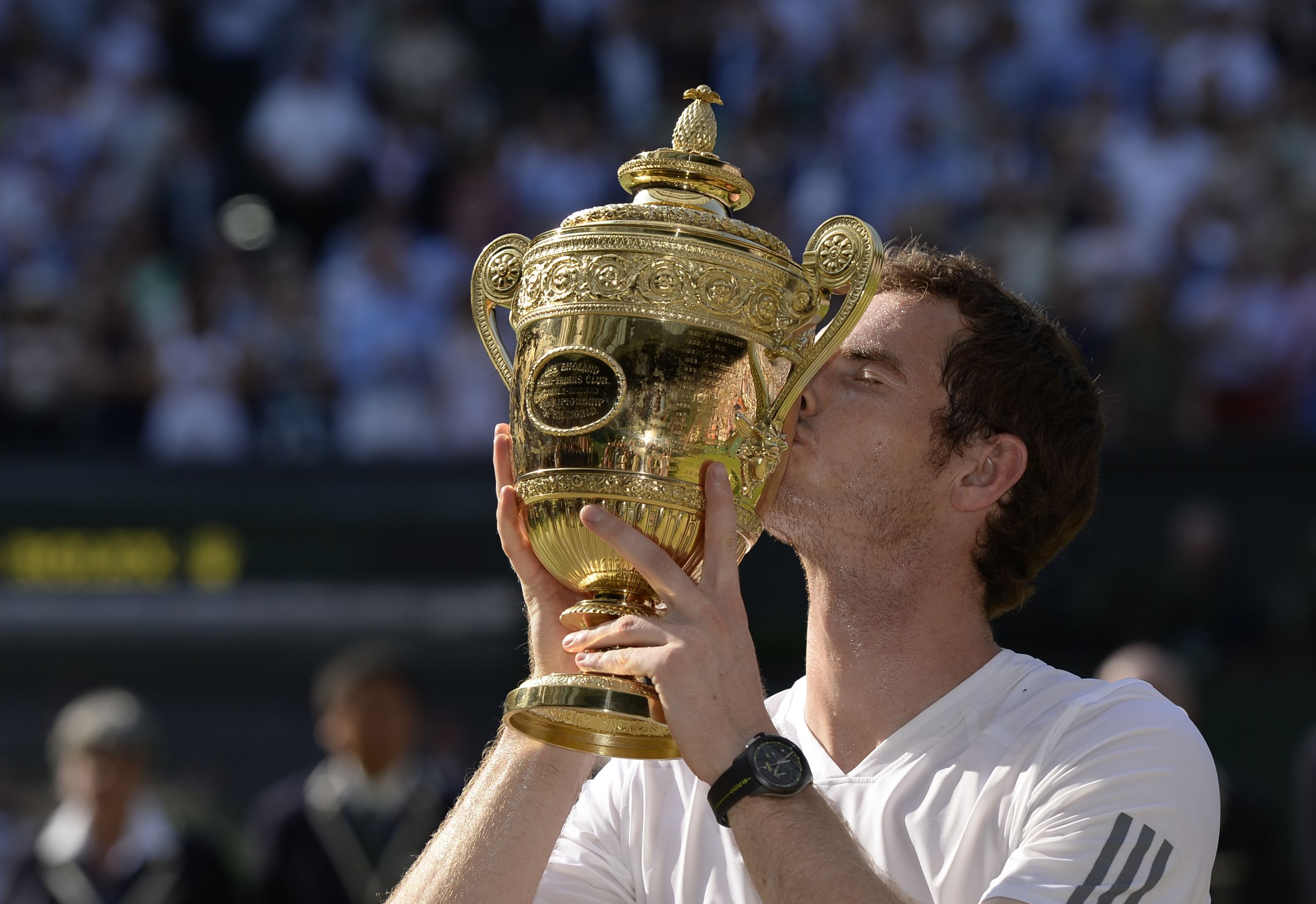 One wait came to an end at least as Andy Murray won the US Open and went on to conquer Wimbledon, the first British man to win a Grand Slam since before World War II.
Champion racehorse Frankel retired, Skyfall rocked the box office and Sir Alex Ferguson stepped down at Old Trafford, which was truly the end of an era.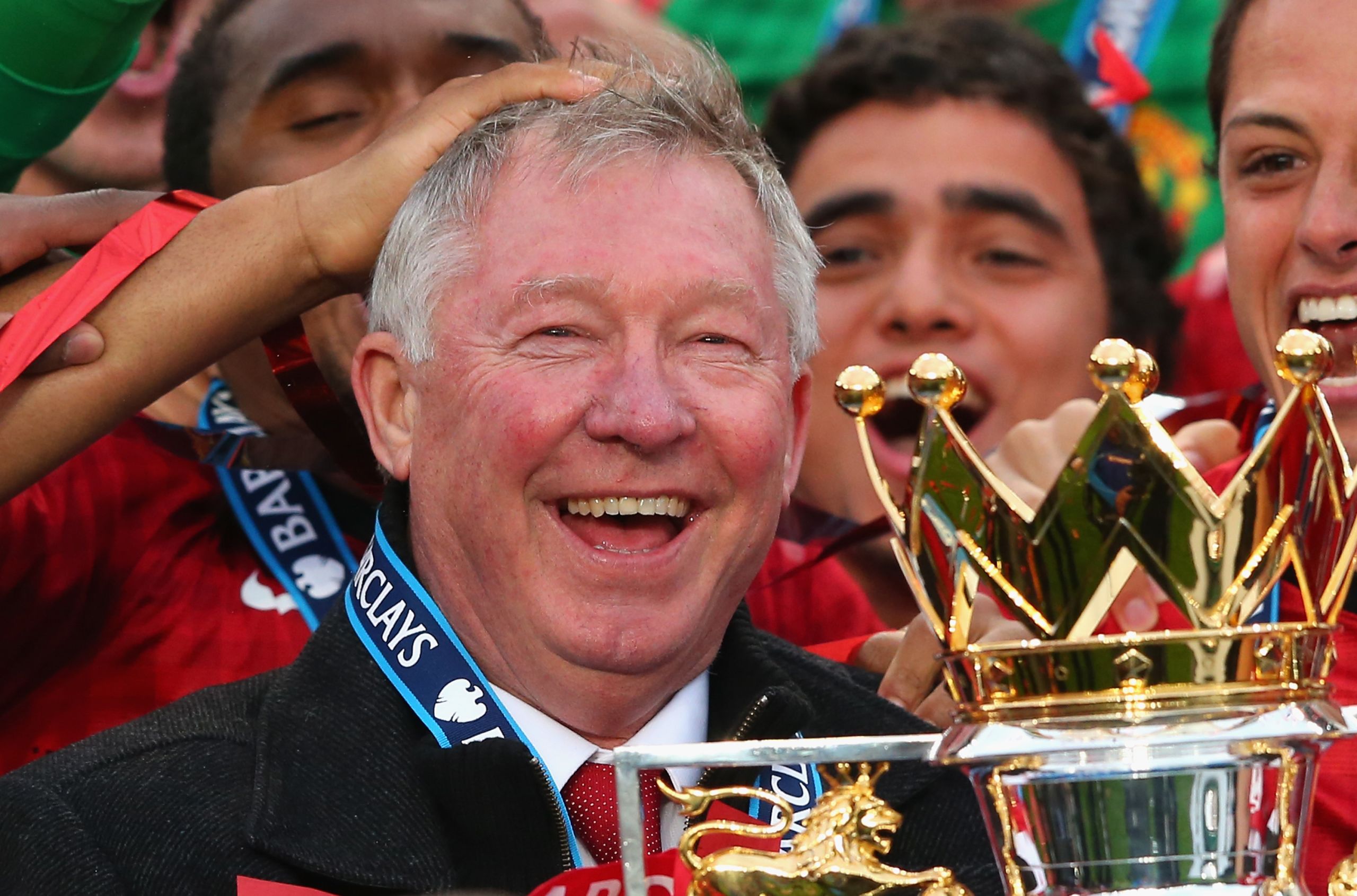 In the 23 years since Liverpool's last title, Ferguson had won 13 of them. An opening at the top?
Points behind winners: 28
Trophies: None
Top scorer (all comps): Luis Suarez (30)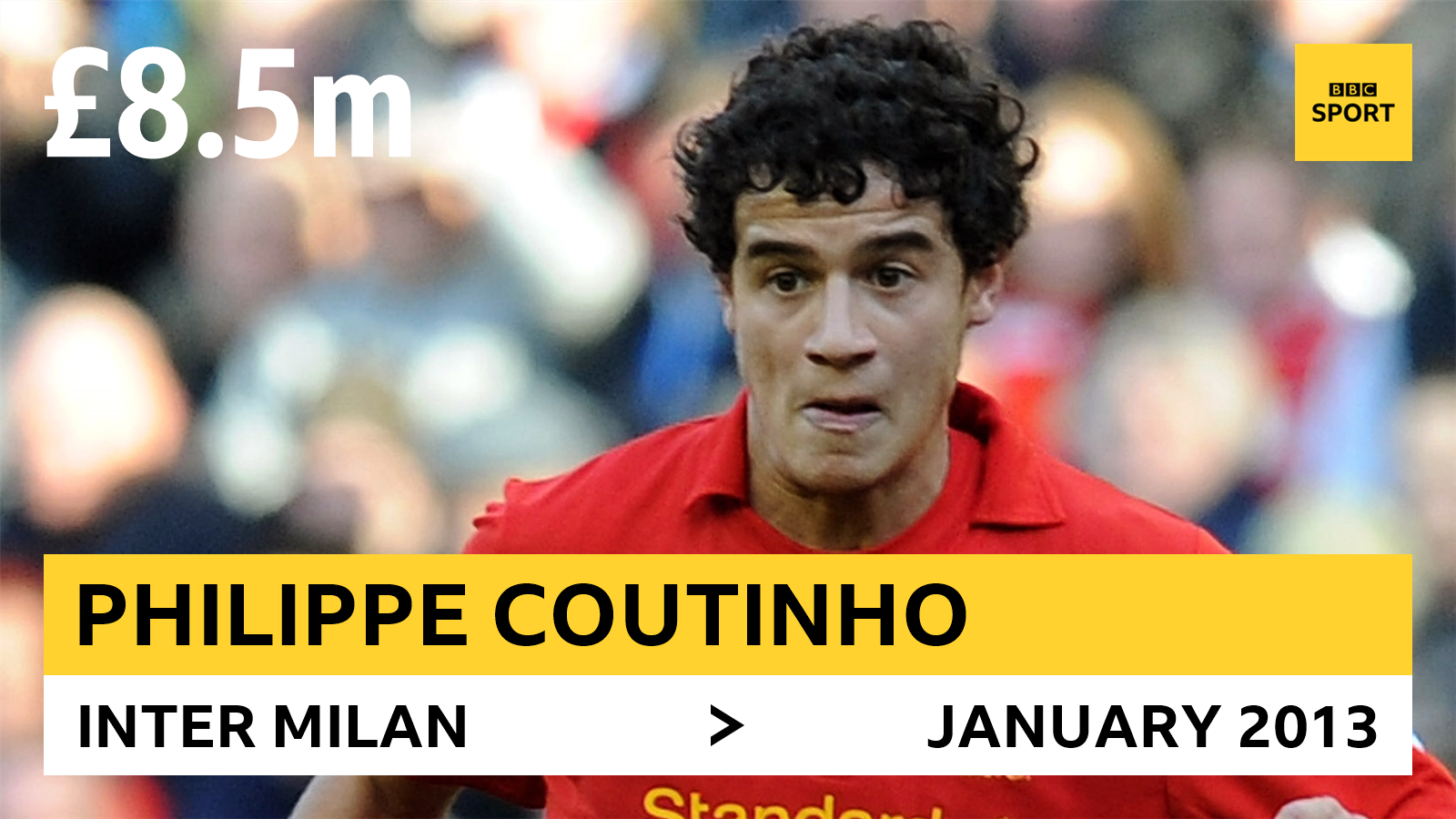 Manager: Brendan Rodgers
2013-14 season
"This does not slip now. This does not slip! We go again!"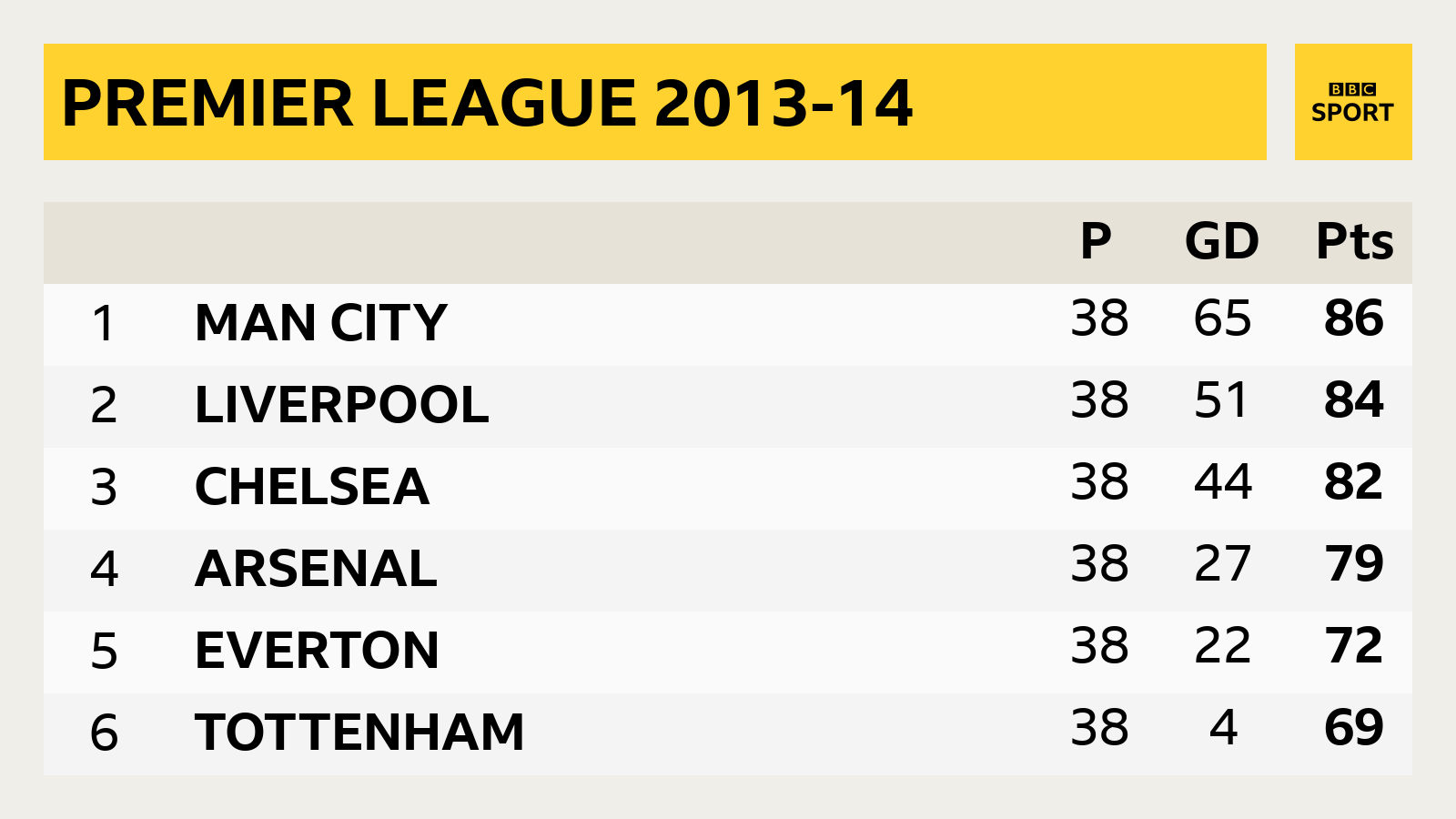 Every so often sport throws up a storyline straight from the pages of Hollywood's finest.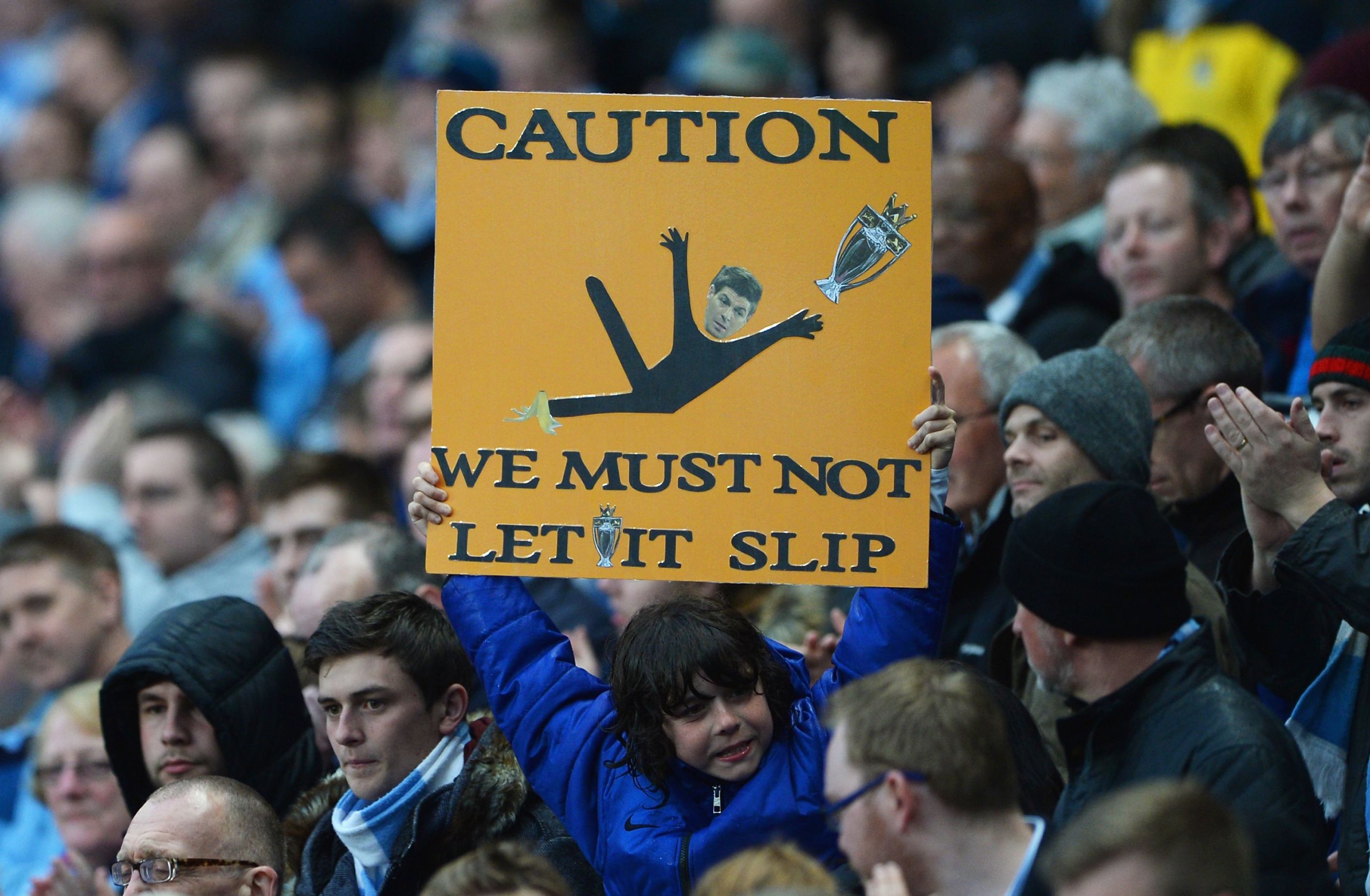 It almost seems too neat now that two weeks after Steven Gerrard was caught on camera telling his team-mates not to let their advantage slip - after a win over title rivals Manchester City which put the Reds seven points ahead with four games left - the captain would himself slip, literally, to allow Demba Ba to score and give Chelsea a famous win. Infamous, if you like.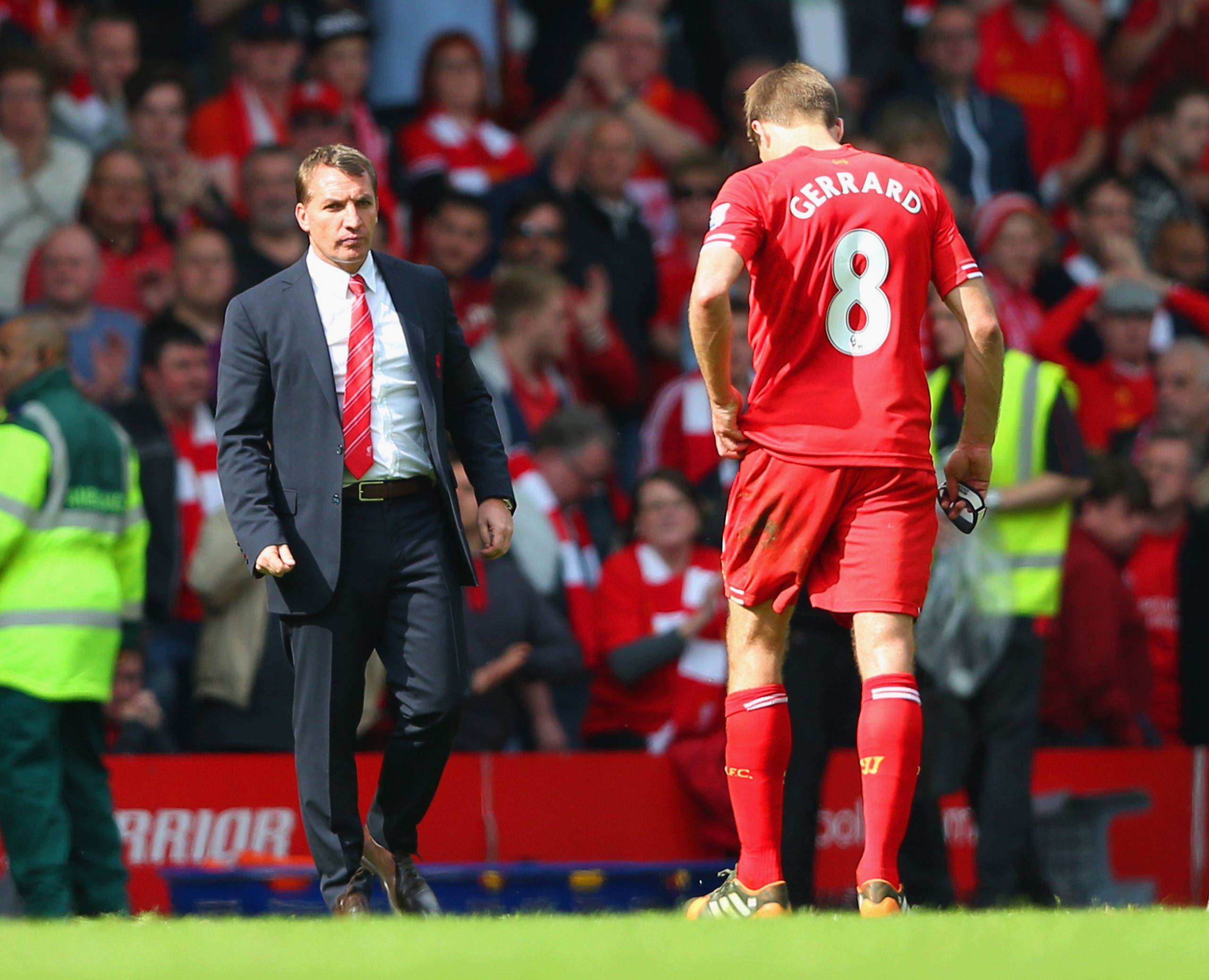 Rodgers' side won 11 games in a row to propel themselves to the very brink of the title, only to snatch defeat from the silverware-lined jaws of victory. Yes, City had games in hand, yes Jordan Henderson was suspended but yes, that slip was pivotal.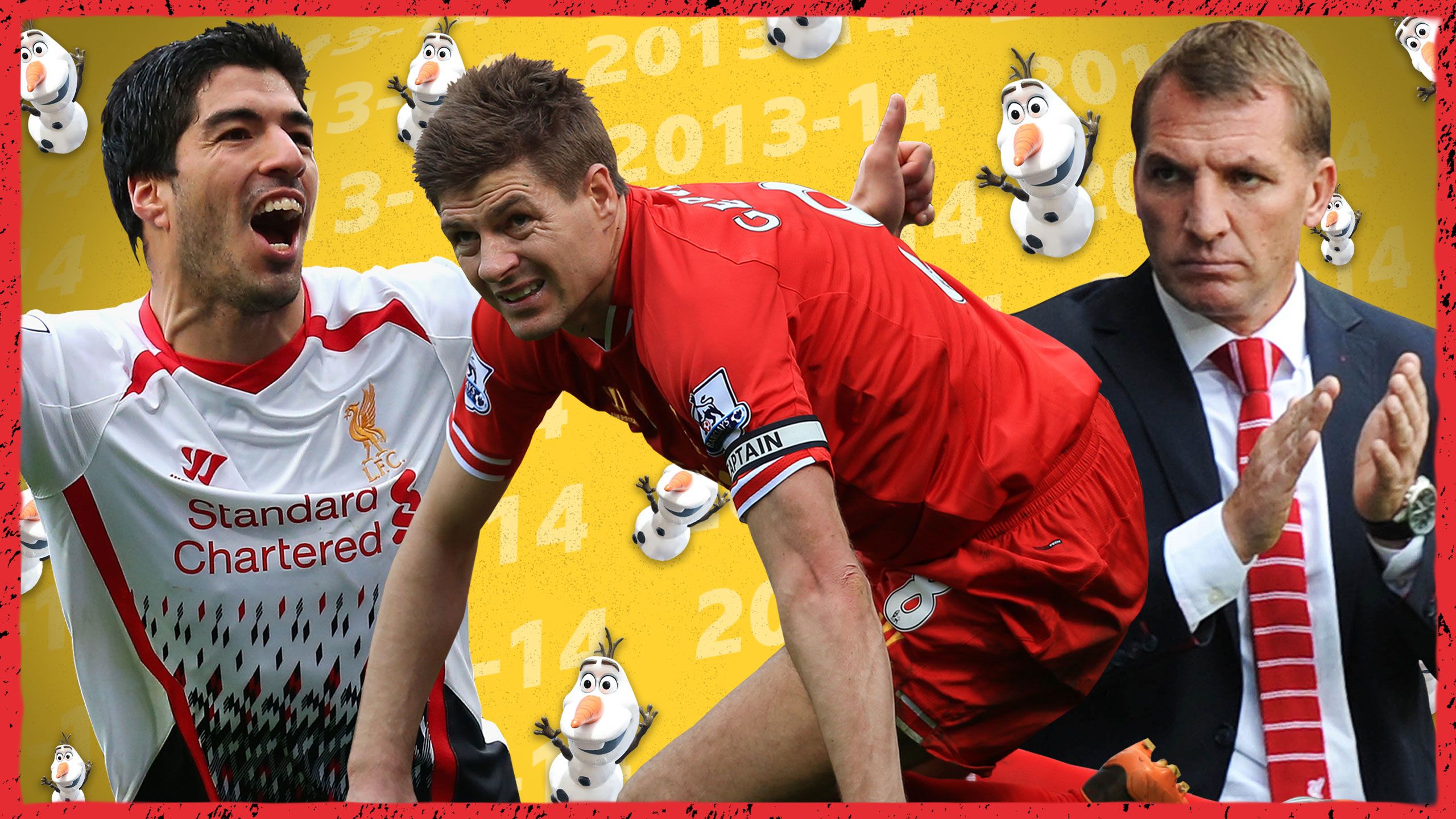 Fans started welcoming the team bus into Anfield like conquering heroes once again - belief returned as Rodgers' team played some superb football. Suarez, Sterling and Sturridge scored 61 Premier League goals between them.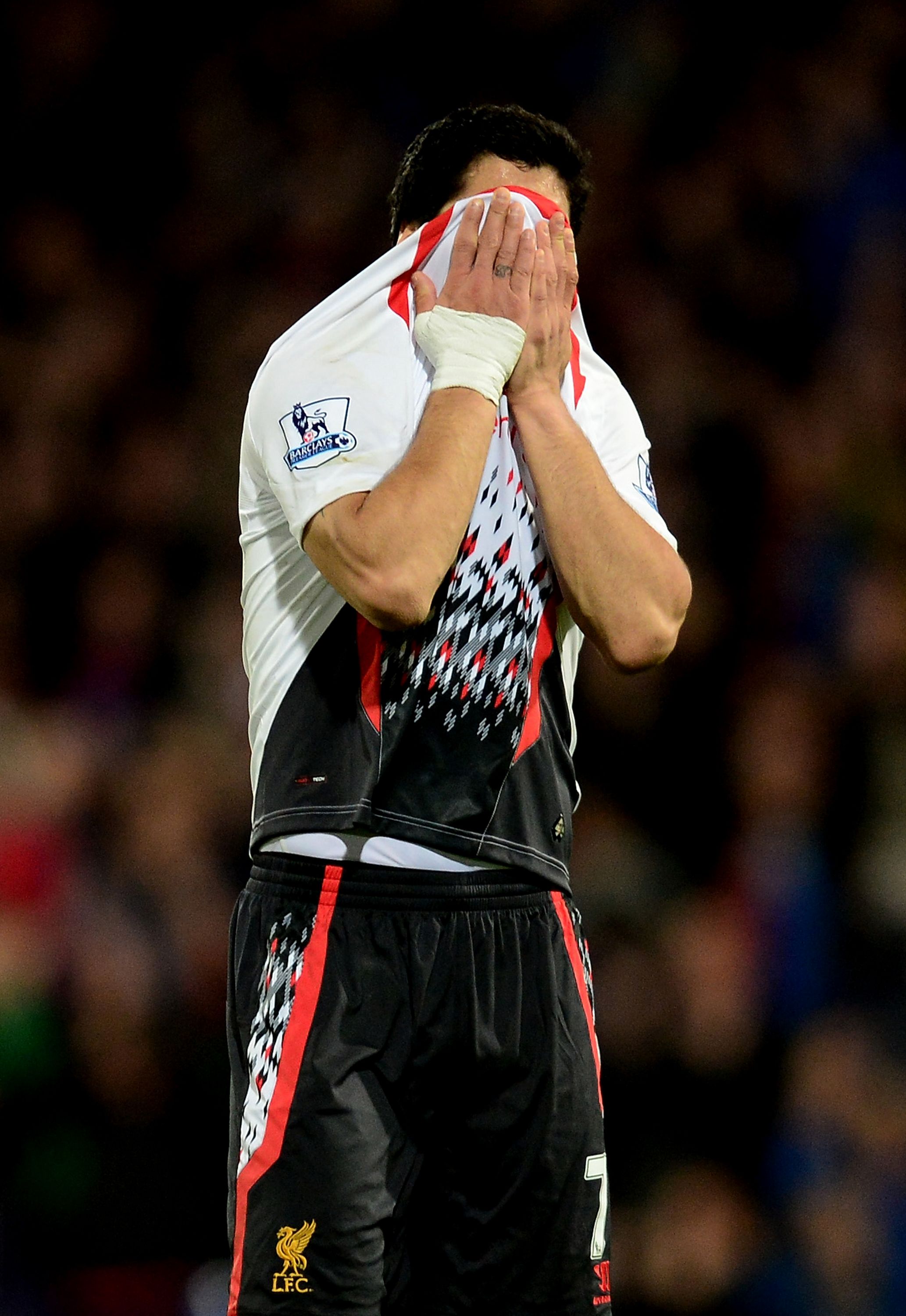 But it was another year without a title win. Just two points between Liverpool and glory - the fewest since the by now almost mythical title win of 1990.
Liverpool's story didn't quite have the ending people wanted - but TV show Breaking Bad concluded to universal acclaim.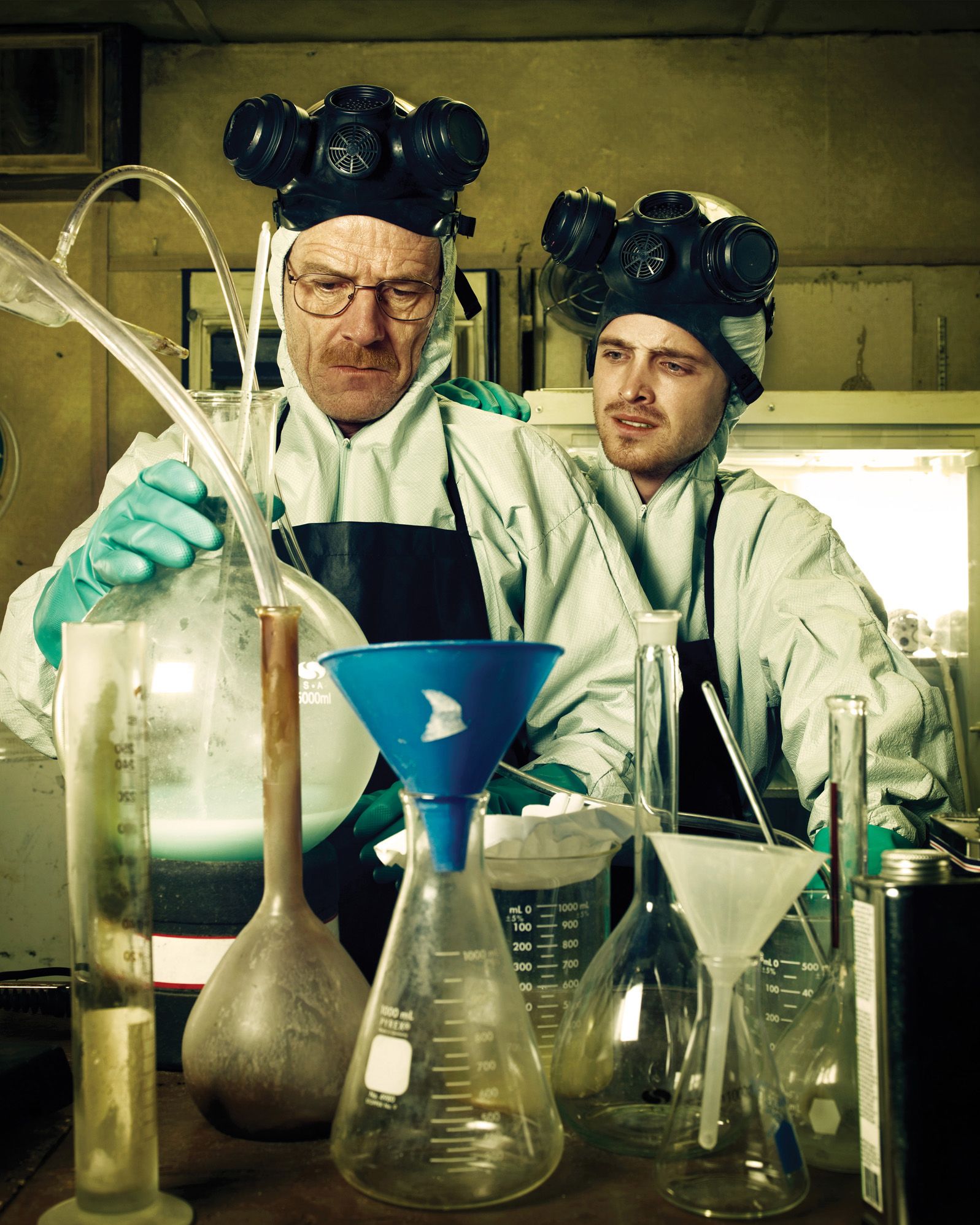 Back home David Moyes was sacked 10 months into a six-year deal at Manchester United, Jeremy Paxman left Newsnight and toddlers were wowed by the release of Frozen.
Points behind winners: 2
Trophies: None
Top scorer (all comps): Luis Suarez (31)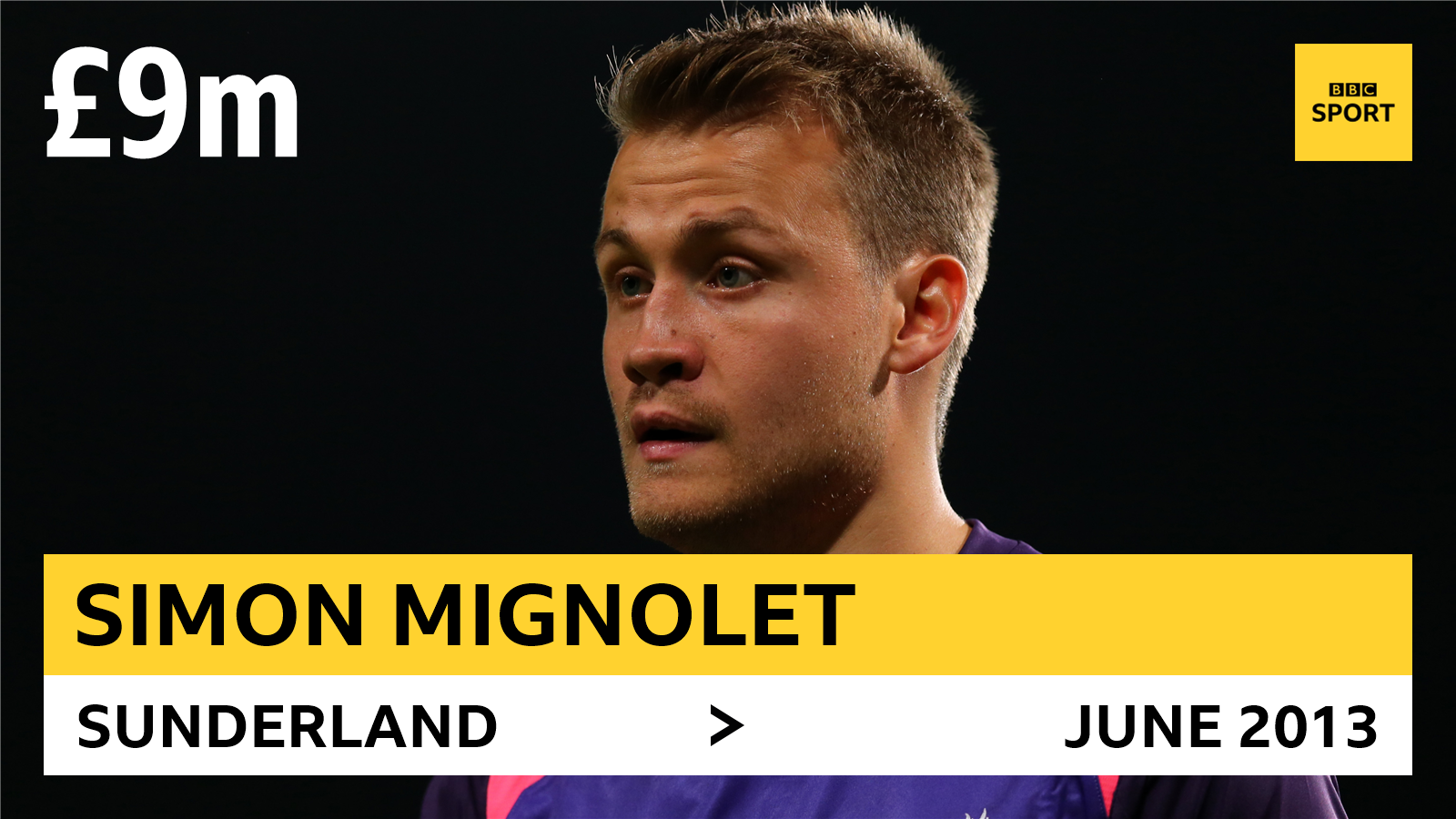 Manager: Brendan Rodgers
2014-15 season
No Suarez, no party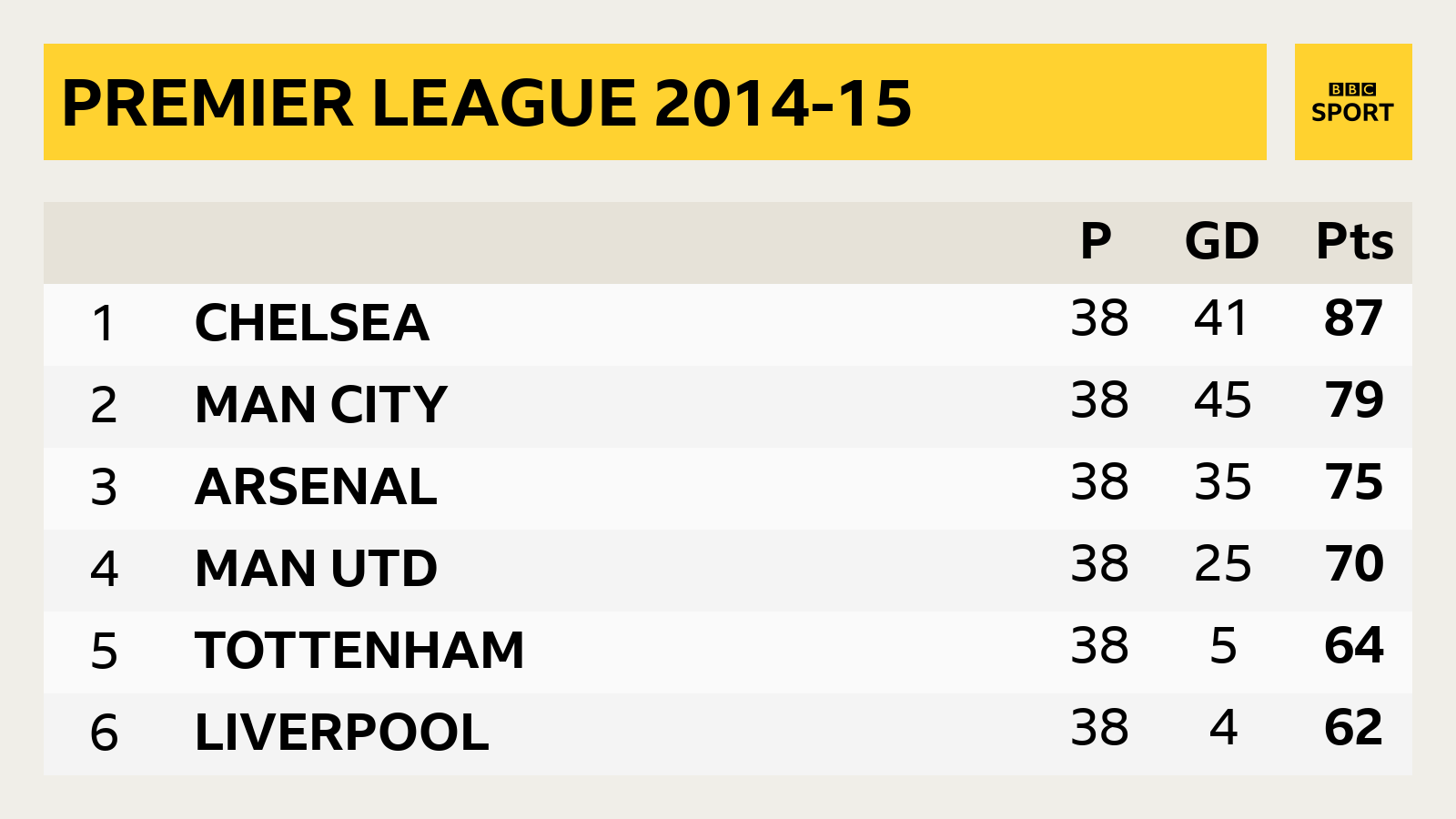 One of the biggest robberies of all time? No, not Liverpool throwing £20m at Lazar Markovic, it was the year of the Hatton Garden heist.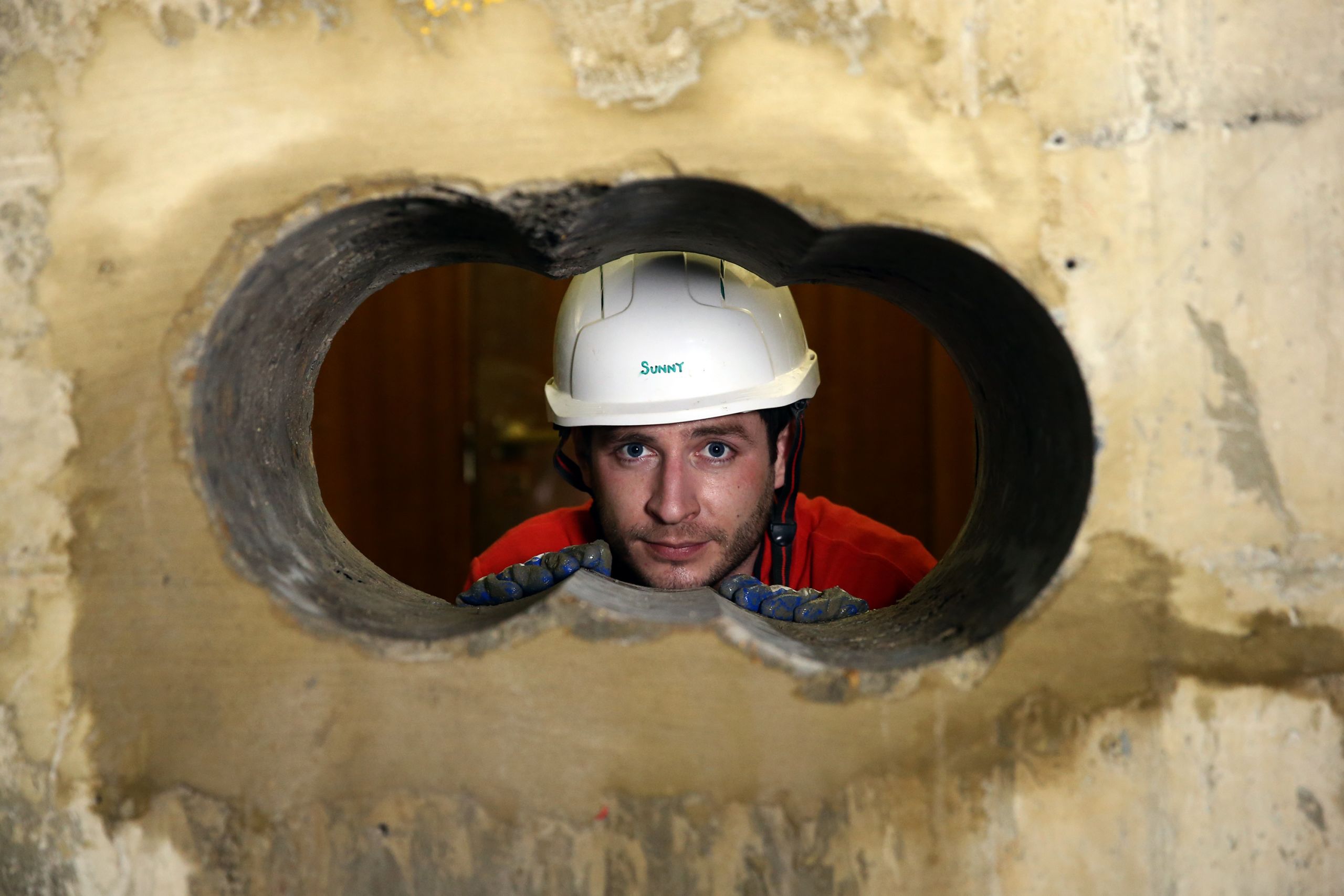 A hardy gang of pensioners managed to take £200m worth of jewels through a hole in the wall, while up at Anfield Barcelona managed to extract Luis Suarez from the boot room in another well-planned raid.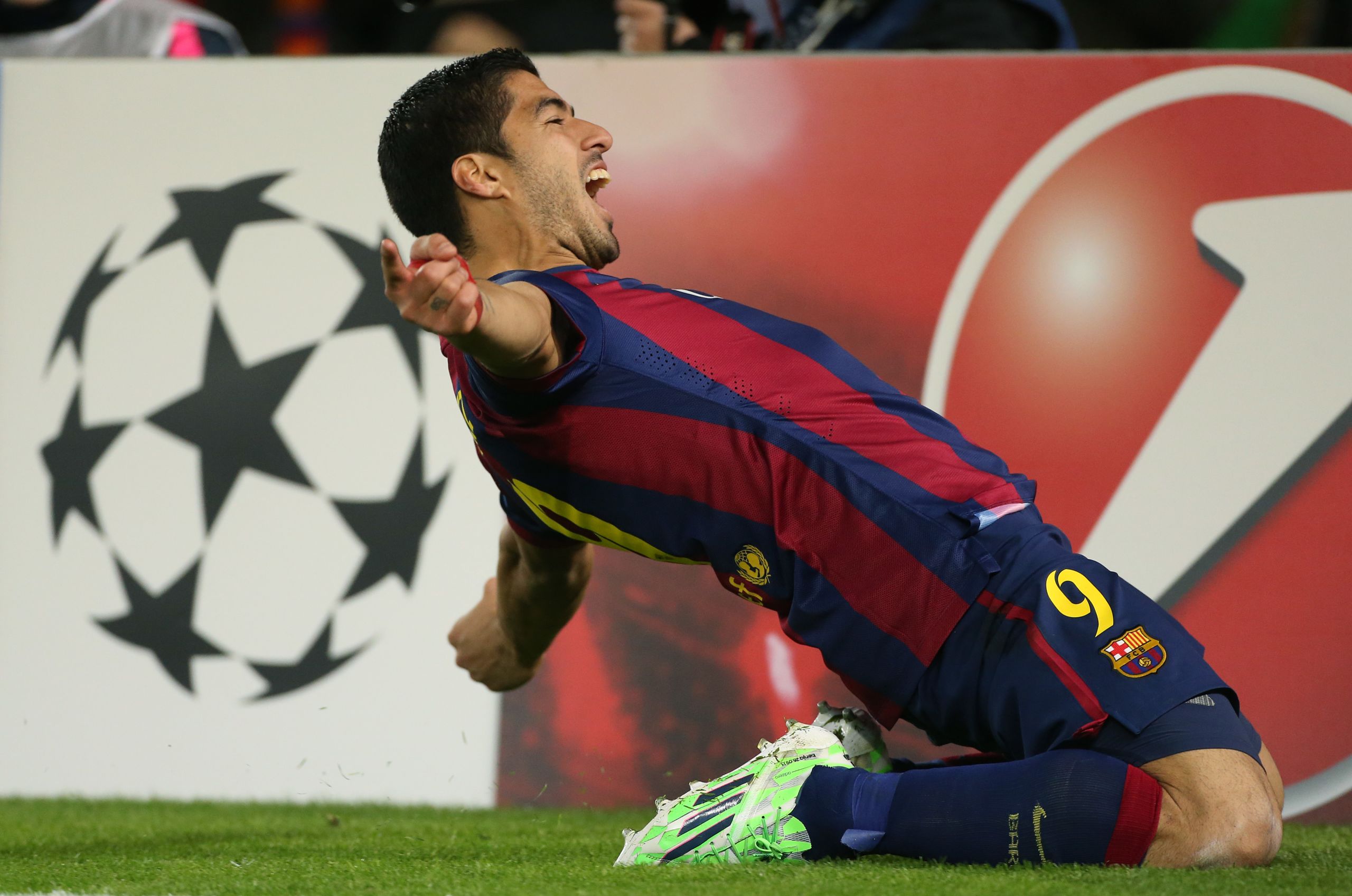 Suarez left, and took a hefty dose of optimism with him as a two-point gap to the title stretched out once again to 25. Liverpool lost three of their first five games and never recovered, with Steven Gerrard's final game for the club a 6-1 hammering at Stoke on the last day of the season.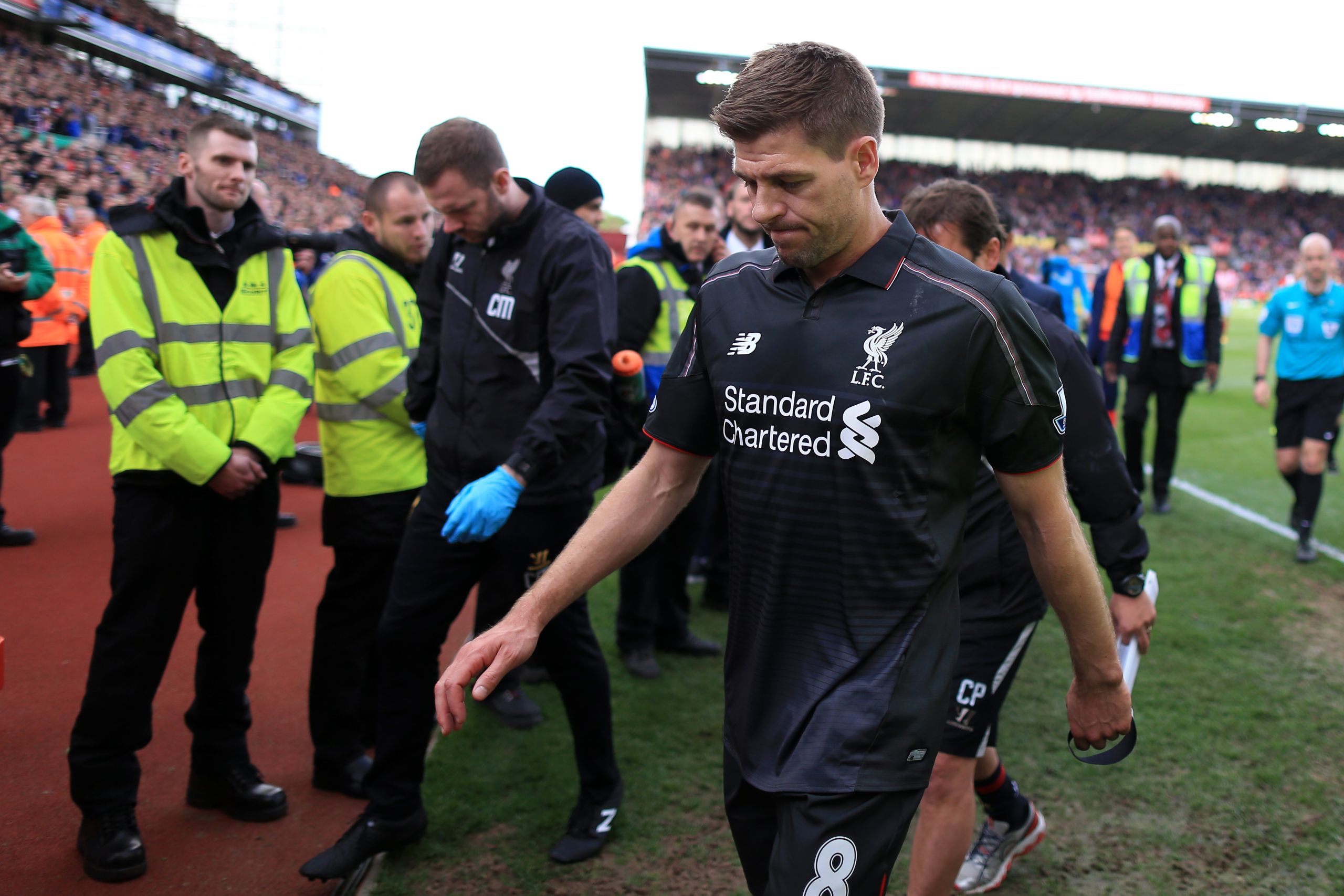 It wasn't supposed to end quite like that.
Points behind winners: 25
Trophies: None
Top scorer (all comps): Steven Gerrard (13)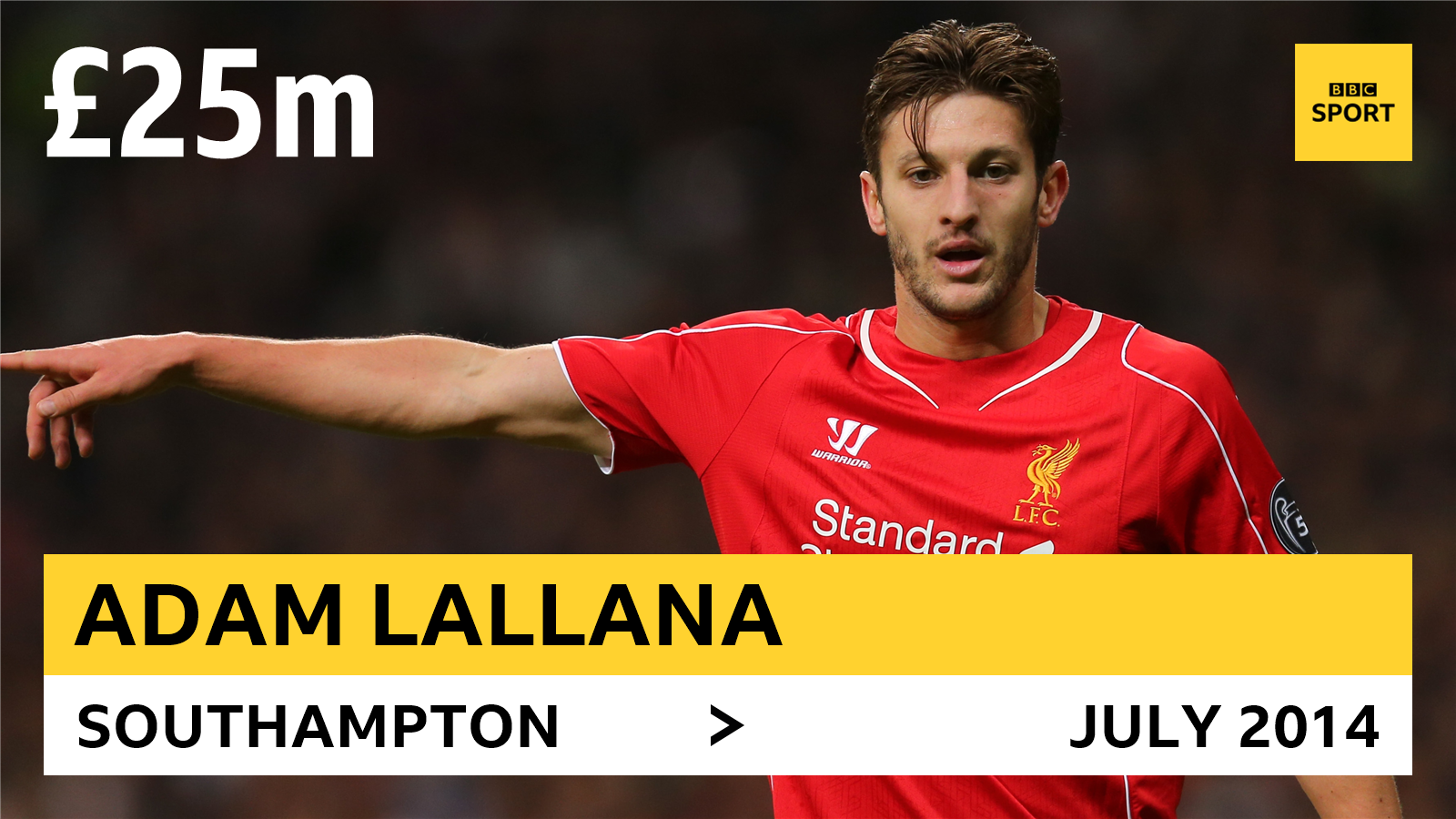 Manager: Brendan Rodgers
2015-16 season
Klopp finishes below West Ham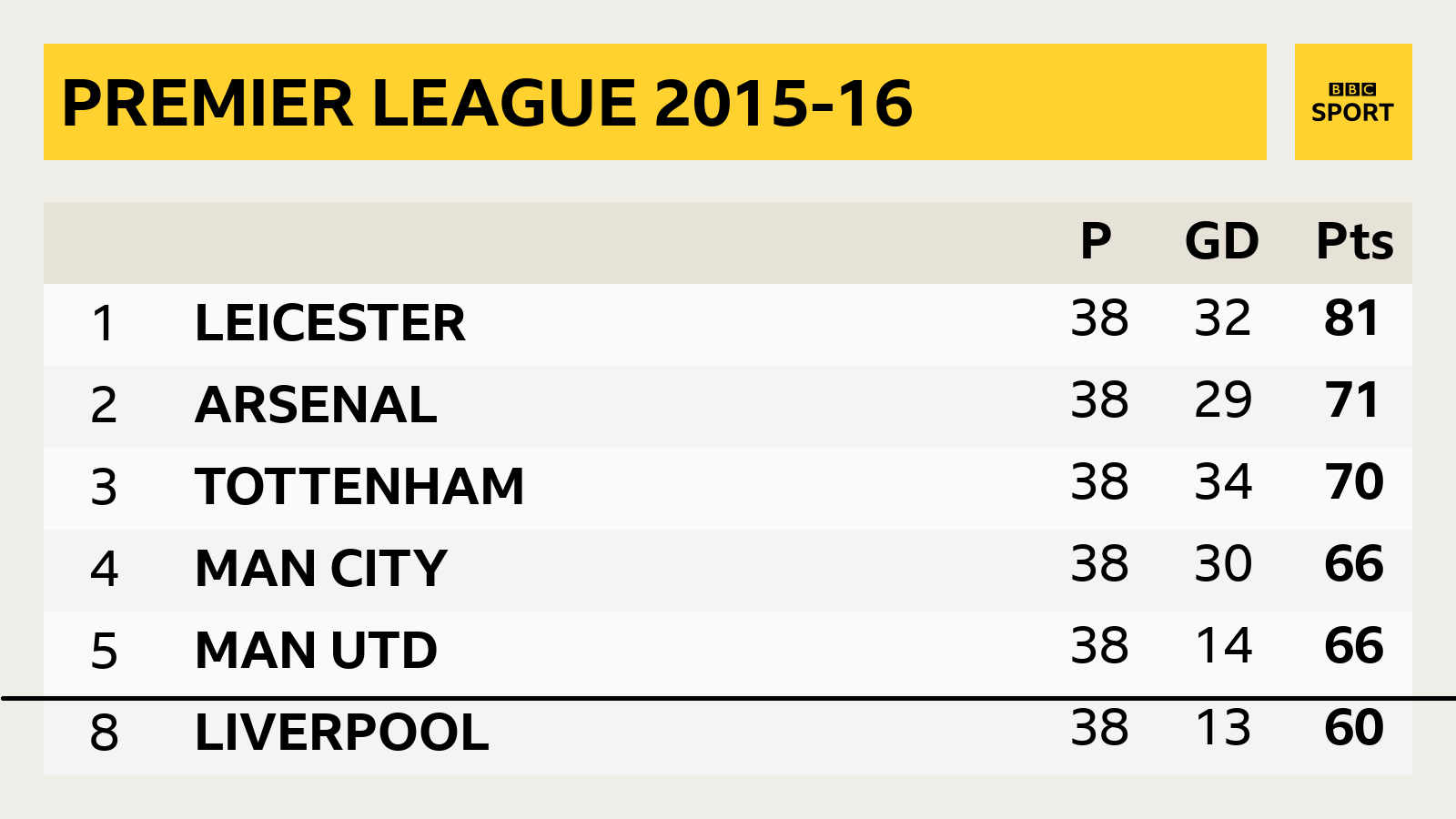 It's easy to forget now that Liverpool ended up eighth in Jurgen Klopp's first season in charge, below Southampton and West Ham. Leicester City, who finished 13th in the second tier when Liverpool last lifted the trophy, won the Premier League.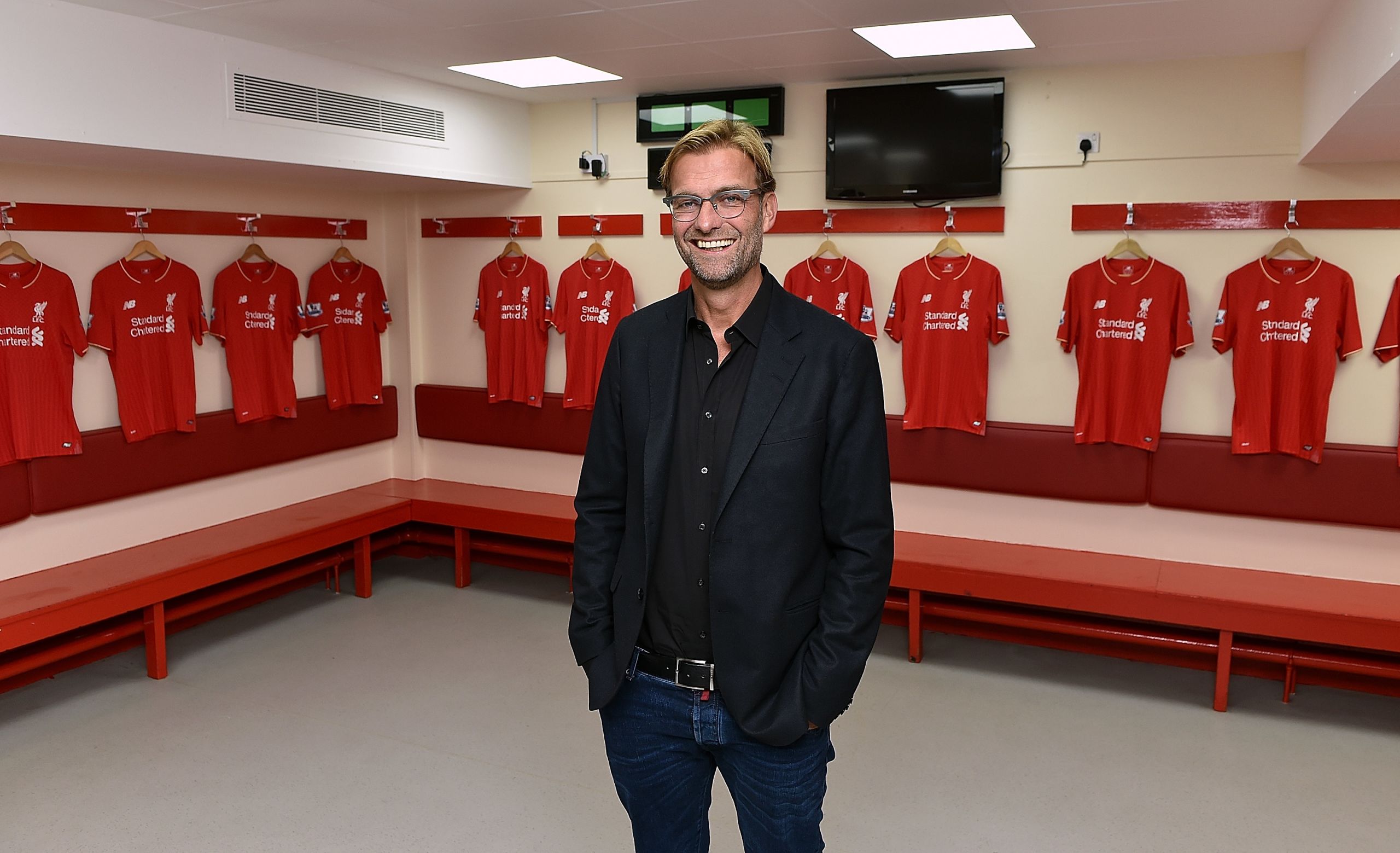 Admittedly it wasn't a full year in charge for Klopp, appointed in October after a 1-1 draw with Everton which left the Reds in 10th place after eight games. The title challenge of 18 months earlier felt a long way off, particularly as Steven Gerrard and Raheem Sterling left in the summer.
Klopp arrived and set about a rebuild, and while progress in the league was slow he did take Liverpool to two cup finals: the League Cup and Europa League.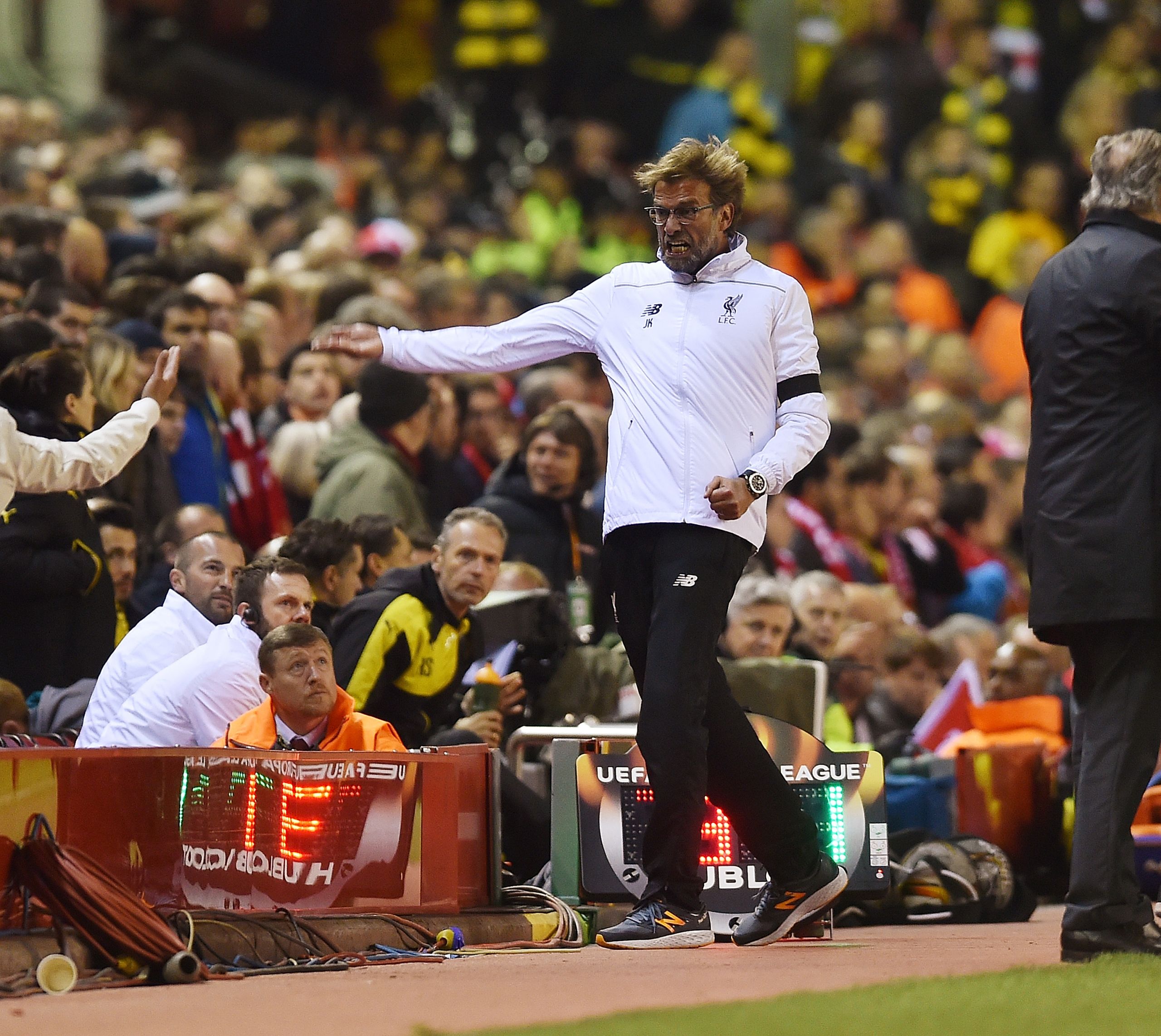 Who could forget the comeback against Borussia Dortmund? Perhaps a sign of things to come.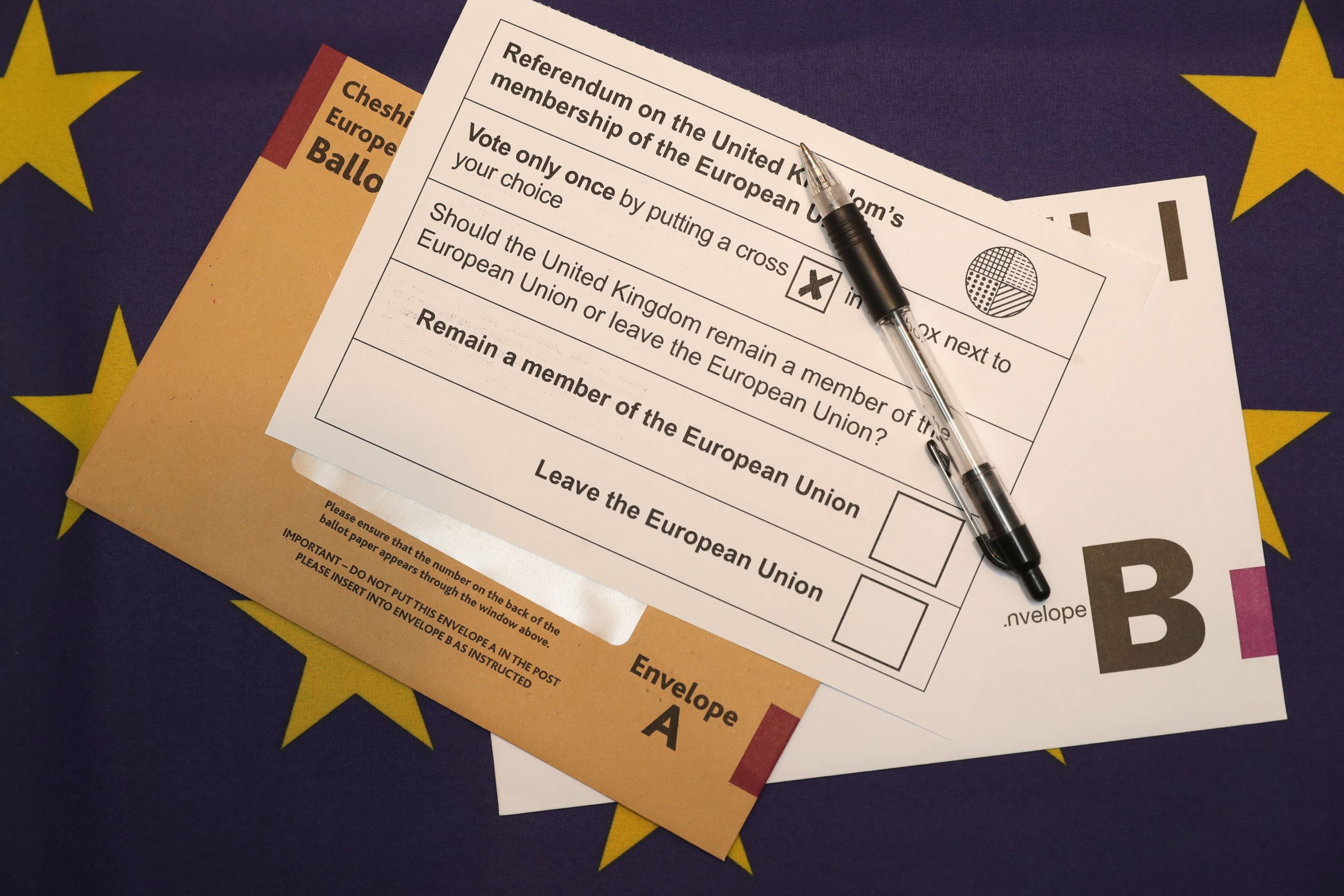 Speaking of things to come, 51.9% of the United Kingdom voted to leave the European Union, Drake hit number one and stayed there for 15 weeks, and a 5p charge for plastic bags came in at the supermarkets.
Points behind winners: 21
Trophies: None
Top scorer (all comps): Daniel Sturridge (13)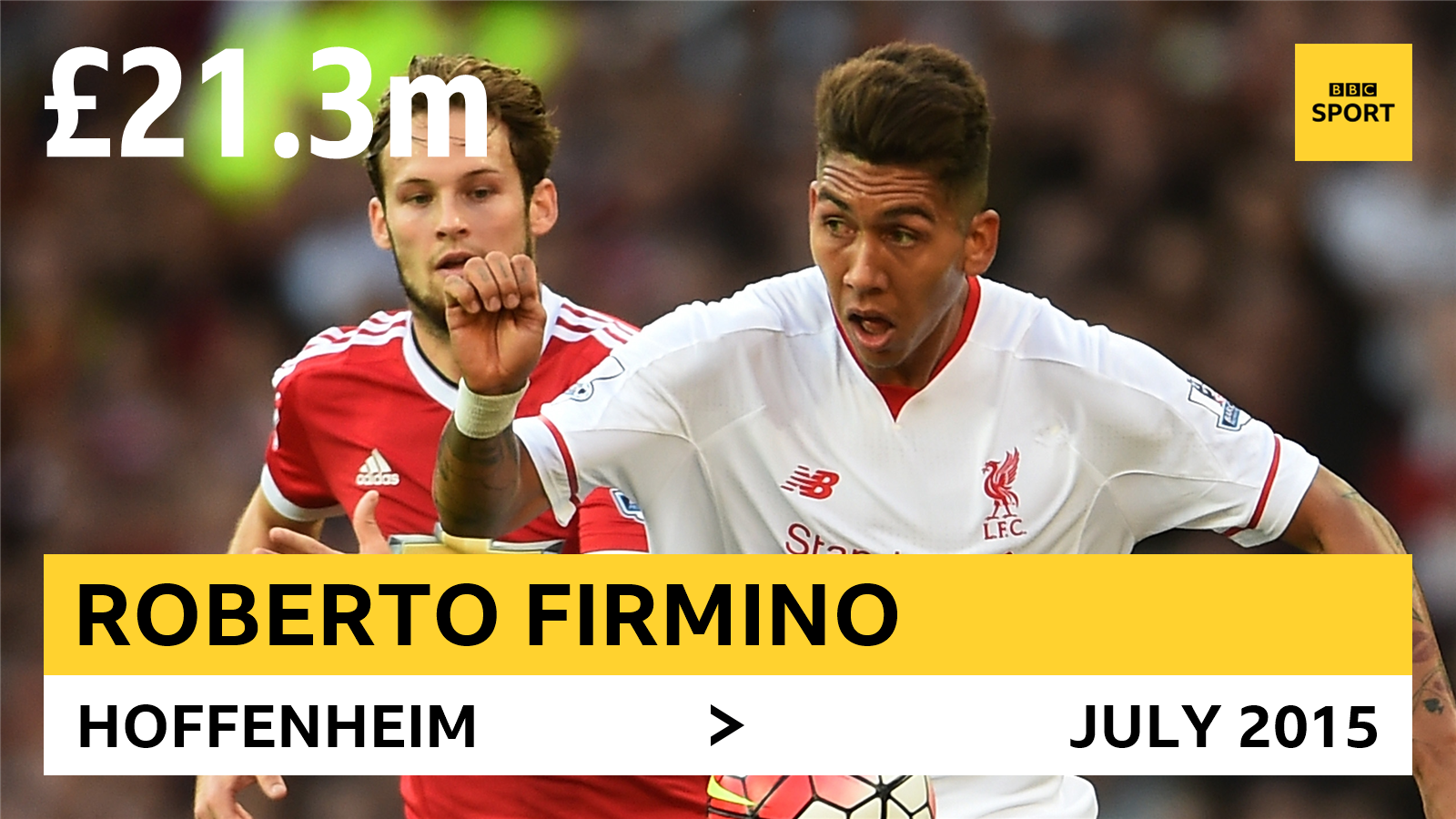 Managers: Brendan Rodgers/Jurgen Klopp
2016-17 season
Back in the top four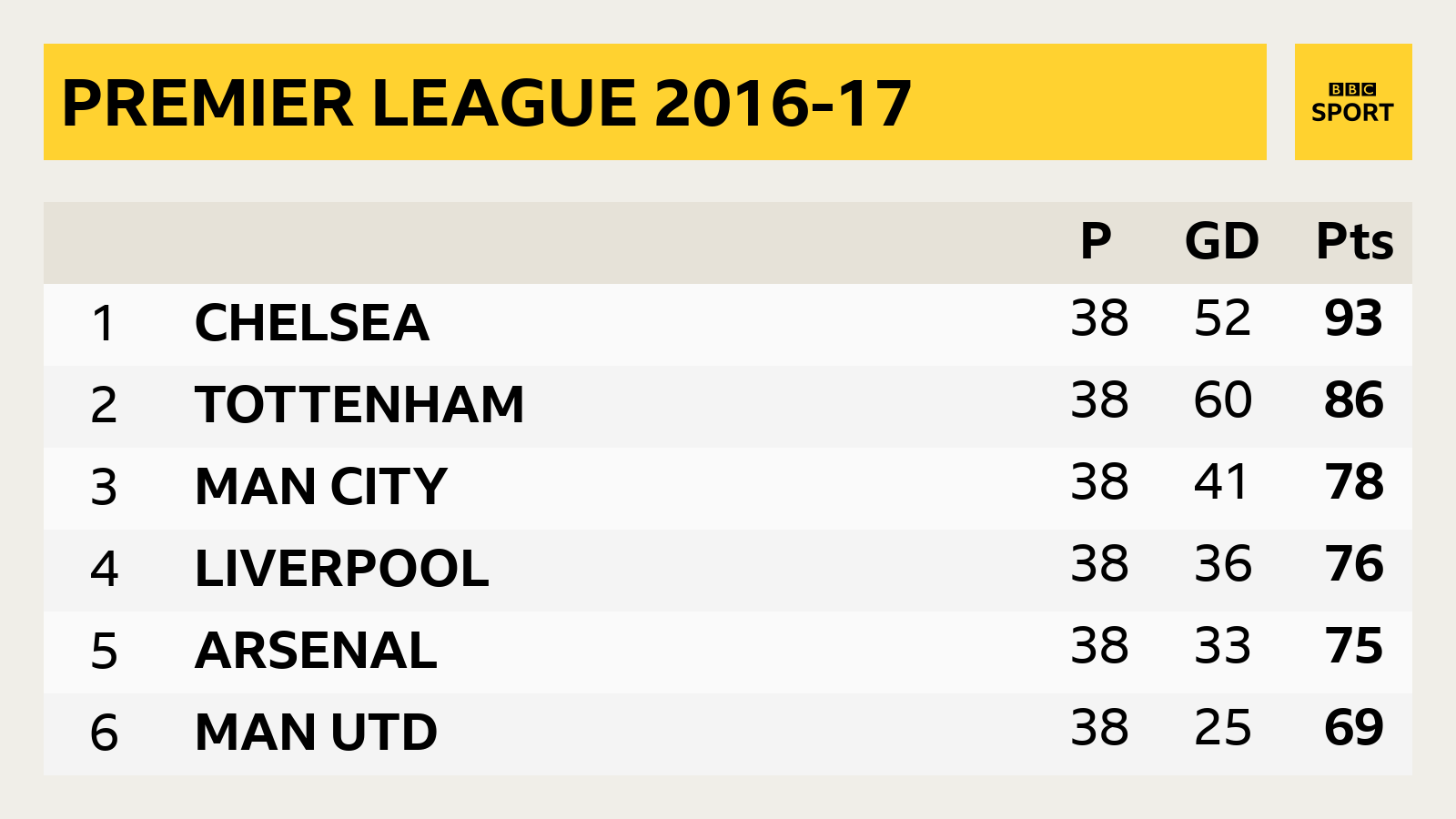 The first full season in charge for Jurgen Klopp and Liverpool were back in the top four. Sadio Mane and Georginio Wijnaldum were two key pieces of the jigsaw puzzle, added as Liverpool mounted a decent charge once again.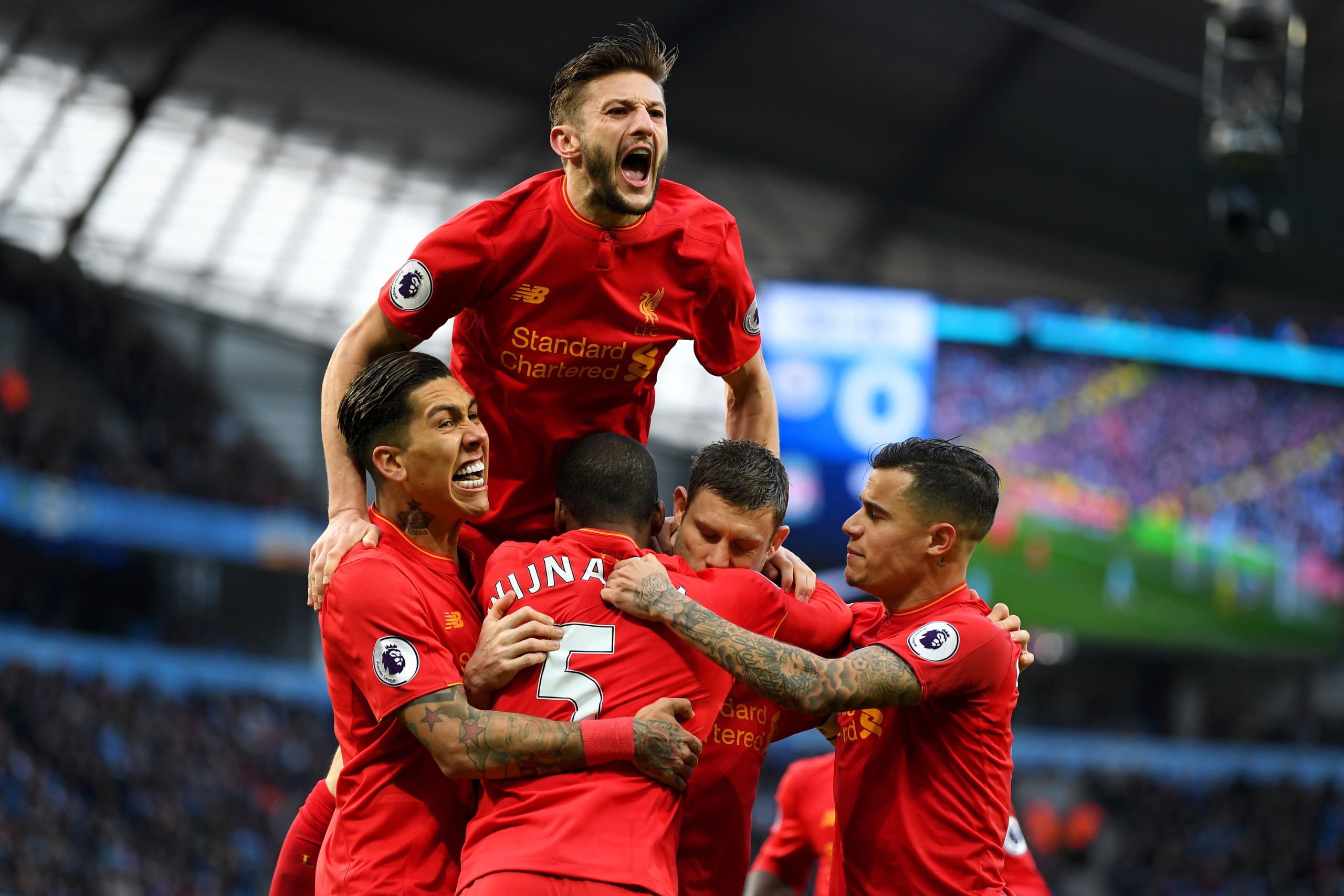 They were top at the start of November and second at the turn of the year, but fell away after a run of one win in seven games.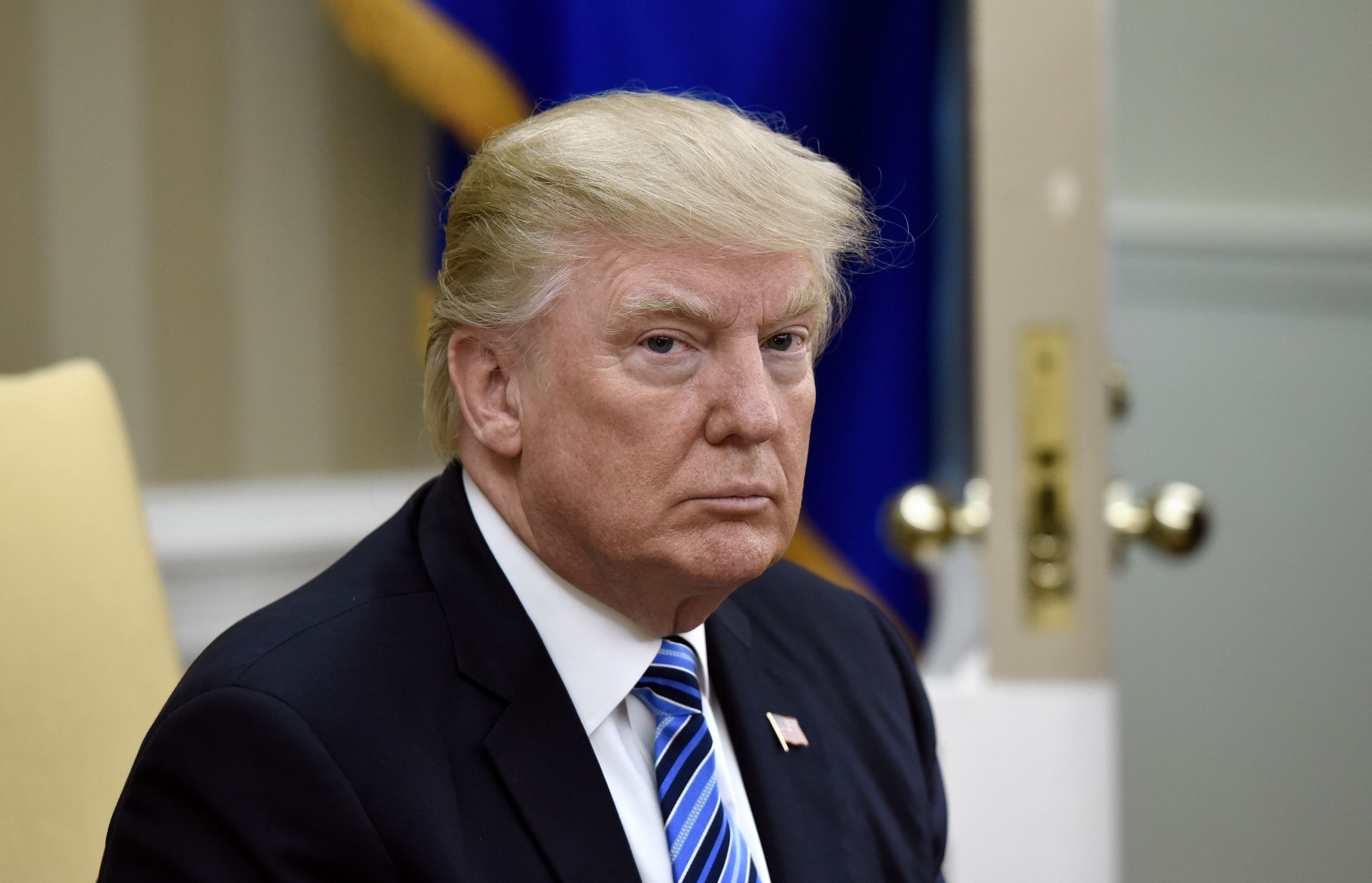 As Klopp began his quest to make Liverpool great again, Donald Trump ascended to the White House in a staggering election win across the pond - the fifth US President since Liverpool's last title win.
On TV, Planet Earth II wowed with over 12 million people tuning in to see marine iguanas escaping an onslaught of deadly racer snakes, while the grim news agenda was dominated by Grenfell and terror attacks in London and Manchester.
Oh, and there was another election in the UK…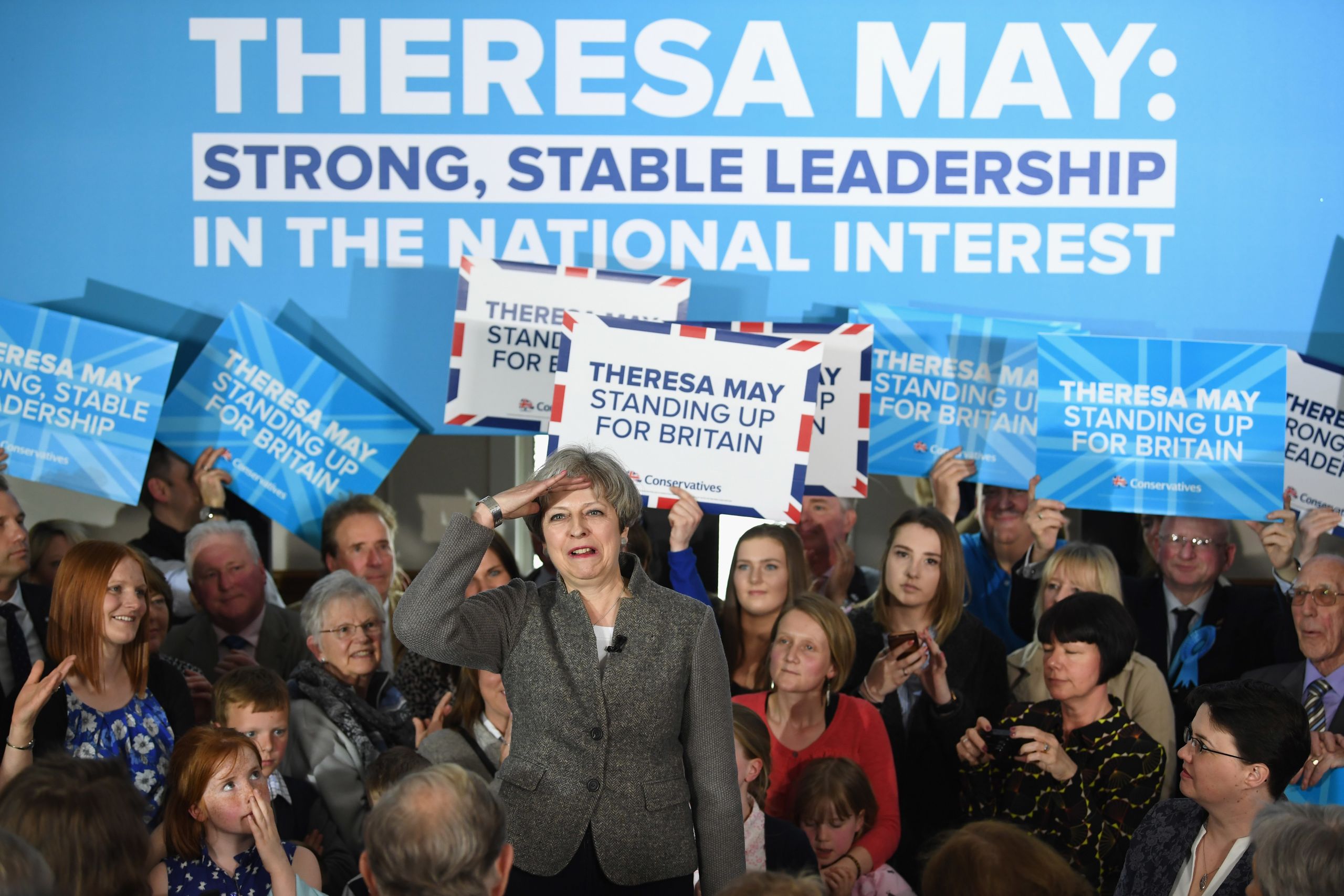 Points behind winners: 17
Trophies: None
Top scorer (all comps): Philippe Coutinho (14)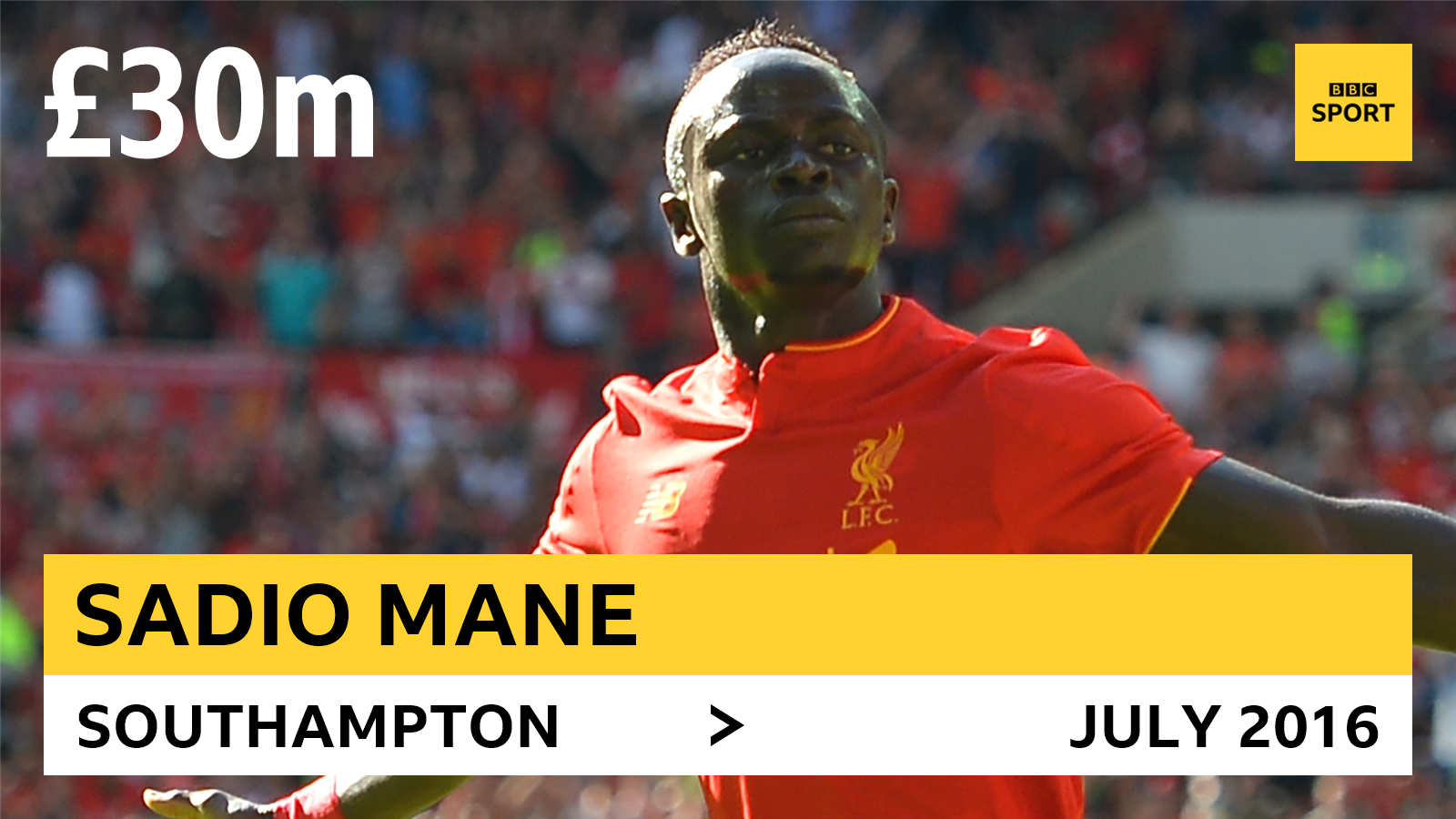 Manager: Jurgen Klopp
2017-18 season
Mo Salah, running down the wing...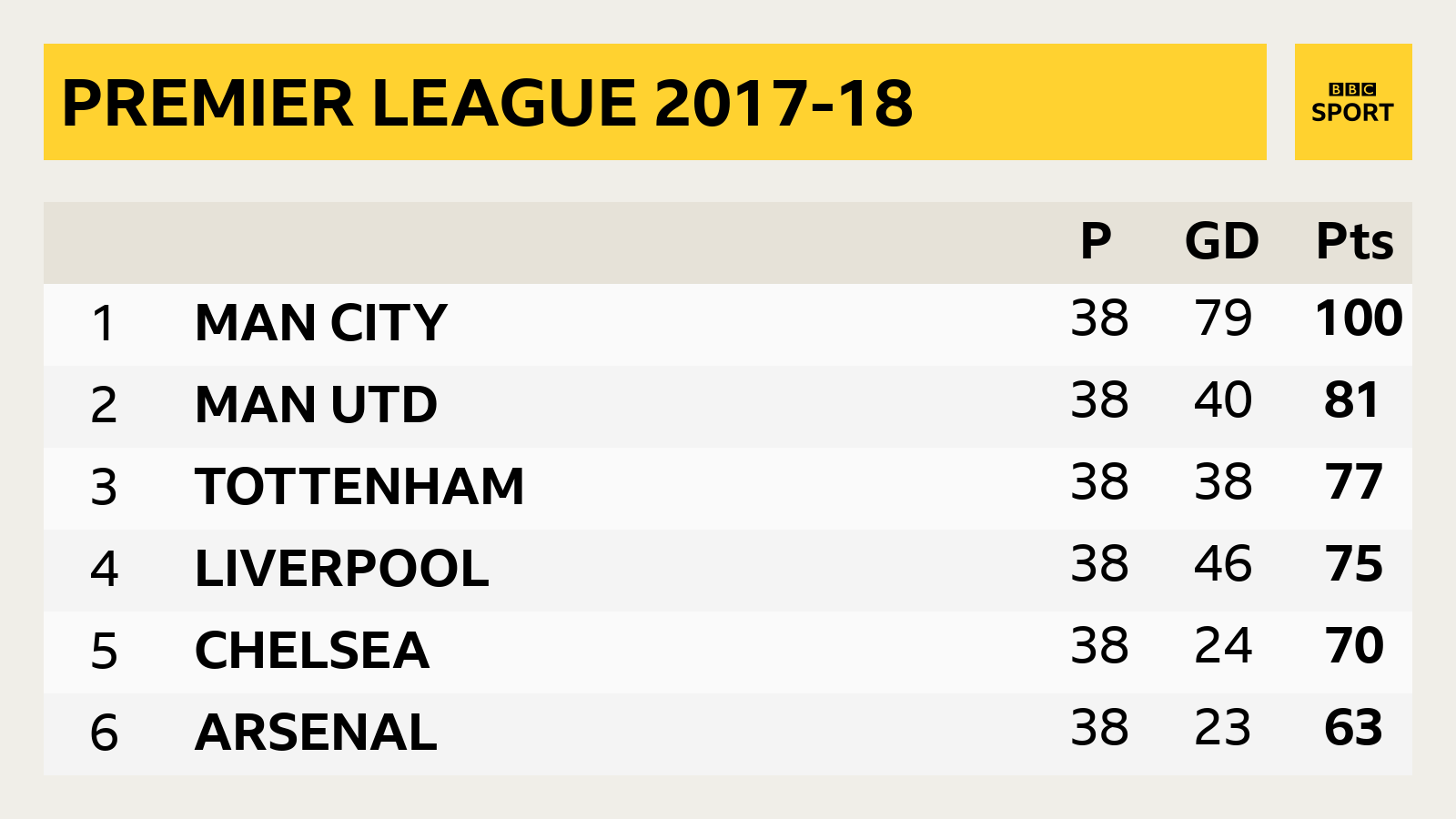 No trophies, another 25-point gap to the winners but still progress?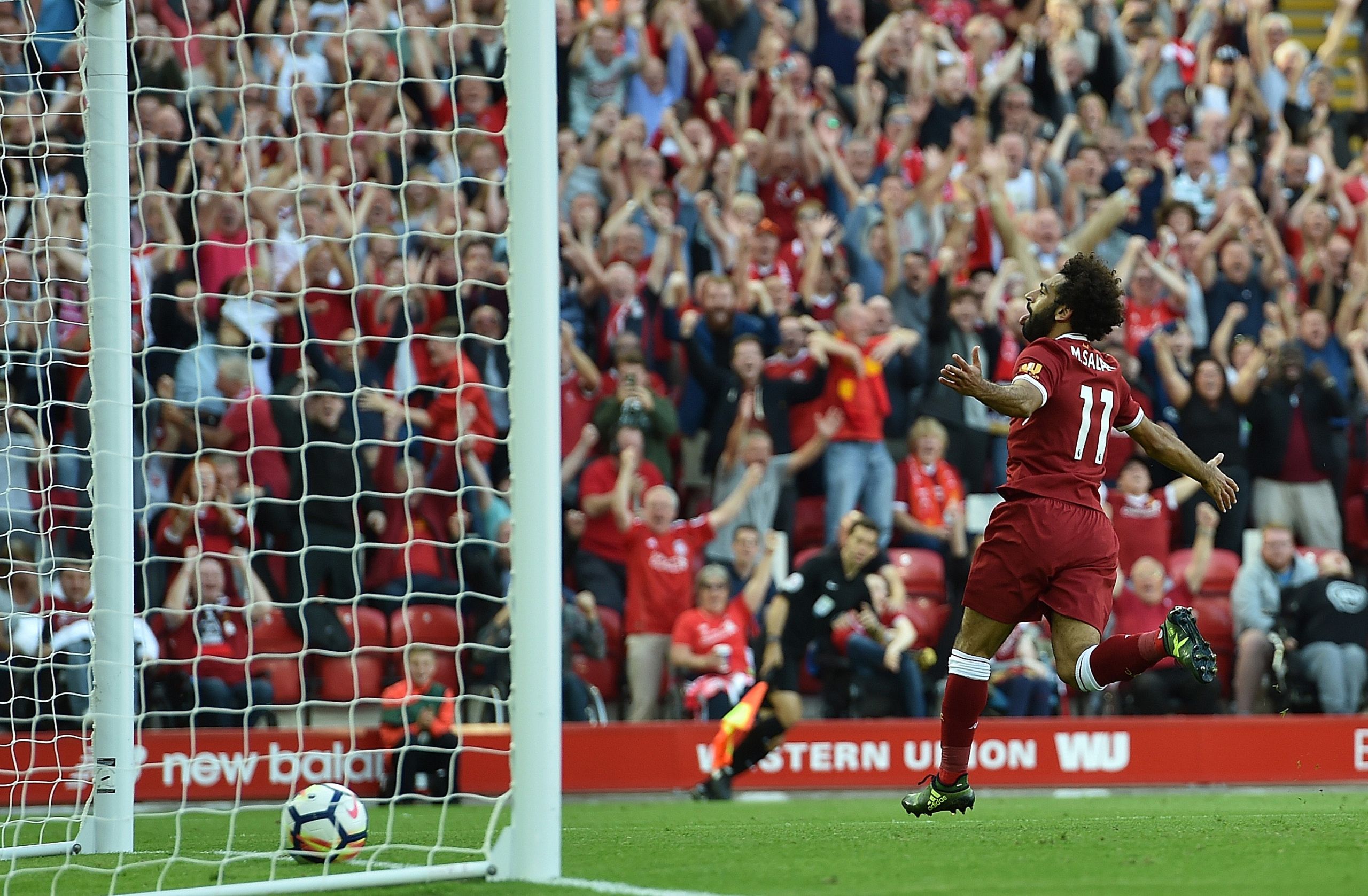 To say Mohamed Salah came in and hit the ground running is an understatement, and what a bargain he looks now at £37m.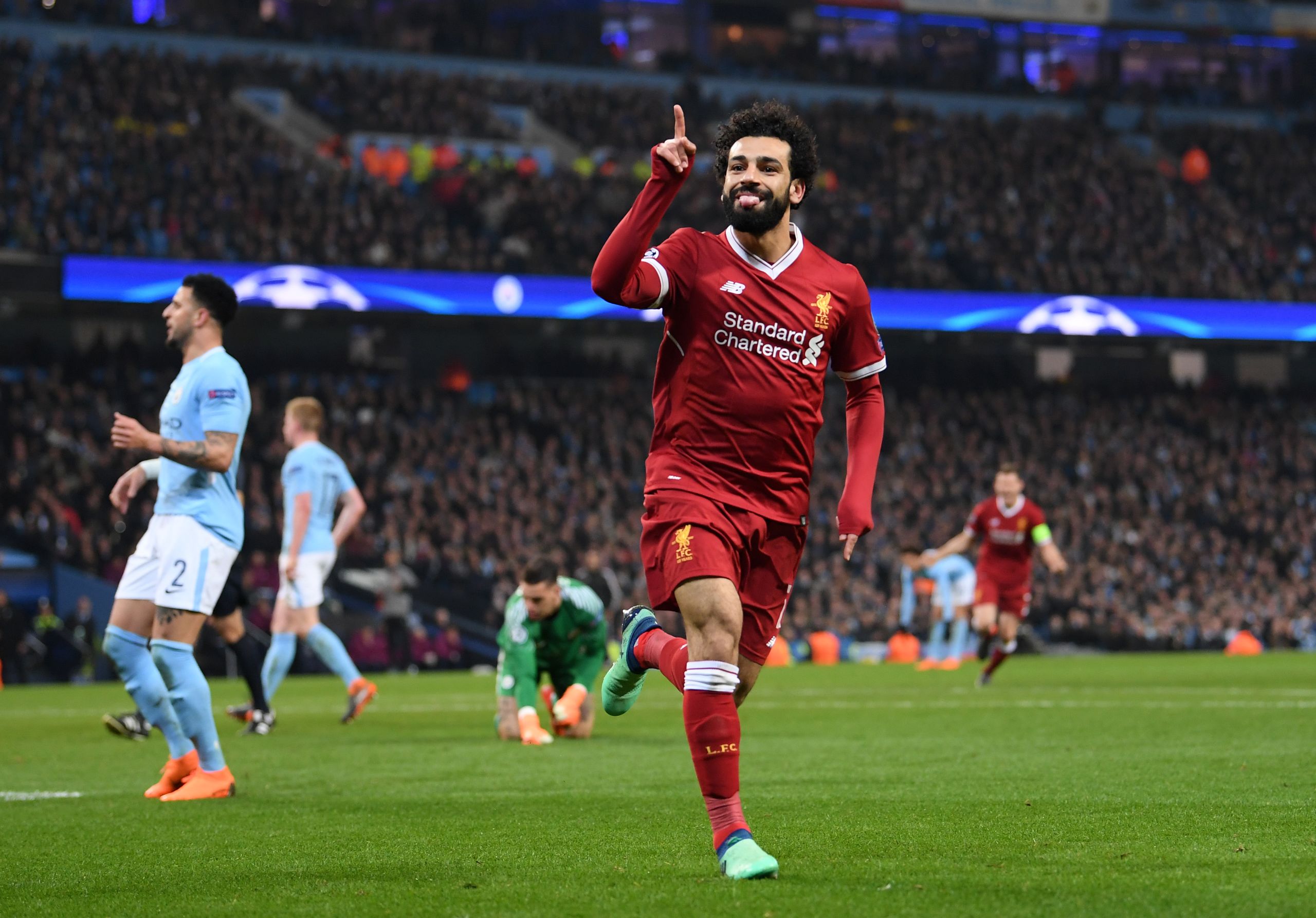 In fact he made such an impact 30 sets of parents in the UK called their child Salah in 2018!
The January arrival of Virgil van Dijk was a real game-changer, even if plenty at the time baulked at the transfer fee of £75m…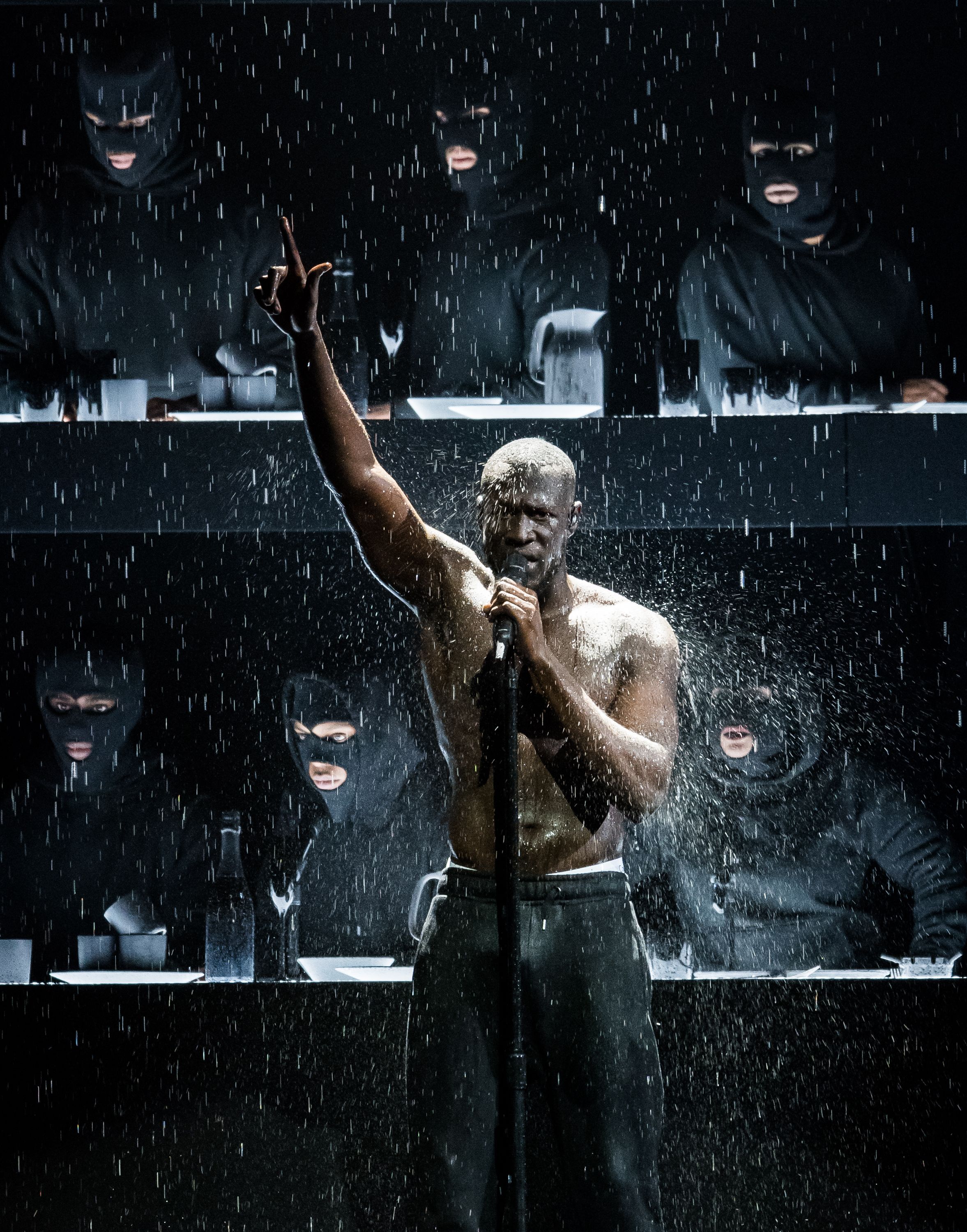 The Reds were in third for a big chunk of the season post-Van Dijk's January arrival, but it was in Europe that they made giant leaps.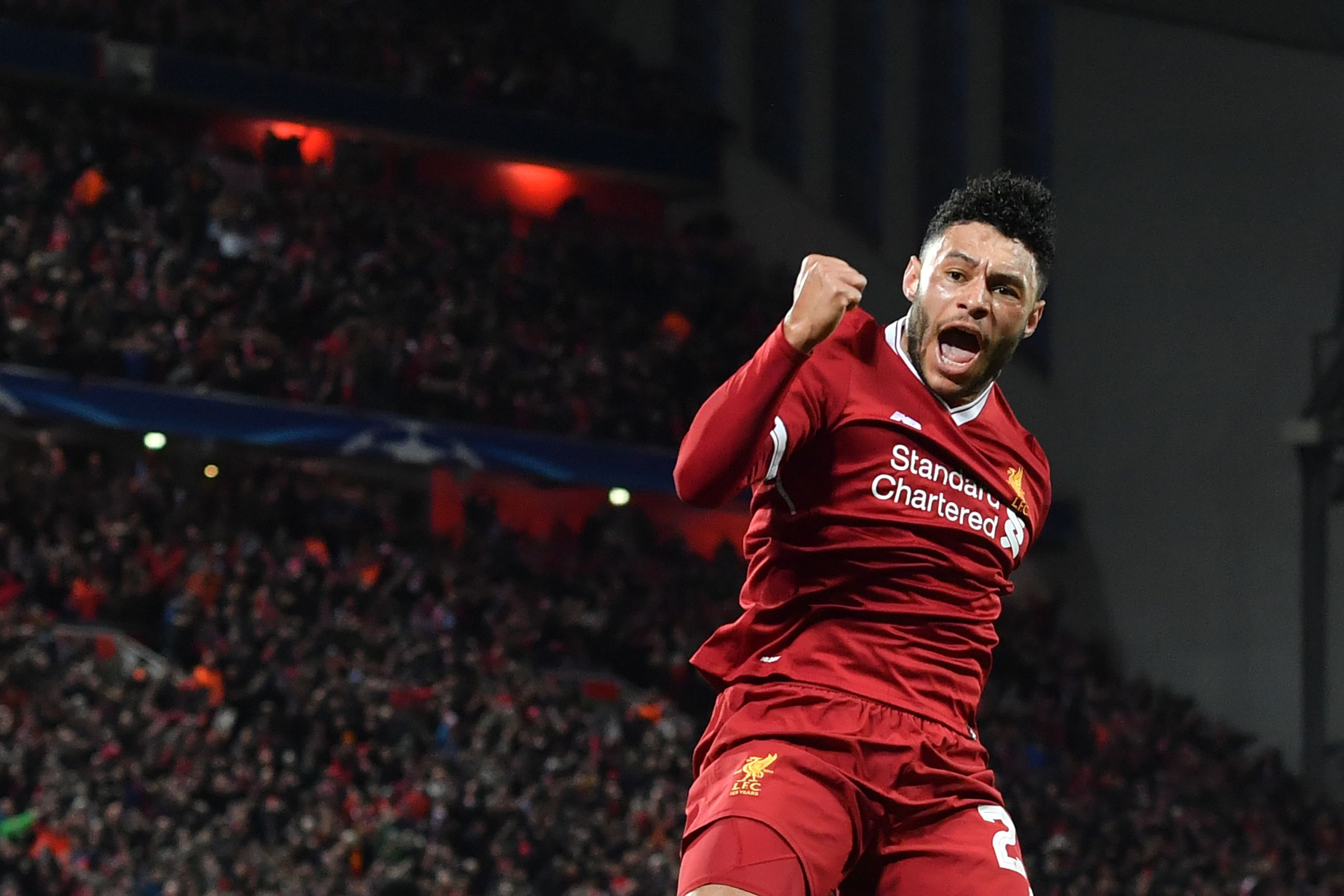 They destroyed dominant Manchester City - en route to 100 points in the Premier League - in a 20-minute spell at Anfield in the quarter-finals of the Champions League but came up short in the final when goalkeeper Loris Karius had a night to forget.
So Liverpool still couldn't quite climb the mountain, and there was bad news for childhood dreams elsewhere too - it was the end of the line for Geoffrey as Toys 'R' Us came to an end.
The sugar tax was introduced, Harry and Meghan got married and England reached the semi-finals of the World Cup.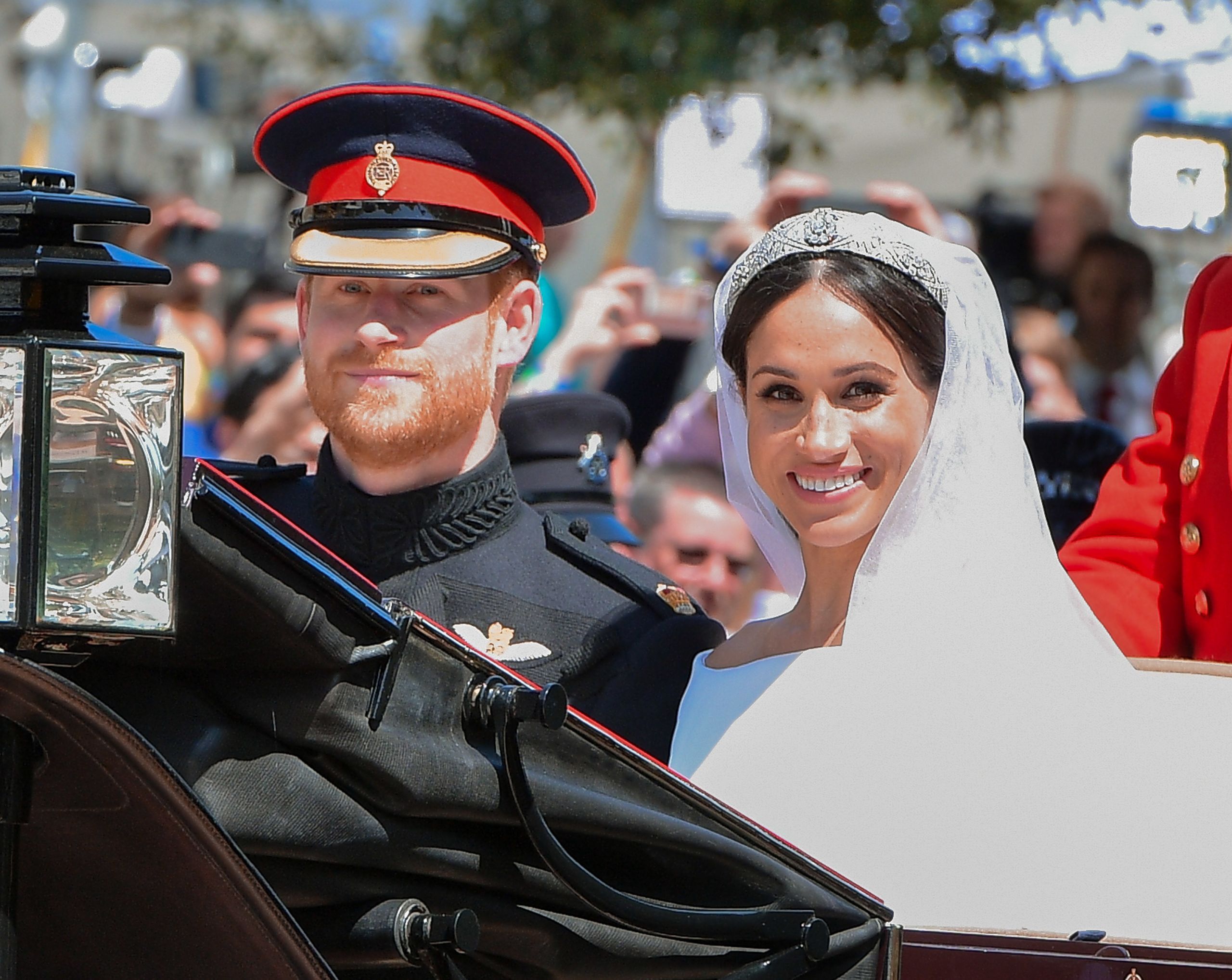 Points behind winners: 25
Trophies: None
Top scorer (all comps): Mohamed Salah (44)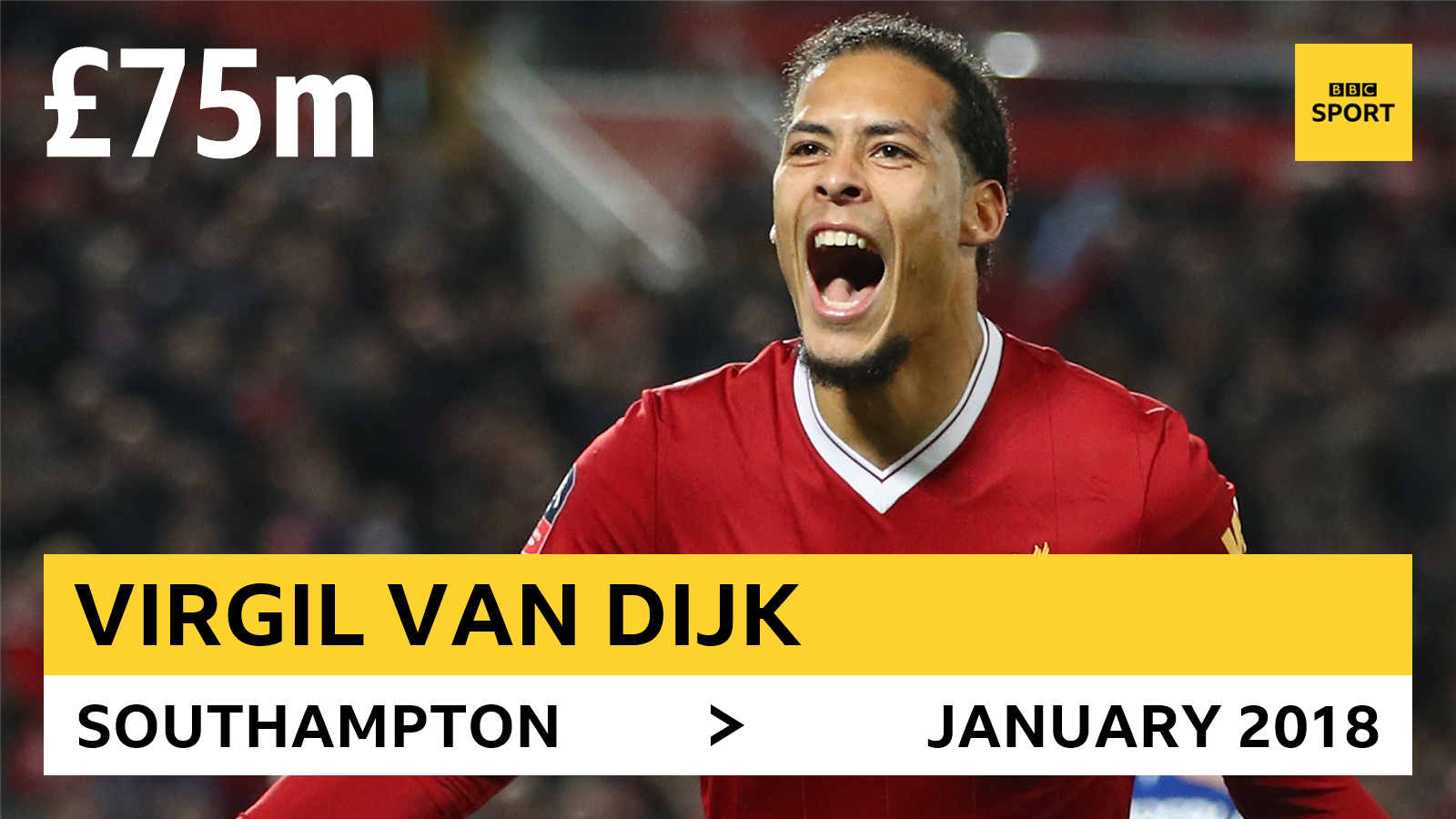 Manager: Jurgen Klopp
2018-19 season
So close. So, so, so close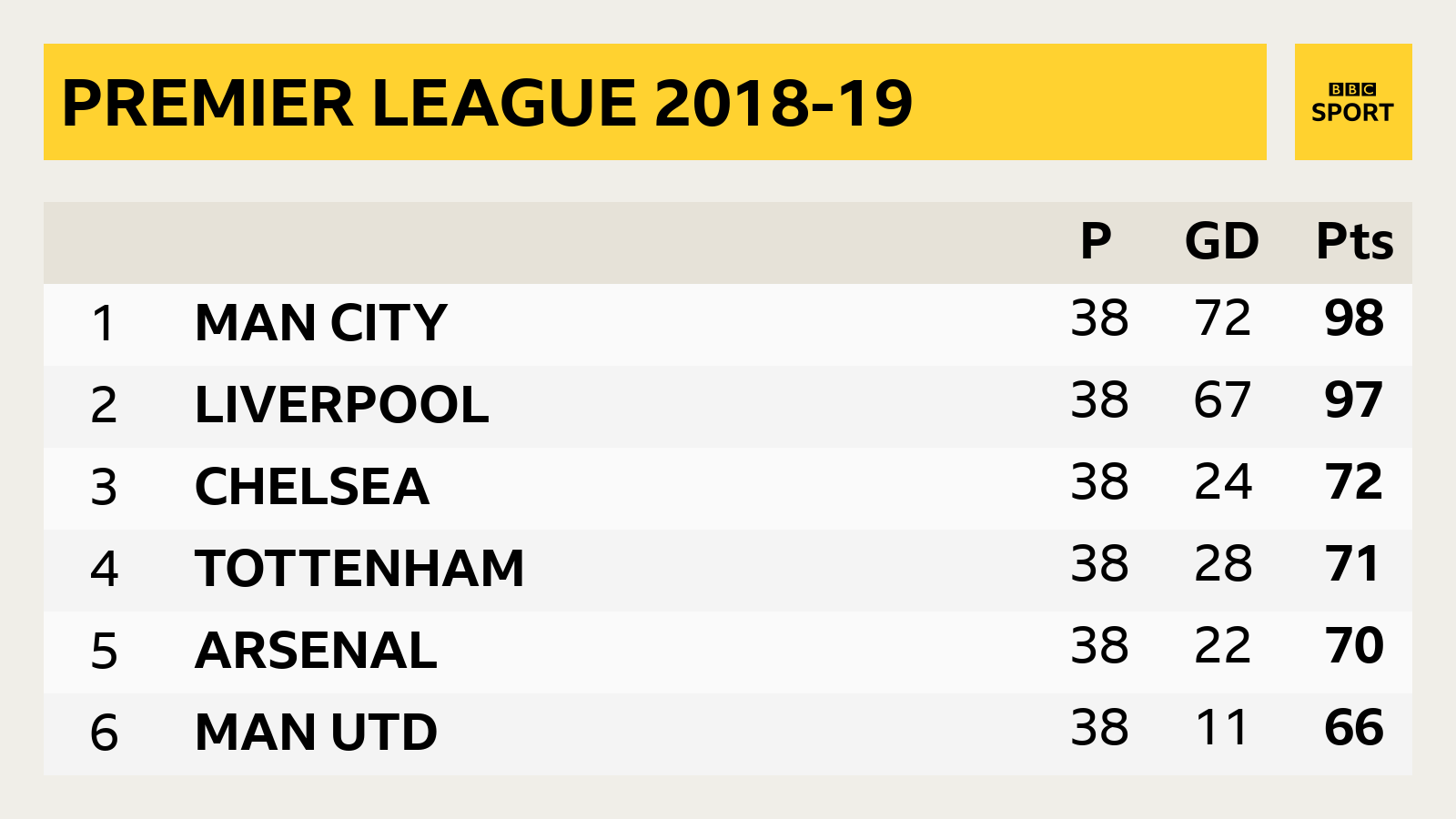 Let's just have a think about the fact that Liverpool collected 97 points (9-7), lost once and STILL didn't win the Premier League in 2019.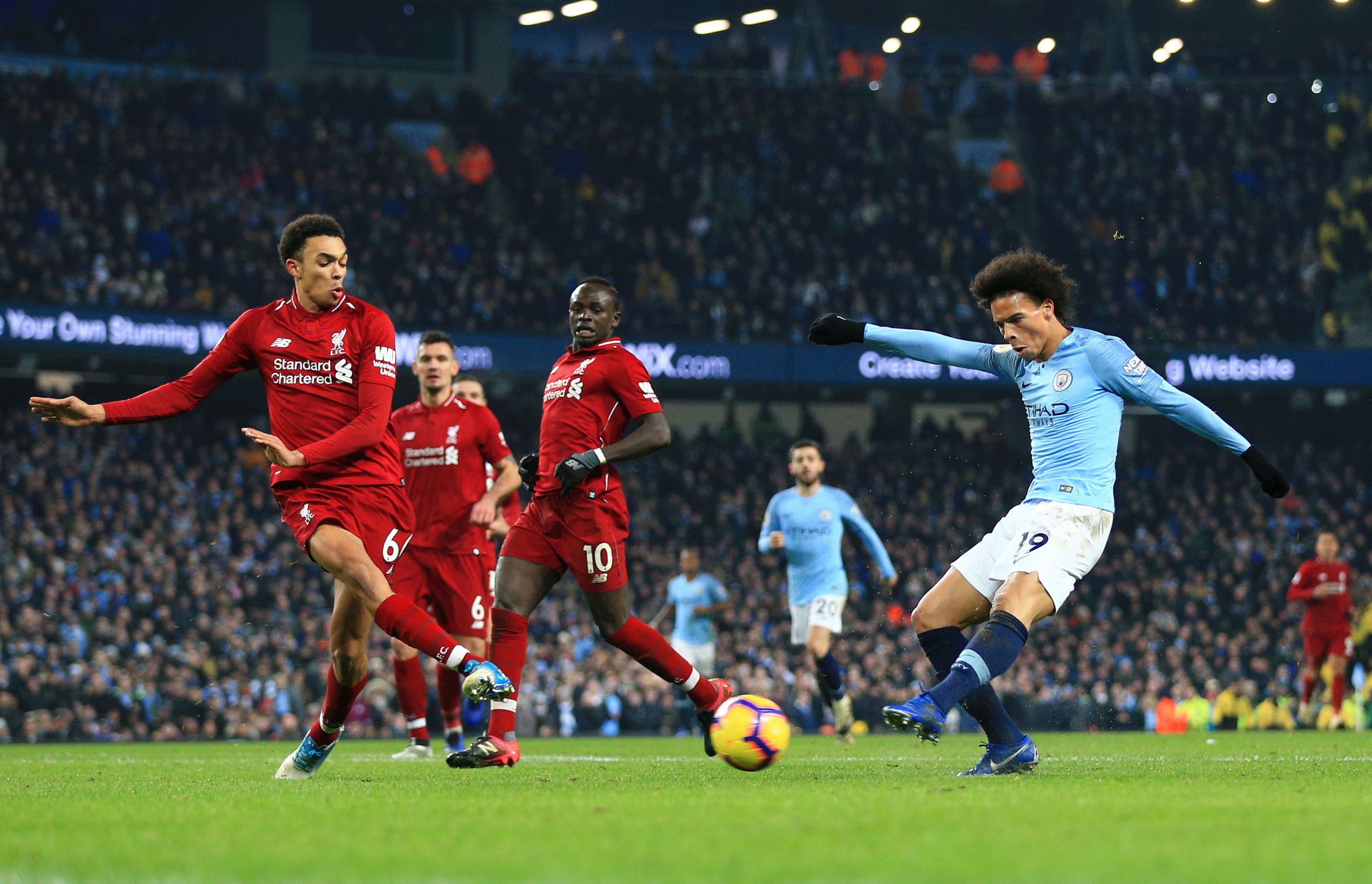 Manchester City were on an unbelievable run. Juggernauts.
But adding the world's most expensive goalkeeper to the world's most expensive defender was definitely the final piece in Jurgen Klopp's masterplan.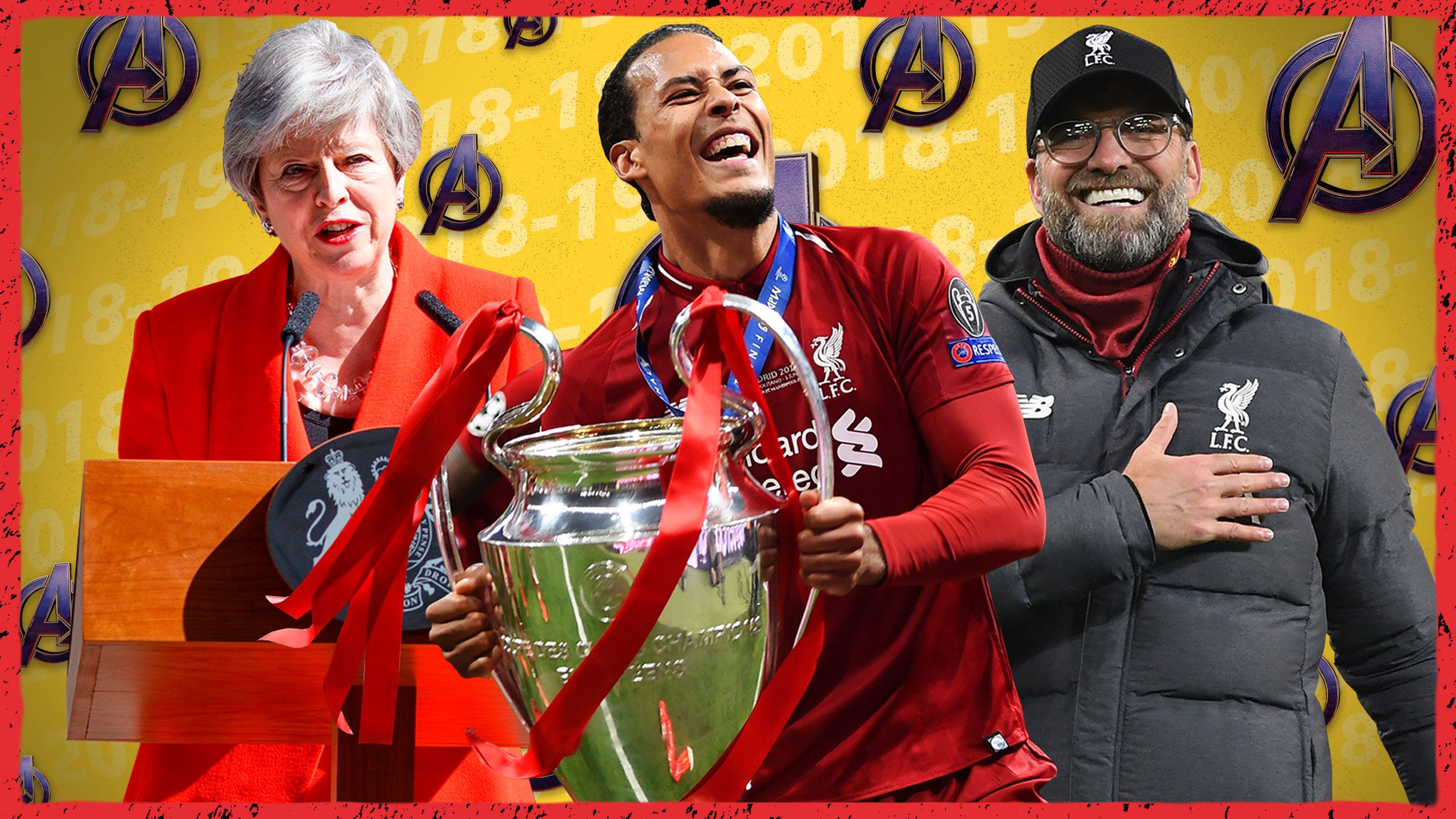 Alisson was excellent with the ball at his feet and with gloves on his hands, with one save against Napoli particularly key in the Champions League.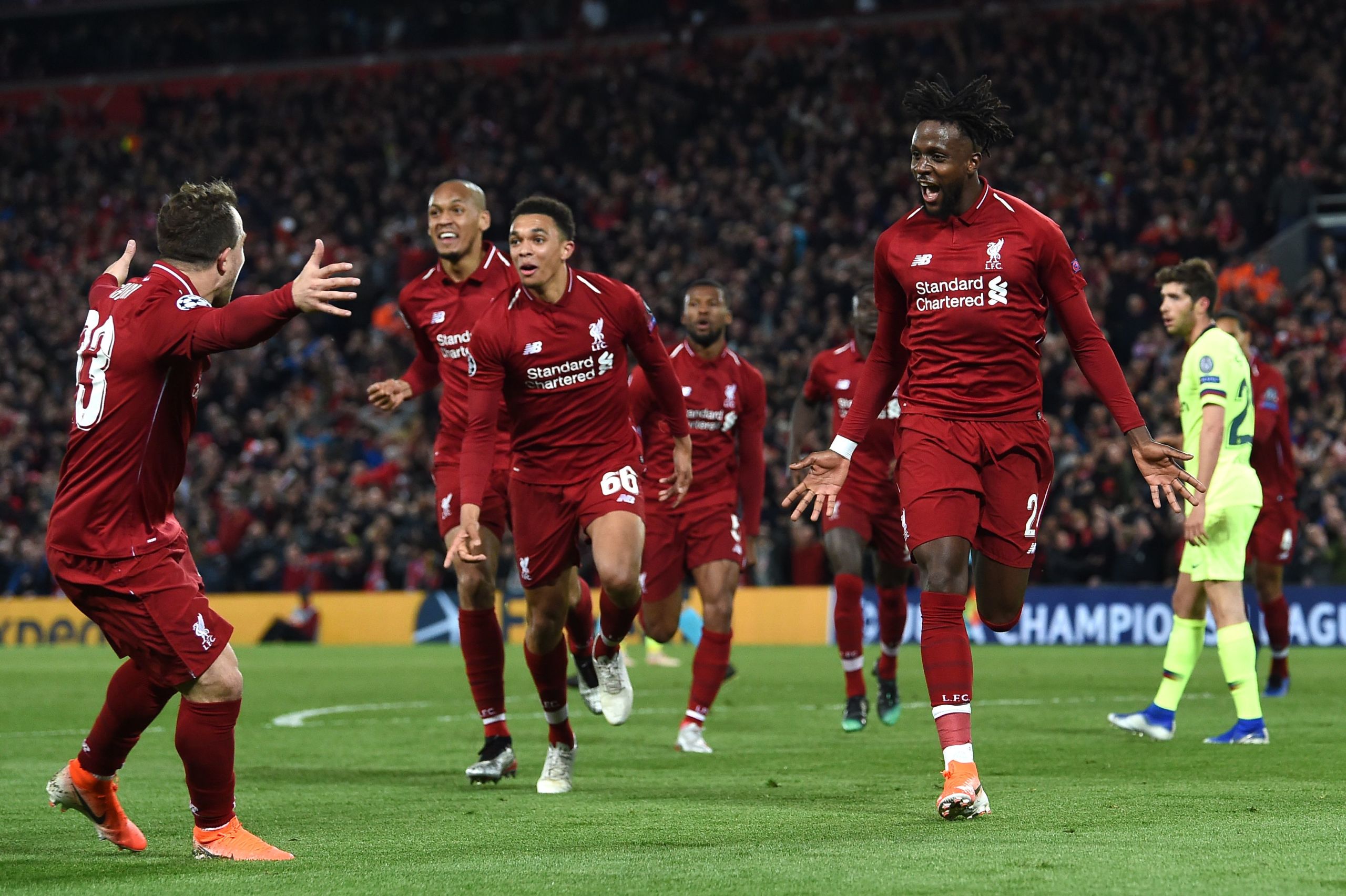 Liverpool had to squeak through the group stage but from then on in they were sensational, coming back from 3-0 down to knock out Barcelona in surely one of European football's finest nights.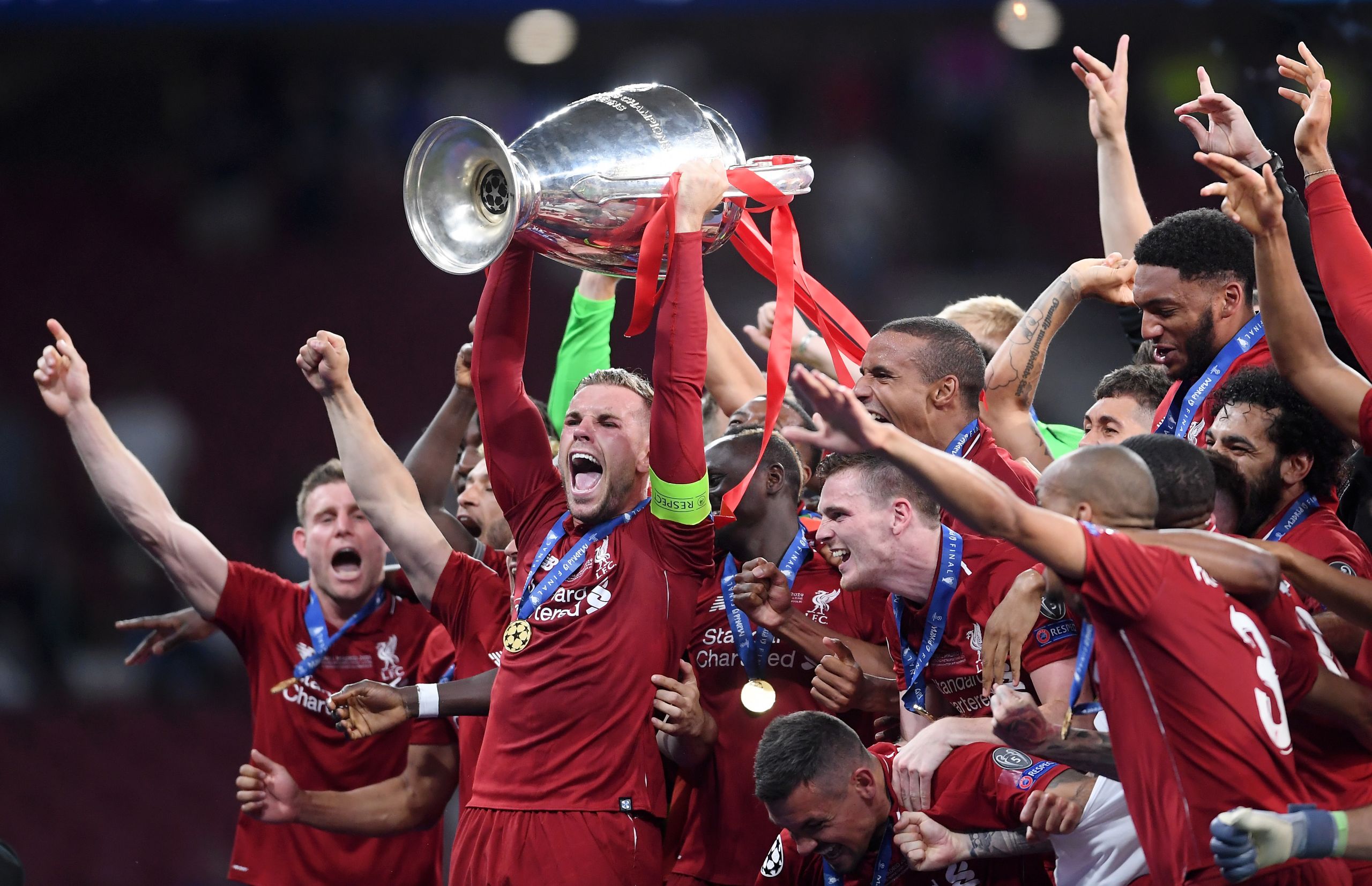 A 2-0 win against Tottenham in the final secured European Cup number six and just left that elusive Premier League title to collect…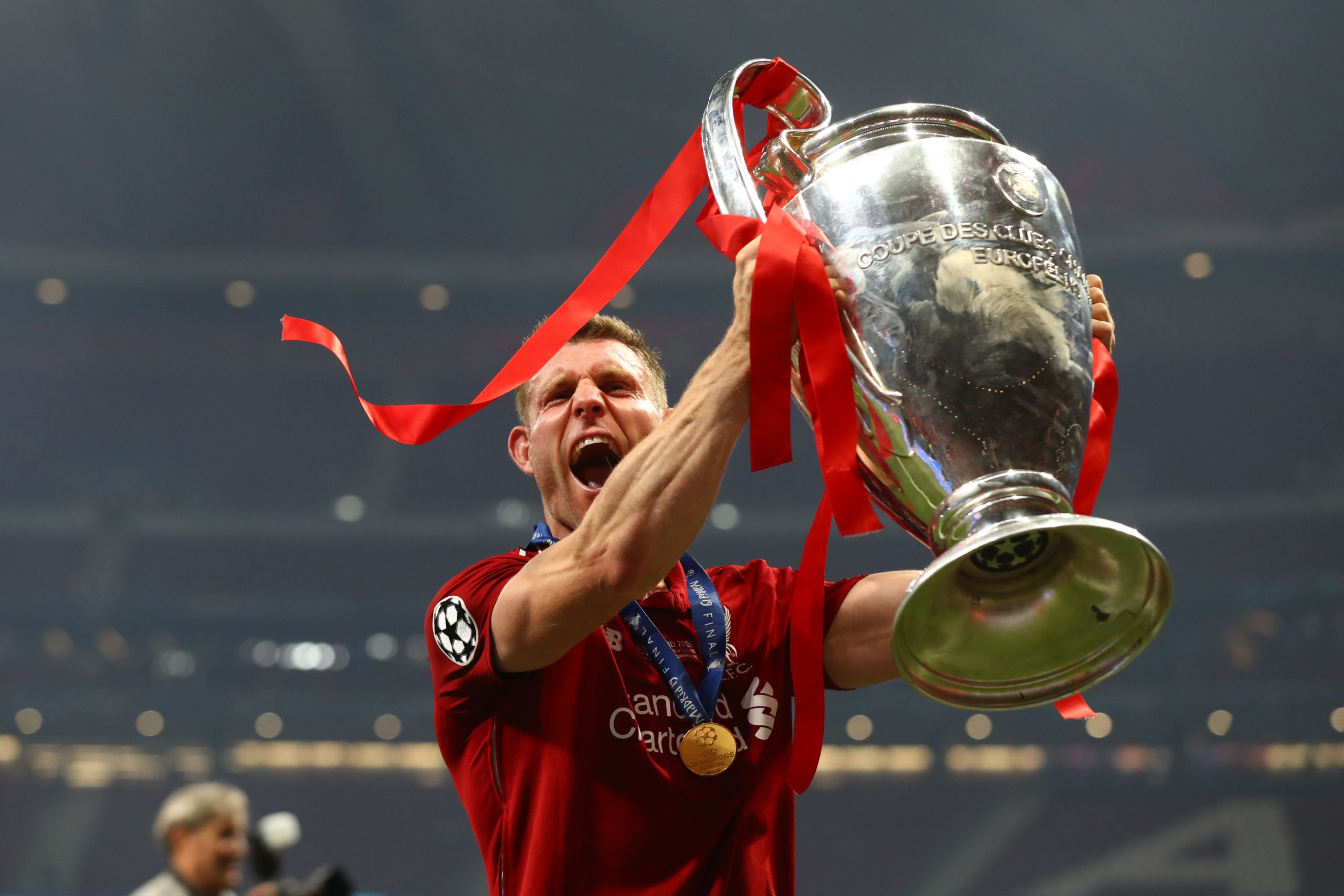 Jose Mourinho was sacked at Old Trafford, Theresa May stepped down as PM and Game of Thrones and the Avengers came to their conclusions.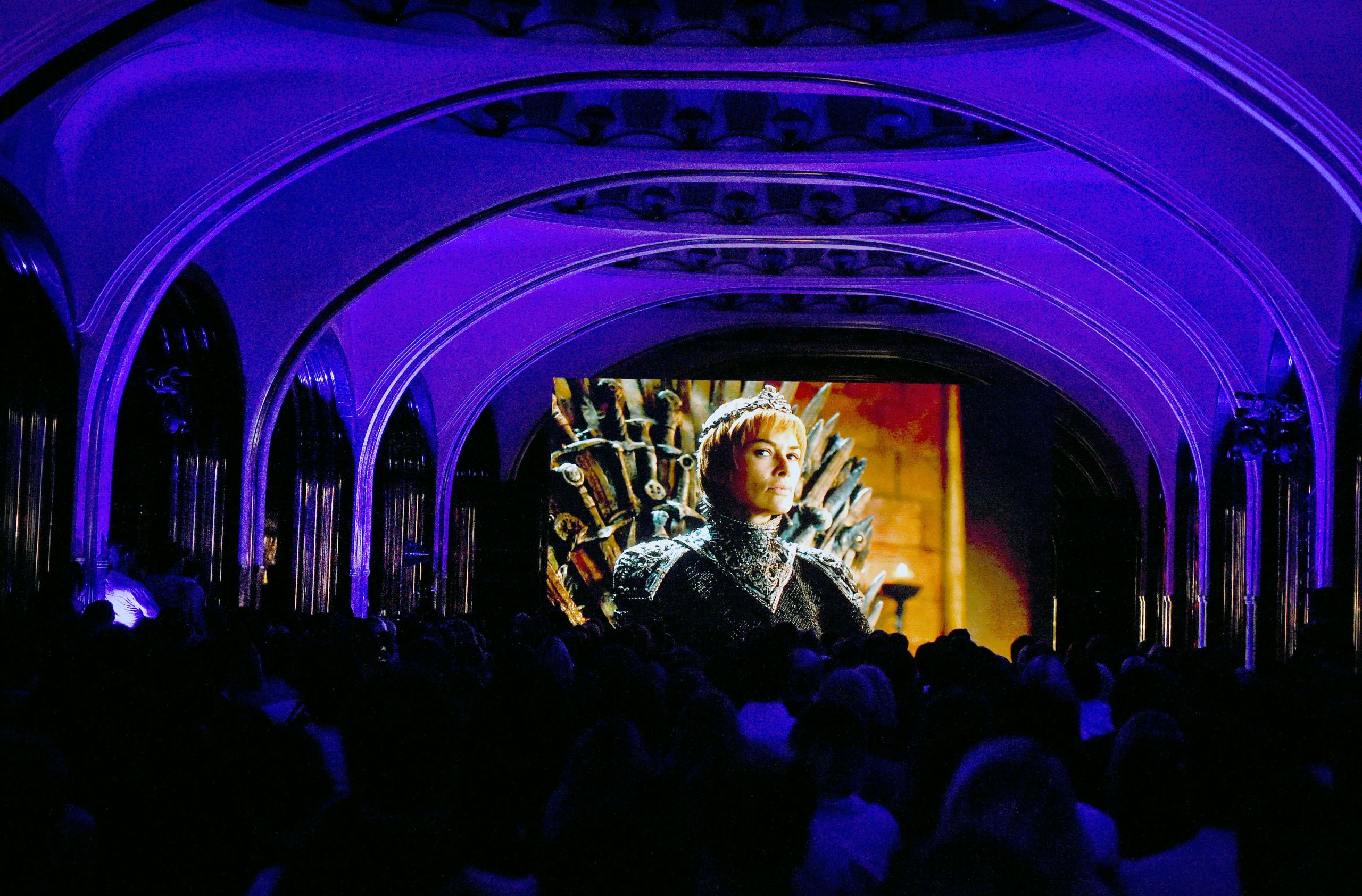 They were not the only long-running sagas coming to an end though…
Points behind winners: 1
Trophies: Champions League
Top scorer (all comps): Mohamed Salah (27)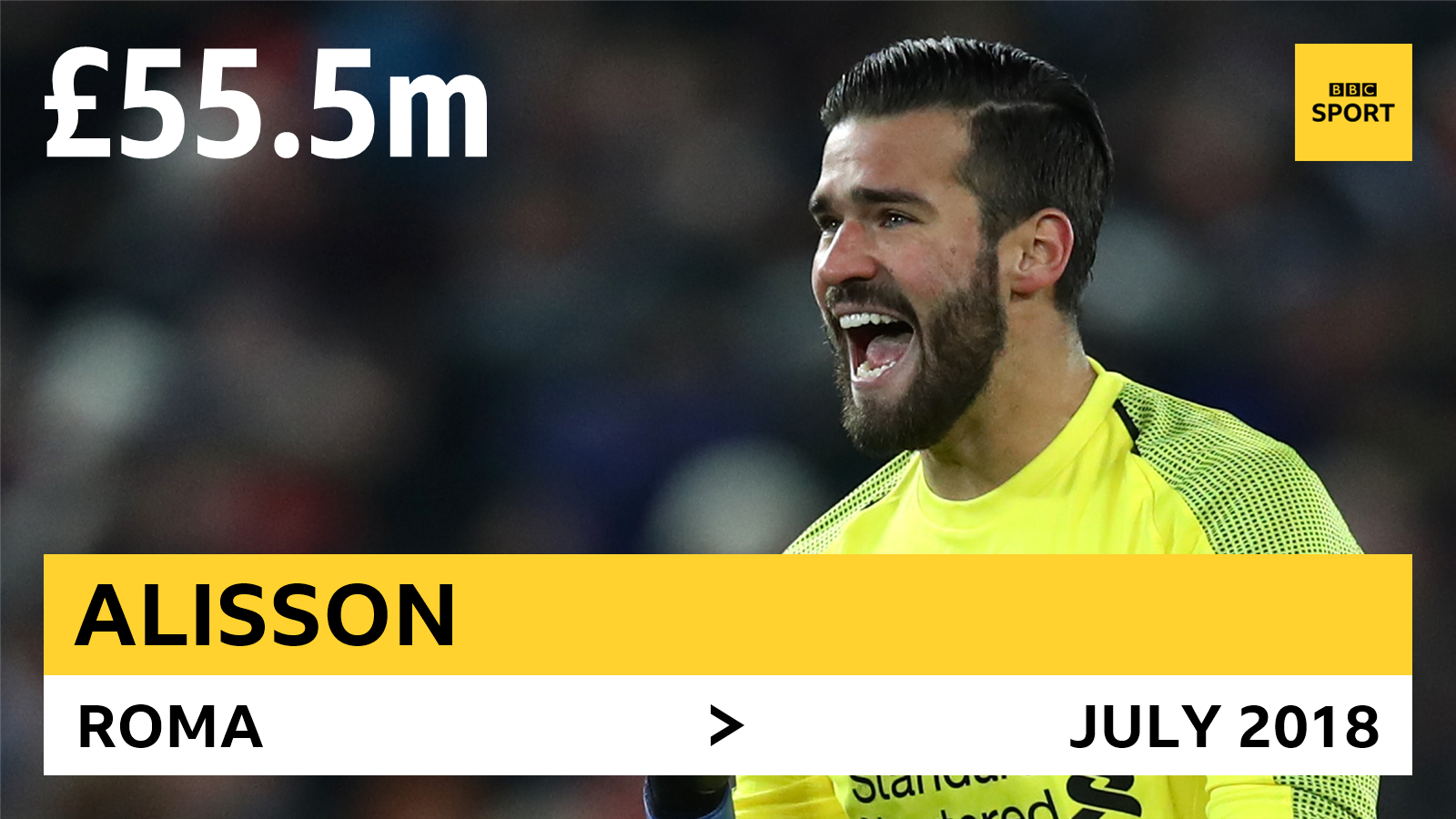 Manager: Jurgen Klopp
2019-20 season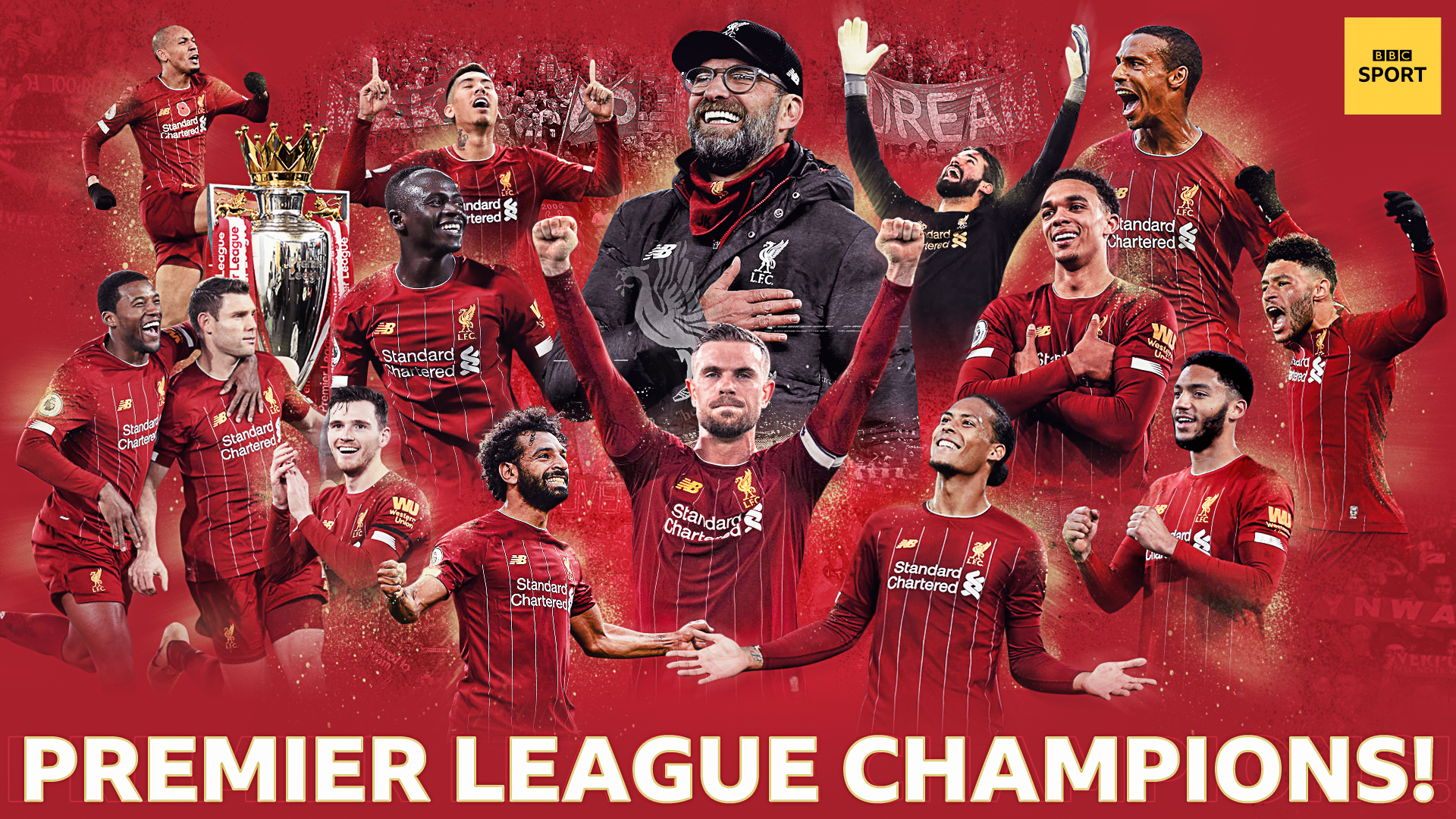 Nobody could keep up with Liverpool on the field in 2019-20, with only a global pandemic threatening to stop a maiden Premier League title.
Was the wait worth it, Liverpool fans? I'd imagine so. Will we have to wait until 2050 for the next title win at Anfield?
I wouldn't have thought so. But who knows? A lot can happen in 30 years, after all...
THE END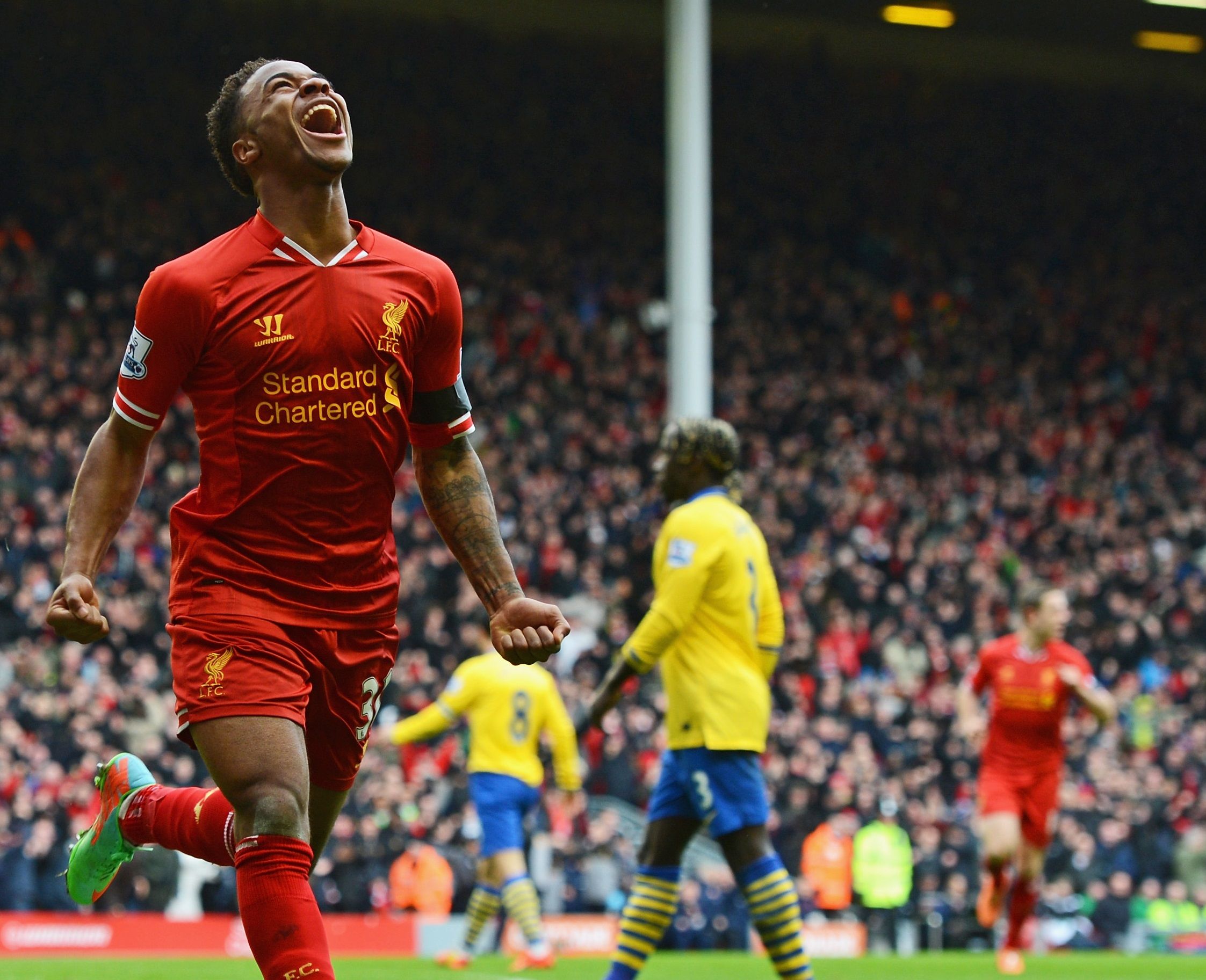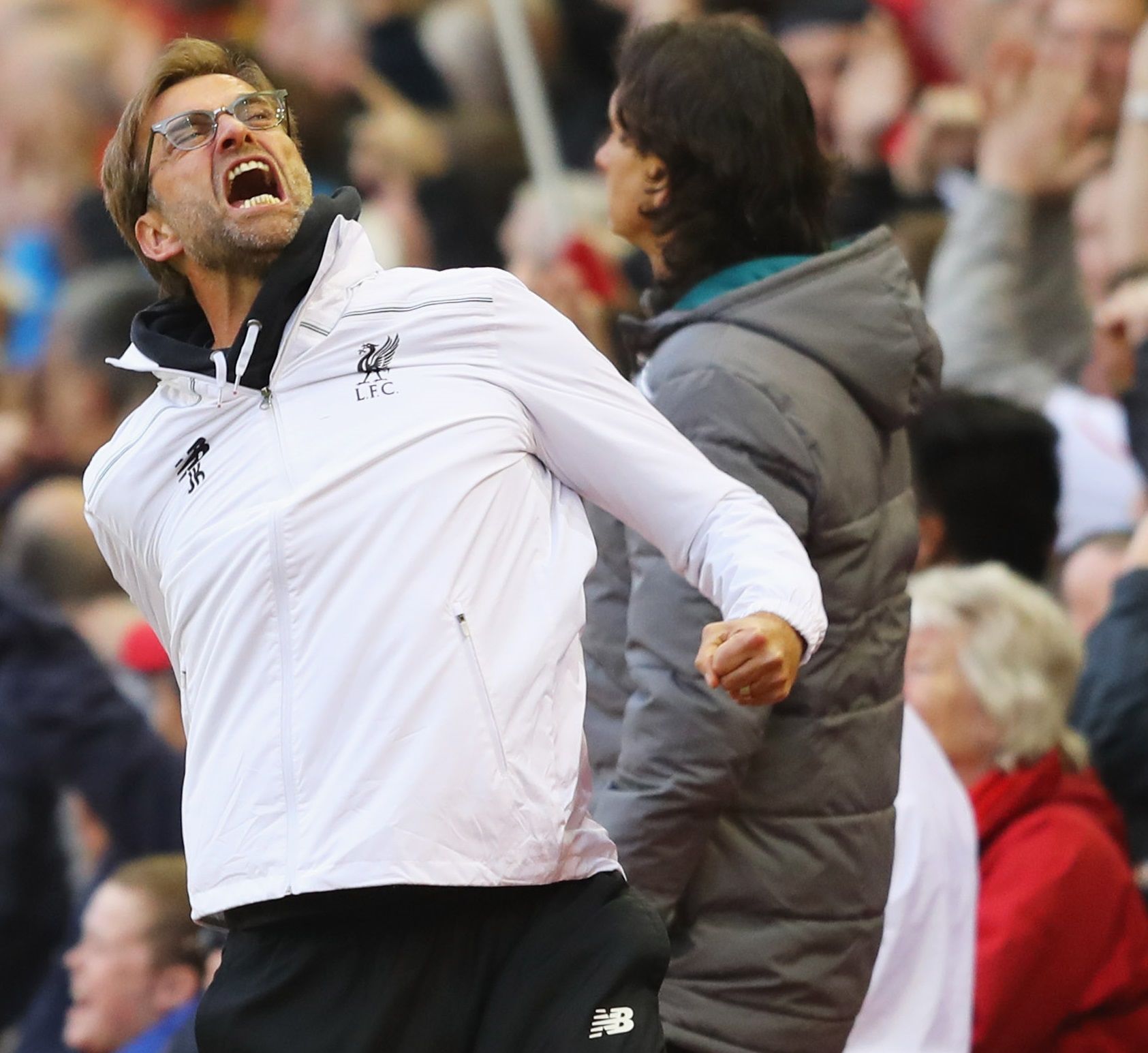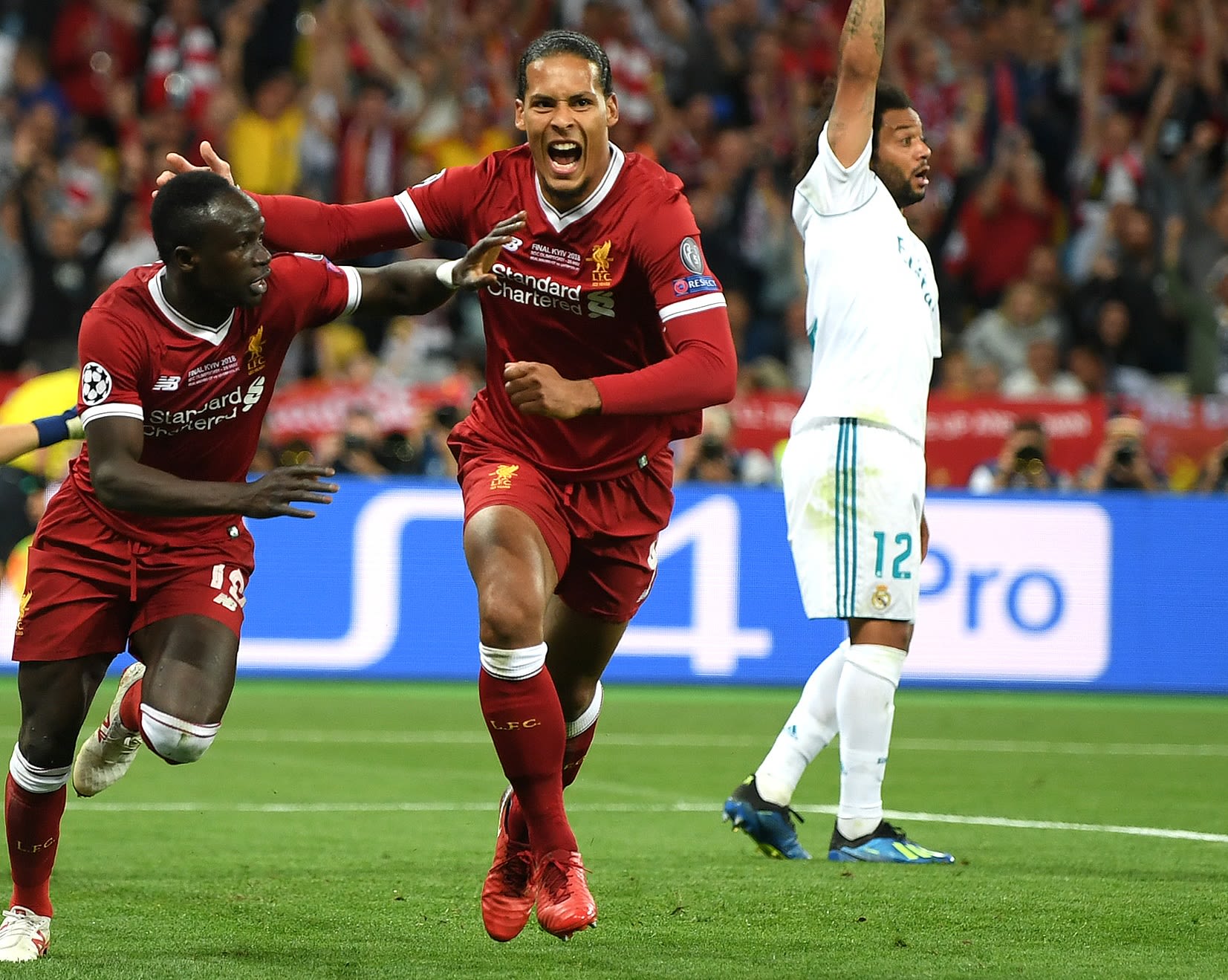 Written and produced by Tom Rostance
Photos: Getty Images, Rex Features
Graphics: Georgina Burkoff
Editor: John Stanton
Sub-editor: Rebecca Ranson