New horse Freestyle reminds me of Valegro, says Charlotte Dujardin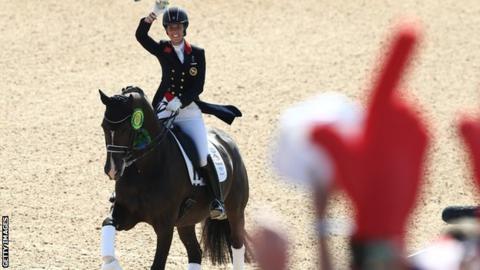 Charlotte Dujardin has described her hew horse Freestyle as "truly special" ahead of the World Championships in the United States.
Dujardin says the mare reminds her of Valegro, the horse she road to Olympic gold in Rio in 2016.
"They don't want to let you down," she told BBC Sport. "She's brave like him.
"Last year, at eight years old, she went into Olympia in front of five and a half thousand people and it was like she'd done it all her life."
The event in North Carolina, the first major for Freestyle, is threatened by the incoming Hurricane Florence.
Dujardin has high expectations for Freestyle - full name Mount St John Freestyle - but knows the World Championships will be difficult.
"She's only nine years old and this is her first year at grand prix," she said. "It's quite a big ask. "It's about giving her a good ride, giving her confidence so next year she's twice the horse she is this year.
Dujardin is part of a 15-strong GB team in Tryon, with Carl Hester, Spencer Wilton and Emile Faure partnering her in the dressage event.
She has backed the German team to do well, but the heat and humidity, which caused the postponement of Wednesday's endurance event, could pay a part.
"These are animals. They may go into the arena and decide they don't want to play the game today - and there's nothing we can do if that happens," said Dujardin.
The World Equestrian Games, held every four years, was expected to draw half a million spectators to North Carolina,
The Tryon International Center is located approximately 250 miles inland from the hurricane's expected landfall but could still feel a significant impact from the storm.
Heavy rains have been forecast and parts of North Carolina could have 40 inches (one metre) of rain. Tryon has in the past been used as a shelter for horses during hurricane season.
BBC coverage times
Times are BST and subject to late changes.
Friday, 14 September
Dressage Individual
15:20-18:25, BBC Connected TV and online
19:20-22:30, BBC Red Button, Connected TV and online
Saturday, 15 September
Cross Country
15:50-22:00, BBC Connected TV and online
17:30-22:00, BBC Red Button, Connected TV and online
Sunday, 16 September
Dressage Freestyle
13:20-16:50, BBC Connected TV and online
20:05-22:55, BBC Red Button, Connected TV and online
Monday, 17 September
Highlights
13:00-15:30, BBC Two
Thursday, 20 September
Jumping
13:50-17:30, BBC Red Button, Connected TV and online
18:20-22:00, BBC Red Button, Connected TV and online
Friday, 21 September
Jumping
18:20-21:55, BBC Red Button, Connected TV and online
Sunday, 23 September
Jumping
14:35-15:55, BBC Red Button, Connected TV and online
16:30-17:30, BBC Two
17:25-18:30, BBC Red Button, Connected TV and online
Monday, 24 September
Highlights
13:00-14:00, BBC Two