Irish Olympian Jonty Evans 'continues to improve' after fall
Last updated on .From the section Equestrian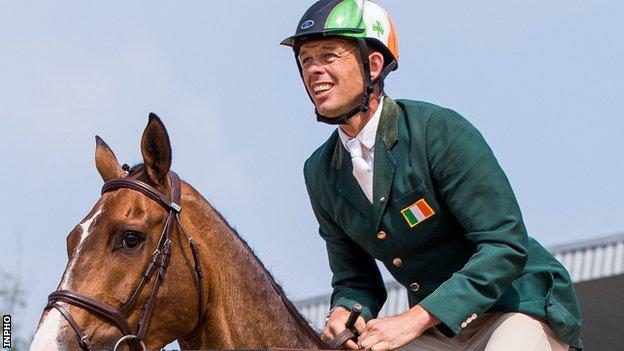 Irish Olympian Jonty Evans has regained consciousness after his fall at the Tattersalls International Horse Trials.
The condition of the Gloucestershire-based eventer has slowly improved over the past 10 days.
The 46-year-old suffered a serious brain injury when he fell from Cooley Rorkes Drift on 3 June.
In a statement, the rider's family revealed he is "beginning to interact positively with the medical team and his family".
Evans was initially treated at Blanchardstown Hospital in Dublin after his fall at the second part of a water complex at the County Meath venue but is now recovering at Connolly Hospital after he was unconscious for almost six weeks.
"Jonty is having physiotherapy and rehabilitation sessions, which will continue for the foreseeable future as he regains strength and his head injury continues to improve," the statement added.
"Due to the need for Jonty to remain in a quiet and calm environment for a significant period of time, and to continue his recovery as privately as possible, the medical team have advised the family to keep visitors strictly to a minimum.
"The family deeply appreciate all the actions, support and kind words that Jonty has received over the past weeks from the eventing community - they have found this a great source of strength."
Cooley Rorkes Drift, uninjured in the fall, was considered for sale by its owner last year.
However, Evans launched a crowd-funding campaign to keep the ride, and a target figure of £500,000 was successfully raised.
The gelding will move to the yard of Staffordshire-based rider Andrew Downes while Evans continues his recovery.