Badminton Horse Trials: Oliver Townend's sanctions 'not high enough'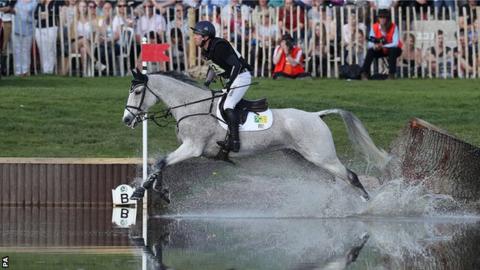 Sanctions imposed on British eventer Oliver Townend for overuse of the whip during this year's Badminton Horse Trials were "not high enough", says the British Horse Society (BHS).
Townend, 35, was given an official warning by the Federation Equestre Internationale (FEI).
He has since issued two public apologies for his riding on Saturday.
"The behaviour displayed was completely unacceptable," said BHS director of welfare Gemma Stanford.
"The welfare of the horse should always be paramount.
"We strongly believe that the sanctions given to Mr Townend by the FEI were not high enough in this particular case. The British Horse Society will be raising these concerns to the FEI."
On Monday, Townend - the 2009 Badminton winner - admitted replays of his rides on Cooley SRS and Ballaghmor Class during Saturday's cross-country phase "didn't look good".
The Englishman's Grand Slam quest was ended by New Zealander Jonelle Price on Sunday after the show jumping.
Townend was seeking the £255,000 prize that goes to a rider who wins consecutive Burghley, Kentucky and Badminton titles.