Burghley Horse Trials: Oliver Townend leads British challenge after dressage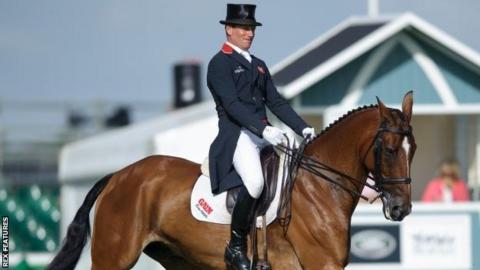 Burghley Horse Trials
Coverage: Friday, 2 September, 21:30-00:30 BST - BBC Red Button; Saturday, 3 September, 11:05-16:00 BST - BBC Red Button, Connected TV and online; Sunday, 4 September, 15:00-17:00 BST - BBC Two
Yorkshireman Oliver Townend leads the British challenge going into the cross-country section of the Burghley Horse Trials.
The 2009 champion is fifth after the dressage on MHS King Joules, with Australia's Chris Burton and horse Nobilis 18 leading.
Germany's Bettina Hoy, riding Designer 10, is second and New Zealander Andrew Nicholson is third on Nereo.
The competition ends of Sunday with the showjumping section.
Burton managed a score of 30.2 in Friday's dressage, with Hoy on 34.5 and Nicholson posting 35.2. Townend scored 38.1.
Britons Gubby Leech, Francis Whittington and Paul Sims lie in 15th, 16th and 17th places respectively.
Australian Burton, who won Olympic bronze in Rio in the team event, is confident Nobilis 18 will perform well in the cross-country.
"The horse is a beautiful mover and today he was really relaxed, which meant I could ride forward and attack the movements," he said.
"It's not easy to feel confident about the course at Burghley, but Nobilis is a blood horse and should cope with the trip."