Rio 2016: Pippa Funnell to replace Izzy Taylor in GB Olympics eventing squad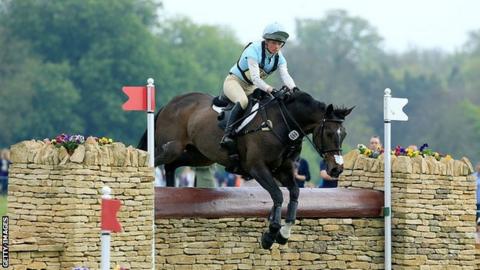 Izzy Taylor says she is "gutted and sorry" after an injury to her horse Allercombe Ellie ruled the pair out of Great Britain's Olympic eventing team.
Pippa Funnell and Billy The Biz will replace Taylor, while Tina Cook is called up as travelling reserve.
William Fox-Pitt, Kitty King and Gemma Tattersall complete the team for Rio.
"I'm really gutted and sorry for the owners and my support team." said Taylor. "I wish Pip and all the team the best of luck out in Rio."
Three-time Olympic medallist Funnell, 47, said she was "devastated" for Taylor, but added that she felt "privileged and honoured to be part of the team".
Funnell has previously won medals at the Sydney Olympics in 2000 and in Athens four years later.
After originally being appointed second reserve, Cook told the BBC that she was disappointed not to have been selected for the team.
Squad:
Eventing: William Fox-Pitt, Kitty King, Gemma Tattersall, Pippa Funnell MBE
Dressage: Fiona Bigwood, Charlotte Dujardin OBE, Carl Hester MBE, Spencer Wilton
Jumping: Ben Maher MBE, Nick Skelton OBE, John Whitaker MBE, Michael Whitaker