Irish miss out on Olympics spot after appeals rejected
Last updated on .From the section Equestrian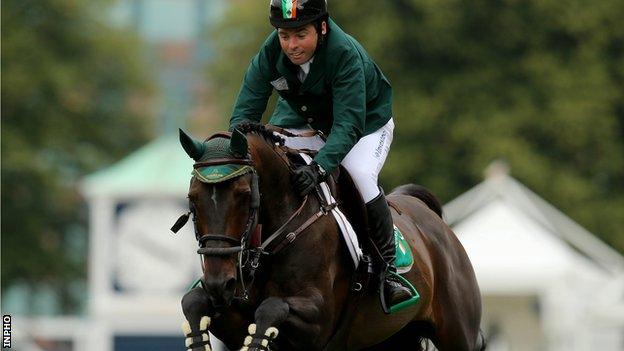 Ireland have failed to secure a place at the Rio Olympics in controversial circumstances at the European Championships in Germany.
Cian O'Connor was clear approaching the 11th fence when an arena staff member appeared to run in front of him.
He leapt into a flowerbed to avoid horse and rider and O'Connor then had the next fence down.
Ireland finished 0.380 penalties behind final Rio qualifiers Spain and had two appeals over the incident rejected.
Had O'Connor completed a clear round, the London 2012 individual bronze medallist would have helped secure an Olympics place, especially as final team member Denis Lynch then left all the fences up.
Ireland had an initial appeal turned down by the ground jury with a subsequent appeal thrown out by the appeal committee.
The Irish finished fourth in the chase for three Rio spots and seventh overall in Aachen.
"We are very proud of the Irish team's performance at the European Championships in Aachen," said Damian McDonald, Horse Sport Ireland CEO
"As regards the incident where an arena official crossed Cian O'Connor and his horse Good Luck's tracks causing interference, we will be examining all of our options provided for within the rules of the International Governing Body the Federation Equestre Internationale (FEI) including a potential appeal to the Court of Arbitration for Sport (CAS)"