No business like showjumping for globe-trotting Ben Maher
By Ollie Williams
BBC Olympic sports reporter
Last updated on .From the section Equestrian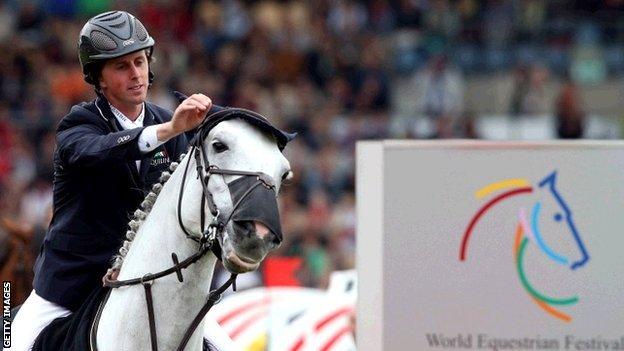 Unusually, Ben Maher is in the country.
The UK may have the first and second ranked showjumpers in the world, for the first time in living memory, but neither Maher nor fellow Briton Scott Brash has more than a fleeting brush with home.
"In the past year I've been at home for a total of four weeks, combined," says Maher, one member of the quartet who helped Britain to their first Olympic showjumping gold in 60 years in London.
"I live my life in a hotel and on a plane. I've learned to adapt to that. As long as I've got my computer and a few films or series to watch, I'm pretty easy-going."
Fiona Haynes, the personal assistant responsible for keeping tabs on the globe-trotting Maher's whereabouts, can relax a little now her boss is back in town for next week's Olympia horse show in London.
"The farthest we go is Rio," she says. "America for three months in the winter, then every weekend on the Global Champions Tour.
"The horses fly from either Amsterdam or Frankfurt - we take them in a lorry. They fly with their own grooms. On a Monday or Tuesday they head off, then Ben joins them Wednesday night or Thursday.
"On Sunday there's usually a rush to the airport for Ben, and a rush to the lorry for the grooms and horses to make whatever train or ferry we've booked for them. Often we have two lorries in Europe, travelling to different places, collecting horses from airports.
"Obviously, winning is hugely important just to cover our costs, because it is a massive operation now."
Fortunately, 2013 has been a good year.
Riding a string of star horses led by Tripple X, 30-year-old Maher has enjoyed notable success on the Global Champions Tour, showjumping's answer to the Champions League, and at Hickstead, as well as winning an individual silver medal and team gold with GB at the European Championships.
He spent the past three months as number one in the world until being deposed by Brash in the most recent rankings.
To compete at this level, money is a must. While the sport's prize money can be extraordinarily lucrative - the purse approached £400,000 at this year's London leg of the Global Champions Tour - it may not be enough on its own.
So Maher leads a complicated life for an Olympic champion, combining elite sport with directing his own business. He buys and sells horses as well as training younger students.
"It costs a lot of money to run in this sport," says the Enfield-born rider, now based in Essex.
"When I was younger there were many times when I struggled for good horses, good owners and sponsors. In America, young riders go to a professional who manages everything. I saw that, liked it and realised nobody was doing that in England.
"I wanted to build something so if I didn't win the grand prix that week, I could still pay my bills.
"I didn't expect it to grow so fast. Maybe it's the results we've had, maybe we do a good job, I don't really know. We have to turn people away now, which is sad."
Haynes attributes the boom in business to Maher's Olympic success. "The whole operation has become way bigger, much more professional," she says. "A home gold medal, how many people ever do that? The Olympics really changed everybody's perception of Ben."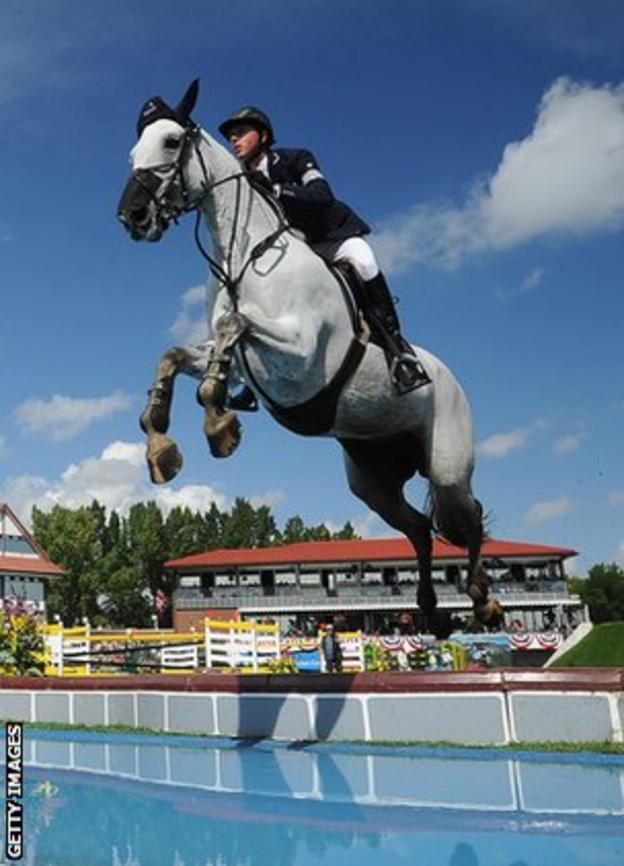 Maher has to find the balance between top-level competition and the business operation. Get it wrong and it could cost money, world ranking places or both.
He says: "I missed [an event in] Doha the other week and it was freezing cold here. The young horses were pulling me all over the place, my shoulders were aching, Scott Brash is winning half a million euros in Doha and I'm thinking, 'Maybe I made the wrong decision this week.'
"But it's important to me. I'm always looking for the next horse to come through, and it does me no harm to realise everything has got to start from somewhere. The horses there could be my next grand prix horses. There's nothing wrong with being grounded slightly for a weekend."
This precarious balance is further threatened by court proceedings currently looming over Maher.
He and his legal team are contesting allegations that he made some £700,000 in "secret profits" from horse deals - as well as pursuing their own counter-claim. Olympic horse Tripple X is set to be sold as a result.
Maher will not talk about this. A tersely worded statement issued by his lawyers confirms proceedings are ongoing.
In the circumstances, the chance to go up against new world number one Brash at Olympia and reclaim the top spot may come as a relief.
"Scott's in a great position now, he's got great backers and great horses just like myself," says Maher. "We're very similar in person, I think: very competitive inside the ring, friends outside. I think me becoming number one maybe spurred him on.
"I gave all my horses a rest for the past two months and kind of sat still for a bit, as I knew I had a great lead. But I was out there for everybody to catch me. Hopefully we can come back strong in December and challenge him a bit for next month's number one spot.
"Olympia is special. It's where a lot started for me, I was always fighting to be in the top 10 in England to make the show, that would be the highlight of the year; now it's the highlight for different reasons."
LIVE COVERAGE ON THE BBC
Tuesday, 17 December: FEI World Cup Dressage (Freestyle), 19:40-22:25 GMT, Red Button & online
Thursday, 19 December: Puissance, 20:55-22:15, Red Button & online
Saturday, 21 December: World Cup, 13:45-16:30, BBC One HD & online (repeated at 18:00 on Red Button & online)
Sunday, 22 December: 18:10 & 21:00 Red Button & online
Monday, 23 December: Highlights, 14:05-15:05 BBC Two & online