Carl Hester hopes to keep dressage horse Valegro in UK
Last updated on .From the section Equestrian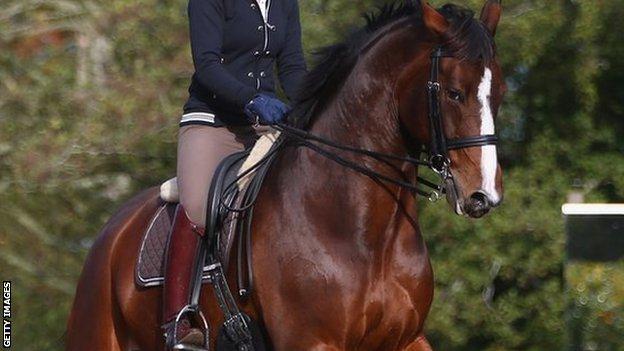 Olympic champion dressage rider Carl Hester hopes to be able to find a buyer who will keep his top horse in the UK.
The 45-year-old from Sark is selling Valegro, the horse which at London 2012.
Dujardin also on Tuesday.
"We would offer a half-share in him to anybody that wanted to help keep him in the country, and we've given that until January," Hester said.
"I'm sure he's going to win gold medals for at least another six years and that could be an incredible journey for someone to join us on and keep him for this country."
Gloucestershire-based Hester says selling the horse was not a decision that he took lightly.
"He's been in my stables for eight years now so it was not going to be an easy decision.
"But on the other hand Charlotte and I have to work for our living, we are not just blessed with rich parents who can support us, we have to make our own way in this world and I have a stable to run with 18 horses."
Hester co-owns Valegro - who is reportedly worth £3m - with Roly Luard, and described the 10-year-old gelding as the "greatest dressage horse there's ever been".
"He is the professor of dressage, without doubt," Hester added.
"He has everything you could possibly want, and he also has this incredible presence.
"Even if you're not involved with horses, you see Valegro do his test and you're just captivated by his incredible beauty and his presence."
Hester was part of the where he rode Utopia.
On Wednesday he will ride the same horse in competition for the final time before it too is sold.
"Right now I feel like it's an end of a journey for me, and it's been a great one," Hester said.
"I'm not really unhappy or upset about it because I know somebody else will really enjoy riding him.
"I don't own all of him so it was always agreed that he could be sold after the Olympics.
"I'm very grateful that the owners actually allowed me to keep him until the Olympics because without him we wouldn't have won that historic team gold medal."