Gatcombe: Rain forces Festival of British Eventing to be cancelled
Last updated on .From the section Equestrian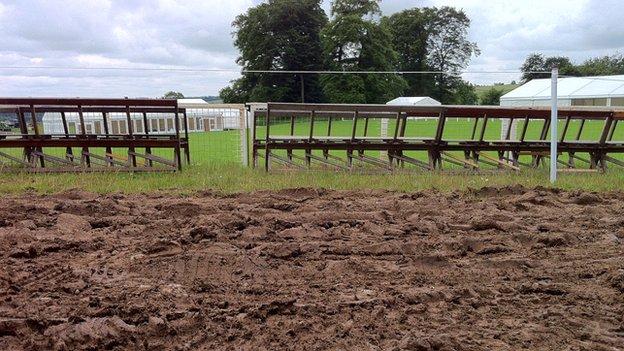 The 2012 Festival of British Eventing in Gloucestershire has been called off because of the heavy rain.
The event was due to start on Friday at Gatcombe Park, but an inspection on Monday proved the ground was too wet.
It becomes the latest major eventing competition to fall victim to the weather, following the cancellation of Badminton Horse Trials in April.
"We are unable to safely continue the preparations for the Festival," said co-organiser Mark Phillips.
"We know that riders and spectators will be disappointed - especially as so many events have been cancelled already this year.
"We did everything possible to ensure that the event took place, but sadly the hard-working ground crew at Gatcombe Park have been defeated by the weather."
The event, which was brought forward to July because of the Olympic Games, was scheduled to host 300 entrants and had an expected crowd of 40,000 over the three days.
One of the planned highlights was to have been a parade of Great Britain's Olympic eventing team - William Fox-Pitt, Mary King, Tina Cook, Zara Phillips and Nicola Wilson - as a send-off before London 2012.
London-bound New Zealanders Andrew Nicholson and Mark Todd, plus Australian Olympic riders Clayton and Lucinda Fredericks were also due to appear.
Co-organiser Peter Phillips, the Queen's grandson, added: "It's such a shame. It's a massive disruption for the sport which has been so badly hit by the weather this year.
"With Badminton being cancelled, everyone was hoping Gatcombe would provide a positive impact.
"A huge amount of hard work went in to just getting this far. All the contractors on site have done an unbelievable job in trying to minimise the amount of mess and disruption.
"But the uncertain weather forecast made it virtually impossible for us to plan and operate the site safely, which is the paramount of importance."