William Fox-Pitt's horse Cool Mountain will miss Olympics
Last updated on .From the section Equestrian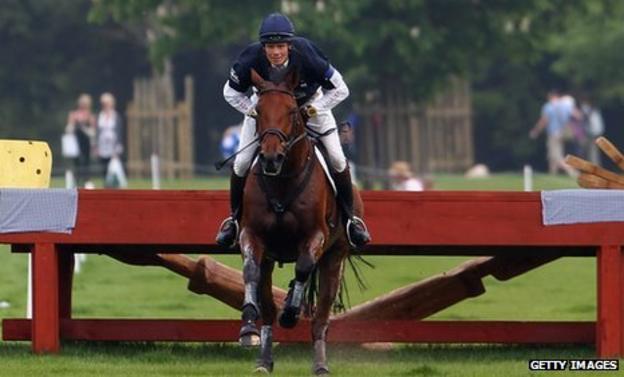 Cool Mountain, one of William Fox-Pitt's elite horses, will miss the London Olympics as he recovers from a tendon injury.
The rider, who has competed at three Olympic Games, does have two other elite standard horses in competition.
He won the 2011 Burghley Horse Trials on Parklane Hawk, and rode Oslo to success at the Stars of Pau event.
Cool Mountain, Fox-Pitt's mount when Great Britain won team gold at the 2010 World Championships in Kentucky, has been given the year off from competition to regain full fitness.
"It is particularly sad to have Cool Mountain off this year," said Fox-Pitt.
"He has done incredibly well, and in a way he was my banker. That was the horse I thought I would be riding.
"He injured a tendon in Germany last year. It's not very serious, but I am going to give him a whole year off. That would give him the best chance of recovering for the future."
Fox-Pitt, who could also ride Lionheart at the Olympics, is the only rider in eventing history to win the world's five four-star events - Badminton, Kentucky, Luhmuhlen, Burghley and Pau.
After winning a team silver medal in Athens in 2004, and bronze four years later in Beijing, Fox-Pitt has vowed to keep his preparations for London as normal as possible, despite being excited about the prospect of competing in front of his home crowd.
"It is important for me to remember that I have ridden in three previous Olympic Games, and this is just another one.
"But, having said that, it is quite hard to keep that in perspective because London is something that has really focused the mind for a long time.
"It has been a target, and then suddenly you find yourself in 2012. I think the challenge is going to be to try to be as normal as possible, get selected and then be in one piece at that time.
"All three have got strengths and weaknesses, but they are looking promising at this stage. They are very good horses mentally and they are very confident, and I think that will count for a lot.
"I am very lucky to have three horses in contention. Oslo and Lionheart I've had right from novice level, and Parklane Hawk has really stepped up to the mark."