Fighter Ross Pearson ignores wedding plans for UFC contest
Last updated on .From the section England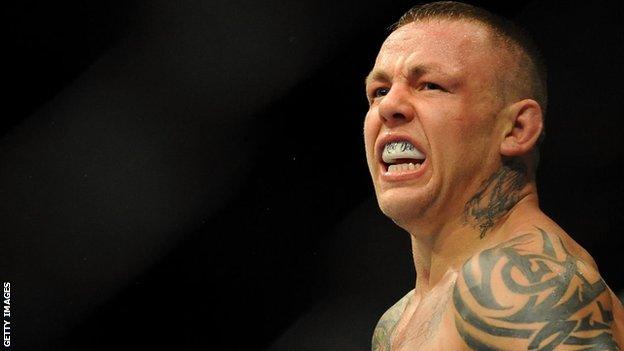 Ross Pearson has an extra incentive to beat Gray Maynard when they face off at the UFC Fight Night on Sunday, 17 August - he is getting married next month.
The Sunderland-born Ultimate Fight Championship lightweight will wed fiancée Kristie-Jane McKeon on the Australian Gold Coast in September but for now the focus is on the fight, not the wedding.
"She's out in Australia at the moment organising it all," Pearson told BBC Sport.
"We get married at the Great Barrier Reef, and hopefully I'll get a nice big pay-cheque [against Maynard] to pay for it all.
"I'm hoping not to get any black eyes but I'll have a month for it to heal anyway."
Pearson is one of the biggest European stars in the UFC with 17 wins from 25 fights and is second on the bill for the event in Bangor, Maine, with light heavyweights Ryan Bader and Ovince Saint Preux heading up the card.
His opponent Maynard is in the top 15 fighters in the division, currently ranked 12th, and was a late replacement for the injured Abel Trujillo who withdrew less than a fortnight before the bout.
Both fighters have had a short turn-around, more so for Pearson who had been preparing for the Trujillo fight.
"I was training for wrestler-brawler type who is fast and athletic, and Gray Maynard is a similar type but he's not fast and he's not athletic, so that's an advantage to me," the 29-year-old said.
"I'm definitely fitter and I'm going to expose him at his weakness.
"I'm a lot sharper, my timing is on point and he'll be a sitting duck, he'll be hitting fresh air."
Mixed martial arts has been criticised in media for the aggressive nature of bouts, despite a strict code of rules that outlaws acts such as eye gouging, and makes health and safety provisions that include the presence of medical staff throughout.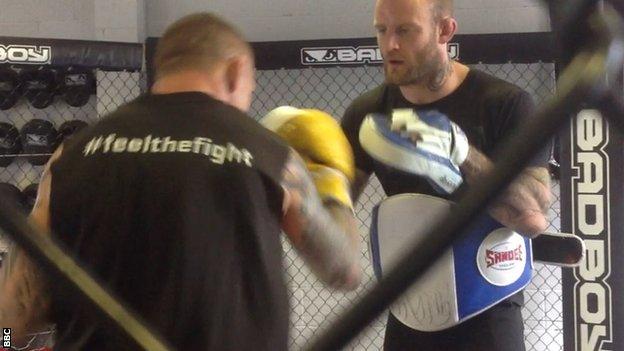 Pearson is keen to stress that his sport, one that he has been involved in since his mid-teens, is more than just a brawl in a cage.
"My whole career is based on science, right down to how much food goes in my mouth, my weight and how much water I intake," he added.
"I've been doing martial arts all my life, I'm not just a guy who fights on the street or stands on the door and thinks I'm a tough guy - I'm completely the opposite.
"I'm not the kind of guy you would avoid in the street, I consider myself a genuinely friendly guy - despite the tattoos.
"I have a black belt in taekwondo, then I moved on to judo and have a brown belt and then as a teenager I went into amateur boxing.
Multi-discipline sport
Ross Pearson trains with rugby league players such as Josh Dugan at St George Illawarra and spent time with the New Zealand Warriors when the UFC went to Auckland, and embraces aspects of other sports for his MMA training.
"I train in many different sports, jujitsu, wrestling, boxing, Muay-Thai, kickboxing and mixed martial arts but outside of that I play football, rugby," Pearson said.
"I went to London to train with Marlon Devonish and Timothy Benjamin the sprinters, learned some track stuff with them to incorporate body movements into my game.
"You can adapt different elements of what other sportspeople do in your own game."
"That's what I wanted to do as a teenager, be a professional boxer but I found out about the UFC when I was 16 and I instantly changed career paths."
Regardless of the criticism, mixed martial arts and in particular UFC has gone on to become one of the leading brands of combat sports with pay-per-view televised events and arena shows around the world and that in turn has brought fame for the Wearsider.
"I get fan mail from Australia, China, Japan, Brazil and I've fought all over the world too, it's an amazing experience," he continued.
"When I retire and I look back on my career I'm going to be thinking that I've travelled and done what I've loved and enjoyed my life.
"There's nothing more that I wanted to do and I'm loving it.
"I was a bricklayer, as soon as I left school I went on the building site which a lot of guys do in the north east of England.
"I say to anyone out there, if you have a dream then hard work and dedication can help you achieve that."
Despite his gloebtrotting, Pearson still returns to his native north east, training out of a gym in Felling - Bad Boy - that is resident to stable of MMA fighters.
"This is home, no matter where I go in the world I miss it," he continued.
"My friends, family and team-mates are here, I've always wanted a facility where we can train under one roof and we've got it here at the Bad Boy Training Centre.
"People from the north east are fighters, we fight to make a living, we fight to live and survive and it makes us the type of people that when we go through bad times, we have that inner warrior and just keep fighting."