UFC: Rosi Sexton to be first British female ultimate fighter
By Chris Osborne
BBC Sport
Last updated on .From the section England122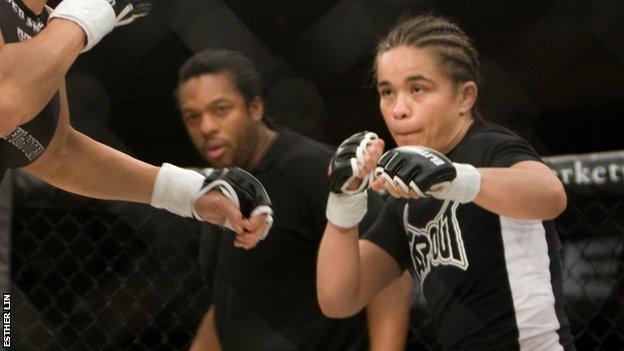 Rosi Sexton is a Cambridge University graduate, an osteopath and a mother. And, should you face her in competition, she would have no qualms about breaking your arm.
On Saturday, after a week of training and collecting her eight-year-old son from school, Sexton, nicknamed 'The Surgeon', will step into a steel, octagon-shaped cage and attempt to knock out or incapacitate her Canadian opponent Alexis Davis.
French-born Sexton, 35, competes in mixed martial arts (MMA), a form of combat sport in which fighters draw on disciplines such as judo, wrestling and kick boxing to overpower an opponent. Sexton will be the first British woman to grapple in the Ultimate Fighting Championship (UFC), the sport's biggest brand.
She admits she was an unlikely candidate for a career in sport - let alone one as brutal as MMA.
"I wasn't the kind of kid you looked at and said 'they're going to be a professional athlete'," she told BBC East Sport from her Manchester home.
"I was the nerdy kid who always had her head in a book."
That studious approach brought her a first in mathematics from Trinity College, Cambridge, a PhD in theoretical computer science at Manchester University and a BSc in osteopathy.
It was at Cambridge she discovered her taste for the martial arts, joining judo, jujutsu and taekwondo societies, and, three years after her graduation in 1999, she made her professional MMA debut.
Not that her parents knew anything about it.
"My family does worry sometimes, as parents do. At first I didn't really talk to them about exactly what I was doing," she said.
"They knew I was involved in martial arts and I would say I was going off to a martial arts competition.
"They found out when they googled me and actually they took it very well."
MMA, for so long a male preserve, has only recently begun to embrace a female division, with American Olympic judo bronze medallist Ronda Rousey, the current UFC women's bantamweight champion, one of the biggest names.
Beijing medallist Rousey, 26, who has seven submission wins from seven matches, has shot to stardom in the sport - and in the process caused agonising damage to opponents' upper limbs with the 'armbar' hold.
Sexton too is an exponent of the armbar, a manoeuvre that hyperextends the opponent's elbow - bending it, in other words, beyond the joint's normal range of movement.
So would a trained osteopath, schooled in helping the body heal, go as far as breaking a limb to win?
"Yes, I would," said Sexton, who has 13 wins from her 15 professional bouts. "It's the nature of the game. When you step in there, you understand that.
"The idea is if you get somebody in a situation they can't get out of, the joint is under pressure, they tap [submit] and there's no need to do any more damage.
"For some reason, that doesn't always happen. In the heat of the moment somebody might think they can get out."
Of course, what Sexton is prepared to do to win, she may also have done to her.
"I've been in some pretty dicey positions," she added. "At the time, something else takes over. The me sat here talking to you is not the me in there doing it.
"While I say the sensible thing is to tap out, that's not always what happens. The fighter in me is going to give it a go."
Ever the academic, Sexton seeks to rationalise the process.
"For me it is not about beating up another human being, it's about challenging myself, the technical challenge," she said.
"In a sense, it's no different to trying to score a goal in football or a point in tennis. What some people from the outside might perceive as brutal, doesn't feel the same way when you're in there."
Even so, she conceded: "Some fighters do think more about the violent aspect of it - being in there to do damage to another human being."
So on Saturday night, at the UFC 161 pay-per-view in Manitoba, Canada, in the only women's fight on an otherwise male card, Sexton will again risk injury for her sport.
Will she be able to suppress the worry that one false move - one misjudgement by an athlete caught up in the moment - could see her eight-year-old boy welcoming back a badly injured mother?
"You can't afford to think like that. Thinking like that is actually more likely to get me hurt," she said.
"As soon as you start thinking 'I can't afford to get hurt', bad things happen."