British Swimming 'disappointed' by 'toxic' claims from Tom Daley's husband Dustin Lance Black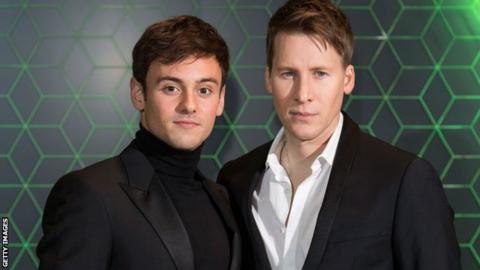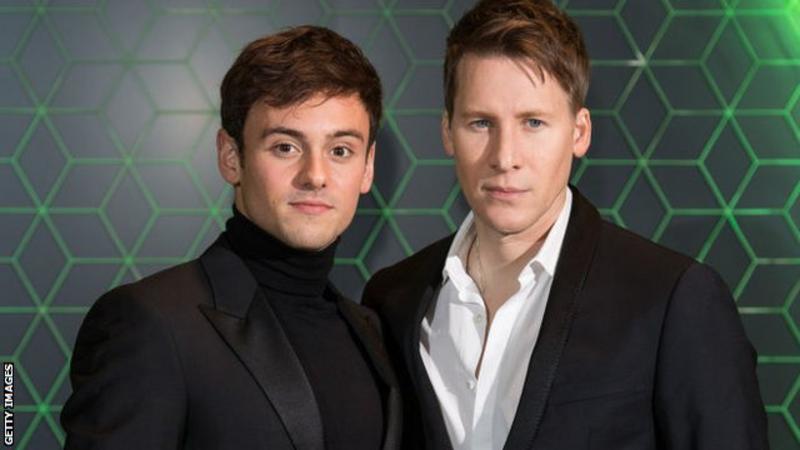 Dustin Lance Black, the husband of British diver Tom Daley, says an "illness" within British Swimming has led to a "family-adverse culture".
Among several posts on Twitter, Black, 44, also described the organisation as "corrupt" and "toxic".
An issue about the use of child buggies arose during the Diving World Series, where Daley won mixed 3m synchro gold.
British Swimming said it was "extremely disappointed" Black "felt he couldn't be there to support Tom".
Black says he was told "people were complaining" after he took son Robbie Ray in a pram into the disabled section at the London Aquatics Centre.
The issue was initially resolved, but Daley was then told his husband and son had been "removed from the event", according to Black.
"Tom walked in looking like a ghost and was upset," Black told BBC Sport. "The organiser of the event had come up to him and told him that I had been swearing, demanding to have a buggy and causing a scene.
"If I had caused a scene or said a bad word - which I did not - one of the organisers should have come to me, not go to Tom, where he had just won gold for his nation and had to compete again in one of the biggest events of his life in front of a home crowd."
Earlier Black tweeted that he had an issue with a press release sent by British Swimming that he called "an absolute misrepresentation" of the situation, saying it had "little to nothing to do with a pram".
"This organisation is corrupt," he added.
In a statement to BBC Sport, British Swimming said it had "offered to put measures in place to store the buggy".
"British Swimming is extremely disappointed that Tom's husband felt that he couldn't be at the London Aquatics Centre to support Tom," it said.
"The London Aquatics Centre's policy is not to allow buggies on to the spectator concourse for health and safety reasons and British Swimming supported this policy to ensure the safety of everyone attending this exciting event.
"British Swimming recognises the fundamental part that families play in supporting all of the athletes and offered to put measures in place to store the buggy during the event so that Tom's family could be present. We were pleased to see some of Tom's family there last night celebrating his success."
'They know they have a problem'
Black said the issue was not over the use of buggies, but a bigger problem which "happens at every British Swimming event".
"This is an illness within the organisation which leads to families being kept at arm's length and being demonised," said Black. "There is no other country that does this. When it is a [world governing body] Fina event and not a British Swimming event, there is no problem.
"Any other country we go to we are made to feel welcome. What happened this weekend was a bit of the last straw. They demonise family members and treat us as if we are somehow incumbent. We would rather we are not there."
Daley, who had clinched the overall individual 10m World Series crown on Friday, "probably slept a combined six hours over two nights" before claiming gold alongside diving partner Grace Reid on Sunday, says Black.
"They [British Swimming] have still not spoken to us," said Black. "I wouldn't say I'm upset; it's more that this problem has to be solved. Any other country welcomes you with open arms. No family in sport is the silent partner. This is the only country that looks upon families as a hurdle.
"They went to Tom instead of coming to me. They upset their athlete in the middle of a very big weekend. There has been no conversation. They are very quick to kick me out for no reason but can't be bothered to have a conversation."
Black says he "begged" British Swimming to apologise "just to get it off Tom's mind" but added: "They have an inability to admit they had done something wrong."