Tom Daley backs Matthew Dixon's Commonwealth Games 2018 bid after British 10m title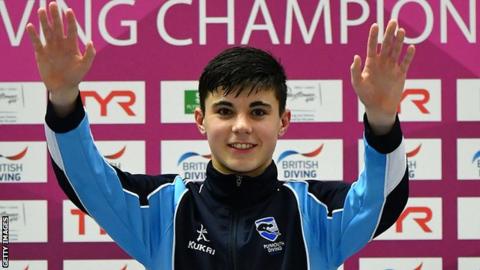 World champion Tom Daley is backing Matthew Dixon's bid to be selected for the England diving team for the 2018 Commonwealth Games.
Dixon, 17, won the British 10m platform title on Sunday, with Daley unable to compete because of illness.
"He had a fantastic competition and I'd love to see him on the plane," Daley told BBC Radio Devon.
Dixon's victory at his home pool in Plymouth came four years after he first took the crown.
"I'm not sure exactly how the qualification is going to work with our performance director choosing who'll be going, but it's going to be great to get as many people from Plymouth out to the Commonwealth Games as possible," added Daley, who was born and learned to dive in the city before moving to London after the 2012 Olympics.
In Daley's his absence, Dixon was almost 10 points clear of runner-up Lucas Thomson.
"My performance was very consistent, I didn't drop a dive, everything was really good and I'm really happy with it," he told BBC South West.
"It puts a lot into place and can make me go on to bigger competitions and hopefully do well in them."
Dixon was the youngest member of the England team at the 2014 Commonwealth Games, the year in which he first won the British senior title.
"It's taken me four more years to get my dives consistent again, learn new dives and win again," added Dixon, who also won silver in the 10m synchro with partner Noah Williams.
"Hopefully if they select me, maybe the Commonwealth Games may be up for a chance."