European Diving Championships: Freddie Woodward & James Heatly win bronze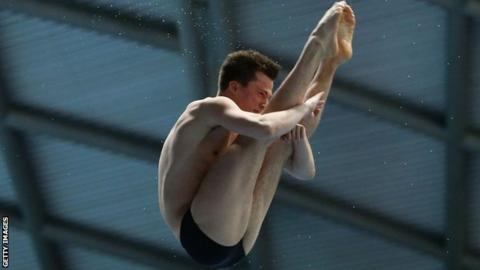 Great Britain's Freddie Woodward and James Heatly won bronze in the men's 3m synchronised final at the European Championships in Kiev on Saturday.
Russian pair Evgeny Kuznetsov and Ilia Zakharov took gold, with Ukraine's Oleg Kolodiy and Illya Kvasha in second.
On Sunday's final day of competition in Ukraine, Katherine Torrance and Grace Reid will compete for Britain in the women's synchronised 3m final.
Compatriots Matthew Dixon and Matthew Lee will be in the men's platform.
Woodward and Heatly's success took Britain's medal tally to five, with three of those gold.
Louis Toulson, 17, won individual 10m gold, before taking her second with Lee in the mixed 10m synchronised, while Ruby Bower and Phoebe Banks won the women's 10m synchronised.
Noah Williams and Dixon also took bronze in the men's 10m synchronised.