William Trubridge: New Zealander dives 102m to set freedive world record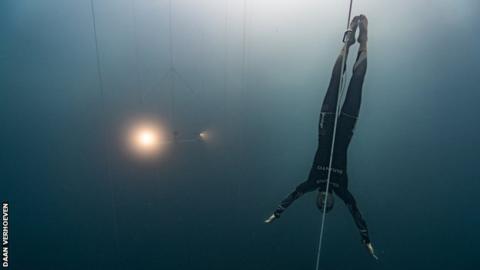 New Zealand's William Trubridge has set a new world record of 102m (335ft) for the deepest unassisted freedive.
The 36-year-old held his breath for four minutes 14 seconds as he descended the Dean's Blue Hole in the Bahamas, the world's deepest marine cavern.
He completed the dive without fins to break his own record set in 2010 by one metre.
"It's been over two years in the making and to finally get this record in the bag now is a dream," said Trubridge.
The UK-born diver had failed in the record attempt in 2014, pulling out just 20m from the surface.
Trubridge told TVNZ: "When I grabbed the tag at the bottom there was an initial kind of rush or surge of 'yeah I'm here at the depth' and then that thought comes back to you - 'no I've still got to swim 102m back to the surface'.
"On the way up I started to feel a little bit of a fade about halfway; the sense of an urge to breathe and hypoxia, low oxygen coming on, and I started to wonder whether it was going to go pear-shaped again.
"I just tried to kind of stay relaxed and focused and that sensation didn't get any worse, which is good."
The record is Trubridge's 18th and third of the year after breaking his own free immersion (rope assisted dive) record in April and again in May.
Freediving
Freediving: The lure of the deep
Freediver reveals breath-holding secrets