Diving coach Andy Banks agrees new deal to stay in Great Britain
By Brent Pilnick
BBC Sport
Last updated on .From the section Diving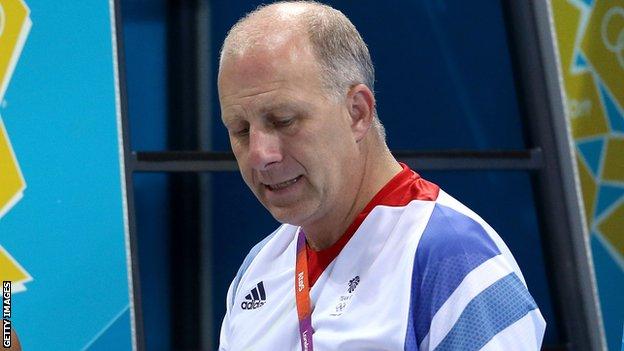 Andy Banks, the coach who led Tom Daley to a world title and Olympic bronze medal, is to stay in the UK.
Banks had been offered the chance to lead the Canadian diving programme and was in Toronto for talks last week.
His current deal with the Plymouth Life Centre, the pool where he is based, runs out next year.
But the centre, along with Plymouth City Council, Plymouth College and the College of St Mark and St John, has put together a new funding package.
Banks, who was a judge on the TV series Splash!, coached four divers at this summer's Commonwealth Games, with Tonia Couch and Sarah Barrow winning silver in the 10m synchro pairs.
"The girls I've been coaching, particularly the top ones, I've been coaching for 15 years now," Banks told BBC Sport.
"We're halfway through the Olympic cycle, Rio is quite possibly going to be their swansong, so to leave when they're both diving possibly the best they have done in their careers would have been heart-wrenching
"That's not now going to have to happen and I'm looking forward to the next couple of years."
Banks said he was impressed after flying out to Toronto to see the Canadian set-up, which he was offered the chance to head up.
"The setup they've got there is very impressive and they're throwing everything they've got at it.
"But the timing isn't quite right really.
"There's a job still to be done here, Plymouth have really rallied behind what they want to see, I'm part of that as far as Plymouth's concerned which is fantastic, so I'm staying."
Commonwealth Games silver-medallist Tonia Couch, who is one of Banks' top divers, says she is delighted he has decided to stay.
"I couldn't believe it when he told me the news, I had a bit of a scream and a jump for joy," she told BBC Sport.
"Andy's been my coach since I was 10 years old.
"He's so relaxed and friendly about it that you enjoy training, and he's so clever, he's probably one of the best coaches in the world."