Glasgow 2014: Tom Daley on his diving demons since Olympics
Last updated on .From the section Diving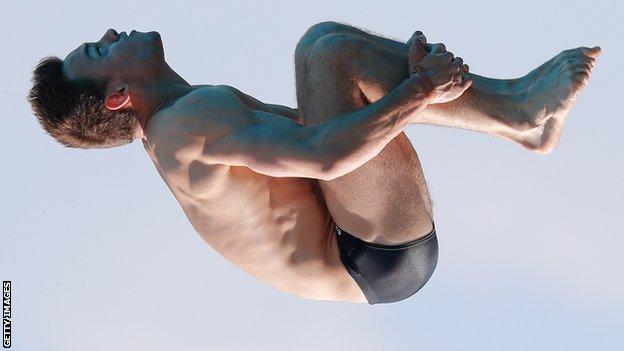 Few athletes at the Commonwealth Games have had a preparation quite like Tom Daley's.
Named one of the world's sexiest men by a gay lifestyle magazine earlier this month, reports surfaced just last week that he was poised to quit the sport that made him famous.
Oh, and an aeroplane he was travelling on from China made an emergency landing in Russia.
The 20-year-old diving sensation and star of Saturday night prime-time television show Splash! should be used to fuss, fame and furore by now.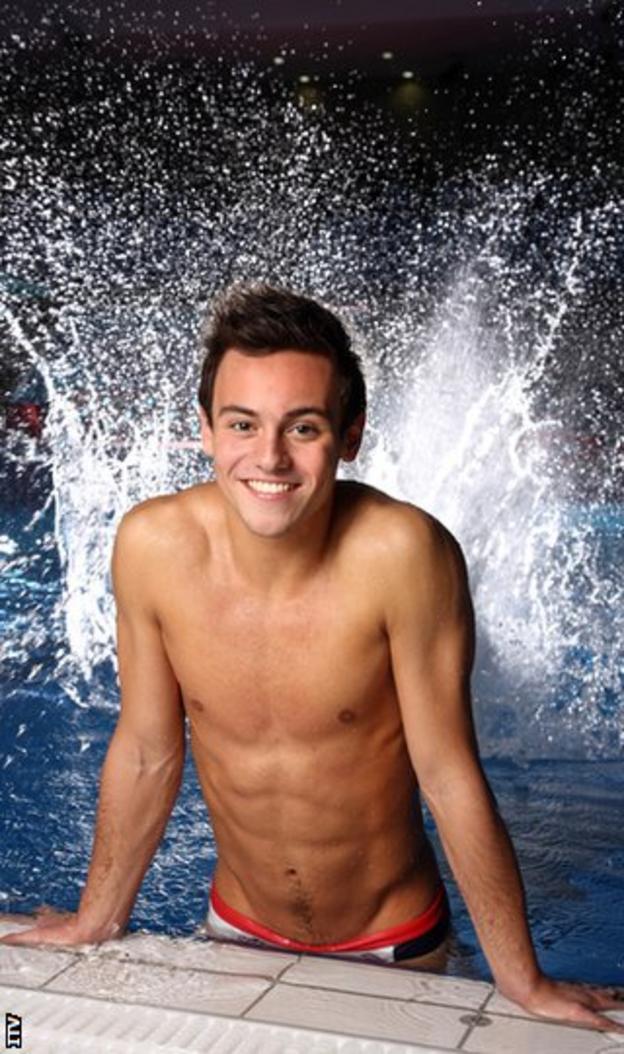 Attempting to outwit bullies at school, becoming a world champion at 15, dealing with his father's terminal illness and death before winning an Olympic medal at 18, outwitting more bullies on social media... life has been full of ups and downs for Daley.
Then, just eight months ago, came a YouTube revelation from the fresh-faced youngster from Plymouth - a pin-up for girls across the world - that he was in a relationship with a man.
Interviewed by BBC Sport in the run-up to his appearance in Glasgow, Daley believes the decision to talk openly about his sexuality has been a positive and liberating experience.
"The public support has been overwhelming," he says. "Everyone's been so nice." It is also, he adds, a "massive weight" off his shoulders.
"Right now, all I concentrate on is diving," he says. "I don't have any other worries. I'm happy with life, I'm happy with diving."
Well, not completely happy with diving.
For Daley has been haunted by his "demon dive" for two years now, ever since the Olympic final at London 2012, where he won bronze in the 10m platform event.
Known as the 'back two-and-a-half somersault, two-and-a-half twists from the pike position', the dive involves Daley somersaulting backwards while twisting his body around, his head spinning just inches from the board he left a split-second earlier.
It is by no means the hardest dive in his repertoire. But it is certainly proving the most problematic.
Those problems all started two years ago in London.
The first of his six dives in the Olympic 10m platform final, Daley's rhythm was disturbed when a camera flashlight went off in the arena.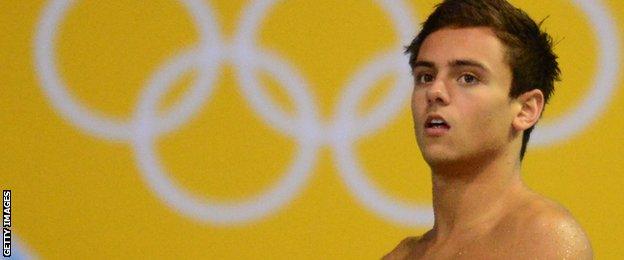 He was allowed to retake it and achieved a respectable score, good enough for him to get on the podium at his home Games.
But from that day on, the dive was an issue.
At various stages over the last two years, he has used words and phrases like "phobia" and "trauma therapy" to describe his state of mind whenever he tries to perform it.
He has even enlisted the help of a psychologist to address the issue. But, two years on, he still does not feel 100% comfortable with it.
In April, the dive misfired again and he missed out on a medal at a World Series event in London, in the very pool where the problems began.
But two good results since then have at least given him confidence he is making progress.
"When you look down, your knees go weak, your legs go to jelly and it's terrifying," he says.
"I've done a lot of work on it. I'm quite optimistic that, come the Commonwealth Games, I can nail it.
"Recently at the World Cup, I actually outscored the Chinese at it so it's definitely getting a lot better.
"It's still scary and it's always going to be at the back of my head. But it's definitely the best it has been for a long time."
Leon Taylor, his former mentor, invented the "demon dive" in 1998.
"It's mind games basically and not about your ability to do the specific dive," says Taylor, who encouraged Daley to add it to his routine. "All divers go through it.
"What you have with a problem dive is an increased level of anxiety, and the more nervous you get the worse the problem becomes.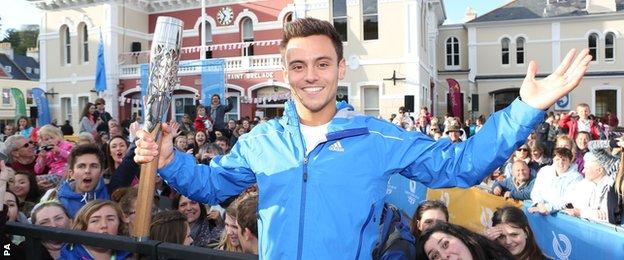 "You overthink things and get into a negative downward spiral. Your state of mind isn't under control and you're fearful of what might happen."
Taylor, an Olympic silver medallist, says he has spoken to Daley about the dive but believes he has conquered the problem.
"It's just another of his six routines," says Taylor, who will commentate on the diving events in Glasgow for BBC Sport.
Daley has just 1.8 seconds to complete each dive before he hits the water 10 metres below at 34mph.
"During my most difficult dive, I have to fit in four somersaults, so I have to make very quick decisions," he says. "It's scary.
"Anyone who says it isn't is either stupid or lying. You have to be scared; you have to have adrenaline to be sharp and not make mistakes."
Daley, who describes himself as a perfectionist, credits the work of his Zimbabwean coach Jane Figueiredo and his move to the London Aquatics Centre from Plymouth for his recent good form.
Formerly the head coach of the diving programme at the University of Houston, Figueiredo started working with Daley at the end of last year.
She has a proven pedigree, having coached Russian divers to medals at the 2000 and 2008 Olympics.
Figueiredo, who moved to London from the United States to work with Daley, describes her new pupil as the "real deal", praises his "amazing" work ethic and says they share the same desire to succeed.
In response, he is equally enthused. "Jane is so upbeat," he says. "She gets you motivated to really want to come to training every day."
Ah, training.
As Daley attempts to juggle his growing interests, some critics - among them British Swimming chief David Sparkes - have suggested he spends too much time on his television career, fronting programmes like ITV celebrity diving show 'Splash!'
"If I spent my whole life worrying about what people thought, I wouldn't be a diver and I wouldn't be where I am today," counters Daley, who says he trains for five hours each day, six days a week.
"It's quite funny when people think I do too much media. Training is number one, my main priority.
"People don't actually realise how many hours I put in."
Given his dedication and desire, how did it feel when rumours surfaced last week that he would retire once the Commonwealth Games finished?
"I'm not retiring," he says. "I've no idea where that came from."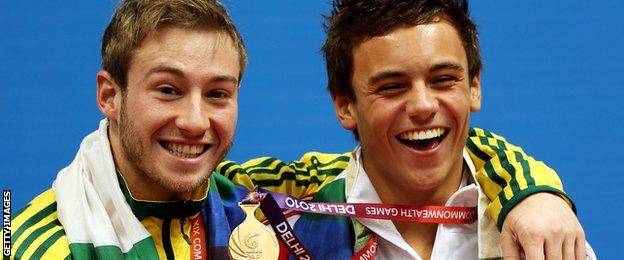 Daley is likely to face a major challenge from Australia's Matthew Mitchum, who won Olympic gold in Beijing in 2008, when they compete in the 10m platform in Glasgow later this week.
"You do all those years of training and you get six dives, so they have to be solid," he says. "It's down to whoever performs on the day."
Given the profile of Britain's most famous ever diver, performing when it counts comes as second nature. So long as the "demon" doesn't return.