Para-swimming World Championships: Becky Redfern, Alice Tai and mixed freestyle relay team win gold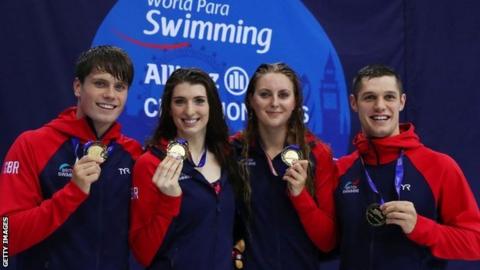 Britain's Alice Tai added to her gold medal haul as Becky Redfern won her first title at the Para-swimming World Championships.
Tai continued her remarkable week in London with her fourth gold from four races in the S8 400m freestyle.
Redfern got her campaign under way in style with victory in the SB13 100m breaststroke.
And there was also gold for GB in the mixed freestyle relay for S14 athletes with learning disabilities.
'I just gritted my teeth and closed my eyes'
Tai, 20, upstaged 13-time Paralympic champion Jessica Long once again, overhauling the American with 100m to go in their race and pulling clear to win by 2.20 seconds from Italy's Xenia Francesca Palazzo with Long back in third.
"I had to dig really deep to win that one," said Tai, who was cheered on by a crowd which included Mayor of London Sadiq Khan.
"I know Jess finishes strongly so I was scared when I overtook her that she would get me again in the final length.
"I just gritted my teeth and closed my eyes to get every ounce of energy out.
"It is weird because I've watched other athletes achieve stuff like this and I was in awe of them and to be part of that group and winning medals every day is something I would never have thought of."
Redfern, 19, who won silver in Rio, also finished her race strongly but had to work hard to beat American Colleen Young.
"It has been great cheering everyone on, but it is nice to have my own bit of glory," she told BBC Sport.
"And to do it with a gold - there is no better way.
"It is an amazing feeling to be up there with the likes of Alice and Maisie [Summers-Newton]."
Relay joy for GB
In a new event, which is set to be part of the programme for Tokyo, the GB quartet of Tom Hamer, Bethany Firth, Jessica-Jane Applegate and Reece Dunn set a world record of 3:42.21 to win the mixed relay, with Dunn guiding the team home thanks to a storming anchor leg.
It gave GB their 12th gold of the week and they are second to Italy in the medal table.
"It was great to kick it off and just nice to have this team environment, putting all the S14s together and racing together as one team," said Hamer, who finished second to Dunn in their 200m freestyle final on Monday.
Applegate, who swam the third leg and handed over in second place to Dunn, was confident of her team-mate's ability to chase down their Russian rivals.
"I wasn't nervous, because I know that he's an absolute animal; he's a chaser and he loves to race," she admitted.
"He has been setting records here there and everywhere this week. We had 100% confidence in putting him last.
"We've always felt left out watching the other relays, so we're really glad that we're going to be a part of that now."
Marks finally makes it to London
Elsewhere, there was a poignant victory for American Elizabeth Marks in the S7 100m backstroke.
The US Army sergeant was due to take part in the 2014 Invictus Games but was taken ill on her way to London and spent 10 days on life support in Papworth Hospital.
Two years later, she returned to the Invictus Games and donated one of the four golds she won to Prince Harry to give to the hospital staff who helped save her life.
Some of the staff were among the crowd cheering her to her first world gold at the London Aquatics Centre.
"It is very emotional being here and it is a beautiful ending to a very important chapter in my life," she said.