Wheelchair rugby European Championships: GB win third successive title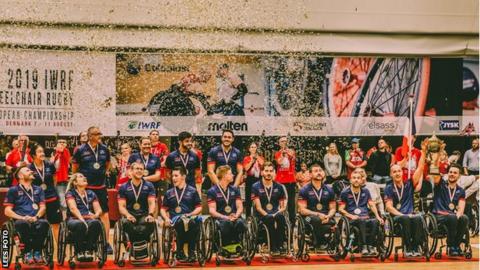 Great Britain's wheelchair rugby team have won a third successive European Championship title with victory over Denmark.
Having led by just two points at half-time, a dominant fourth quarter saw them secure a 55-45 win against the hosts in Vejle.
In reaching the final, GB secured a place at next year's Paralympic Games in Tokyo. They finished fifth in Rio.
GB have now won seven European titles since the inaugural tournament in 1995.
"It's an amazing feeling to come away with gold after all the hard work we've put in the last few months," said GB high-pointer Stuart Robinson.
"We're quite a close-knit team and the amount of hard work we've all put in has paid off.
"We had so many objectives when we came here, obviously to win the tournament and also get qualification for next year. It was quite a high priority and we've come away doing that.
"The thing that we've learnt is that we trust each other no matter what line-up is on, and we have complete trust and faith in it so that we know we are going to perform well."
France won the bronze medal after beating Sweden 45-43.