Paralympics: Sailing and bobsleigh fail in bids for inclusion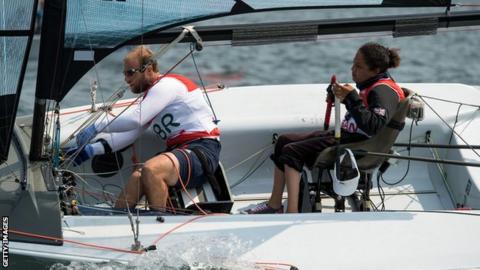 The International Paralympic Committee (IPC) has decided not to include sailing at the 2024 Paralympic Games in Paris.
Sailing featured at Rio 2016 but had already been dropped for Tokyo 2020.
Para-bobsleigh will also miss out at the 2022 Winter Paralympics in Beijing after failing to provide assurances requested by the IPC.
The sport had been provisionally approved for inclusion.
From the 28 sports that applied for inclusion in Paris 2024, the 22 events which will feature in Tokyo have proceeded to the next stage, along with Cerebral Palsy Football.
IPC president Andrew Parsons said: "I hope these international federations take on board the feedback we will provide, and are assured that the IPC will continue to work with them in the ongoing development of their sports.
"Following review of the further information we receive from international federations, we will make our final decision on which sports are included in January, once we have full agreement from the IOC and Paris 2024."