Paralympian David Smith opens up about his cancer battle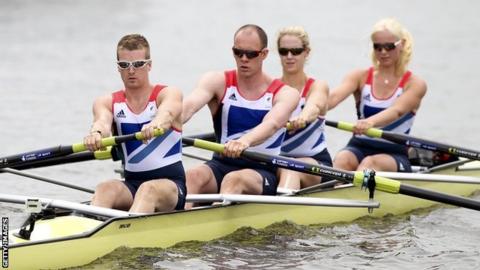 Paralympian David Smith has revealed he faces losing his life if he chooses not to have a tumour removed that is crushing his spinal cord.
The Scot has recently been diagnosed with cancer for the fourth time and says he could be left paralysed below the neck if he goes under the knife.
In 2016, the Paralympic rowing gold medallist, 40, was forced out of the Rio games due to a similar tumour.
"I'm actually stood in hospital right now," Smith told BBC Scotland.
"I just got told 10 minutes ago that this aggressive tumour that I have is crushing my spinal cord again and if I choose not to have surgery then basically I'm going to lose my life and, if I make the choice of going for surgery, I might be paralysed from the neck down."
Smith intended to take part in the Brazilian games as a cyclist and even delayed surgery on his tumour to give him a better chance of making the event.
However, the threat of having his spinal cord crushed forced his withdrawal.
Last month he competed in the Para-cycling Road World Championships in Italy.
Speaking just moments after being told the news about his current condition, Smith opened up about how he copes mentally with cancer.
"The way I deal with the news when I get told, the way I deal with the surgeries, the way I deal with the rehab, is that I try to use the same perception as if I'm getting into a ring or going on the start line of an Olympic final," he explained to Jackie Brambles on the BBC Radio Scotland's morning programme.
"Simply because that releases a lot of positive hormones. The real secret is the conversation. Not the one you have externally with other people, it's the conversation you have with yourself internally.
"You can have a conversation in the street then you leave, but you are never really leaving the dialogue that's inside your own mind."