Boccia: GB aiming to make home advantage pay in Liverpool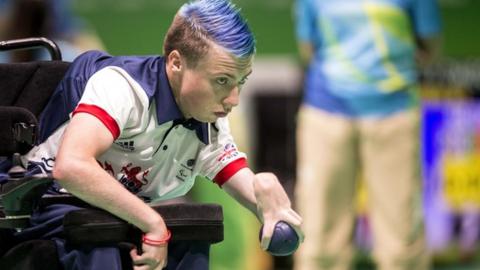 Great Britain's 10-strong squad will look to turn home advantage into medals at the World Boccia Championships at Liverpool's Exhibition Centre.
The GB team contains former world champions David Smith and Stephen McGuire, who believes home advantage could be decisive for the GB squad.
"We will need to keep our discipline and focus but we have the athletes to do it," said McGuire.
"We push each other across every classification on a daily basis."
Boccia World Championships
Venue: Exhibition Centre, Liverpool Dates: 12-18 August
Coverage: BBC Sport website and app, connected TV and iPlayer) Sun 12 Aug: 09:00-19:00 Mon 13 Aug: 09:00-19:45 Tue 14 Aug: 09:00-14:00, 15:15-17:45 Wed 15 Aug: 09:00-10:15, 11:30-18:30 Thu 16 Aug: 10:00-13:00, 13:30-16:30 Fri 17 Aug: 09:00-12:00, 13:30-15:00, 16:30-18:00 Sat 18 Aug: 09:00-18:45
BBC Sport will stream action from all seven days of the tournament on the BBC Sport website, app and connected TV.
Smith, GB's most-decorated boccia player, won Paralympic team gold in Beijing, individual silver and team bronze in London and individual gold in Rio.
McGuire won the world title in Beijing two years ago but faces a tough challenge from Hong Kong's Paralympic champion Yuk Wing Leung and Thailand's Pornchok Larypen.
Boccia World Championships
Played every two years
190 players from 33 countries competing in Liverpool
GB have a 10-strong team
Mixed sport across four classifications
BC1, BC2 and BC3 players have cerebral palsy, with BC3 the highest impairment level
BC4 players have no cerebral palsy
GB's leaders in Liverpool
David Smith (29, BC1): Has been playing since the age of six and won Paralympic gold in Rio two years ago
Clare Taggart (23, BC2): Northern Ireland's Taggart won European gold after being reclassified from BC4
Stephen McGuire (27, BC4): The Scot is the reigning world and European title-holder and made his Paralympic debut in London