Richard Chiassaro: British wheelchair racer sets new T54 800m world record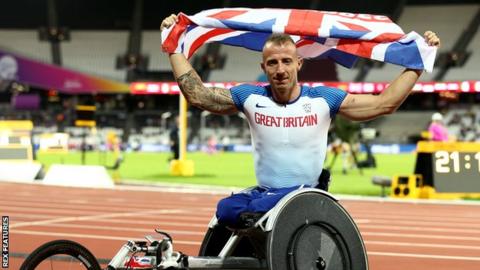 British wheelchair racer Richard Chiassaro set a new T54 800m world record at the Swiss Nationals in Notwill on Sunday.
The 36-year-old from Essex clocked one minute 30.35 seconds at the meeting, beating the previous record of 1:31.12 held by Switzerland's Paralympic champion Marcel Hug.
Chiassaro had improved his own European record in the T54 400m on Friday.
"I just kept pushing out there," he said afterwards.
"Me and my coach Jenni Banks wanted to go out fast and I took the lead early on and managed to kick and get a gap from the others.
"There was always the risk of going out hard and leading the others to a world record instead of me, but I opened up a margin which I managed to hold on to.
"I wanted to go into the competition and test myself against Tunisia's Yassine Gharbi because I know he has a high top speed like me.
"He only beat me once this week. I've beaten him in the 200m, 400m and now the 800m, so it goes to show my top speed is very strong."