British Para-swimmer Tom Hamer achieves European Championships qualifying standard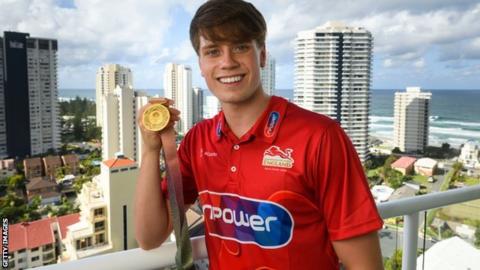 There was relief for Tom Hamer after he achieved the European Championships qualifying standard at the British Para-swimming International Meet.
The S14 200m freestyle Commonwealth champion missed the qualifying standard of one minute 57.48 seconds by 1.03secs in the morning session in Sheffield.
But he recovered in the evening session to clock a winning time of 1:56.99.
"I'm still in heavy training so I'm really surprised and delighted with my time," he told BBC Sport.
The 19-year-old from Burnley was pushed all the way by Paralympic champion Wai Lok Tang but beat him by 1.23secs.
The European Championships take place in Dublin in August.
"I wanted to get the qualifying time in the morning so there was no pressure this evening," Hamer added.
"When I touched the wall and I was a second out, there was a bit of panic but I just got back, rested, shaved down and it all paid off.
"I haven't tapered coming into this competition because of the Commonwealths.
"It has been tough mentally and physically, but you can't taper three times in one year so me and my coach opted to swim through the trials so I'm super-happy with what I've done."
Paralympic champion Ollie Hynd missed out on his final opportunity to make a European qualifying time.
Hynd was reclassified earlier this year from the S8 category to the S9 for less-impaired swimmers and in the 400m freestyle could only manage 4:27.16, well short of the S9 standard of 4:21.81.
However, there has been an appeal submitted to the International Paralympic Committee over the decision to reclassify him.
In the final race of the night, Andrew Mullen added his name to the list of those who have achieved the European qualification standard.
The Scot finished behind 14-time Paralympic champion Daniel Dias in the S5 50m backstroke but his time of 37.01 beat the qualifying mark of 39.31.