British Para-swimmer Alice Tai has mixed feelings after setting second world record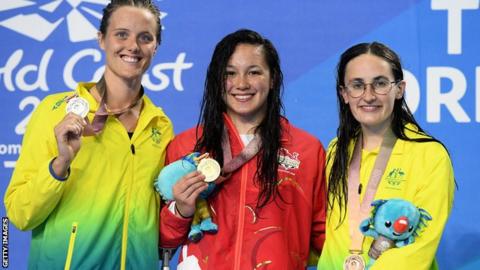 British Para-swimming International Meet
Date: 31 May-3 June Time: Heats from 09:30 BST, finals from 17:00 BST Venue: Ponds Forge, Sheffield
Coverage: Live on the BBC Sport website, connected TV and BBC Sport app
Britain's Alice Tai said she had mixed feelings after setting her second world record at the British Para-swimming International Meet in Sheffield.
The 19-year-old was moved from the S9 category down to the S8 for more impaired swimmers before the event.
She set a new S8 100m freestyle record on Thursday and followed that with a 100m backstroke best on Saturday.
"My personal bests are faster than the S8 world records so the drive isn't there any more," she told BBC Sport.
"I have to swim for myself now because the only thing that will make me happy is knowing I have put in a good swim, and I am just doing that.
"I liked when I was an S9 having that competition. In the backstroke I had strong rivals and was looking forward to some good racing at the European Championships in August.
"But now I am really far ahead so I hope there is someone else who will become an S8 so I can have a good race."
Tai, who was born with club foot, which affects her mobility, won gold and silver at the recent Commonwealth Games in Australia.
Her backstroke time of one minute 8.26 seconds was slower than her personal best and S9 world record of 1:07.66 but was comfortably inside GB team-mate Stephanie Millward's S8 world record of 1:12.94 and gave her the overall gold medal for the event.
However, the Bournemouth swimmer wants to improve further before the Europeans in Dublin.
"I know I glided into my turns so I'm annoyed about that as it could have made a difference to swimming 68 or 67 seconds," she said.
"I'd rather not win a medal and set a personal best than win a medal and not PB because I want to see that improvement in myself."