Angie Malone: GB and Scotland wheelchair curler announces retirement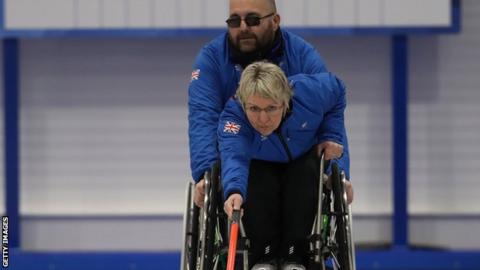 Great Britain and Scotland wheelchair curler Angie Malone has announced her retirement from the sport.
The 52-year-old from Ayrshire competed at her fourth Winter Paralympics in Pyeongchang in March.
She won silver in Turin in 2006 and bronze at Sochi 2014 and claimed world titles with Scotland in 2004 and 2005.
"My curling career has been an amazing experience with many highs and lows, it has been an absolute emotional rollercoaster," she said.
Malone, who broke her back in a car accident aged 16, took up the sport in 2003.
She was diagnosed with breast cancer in 2008 but recovered to be part of the GB team at the Vancouver Games in 2010 and now wants to encourage others to take up the sport.
"I want as many people as possible to try curling and hopefully enjoy the game as much as I have," she said.
"It has the potential to open many doors to new opportunities and I want others to have the chance to experience some of the great competitive opportunities I have been fortunate enough to be exposed to.
I have thoroughly enjoyed competing at the highest level. To be on the podium at a Paralympics and to do so twice, are moments that are definitely among my career highlights."