World Para-triathlon Series: GB win three golds in season-opener in Japan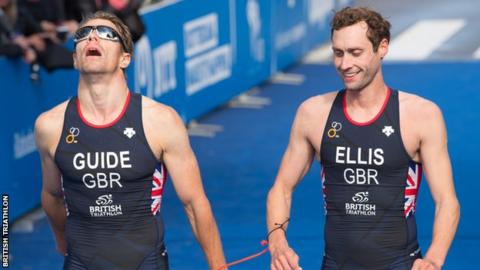 Great Britain won seven medals, including three golds, at the first World Para-triathlon Series event of the year in Japan.
Paralympic silver medallist Lauren Steadman, 25, took victory in the PTS5 category, beating Paralympic champion Grace Norman from the United States.
George Peasgood, 22, won his first World Series event in the men's PTS5.
Dave Ellis, 31 and guided by Carl Shaw, took the men's PTVI race in Yokohama for the second year in a row.
Steadman, who exited the 750m swim alongside Steadman, pulled ahead on the 20km bike and held on in the 5km run to beat her rival for the first time in more than two years.
Victory for Peasgood came a week after he won silver in the Para-cycling World Cup in Belgium.
"It was awesome to come out here and perform as well as I did," he said.
"I've had a tough few weeks travelling and racing so my legs didn't feel too fresh, but I'm in good shape.
"Being a swim-biker, it's always going to come down to the chase on the run, but thankfully I held off today."
Ellis and Shaw won by just over a minute.
"It's a great start to the season and I'm very happy to be back on top of the podium," said Ellis.
"It was good to be quicker in all elements of the race, producing a time two minutes quicker than last year."
Ryan Taylor took silver in the PTS3, while Fran Brown (women's PTS2), Steve Crowley (PTS4) and Commonwealth champion Joe Townsend (PTWC) took bronze.