Winter Paralympics 2018: Games close with spectacular ceremony
Last updated on .From the section Disability Sport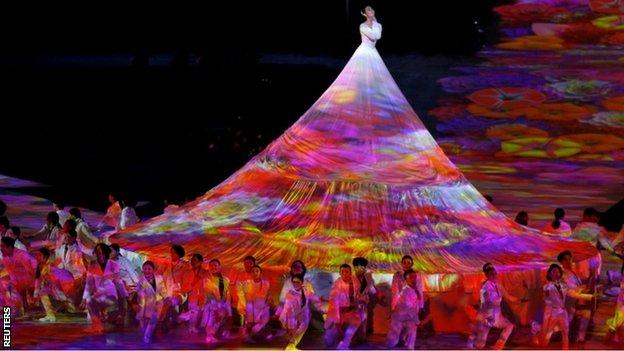 The 2018 Winter Paralympics have closed with a spectacular ceremony in Pyeongchang.
The pair were given the honour after they claimed victory earlier on Sunday in the visually-impaired slalom to become GB's most successful Winter Paralympians of all time, thanks to their haul of one gold medal, two silvers and a bronze.
Millie Knight and guide Brett Wild also finished their Games on a high with bronze in the slalom to add to their two silvers from the downhill and super-G.
It meant the team hit their UK Sport medal target of at least seven medals for their biggest winter medal haul since 1984 and since Lottery funding was introduced in the 1990s.
How were the Games received in South Korea?
Beforehand, there were concerns about ticket sales but the locals took the Games to their hearts.
The opening ceremony was attended by many spectators with disabilities and accessibility seemed well thought out in the majority of places.
As there was no alpine skiing at the Alpensia resort, which hosted the Olympic skiing and is located near the Olympic Stadium, the Games lacked a Paralympic park atmosphere.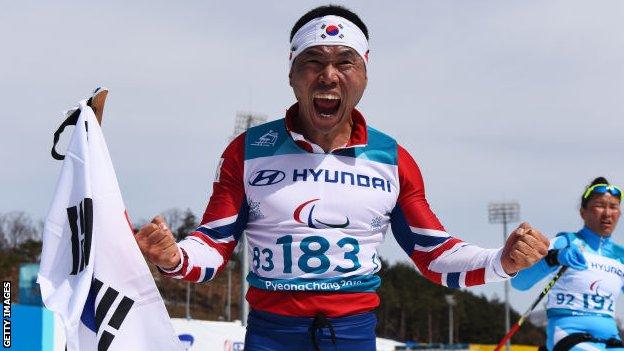 But the crowds at the Jeongseon resort, about a 30-minute bus trip from the Olympic Stadium, were loud and colourful, particularly for the snowboarding.
And the Gangneung coastal venues for Para-ice hockey and wheelchair curling appeared to attract more families and school children.
Overall, more than 343,000 tickets were sold, which was 16,000 more than for Sochi in 2014, 100,000 more than Vancouver 2010 and more than double the total sold for Torino 2006.
One of the biggest cheers was saved for cross-country skier Sin Eui-hyun, who won South Korea's first ever Winter Paralympic gold after claiming the men's 7.5km seated race on the penultimate day of competition.
How did ParalympicsGB do?
The 17-strong British team had a target of between six and 12 medals from UK Sport, with an ambition of seven.
And the final day performances by Fitzpatrick and Knight ensured they reached seven.
While the teenage duo and their guides shone, there were disappointments. The wheelchair curlers made a positive start to their round-robin campaign, beating defending champions Canada and world champions Norway, but they lost five of their last six games and missed out on the knockout stages.
Hopes had also been high for a medal for the snowboarders with GB making its debut in the event, but the trio of Owen Pick, Ben Moore and James Barnes-Miller failed to add to the tally.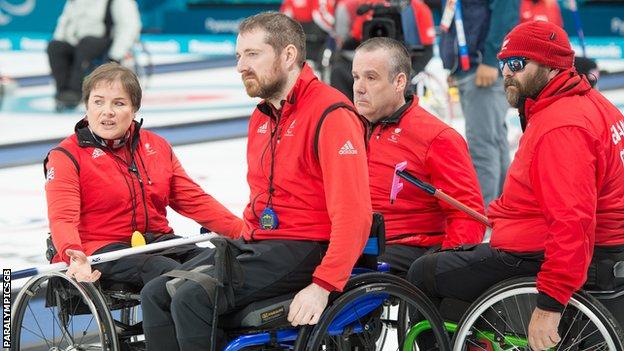 But having reached their medal target, chef de mission Penny Briscoe remained positive.
"It is really satisfying to hit the medal target but we have had 16 top-eight performances, which is an improvement on Sochi," she told BBC Sport.
"I'm really proud of the whole group. We knew there was multi-medal potential within the skiing team. They have had tough times with injuries, but it has been a tremendous team performance.
"We really felt and hoped the potential was there to win on ice and snow and moving into the [2022] Beijing cycle, we hope the strength on the snow will continue, the curlers will be backed up by Para-bobsleigh, which will be making its debut, and hopefully in four years' time, we will have have more athletes in more events."
Who topped the medal table?
Team USA were the biggest delegation at the Games with 74 athletes and they had a point to prove after winning only two golds in Sochi four years ago.
On the opening day of competition, triathete-turned-Nordic-skier Kendall Gretsch won her country's first biathlon gold medal and that opened the floodgates.
The USA finished with 36 medals, saving probably the most thrilling one for last thanks to a 2-1 win over Canada in the Para-ice hockey final for their 13th gold.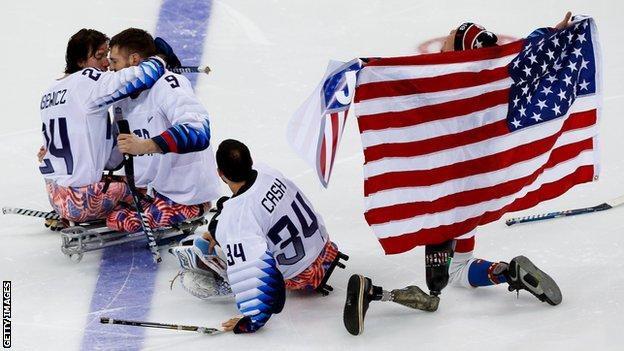 Another highlight was seven medals in the snowboard banked slalom events, including golds for Brenna Huckaby, Mike Minor and Noah Elliott.
Paralympic sport has often been regarded as an untapped market in America but with increased coverage helping to raise the profile of the USA team, they will look to build on that.
Out of the 49 delegations who competed in Pyeongchang, 26 won a medal, which beat the record set at the 1994 Games in Lillehammer, while a record 21 won golds, including debut wins for Croatia, Kazakhstan and China, as well as the hosts.
What about the Russian athletes?
With the Russian Paralympic Commitee still banned from Paralympic competition after a report found evidence of state-sponsored doping, eligible Russian athletes were able to compete as part of the 'neutral Paralympic athlete' team.
The 30 athletes competed in alpine skiing, biathlon, cross country, snowboard and wheelchair curling under the Paralympic flag, with the Paralympic anthem playing for victory.
The team were never going to dominate the medal table as Russia did four years ago where it won 80 medals, including 30 golds.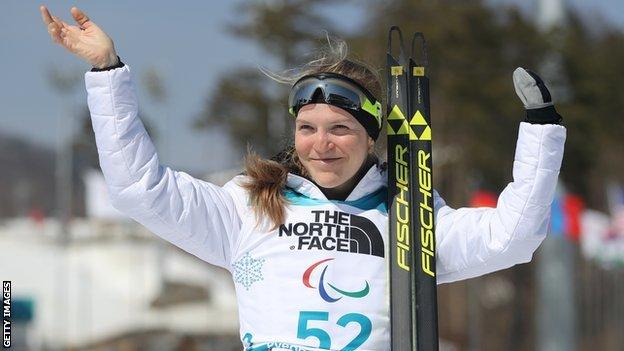 This time, 24 medals, eight of them gold, was a far more modest return but it was still enough for second in the table.
Nordic skiing yielded plenty of success for the neutral team, with standing competitor Ekaterina Rumyantseva winning three golds and two silvers across the cross-country and biathlon events while team-mate Mikhalina Lysova matched her Sochi achievement with six medals in the visually-impaired category.
However, Russia's Paralympic future remains uncertain with IPC president Andrew Parsons saying the suspension will not be lifted as there are reinstatement procedures to be followed.
Stories of success
One of the faces of the Games was undoubtedly Dutch snowboarder Bibian Mentel-Spee who won two golds in the snowboard cross and banked slalom events 10 weeks after having having a vertebra removed after a cancerous tumour was discovered in her neck.
The 45-year-old came to South Korea with limited training behind her, but she is a class act and there was plenty of emotion surrounding her wins.
"Anything is possible if you set your mind to it and just get the best out of yourself," she said. "It's good to know that I'm still capable of riding and pulling off two gold medals."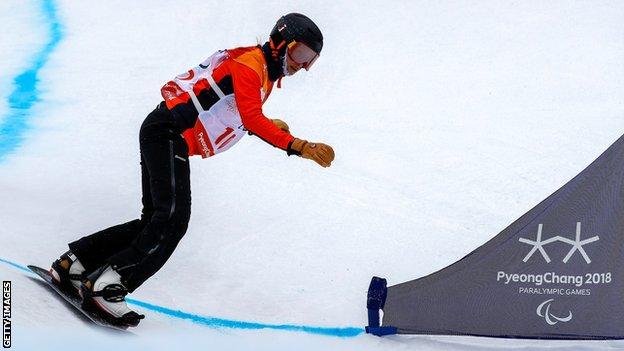 Canada's Brian McKeever, his country's most successful Winter Paralympian and now the most successful male Paralympic cross-country skier of all time, added to his tally with his 11th, 12th and 13th golds in the visually-impaired events and he finished off in style with bronze in the 4x2.5km open relay to bring his overall medal haul to 17.
They might have lost out on the final day to Britain's Fitzpatrick and Kehoe but with four golds and a silver, it was still a special Games for Slovak visually-impaired skier Henrieta Farkasova and her guide Natalia Subrtova.
Also on the slopes, there were four golds for Frenchwoman Marie Bochet in the standing competition; the only blip for her was a fall in the opening run of the super combined.
And there were those who added Winter Paralympic golds to summer Paralympic medals, including American nordic skier Oksana Masters, who had to battle through an elbow injury, and Australian snowboarder Simon Patmore.
What's next?
The Pyeongchang Games are the first of three Asian Games in a row, with the summer Games in Tokyo in 2020 to be followed by the next Winter Games Beijing in 2022.
Beijing hosted the 2008 summer Games and China will have received a massive boost after their first gold medal, courtesy of their wheelchair curling team.
The Games will feature Para-bobsleigh for the first time although skeleton failed to get the green light.
IPC president Parsons says that despite the success of Pyeongchang, his first Games in charge since taking over from Sir Philip Craven, lessons can be learned when it comes to promoting the Paralympics.
"It is no secret that we raised the issue of low ticket sales with the organising committee a few months ago, but they reacted quickly," he said.
"It is so important to have strong ticket sales for the atmosphere. The finance is important but it is more important to provide a platform for the athletes to perform."