Kadeena Cox: 'I want to compete in both the Olympics and the Paralympics in Tokyo'
By Louise Gwilliam
BBC Sport
Last updated on .From the section Disability Sport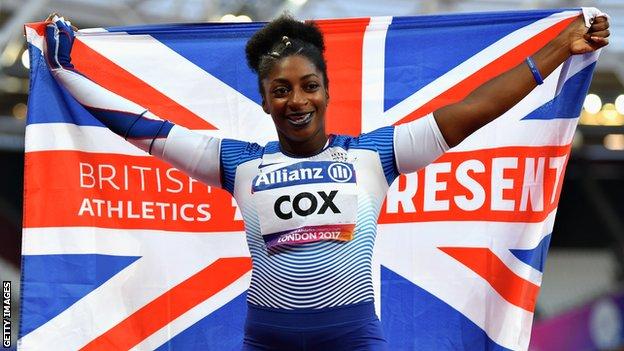 Double Paralympic champion Kadeena Cox says she wants to compete at both the Olympics and Paralympics at Tokyo 2020.
The 27-year-old has now set her sights on making the Team GB cycling squad.
"I want to do both in Tokyo," she told BBC Sport. "There's no standout female sprinter right now. There's a gap to be filled and why can't I fill that gap?"
She added: "We all train together at the same venue and it's all done on times. If you're going fast enough, Team GB will take the fastest athletes.
"I want to be able to do the Olympics and then do the Paralympics after."
Cox set two world records when she won cycling gold in the C4-5 500m time trial at the Rio Paralympics and also triumphed in the T38 400m on the athletics track.
The dual athlete also won athletics silver in the T35-38 4x100m relay and bronze in the T38 100m.
"I had only been cycling for a year before I went to Rio," she added.
"So if I can get used to being on the bike and riding like an actual cyclist then who's to say I can't be as good as those girls.
"The 500m time trial isn't an Olympic event so I'm working towards the team sprint. If I can get a second quicker, then I'll be up there."
Cox was due to compete in the Para-athletics at next month's Commonwealth Games on the Gold Coast but was forced to withdraw from England's squad this week because of injury.
'Tough' funding two sports
Cox, who is continuing to train for both athletics and cycling, says the costs involved in competing in two sports are accumulating.
"I've never had a kit sponsor. I get kit sent to me by a company but they wouldn't sign me on a proper deal. It's frustrating," she added.
"I only get funding for one sport, that funding is athletics so it all adds up. It's tough when you don't have a sponsor.
"We have to go out and find them but in able-bodied sport someone does a time and the companies are straight onto them."
Cox, who has multiple sclerosis which affects the nervous system, also says athletes with hidden disabilities find it harder to get sponsors.
"For me its a struggle because I don't have a visible disability and a lot of companies want to tick a box to say they've got a partnership with a disabled athlete. But if the rest of the world can't see that they're disabled then they don't think it's worth it," she said.
"When you look at me you can't tell, it's only when I'm in my wheelchair or racing that you can tell I've got some impairment. But for them they don't see that as beneficial."
'I lost two sponsors last month' - Cockroft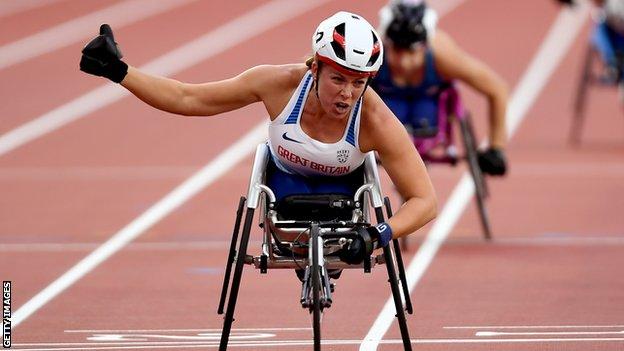 Five-time Paralympic champion Hannah Cockroft, who competed alongside Cox in Rio, agrees sponsorship is getting harder and says she has recently lost two sponsors.
"They were both really small companies and only giving me a couple of thousand each - but for me that's a big amount of money," she said.
"It's getting harder. There are more champions and therefore more people to sponsor and it's getting harder to attract the attention of sponsors."
In 2016, Cockroft accused the world's two leading sportswear brands of discrimination.
She said the reason she did not have a kit sponsor was because she does not wear shoes during her wheelchair races, a claim which both Nike and Adidas denied.
But the 25-year-old said she gave up looking for a major kit sponsor after the comment.
"I have got a small kit sponsor now and even though they are not a big name, they built a product that worked for me," Cockroft added.
"So in a way being turned down by a major company - or being offended by a major company - it worked out for the better for me. As a Paralympic athlete, how often are you going to get your face on the front on their marketing campaigns?"
Cockroft, who is also a 10-time world champion, believes sponsors are predominantly interested in the stories of the para-athletes, and males are often preferred to women.
"It has always been the case with Paralympians that we have to contact the companies. People are attracted by a story rather than an achievement," she said. "As an athlete, we want to tell that story and then we want people to move on.
"When a company wants to sponsor an athlete, they have an idea of who they want to sponsor and more often than not, it is male," she added. "They are perceived as faster, stronger and 'better', which they are not."