Winter Paralympics 2018: 'This sport is nails' says sit-skier Scott Meenagh
By Amy MacBeath
BBC Scotland
Last updated on .From the section Disability Sport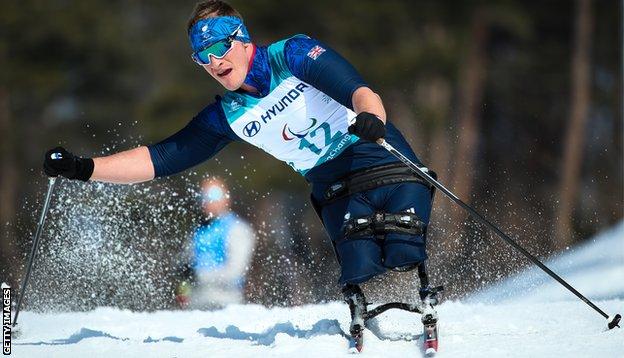 GB sit-skier Scott Meenagh is determined to gain from the experience of competing in gruelling conditions at his first Winter Paralympics.
The Cumbernauld athlete finished 13th in the 12.5km biathlon, his best result as he reached the halfway stage of his six-event schedule in Pyeongchang.
"You get nothing for free out there," said the former paratrooper.
"This sport is nails and we need to put the hard yards in to be successful in the future."
Three events in, the 28-year-old is pleased with his efforts in South Korea so far, having switched from rowing after narrowly missing out on Rio 2016.
"Obviously, I've raced a lot this week so pretty fatigued but happy with the way I executed the race," he said.
"It's tough but this is a tough sport and you've got to pretty tough to do it, so you've got to just settle in and work hard and keep working to get across that line.
"We need to be on a very tight trajectory in terms of the way we learn as athletes."
Bad weather has forced the postponement of some alpine skiing events and Meenagh just hopes the "swirling" and challenging winds do not prevail.
"Right now I just hope the conditions aren't like that for the next three but we came here to be in every single race and absolute exposure to the Paralympic Games," he said.
While the double-amputee admits his relentless competition schedule is tiring, he still has the 15km sitting biathlon and the 7.5km classic seated event to go.
Before them the classic sprints, and while he enjoys the physicality, Meenagh states his competition is "pretty punchy".
"The quality of racing is just another level," he said.
"I'm amazed at how much of a lift there between the World Cup circuit and the Paralympics. The guys you race with in the circuit every single day are turning up with their A-game."
"You are fighting for every single place out there but I've come here committed and I'm ready and enjoying every single moment of it."