Pyeongchang 2018: Russia remains banned from Winter Paralympics
Last updated on .From the section Disability Sport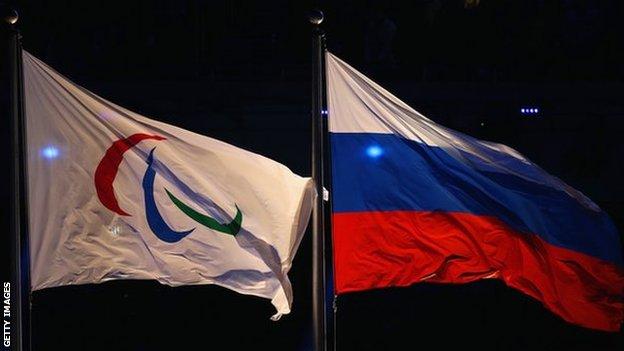 A final decision on whether Russia can compete at the 2018 Winter Paralympics will be taken in January after the International Paralympic Committee upheld the ban on Tuesday.
The IPC governing board said on Tuesday there were still five key measures to be met before Russia's reinstatement.
The Winter Paralympics begin in South Korea on 9 March, 2018.
In December 2016, the IPC created an independent taskforce which set the Russian Paralympic Committee (RPC) a number of conditions that must be met before their athletes can return to competitive disability sport events run by the IPC.
In September, the taskforce highlighted seven key measures that needed to be met before it is able to recommend the reinstatement of the RPC, and in an update on Tuesday, there were still five which had not been satisfied.
The five key measures are:
The approval of the RPC's constitution by the IPC membership department.

Completion of all budget-related aspects of the reinstatement criteria.

The provision and confirmation of certain additional information by the RPC regarding personnel and governance (reinstatement criteria 10 and 14.2), as specified by the taskforce.

The full reinstatement of the Russian Anti-Doping Agency (Rusada) by the World Anti-Doping Agency (Wada).

The provision of an official response specifically and adequately addressing the findings made by Professor McLaren.
In the interim period, Russian athletes can compete as neutrals in qualification events across four sports - alpine skiing, biathlon, cross-country skiing and snowboard.
The measure, first announced in September, aims to allow Russia to enter its qualified athletes into the Games should it have its suspension lifted in time.
"As the deadline for athlete entries for Pyeongchang 2018 is 23 February, the IPC Governing Board's next meeting between 26-28 January really is the last chance for Russia to meet the criteria in time for the Games," said new IPC President Andrew Parsons.
"Although the IPC Governing Board continues to be impressed at the level of co-operation and progress made so far by the RPC, it is united in its decision to maintain the suspension as the reinstatement criteria have not yet been met in full.
"The RPC is making headway with the IPC on three of the five remaining reinstatement criteria, however sadly, and much to our growing disappointment and frustration, there is a lack of progress regarding an official response from the Russian authorities specifically and adequately addressing the McLaren findings and evidence."