Hannah Cockroft: 'Para-classification tests are humiliating'
Last updated on .From the section Disability Sport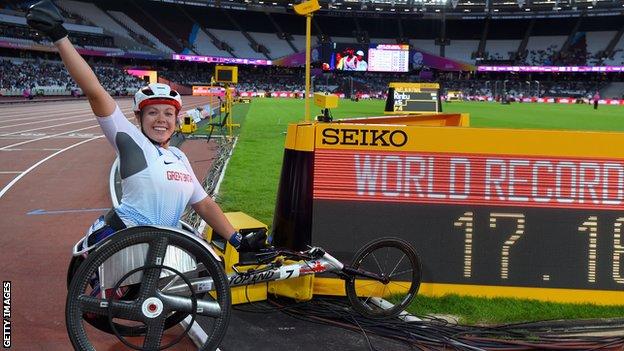 "Humiliating" tests involving "sickening pain" are used to determine what categories Para-athletics can compete in, says five-time Paralympic champion Hannah Cockroft.
The Briton told BBC Radio 5 live she has endured "horrible tests to prove I am what I claim to be".
"They push you around," Cockroft said.
"I've had all the scans... MRI scans, CAT scans. I think my worst one was I had to have electrodes attached to my spine and then electric shocks sent up and down my legs to see which nerves worked - that pain was sickening."
Speaking to The Friday Sports Panel, Cockroft, who currently races in a category for athletes who have cerebral palsy and are in a wheelchair, added: "People think you just put your doctors' notes on the table and someone goes you're a 'T whatever you are' but no.
"I went into mine and they said 'I need you to walk' so I got up and walked and they said 'no I need you to walk properly'. I said, well I am walking properly. 'No, we need you to stand up straight.' I said I can't stand up straight, that's my disability.
"You're going through all these things literally to show that you are not standing there pretending to be disabled. It's humiliating."
The T34 100m, 400m and 800m world and Paralympic champion, also questioned why such extensive - and repeated - testing is required.
She added: "It's hard with cases where a disability is varying, but my disability is pretty much the same every day.
"With some disabilities it is better some days and worse some days. That's hard but those athletes are put under review so you are never always that classification and you will get retested every year and that's fine.
"But for the majority, this is my disability. This is what I am every day."
Cockroft was also asked whether the system existed in its current form to deter people from cheating.
"I feel like you've got to be pretty sick to pretend to be physically disabled. I've never come across that," she said.
"Also, you don't know what the tests are that they're going to do when you get in there, they could do anything, so how do you cheat that?
"And they test you twice, so I wouldn't be able to pretend something and then remember what I pretended to do and then do it again, I'd just forget how to do that. I feel like you've got to be pretty clever if you want to cheat this system."
BBC Sport have contacted the International Paralympic Committee for comment.