Rob Greenwood: Concern raised about ex-swimming coach in 2014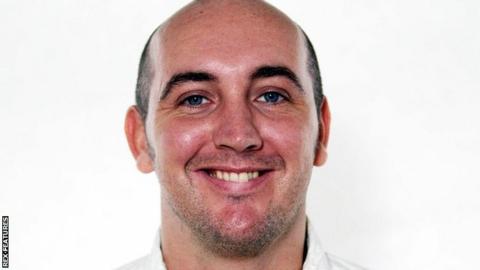 Concern around the behaviour of Rob Greenwood - the coach accused of creating a 'climate of fear' within the British Para-swimming set-up - was brought to the attention of the squad's performance director in 2014, the BBC can reveal.
Earlier this month, British Swimming apologised to Para-athletes and their families for "unacceptable behaviours" after an independent investigation into a number of complaints.
Greenwood left his job before the investigation began, and has since rejected the allegations of bullying and intimidation "and all other criticisms made of me".
But BBC Sport can reveal that three years ago, the parents of one Para-athlete wrote to national performance director Chris Furber concerning remarks Greenwood had made to their child about their use of a wheelchair, which had left the teenage swimmer feeling "ridiculed and humiliated".
In an email exchange seen by the BBC, the family - who do not wish to be identified - told Furber they did not want to pursue a formal complaint. They say this was because they hoped the organisation would learn from the case and there would be no repeat. However they now say his response to the "extremely distressing" incident and "inappropriate" remarks was "unsatisfactory".
In his reply, Furber wrote to the family to say that Greenwood's comments had been "clumsy" but insisted they were not intended to be malicious. The family say the head coach was not disciplined over the incident.
Furber said that "the vast majority of athletes use humour with references to their disabilities", a comment which the family believe was "wholly inappropriate". Furber told them that Greenwood was "mortified" by the incident and that he apologised to the parents "for any offence he may have caused".
The family say Greenwood did not apologise to them directly or ever discuss the matter with the athlete.
Both Furber and British Swimming have declined to comment.
Greenwood has not responded to a request for comment.
Earlier this week, Greenwood issued a statement in which he said: "I wholly reject the allegations of bullying, intimidation and all other criticisms made of me." He insisted "no swimmer or member of staff ever raised any concerns with me about an alleged 'climate of fear'. I do not consider I was ever knowingly offensive or insulting". He has said the training techniques he employed were approved by both other staff and athletes.
He has been given the "full support and backing" of the British Swimming Coaches Association, despite an independent investigation by two former police officers concluding that he had "created a climate of fear" among Para-athletes, and "used derogatory terms to describe athletes owing to their disability".
Among the findings of their confidential final report, obtained by BBC Sport, investigators found "there was a lack of nurturing, empathy and appreciation for athletes' general well-being".
Greenwood could be stripped of his 2016 UK Coach of the Year title which he won after British Para-swimming's highly successful Rio Paralympics.
Furber has been disciplined by British Swimming after his management and communication was criticised by investigators, and he was found to have shown a "lack of empathy".
British Swimming said he "acknowledged mistakes had been made" but he remains in post at the Manchester-based organisation. Furber was not found to have been abusive or discriminatory.
Several of the 13 Para-swimmers whose original complaints led to the investigation - all of whom want to remain anonymous - have told BBC Sport they lack confidence in Furber's ability to change the culture within the Para-swimming set-up, and are unhappy he has been allowed to remain in his job.
It is understood that funding agency UK Sport is to consider taking the unprecedented step of punishing Furber by withholding an amount of money equivalent to his salary.