Charlotte Henshaw swaps swimming for canoeing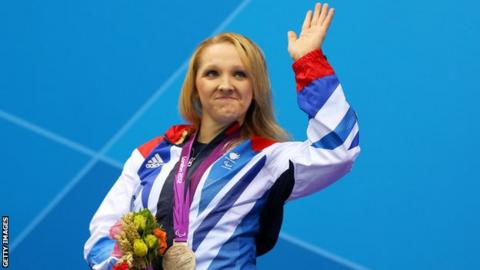 Paralympic silver and bronze medallist Charlotte Henshaw has retired from swimming and taken up canoeing.
The Briton, who won silver at London 2012 and bronze at Rio 2016, holds the SB6 100m breaststroke European record.
But, after being identified by British Canoeing, the 31-year-old is a member of their talent confirmation programme.
"I watched the brilliant Paracanoe performances in Rio and was keen to try something new," said Henshaw, who has had both legs amputated above the knee.
"I felt like I was ready to take on a new challenge that is different from anything I have done before."
Henshaw began canoeing at the end of 2016 and hopes to qualify for the European Championships as she sets her sights on competing at another Paralympics.
"A fourth Paralympic Games would be beyond what I had ever imagined, but I would love to be there in Tokyo - on the water instead of in it this time," she added.