Rio 2016 Paralympics: Ireland team boss Harbison's concern over future funding
Last updated on .From the section Disability Sport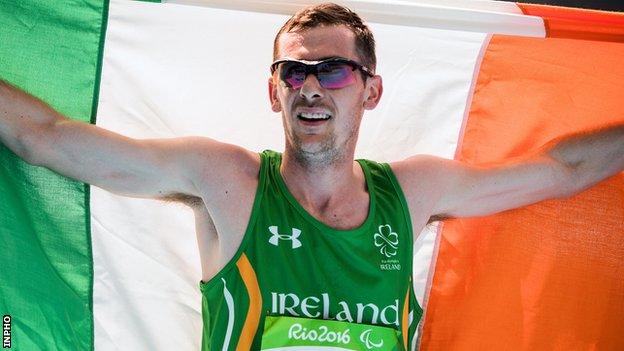 Paralympics Ireland chief Liam Harbison believes the country could struggle at future Games unless funding levels are increased.
Ireland earned 11 medals in Rio - including four golds - which exceeded the national governing body's pre-Games target of eight.
However, Harbison is concerned about the country's future prospects.
"I'm not sure this level of performance and achievement and medal-winning success is sustainable," he told RTE.
"In Paralympics Ireland we have a finite resource, both in terms of finance and human resource, and we do get great support from government, but the wider investment in high performance sport in Ireland really needs to be looked at.
"It's been very evident here at the Games that the big nations are just pumping so much resource into their programmes that when you look at the medal table there's a huge divergence between the top five or six and the rest.
"Smaller nations are really just scurrying around trying to pick up a medal here and there."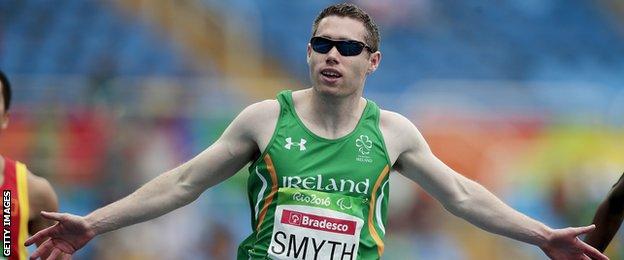 Harbison hails Ireland's 11-medal Rio haul
Harbison described the Irish team's Rio achievements as "phenomenal" as the country's 11-medal haul including gold for Northern Irish duo Jason Smyth and Michael McKillop plus cyclist Eoghan Clifford and tandem duo Katie-George Dunlevy and Eve McCrystal.
"Our target for these Games was eight medals and when we'd agreed that with government at the start of the year I was apprehensive and thought it might have been a bit of a stretch," added the Paralympic Ireland chief executive.
"We did struggle in the early part of the Games and there were a couple of days when things weren't going our way, but then we had 'Wonderful Wednesday', four medals including two golds, and that really rebuilt the momentum in the team and from then we won a further four medals.
"To finish with 11 is really outstanding and to finish 28th on the medal table, is an absolutely phenomenal achievement."
Ireland won 16 medals at London 2012 which included T13 200m and T37 800m triumphs of Smyth and McKillop as they earned doubles.
However, both those events were removed from the Rio athletics programme.
"I actually think this performance, in light of the improvements in standards and some of the events we've lost for Michael and Jason, is on a par with, if not better than, the London 2012 success," added Harbison.